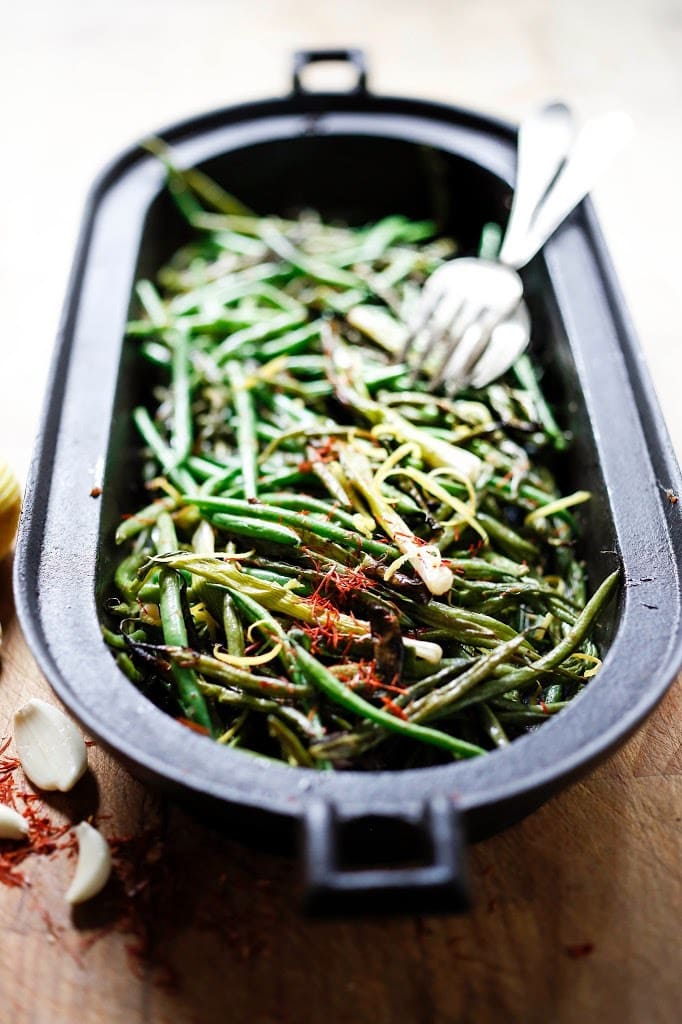 It often happens. When planning for catering events, I tend to err on the side of way too much food, rather than the nightmarish alternative of ending up short, which, if truth be told, did actually happen once. Since that horrible day, many years ago now, I overcompensate to the point of obsession. ( I know we don't actually need the extra 10lbs of green beans, but somehow it makes me feel better.) In the end, this works out quite well for clients, providing food in ample abundance, but makes it challenging when figuring out what to do with all the extra pounds of green beans which don't get used at the event. We bring them home of course, and prepare them every imaginable way. During one of these green bean marathons, this tasty recipe came to be.
Charred Green beans with Bagna Cauda. Bagna Cauda, if unfamiliar originates from Italy – and is made with warm olive oil, minced anchovies, garlic, pepper and chili flakes- and is traditionally used as a warm pungent dipping sauce for veggies and crusty bread. Bagna Cauda literally means "hot bath".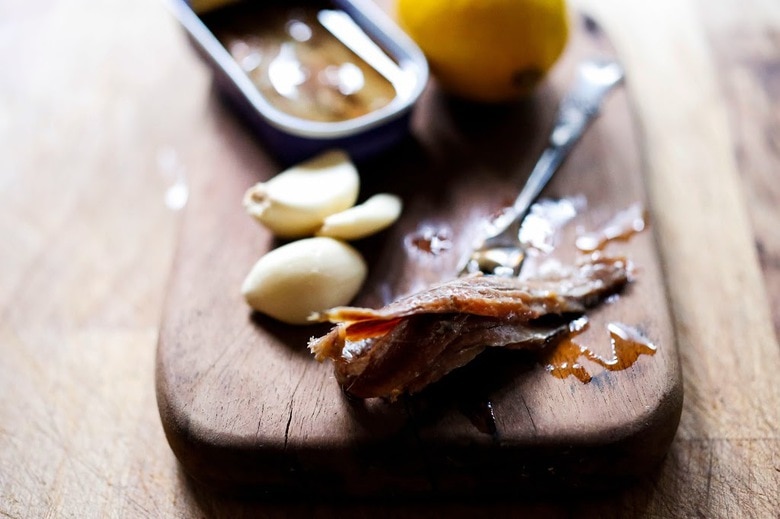 Here the Bagna Cauda is used as a marinade for green beans and scallions before roasting in the oven, to point of charring. The charred little bits and anchovies give the green beans such a deep earthy umami flavor. Lemon zest brightens it up and chili flakes or "threads" add a delicious kick. The addition of whole scallions, cut to the same length of the beans, was a brilliant idea given to me a few years back by my friend Leslie. They mimic the look of green beans in color and shape, but add such an unexpected burst of flavor. Roasting at high heat keeps the green beans crisp while giving a little char.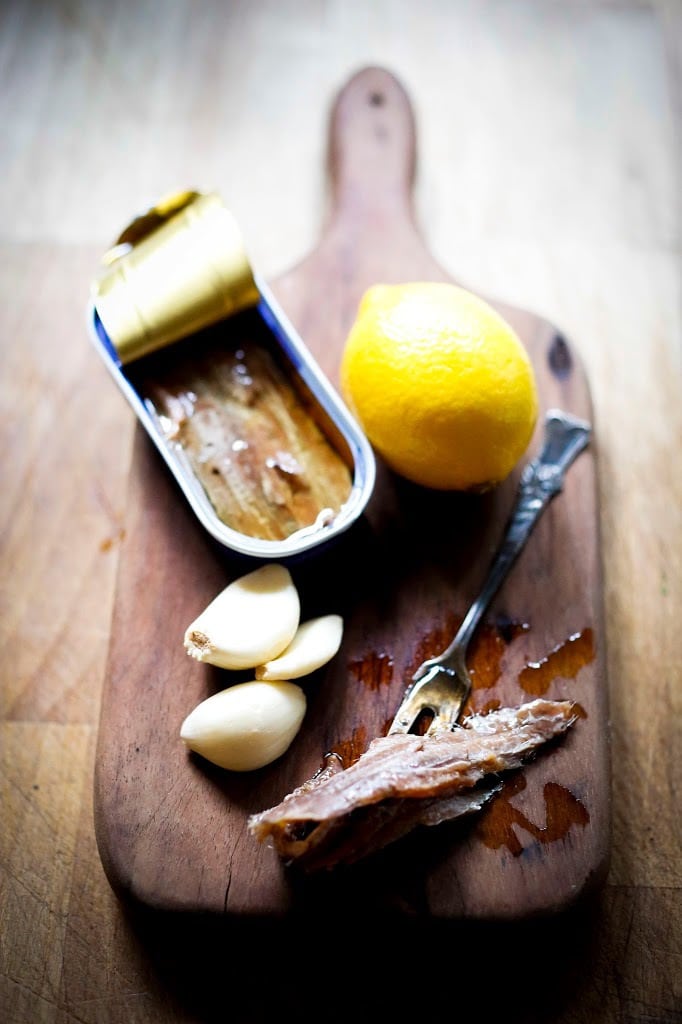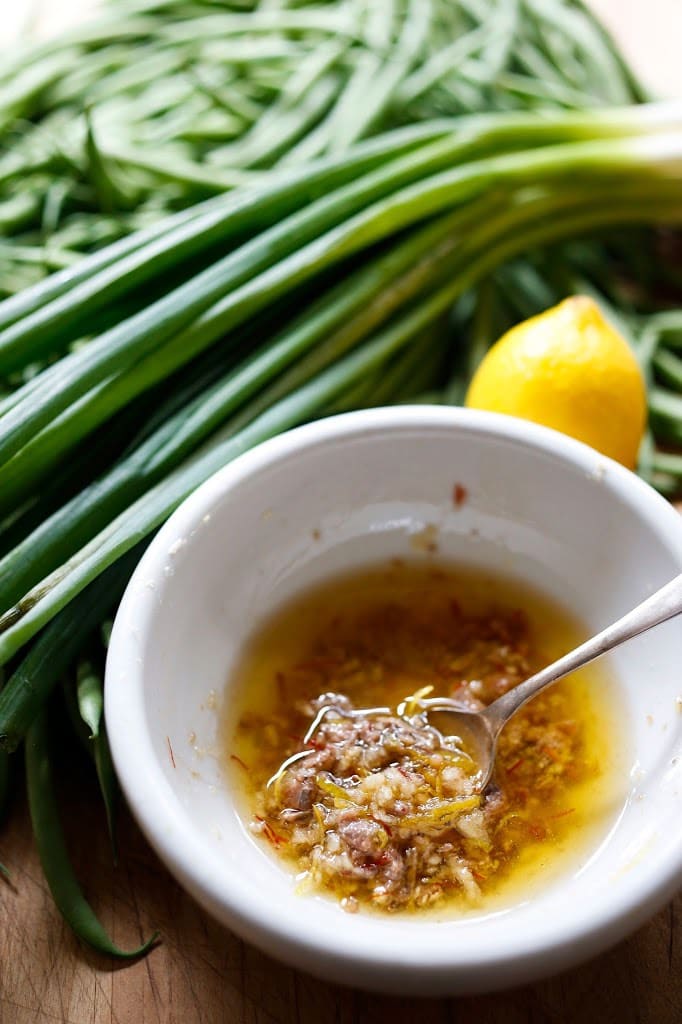 Bagna Cauda is made by simply combining the olive oil, anchovies, garlic and chili threads in a bowl. For those of you who are turned off by anchovies, try to think of them as a salty flavorful seasoning, rather than "fish". They are an acquired taste, but like most delicious things, will be worth the effort. In the end, they will give your cooking wonderful layers of flavor and depth.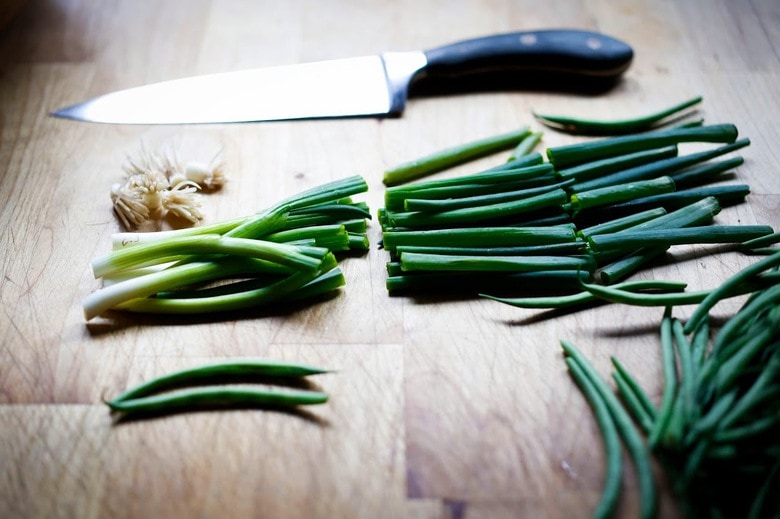 Cut the scallions the same length as the green beans.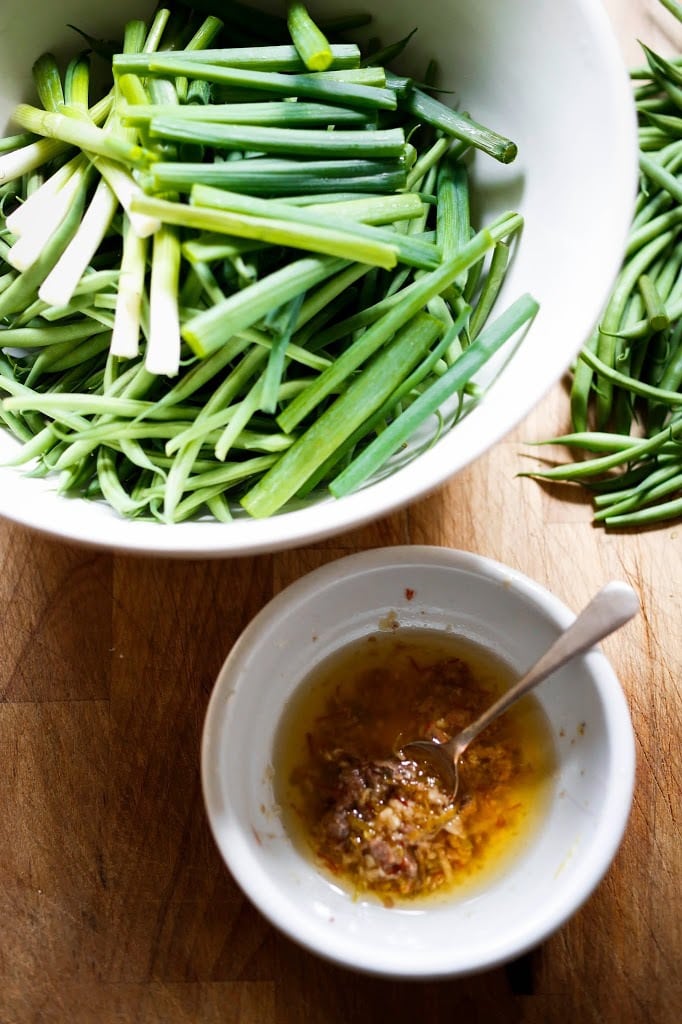 Toss the green beans and scallions in a bowl.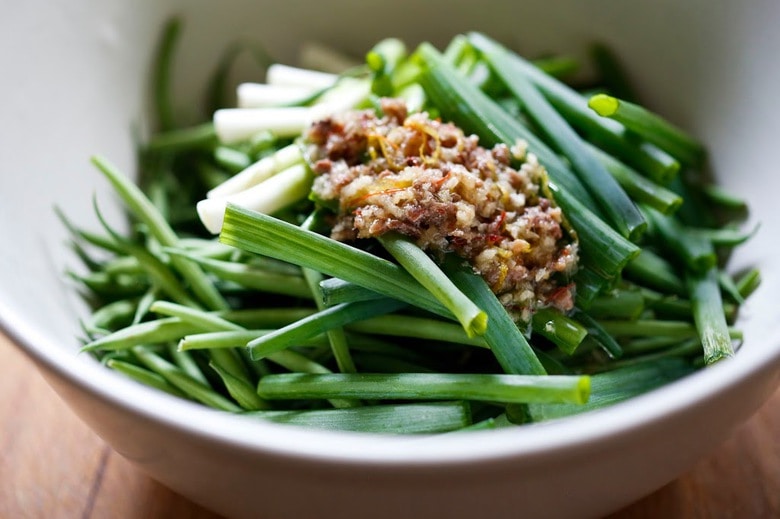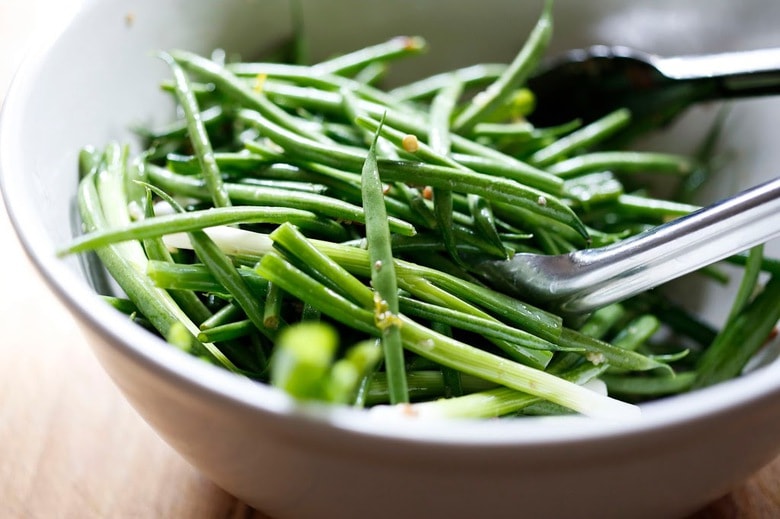 Place on a baking sheet, give them room spread out.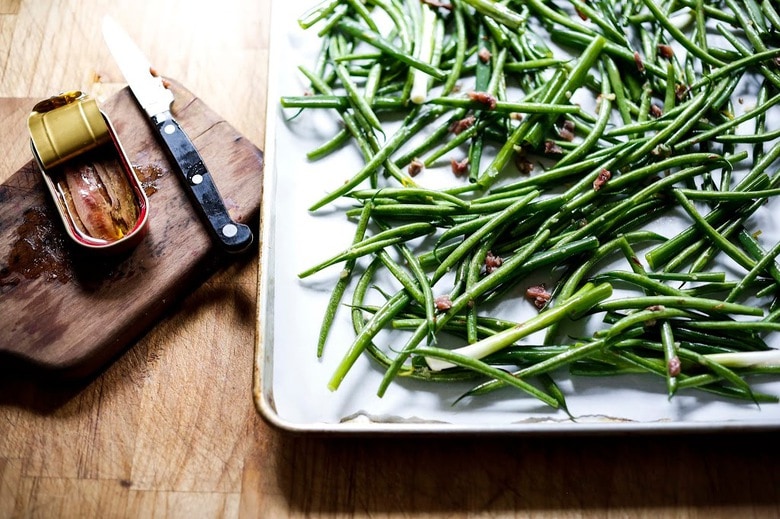 Roast in the hot oven.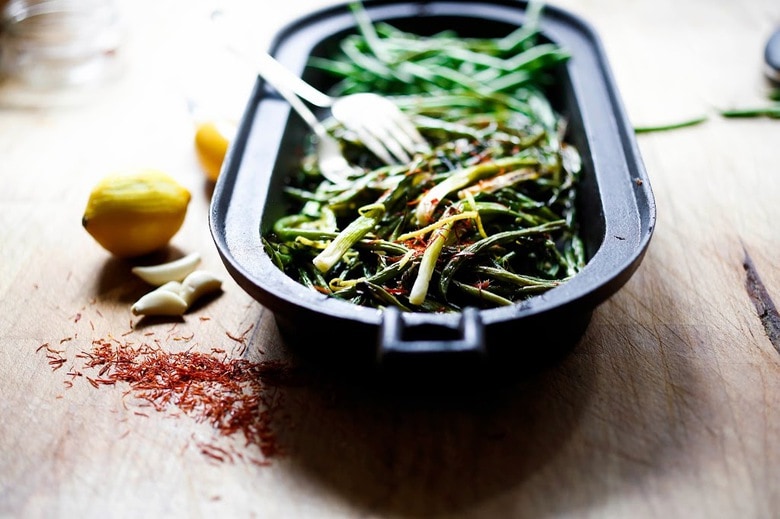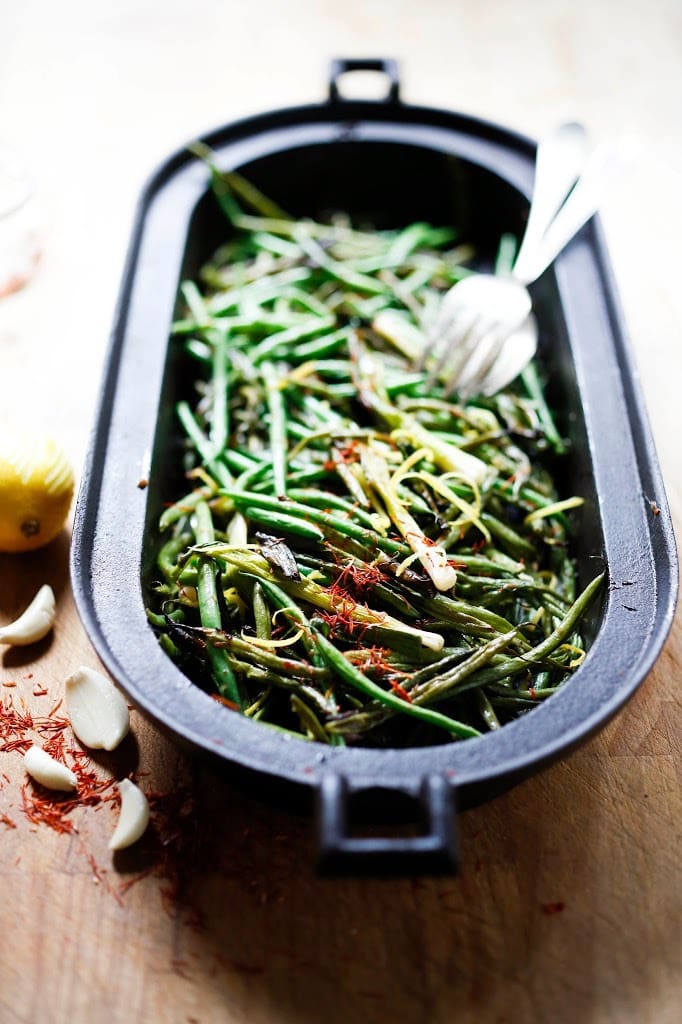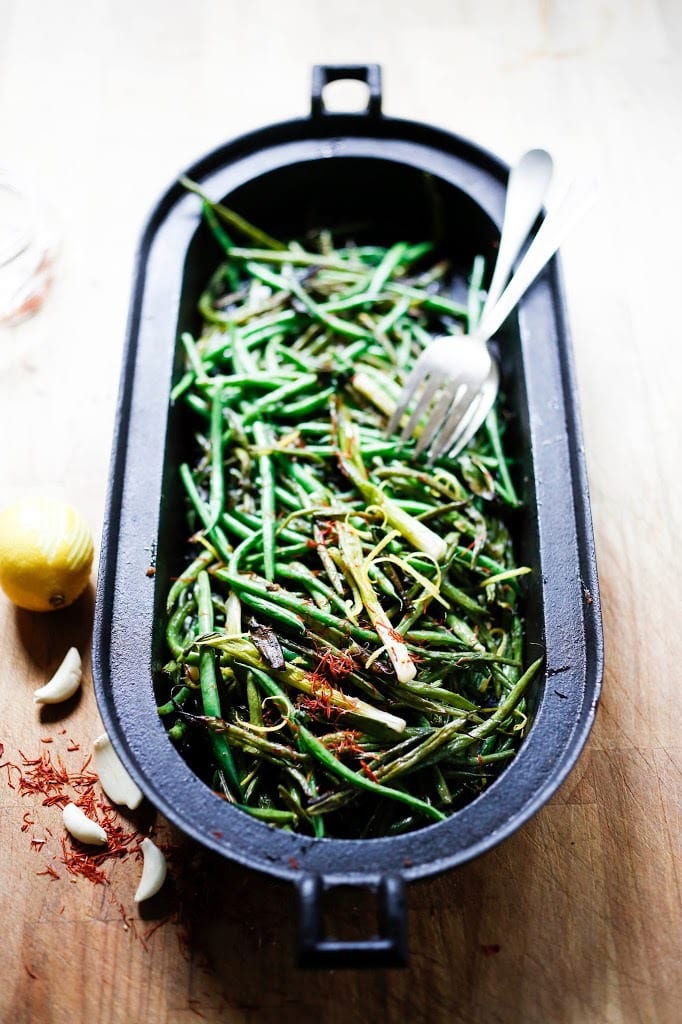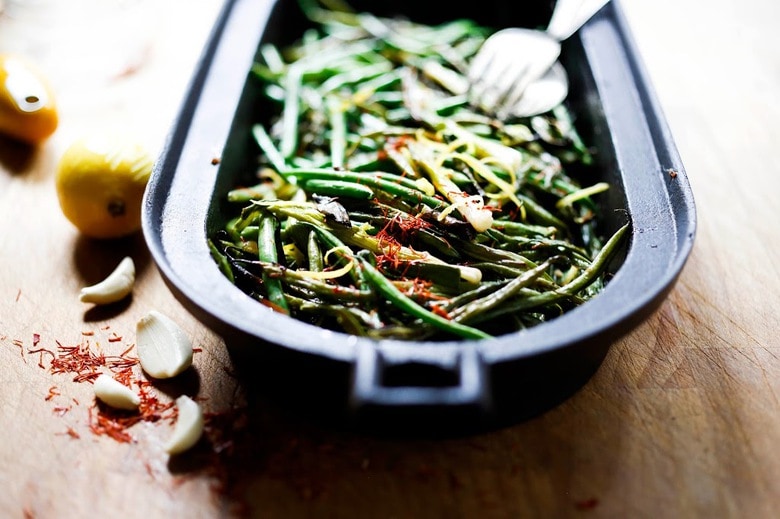 Thanks for reading! For more Feasting at Home …

print recipe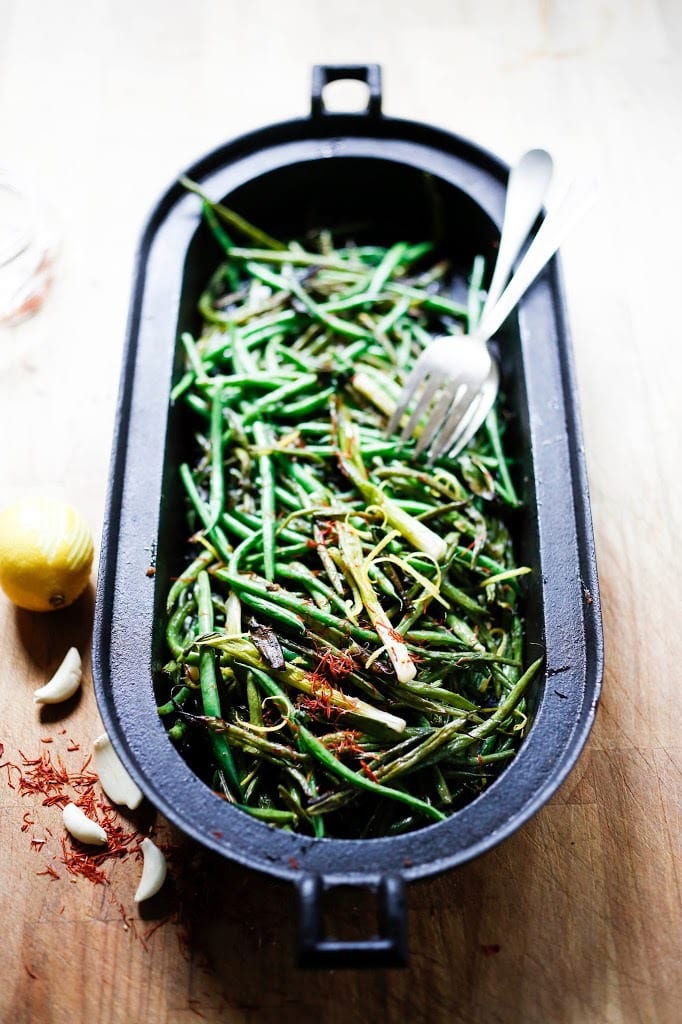 Charred Green beans and Scallions with Bagna Cauda
Ingredients
1 lb Thin Green Beans
1 large bunch scallions, cut to the same length of the beans
—-
2-3 T
olive oil
½ of a 2 oz tin of anchovies (about 4-5 anchovies) very finely minced
6 Cloves garlic- finely minced
generous pinch chili flakes or
chili threads
zest of one small lemon- divided
black pepper to taste
Instructions
Preheat oven to 425F. Cut scallions into 3-4 inch pieces. Place in a bowl with the green beans. In a small bowl, mix
olive oil
, minced garlic, minced anchovies, chili flakes and ½ of the lemon zest. Toss with beans and scallions. Place on a
parchment
lined baking sheet and roast 15-20 minutes mixing halfway through, until green beans are crispy and tender. For added char, broil for a few minutes. Garnish with remaining zest and more
chili threads
.
Details
Prep time: 5 Cook time: 20 Total time: 25 Yield: 4 serving