Grilled Radishes with Green beans, sweet onions and a Mustard Seed Dressing   – a tasty healthy side to grilled chicken, beef or fish.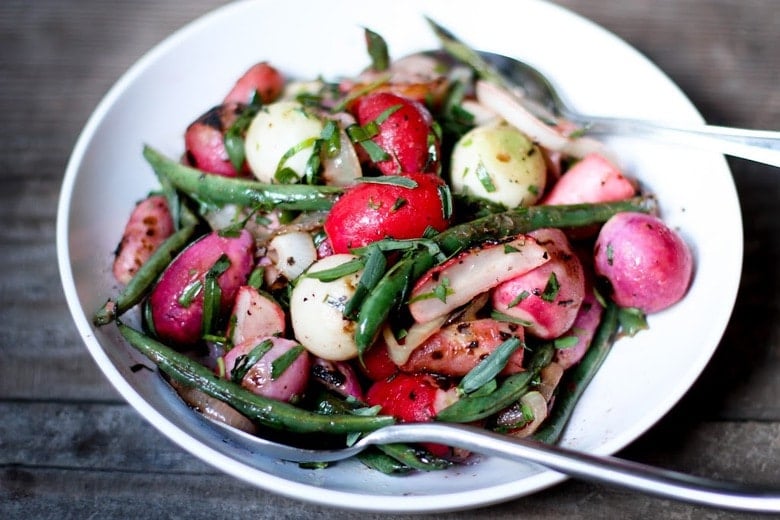 Here's a simple tasty recipe for Grilled Radishes with Sweet Onions, Green beans and a Tarragon Vinaigrette. Often out-shined by the likes of fava beans and fiddleheads, the lowly radish has been almost taken for granted… until recently. Slowly and steadily they have been making a comeback.
Types of Radishes
Growing up, there was only one kind of radish available; the red round Cherry Belle. And only one way to eat them; raw.  No wonder we lost interest!
But today there are numerous varieties available in assorted shapes, colors, sizes and intensity. Heirloom varieties have become especially popular like the French Breakfast Radish with its elongated scarlet body and white base, the mild-tasting White Globe, the crisp White Icicle, and the beautiful Purple Plum.
Ways to prepare them
There are a variety of ways to prepare radishes, although I must admit, I do like them best raw. But as a second alternative, grilling them gives them a unique twist while preserving all of their goodness. There are many people who, like Brian, don't really care for raw radishes (gasp!). But he eats them grilled, and actually enjoys them. To him, they become more palatable and less intense. You could also try roasting them in the oven with a little salt pepper and olive oil, or sautéing them or even braising them.
Spring is Radish Season!
Radishes are one of the first things to show up at the farmer's market in our area. This is because, when planted in full sun, they only take 3-4 days to germinate and 3-4 weeks to mature.  Picked early and in season, they are delicious.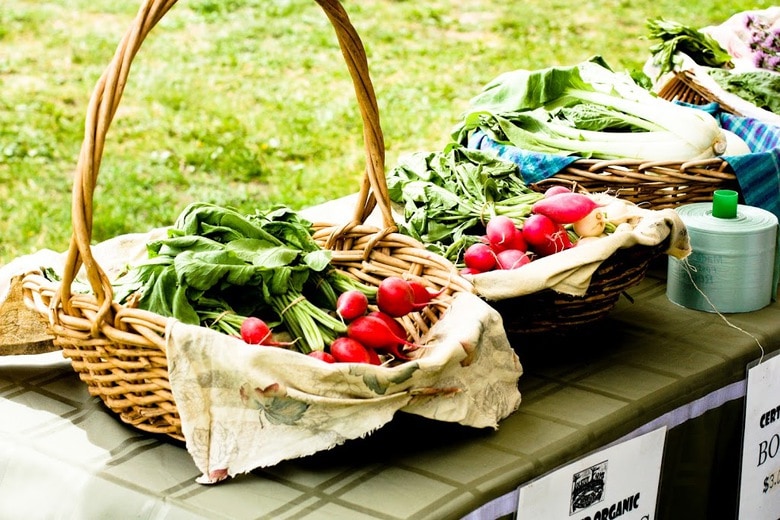 Over the weekend, I picked up four varieties of amazing radishes from Tolstoy Farms, a local grower, at the 
Spokane Farmers Market. 
 The market is located at the corner of 5th and Division and operates Wednesdays and Saturdays from 8 to 1pm.
If you are unfamiliar with Tolstoy Farms , they offer certified organic produce and have been around since the 60's. They have a great program called CSA which allows you to receive one box of certified organic produce per week,  for 17 weeks, for a flat rate.  (See details on their website.)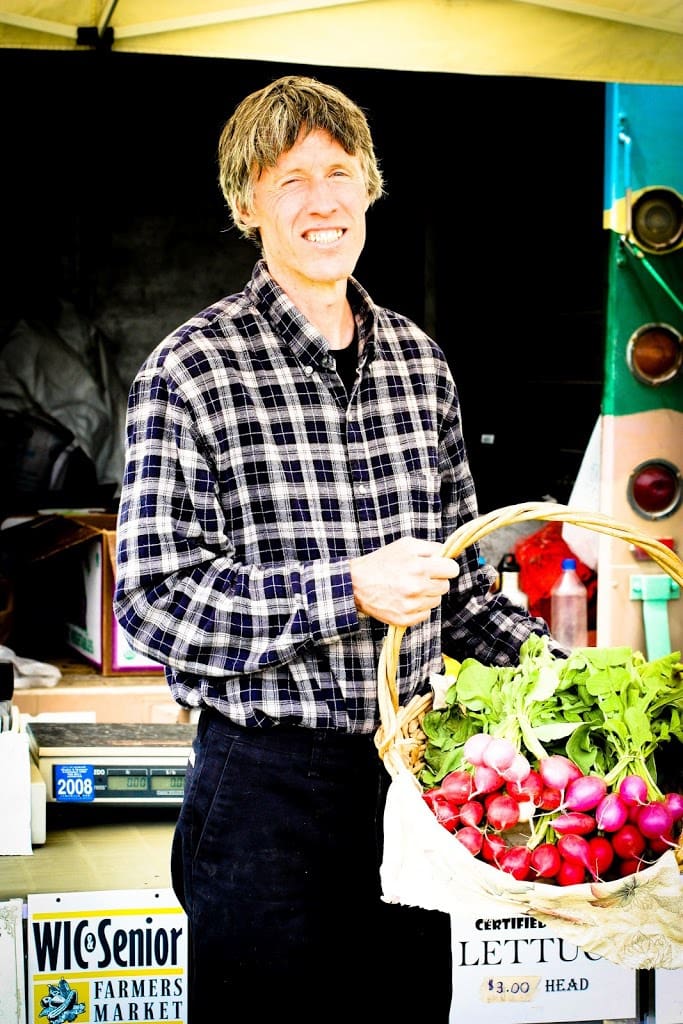 Tim Pellow from Tolstoy Farms is one reason you should visit the Spokane Farmers Market. Tim has been up at Tolstoy growing produce for the last 18 years. If you haven't noticed, farmers are truly a special breed. The salt of the earth. Perhaps it is from years of being outside, having their hands in the earth which shapes and grounds them.  Or from doing years of honest hard work and knowing their purpose.
Witnessing the growth of something they helped create through their care and nurturing must feel so fulfilling. What strikes me most about Tim is his gentleness.  Not only in the careful way he handles the produce he grows but in his presence. Somehow I feel almost blessed after spending a few minutes with him.  Meeting and talking with the people who grow our food creates mindfulness around cooking and eating.  It makes the whole process more meaningful. Tolstoy had four varieties; white globe, cherry belle, purple plum and a long red icicle.
How to make Grilled Radishes
For this easy side dish, prep your radishes by washing them, trimming them and cutting them so they are roughly around the same size (so they cook at the same speed). Some were larger and I quartered them, some were tiny and I left them whole, others were just halved.
I am a huge fan of grilling Vidalia onions (sweet onions). The grill brings out even more of their sweetness. You could easily leave it out, but if you like onions, give it a try.  Just slice them 1/3 in rounds. I also included some green beans, which, again you could leave out,  or substitute snap peas or asparagus instead. Toss each with a little olive oil, salt and pepper. I like to keep them separate because grill times can vary.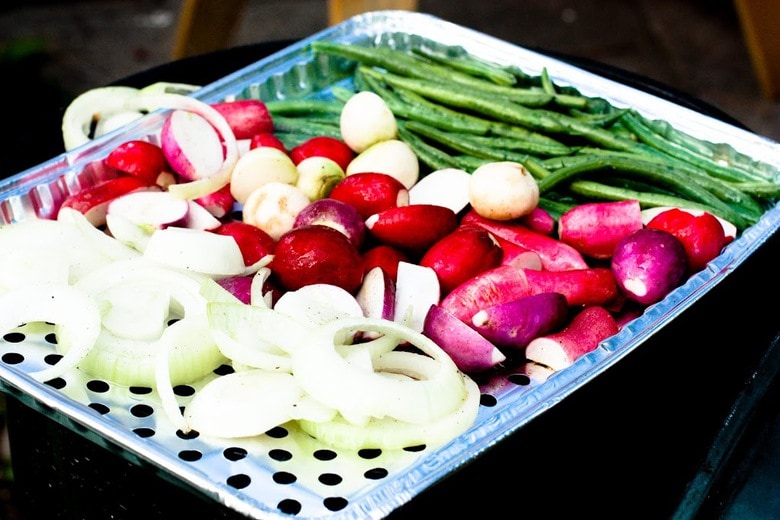 Use a grill pan to keep smaller items from falling through the grill grate.
Grill on medium heat, covered, stirring every 4 minutes or so for about 10-12 minutes. Keeping the vegetables separated on the grill allows you to remove something that has cooked faster, while leaving something else to cook a little longer. If your beans are thick, they may take a little longer. You could also quickly blanch them in salted water before grilling if you prefer them to be very tender.
Dress the Radishes
Make a simple Tarragon Vinaigrette. Toss your grilled radishes, sweet Vidalia onions and green beans in the vinaigrette and serve warm.  This makes a great vegetable side dish to accompany whatever protein you are serving.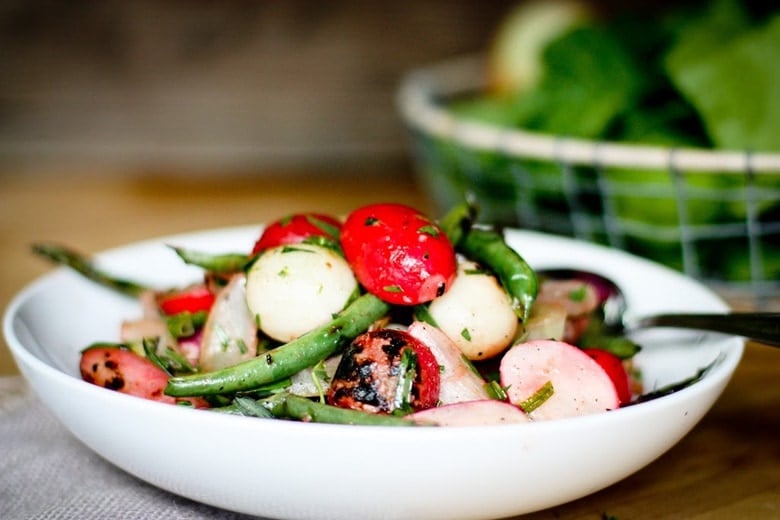 What to do with Radish Tops
Leftover radish tops can be incorporated into soups, stews or added to this Simple Sautéed Greens Recipe! You could also include them in a salad, make radish top pesto,  add to pasta, or even in lasagna instead of using spinach. The great thing about the tops is that are exceptionally high in vitamin C, iron and other nutrients, even more so than the radish itself.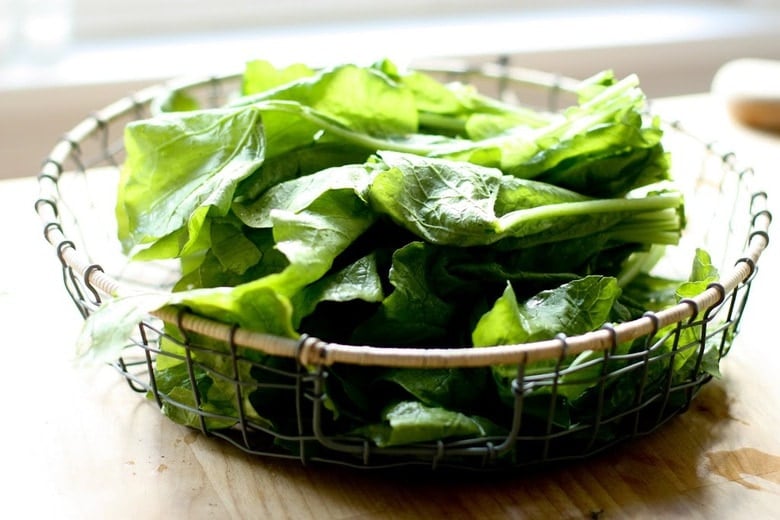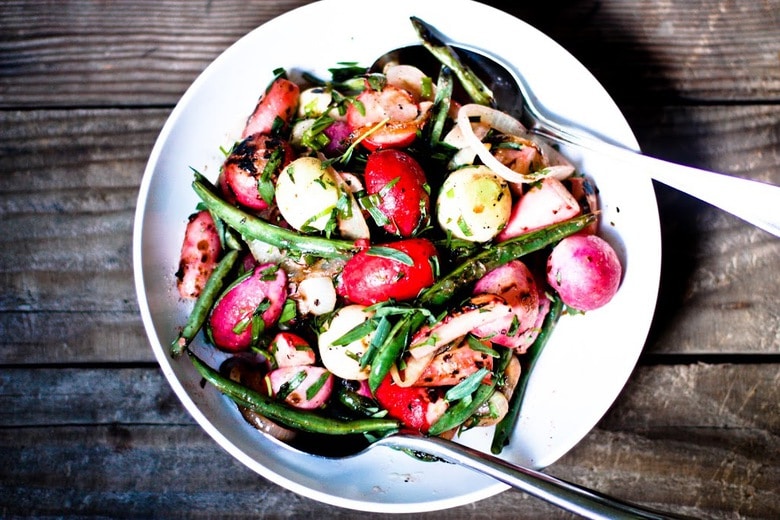 On the homefront: As I am writing this post this morning, Brian sits next to me on the couch.  Mornings around here are quiet. We sit, read, drink coffee, wake up to the day slowly, gazing out the front window at the sycamore trees.
Rarely, if ever, does Brian find a quote that he deems important enough to require reading out loud, let alone share with me. But this morning, he says,
Sylvia, listen to this!
I do, mostly because I am so shocked that he has spoken. Like I said, mornings
are really quiet.
"One final paragraph of advice: do not burn yourselves out. Be as I am – a reluctant enthusiast….a part-time crusader, a half-hearted fanatic. Save the other half of yourselves and your lives for pleasure and adventure. It is not enough to fight for the land; it is even more important to enjoy it. While you can. While it's still here. So get out there and hunt and fish and mess around with your friends, ramble out yonder and explore the forests, climb the mountains, bag the peaks, run the rivers, breathe deep of that yet sweet and lucid air, sit quietly for a while and contemplate the precious stillness, the lovely, mysterious, and awesome space. Enjoy yourselves, keep your brain in your head and your head firmly attached to the body, the body active and alive, and I promise you this much; I promise you this one sweet victory over our enemies, over those desk-bound men and women with their hearts in a safe deposit box, and their eyes hypnotized by desk calculators. I promise you this; You will outlive the bastards."
―
Edward Abbey
Hope you enjoy this Grilled radish salad. It is best eaten at room temp. 🙂
xoxo
Print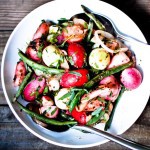 Grilled Radishes with Sweet Onions, Green beans and Tarragon   (Serves 4 as a vegetable side dish)
Prep Time:

15

Cook Time:

15

Total Time:

30 minutes

Yield:

4

1

x

Category:

vegan, side dish, salad

Method:

grill

Cuisine:

Pacific Northwest

Diet:

Vegan
---
Description
Grilled Radishes with Sweet Onions, Green beans and a Tarragon Mustard Seed Dressing   – a tasty healthy side to grilled chicken, beef or fish.
---
4

cups

radishes, cleaned, trimmed and cut to similar size

2

cups

green beans, trimmed.

1

vidalia onion sliced in 1/3 inch round disks
Tarragon dressing:
---
Instructions
Pre heat grill to medium.
Toss veggies in a bowl with drizzle of olive oil, salt, pepper
Grill on preheated grill – MED heat, covered for 10-12 minutes, turning every 4 minutes or so until onions and green beans are tender.  I used a grill pan to prevent pieces from falling in-between the grates.
In the meantime, make the dressing. Whisk all ingredients together in a small bowl.
Remove veggies from the grill and place in a bowl or on a platter.  Let cool slightly.
Toss with dressing and serve at room temp, or serve leftovers chilled, the next day.
---
Notes
Grilled radishes are BEST served after they have cooled a bit- as they can burn the mouth when hot.
Nutrition
Serving Size:
Calories:

245

Sugar:

3.5 g

Sodium:

318.7 mg

Fat:

7.5 g

Saturated Fat:

1.1 g

Carbohydrates:

11.6 g

Fiber:

3.8 g

Protein:

3.1 g

Cholesterol:

0 mg
Keywords: grilled radishes, grilled radish salad, how to grill radishes, grilled radish recipe, grilling radishes, mustard seed dressing