How to make authentic Aguachile (aka Camarones en Aguachile), a flavorful Mexican appetizer, similar to ceviche, where shrimp is marinated in lime juice, but with the addition of chiles and cilantro. A simple and delicious appetizer that is low-carb and keto-friendly. Video. Love Seafood? Check out our 50+ Best Fish Recipes including this Amazing Ceviche Recipe!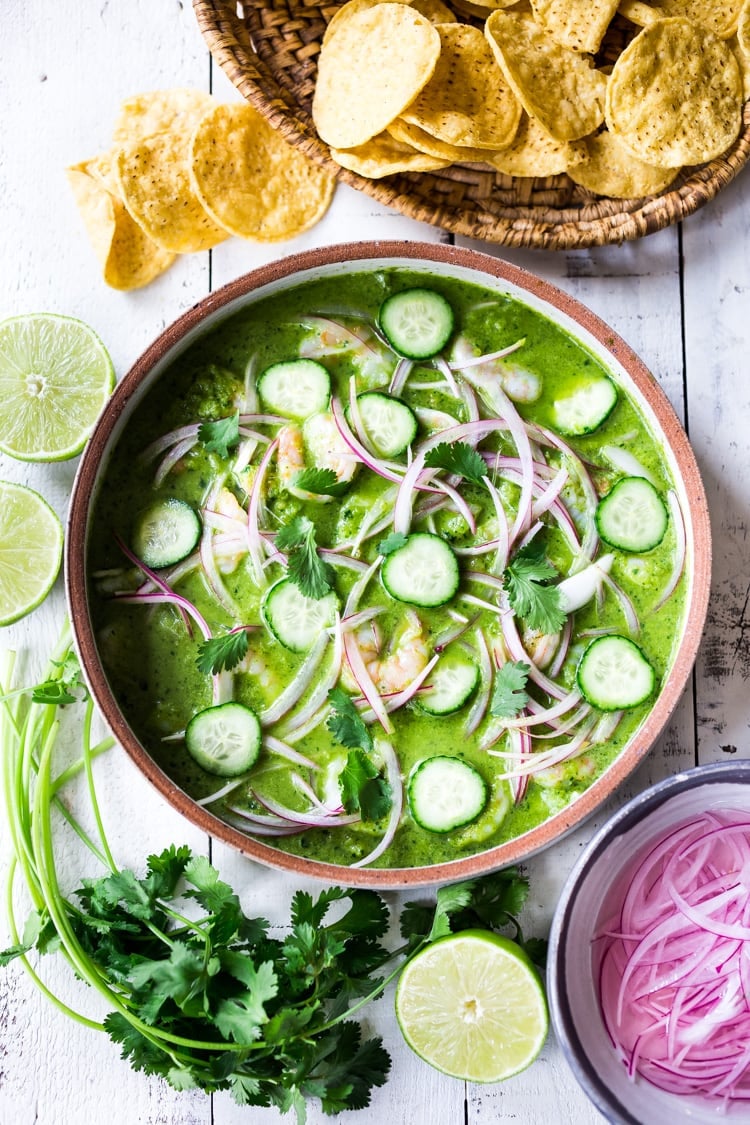 Whatever is rejected from the self, appears in the world as an event. ~Carl Jung
Ever since we got back from Mexico, I have been chomping at the bit to share this delicious Aguachile Recipe with you!
One of my favorite things to eat in Mexico, along with ceviche, is Aguachile. Ceviche and Aguachile are similar in that both are fish or shrimp, "cooked"  in lime juice. But Aguachile takes it a step further by adding blended chiles and cilantro to the mix, giving it this vibrant green color and spicy deliciousness!
Aguachile literally means "chili water," and this is what flavors the shrimp in this recipe. Spicy and full of flavor- I find this so incredibly addicting… and I can't wait for you to try this!
Watch how to make Aquachile! | 60-sec video
 aquachile Instructions (step-by-step)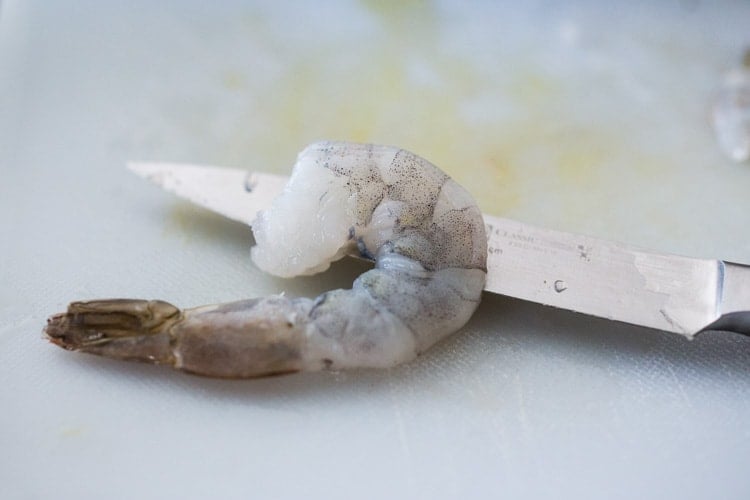 Step 1: Cut the shrimp in half, removing its tail and any veins. This makes for easier eating and faster marinating time. If using very small shrimp, you can butterfly them, leaving one side attached if you prefer, but I find just cutting them in half is easiest and fastest.
Here I've used frozen, raw, peeled shrimp – 21-25 per pound size, that I've thawed.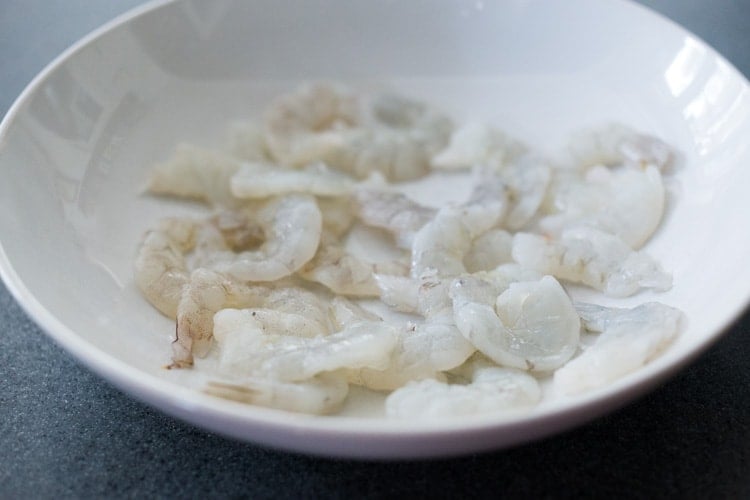 Step 2: Place in a shallow bowl or baking dish and squeeze with lime juice, enough to coat them well. Metal can react with the lime so use a glass or porcelain dish where shrimp have room to marinate in a single layer. Stir in a pinch of salt.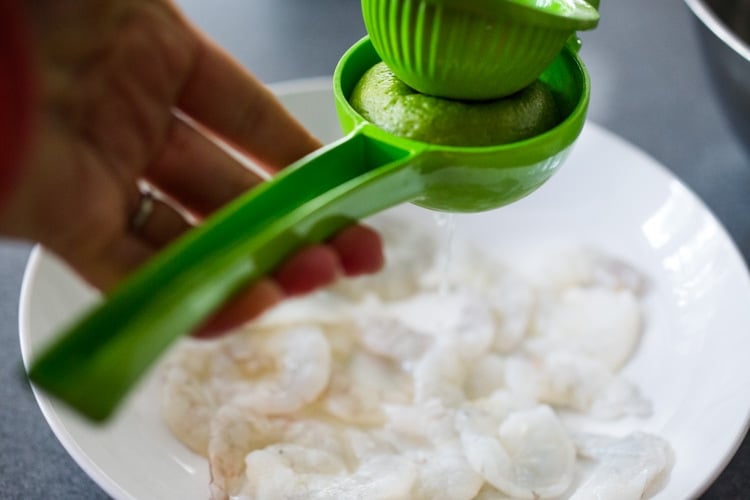 Let the shrimp marinate for 20 minutes, turning them over halfway through so each side gets in contact with the lime juice.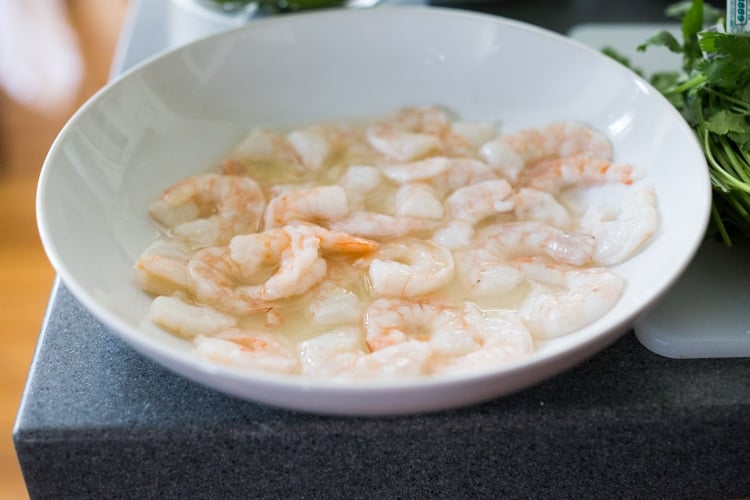 You will know the shrimp are "cooked" when they turn a soft pink hue. Notice the color difference from above.
Step 3: While the shrimp marinate, prep the red onions.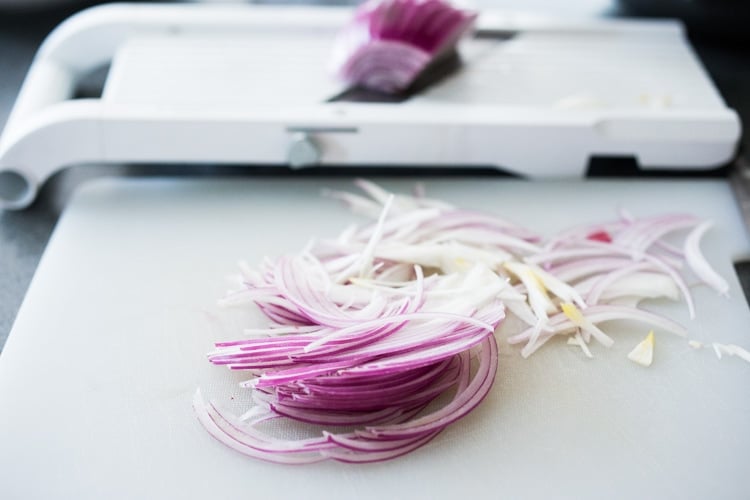 Thinly slice the red onions, or use a mandolin. I used a quarter of a red onion for this Aguachile Recipe. Generously salt, cover with water. Add a splash of white vinegar to brighten the color of the onion.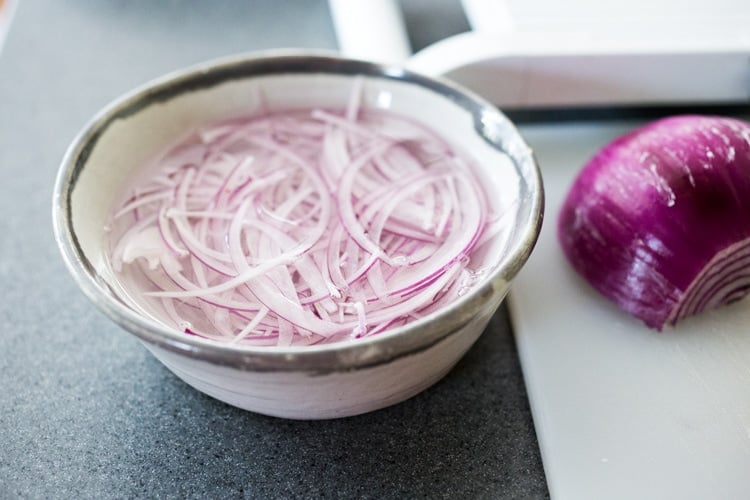 Step 4: Make the aguachile marinade. Blend fresh chilies ( jalapeño or serranos) with cilantro, garlic, lime juice and salt. Blend this until it is smooth and bright, vibrant green.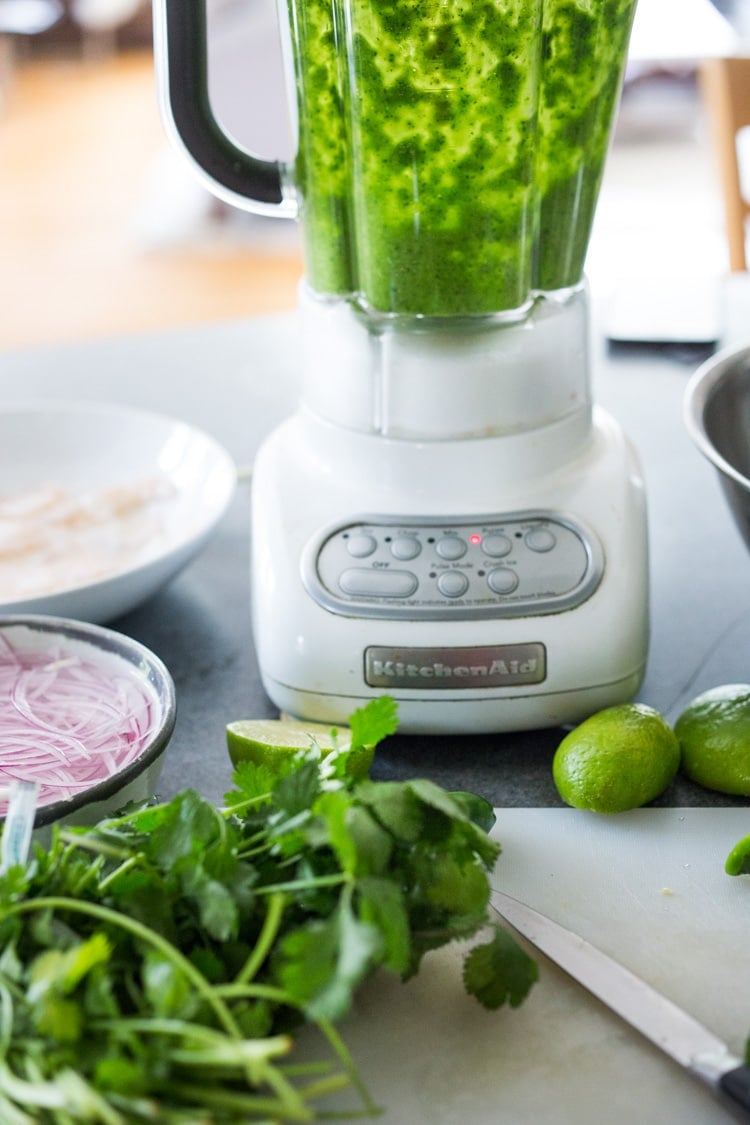 Step 5: Combine. By now the shrimp has cured (has turned pink). Leaving the lime juice in the shrimp, pour the Aguachile Marinade over the shrimp, stirring it in.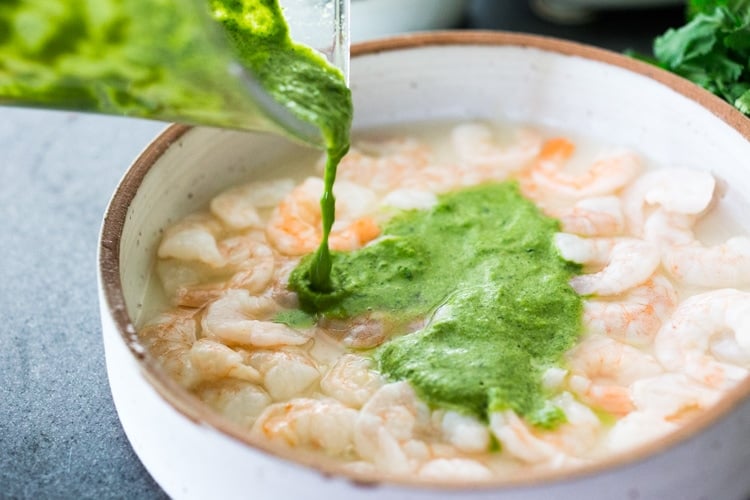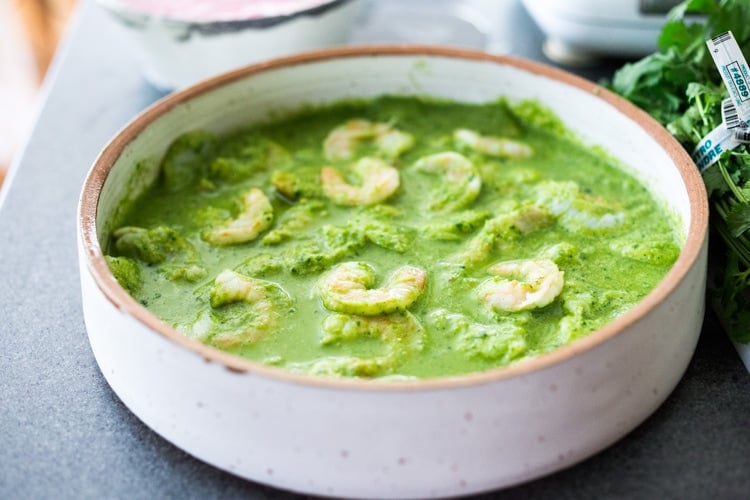 Scatter with the drained onions, stirring them in a bit too, saving some for the top.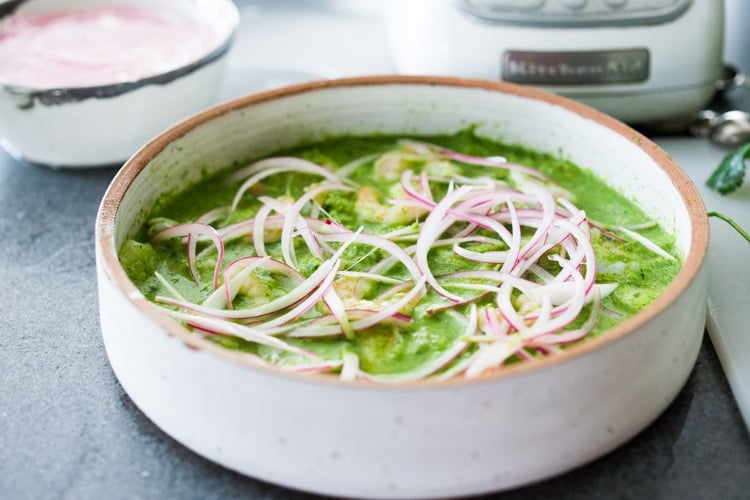 Add cucumber and cilantro and refrigerate covered until ready to serve. Top with avocado right before serving- which adds a delicious creaminess to counterbalance the acid.
How to serve Aguachile
Aguachile is best served nice and cold, so refrigerate until serving.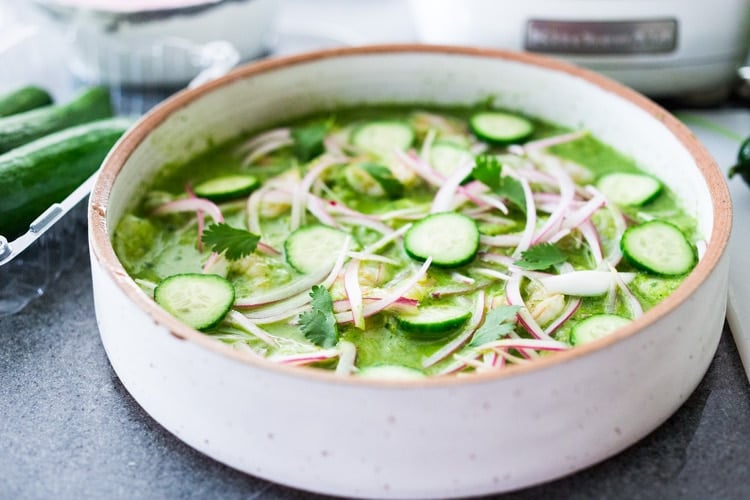 Serve the Aguachile with avocado, tortilla chips or mini tostadas. Or if going grain-free, plantain chips work too!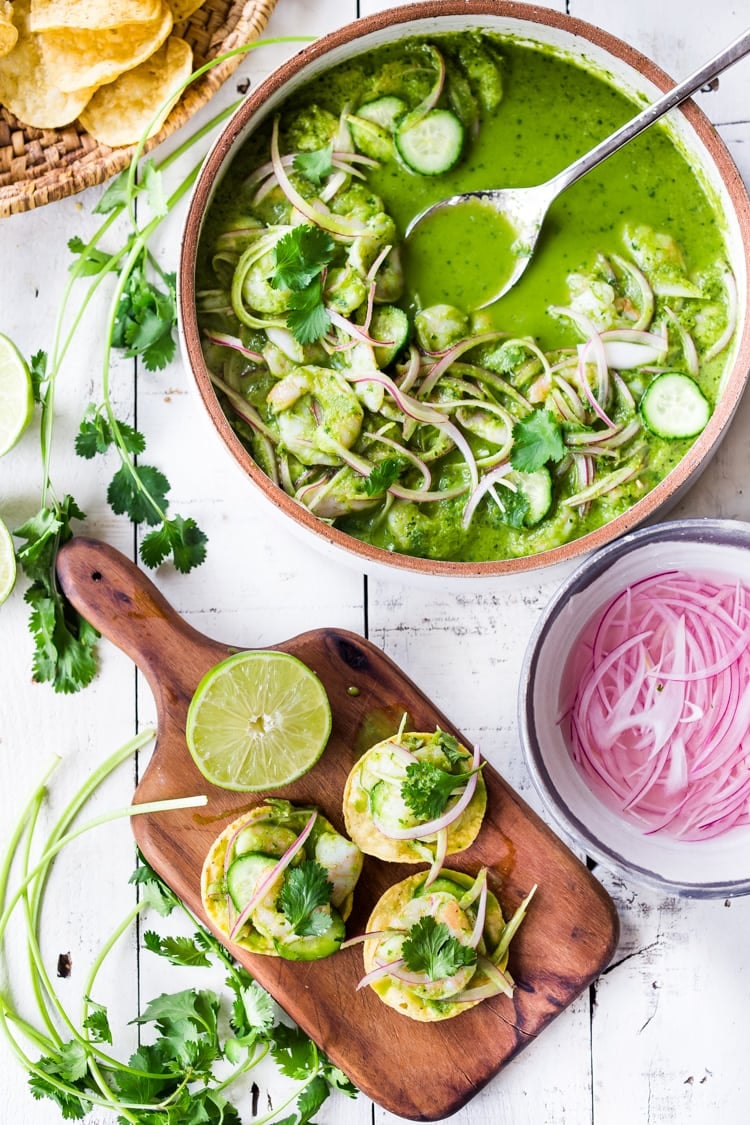 To temper the heat of this Aguachile recipe  –  add fresh avocado slices- which I failed to take a picture of here, but you could add upon serving. Simple lay slices of avocado overtop.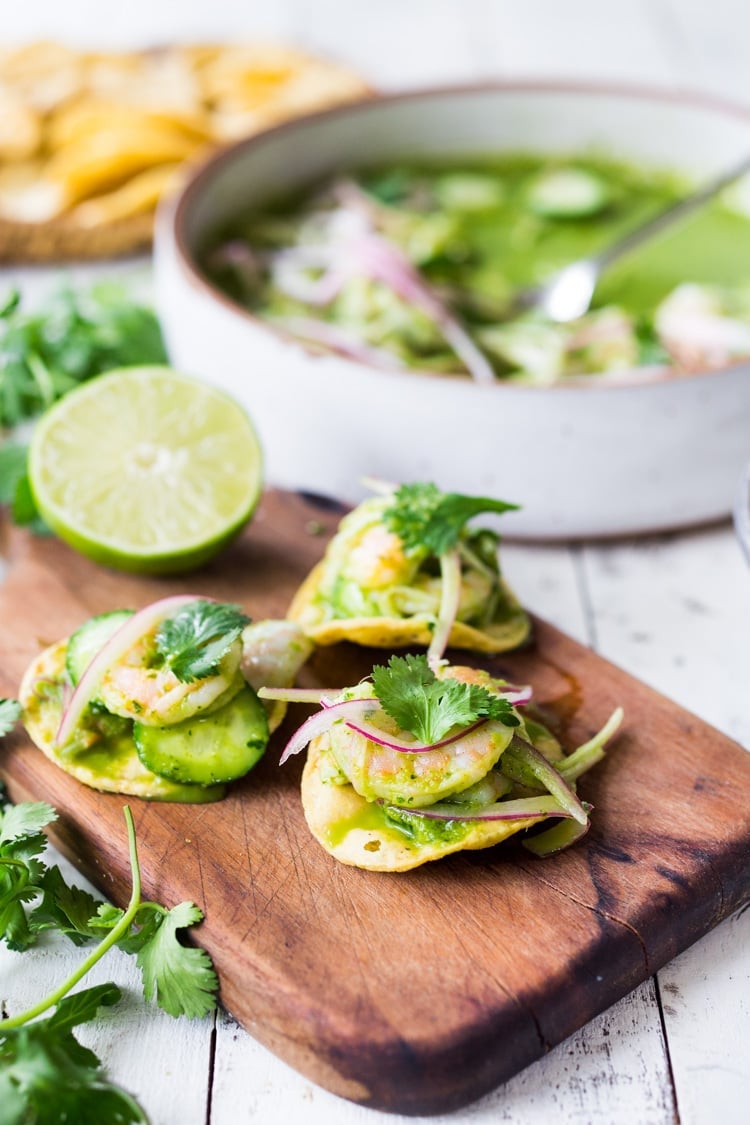 I hope you love this Aguachile Recipe as much as we do- it is always a hit at a party!  Let us know what you think in the comments below!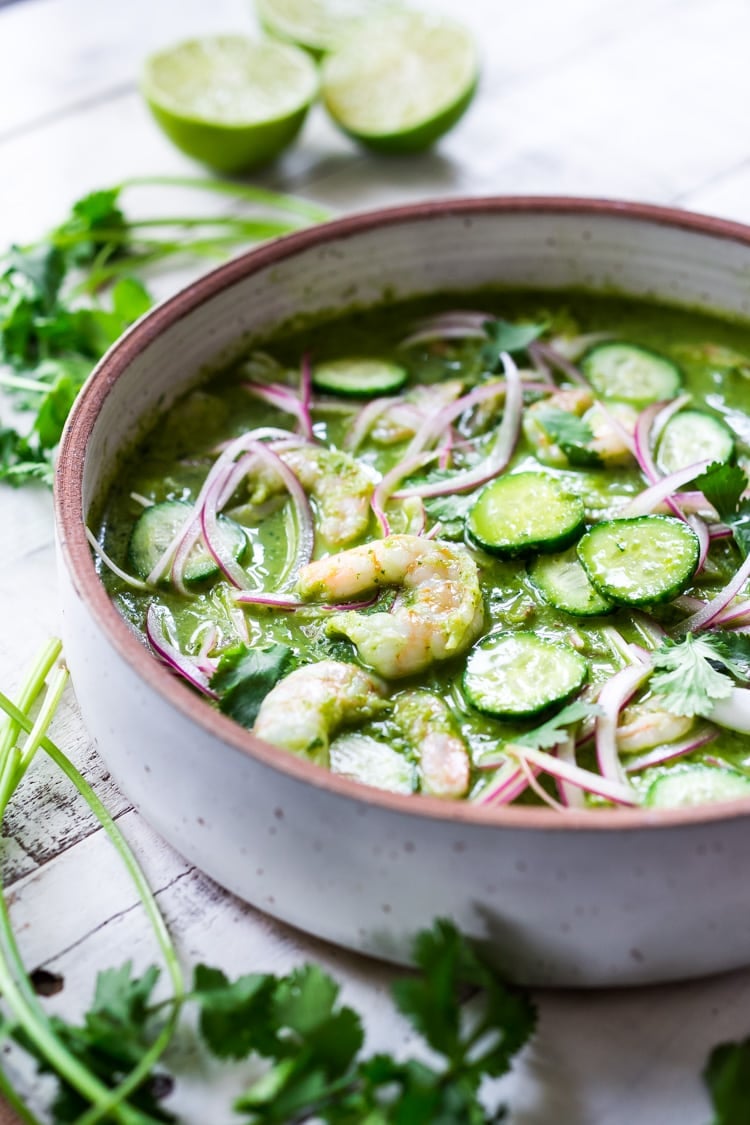 You may also like:
Print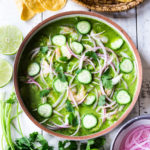 Aguachile Recipe
Author:

Sylvia Fountaine

Prep Time:

30 mins

Cook Time:

45

Total Time:

1 hour 15 minutes

Yield:

6

-8

1

x

Category:

Appetizer

Method:

Marinated

Cuisine:

Mexican

Diet:

Gluten Free
---
Description
An authentic Aguachile Recipe with Shrimp! Similar to ceviche, shrimp is sliced in half, and cooked in a mixture of lime juice, chiles and cilantro. A flavorful, simple and delicious appetizer! Serve with cucumber, avocado and tortilla chips.
---
1

pound

raw shrimp (peeled and deveined, tails removed) ( or sub scallops- see notes)

1

–

2

large limes
generous pinch salt
——

1/4

of a red onion, very thinly sliced ( use a mandolin)
generous pinch salt
splash white vinegar ( optional, to brighten color)
water to cover
Aguachile Marinade:
1/2

cup

fresh lime juice ( 2-3 limes) ( see notes)

1

garlic clove

1

cup

cilantro, packed (half of a large bunch) tender stems OK

2

jalapeños, sliced in half lengthwise

1

serrano chili, sliced in half lengthwise ( optional for extra spicy)

1 teaspoon

kosher salt
Optional garnishes:
1 1/2

cups

sliced Turkish or English cucumber
avocado slices
radish slices
drizzle olive oil
cilantro leaves
tortilla chips or mini tostadas
---
Instructions
Slice the shrimp in half (lengthwise) and remove any veins or tails.  Place in a shallow serving dish in one layer if possible. Squeeze with enough lime to cover the shrimp- which will cook the shrimp, turning them slightly pink. Sprinkle with a little salt. Turn shrimp over as needed to cook both sides in the lime juice – this will take about 20-30 minutes.
Thinly slice the red onion, place it in a bowl and season generously with salt. Pour just enough water to cover the onions. Optional: Add a splash of white vinegar to enhance and bring out the red color of the onion.
Make the Aguachile Marinade: Place the ingredients in a blender and blend until smooth, for a full minute, scraping down sides as necessary. If you have excess lime juice marinating the shrimp you can use some of this in the blender to make your ½ cup.
Pour the aguachile marinade over the shrimp and toss to coat. Drain the onions and scatter them over top, mixing them in slightly. Add cucumber or radishes if you like. Refrigerate 30 minutes or up to 4 hours. This is best served cold!
When ready to serve, taste ( I like to taste on a tortilla chip) adjusting the salt. Add avocado slices to the top, scatter with fresh cilantro and an optional drizzle of olive oil.
Serve with tortilla chips or mini tostadas on the side.
Enjoy one of my favorite Mexican dishes!!!
---
Notes
Feel free to sub thinly sliced raw scallops for the shrimp! ( ¼ inch-⅓ inch thick)
TIP: Limes have different acidity levels. I always try to pick limes that are ripe ( less acidic) and slightly soft to the touch. Or I let them ripen for a few days on the counter before using. Before using roll them on the counter pressing down hard with your palm to get them even more juicy!
If raw shrimp makes you squeamish, feel free to try this with cooked frozen shrimp (thawed). It is not "real"authentic Aguachile -but it will give you an idea of the flavor and perhaps embolden you, the next time to use raw shrimp. 😉  Cut them in half the same way, as they are easier to eat and pile on a chip.
The acid in the lime truly cooks the shrimp and you can witness this,  with the color change.
Nutrition
Serving Size:

With 1 avocado ( ½ cup serving)

Calories:

95

Sugar:

1.8 g

Sodium:

360.8 mg

Fat:

3.2 g

Saturated Fat:

0.6 g

Carbohydrates:

5.5 g

Fiber:

2.1 g

Protein:

12.4 g

Cholesterol:

91.2 mg
Keywords: Aguachile, Aguachile recipe, aguachilies, aguachilies recipes, aguachile recipes, best augachile, what is aquachilies, how to make aguachile, shrimp aquachile, Camarones en Aguachile, aquachile verde recipe,