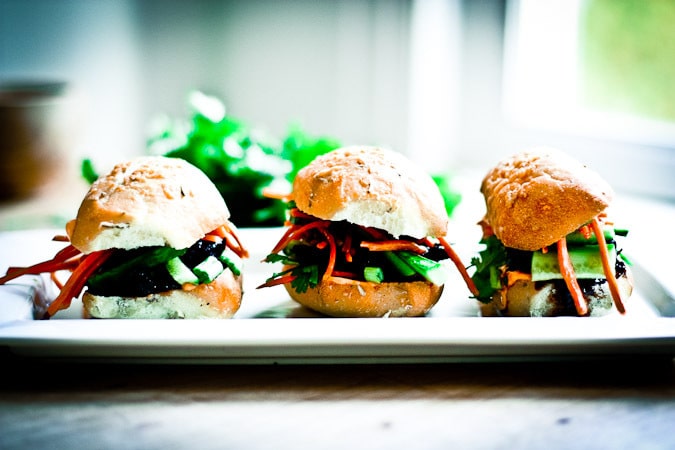 Here's a recipe for a a decadent Vietnamese Bahn Mi Sandwich with pickled veggies and a a spicy aioli using slow- braised oxtail as the foundation.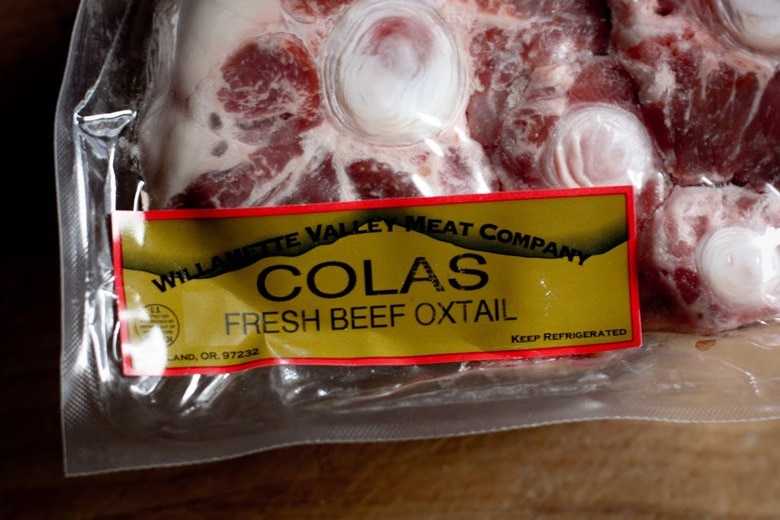 As I sit here trying to write something even slightly intelligent about oxtail,
it occurs to me … that I am not exactly clear about what oxtail actually is.
I mean, besides the obvious tail part.
The question I hesitate asking, which really must be asked is….what is an "ox" ?



Is it different from a cow?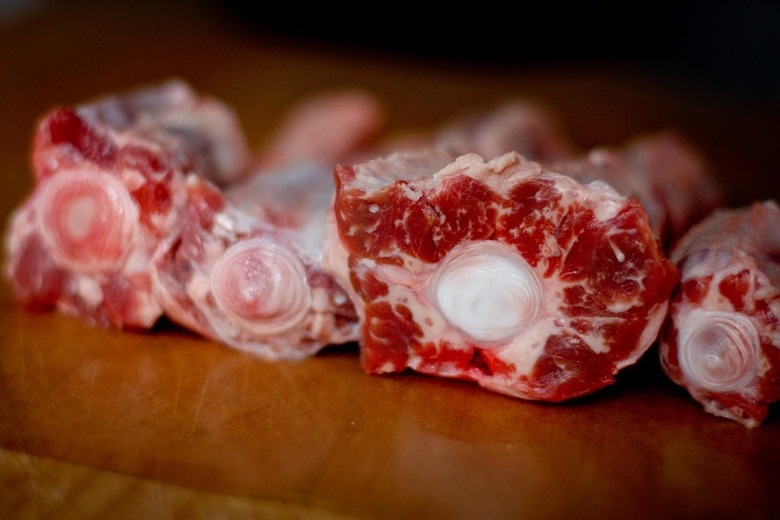 After a quick bit of wikipedia research, I learned that an ox is
a castrated adult male bovine more commonly known as a steer.
So, technically, no, it's not a "cow". A cow is an adult female bovine.
Good to know.
Sometimes I cringe at how much I don't know. Its humbling. As you can see, the meat from oxtail is pretty sparse, but it's intensely rich and deeply flavorful.
This is because of the marrow.
Marrow= Good Flavor.
Oxtail makes the best, most flavorful bone broth ever….packed full of collagen!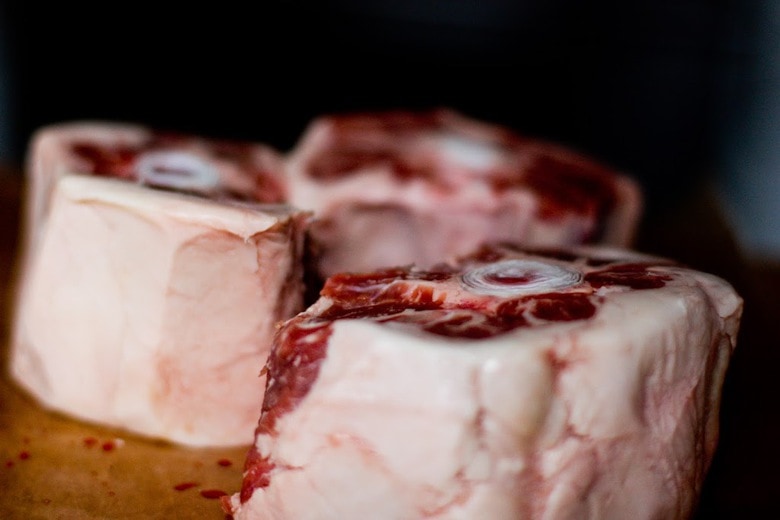 After taking the oxtails out of the package, trim off the fat.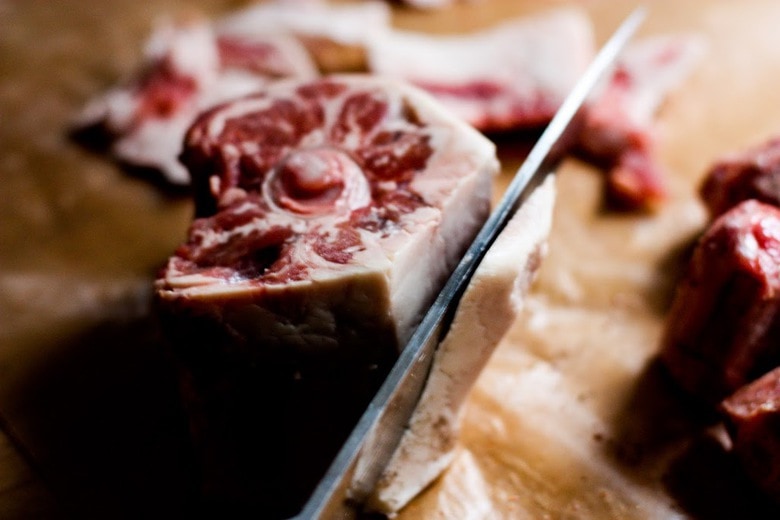 I slow braised the oxtail, browning it first, very much like cooking short ribs or a roast.
Braising is basically a cooking technique in which you first sear meat at a high temperature on the stove top, creating a nice brown crust, then placing the food in a covered pot with a braising liquid for a couple hours. Your braising liquid can be most any combination of things, depending on what you are doing. You could use red wine and beef stock, beer and chicken stock,
miso
and sake, white wine and vege stock, hard cider, rice wine. even coca cola, ginger ale or root beer. The combinations are truly endless. Its a lovely way of cooking tougher cuts of meat because it breaks down the tough connective tissue and renders meat fork tender and flavorful.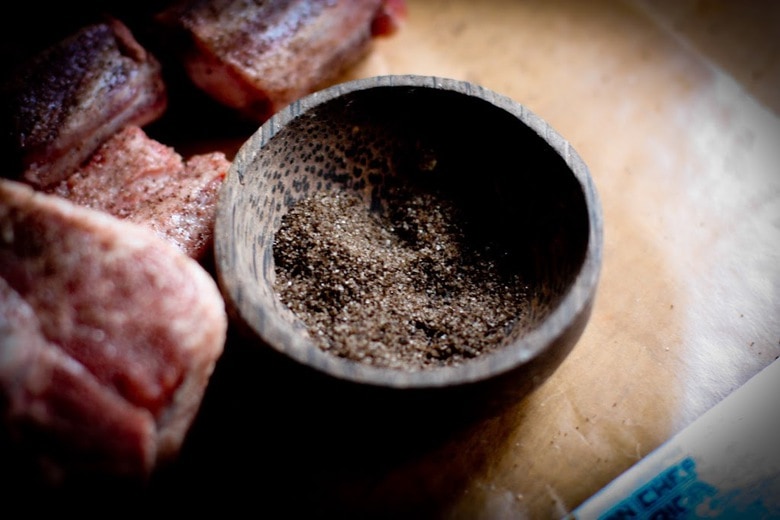 Sprinkle the oxtail with a generous helping of
smoked salt
and pepper and very patiently brown all sides in a heavy bottomed
dutch oven
.
Once browned, set aside. After draining off the fat, in the same pan, saute onion, garlic, ginger until tender. Deglaze with rice wine. Add beef stock,
soy sauce
, brown
sugar
,
star anise
, and cloves. Bring to a boil. Place the oxtail back in the
dutch oven
, and cover. Bring to a boil on the stove top and place in 300 F oven for 3 hours. What comes out will amaze you.
Here are the 3 most important tips to braising:
1. Season meat generously (with salt and pepper)
2. Brown all sides well…dont hurry this.
3. Make sure your braising liquid is flavorful.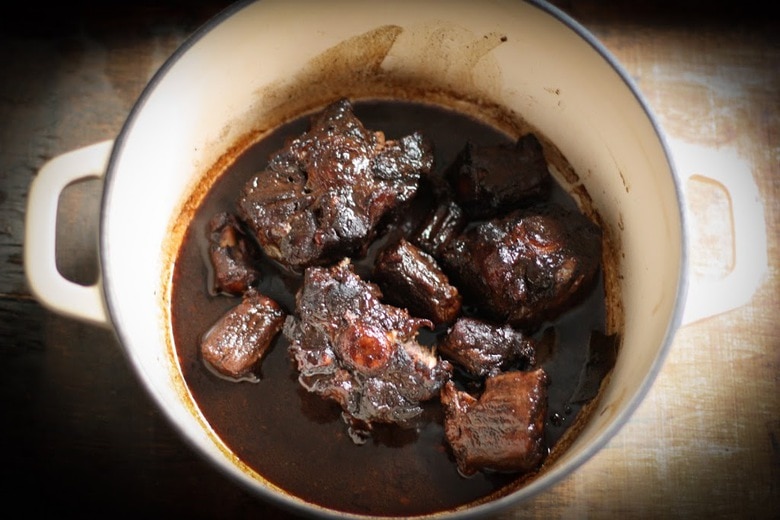 When you pull the meat out of the oven, it will surprise you with its tenderness and succulence. Remove the meat from the braising liquid. Strain. If you cool the the braising liquid in a glass in the freezer for an hour, you can actually remove more of the fat.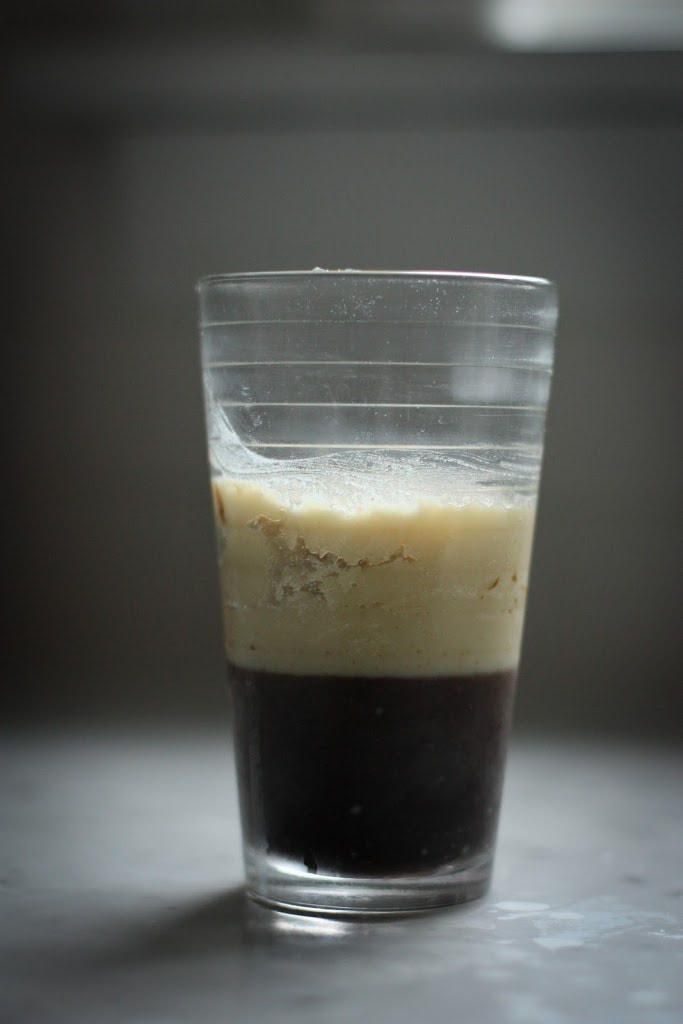 No, this is not a macchiato.
This is what happens to the braising liquid after it gets cold. The fats solidify and float to the top.
As you see here, much of the reserved liquid truly is fat, and this can become overly rich if you leave it in. There are occasions where this may be a good thing, but for this, I wanted to remove it. Separate the meat from the bones by pulling it apart with your fingers. Once separated and lightly shredded, place it back in a skillet or pot with the de-fatted braising liquid (which will also be fairly gelatinous and solid). Heat this up and use this for your Bánh mì sandwiches.
You could also do all of this ahead, store it the fridge and heat it up the next day.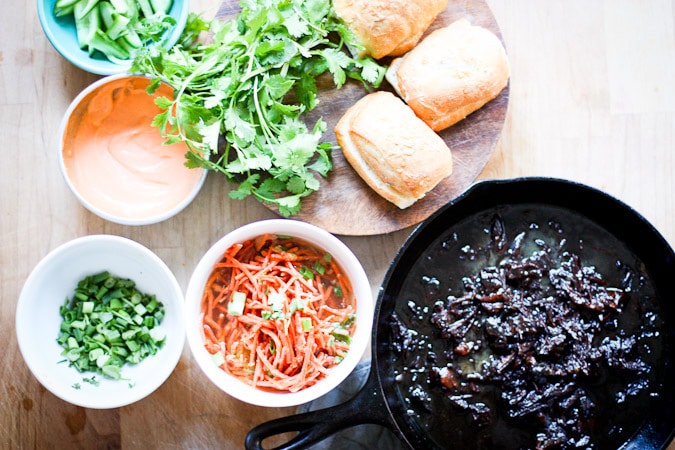 On to the Bánh mì.
Bánh mì is basically a Veitnamese style
baguette
sandwich filled with a different variety of meats( grilled pork, pork belly, pate, beef, chicken), cucumber, shredded carrots and daikon, cilantro, scallions and chili peppers. When the French colonized Vietnam in the late 1800's, they brought their french style baguettes with them. This is a perfect example of fusion cuisine.
In the last few years they have become wildly popular here in the states with a cult like following. There is debate on how to pronounce bánh mì. I say–
bun
me. It seems to get the idea across.
If you would like to try one here in Spokane, without having to make it yourself, Kevin Finch's
Vietnamese Sandwich Love
tells you where to get one.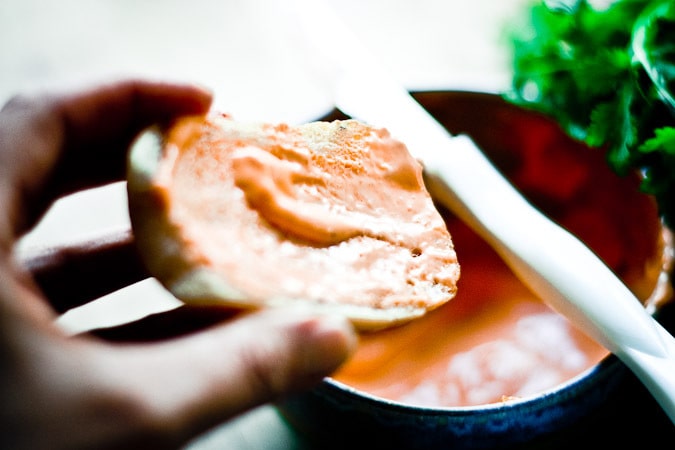 Instead of the traditional french baguette, I used small crusty french rolls to make little Bánh mì sandwiches for party I was having. This would make a good Super Bowl Snack. Guys super love this.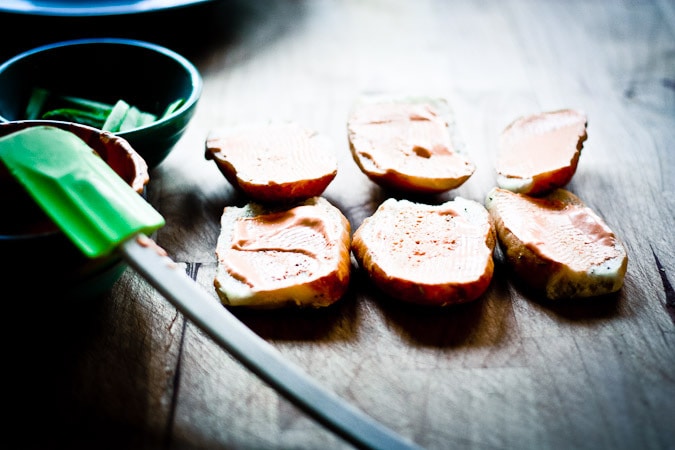 Making a spread of
mayo
and
sriracha
(rooster chili sauce) with a squeeze of lime and pinch of
salt
gives the sandwich a little boost of heat and flavor.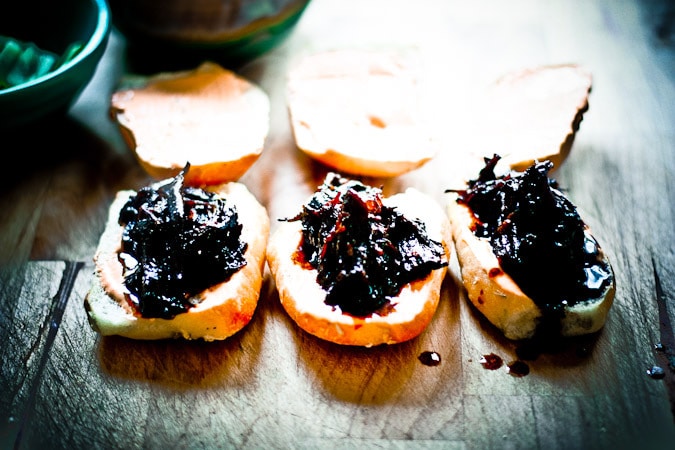 Place a little oxtail on the bottom and layer with fresh cucumber, carrots and daikon, cilantro, scallions and thinly sliced chilies for an extra kick.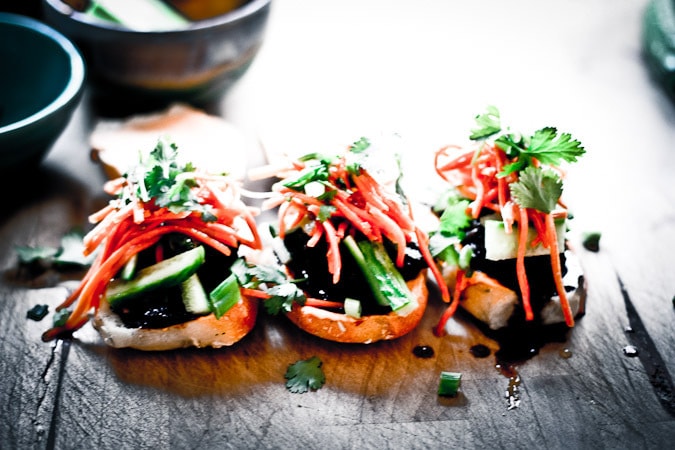 If my vegetarian friends did not heed my warning and you happen to still be here, this would be really very easy to make vegetarian or vegan.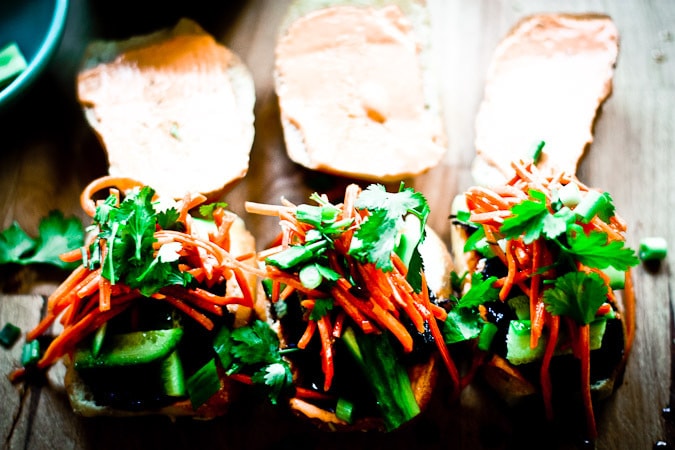 Vegan Bánh Mì:
Substitute seitan of tofu for the meat…..flavoring it with a little sticky syrup of soy, brown
sugar
, ginger and dash of
rice wine vinegar
, and subbing Veganase for the
mayo
.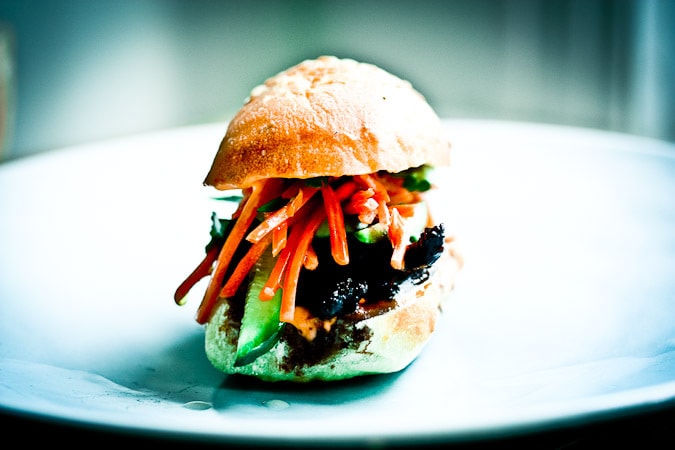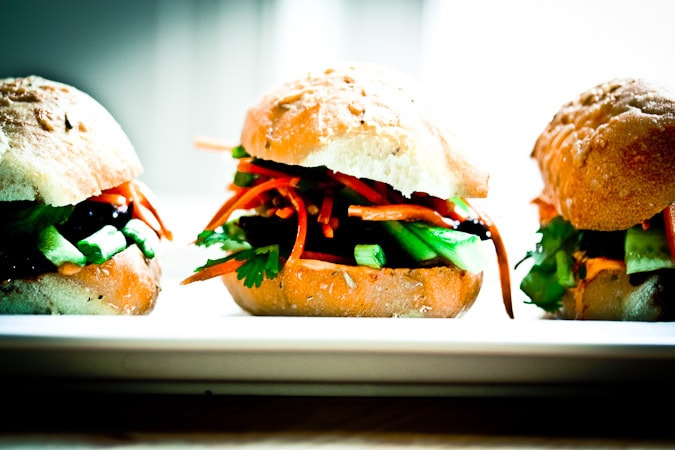 Print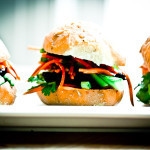 Oxtail Bánh Mì
Author:

Sylvia Fountaine

Prep Time:

30

Cook Time:

2 hours

Total Time:

2 hours 30 minutes

Yield:

6

Category:

Main - Sandwich

Method:

braise

Cuisine:

Vietnamese
---
Description
A delicious and succulent recipe for Vietnamese Oxtail Bahn Mi Sandwiches with pickled veggies and Spicy aioli.
---
Vietnamese Braised Oxtail:
5 to 6 pounds oxtails, fat trimmed 
Salt and black pepper 
3 tablespoons canola oil 
2 C beef stock
1/2  C Rice wine or Red Wine or Dry Sherry
1/3 cup soy sauce 
2 T brown sugar 
2 star anise, broken into pieces 
2 whole cloves
1 Onion – chopped big
3 inches -sliced fresh ginger 
6 whole garlic cloves, peeled 


Pickled Carrots and Daikon
1 C  shredded carrots
1 C  shredded Diakon
2 T unseasoned rice vinegar
2 T sugar
1/4 t kosher salt
Spicy Mayo
1/2 C mayo
2–3 T sriracha chili sauce
squeeze lime
pinch salt
Garnish: fresh cilantro, jalapeño,  cucumber, hot sauce.
---
Instructions
Pre heat oven to 300 F. Trim fat off the oxtails. Generously salt and pepper all sides and patiently brown all sides in large dutch oven in canola oil. Set aside browned oxtail. Pour out the oil and fat. In the same dutch oven, sauté onion, whole garlic and ginger slices about 6-8 minutes till browned. Add Rice wine, scraping up all the brown bits. Bring to a boil. Add beef stock, sugar, soy sauce, cloves and star anise. Place oxtail back in the liquid, marrow pointing up. Liquid should come to 3/4 the height of the oxtail. Cover and bring to a boil. Place into the 300 degree oven. Cook 1 1/2 hours, turn oxtails over and cook another 1 1/2 hours.

Remove oxtails, strain braising liquid and place the strained liquid in a container for about an hour in the freezer. Fat with rise to the top and harden. This will allow you to remove the fat (you could skip this step). Remove bones from the oxtail meat and place meat in a skillet with the de-fatted braising liquid, and heat on the stove. Taste for salt. Meat will be sticky and succulent, almost caramelized.

Make Pickled Carrots and Daikon  – Mix all ingredients together in small pot. Bring to a boil, remove from heat and chill 30 min
Make Spicy Mayo: whisk all ingredients together in a small bowl.
---
SaveSave
SaveSave