Seared Hawaiian Ono with Honey Soy Glaze and fresh Pineapple Salsa…an elegant healthy meal, perfect for a gathering or dinner party. Easy, delicious!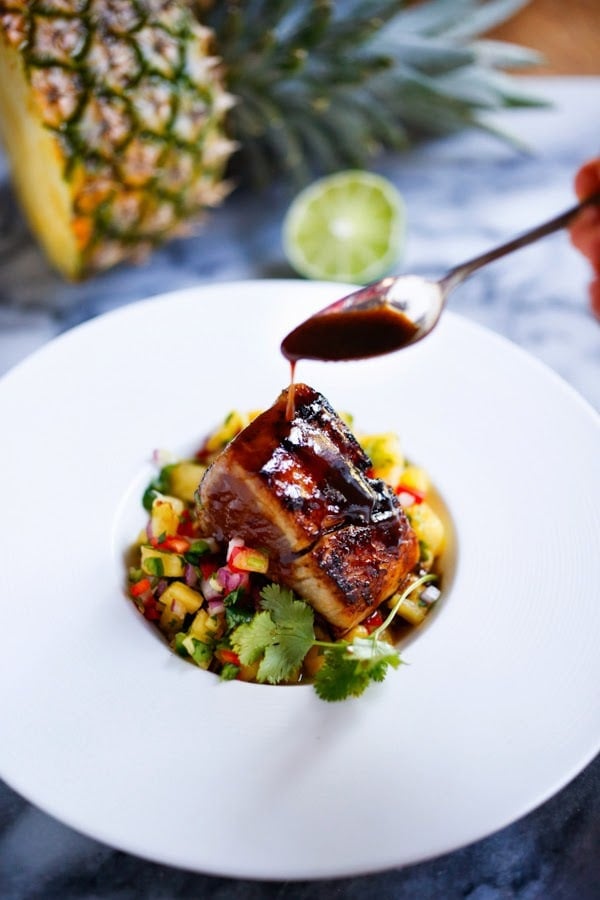 If truth be told, it was the pineapples I dreamt of months before we left. Normally it would be the sun and warm and beach, but this year, through our cold dry winter,  all I could think of while counting down the days to our Kauai getaway -were the juicy, ripe, cold pineapples, dripping with juice,  just waiting to be devoured. A perfect balance between sweet and sour, their bright fruity flavor, like liquid sunshine.
This recipe for Seared Ono with
Honey
Soy Glaze and Fresh Pineapple Salsa is refreshing and light, with fresh, clean satisfying flavors. Hawaiian Ono, also called Wahoo, is a delicate, flaky, mild-flavored fish, with low oil content.  I love it best seared or grilled to medium-rare, cooked like Ahi. If you have never tried it, here is a good opportunity.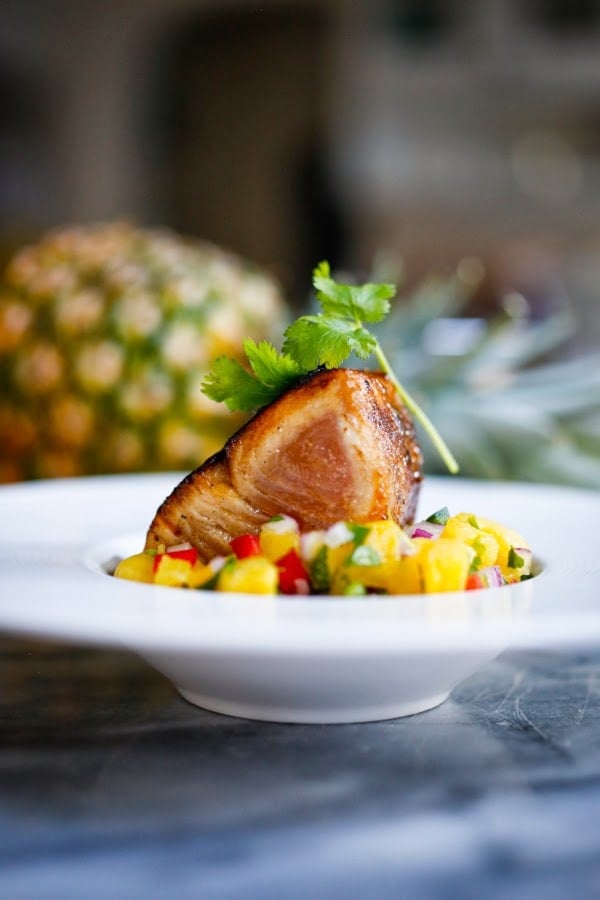 If you can't find Ono in your area, Scallops, Prawns, Ahi, Hamachi or even swordfish would make a great substitute. The Ono is marinated in a simple sauce of soy,
honey
and ginger. Seared or grilled it's an easy fish to cook and the whole recipe can be made in 30 minutes. The fresh pineapple salsa, with jalapeño, cilantro, lime and hint of fresh ginger, comes together quickly and is a pleasure for the senses. The marinade cooks down and thickens, becoming a delicious pan-sauce or glaze, to spoon over the fish. The fish can be served with rice or any starchy vegetable side dish, or over a big bowl of fresh greens – for a hearty flavorful entree salad. Alternatively, they can be cut up and folded into warm tortillas for tropical style tacos.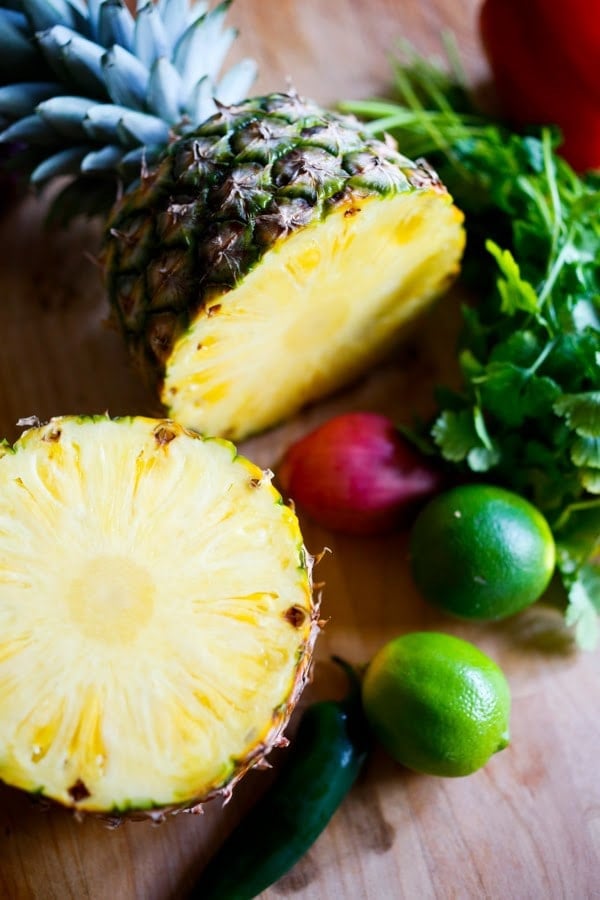 March marks the beginning of pineapple season. Though available year-round at most grocery stores, pineapples are at their peak – their most juicy and flavorful, March through July. While in Kauai, we found them easily at local farmers markets. Make sure to pick fresh-looking pineapples with healthy-looking leaves and crowns, and give a gentle squeeze. They should feel just slightly soft, but with no overly soft spots.  Pineapples do not ripen after being cut. A whole pineapple can be stored at room temperature if eaten within a few days, but you can refrigerate it to keep longer.
When cutting the pineapple, don't throw out the core! Pineapple cores are full of bromelain, a proteolytic enzyme, which has been shown to be an effective anti-inflammatory, muscle relaxant, digestive aid and cancer preventer. I set the cores aside and snack on them as I cook.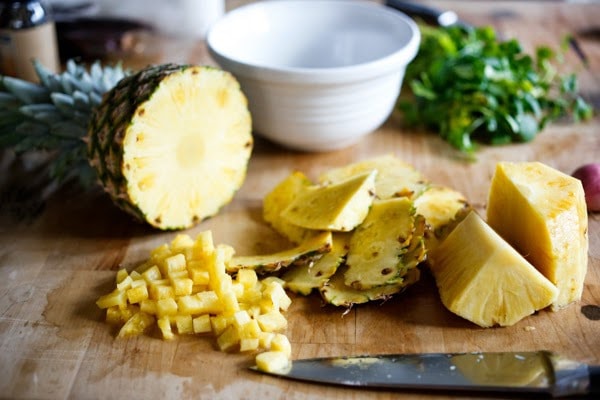 For the salsa, I used only half of the pineapple and saved the top half for another use. To save, place it on a plate, cut side down, in the refrigerator.
How to cut a whole pineapple:
1. Cut off the crown and bottom.
2. Stand pineapple on its cut base. With a sharp large knife, cut away the peel in long strips, from top to bottom, deep enough to remove the eyes.
3. Cut pineapple in half lengthwise, then halve each half so you have four quarters.
4. Cut out the core from the center of each quarter. Save and eat!!!
5. Cut into strips, dice or chunks. Its really refreshing chilled with a squeeze of lime or orange.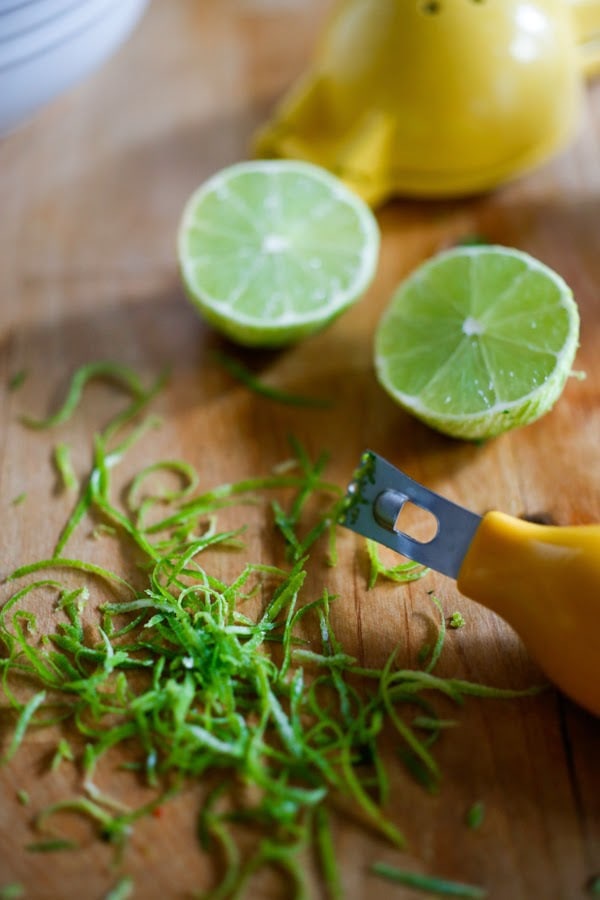 Lime and its zest adds acid and brightness to the salsa.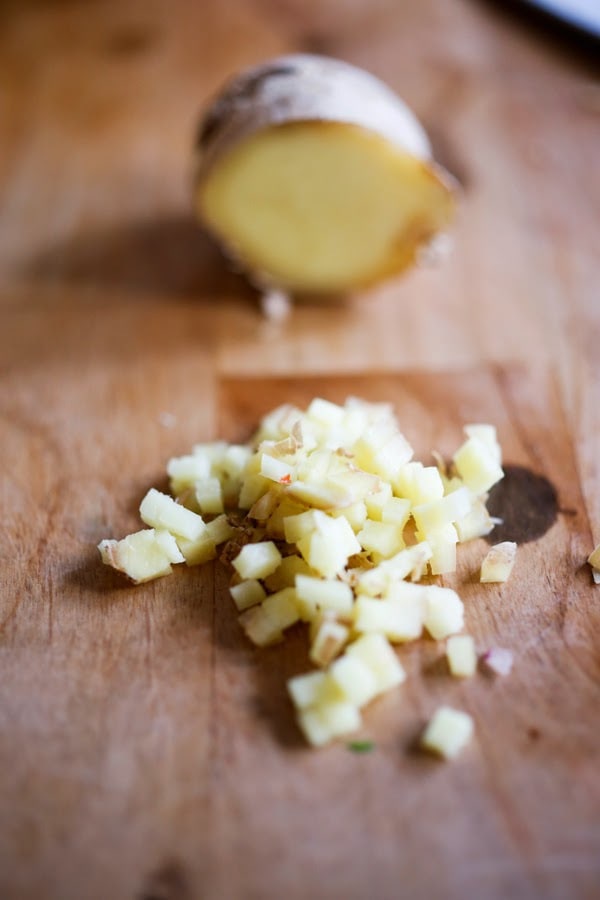 Ginger gives it a little twist.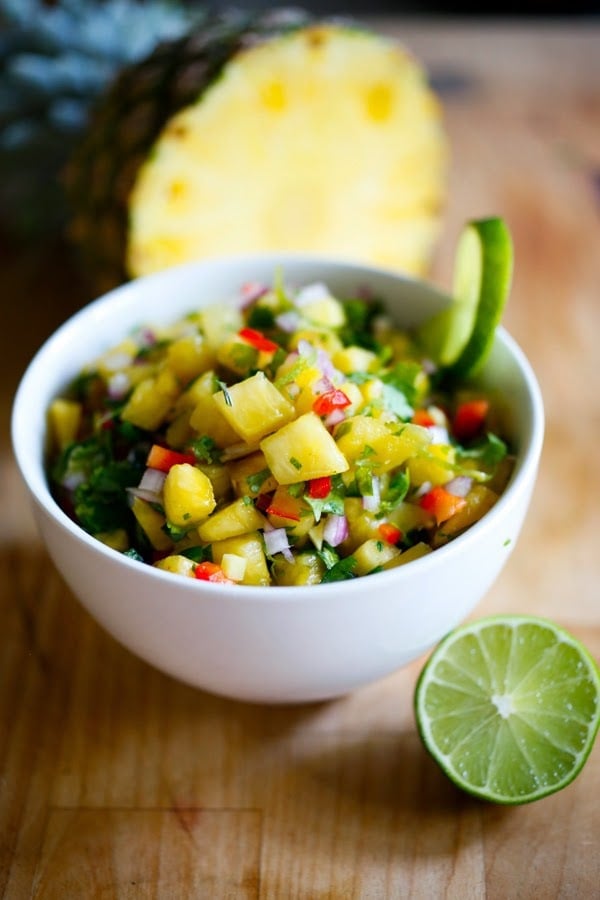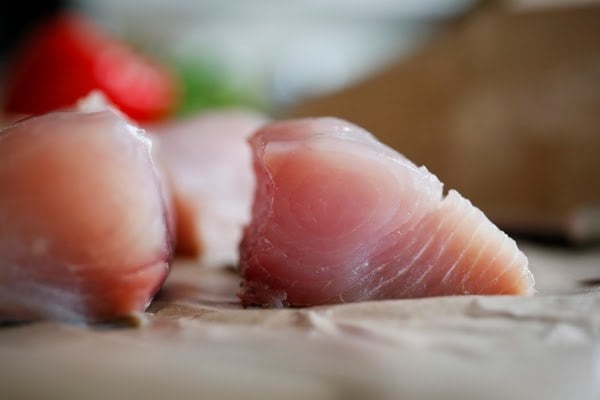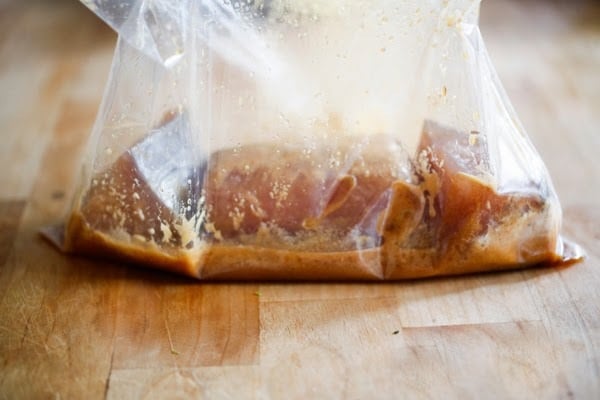 Let the fish marinate 20 minutes or up to 24 hours.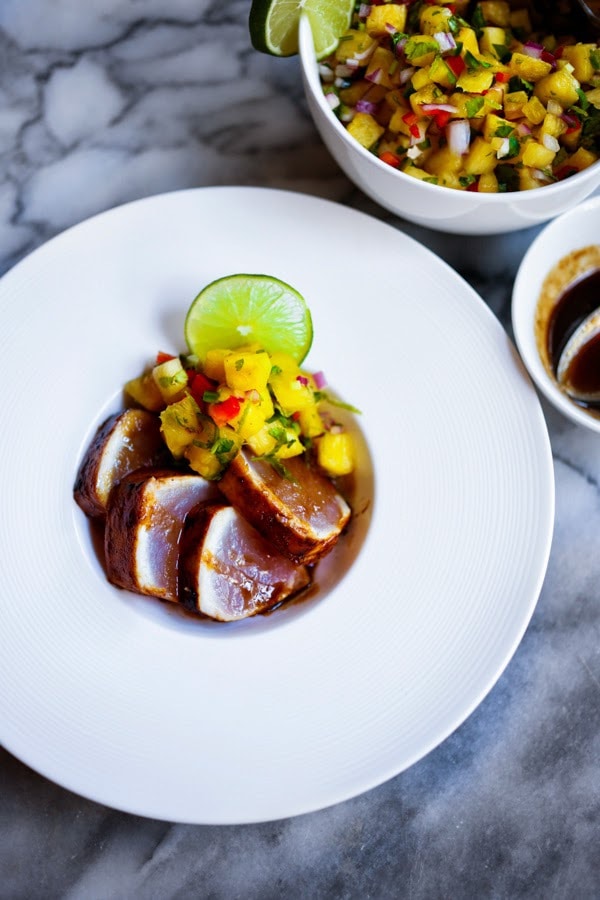 Here the Ono is seared on the outside to medium-rare. You can slice it or leave it whole. If medium-rare makes you squeamish, cook it until it is just done, being very careful not to overcook, as it can toughen.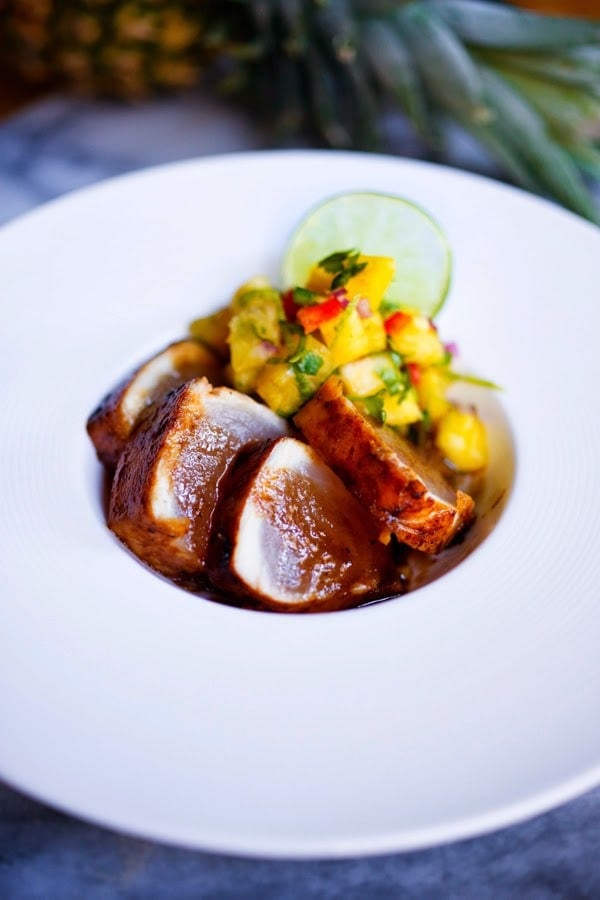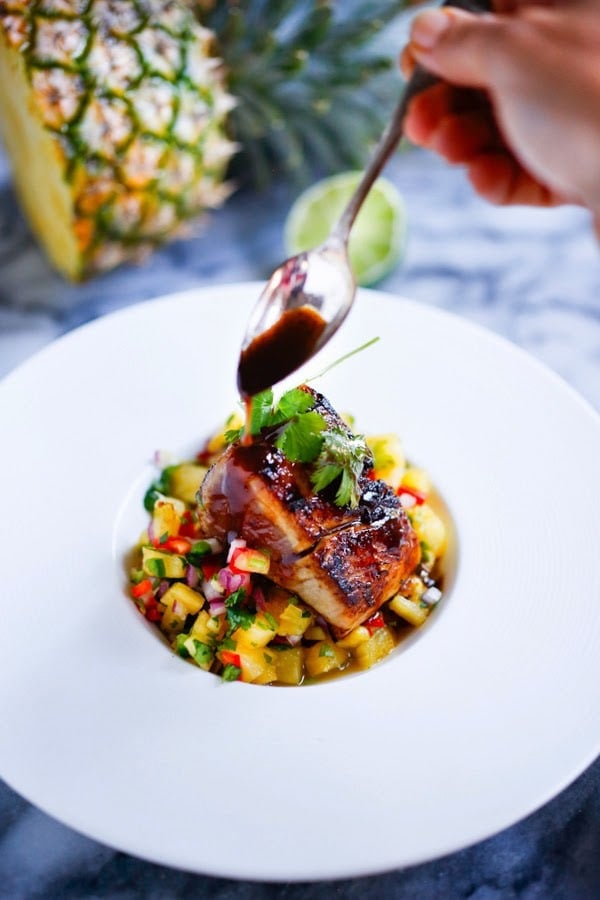 Right before serving, spoon on a little of the delicious reduced pan sauce one the Ono.
Enjoy!
What to serve with this!
Print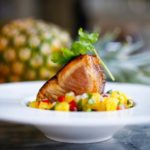 Seared Hawaiian Ono with Honey Soy Glaze and Pineapple Salsa
Prep Time:

20 mins

Cook Time:

10 mins

Total Time:

30 mins

Yield:

4

-6

1

x

Category:

Main, Fish

Method:

Stove top

Cuisine:

Hawaiian

Diet:

Gluten Free
---
Description
Seared Ono with a honey soy Glaze and Pineapple Salsa- a fresh and healthy dinner recipe!
---
1 1/2

lbs

Fresh Ono cut into 4-6 pieces ( or sub Scallops, Prawns Ahi or Hamachi Tuna)

1/3

C soy sauce

1/3

C honey

3

T sliced ginger

2

garlic cloves

1

T olive oil
——-
Pineapple Ginger Salsa

1/2

pineapple, pealed, cored, small diced ( about

3 cups

)

1

jalapeño- seeds removed, very finely diced

1

mild red chili ( or

1/4

C diced red bell pepper)- for color

1/4

C finely diced red onion

1 tsp

finely minced or grated ginger root

1/2

cup

chopped cilantro
zest and juice of one small lime

1/8 tsp

kosher salt
pinch sugar (optional)
---
Instructions
Make marinade for the fish. Blend soy sauce, honey, sliced ginger, garlic and olive oil in a blender until smooth. Place fish and marinade in a ziplock bag or bowl for 20 minutes or up to 24 hours.
While fish is marinating, make pineapple salsa. Cut pineapple in half, saving top half for another use. cut the bottom off, creating a stable base. With a large sharp knife, cut the skin off in vertical slices cutting downward. Cut into wedges and remove the core. Slice and dice into ½ inch cubes and place in a medium bowl. You should have about 3 cups. Toss in the rest of the ingredients. for a milder salsa, add only ½ a jalapeño. If your pineapple is ripe you will not need to add sugar. Taste and adjust.
Prepare Fish. Heat oil in a large heavy bottom skillet, over medium high heat. When oil is hot, place the fish in the skillet, saving the marinade. Sear the fish, on its sides, and set aside. For medium rare, a quick 2-3 minute sear on each side is all you need.
If you like your fish cooked more, place in a warm oven until desired done-ness.
Pour the remaining marinade into the skillet and bring to a boil for 30 seconds, until it thickens. Strain and place in a small bowl. You will have about ⅛ to ¼ cup.
Spoon this over the fish, along with a generous amount of pineapple salsa before serving.
---
Notes
Serve with rice or veggies!
---
Keywords: ono, ono recipes, pineapple salsa, hawaiian ono