This Tuscan-style Cannellini Bean Soup with Sorghum is not only healthy and hearty- it's savory and delicious!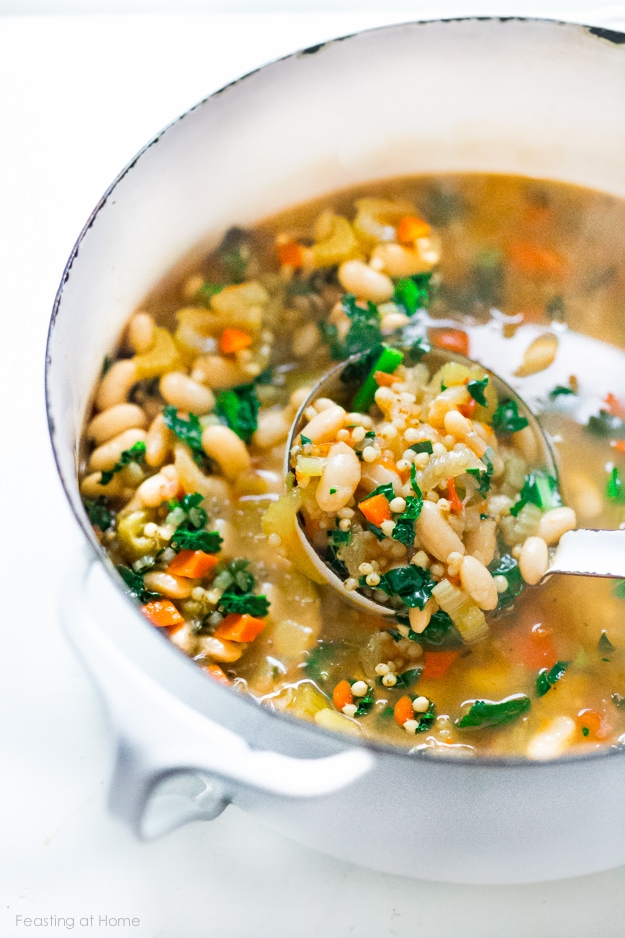 In this recipe for Tuscan Cannellini Bean Stew we have added sorghum, but quinoa or wild rice makes a delicious substitution.
Sorghum, if unfamiliar, is an ancient grain originating from Northern Africa- tiny and round, similar in size and shape of Israeli couscous- with the added benefit of being totally gluten-free.
You can either use dry cannelloni beans in which case the Sorghum and
cannellini beans
are soaked overnight in order to decrease cooking time, or simply used canned beans, for even faster preparation.
How to make Cannellini Bean Soup
Soak the dry beans and Sorghum overnight.
In a large, heavy bottom pot or dutch oven – onion, fennel bulb, celery and carrots are sauteed until tender.
Then go in the cannellini beans, sorghum ( or quinoa)  and flavorful stock.
Let this simmer then add a couple of handfuls of chopped kale.
Adjust seasonings and dinner is ready!
This time of year, when locally grown produce is particularly sparse, ancient grains can help us bridge the gap between seasons. Ancient grains, in simple terms, are basically grains that have not been messed with or altered. Whole, intact, organic and genetically 
unmodified
 grains that are the same today, as they were thousands of years ago.
Thought to be higher in nutrients than modern-day wheat, some ancient grains (like quinoa, teff and amaranth)  are very high in protein and some are gluten-free. With the increasing number of consumers who are gluten intolerant, this is really good news. 
By now, most of us are familiar with quinoa, probably the most popular "ancient grain" to hit local supermarkets and restaurants in the last decade, but other grains are also emerging into the limelight that can add healthy diversity to what we eat, including – kamut, teff, sorghum, amaranth, barley, 
farro
, millet, spelt, rye, eikorn, emmer, winter wheat, spring wheat and wild rice.
Sorghum, one of my favorite ancient grains, originates from Africa.  Its name "sorghum" comes from the  Italian word "sorgo", in turn from Latin "Syricum (granum)" meaning "Grain of Syria".
Recently we have seen sorghum's popularity on the rise here, thanks to the gluten-free benefits it offers. But being gluten-free isn't sorghum's only bragging right.
According to a new study from the University of Georgia, some sorghum varieties have antioxidants and anti-inflammatory properties that compare and even exceed other well-known superfoods, like blueberries and pomegranates.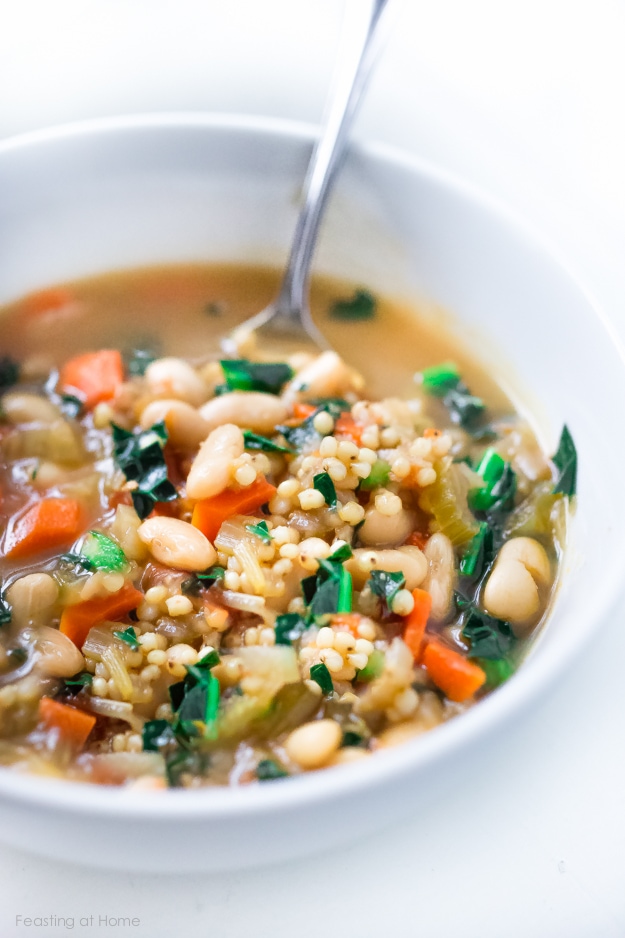 And unlike other gluten-free grains, its hearty, chewy texture of sorghum is very similar to wheat berries, making it an ideal candidate in pilafs, salads and soups –because it holds its shape when cooked.
Sorghum,
is sold and packaged by Bob's Red Mill, and can be found at most grocery stores.
I hope you like this Tuscan Cannellini Bean Stew with Kale and Sorghum!
Print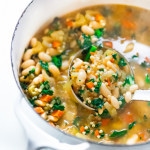 Cannellini Bean Soup
Prep Time:

20 mins

Cook Time:

90 mins

Total Time:

1 hour 50 mins

Yield:

6

1

x

Category:

italian Bean Soup

Method:

Stovetop

Cuisine:

Vegan
---
Description
Tuscan Cannellini Bean Stew with Kale and optional Sorghum – a simple hearty soup that is vegan adaptable!
---
1

Cup dry Cannellini beans– soaked overnight (or use 2x 14-ounce cans, drained cannelloni beans, about 3

cups

cooked)

1

cup

dry Sorghum – soaked overnight ( optional, leave out, or sub quinoa during the last 15 minutes of cooking.

1 Tablespoon

olive oil

1

cup

diced onion

3

cloves chopped garlic

1 1/2

cups

diced fennel bulb

1

cup

diced carrot

1 1/2

cups

sliced celery

1

cup

diced tomato

6

cups

chicken or veggie stock

1 tsp

herbs de provence

1

–

2

cups

chopped kale
salt and pepper to taste
---
Instructions
Soak dry beans and sorghum in separate containers of water overnight. .
Heat oil over medium high heat in a heavy bottom pot or dutch oven. Add onion and saute for two minutes, stirring often. Turn heat to medium and add garlic, fennel, carrots, celery, and saute for 7-8 minutes. Add tomato, stock, herbs,drained beans and drained sorghum. Bring to a boil, cover, turn heat to medium low, and simmer until beans are tender about 1 1/4- 1 1/2 hours.
Add kale. Simmer until wilted and tender.
Season with salt and pepper.
---
Notes
Notes: If using canned beans, simply add the drained, canned beans to the simmering stock until heated, about 10 minutes.To thicken, you could simply let this reduce a bit, or add quinoa. Making it this way will shorten the cooking time to 30 minutes.
Nutrition
Serving Size:

1.5 cups

Calories:

287

Sugar:

7.6 g

Sodium:

704.1 mg

Fat:

4 g

Saturated Fat:

0.7 g

Carbohydrates:

54.9 g

Fiber:

9.8 g

Protein:

12.6 g

Cholesterol:

0 mg
Keywords: Sorghum soup, White bean soup sorghum, Cannellini Bean Sorghum Stew, Sorghum recipes, recipes with sorghum, tuscan soup,