Hearty and delicious Polenta Lasagna with Smoky Red Pepper Sauce – a tasty, gluten-free lasagna recipe using optional store-bought polenta. A vegan-adaptable main dish – perfect for holiday gatherings, that can be made ahead! Vegan adaptable! Note: if making polenta from scratch allow 6-8 hours of refrigeration time for it to set up.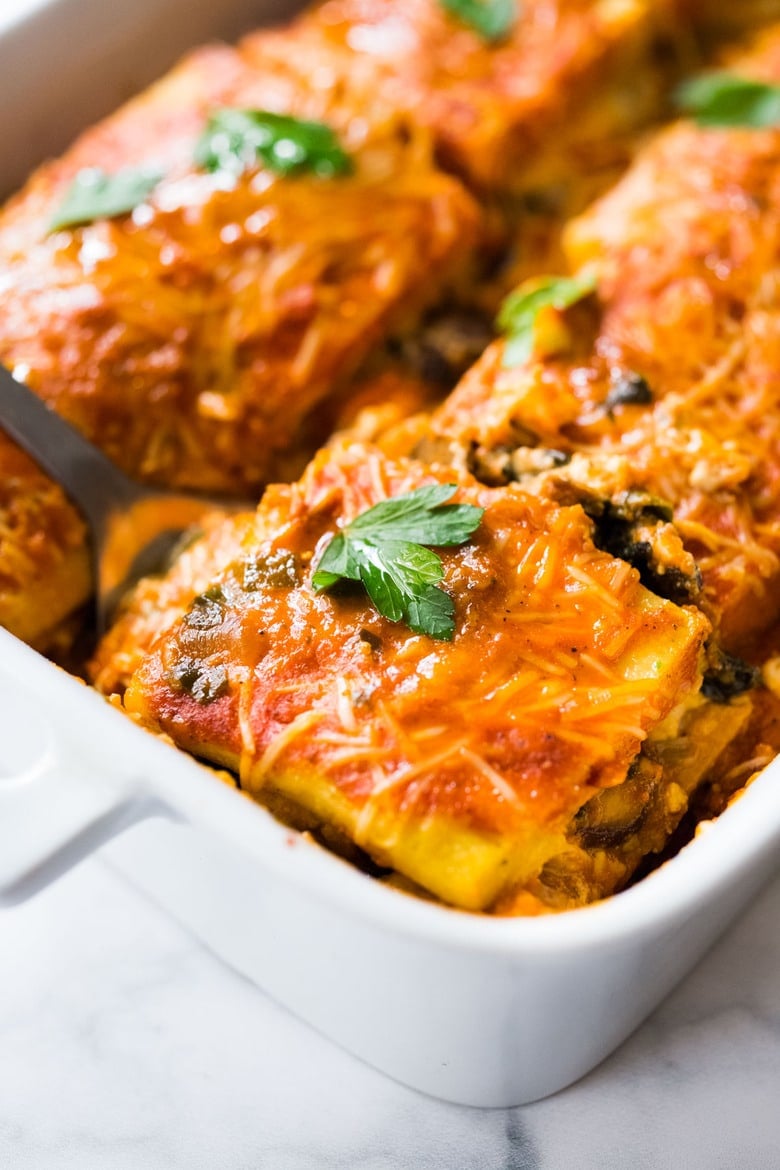 And now I understand something so frightening & wonderful- how the mind clings to the road it knows, rushing through crossroads, sticking like lint to the familiar. ~Mary Oliver
Here's a tasty recipe for Polenta Lasagna with a smoky Red Bell Pepper Sauce that is hearty, robust and full of flavor! Using polenta instead of pasta keeps this completely gluten-free. Make your own polenta ahead, or simply use store-bought tubes of polenta!
This version is filled with a savory mixture of mushrooms and spinach, but other veggies work well here too – eggplant, peppers, zucchini, roasted butternut squash.
---
How to make Polenta Lasagna | 45-second video!
---
Keep it vegetarian, make it vegan ( tofu ricotta and vegan cheese) or feel free to add Italian sausage for extra heartiness. I know you will find your own creative way to make good use of this! And please share how you adapt this in the comments below!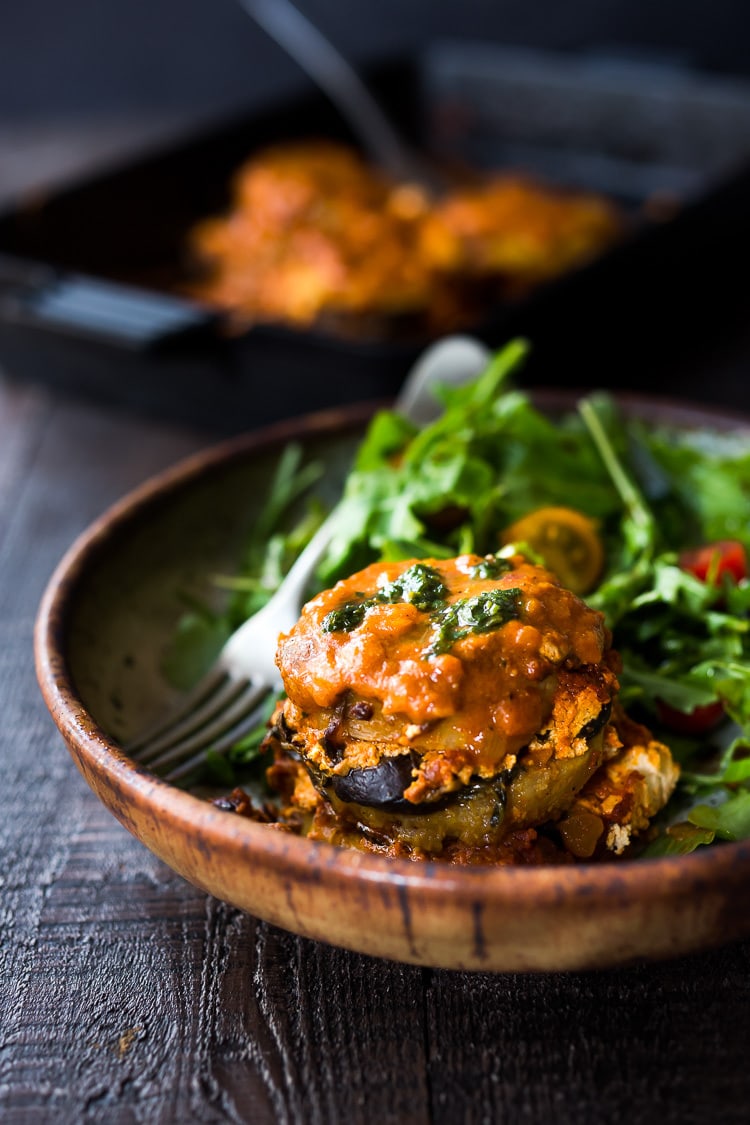 Serve it up with a hearty green salad and dinner is ready!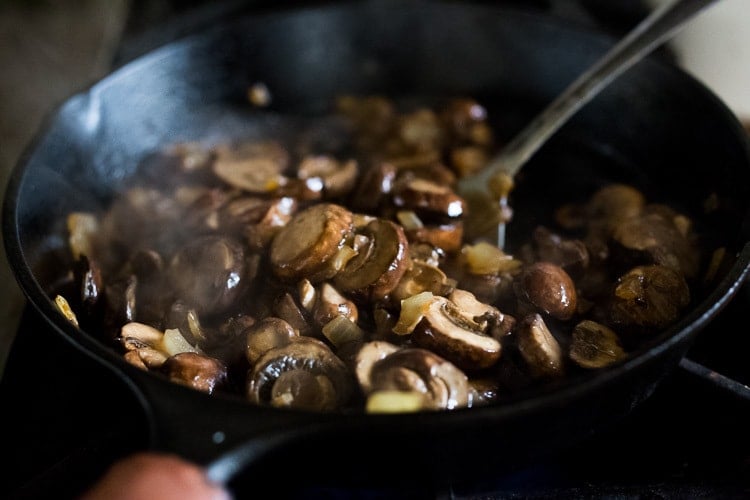 It starts with cooking the "filling" for the lasagna. This could be sautéing veggies like mushrooms in olive oil with garlic and onion.
Or roasting off slices of eggplant or butternut squash in the oven. You could also brown some spicy Italian sausage.
I always like to throw in handfuls of chopped greens to bump up the nutrition factor.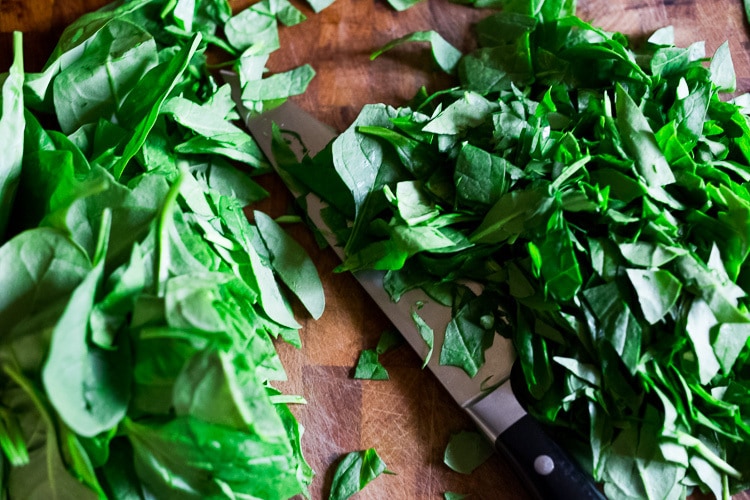 Spinach, arugula or kale is nice addtion to the sauteed mushrooms, just gently wilting.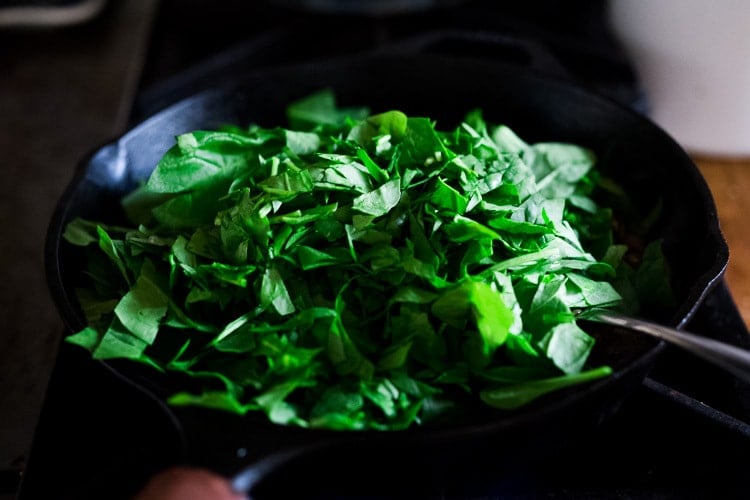 While the veggies are cooking make the quick Smoky Red Pepper Sauce.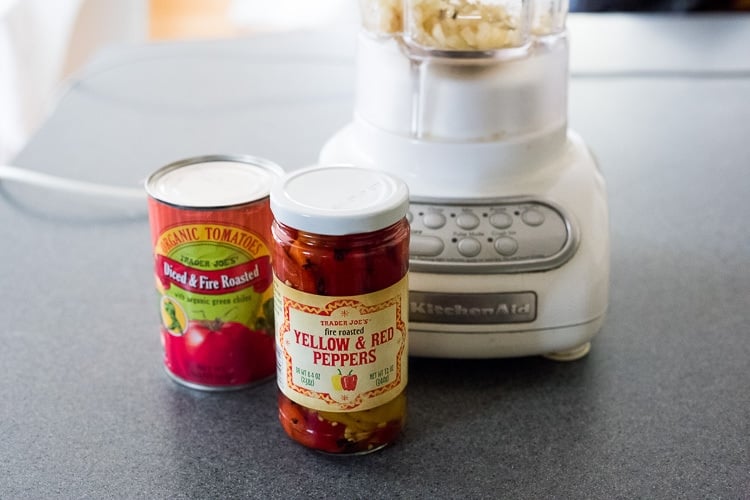 Roasted peppers and diced tomatoes go into the blender.
I like to add a little smoked paprika, to give it a hint of smoky flavor.
If pressed for time, you can always use store-bought marinara sauce.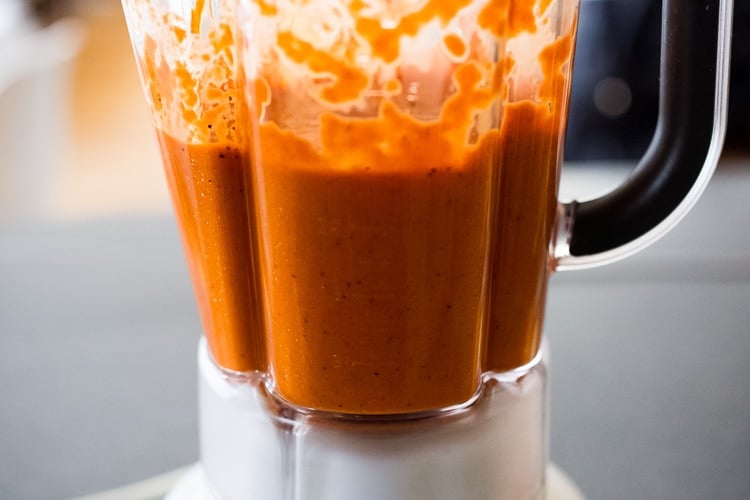 In this recipe, to simplify and make things easier, I'm also including an option for store-bought polenta in a tube. This version from Trader Joes has good flavor.
It's also very easy to make your own firm polenta and I'll put the directions in the recipe notes.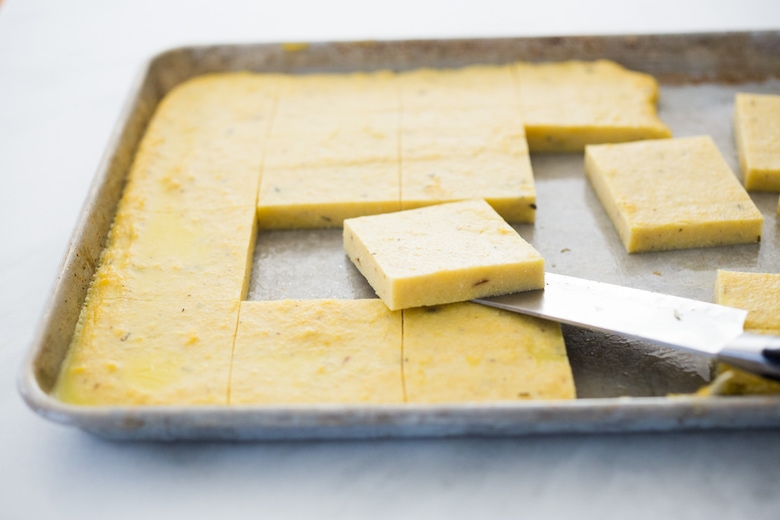 I've made it both ways, and both ways work great.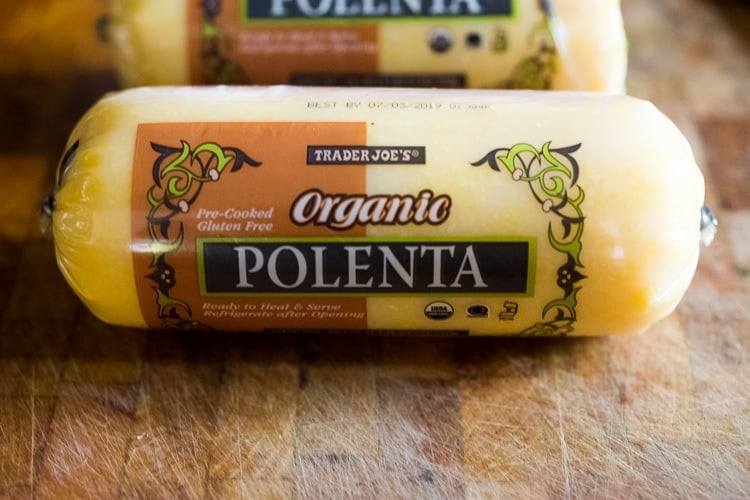 If using store-bought tubes of polenta, slice tubes in half first, then cut each side into 6 equal pieces about ½ inch thick. Each tube will give you 12 slices.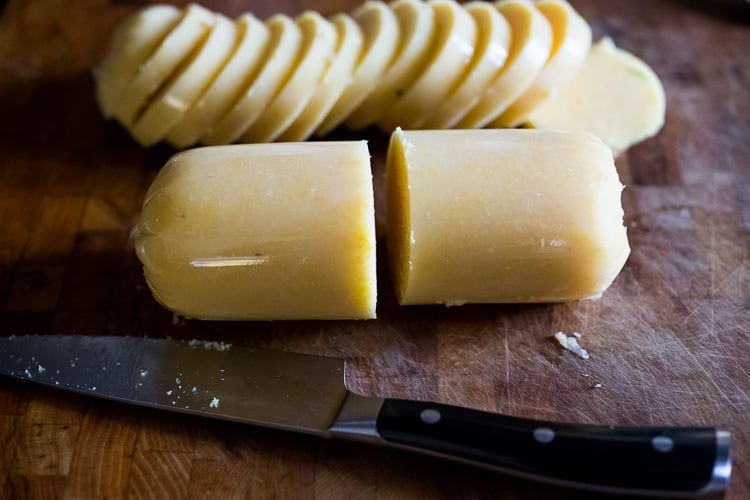 Then begin your layering.
Start with 2/3  cup of the sauce on a greased 9×13 inch baking dish.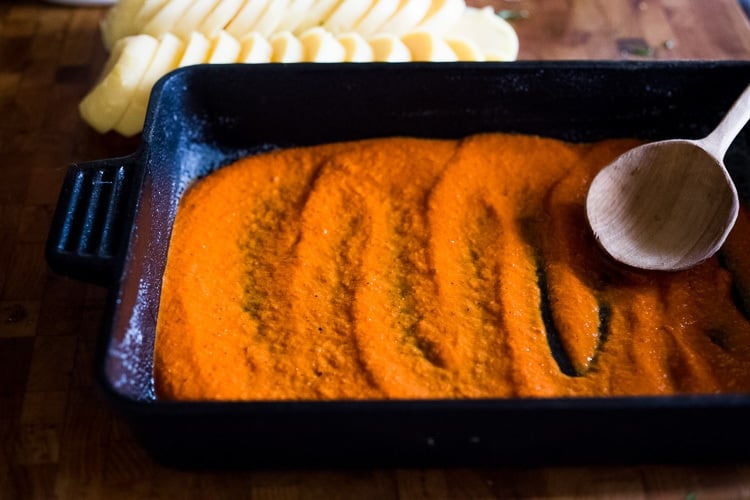 Add the first layer of polenta.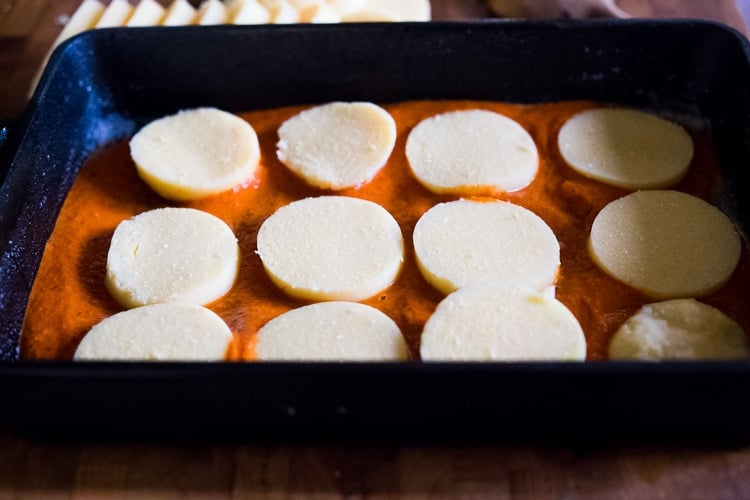 Top with all of your filling. Here I'm using mushrooms and spinach.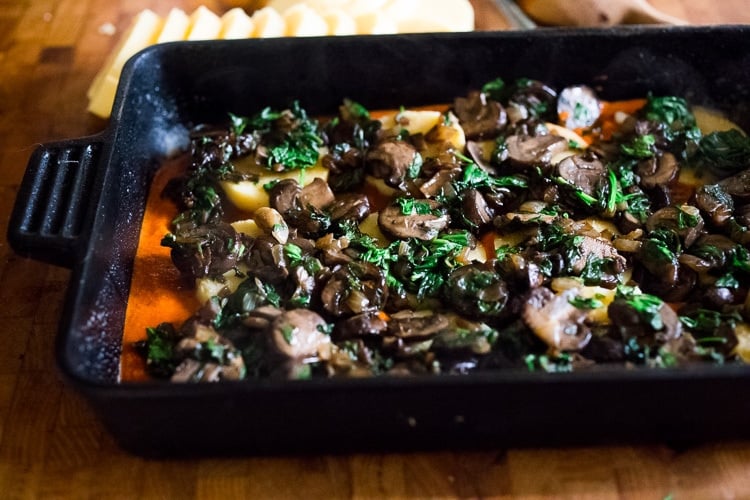 Dot with 6 ounces of ricotta cheese. You could also make this totally vegan by using vegan tofu ricotta.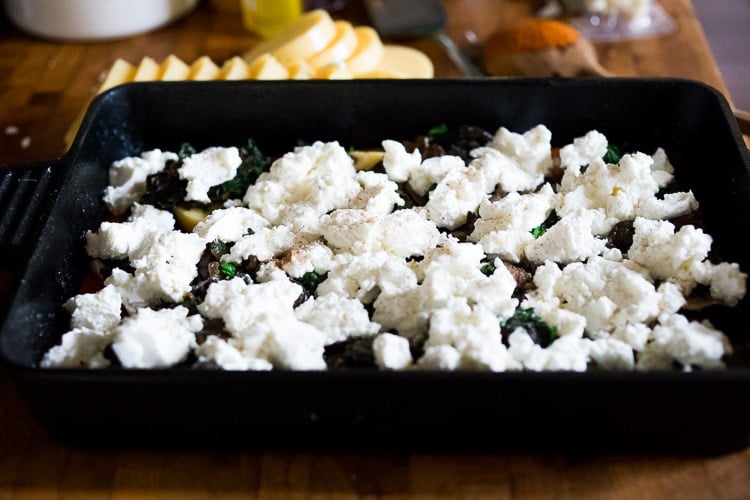 Sprinkle with 1 – 1 ½ cups of shredded mozzarella. You could also use vegan cheese.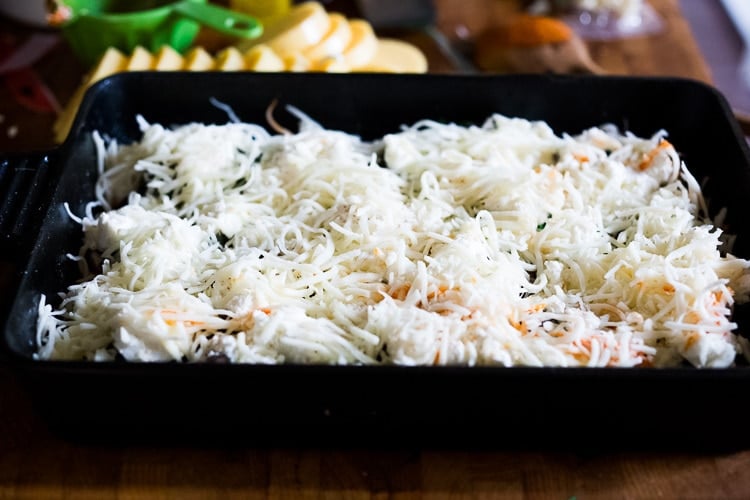 Pour 2/3 cup of sauce over the cheese.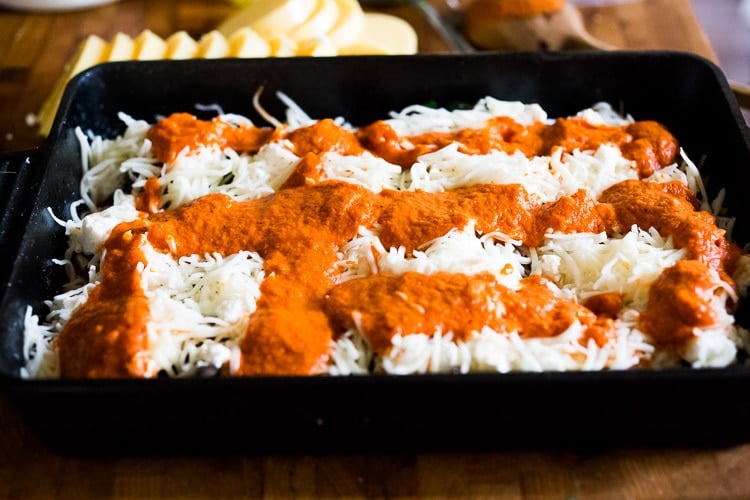 Top with the final layer of ricotta.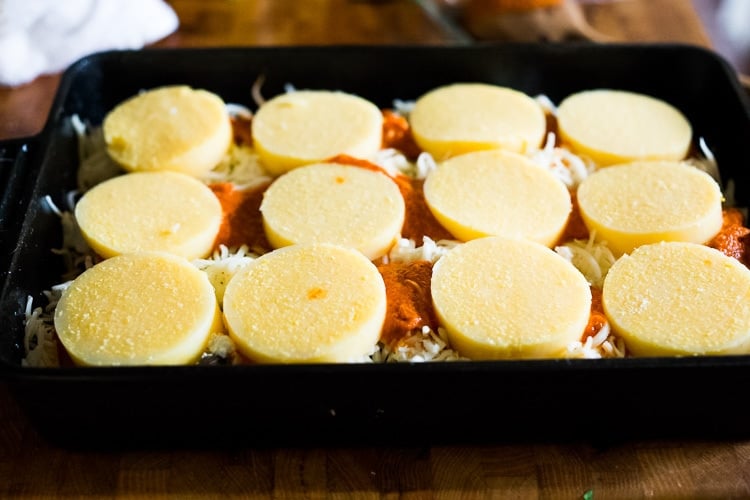 Above is with the storebout polenta, below is the with the homemade polenta.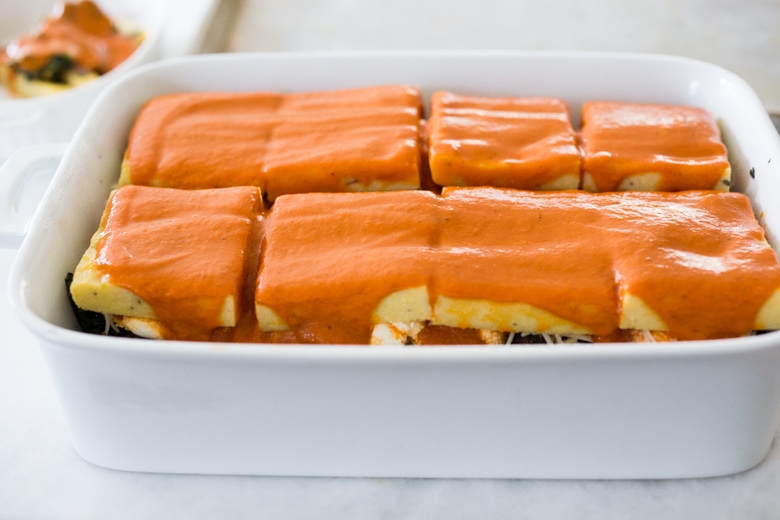 Pour the remaining sauce over top.
You can keep it fairly lean like this or top with more mozzarella, up to you.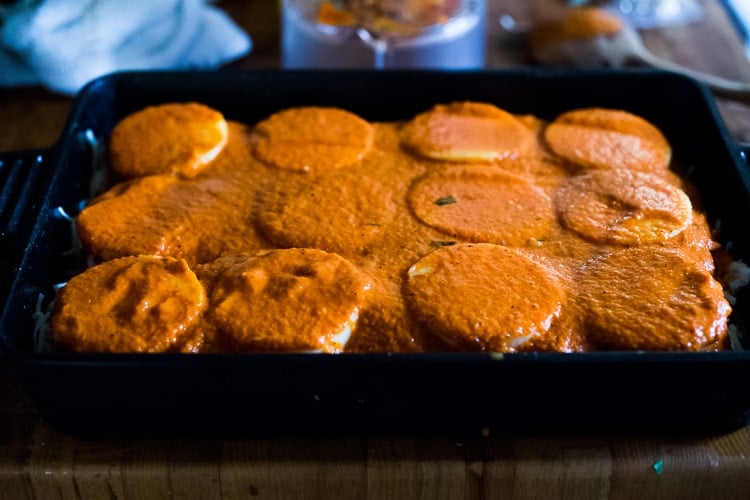 Cover tightly with foil and bake at 400 F for 20 minutes.
Remove foil and continue baking for 20-25 more minutes, or until bubbly and sauce has thickened slightly.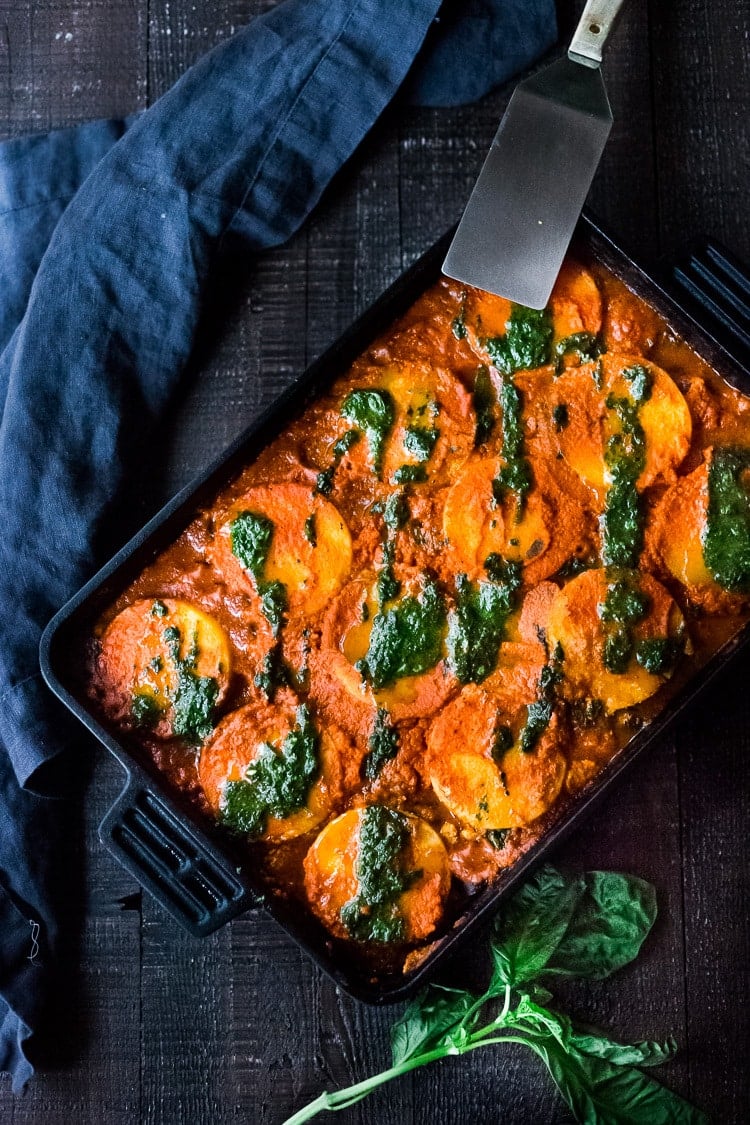 Drizzle with pesto, using either store-bought, or homemade –  I'll give a quick recipe in the recipe notes.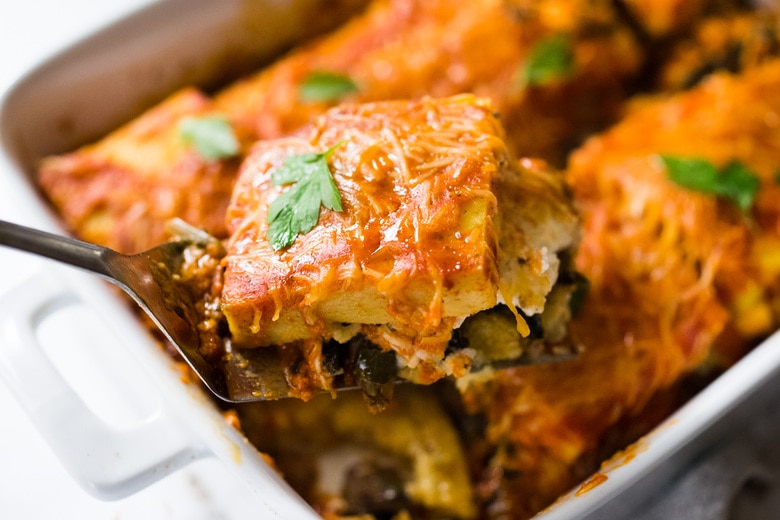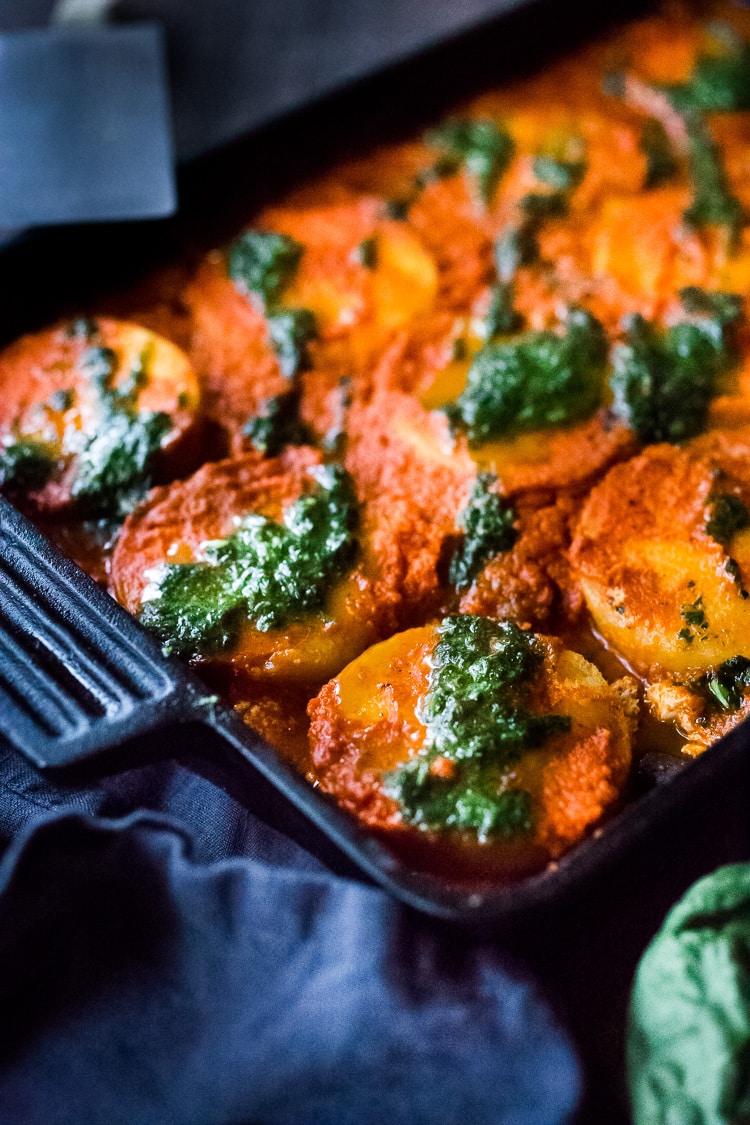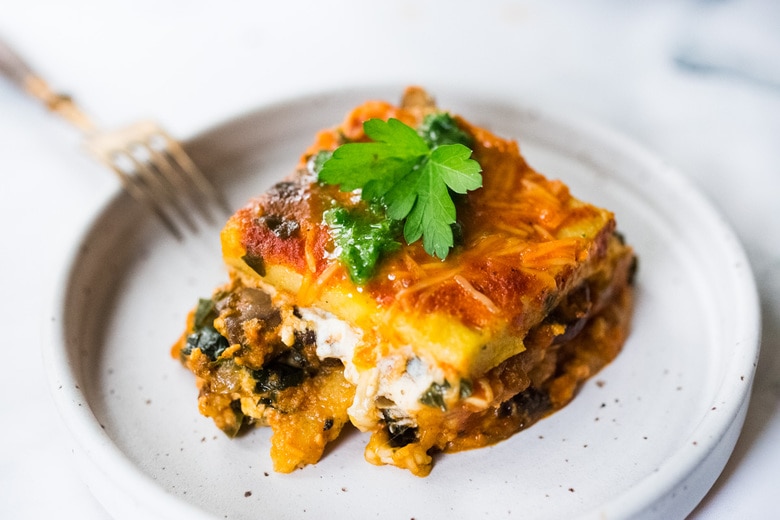 Hope you enjoy this hearty vegetarian polenta lasagna!
xoxo
Print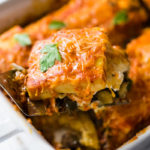 Polenta Lasagna with Smoky Red Pepper Sauce
Author:

Sylvia Fountaine

Prep Time:

45

Cook Time:

45

Total Time:

1 hour 30 minutes

Yield:

8

1

x

Category:

main, vegetarain, vegan adaptable

Method:

baked

Cuisine:

italian
---
Description
Vegetarian Polenta Lasagna with Roasted Red Pepper Sauce – an easy gluten-free lasagna recipe with the option to use store-bought polenta from a tube. If making polenta from scratch, allow 8 hours of refrigeration time (or make the day before) Vegan Adaptable or add Italian sausage for extra heartiness. Updated 10/19
---
2

x 18-ounce tubes of polenta (store-bought). OR See notes for making your own!

6 ounces

of Ricotta ( or sub this  vegan tofu ricotta ) about 1-1 1/2 cups.

1

–

2

cups grated mozzarella cheese ( or use smoked mozzarella for great flavor, jack, or use melty vegan cheese)
Spinach Mushroom Filling:
2 tablespoons

olive oil

one

onion, diced

4

–

6

garlic cloves, rough chopped

10

–

16

ounces mushrooms (sliced)

½ teaspoon

salt

1/2 teaspoon

pepper

1 teaspoon

Italian seasoning ( or use

1 tablespoon

fresh rosemary or thyme)

2

heaping handfuls baby spinach, chopped ( or

8 ounces

frozen)
Smoky Red Pepper Sauce ( or use 2 cups store-bought marinara)
1

roasted red pepper (out of a jar is OK) about 1/2 cup – 3/4 cup total

1

x 14 ounce can diced tomatoes and their juices

2 tablespoons

olive oil

1 teaspoon

smoked paprika

1 teaspoon

cumin

1 teaspoon

Italian seasoning

1/2 teaspoon

salt and pepper

1 teaspoon

sugar
Quick pesto drizzle:
1 cup

packed basil ( or Italian parsley)

1

–

2

teaspoons lemon zest

½ cup

olive oil

1

fat garlic clove
salt and pepper to taste
Homemade Firm Polenta  (requires 6-8 hours of refrigeration time)
---
Instructions
If making with homemade Polenta- make this first and let cool 6-8 hours in the fridge to set up. ( You could make this ahead, along with the sauce, filling and pesto drizzle.)
Preheat oven to 400F (prep and assembly will take around 45 minutes- with store-bought polenta)
Make filling: Heat 1-2 tablespoon olive oil in a large skillet over medium-high heat. Saute the onion, stirring until tender, about 5 minutes, add garlic and cook 2 more minutes.  Turn skillet to medium ( or medium-low)  and add the mushrooms and add salt pepper and Italian seasoning, and saute until the mushrooms release their liquid and this evaporates, about 10 minutes. Add the chopped spinach and wilt and mix to combine, adding a splash of water if needed. Cook-off any liquid. Adjust salt to your taste.
While the filling is cooking, make the Smoky Red Pepper sauce:  Add the diced tomatoes (and juices) to the blender and add the drained roasted pepper. Add 2 tablespoons olive oil, salt, pepper, smoked paprika, cumin and Italian herbs. Blend until creamy and smooth. If the sauce is too thick to get motor running, add a little water (a tablespoon at a time) just to get it going. Taste. It should have a sweet smoky flavor.
Prep the two tubes of polenta if using store-bought. (Remember to taste it)  It's easiest to cut the tube in half. Then in quarters, so each quarter yields 3 equal slices. So 12 slices each from each tube about 3/4 inch thick.
Assemble: Spray a 9×13 inch baking dish with olive oil. Place 1/2-2/3  cup sauce on the bottom, coating bottom evenly. Add the first layer of polenta. Top with all the filling, spreading it out evenly. Dot with spoonfuls of ricotta. Sprinkle lightly with salt, pepper and nutmeg. Top with shredded cheese. Pour 1/2 cup sauce lightly over the cheese. Then top with final layer of polenta. Pour sauce over top (you may not need all) and using a spatula , evenly coat the polenta evenly. Save the remaining sauce for touching up after your remove the foil.  You could do this all ahead and refrigerate for 24 hours.
At this point, you could add more cheese to the top, or keep it a little leaner, up to you. Cover tightly with foil and bake 20 minutes. Remove foil and bake uncovered for 15-20 more minutes until bubbling and warmed through. If you want it "saucy", add more sauce.
While it's baking make the Pesto Drizzle. To make the pesto drizzle, simply place ingredients in a food processor and pulse until combined.
When the polenta lasagna is finished cooking you could drizzle it lightly with the pesto or serve it on the side.
Enjoy!
---
Notes
Keep in mind, not all store-bought polenta tastes the same. The Trader Joe's brand is very flavorful. Your best bet is to cut a tiny piece off the end and taste it. If it tastes bland, you will need to bump up the flavor and salt in the filling and sauce. Things like garlic powder, onion powder and herbs help, and most importantly salt. The pesto drizzle will help a lot too.
To make your own firm polenta:
Bring 8 cups water to a boil in a medium pot. Add 2 teaspoons salt, 2 teaspoons garlic powder ( or onion powder) and 1 Tablespoon fresh chopped herbs (rosemary, thyme, or sage) Or sub 1 teaspoon dried rosemary, thyme, Italian herbs or herbs de Provence. When water is boiling, very slowly pour and whisk in 2 cups cornmeal, whisking out any clumps.

Cover

,

turn heat to low

and cook 2o minutes, stirring once at 10 minutes.
Grease an edged  sheet pan with olive oil really well. Grease a flat metal spatula really well. Pour out the polenta so it's ¾ thick –

noting

,

you will not need to use the whole sheet pan

, so start on one end, spreading it out the the sides. See photos.
If the polenta sticks to the spatula, just pour a little olive oil over the polenta, coating the spatula with it. Flatten it out to an even thickness. I usually cover about half of a large sheet pan  (leaving half of the sheet pan bare- because if you stretch it to fill the whole pan, polenta will be too thin).
Let cool, then refrigerate until

very firm

, about 6-8 hours, or overnight (or up to 3 days).
Cut into 16,  4-inch squares. (If you end up with some smaller scraps, I usually just tuck these in the lasagna in the first, base layer, underneath so they don't show, leaving the prettier cuts for the top layer.)
Nutrition
Serving Size:

1 ½ pieces - With the basil pesto

Calories:

424

Sugar:

6.5 g

Sodium:

470.2 mg

Fat:

26 g

Saturated Fat:

7.8 g

Carbohydrates:

36.7 g

Fiber:

5.6 g

Protein:

13.8 g

Cholesterol:

32.5 mg
Keywords: polenta lasagna, polenta lasagna recipes, polenta recipes, polenta recipe baked, polenta recipe vegan, baked polenta, vegan polenta, polenta tube recipes