Grilled Artichokes with Polenta and blistered tomatoes, pesto, capers and fresh basil -served family style! An easy, healthy, rustic meal, perfect for summer nights on the patio! Vegan and GF !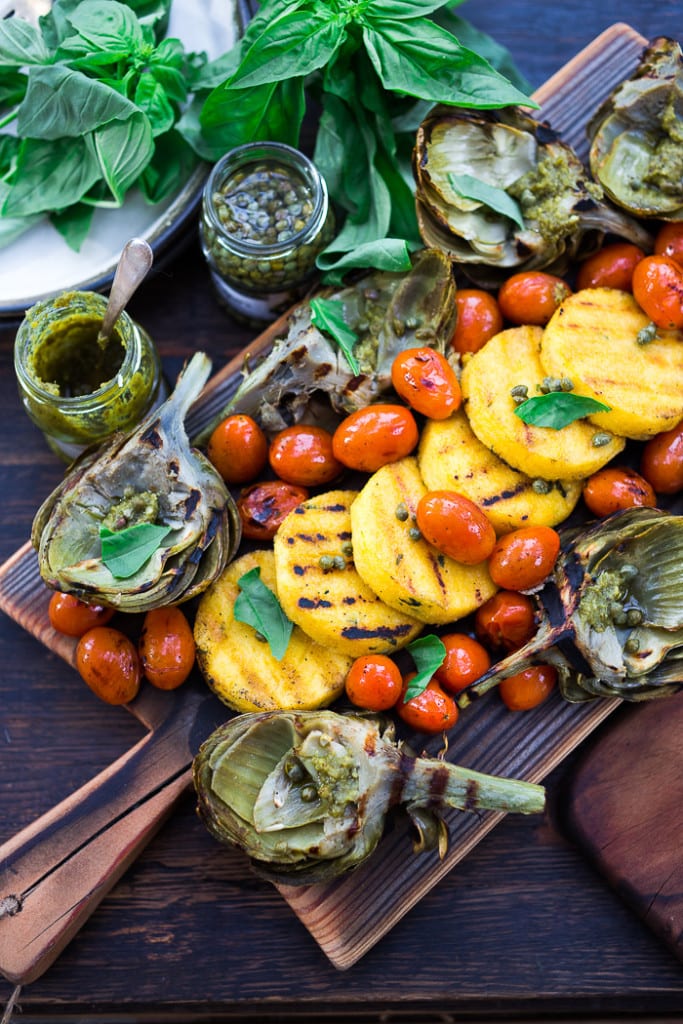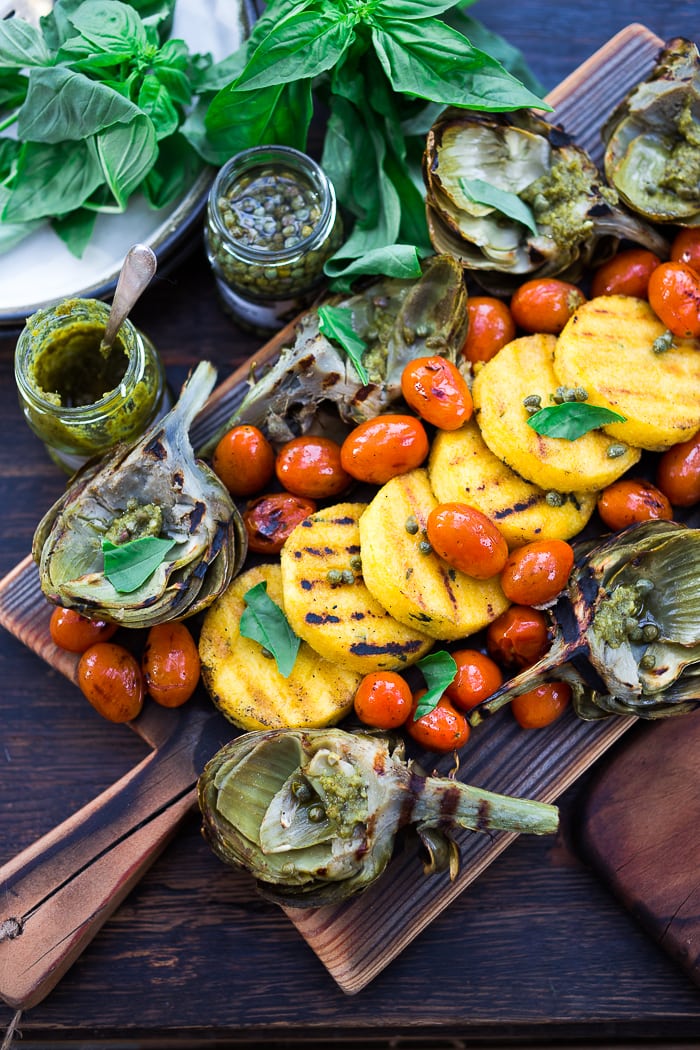 This rustic, family-style Italian meal is a feast for the senses. Fresh artichokes are grilled to perfection giving them a delicious earthy, smokey char. Polenta is grilled and cherry tomatoes are blistered. Drizzled with pesto, sprinkled with capers and strewn with basil leaves, this meal can be kept vegan and gluten free…or for extra richness, add dollops of creamy Burrata cheese.
Serve this on casual summer evenings, family style, on a large cutting board or plater, and place right smack in the middle of the table allowing everyone to serve themselves. Or, for a more upscale affair, plate individually -stacking and layering the polenta. This is summer grilling, Italian Style!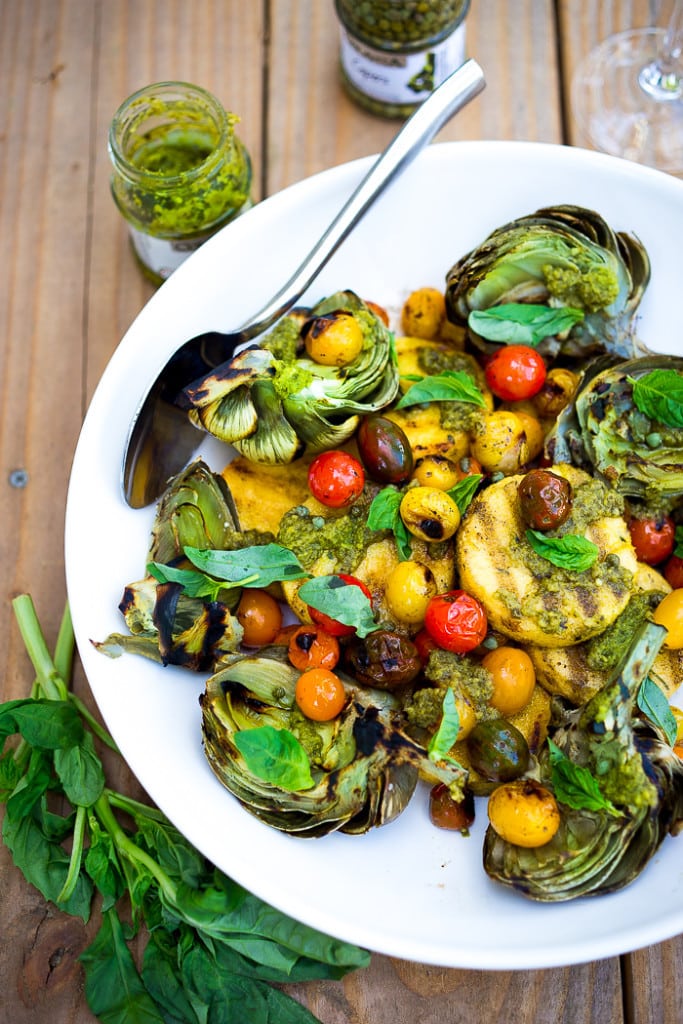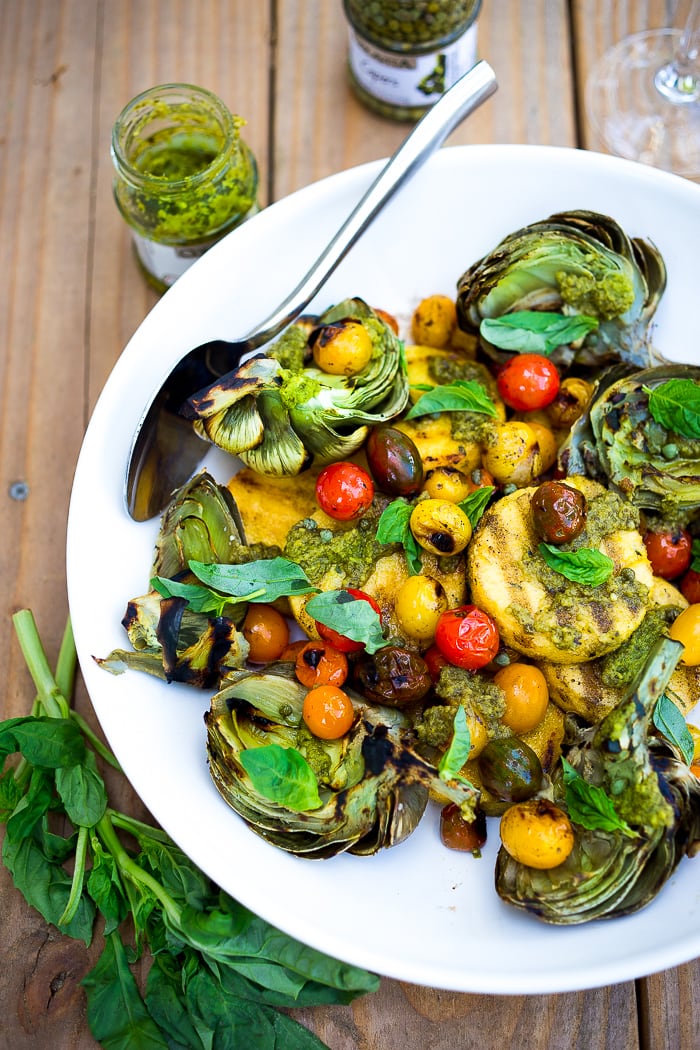 This recipe was created for  Colavita, a gourmet Italian food company founded in Southern Italy, in a small village called Sant'Elia a Pianisi.
Originally, there were two families. One family produced olive oil from the local olives and the other family made fresh pasta for the village. The two families with the same name, Colavita, eventually became one company and today create a variety of gourmet ingredients for Italian cooking.
For years, I had been using their olive oil, so when a few boxes filled with all their products came, I was already familiar with the brand, but had no idea they offered so many great gourmet products besides olive oil!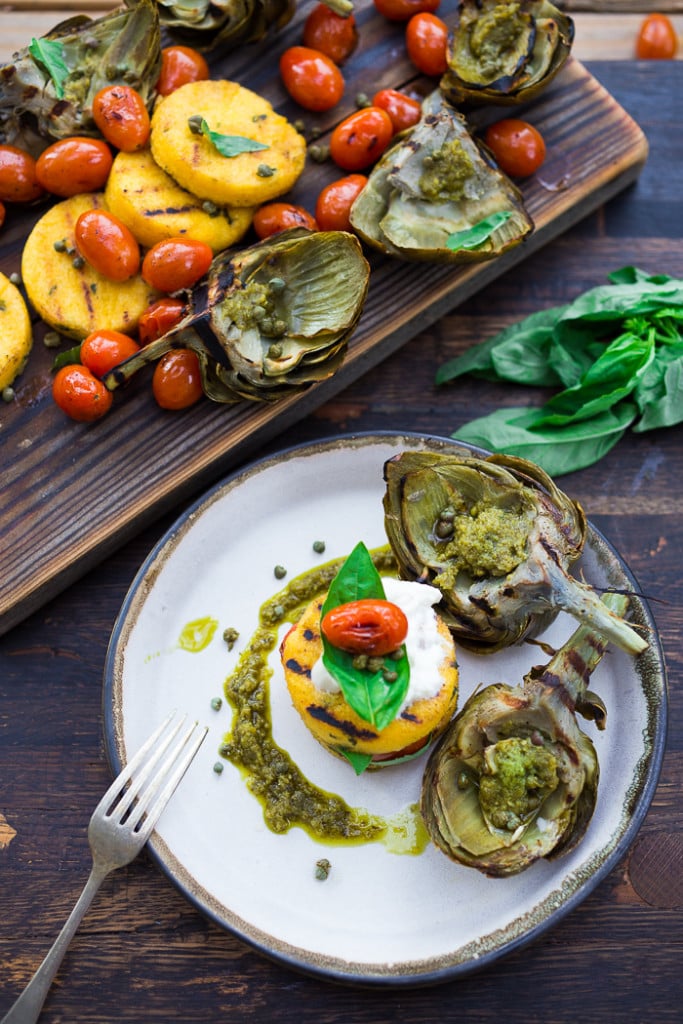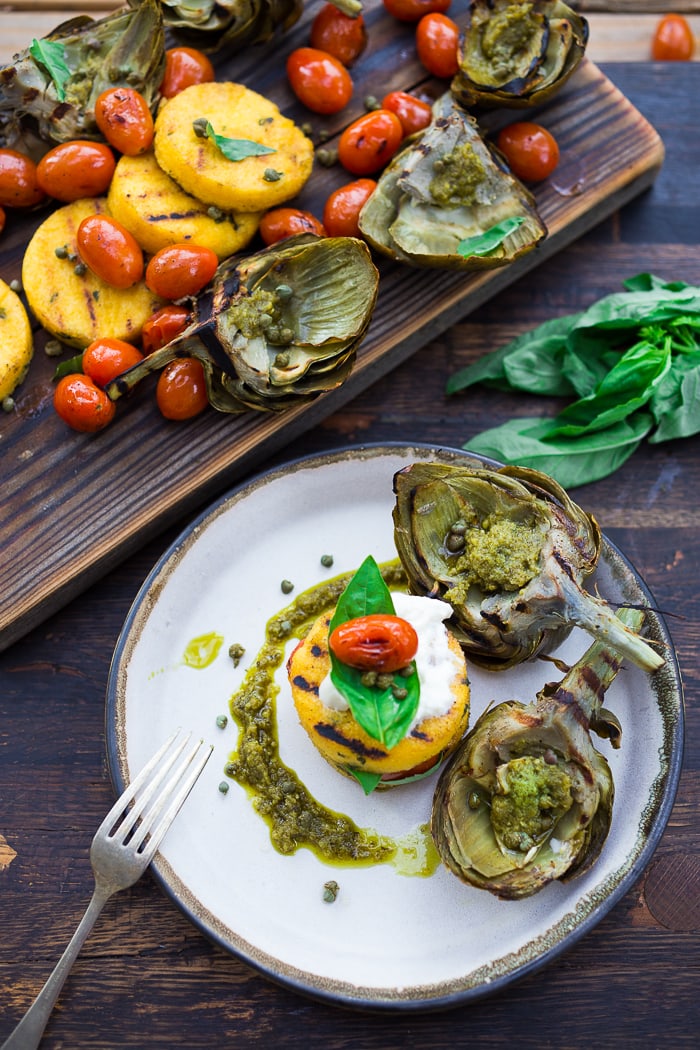 The dish starts off with making a firm polenta out of cornmeal which will be chilled so it sets up. I usually make the polenta and blanch the artichokes the day before. Then when ready to serve, all there is to do is fire up the grill!
I can't say enough about this particular polenta. I've made a lot of polenta in my life, in catering and in my restaurant days… and have the polenta scars to prove it. This, by far is the best and easiest I've worked with. It's a finer grain, doesn't clump and cooks in 5 minutes flat! It has great texture and holds up well on the grill. I'm kind of obsessed with it at the moment.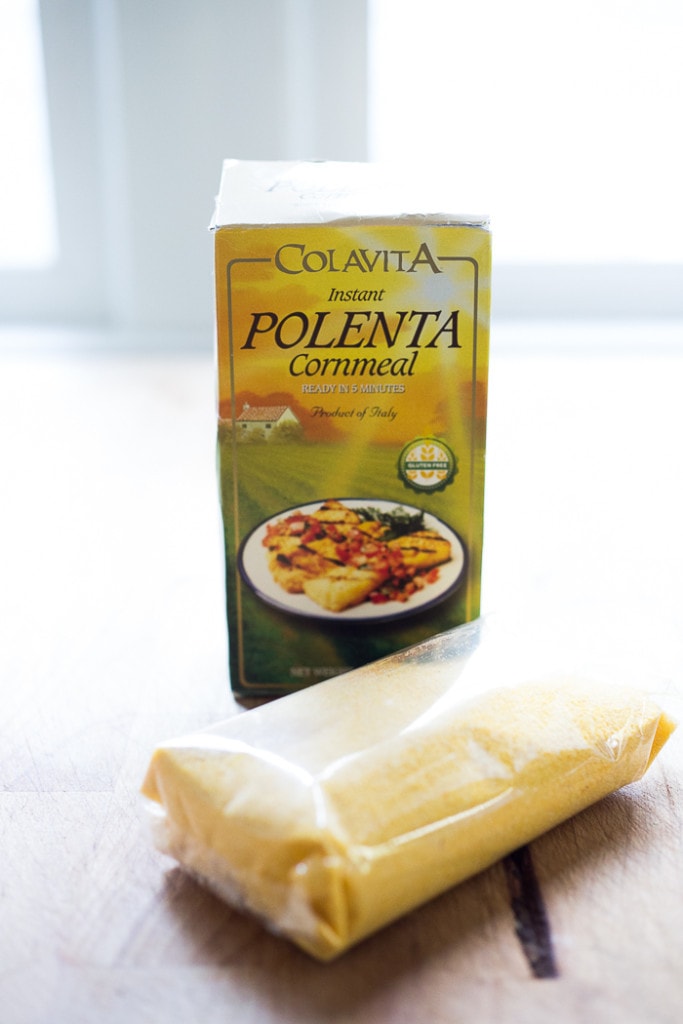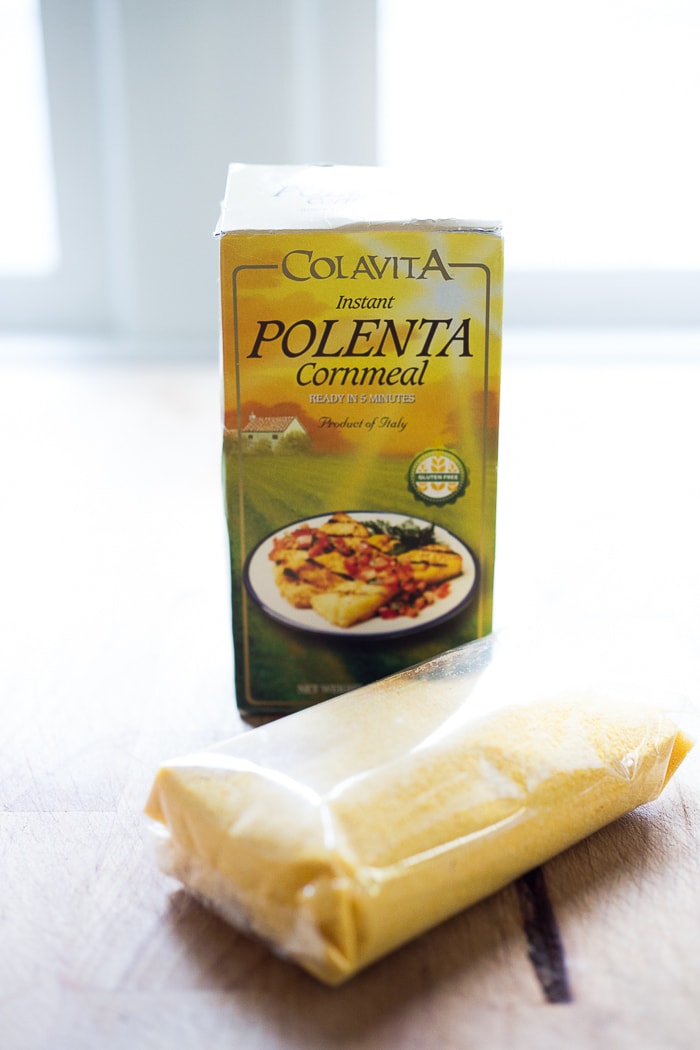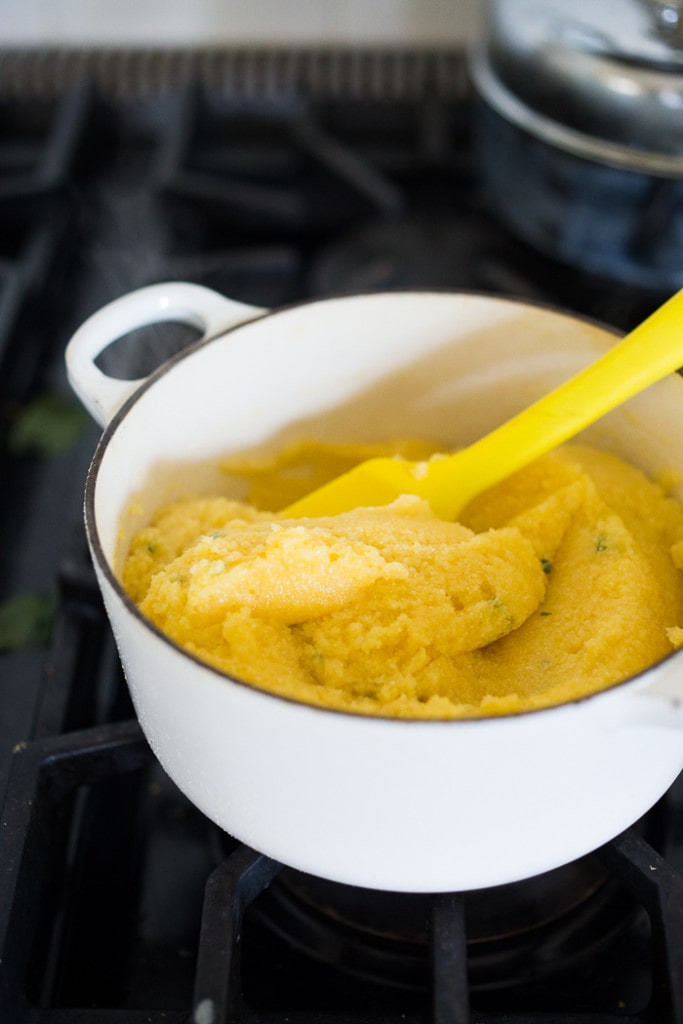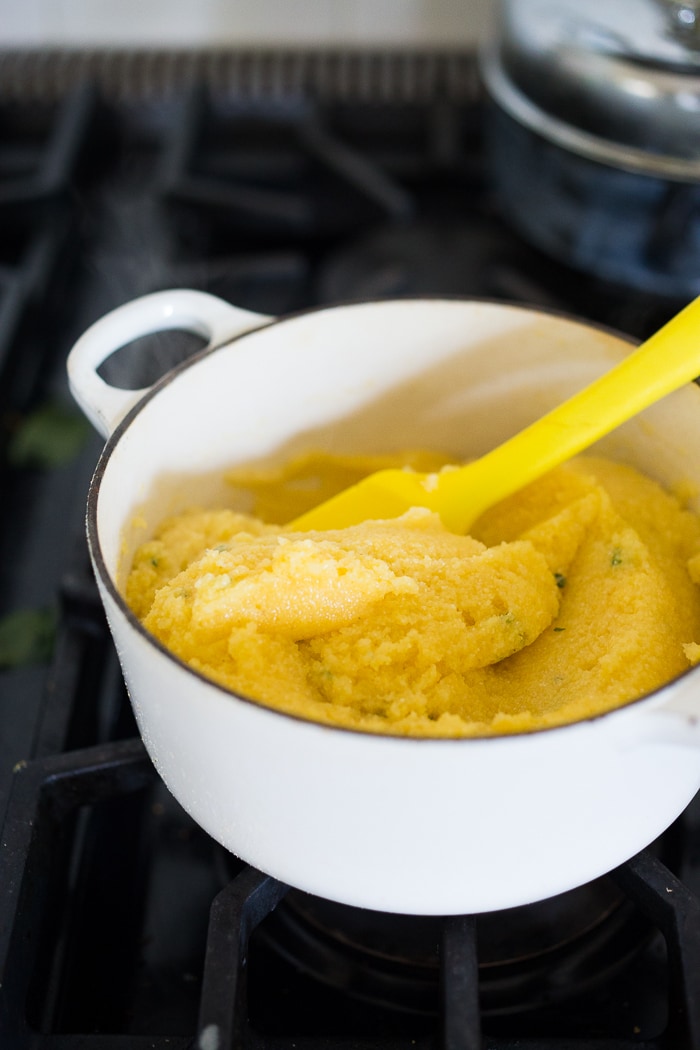 I love adding fresh herbs to  polenta at the very end of cooking so they stay green…like sage or basil.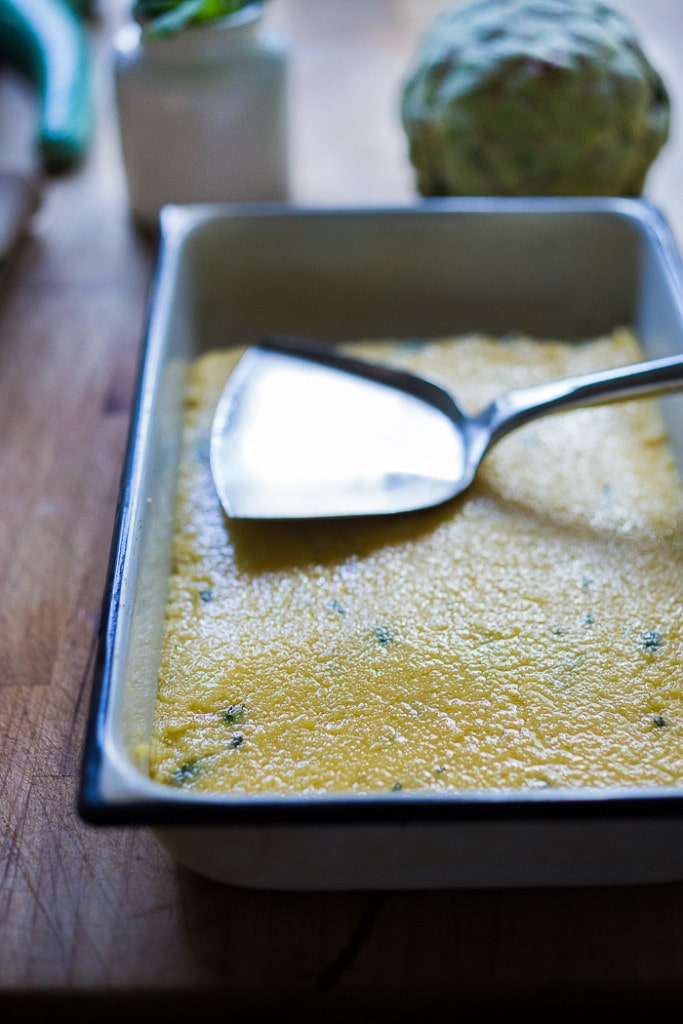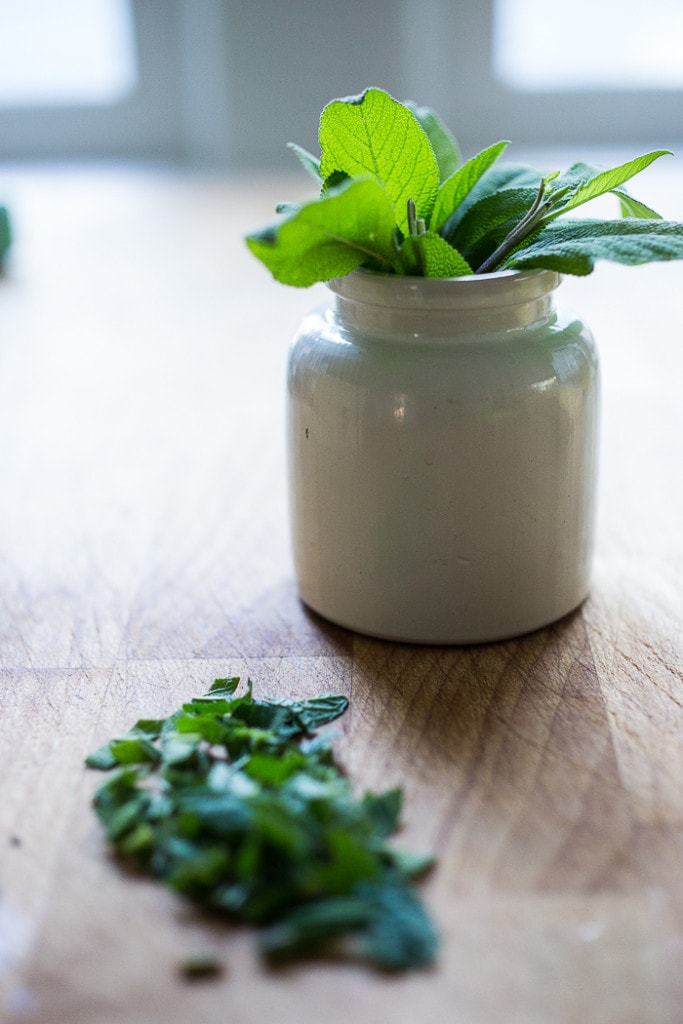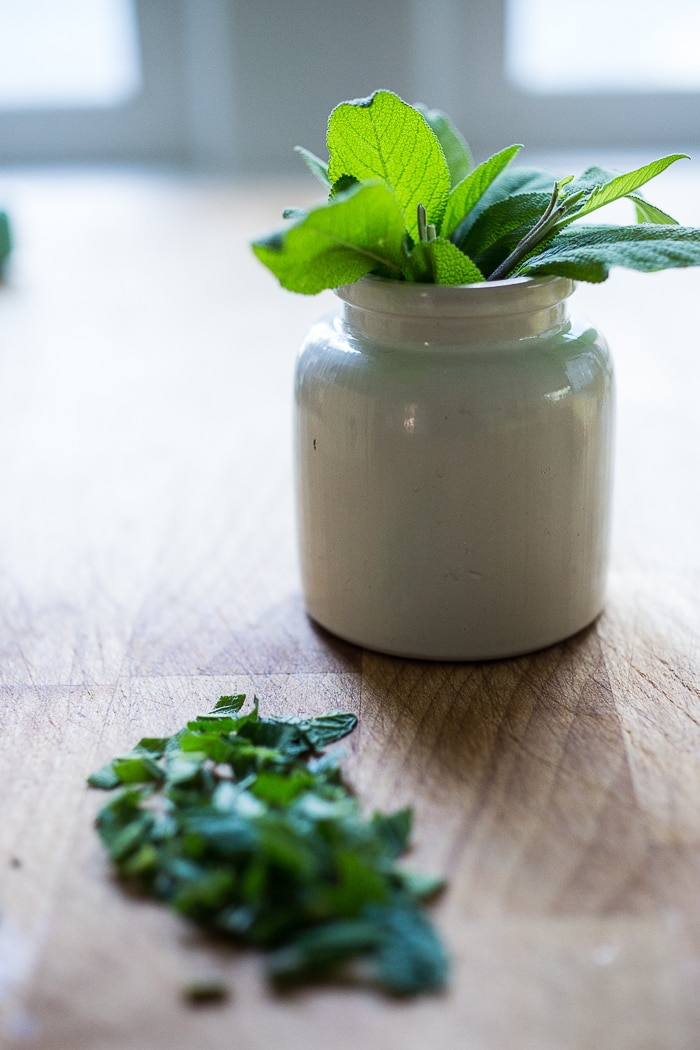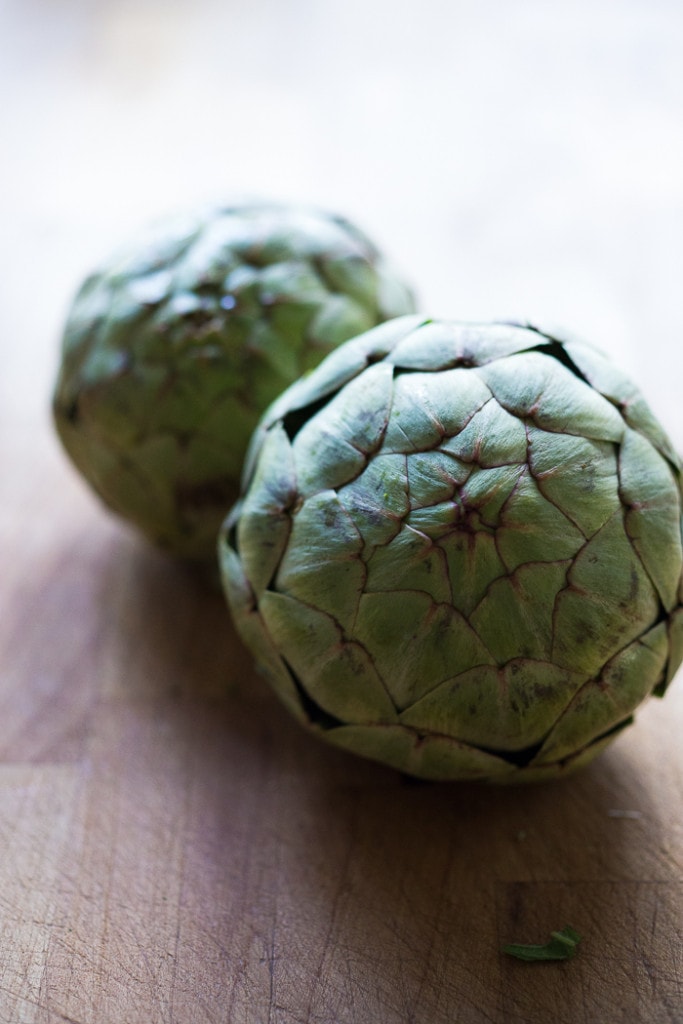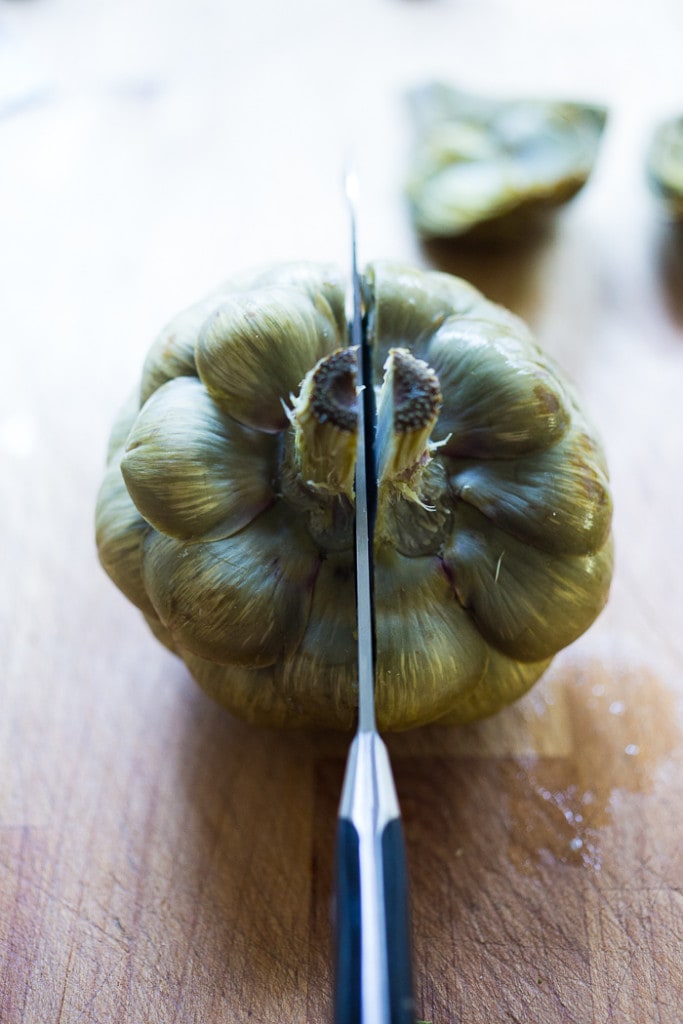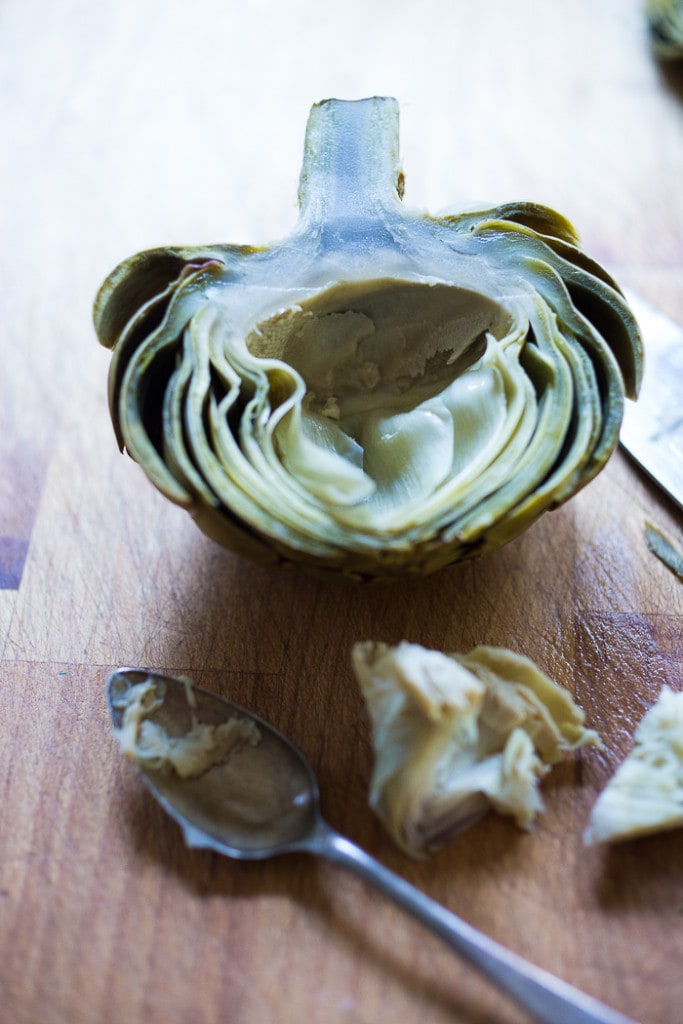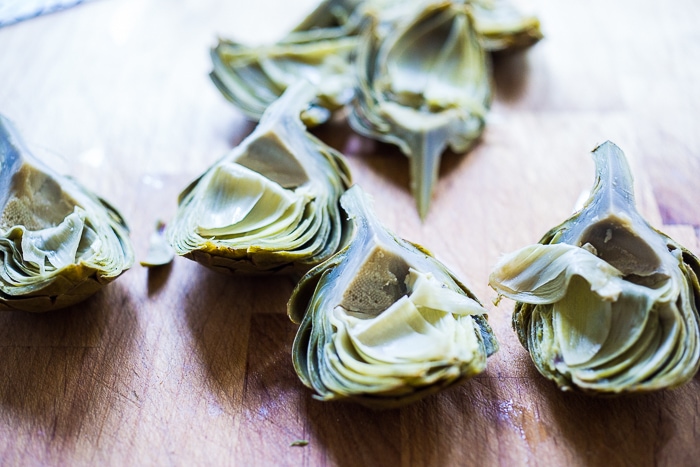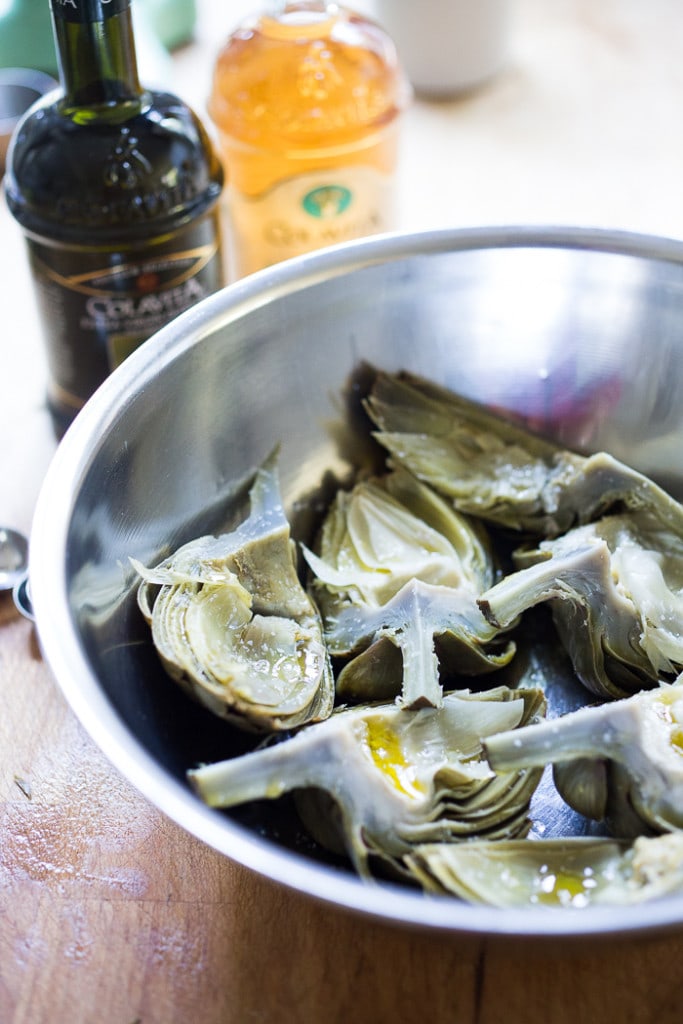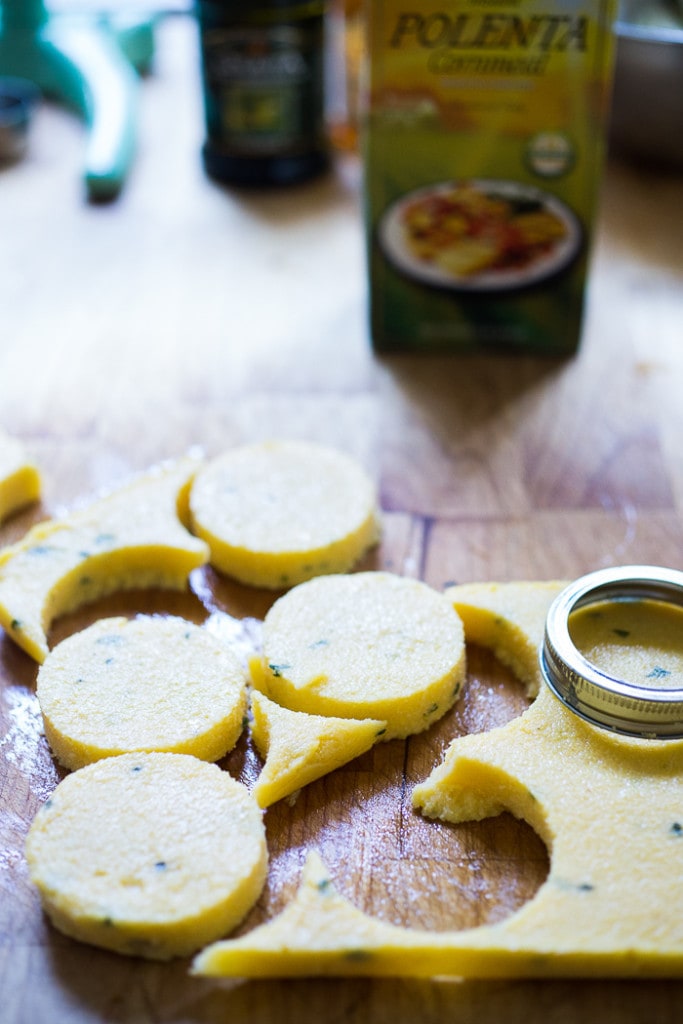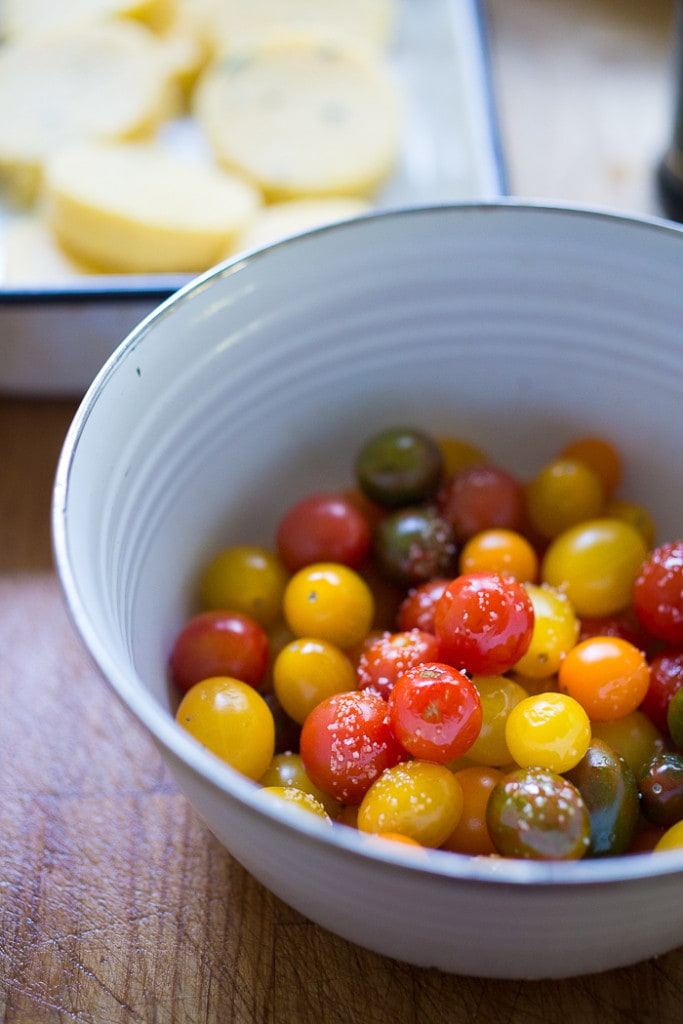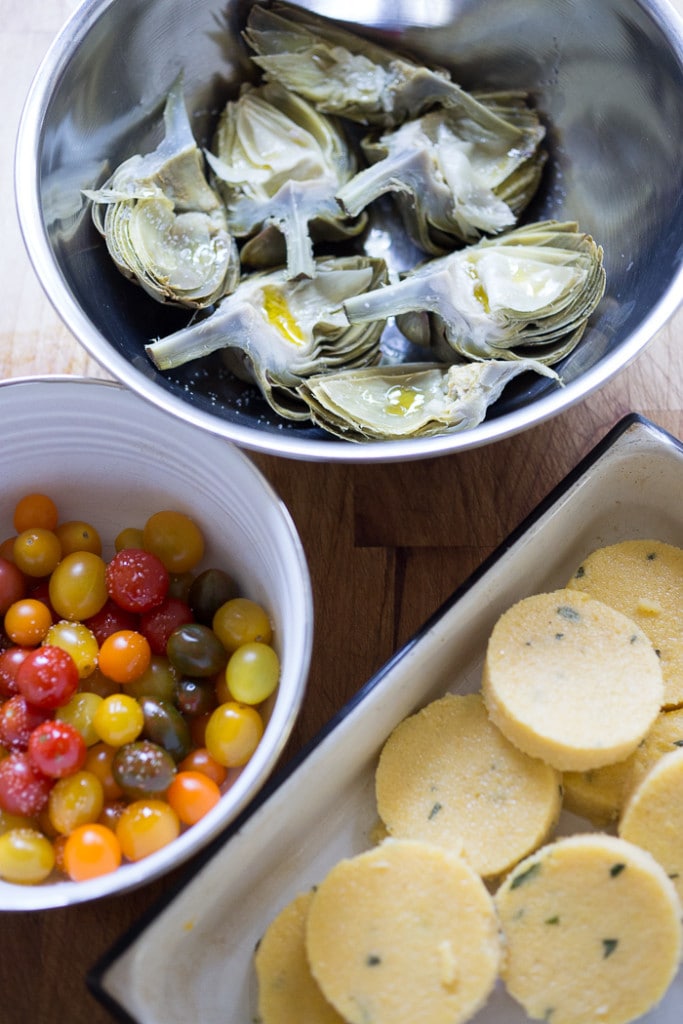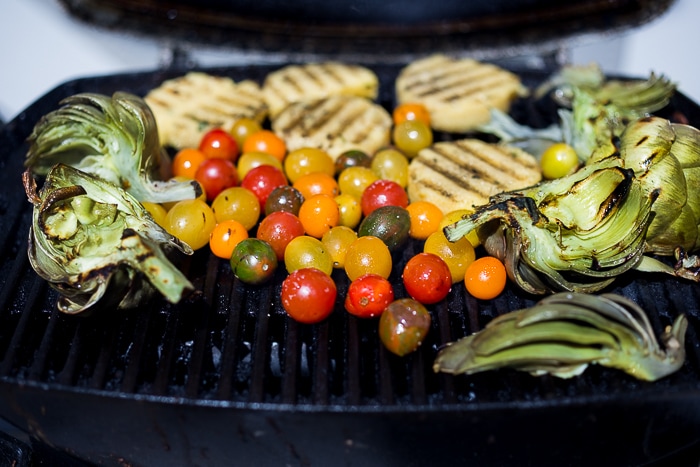 Grill it all up. Adding an element of smoke here is really nice- like some wood chips in a foil packet, or cooking over coals.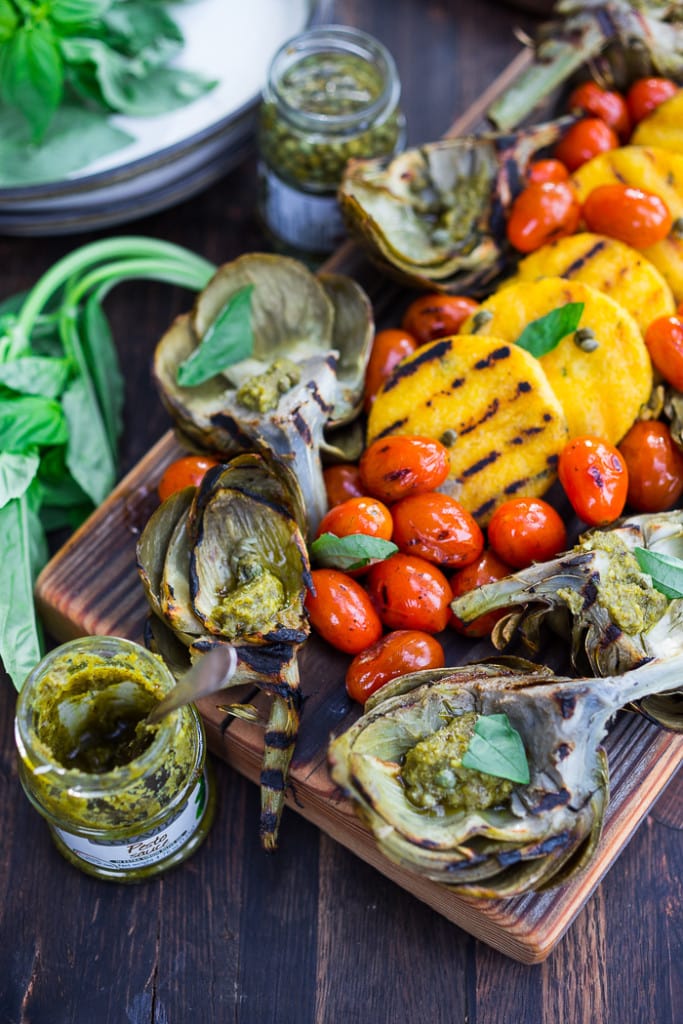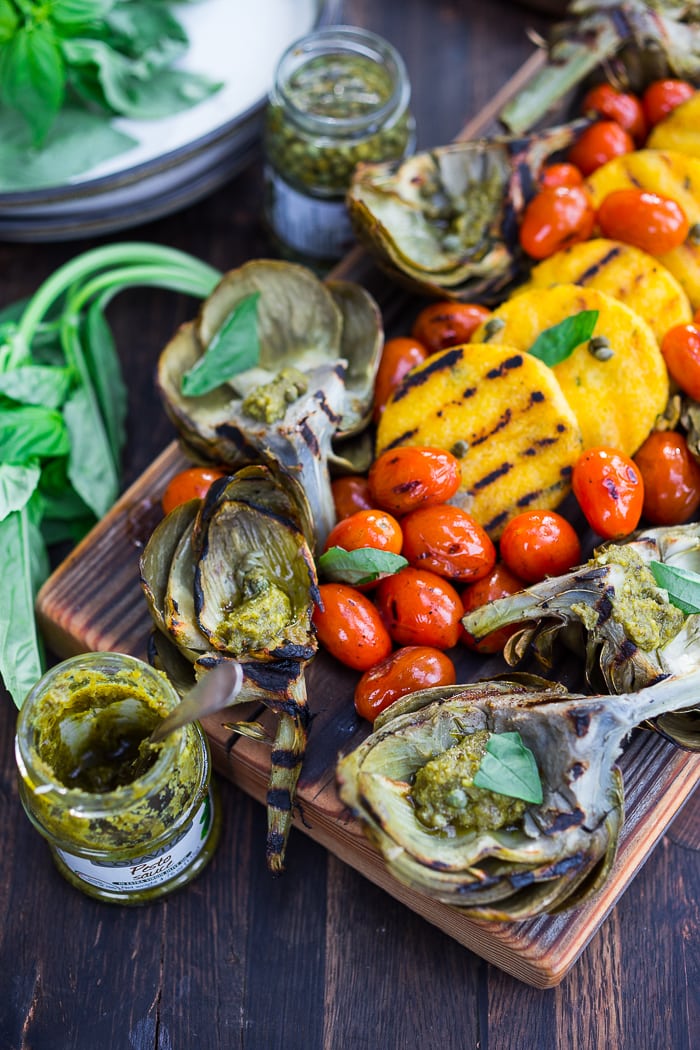 Serve it up with pesto – or try this homemade Arugula Pesto!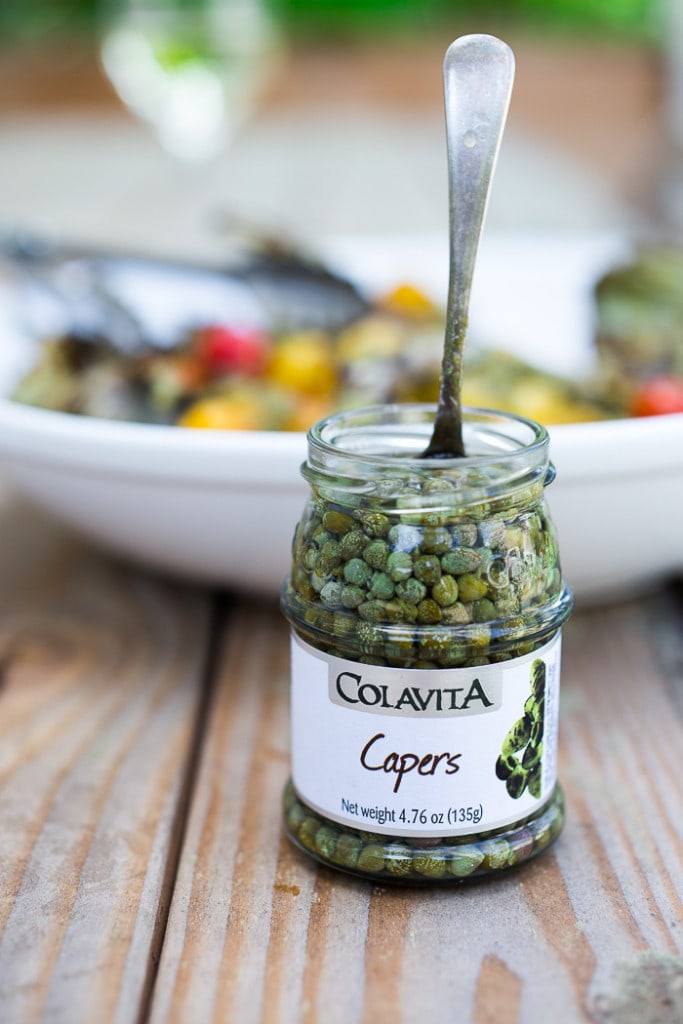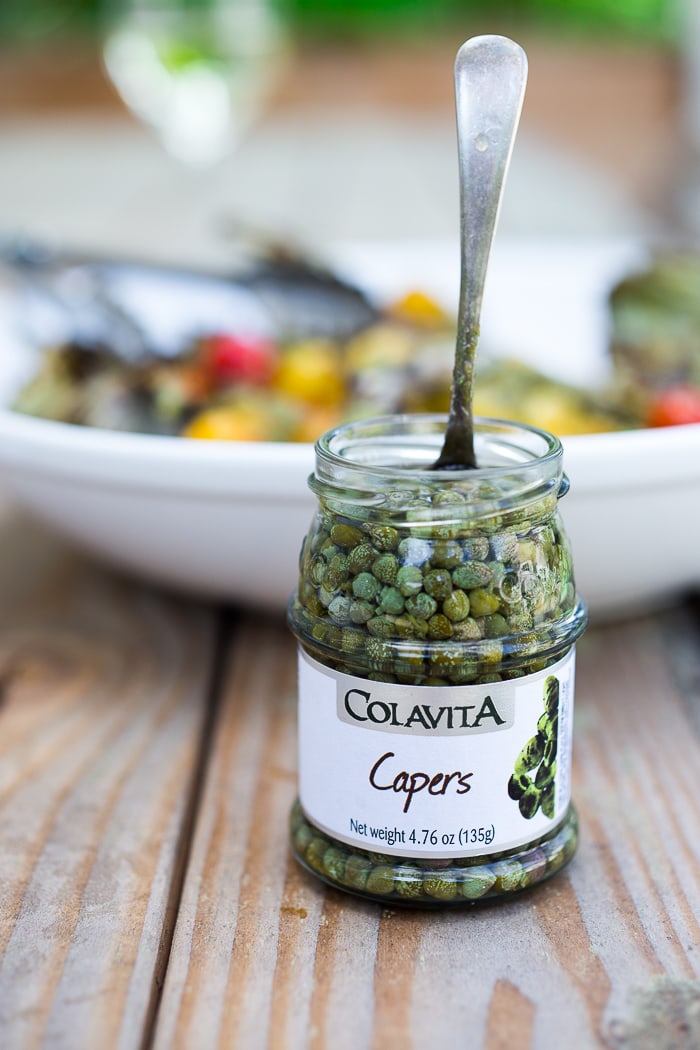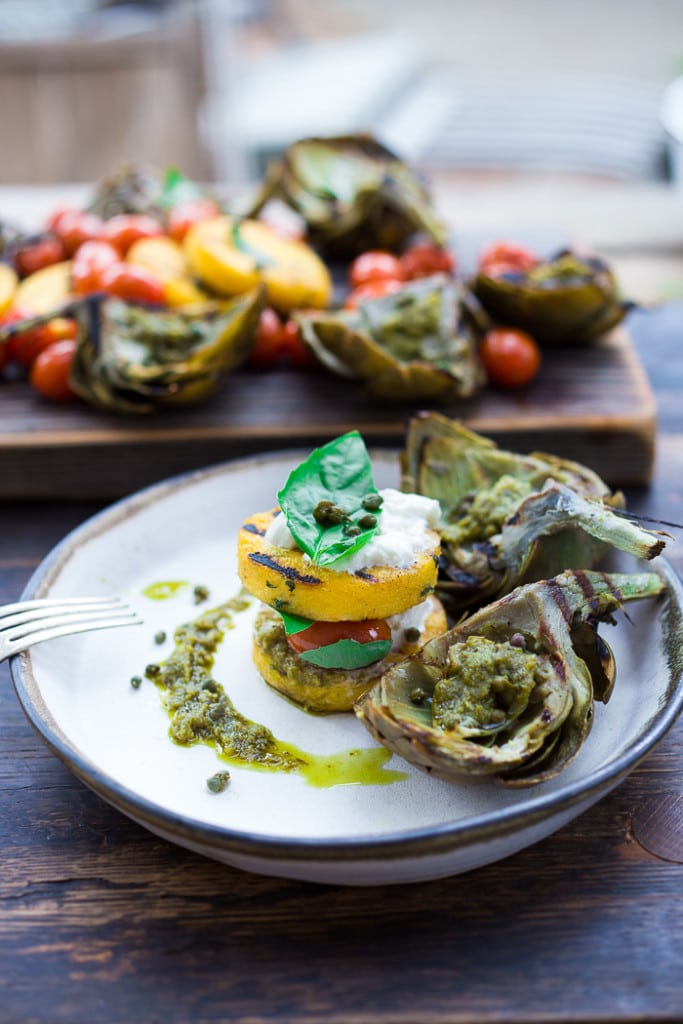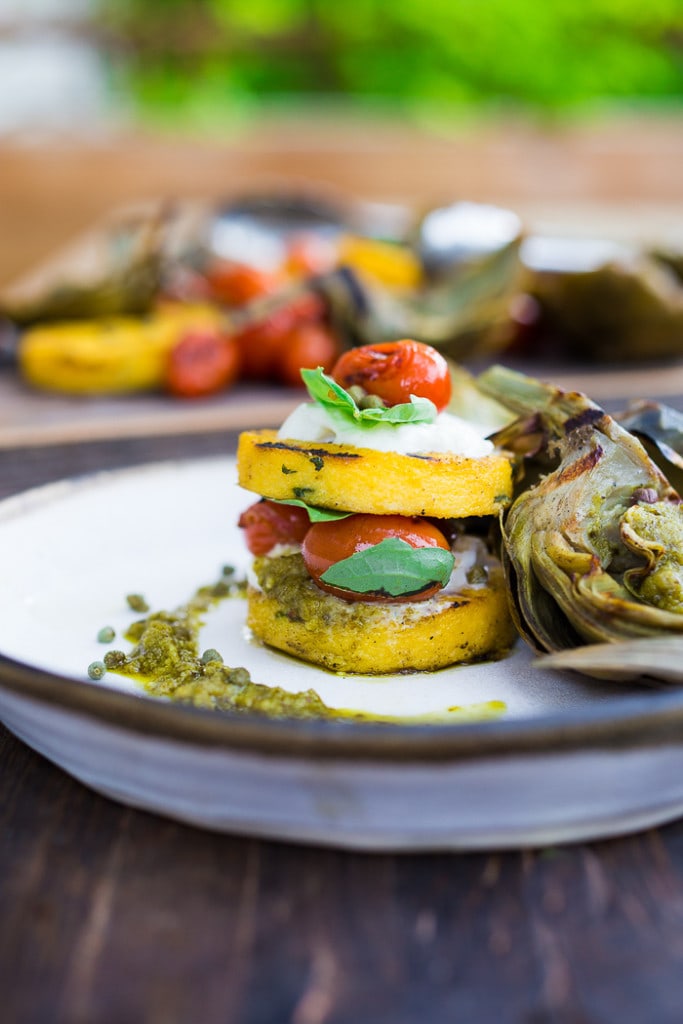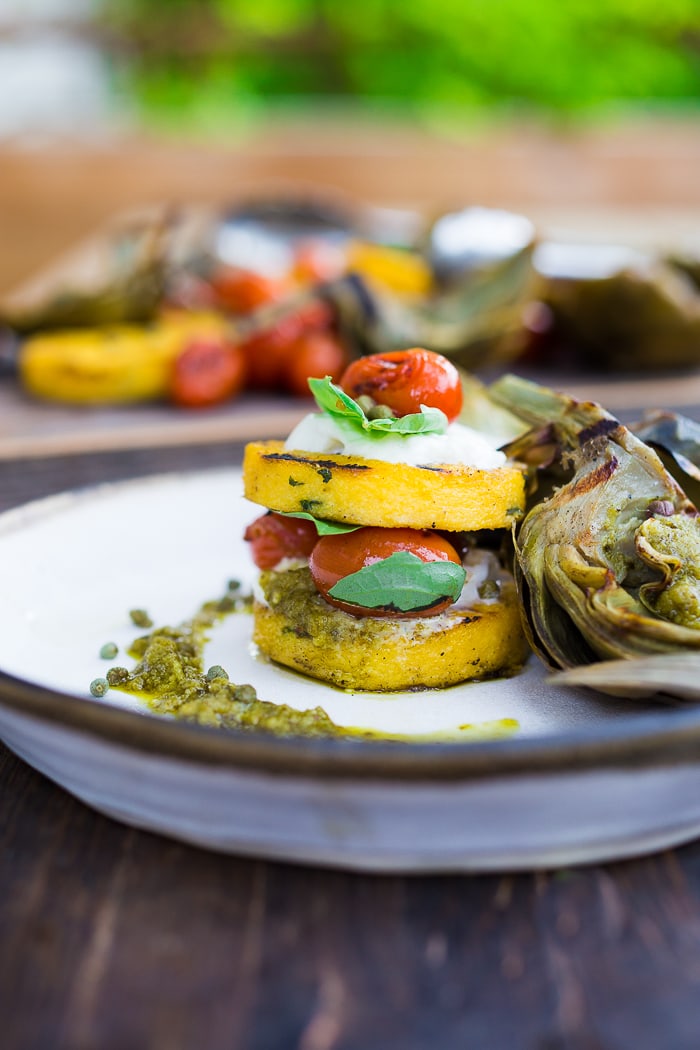 Hope you Enjoy!
Print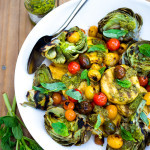 Grilled Artichokes & Polenta w/ Blistered Tomatoes and Pesto
Prep Time:

45 mins

Cook Time:

45 mins

Total Time:

1 hour 30 mins

Yield:

3

-4

1

x

Category:

Main, vegan, gluten free

Method:

Grilled

Cuisine:

Mediterranean
---
Description
Grilled Artichokes and Polenta with blistered tomatoes, pesto, capers and fresh basil -served family style! An easy healthy rustic meal, perfect for summer nights on the patio! Vegan and GF
---
1

cup

instant polenta

3 1/2

cups

water

1 teaspoon

salt

1/2 teaspoon

pepper

1 teaspoon

granulated garlic

1 tablespoon

chopped fresh sage or basil

2 tablespoons

olive oil
—-

2

large artichokes

2

T olive oil

2

T vinegar
generous pinch salt and pepper
——-

1

lb

cherry tomatoes

2 tsp

olive oil
pinch salt
—–
Garnish

3 tablespoons

store-bougt pesto or arugula pesto

2 tablespoons

capers

1/2

C burrata cheese ( or goat cheese) optional
few basil leaves
---
Instructions
An easy way to do this is to prepare the polenta and blanch the artichokes a day ahead. Then before serving just, fire up the grill, and its done in 15 minutes!
To blanch artichokes- place artichokes in a pot full of water, with 1 T salt and juice on one lemon ( leave the lemon halves in the water). Bring to a boil, then simmer on low for 45 minutes. Drain and chill. Once chilled, slice in half, scoop our fuzzy thistles with a spoon, and cut in half again. You will have 8 quarters. Drizzle with olive oil, vinegar, salt and pepper, gently toss to coat.
To make polenta- Bring 3 ½ Cups water to a boil in a medium pot. Add salt, pepper, granulated garlic. Gradually add polenta, whisking constantly. Turn heat to low, cover and cook until done. If using Coavita brands instant version, this will take 5 minutes. If using a noon instant brand, this may take 20 minutes, so read the directions on the box. Once polenta has cooked and thickened, whisk in olive oil and fresh sage ( or basil). Spread on a greased baking dish, smoothing out with a flat bottom metal spatula, coated in olive oil, to ¾ inch thickness. Refrigerate, until firm and chilled over night or for at least two hours. Cut into squares, triangles or rounds.
Pre heat grill to medium high.
Grill polenta, until grill marks appear, closing lid. Flip over and grill the other side. Place on a platter. Grill artichokes on all sides, until slightly charred and heated through. Place around polenta. Char the cherry tomatoes until thy blister slightly. Arrange them around polenta and artichokes. Drizzle with pesto, scattter capers and basil leaves around the top. Add dollops of burratta cheeese ( or goat cheese) for extra richness. Enjoy!
---
---
Keywords: grilled artichokes, grilled artichoke recipes, grilled polenta, how to grill artichokes, grilling artichokes,
SaveSave