A simple step-by-step recipe for soft and pillowy, authentic Indian Naan Bread made on the stovetop with all your favorite toppings. Video.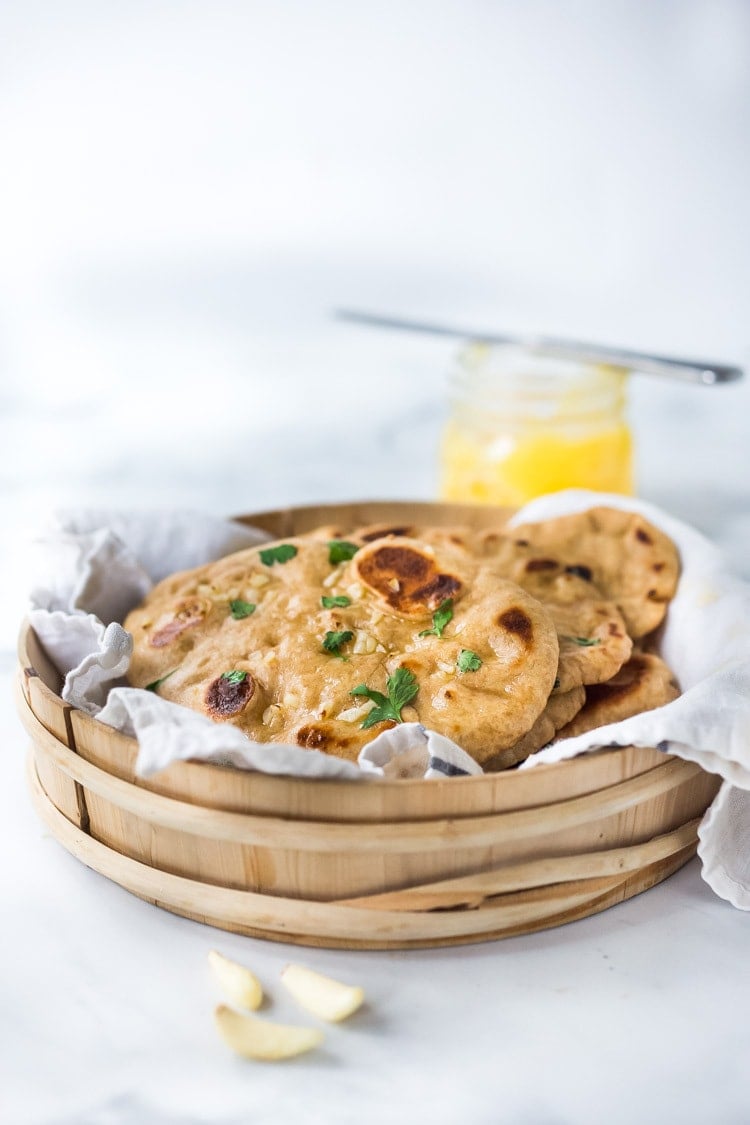 To live in this world you must be able to do three things;  to love what is mortal, to hold it against your bones knowing your own life depends on it, and, when the time comes to let it go, to let it go. ~Mary Oliver 
I've been home from India for over a week now,  still a little jet-lagged yet buzzing from the incredible experience there.  The people! The food! The energy and the color,  all my senses are saturated!
One of my favorite things was learning how to make naan bread, the authentic, Indian way.  This traditional naan recipe is made with yogurt and instant yeast, and cooked in a dry skillet, giving the soft, pillowy naan a delicious crispy exterior which I fell in love with, while in India.
Today I've opted for whole wheat Garlic Naan, my favorite, but feel free to keep it plain and simple, or embellish with whole seeds – see the recipe for all the yummy variations, and find your favorite!
How to make Naan! | 40-second video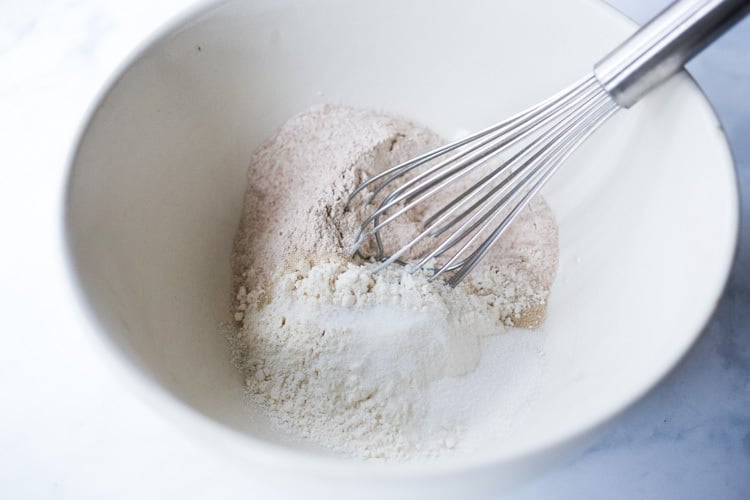 Ingredients in Naan Bread
Flour: All-purpose white flour, bread flour , whole wheat flour , einkorn, or spelt flour – or a blend.
Instant yeast: Using Instant yeast cuts the prep time in half while eliminating one whole step. (See recipe notes for regular active yeast.)
SALT AND SUGAR 
Yogurt (or vegan yogurt)
Warm water 
How to make Naan Bread
Step 1: In a large bowl, whisk together flour (here I've used part whole wheat flour and part white bread flour) the instant yeast, salt and sugar. You can also simply use all-purpose flour.
Step 2: In a smaller bowl, mix the warm water, yogurt and olive oil.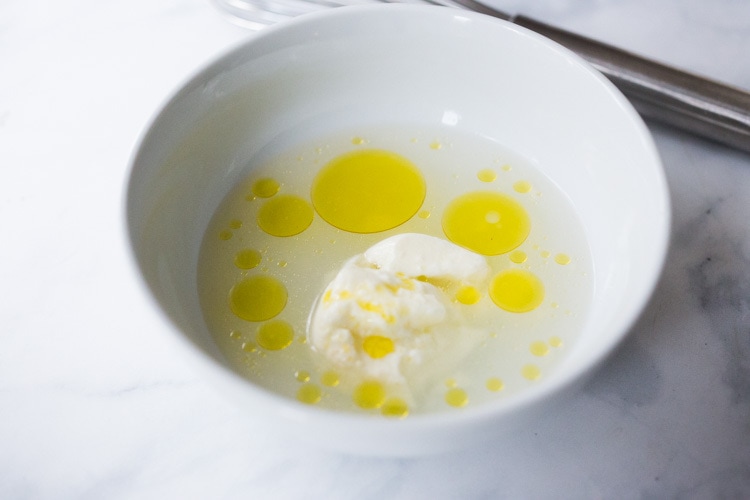 Step 3:  Pour the wet into the dry and mix to combine.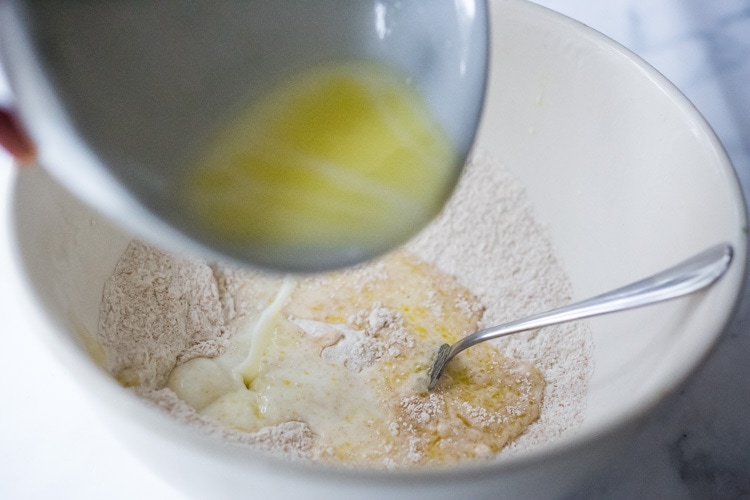 Step 4: Mix the dough with a fork until it comes together.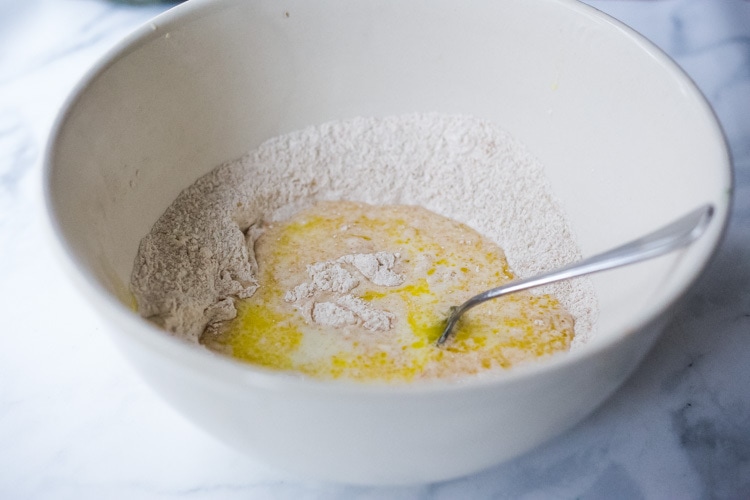 With a floured hand,  knead the soft dough for a minute or so and form a ball, and place it back in the bowl.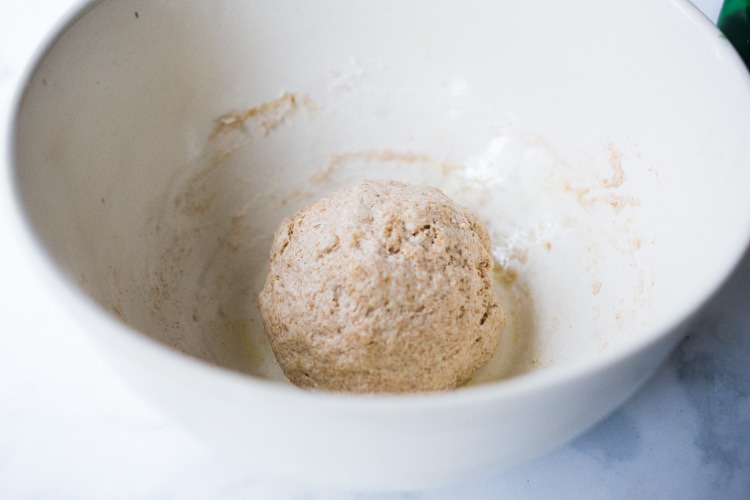 Step 5: Drizzle it with olive oil, rubbing the oil around the naan dough, coating it. Cover with plastic wrap or a wet kitchen towel.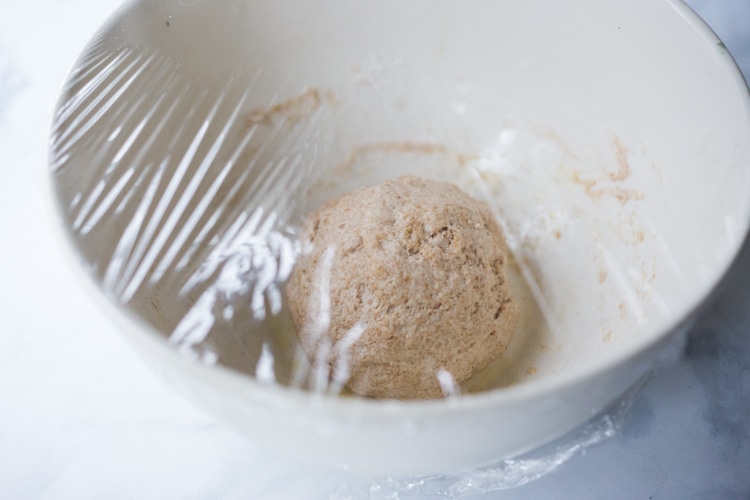 Step 6: Place the naan dough in a warm spot in the kitchen until it rises, about 45-60 minutes. It doesn't need to quite double.
Tip: The warmer the spot, the faster the naan will rise. I often place rising dough on top of my stove, with the oven turned on to the lowest setting.
If using regular Active Dry Yeast, it will require 2-3 hours to rise.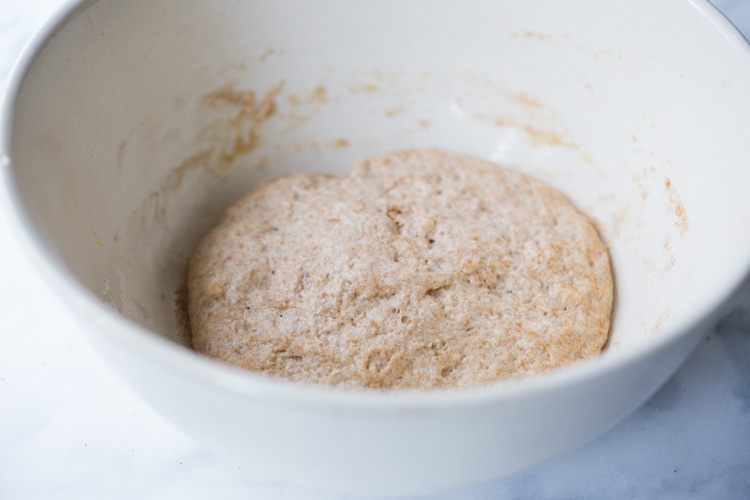 Step 7: Once the naan has rise, place it on a floured surface and roll into a 1o-inch log. Divide the naan dough into 10 equal pieces.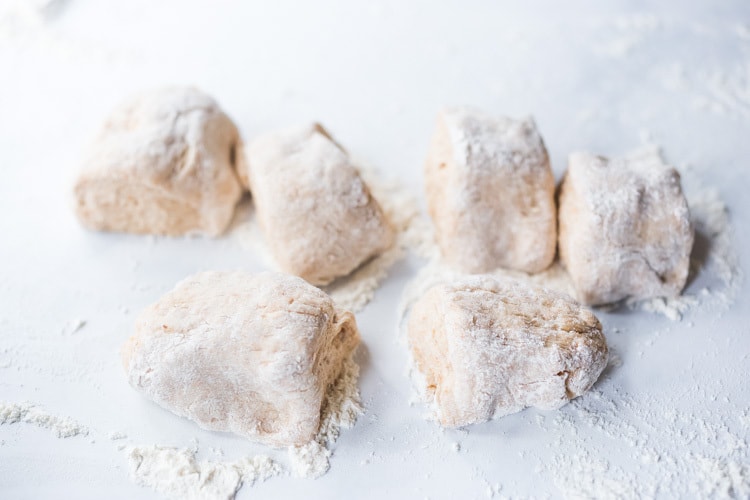 Step 8: Roll into rounds or ovals, roughly  ⅛ – ¼  inch thick. If going for oval naan, they should measure, roughly 4 x 8 inches.
Naan really doesn't have to be perfect and honestly can be any shape, as long as they are uniform in thickness ( or with the edges slightly thicker than the middle) and no more than ¼ inch thick.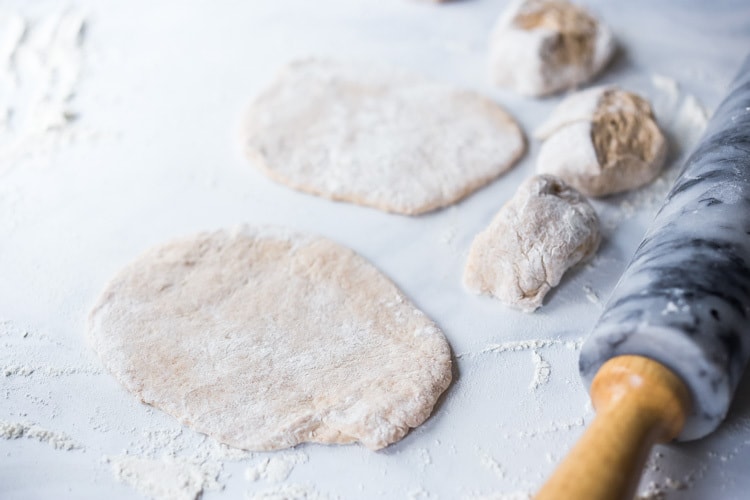 You can keep the naan plain and simple, or season it with seeds – nigella, fennel, anise, poppy, or sesame seeds ( adding to the flour bowl)  or add finely minced onion or garlic – my favorite! Nigella seeds add a delicious onion-y flavor.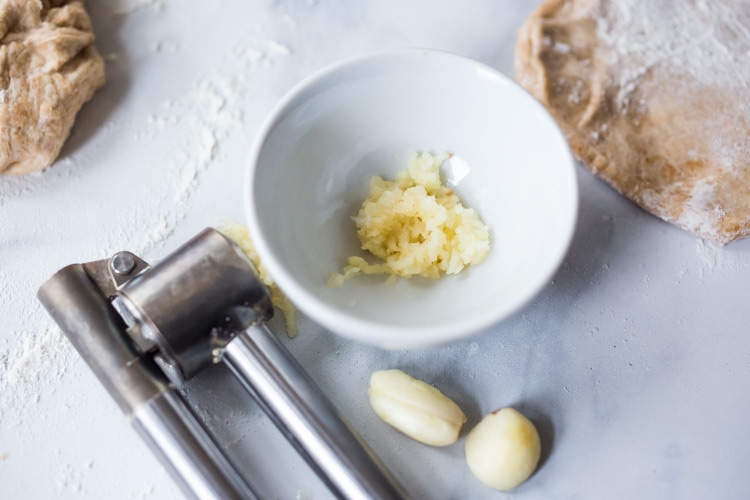 If making garlic (or onion naan), simply press the finely minced garlic into the naan with your fingers, or roll it in.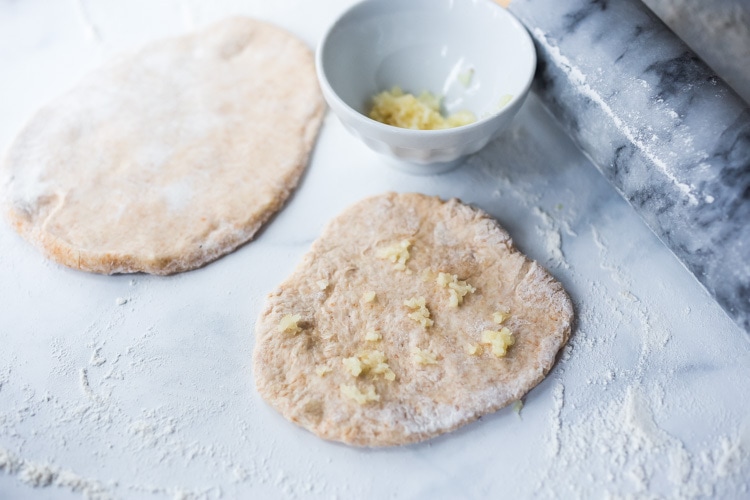 Step 9: Cook the naan, and give it a nice crispy texture. Heat a DRY heavy bottom skillet, or cast iron skillet, over medium-high heat.
Cooking one naan at a time, placing the naan right in the hot skillet and toast, until large bubbles appear on the visible side. Take a peek underneath to see if the naan is deeply golden, adjusting the heat, either lowering or raising.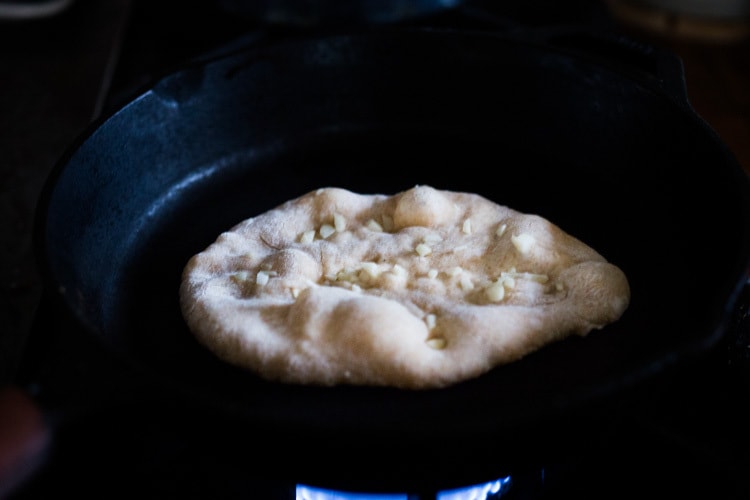 When there are large air bubbles on top of the naan bread, and the bottom side is nicely golden, flip. This will take anywhere from 2-4 minutes. Then cook the other side for another 2-3 minutes, checking to see that the air bubbles are not deeply golden but not burning. After the first one, you will get the hang of it.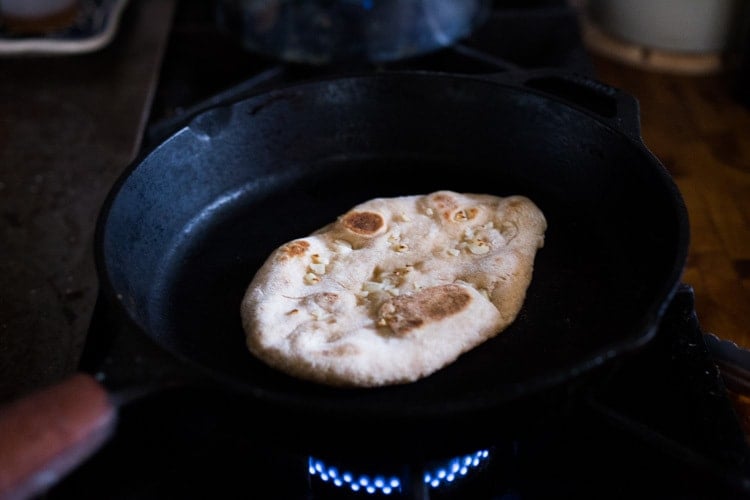 TIP: To get the naan to puff up even more, after searing each side, place the naan directly on the gas flame (medium heat) using tongs. Naan should puff up beautifully. Stack the naan and cover with a towel to keep warm.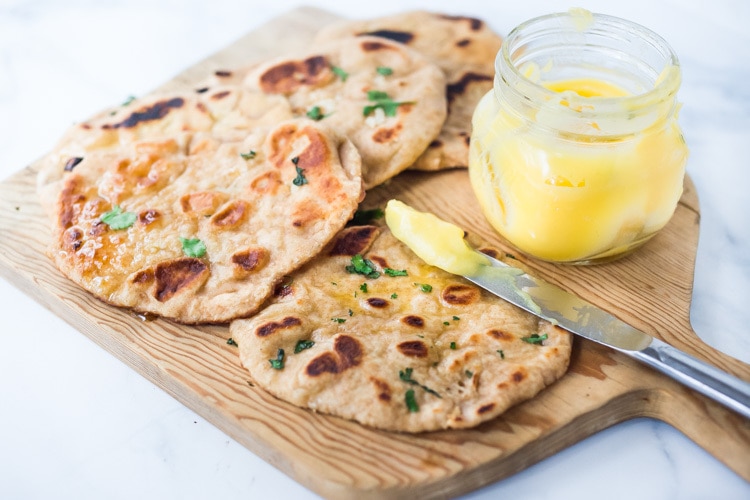 Once all the naan are seared in the skillet,  brush or spread with ghee and sprinkle with pinch of salt. Sprinkle with fresh herbs- parsley, cilantro or even scallions or chives – right before serving.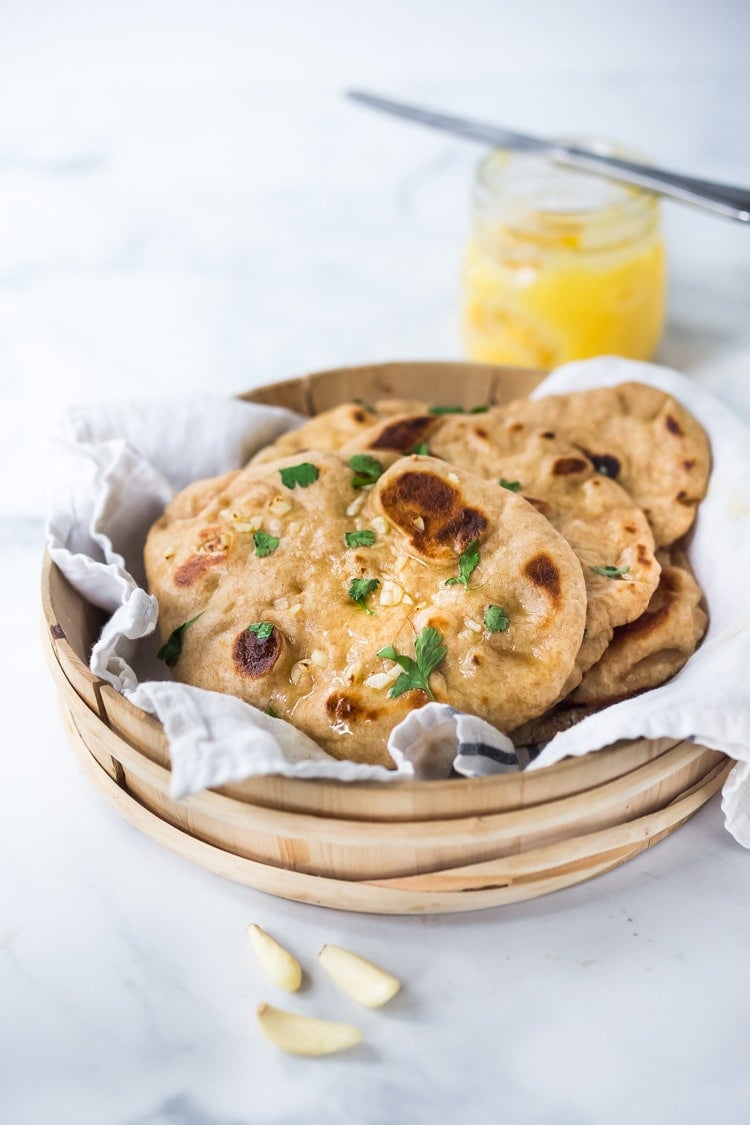 You can also keep the naan warm for a while, stacked, wrapped in foil in a warm oven- then right before serving, sprinkle with the herbs so they look nice and fresh.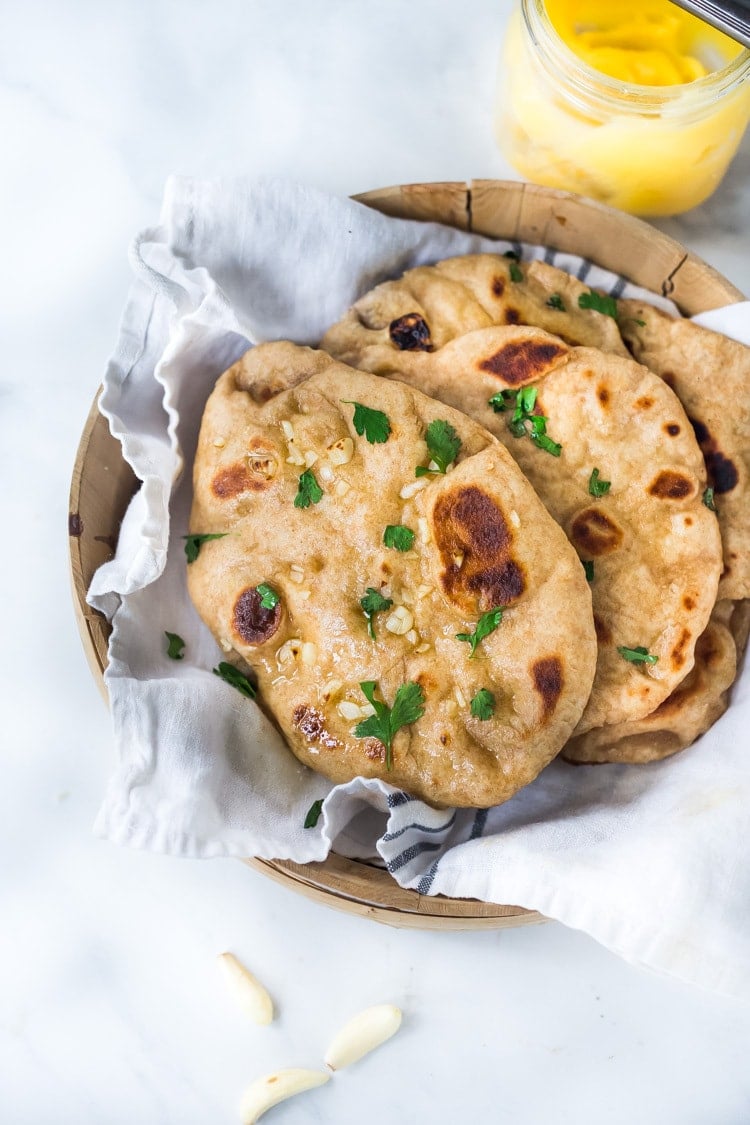 A delicious and fun addition to any Indian meal.
My husband absolutely loves it when I make these!
Naan can also be baked ahead and frozen – just make sure to wrap the naan individually and very well with plastic wrap.
Place them frozen in a toaster oven or in a hot oven, directly on the rack, until soft and warm.
What to serve with Naan Bread!
Enjoy the naan, and please rate it in the comments below!
xoxo
Print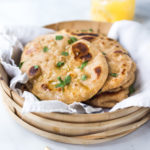 How to make Naan (like they do in India!)
Author:

Sylvia Fountaine

Prep Time:

65

Cook Time:

10

Total Time:

1 hour 15 minutes

Yield:

6

1

x

Category:

breads, Indian cuisine

Method:

stove top

Cuisine:

Indian

Diet:

Vegetarian
---
Description
Quick EASY Naan Recipe- a simple step-by-step guide to making authentic Indian style, pillowy naan bread in a skillet with all your favorite variations- garlic naan, onion naan and seeded naan!
---
2

cups

AP flour (see notes)

1 1/2 teaspoons

salt, more for sprinkling

1 teaspoon

instant yeast or rapid-rise yeast (see notes for Active Dry Yeast)

1 teaspoon

sugar

3/4

cup

warm water

1/4 cup

plain yogurt (or sub vegan yogurt)

1 tablespoon

olive oil
Garnish: 2 tablespoons  Ghee (or butter, or olive oil,  but really, ghee is best! ) 1-2 tablespoons fresh herbs – cilantro, parsley, scallions or chives.
Optional Additions:
1/2

–

1

teaspoon whole seeds: nigella, cumin, fennel, caraway, anise, or sesame seeds– or a combo
finely chopped garlic ( 2 tablespoons)

or

finely chopped onion or shallot (2 tablespoons)
---
Instructions
In a large bowl, whisk flours, sugar, yeast and salt together. If adding whole spices, add them now.
In a medium bowl, stir ¾ cup warm ( 100F) water with olive oil and yogurt.
Pour the yogurt mixture into the flour mixture and combine with a fork, and with a floured hand, knead the dough for 1-2 minutes. The dough should feel soft, but not sticky. If sticky add a little more flour. Form a ball. Drizzle with a little olive oil to coat all sides of the ball and place it back in the same bowl and cover with plastic wrap. Place the bowl in a warm spot in the kitchen (the warmer the spot, the faster it will rise) and let rise until it almost doubles in size 45-60 minutes.   (TIP: I'll often place rising dough on the top of my stove with my oven set to the lowest setting.)
When dough has risen, place it on a well-floured surface, and roll into a 10 inch log, then divide the log into 10 pieces.
Roll each piece out into a ⅛-¼  inch thick  oval, about 4 by 7 inches long. They don't have to be perfect and can be any shape, just make sure thickness is uniform and it is not more than ¼ inch thick. If adding garlic or onion, press some of the finely minced garlic into the dough on one side, just using your fingers and you can actually do this in the pan if you want. You can also roll the garlic into the dough, when it rolling out.
Heat a DRY  cast iron skillet over medium to med-high heat. Cooking one naan at a time, place it in the hot skillet, and cook until bubbles appear on the surface, and bottoms are golden ( check after a couple minutes) then flip. Cook for a few more minutes on the other side until the bubbles are deeply golden. If you have a gas stove, you could place these cooked naan, directly over the gas flame, to get them to puff up even more. Set each one aside and cover with a towel or foil to keep warm.
Cook all the naan, then brush each one with ghee, and a light sprinkling of salt, stacking.  (You can keep them stacked, wrapped in foil in a warm oven until ready to serve.)
Right before serving, sprinkle with chopped cilantro, parsley, or scallions.
---
Notes
Flour: feel free to use part whole wheat or rye, or experiment with other flours like einkorn, buckwheat, or spelt.
These can be made ahead and frozen, individually wrapped tightly in plastic wrap ( use a double layer). Place them frozen, directly on the rack in the oven or toaster oven until soft and warm.
If using regular, Active Dry Yeast- rising time will increase to 2-3 hours. You will also need to mix the yeast with the warm water and the sugar first, let it stand for 10 minutes until it activates and is frothy, before adding the yogurt and olive oil to it. Continue with recipe as stated.
Nutrition
Serving Size:

1- Brushed with 1 teaspoon ghee

Calories:

220

Sugar:

2.5 g

Sodium:

392.6 mg

Fat:

6.9 g

Saturated Fat:

2.9 g

Carbohydrates:

34.5 g

Fiber:

1.3 g

Protein:

4.9 g

Cholesterol:

11.1 mg
Keywords: homemade naan, authentic naan bread, naan recipe, easy naan recipe, naan recipe yogurt, best naan recipe, naan recipe yeast, naan in a skillet, whole wheat naan, naan with nigella, how to make naan, naan bread recipe, easy naan bread, garlic naan, garlic naan bread, garlic naan recipe