Mushroom Wellington with Rosemary and Pecans- a simple, elegant, vegan main dish, that can be made ahead, perfect for Christmas, Thanksgiving or any holiday! Vegan-adaptable. Video. 
You may also like 50 Best Vegetarian Recipes! and Our 40 Best Mushroom Recipes!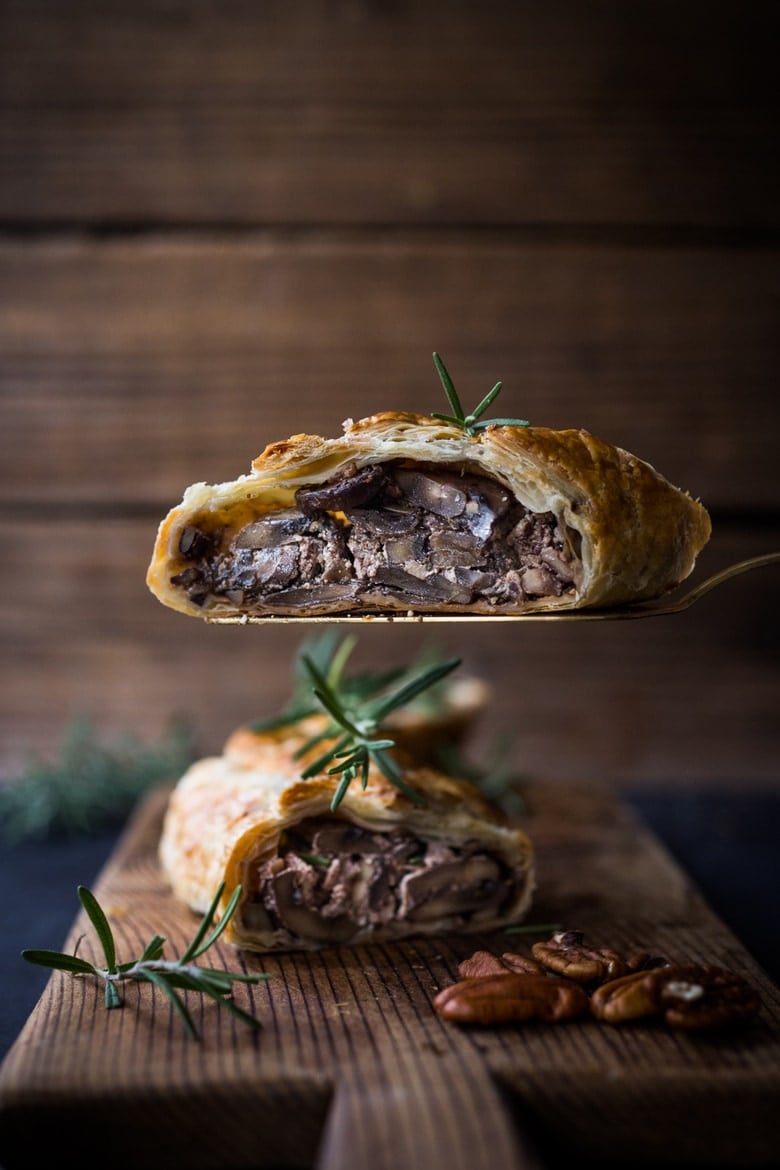 The moment you accept what troubles you've been given, the door will open. ~Rumi~
Here's a little number that may come in handy for the holidays – Mushroom Wellington with Rosemary and Pecans. This, my friends, is the most elegant,  vegan main dish for your Thanksgiving, Christmas or holiday table! And the best part? It is very simple!
What I love about this recipe is that you can make it in stages, making the filling a day ahead, refrigerating, then rolling and baking right before the meal. That way it is so easy. You can also bake this ahead and reheat, but I find it's "prettier" baked the day of.
Earthy, savory mushrooms and toasty, nutty pecans are enfolded in a tender golden flaky crust. Non-vegans will love it too. Does it really get better than this?! It's made simple with store-bought puff pastry (many brands out there are vegan) and can be made ahead – a godsend for those of us with compact kitchens. Each recipe makes two 12-14 inch rolls.
Keep both vegan or add cheese to one for more variety. Either way, your guests are sure to enjoy.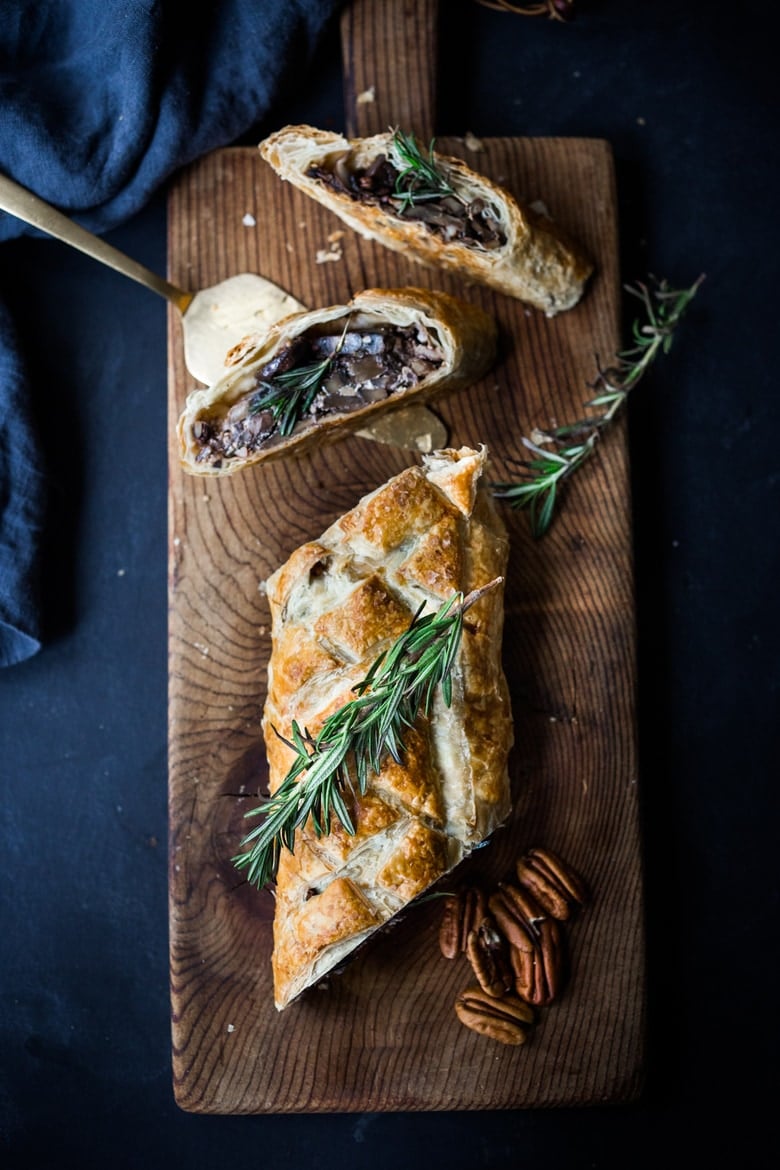 For this recipe, I recommend reading it all the way through before starting. It's a simple recipe really, and after you do it once, I know you'll find other ways to fill and adapt it.
How to make Mushroom Wellington
Step one: Make the mushroom filling.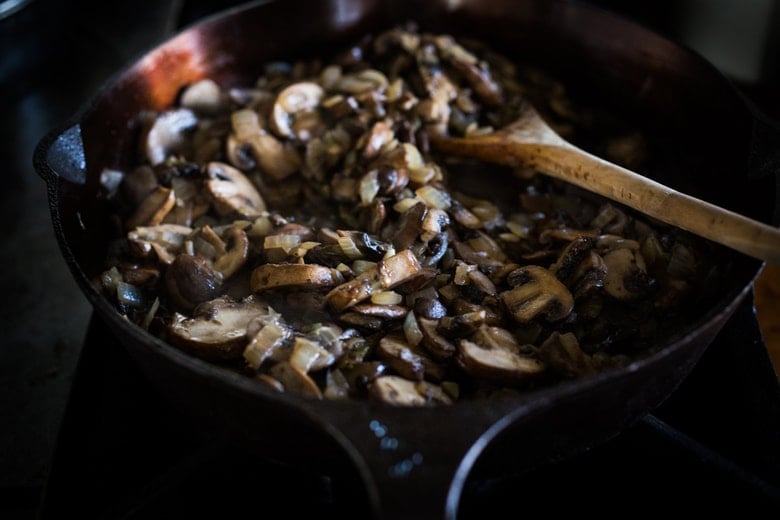 Step 2:  Let it cool and place in the center of the puff pastry dough.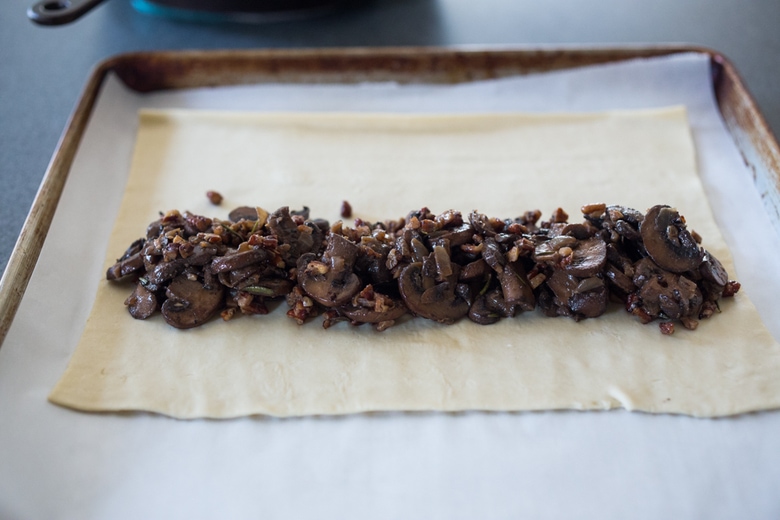 Puff Pastry Tips:
TIP: When working with puff pastry, it helps to get it's temperature just right. If it is too cold, it will be stiff and difficult to unroll. If too warm, it will lose its structure making it difficult to roll up neatly. Do this: Thaw it overnight in the fridge. Pull it out of the box ( but leave it in the plastic) and set it on the counter 15 minutes before rolling while your filling is cooling. Unroll one at a time. If it feels stiff, just let it continue sitting on the counter until it relaxes a bit. This will prevent any tearing. You could roll it out a tiny bit to smooth. Try to patch any holes.
Step 3: Fill each roll, seam side down. This recipe makes 2 rolls.
Step 4: Brush with an egg, or "eggless" wash (see the recipe).
***This works better if you brush with wash first, not after like you see I did here in the photo.
So "egg" wash first, then score!
Step 5:  Score. I used a clean razor for this. Feel free to use a very sharp knife … or to try other designs, herringbone is nice too, along with leaves and vines.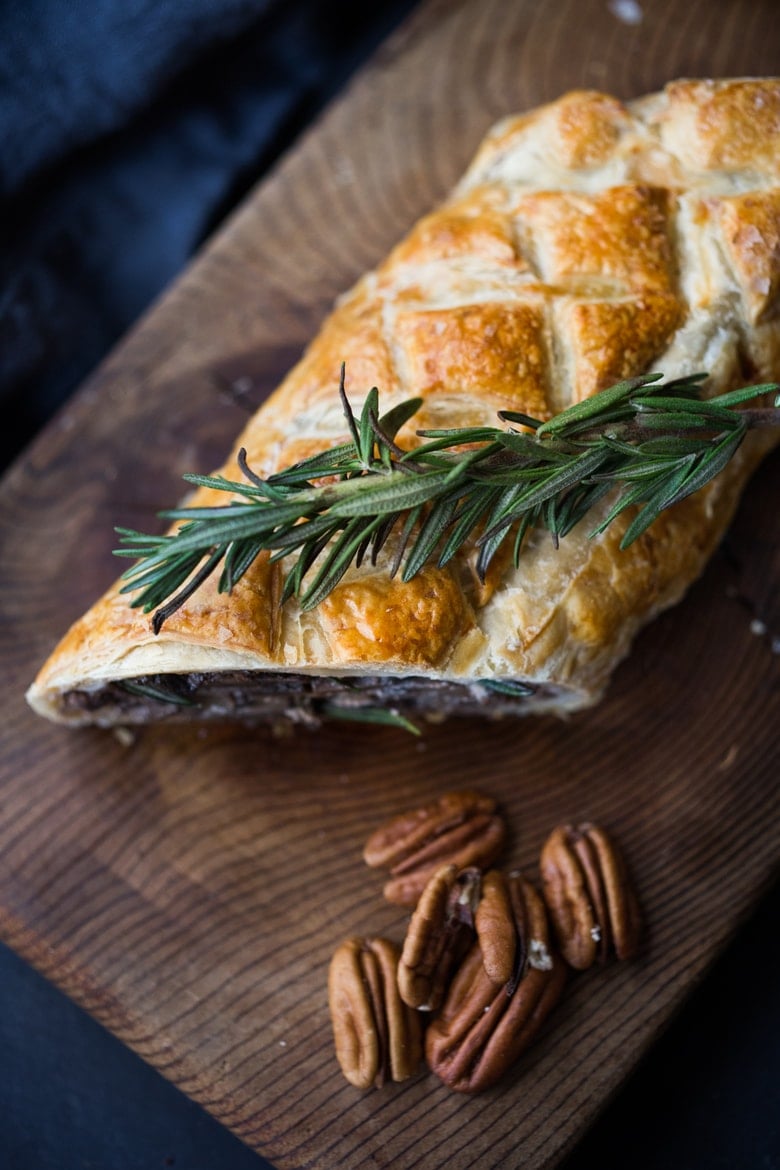 Step 5: Bake it at 400F for 35-40 minutes, checking and rotating after 20.
Let it get a deep golden color.
Please friends –I don't want to see any pale pastries on Instagram! Golden and flaky! Be patient. 🙂
You want all the layers of the pastry to cook all the way through.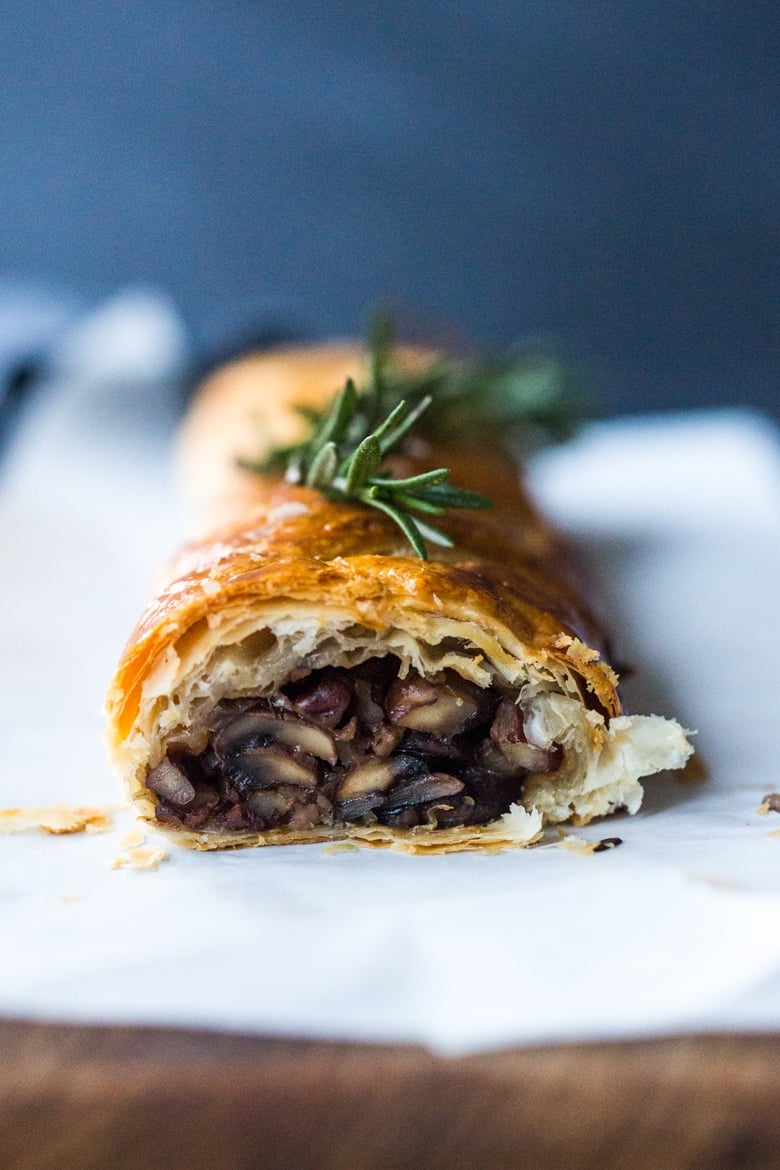 What to serve with Mushroom Wellington
This recipe was inspired by Nicole over at Delicious Everyday, who makes her vegan puff pastry from scratch, which is an option too.  I've adapted her idea and simplified it here, but feel free to embellish as you like. Once you get the basic idea,  it will be easy to add your own personal touches.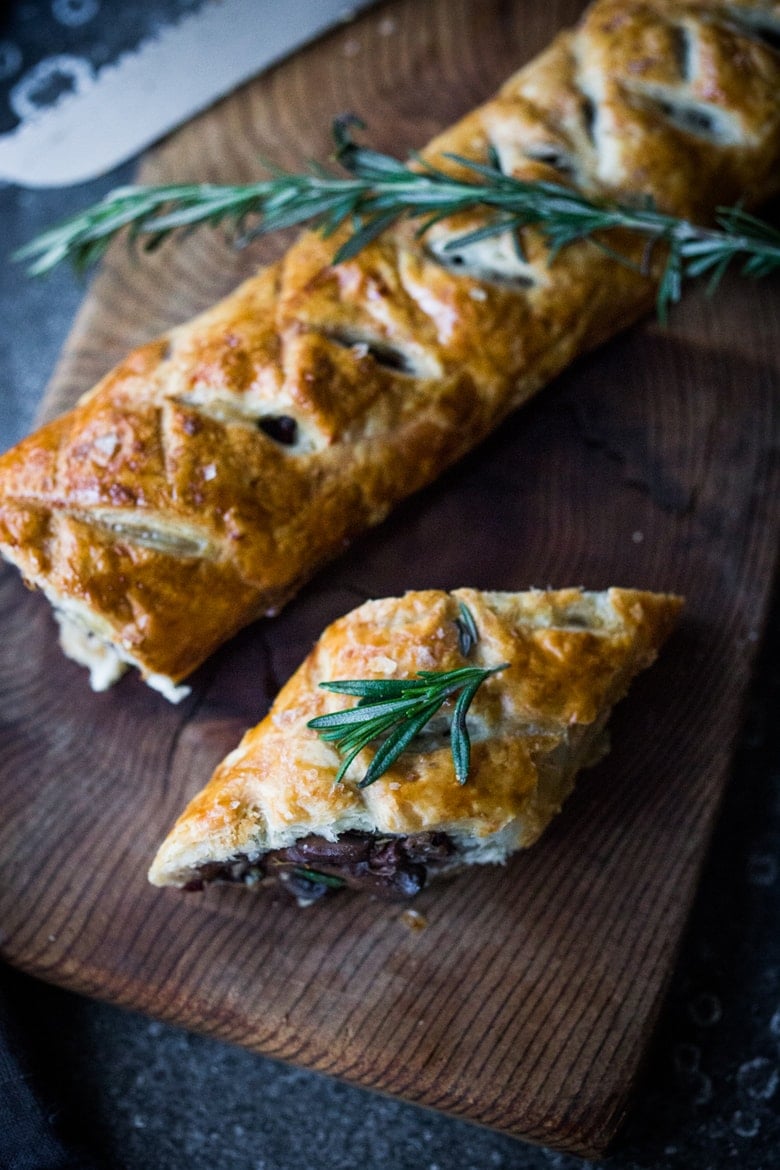 I hope you like this Vegan Mushroom Wellington as much as we do. A beautiful vegan main dish for the holidays!
You May Also Like :
Cheers and love,
Watch How to Make Mushroom Wellington! | Video
Print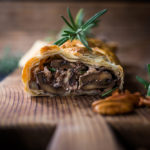 Vegan Mushroom Wellington with Rosemary and Pecans
Author:

Sylvia Fountaine

Prep Time:

45

Cook Time:

35

Total Time:

1 hour 20 minutes

Yield:

8

-

1

0

1

x

Category:

Vegan Main

Method:

Baked

Cuisine:

Northwest
---
Description
Mushroom Wellington with Rosemary and Pecans – a simple, tasty vegan main dish, that can be made ahead, perfect for holiday gatherings! *Make sure to thaw your puff pastry before you start ( overnight in the fridge is easiest!) Makes 2 rolls. 
---
1

box -2 sheets vegan puff pastry, thawed in the fridge overnight. (Use

cold

-not at room temp)
—-

2 tablespoons

olive oil (or butter)

2

pounds

mushrooms, sliced, stems OK (except Shiitake stems)

1

large onion, diced

4

–

6

fat garlic cloves, rough chopped

1 tablespoon

chopped fresh rosemary (or sage, or thyme)

1 teaspoon

kosher salt

1/4

cup

sherry wine ( not sherry vinegar) marsala wine, ruby port (or red wine or white wine) – or leave it out! see notes.

1 teaspoon

balsamic vinegar

1/2 teaspoon

pepper

2 teaspoons

truffle oil ( optional)
OPTIONS -if you want to add cheese, add 1/2 – 1 cup grated pecorino, gruyere, goat cheese or cream cheese- or use a meltable vegan cheese- or make vegan ricotta!
"Egg" wash – use nut milk, cream or melted coconut oil to brush on the pastry. If not worried about it being vegan, whisk an egg with a tablespoon of water.
---
Instructions
Make sure your puff pastry is thawed before you start -cold, but thawed. (Note if it is too warm, it may fall apart, if too cold, it will be too stiff to roll.)
Preheat oven to 400F
MAKE THE FILLING: Heat oil in an extra-large skillet or dutch oven, over medium-high heat. Add mushrooms, onions, garlic, salt and rosemary and saute, stirring often, until mushrooms release all their liquid. Turn heat down to medium, and continue sauteing until

all the liquid has evaporated

, be patient, this will take a little time! Once the mushrooms are relatively dry in the pan, splash with the sherry wine and balsamic vinegar and again, sauté on medium heat until all the liquid has cooked off.

This is important- you absolutely do not want a watery filling ( it will turn into a mess!).  

Add the toasted chopped pecans, pepper, truffle oil. Taste, adjust salt to your liking. At this point, you could fold in some cheese if you like.
Let the filling cool 15-20 minutes (you could make the filling a day ahead and refrigerate).
Fill 2 Puff Pastries:  Carefully unroll the puff pastry onto a parchment-lined baking sheet (if it seems stiff, let it thaw a few more minutes until pliable).  Gently, roll it out just a bit so it's smooth ( do not roll too thin) extending it by 1/2 inch. Patch any holes. Place half the filling in a mound along the center (see photo) and working quickly, roll the pastry up, and over, seam side down. Fill and roll the second sheet.
Brush with the egg or eggless wash.
Score the pastry using a razor blade or sharp knife with your choice of design – cross-hatch, herringbone, leafy vine or just simple diagonal slits.
Bake: Place the sheet pan on the middle rack in the oven for 35 minutes, checking at 2o mins, and rotating pan for even browning if necessary. Let the pastry bake until it is a really deep golden color – to ensure it's done and flaky all the way through. You may need to add 5 more minutes depending on your oven. Convection will help if you have this setting (use it for the last 5-10 minutes) Please, let's not have any pale pastries!!! Nice and golden!
Cool for  5-10 minutes before cutting and serving. Garnish with Rosemary Sprigs. It's OK to serve at room temp, but warm is best.
See notes for making ahead!
---
Notes
Feel free to add other veggies to the mushrooms, just as long as the filling is not watery and still has flavor (adjust salt and seasonings!). Roasted parsnips, wilted spinach, roasted sweet potatoes or butternut, sautéed kale, roasted sunchokes ….would all work well here.
Feel free to sub other nuts for the pecans, like toasted walnuts or hazelnuts.
When I made these, I made one roll vegan and one with cheese. Both are good. 😉
If making ahead, I would recommend making the filling ahead, then assemble and bake the day of. OR you can also make and bake the whole thing ahead and reheat ( letting it come to room temp first).  If baking ahead, bake until the puff pastry is cooked through, but not too golden. Let it get golden when reheating. It will look "prettier" baked the day of.
You can leave out the wine altogether, and not replace it with anything. I find it does add another level of complexity, but up to you.
Nutrition
Serving Size:

1/5 of one roll

Calories:

390

Sugar:

1.7 g

Sodium:

125.4 mg

Fat:

30.1 g

Saturated Fat:

3.8 g

Carbohydrates:

26.2 g

Fiber:

2.1 g

Protein:

4.9 g

Cholesterol:

0 mg
Keywords: mushroom wellington, vegan main, vegan christmas main, vegan thanksgiving main, vegan mushroom wellington, mushroom wellington recipe, mushroom wellington vegan, vegan thanksgiving recipes, vegan main dish, vegan christmas
SaveSave