Skillet Huevos Rancheros – a healthy vegetarian version of one of our favorite Mexican-style breakfasts! Eggs are baked over flavorful beans & crispy tortillas, then topped with avocado, fresh tomato and cilantro…a simple healthy vegetarian brunch recipe!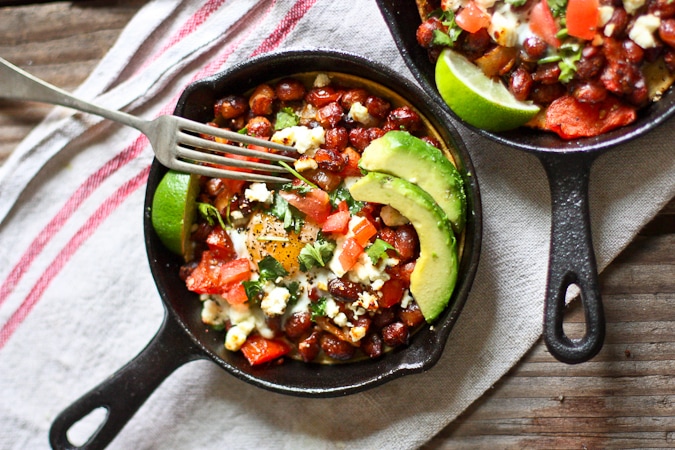 This is my favorite "breakfast for dinner" meal — and it's pretty darn good for breakfast too! It can be made in less than 30 minutes, and it's perfect for company or lazy weekend brunches.
Skillet Huevos Rancheros is not only flavorful and hearty, this vegetarian version is surprisingly healthy, too. For a fun twist, use mini cast iron skillets for individual servings- or a large cast iron skillet. To boost nutritional value, add stray veggies from your refrigerator drawers.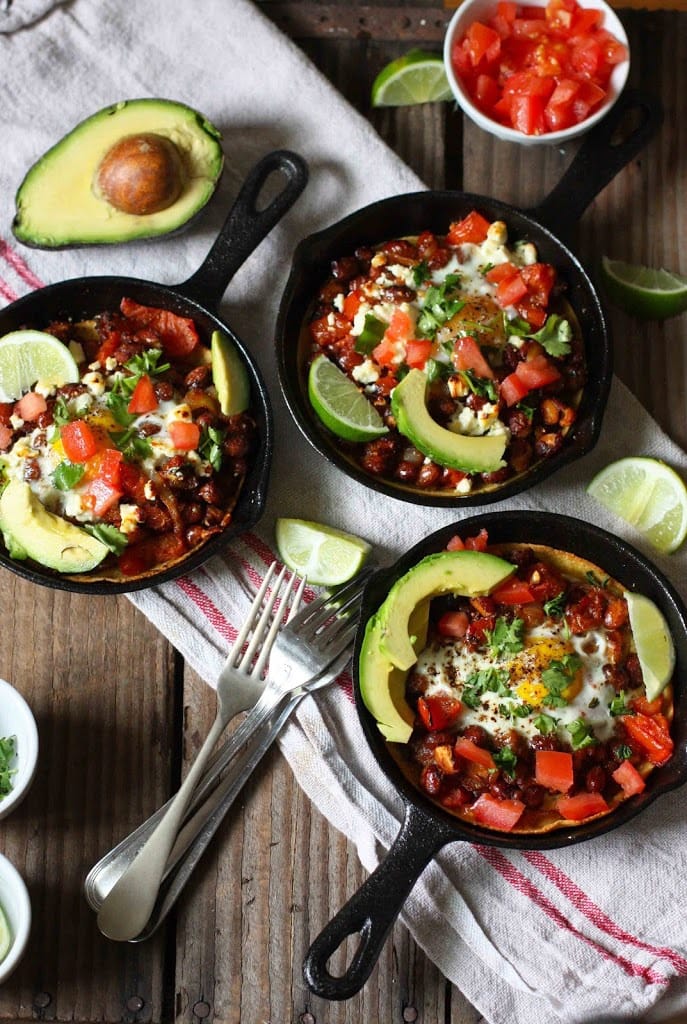 Today, in the back corner of the pantry, I discovered a half used package of my favorite heirloom beans from Rancho Gordo. Rancho Gordo is a company out of Napa Valley that sells old fashioned heirloom beans that will elevate any bean recipe you have. That being said, I often also stock cans of beans in the pantry for "emergencies" when I am in starvation mode and have not planned ahead.
Dried beans should be soaked overnight and take a couple hours to cook, so using canned beans in this recipe is perfectly fine, just be sure to rinse them off well first. Most types of beans work great — black beans, pintos, cannellini beans, white beans and even garbanzos. I must say though, these heirloom Good Mother Stallard beans are a new favorite because of their creamy center and toothsome shell.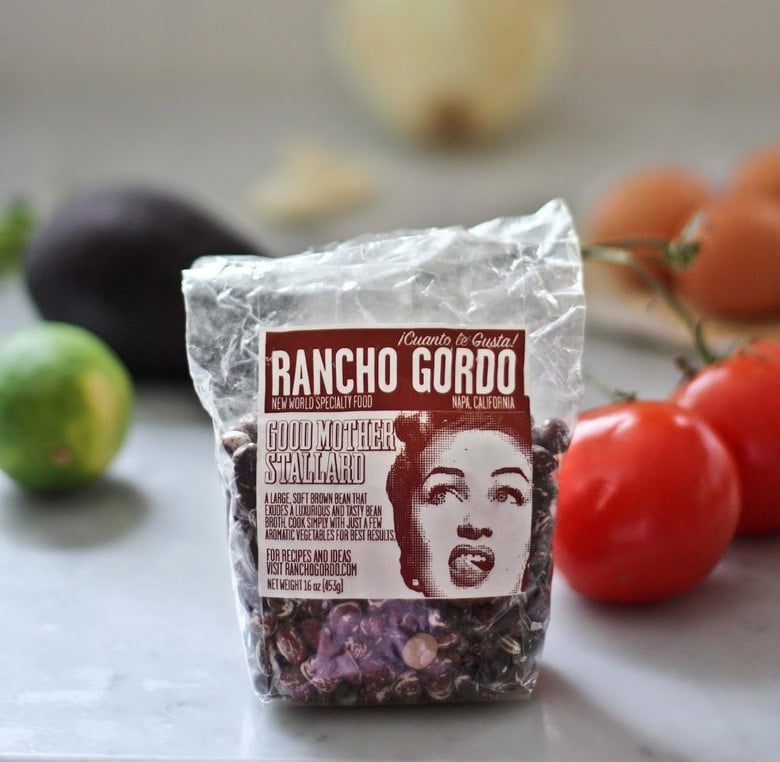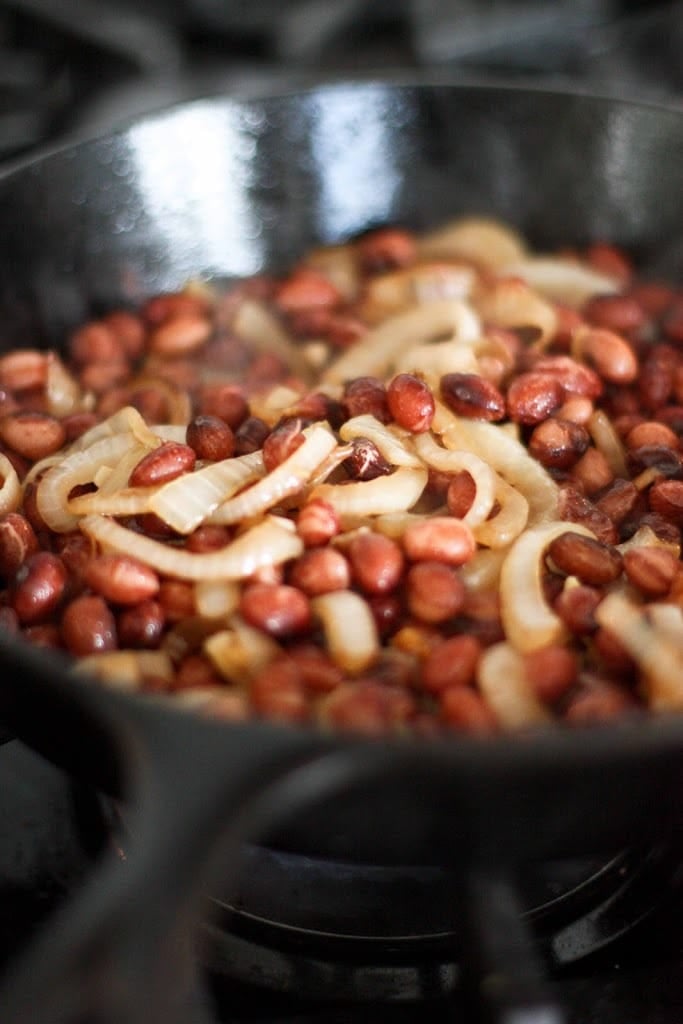 The first step is to season the beans, sauteing onion, garlic and adding Mexican spices. You can use your favorite taco spice blend if pinched for time. You can also opt to incorporate other veggies into the mix, boosting nutritional value and freeing up fridge space — bell peppers or mild chilies, kale, zucchini, corn or even mushrooms. If you absolutely need meat, you could add crumbled bacon, or cooked chicken breast, or even a little cooked ground sausage — but honestly I don't think you will miss the meat here.
Once the beans are seasoned, get out out your skillets or large skillet and brush with olive oil.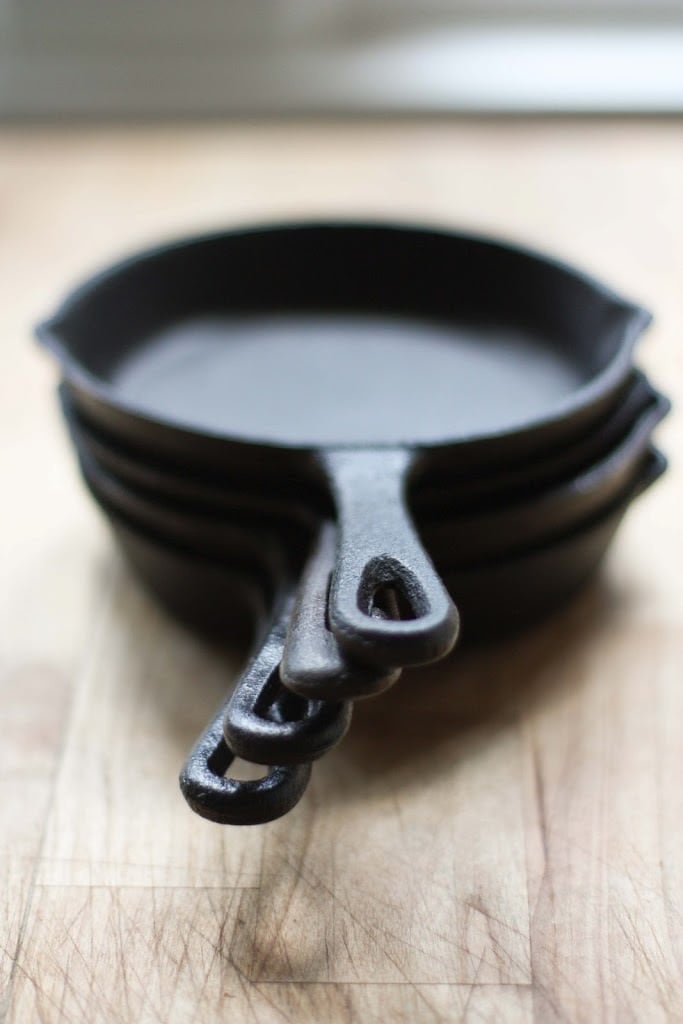 I keep a stack of these mini skillets because of their versatility. You can cook anything in them — from fruit cobblers to corn bread to lasagna, and everything in between. They are pretty handy little guys.
A fast trick with tortillas if you have a gas stove, is to lightly toast the tortillas directly on the stove burner….just for a few seconds each side. Somehow this brings the tortilla flavor out. Or you could quickly sear with a little olive oil, or stick them in your toasted oven. This step can be skipped, they will still crisp up beautifully in the cast iron.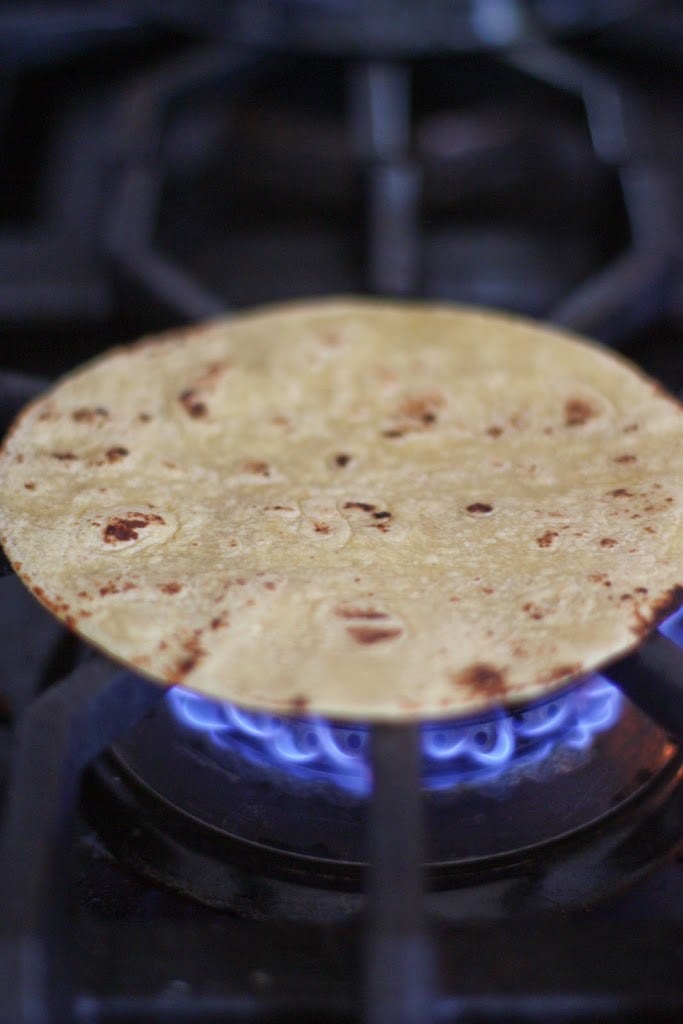 Brush olive oil on the bottom and sides of the skillet and lay a tortilla down. This will get the tortilla nice and crispy. If using a large skillet, layer 4 to 5 tortillas, so bottom is covered, and they come up the edges. Brush a little more olive oil over the tops of the tortillas.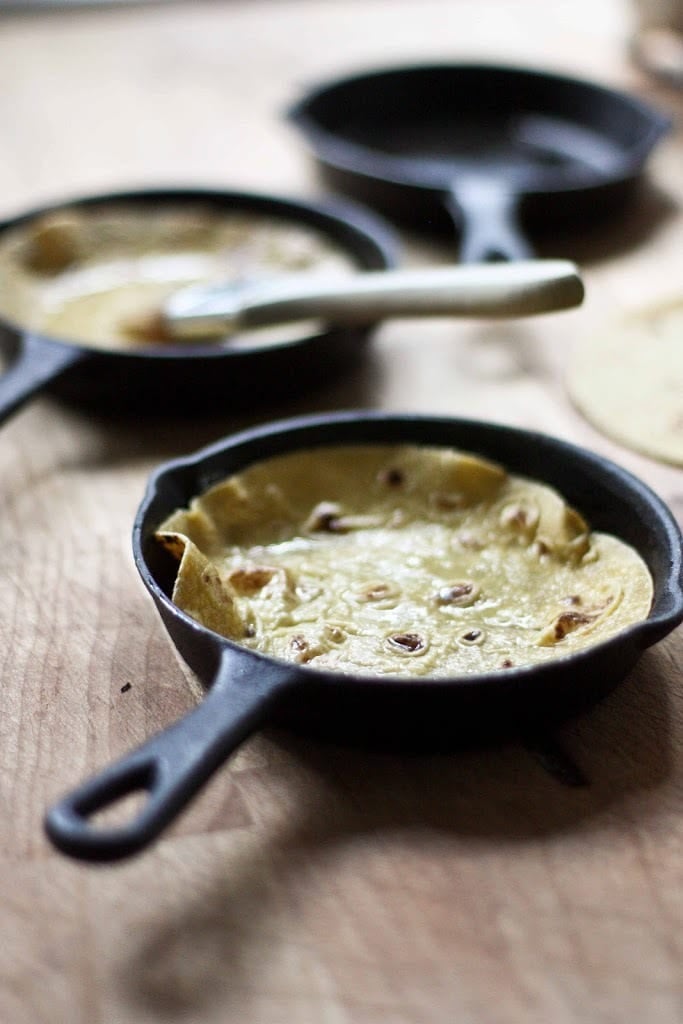 I love how crispy the tortillas get in the skillet when baked in the oven.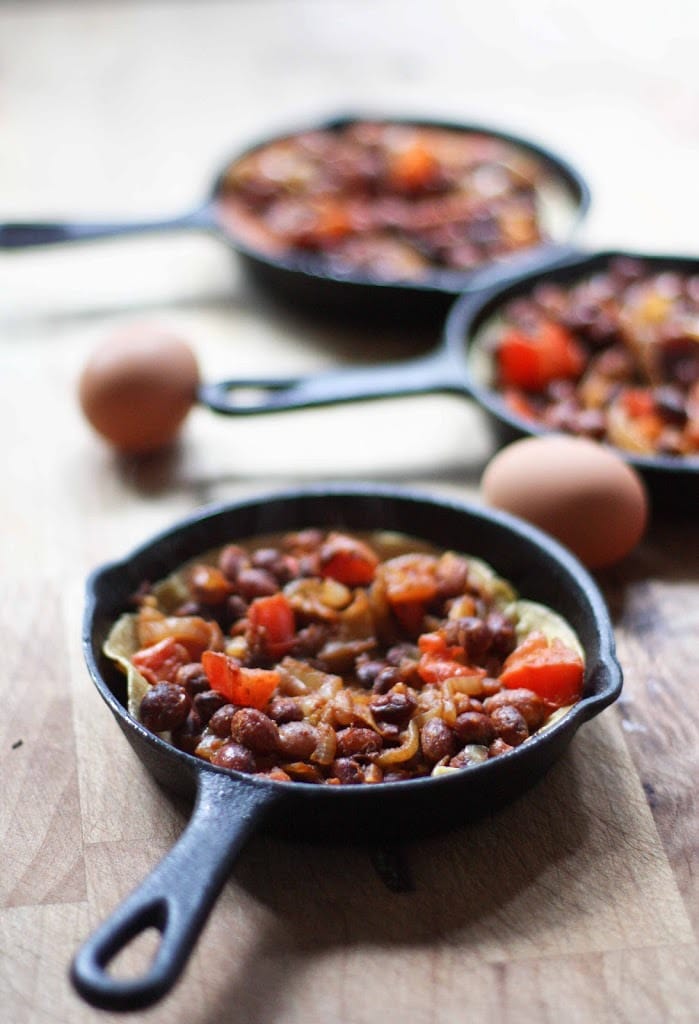 Divide the bean mixture among the skillets, over the tortillas, making little indentions with a spoon where the egg yolks will go. Carefully crack the eggs into the indentations and sprinkle with a little salt and cracked pepper.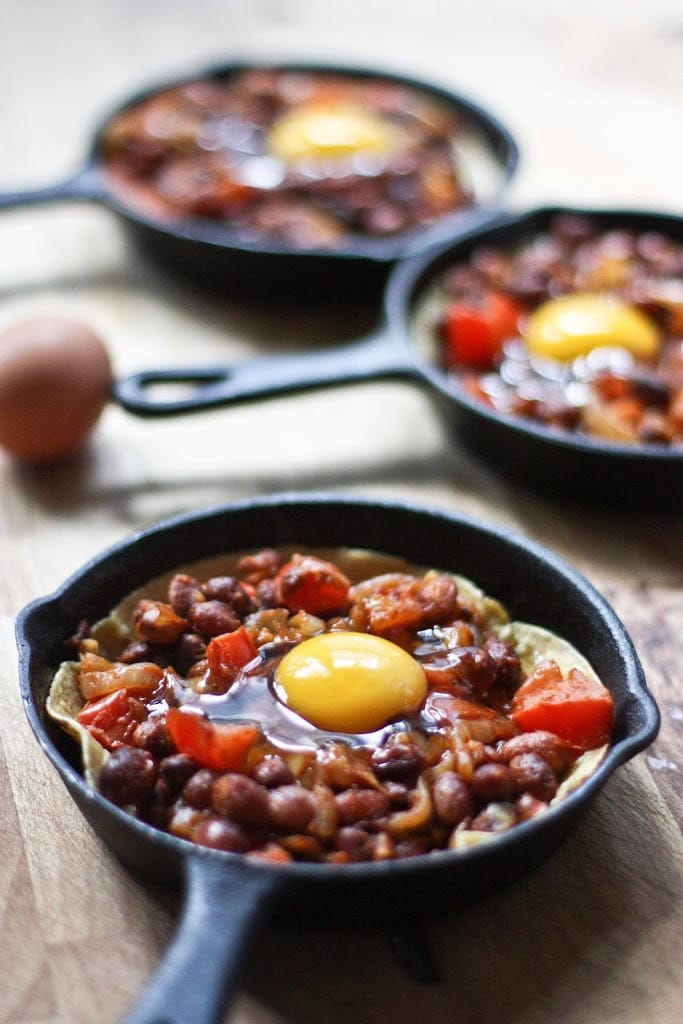 A little crumbled queso fresco or cojita cheese is a nice addition. Crumbled feta and goat cheese work great too.
Place in a 400F oven until egg whites are white, and yolks are to your desired doneness. This usually takes about 10-15 minutes. You could broil for a couple minutes too.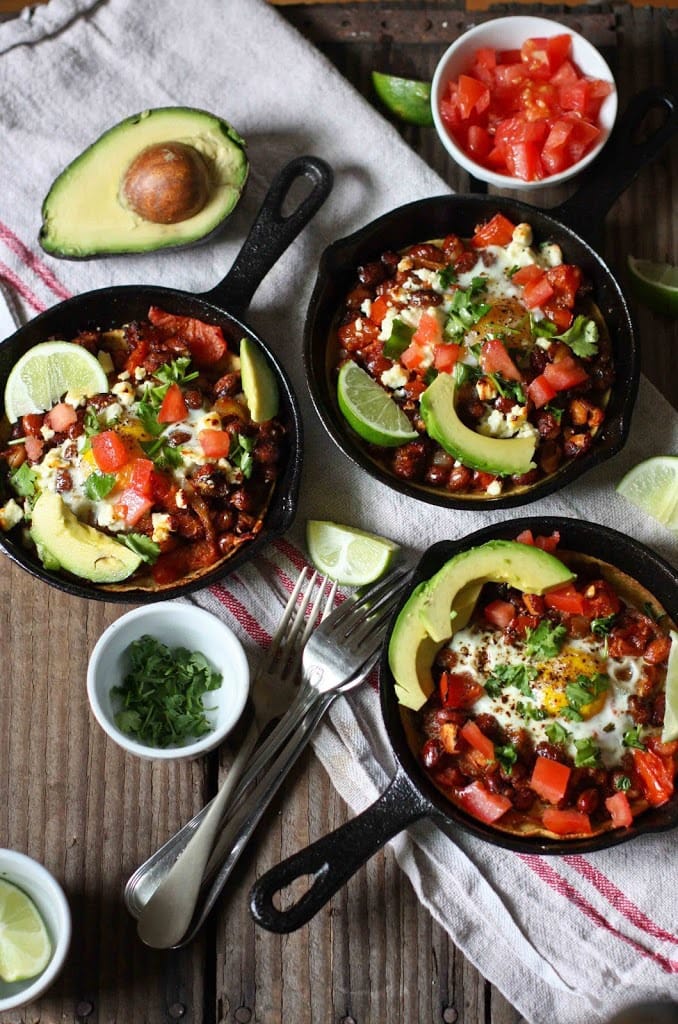 Serve with avocado slices, lime wedges, chopped cilantro, fresh tomatoes, and hot sauce.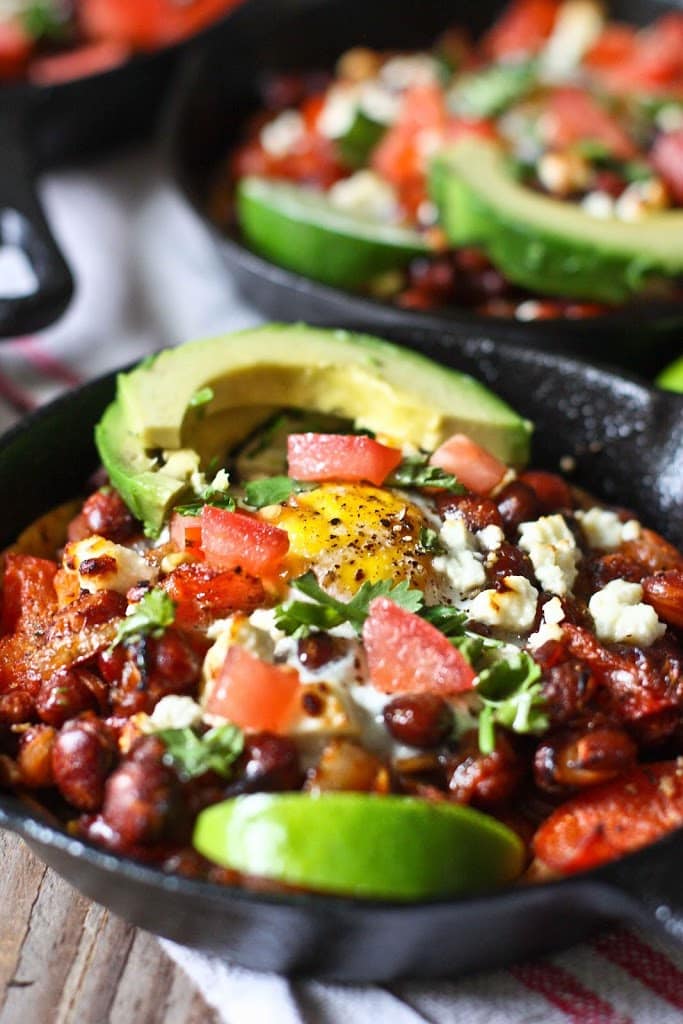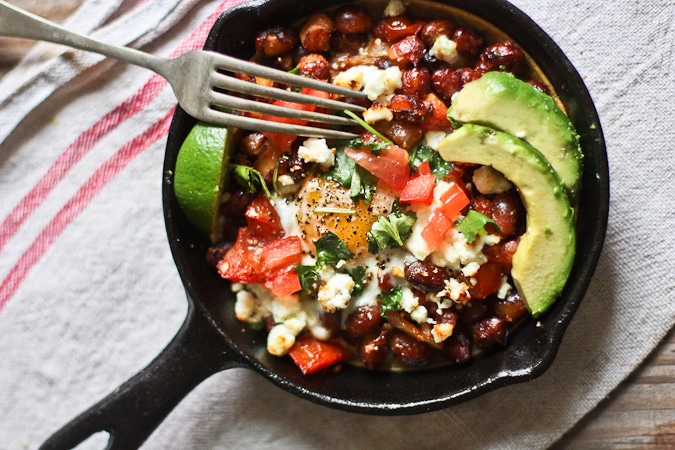 Print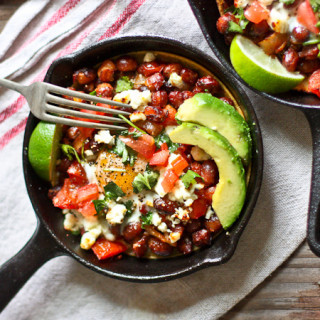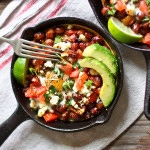 Skillet Huevos Rancheros
Prep Time:

15 mins

Cook Time:

15 mins

Total Time:

30 mins

Yield:

4

Category:

Breakfast

Method:

Baked

Cuisine:

Mexican
---
Description
Skillet Huevos Rancheros – a healthy vegetarian version of one of our favorite Mexican-style breakfasts! Eggs are baked over flavorful beans & crispy tortillas, then topped with avocado, fresh tomato and cilantro…a simple healthy vegetarian brunch recipe!
---
4

x 6 inch tortillas ( I use a corn and flour blend)

4

eggs (1 per serving….you can add more if you want)

2 cups

cooked rinsed beans ( black bean, pinto, cannellini, or heirloom beans)

1/2

onion- sliced or diced

2

garlic cloves- minced

2

tomatoes- diced

1 teaspoon

cumin

1 teaspoon

coriander

1/2 teaspoon

chipotle powder

1/2 teaspoon

smoked paprika

1/2 teaspoon

kosher salt
cracked pepper

2 tablespoons

water

1

large Avocado-sliced

2 tablespoons

chopped fresh cilantro

1

lime -cut into wedges

1/2 cup

crumbled cotija, queso fresco, feta or goat cheese (optional)
Optional Additions: bell pepper, kale, zucchini, mushrooms,
---
Instructions
Preheat oven to 400F.
In a large pan, saute onion in a little olive oil until tender, about 5 minutes (at this point, if you are adding other veggies, do this now, cooking until tender). Add garlic, sauté for a minute or two. Add 1/2 of the diced tomatoes (saving half for garnish) and cooked rinsed beans, spices, salt, and 2 T water. Let simmer on med low for a few minutes, stirring occasionally.
Brush cast iron skillets ( or one large skillet) with olive oil, coating the edges too. Lay tortillas down and brush tops of tortillas with a little oil.
Divide bean mixture, making little indentations with the back of a spoon, for the eggs to rest, so they stay in place (if using large skillet, layer the tortillas so they come up the sides of the skillet a bit (you may need a couple extra), and spread all of the beans evenly over the tortillas, making indentations for the eggs).
Carefully break the eggs and place them in the indentations . Sprinkle eggs with salt and pepper, and if you want, crumbled cheese, and place in the hot oven.
---
---
Keywords: Huevos Rancheros Recipe, Vegetarian Brunch Recipes, Vegetarian Huevos Rancheros, Skillet eggs, Baked eggs,