Think of Gin and Brine as a Pickle Juice Martini but full of probiotics- it's a fun twist on a dirty martini; savory and herbaceous made with fermented pickle brine, celery bitters and gin.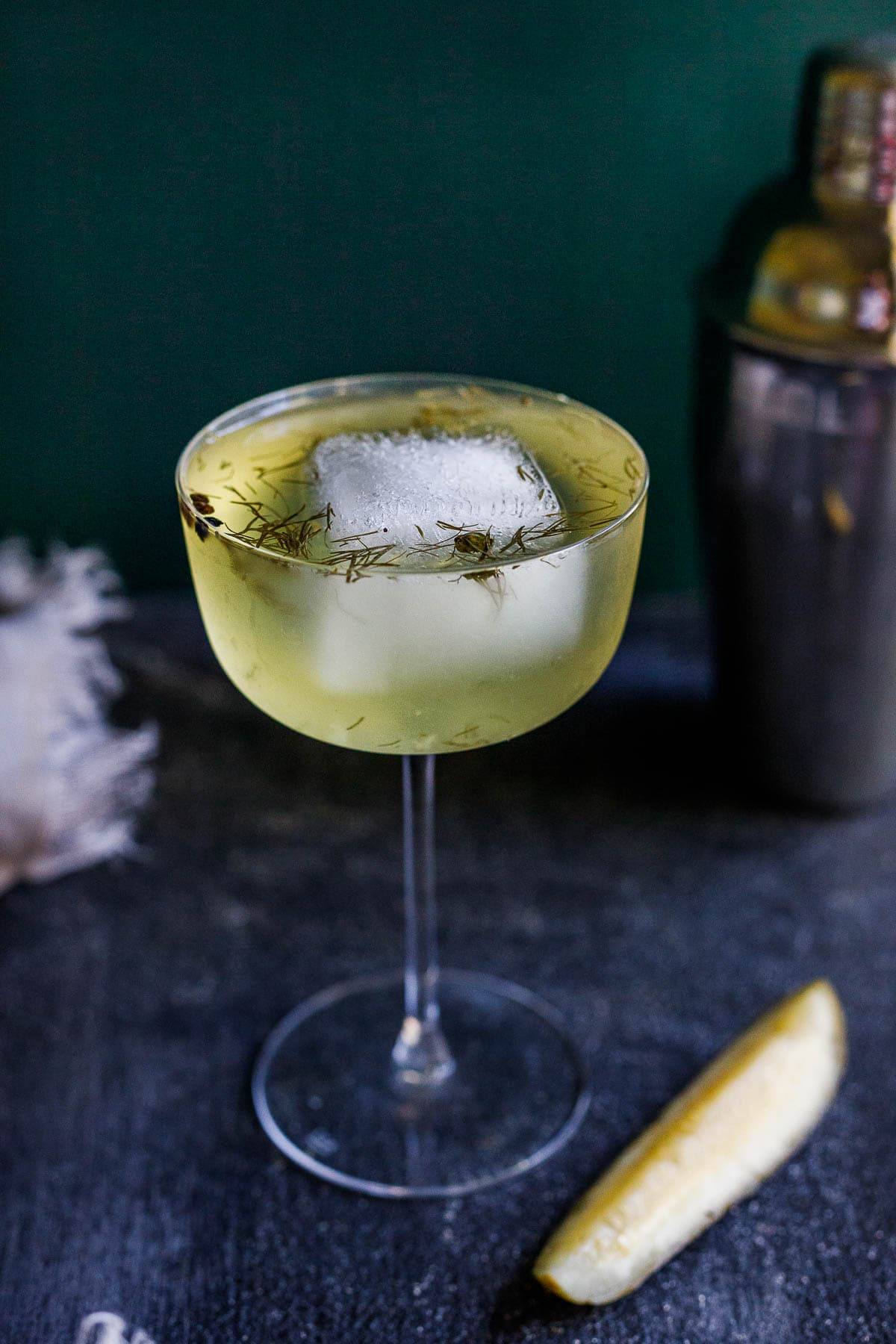 If you love taking "gut shots" of fermented pickle brine this cocktail is for you! We've been making fermented pickles again this summer and love drinking shots of the salty probiotic-rich brine. Somehow my body loves the salty tangy flavor, especially when it's hot. So this is how this cocktail came to be. Make this in the proportion  you like. If you like a true martini, use 2 parts gin to one part pickle brine. I like more brine than gin, so I do the opposite- 2 parts brine to 1 part gin. You do you!
Pickle Juice Martini IngreDients:
Gin- use your favorite Gin! (or substitute vodka)
Fermented Pickle Brine– use the fermenting liquid from pickles found in the refrigerator section or make your own fermented pickles here!
Celery Bitters – adds a really lovely flavor, feel free to leave it out.
Optional Additions: Fresh Cucumber, dill, Vermouth.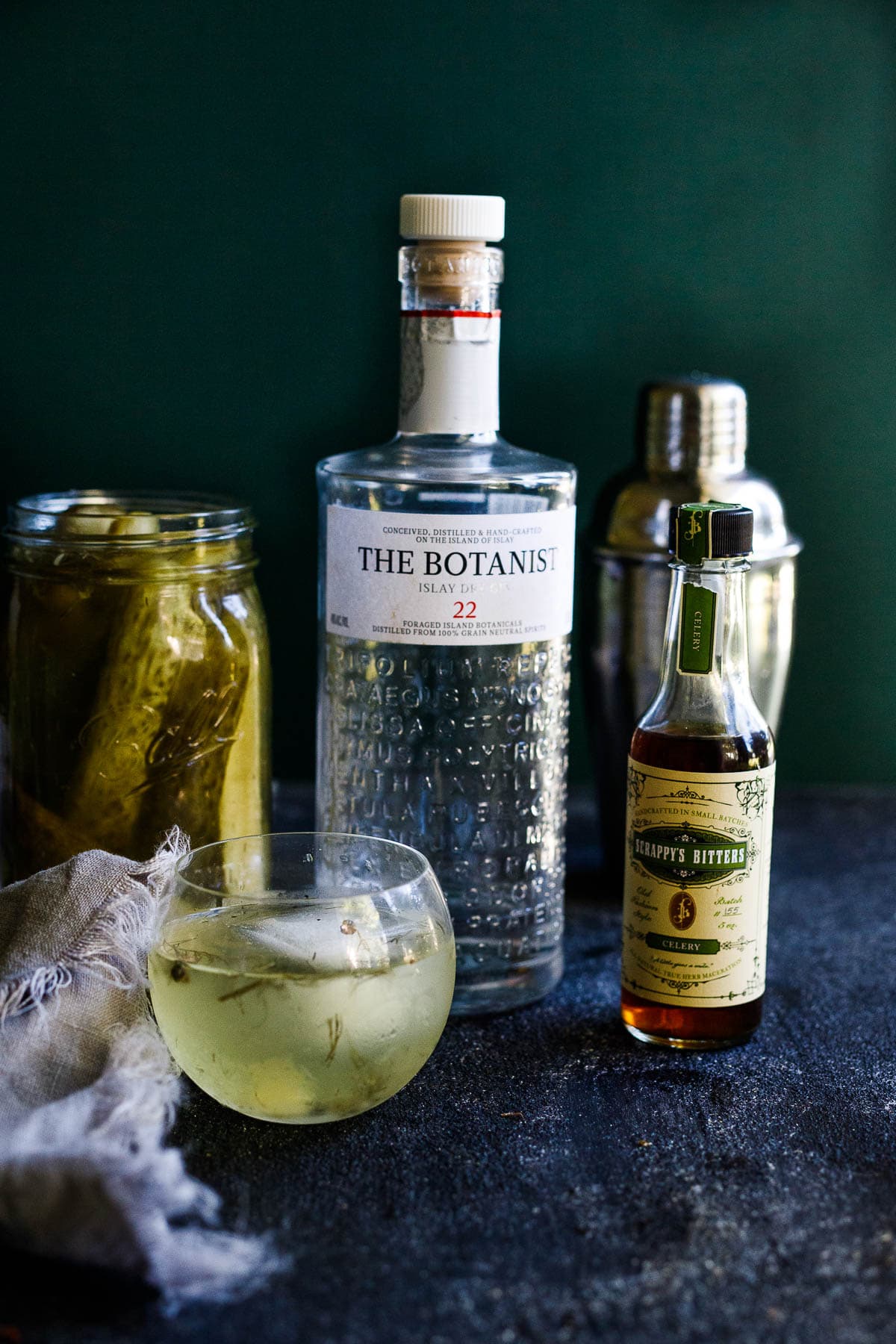 Health Benefits of Gut shots
Gut shots, such as fermented pickle brine, offer several potential health benefits due to their probiotic content. Probiotics are beneficial bacteria that can have a positive impact on gut health. Here are some potential health benefits associated with consuming gut shots:
Improved digestion: Probiotics in gut shots can help to balance the gut microbiota, promoting healthy digestion and nutrient absorption.
Enhanced immune function: A significant portion of the immune system resides in the gut. By supporting a healthy gut microbiome, gut shots may help strengthen the immune system and enhance its ability to defend against pathogens.
Reduced inflammation: Certain probiotic strains found in gut shots have been shown to have anti-inflammatory effects, which may help reduce chronic inflammation in the body.
Support for mental health: The gut and brain are connected through the gut-brain axis. Emerging research suggests that consuming probiotics may positively influence mental health by improving mood and reducing symptoms of anxiety and depression.
Maintenance of a healthy weight: Some studies indicate that certain probiotic strains may play a role in weight management by influencing energy balance, reducing inflammation, and improving insulin sensitivity.
Improved skin health: Probiotics have been associated with improvements in various skin conditions, such as acne, eczema, and rosacea. By supporting gut health, gut shots may contribute to healthier skin.
It's important to note that individual responses to gut shots and probiotics can vary. As with any dietary changes, it's advisable to consult with a healthcare professional if you have specific health concerns or conditions.
How to make Pickle Juice martini
It's pretty easy and I'm sure all you craft cocktail folks will put your creative spin on it. I think it would be nice with a fennel-infused ice cube, but I am feeling hot and lazy today….
If adding cucumber, muddle a few slices in a shaker.
Pour 1-2 parts brine and 1 part gin into and ice filled shaker.
Add fresh dill if you like.
Add a small splash of celery bitters and optional dry vermouth
Shake and strain into a glass with a large ice cube.
I love using large ice cubes here, because they melt slowly in the summer heat.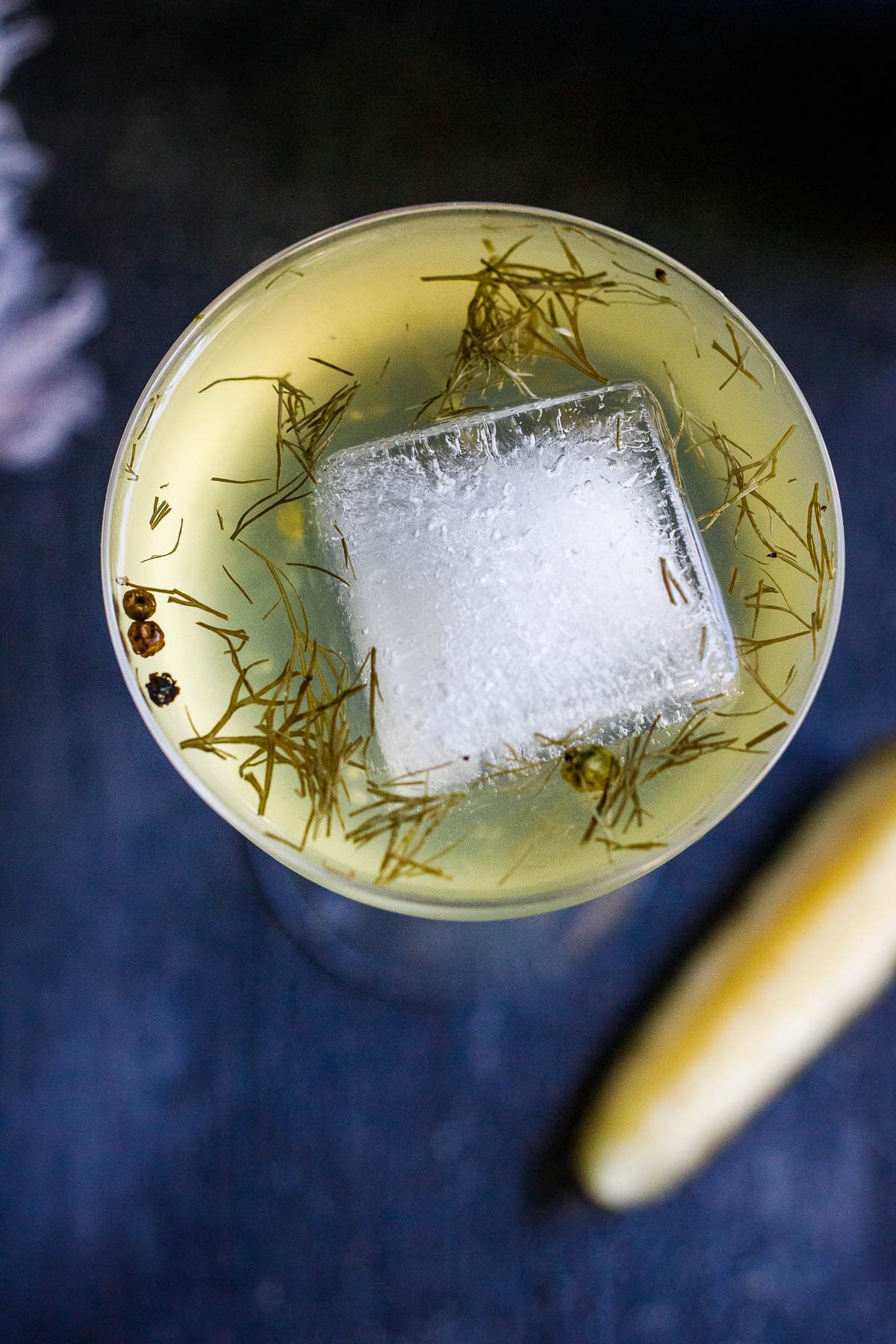 Enjoy the Gin and Brine Martini and let us know what you think in the comments below.
More cocktails you may like:
Print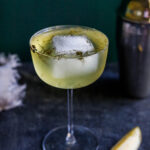 Pickle Juice Martini
Prep Time:

5

Total Time:

5 minutes

Yield:

1

drink

1

x

Category:

cocktail

Method:

shaken or stirred

Cuisine:

American
---
Description
Gin and Brine  ( Pickle Juice Martini) is a cool summer cocktail made with fermented  pickle brine, celery bitters and your choice of gin.  Full of probiotics- it's a fun twist on a dirty martini- savory and herbaceous.
---
1 1/2

ounces

gin

1

–

3

ounces

flavorful pickle brine- see notes
splash celery bitters
optional additions: splash vermouth, dill, a couple of slices of cucumber.
---
Instructions
If using cucumber and dill, muddle these in a shaker. Add a handful of ice, gin, brine and bitters.
Shake and taste. Add more gin to taste.
Strain into a large martini glass with a large ice cube.
---
Notes
For a traditional Martini use 2 parts gin to 1 part brine. For added probiotics, add more brine to taste.
The fermented pickle brine is key to the flavor here. Remember that brine is from fermented pickles (not vinegar pickles). I used ours from this fermented pickle recipe or find in the refrigerator section of your grocery store.  I also like this brine from brand Grillos Pickles, available at Costco and Whole foods- it has dill in it. 😉
Nutrition
Serving Size:

1 cocktail

Calories:

159

Sugar:

1.1 g

Sodium:

219.2 mg

Fat:

0 g

Saturated Fat:

0 g

Carbohydrates:

2.9 g

Fiber:

0 g

Protein:

0 g

Cholesterol:

0 mg
Keywords: pickle martini, pickle juice martini, Dirty Martini, Gin and Brine, Gin martini, gin cocktail, gin drinks,