How to make a classic, Dry Gin Martini that would've made Winston Churchill proud – we skip the vermouth entirely to better feature the clean and complex characteristics of today's top-shelf gins.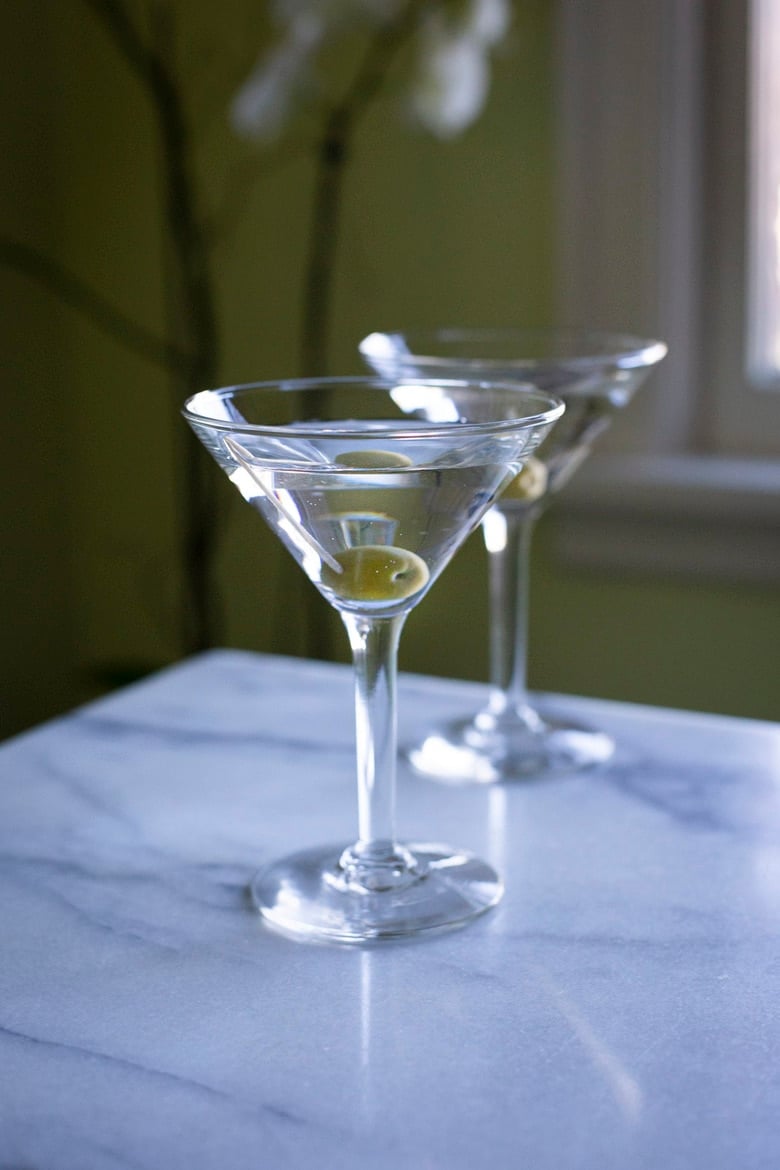 What is Life?  It is the flash of a firefly in the night.  It is the breath of a buffalo in the wintertime.  It is the little shadow which runs across the grass and loses itself in the sunset.  – Black Elk (1863-1950)
A dry gin martini was my late wife's favorite cocktail.  When our kids were little, the rampant demands of our days left us with so little time together that we finally had no choice but to give ourselves a time-out: we instituted a happy hour.  From 5 to 6 we would pour ourselves a drink, shut out the rest of the world, and devote our attentions solely to each other.  A nightly ritual, that we continued for the rest of our days, garnering many fond memories along the way.  And quite a bit of gin mileage.  
After two decades of making – and drinking – martinis every which way, this, then, is my recipe for the best version I know —
Step 1: START WITH GOOD GIN
Distilled gin is basically high-proof vodka that has been re-distilled with juniper berries and an array of other botanicals.  The end result is what makes up the lion's share of a martini, regardless of how it's prepared, so it's absolutely crucial to start with the best gin you can.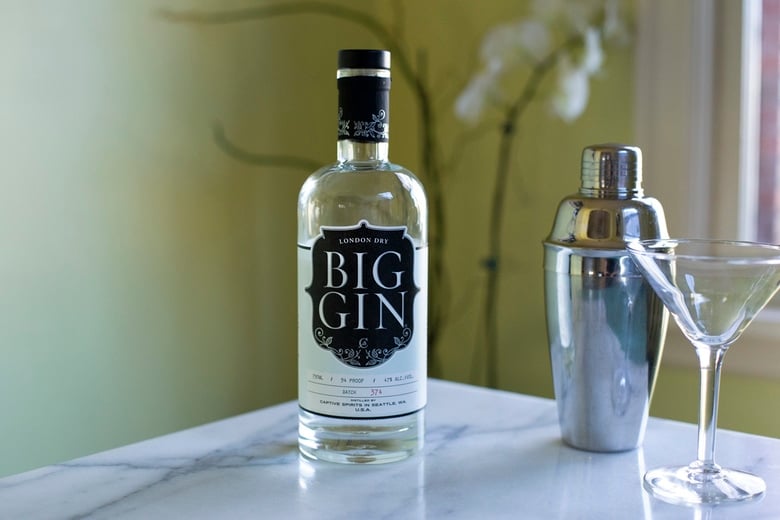 I realize the vast array of choices out there can be bewildering.  And that many gins simply aren't up to snuff, or would be better paired with tonics, used in other kinds of cocktails, or simply savored on their own.  Monkey 47, for example, is a lovely gin to sip neat, but is wholly unsuitable for a dry martini.  Many such gins are simply too citrus-forward to play nicely with a savory olive.  You also want to steer clear of "barrel-aged" gins, which are frequently rife with bitter tannins.  
If a dry martini is your aim, what you want is a traditional "London Dry" style gin.  As a group these are clean, balanced, herbal, and not too sweet.  Again, it's worth doing a bit of digging online.  But as web reviews can be spotty, here are some recommendations to get you started: Big Gin, The Botanist, Russell Henry, Roku and Sipsmith are just a few of my current favorites.  [And please know that these are just personal preferences – I have not been paid to endorse any of these products.]
Step 2: MEASURE IT INTO A SHAKER
Fill a shaker 1/2 full with ice (2/3 full, if you're making 2 drinks).  That gives you enough ice to chill your drink, while also preserving enough room to fill, and shake – or stir (more on that shortly).  I also like to give my ice a quick rinse in the shaker to remove any unpleasant tasting freezer burn it may have picked up from anything else in my fridge.  
Now add your gin – 3 ounces per drink.
Step 3: FORGET THE VERMOUTH
Winston Churchill famously said that the only proper way to make a martini was to add the gin to the ice, then (for the vermouth part) simply bow in the direction of France.  
It always felt to me that the vermouth component in a martini was a holdover from a bygone era, when something was needed to soften the relative harshness of commercial gins.  The cleaner, well-made gins of today simply don't need it.  In fact, to my taste it only muddles the end result.  
Step 4: SHAKE – OR STIR
Shaken or stirred?  The eternal, James Bond-ian question.  If you want your drink clear and uncluttered, then STIR IT (for about 30 seconds).  If you're in a hurry, and don't mind cloudiness – or if you enjoy the mouthfeel of little chips of ice in your drink – then SHAKE IT, vigorously (for about 12 seconds).  [And don't worry that shaking will "bruise" the gin – aside from the dearth of scientific evidence in support of such claims, I have never detected a significant difference in taste one way or the other.]  
Step 5: FINISH WITH AN OLIVE
But not just any olive.  You want whole, green olives – as fresh and vibrant in color as you can find.  And my favorite of them all are Castelvetranos.  Although Picholines also work well.  In any case, the taste of olives that still have their pits is noticeably better than their pitted brethren.  And definitely avoid pitted olives stuffed with pimentos – or anything else, for that matter.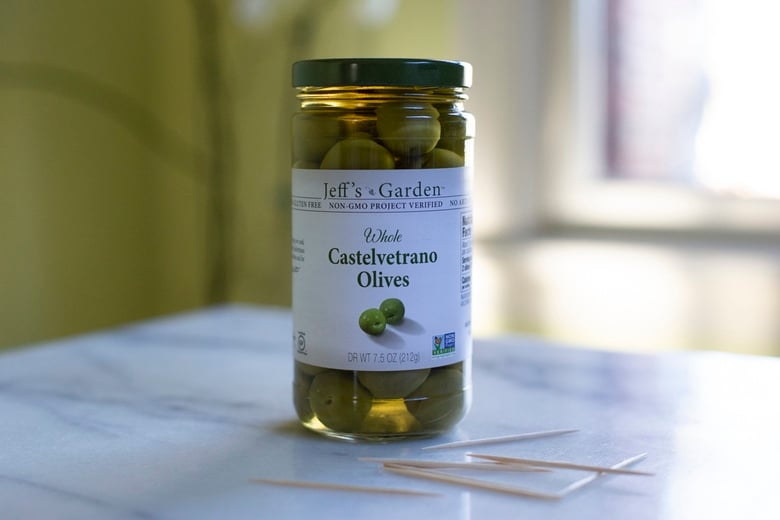 Skewer a single olive (two, if you must) through its side with a toothpick, and lovingly drop it into the glass.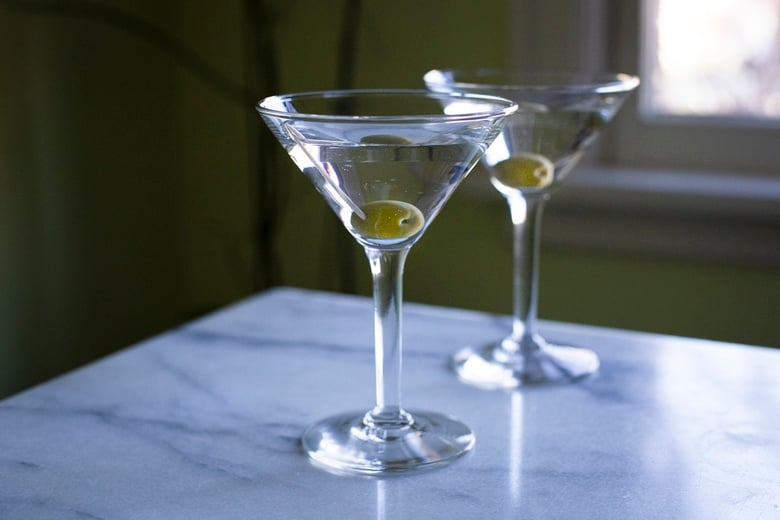 To you, Kate – and to all of you – cheers!
– R
More cocktail recipes you may like: 
Print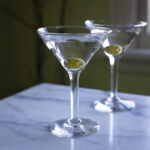 Dry Gin Martini Recipe
Prep Time:

15

Total Time:

15

Yield:

1

drink

1

x

Category:

cocktails, drinks, spirits

Method:

shaken or stirred

Cuisine:

Global
---
Description
Our take on the classic dry gin martini!  We skip the vermouth entirely to better feature the clean and complex characteristics of today's top-shelf gins.
---
(for 1 drink)
3

ounces

good-quality gin (see "notes," below)
whole green olives (preferably Castelvetranos)
---
Instructions
Fill a shaker tin 1/2 full with ice.
Add 3 ounces of gin.
Shake (about 12 seconds), or stir (about 30 seconds), until well chilled.
Strain into glass.
Finish with a skewered olive.
---
Notes
A few recommended "London Dry" style gins to try: Big Gin, The Botanist, Russell Henry, Roku and Sipsmith are just some of my current favorites.  There are many more good gins out there, though, so look around!  My wife surprised me one year with a "ginvent" calendar: 25 different drams of gin to taste and compare.  Samplers like that can be a great way to get a feel for what you like – and don't like.
Nutrition
Serving Size:

1 martini

Calories:

206

Sugar:

0 g

Sodium:

62.6 mg

Fat:

0.9 g

Saturated Fat:

0.1 g

Carbohydrates:

0.5 g

Fiber:

0.3 g

Protein:

0.1 g

Cholesterol:

0 mg
Keywords: gin martini, classic martini recipe, dry martini, how to make a martini, best martini recipe, best gin martini