A delicious recipe for Braised Lamb Shanks with Pomegranate – a festive, Moroccan-inspired meal that is elegant yet simple, perfect for the holiday table. Make this ahead and reheat for your special gathering! Here are 20 more Hearty Comfort Food Recipes for Fall and Winter!
Hey friends, here's a lovely recipe for oven braised lamb shanks that we used in our catering business through the years during the holiday season that would be perfect on your holiday table. The lamb shanks are slowly braised in the oven with pomegranate juice, red wine, and Moroccan spices – so flavorful and juicy, the succulent meat just falls off the bone.
I love this best served over creamy polenta, but feel free to serve over rice, Ginger whipped Sweet Potatoes,  roasted garlic mashed potaotes  or couscous with these Morrocan Roasted Carrots! 
Here are what lamb shanks look like to start with, each piece is roughly  1  – 1  1/4 lbs. Keep in mind, the smaller the shanks, the faster these will braise. I always try to get smaller shanks- so ask your butcher.
But the most important thing is that they are roughly the same size, whatever the size, to ensure equal cooking times.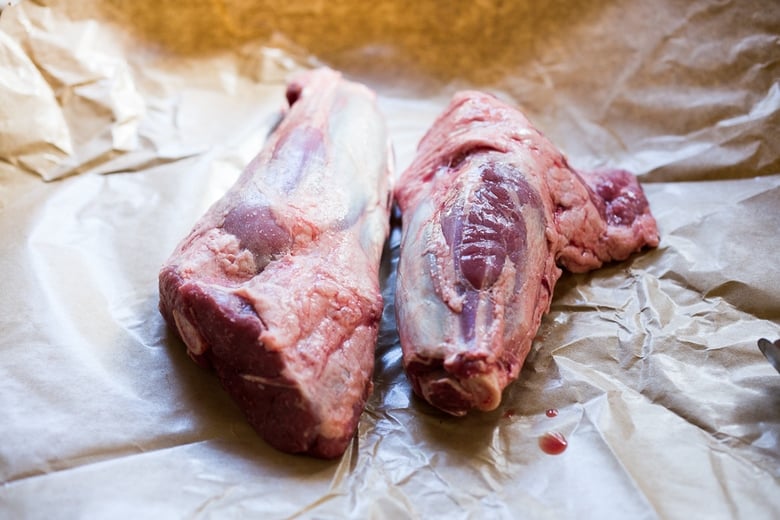 Here are a few tips to cooking lamb shanks that I've learned in the catering business:
How to Braise Lamb Shanks:
Always bring lamb shanks to room temp, before searing.
Season generously with salt and pepper.
Sear all sides in a generous amount of oil, until golden, taking your time here. This is KEY.
Build the flavorful braising liquid, in stages. See recipe.
Nestle the lamb, meaty side down, into the braising liquid.
BRING to a simmer on the stove. Cover tightly.
Roast in a warm oven (275-325F) until tender.  This can take 1 1/2 hours to 3 hours, depending on size of the lamb shanks and oven temp. Generally, lower and slower is best. The internal temperature of braised meat should reach 190-200F and actually stay there for a while for tougher cuts of lamb or red meat to break down and become tender.
Always check that braising liquid doesn't evaporate. ( Add more broth as necessary)
REST 20-30 minutes. CRUCIAL! ( otherwise, it will become dry)
Like I said above, these can absolutely be made ahead, and that's what we often did when catering big batches of these. It would also take the stress out of the equation- never really knowing how long to cook because shanks vary greatly in size.
PLUS They actually taste better after they have time to sit in the braising liquid for a day or two.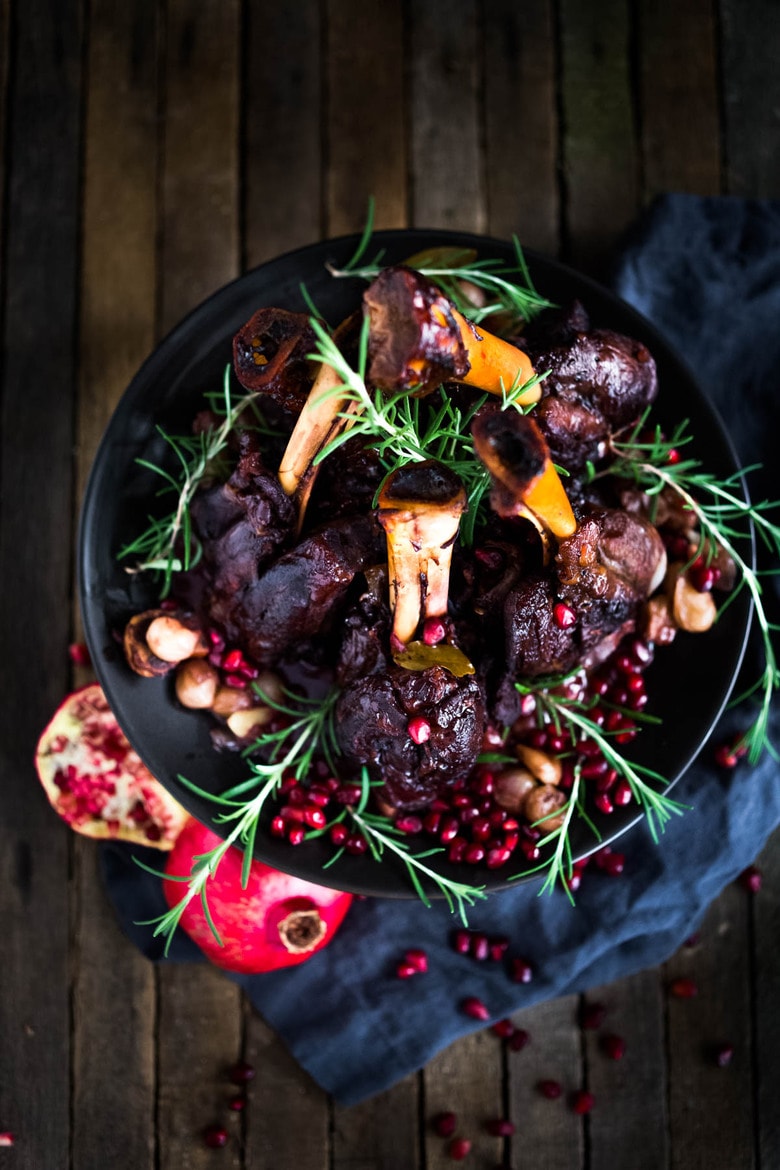 The recipe for oven braised lamb shanks is fairly straight forward, and can be done in about 2 1/2 hours- but I suggest, for your first-time plan on 3 1/2  hours!
Or make them ahead!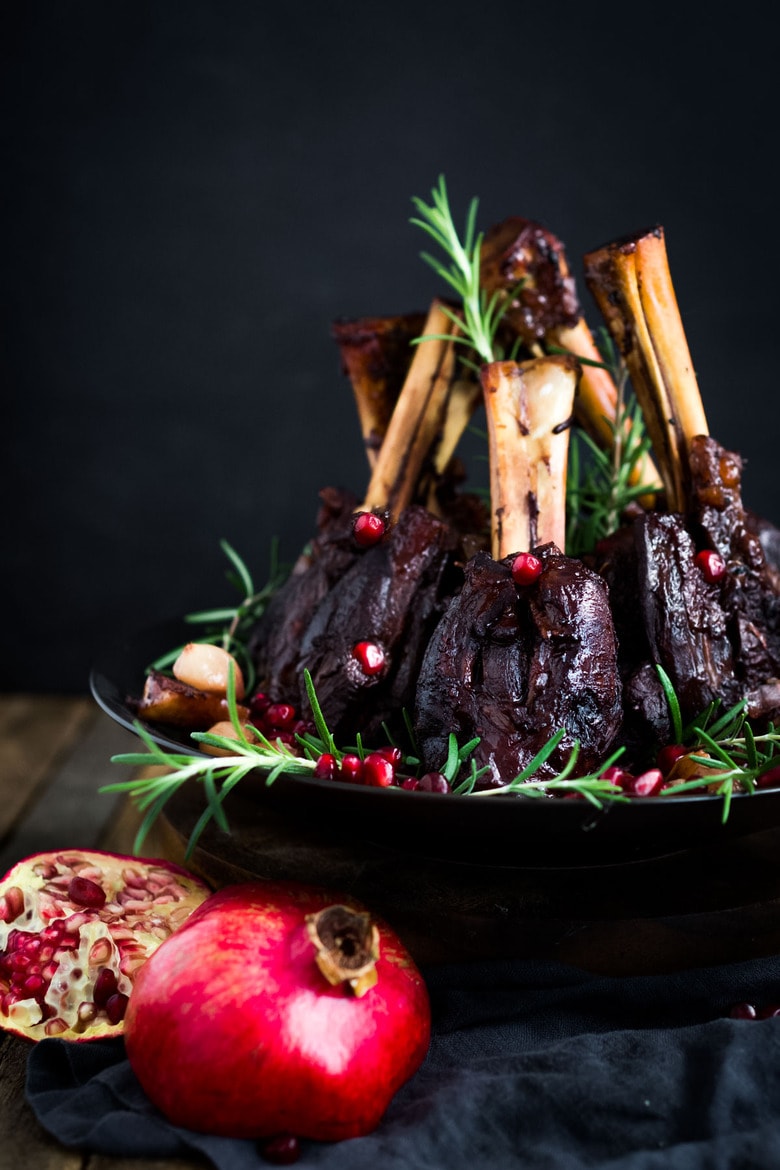 I hope you love these braised lamb shanks as much as we do, they've been a huge hit in our catering business over the years and just wanted to share them with you!
Cheers and love!
xoxoxo
Related: 20 Hearty Comfort Food Recipes for Fall and Winter!
Print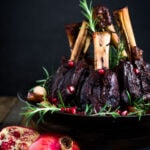 Braised Moroccan Lamb Shanks with Pomegranate
Prep Time:

40 mins

Cook Time:

2 hours

Total Time:

2 hours 15 mins

Yield:

4

1

x

Category:

Main, lamb

Method:

Oven Braised

Cuisine:

Moroccan
---
Description
Oven Braised Lamb Shanks with Pomegranate – a festive, Moroccan-inspired lamb recipe that is elegant and delicious! Succulent lamb shanks are roasted in the oven until tender and falling off the bone then drizzled with a flavorful pomegranate sauce.  Serve over creamy soft polenta or cous cous with Sweet and spicy Moroccan Roasted carrots! 
---
4

x  1lb – 1 1/4 lb lamb shanks

3

–

4

tablespoons oil (you will drain this off)

1/2 cup

water

1

large onion- diced

6

garlic cloves, smashed

1

large fennel bulb, chopped ( or sub

2

ribs celery-diced)

1

small red beet, scrubbed and diced (optional, for glorious color, about

1/2 cup

)

4

–

5

rosemary sprigs  (or sub thyme sprigs )

2

bay leaves
 3 inch x 1 inch strip of orange zest ( use a veggie peeler)

1 teaspoon

whole fennel seeds

1 teaspoon

cumin

1/2 teaspoon

allspice

1/2 teaspoon

salt

1 cup

rich red wine or ruby port
——-

1 cup

 pomegranate juice, unsweetened

1 cup

chicken stock or broth

2 tablespoons

maple syrup or honey
—–
pepper to taste
splash red wine vinegar ( 1-2 teaspoons)
Garnish: pomegranate seeds, rosemary sprigs,
Serve over creamy polenta or couscous, or mashed potatoes, or ginger whipped sweet potatoes!
---
Instructions
Preheat oven to 325F
Let lamb come to room temp (unwrap on counter 20-30 mins) and  season lamb generously with kosher salt.
Sear: Heat oil in an extra large heavy bottomed Dutch oven. Working in batches, sear the lamb shanks on all sides over medium high (or medium) heat. Take your time here and do this well. Set the shanks aside. Drain the oil.
Make the Braising Liquid: Add the water to the same pan and bring to a simmer, scraping up any browned bits. Simmer 3-4 minutes.  To the water, add onion, garlic, fennel, beet, orange peel, herbs and spices and salt to the pan and stir until vegetables soften, about 5 minutes. Add the wine, and gently simmer until alcohol cooks off, another 5 mintues. Add the pomegrantate juice, chicken stock and maple syrup, stir to combine. Bring to a simmer.
Braise: nestle the lamb shanks down in the liquid,on their side, meaty side down, bring to a simmer on the stove, then cover well, and place in a 325 F  for 1 1/2 – 2 1/2  hours or until meat is tender (internal temp 195-205F) Keep in mind that larger shanks will take longer to cook, smaller shanks, less time, so if in doubt, check at  1 1/2 hours-  add more time if not tender. Basically, meat will get more tender as it braises, but you may need to add more broth or stock if using big shanks. So check liquid level.
Season and REST: When shanks are tender, remove from pan, rest on a platter or baking dish in a warm spot like the stove top 20-30 minutes. While resting make the sauce.
Make the sauce. Strain the braising liquid. If making ahead, you could let this cool in the fridge to allow more fat to separate (it will rise and harden) or skim off warm fat with a ladle. Place 1 1/2 cups, skimmed braising liquid in a small sauce pan and simmer, reducing just until it tastes flavorful. It really doesn't need to reduce until "thickened"  (see notes) which may result in flavors getting too salty or condensed.  Add a little splash of vinegar.  Season it with salt and pepper.  Sometimes I'll add a little squeeze of orange juice. Up to you.
Serve the lamb shanks on a platter, spoon the flavorful sauce over top, garnish with fresh pomegrante seeds and a few sprigs of rosemary.
Or Plate the lamb shank over the polenta or couscous, spoon the flavorful sauce overtop. Garnish with fresh pomegrate seeds. Fresh parsley is nice here or a sprig of rosemary, something green. 🙂
---
Notes
If new to braising red meat- the internal temp must reach 190F and stay there a while for the tough fibers to break down and become tender. The longer you braise, the more tender it will get, as long as it's in the braising liquid. You can always add more broth to the liquid. In this case, I like the lamb to be fork tender, but not too tender as it will literally fall off the bone, which of course still tastes delcious, but then you'll loose that lovely bone-in presentation.  Up to you.
This pairs really well with a soft creamy parmesan polenta and roasted veggies. Or try it with couscous and Morrocan roasted carrots.
The shanks can be brasied ahead, cooled, then refrigerated in the strained brasing liquid then reheated. This is especially nice if making for larger groups, or you can make several batches ahead.
When catering for large groups we would braise the shanks in deep hotel pans covered with parchment and 2 layers of  foil.
The maple/honey  is truly needed here- it balances out the tartness of the pomegranate juice.
If you are intent on having thicker sauce, whisk 2 teaspooons of cornstarch to 1 tablespoon water, and make a slurry. Whisk into the sauce and bring to a simmer. Turn heat off.
Alternatively you could blend ( in a blender) some of the strained onion fennel mixture into the sauce to thicken.
Nutrition
Serving Size:

1 lamb shank ( 8 ounces cooked meat) with sauce

Calories:

571

Sugar:

17.6 g

Sodium:

456.4 mg

Fat:

26.7 g

Saturated Fat:

9.8 g

Carbohydrates:

25.2 g

Fiber:

2.9 g

Protein:

54.7 g

Cholesterol:

178.5 mg
Keywords: braised lamb shanks, oven braised lamb shanks, how to cook lamb shanks, moroccan lamb shanks