Beet Bruschetta with Goat Cheese and Basil – a simple delicious appetizer that is full of amazing flavor! Simple and easy!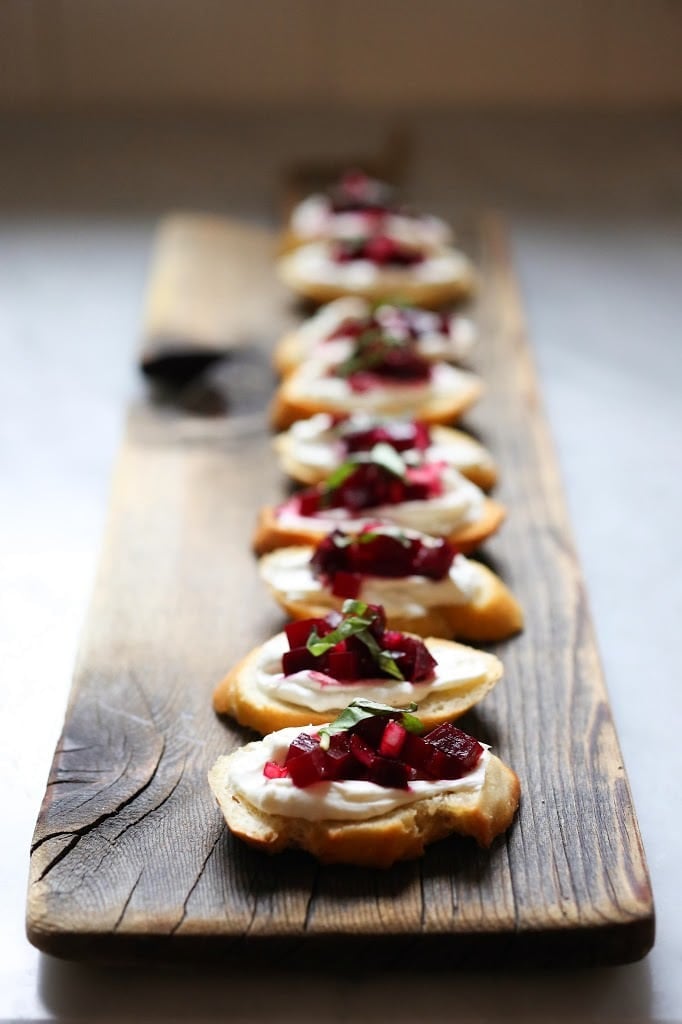 Don't ask yourself what the world needs; ask yourself what makes you come alive.
And then go and do that. Because what the world needs is people who have come alive.
Howard Thurman
This simple beet bruschetta hardly needs a recipe. I love it not only for its flavor and burst of color, but for the way it takes the lowly humble beet and turns it into a rock star. Simple flavors come together deliciously and easily. The creamy base is a mixture of
goat cheese
and cream cheese, which gives the
goat cheese
a little extra lusciousness.
Beets are blanched, diced, and tossed with olive oil,
balsamic vinegar
and basil ribbons…and the combination, to my palate, is just right. This earthy appetizer is the perfect bite for your upcoming gathering or party.
And remember, if in a pinch, you can always purchase pre-cooked, store-bought beets.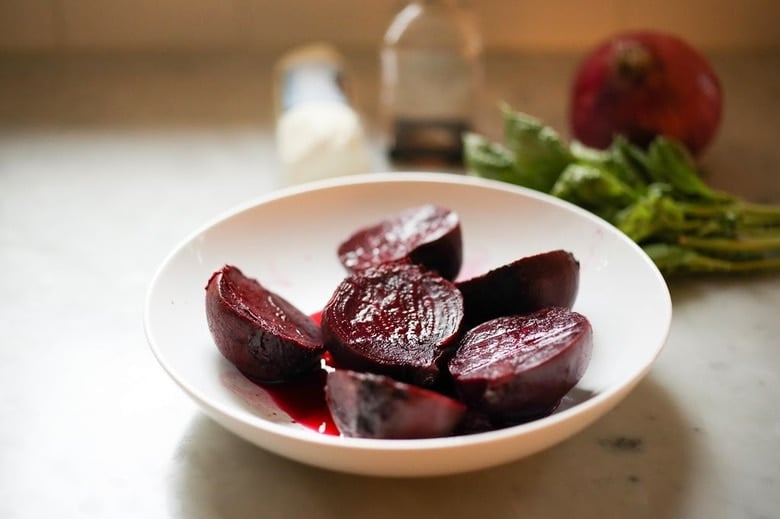 For faster blanching, cut beets in half. When selecting beets at the market, choose ones that are similar in size and no bigger than a tennis ball.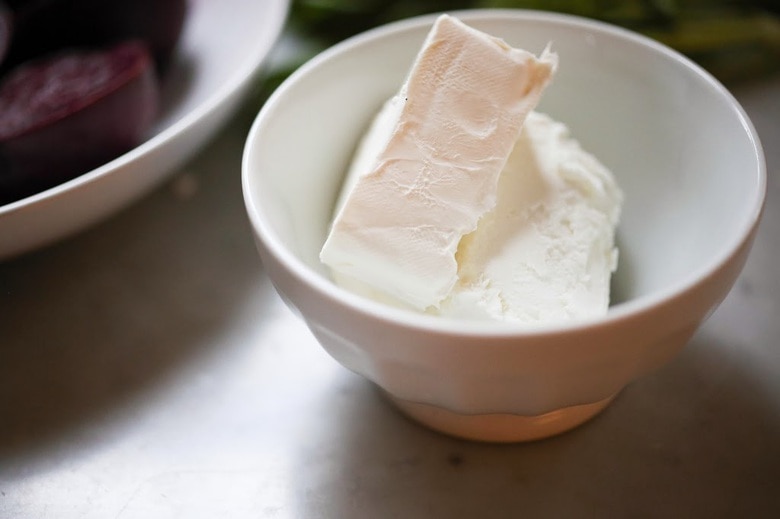 I like adding cream cheese to the goat cheese to give it an extra creamy texture. Warm both in a microwave and mix equal parts together. Feel free to add chopped herbs ( basil, flat-leaf parsley) If you are like me and don't have a microwave, warm in your oven or toaster oven, just until soft enough to mix.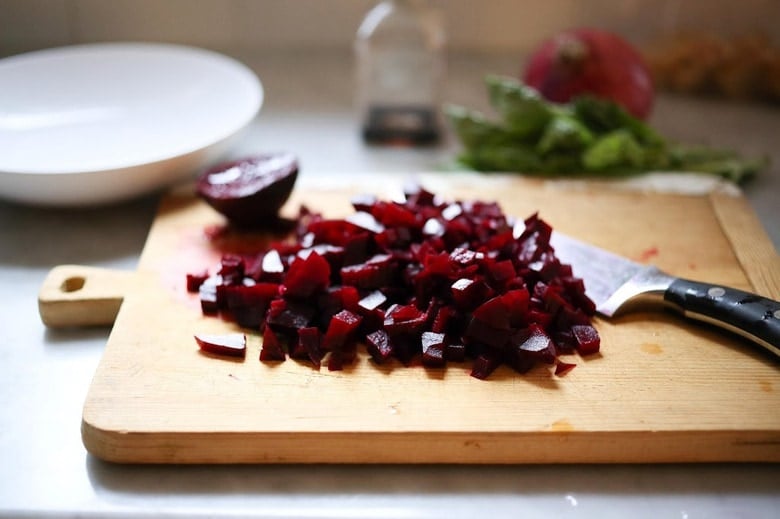 Blanch the beets, and slip off their skins under the running water. Dice finely.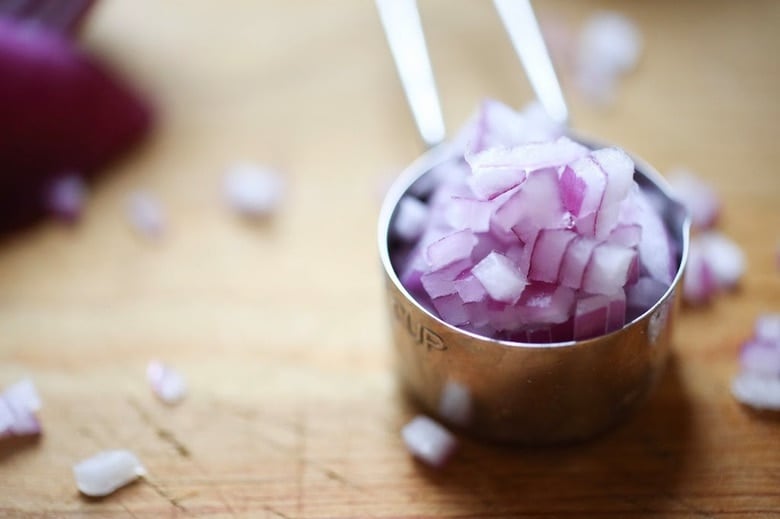 A little red onion or shallot gives the bruschetta a little flavor and texture. Remember to cut finely.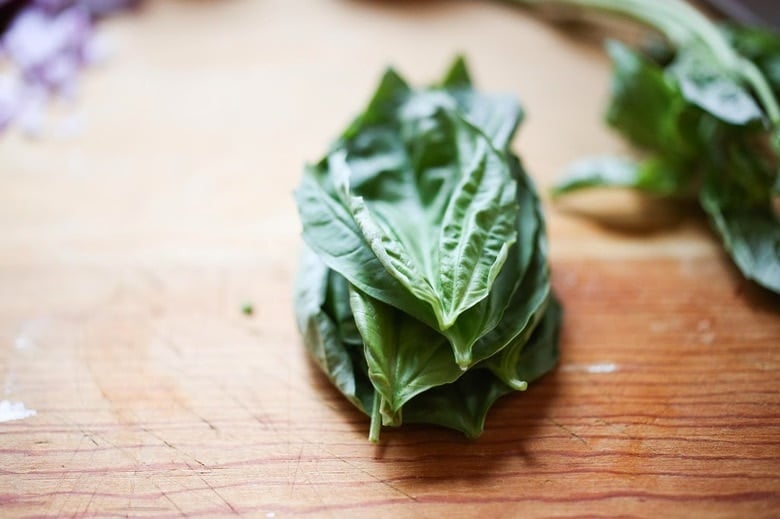 Basil brings this all home. To make basil ribbons, stack basil leaves and roll up tight, then thinly slice.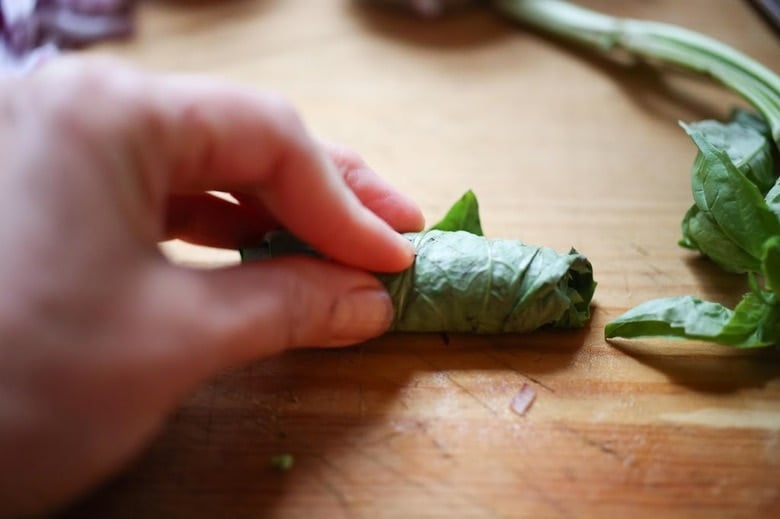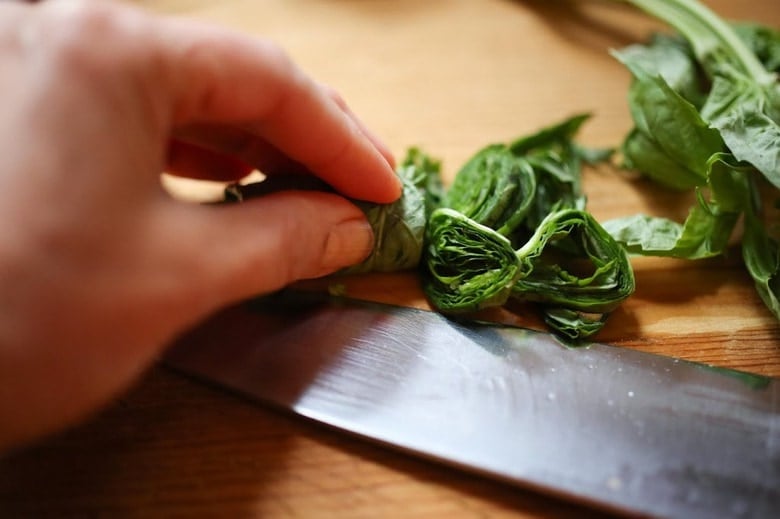 Mix some basil in the beet mixture and save some for the top.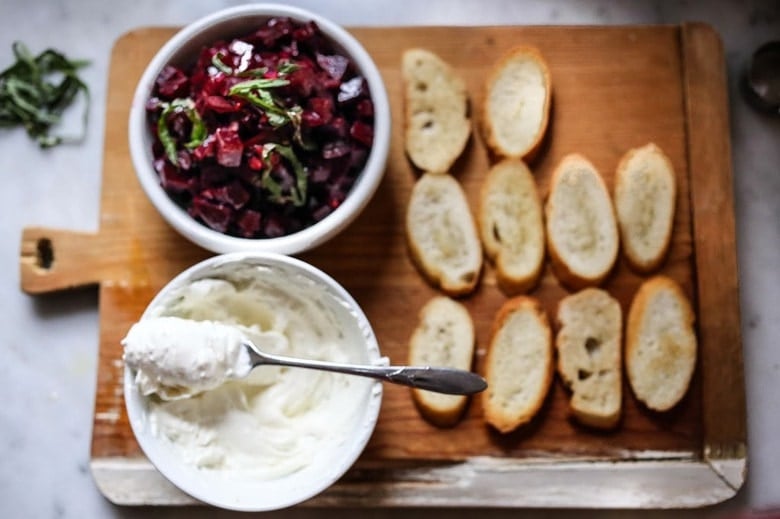 A tip: using the tip of a butter knife, make a little "trough" with the cheese, so the beet topping stays in place.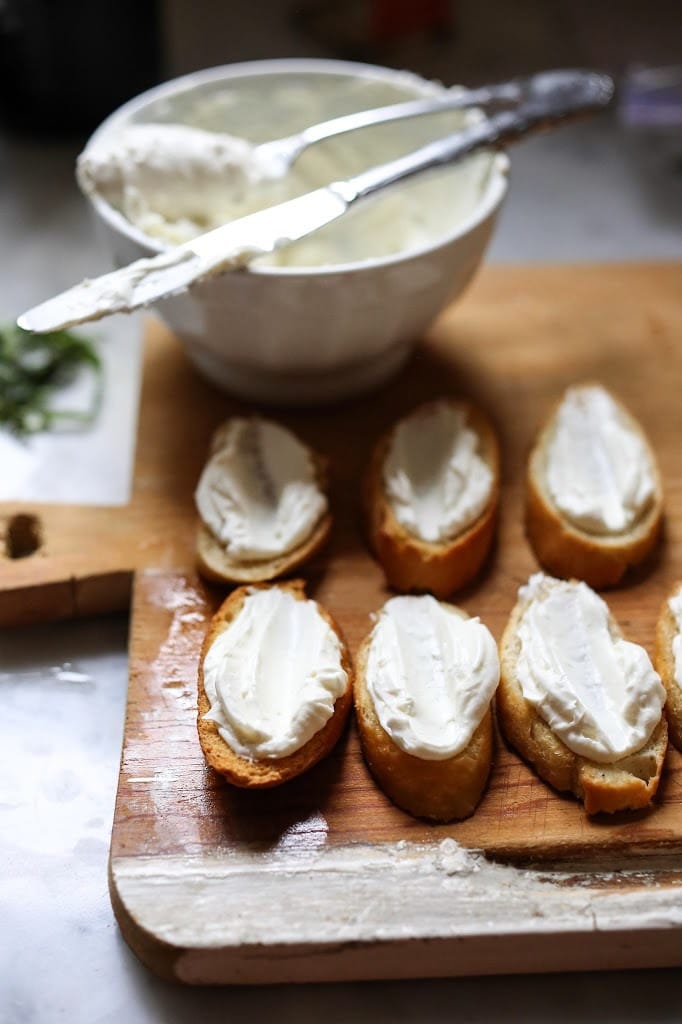 Place beet mixture in the center of the trough.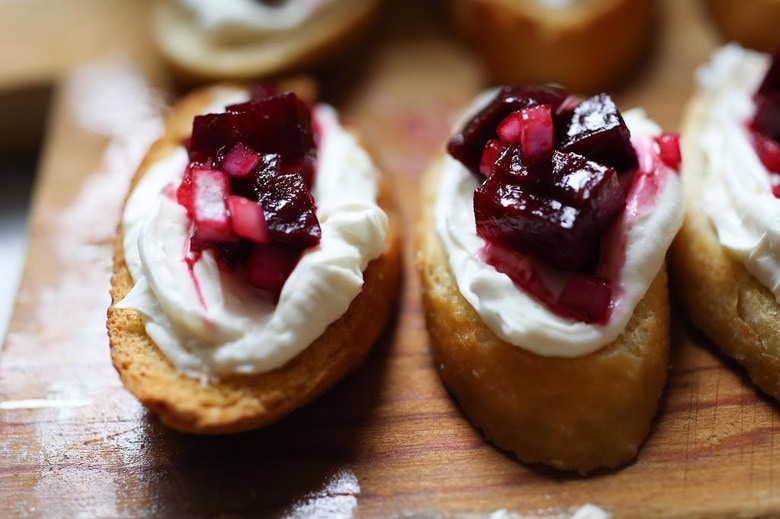 Top with the basil ribbons and serve on a rustic cutting board or white platter.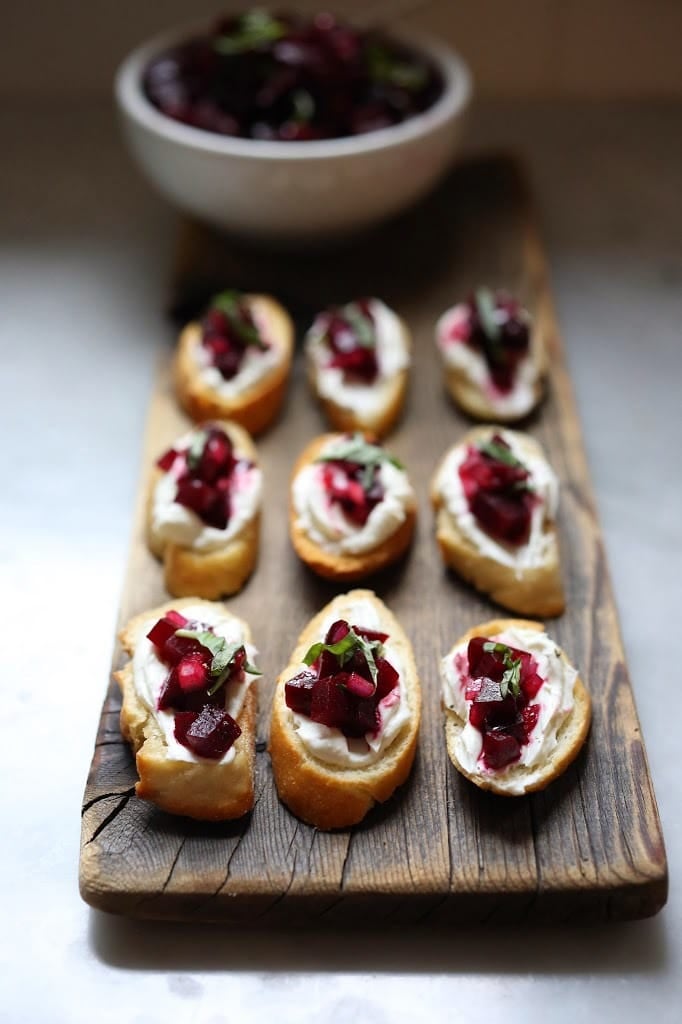 So simple…..so easy!
You can make all the components ahead, and assembler right before the party, to keep the bruschetta from getting soggy. Just remember to bring the cheese to room temp, for easy spreading.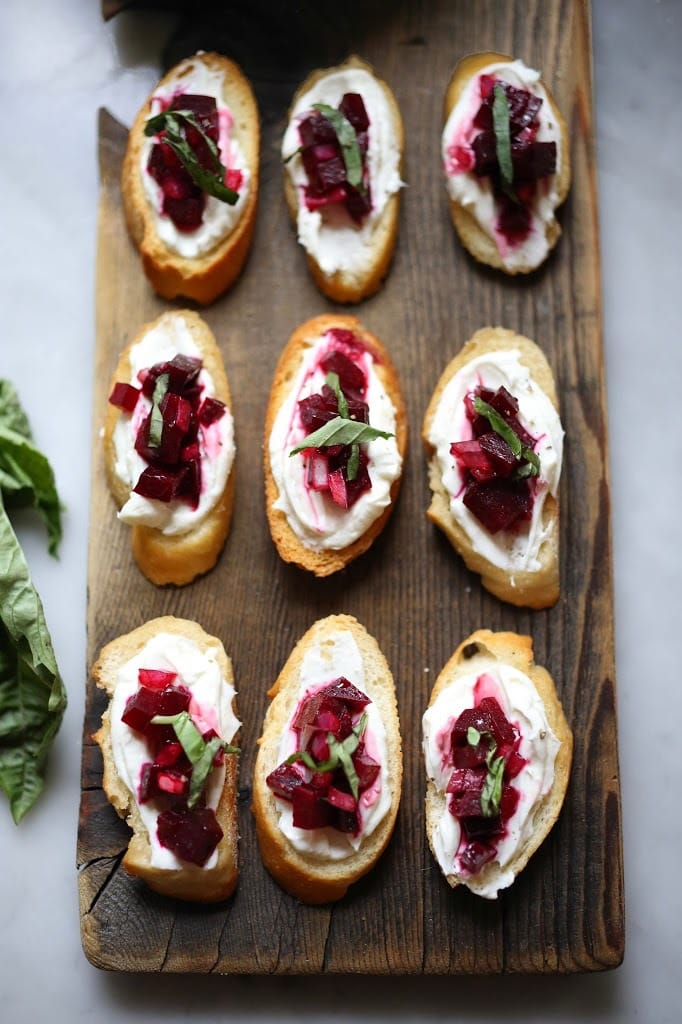 Beet Bruschetta with
Goat Cheese
and Basil – a simple delicious appetizer that is full of amazing flavor!

Print
Beet Bruschetta with Goat Cheese and Basil
Beet Bruschetta with Goat Cheese and Basil and simple delicious appetizer that is full of amazing flavor!
Prep Time:

20 mins

Cook Time:

30 mins

Total Time:

50 mins

Yield:

25 -30 bruschetta

Category:

Appetizer

Method:

steamed

Cuisine:

Northwest
3

medium sized beets ( tennis ball sized) halved

1

baguette, sliced at a diagonal into

1/2

inch thick slices
Olive oil for brushing bruschetta

1 1/2 Tablespoon

olive oil

1 Tablespoon

balsamic

10

basil leaves – cut into ribbons

1/8

C finely diced red onion or shallot

4 oz

goat cheese

4 oz

cream cheese

1/4 teaspoon

salt

1/4 teaspoon

cracked pepper

1/2 teaspoon

sugar
Instructions
Preheat oven to 400F
In a medium put, cover halved beets with water and boil until just tender, about 20-30 minutes.
In the meantime, slice baguette into 1/2 inch slices at a diagonal. Brush both sides with olive oil, sprinkle with a little salt and place on a sheet pan in a 400 F oven for 15-20 minutes, or until very crisp. Set aside.
Place cream cheese and goat cheese in a bowl and warm in a microwave until just soft enough to combine easily with a fork. ( I place the bowl in my toaster oven on low). Mix with a fork until smooth. Season with salt and pepper. Feel free to add some fresh chopped herbs ( basil or parsley) Set aside.
When beets are fork-tender, drain pot, refill with cold water and slip skins off the cooked beets under running cold water using your hands. Dice into very small 1/3 inch cubes and place in medium bowl.
Add finely chopped onion, salt, pepper, sugar, olive oil and balsamic -stir to combine. Taste, adjusting. You want this be flavorful and juicy.
Assemble: Spread a little goat cheese mixture on each bruschetta creating a "trough" ( to hold beet mixture in place) and top with a Tablespoon of beet mixture. Garnish with a few basil ribbons. It's really nice to serve when the goat cheese is still a touch warm. Serve on a white platter to show it off, or a rustic cutting board.
Notes
You can make all components ahead. Store beet relish and cheese mixture in the fridge. Store bruschetta on the counter, uncovered, resisting the urge to snack. 🙂
Assemble right before guests arrive, warming the cheese mixture just slightly so it's spreadable – either in microwave, or in oven. Or leave it out on the counter for a couple hours beforehand to warm to room temp.
Keywords: bruschetta recipes , beet bruschetta, beet appetizer, beet recipes, beet appetizer recipes, beet and goat cheese
SaveSave