. A simple easy, small-batch recipe for Beet and Cabbage Sauerkraut that anyone can make using a mason jar, that takes only 20 minutes of hands-on time. Full of good healthy bacteria that will energize the body and help heal the gut.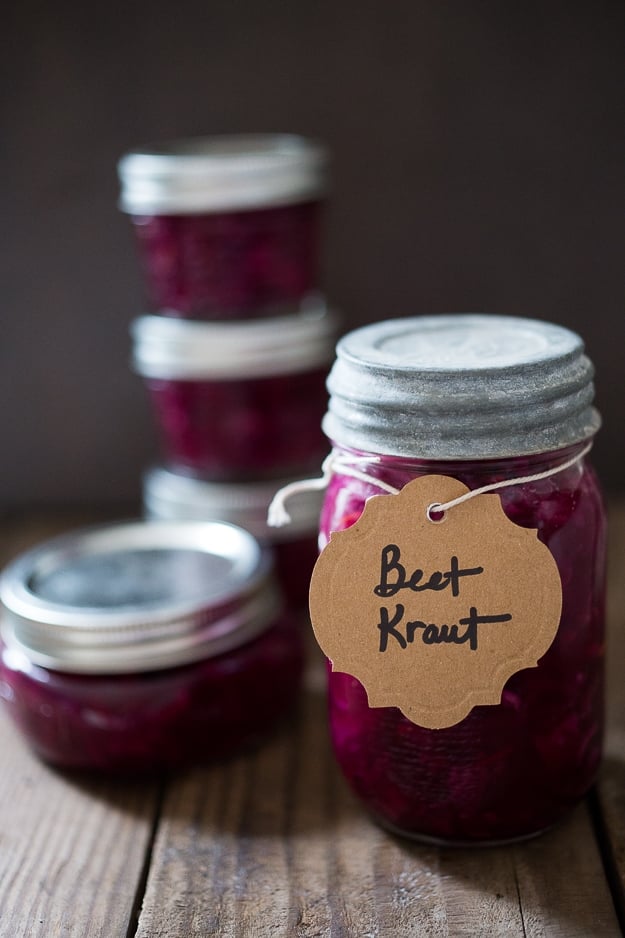 Creativity takes courage. 
Henri Matisse
This recipe for Beet and Cabbage Sauerkraut is just lightly fermented, resulting in a vibrant red kraut that is fresh, crunchy and not overly salty –making it a perfect side or  "salad" to any meal.
Inspired by my friend
Tonia
, who first introduced me to this style of kraut over the summer, I've been making this slightly fermented kind of kraut in small batches ever since. For an alternative version, try her
cabbage kraut. 
In this recipe, I use purple cabbage and grated beets, which give it this beautiful vibrant color. But feel free to use just cabbage if you prefer. The refreshing bite is such a welcome accompaniment to dinner, especially with heavier meals, providing good contrast in texture and flavor. It's also delicious on sandwiches, in tacos, wraps or have a bowl of it on its own. And you really don't need any special equipment to make this…. a mason jar works just as well as a crock.
For the love of Beets!
Not only are beets earthy, sweet and full of flavor, but beets are also a nutritional powerhouse! They are full of incredible antioxidants, beets can  lower blood pressure and reduce inflammation. If you looking for new ways to incorporate beets in the kitchen, take a look at our 20 Best Beet Recipes– you'll find some delicious inspiration here!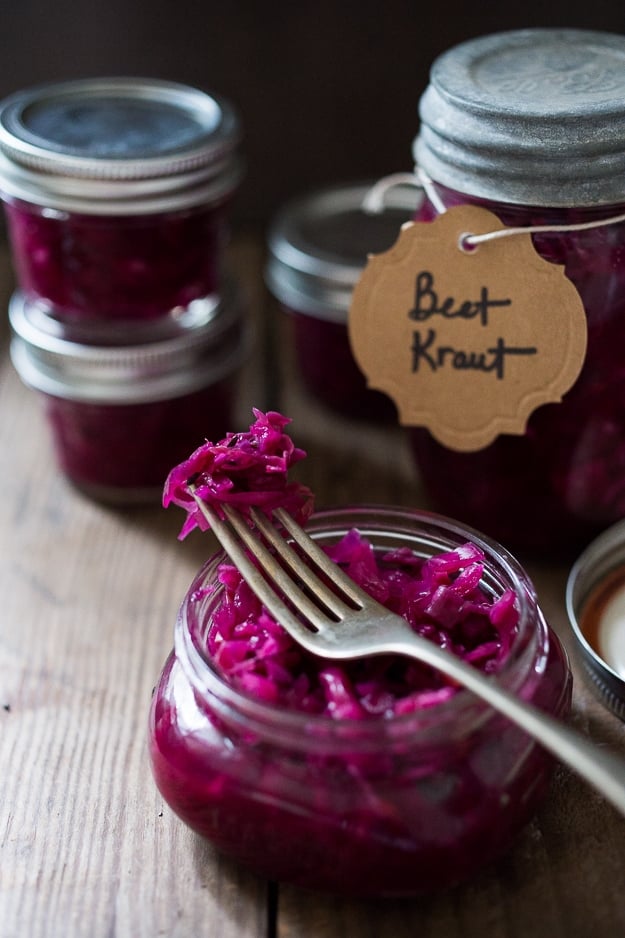 Benefits of Fermented Sauerkraut
The main reason I am in love with homemade kraut is  it's incredibly good for our bodies. The simple fermentation process creates healthy bacteria, that have amazing cancer-fighting and immunity-building properties, similar to the healthy probiotics in yogurt, but without dairy and fat.  As cabbage ferments, it produces living bacteria that give our microbiome diversity!
These good bacteria, or "probiotics" help boost our whole immune system, keeping us healthy and better able to ward off illnesses.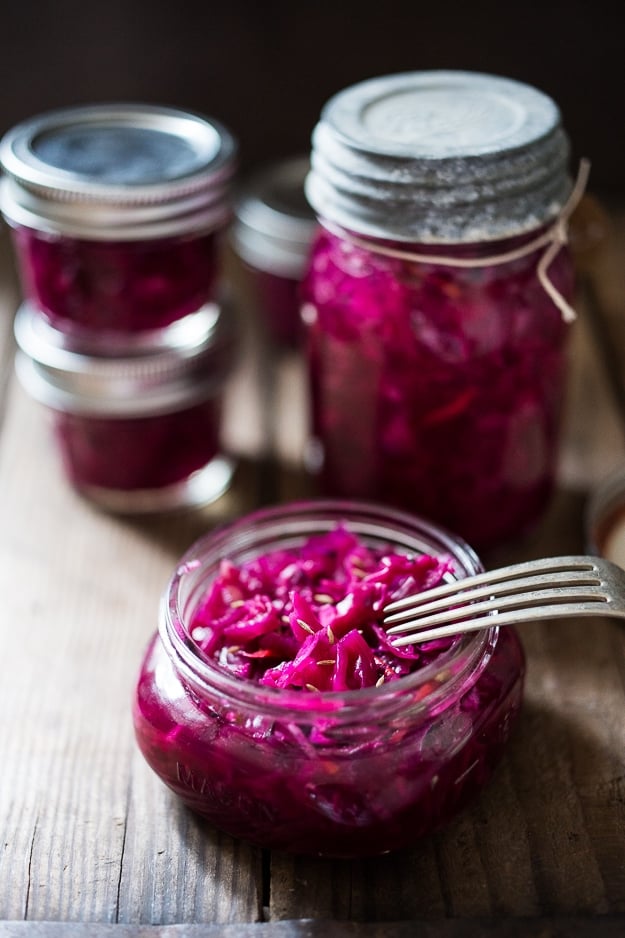 But if you eat sauerkraut that has been pasteurized (the store-bought kind, canned and not refrigerated) the heat in the pasteurization process actually kills these good live bacteria, and so we won't benefit from the probiotics…and that's why I like to make it at home.
Plus it's SO easy, and you can flavor it however you like.
Beet & Cabbage Kraut Ingredients
organic purple cabbage ( or green cabbage)
organic red beet ( or golden beets)
onion, garlic or ginger- all optional
mineral salt or sea salt, do not use iodized salt or kosher salt
How to make Beet Sauerkraut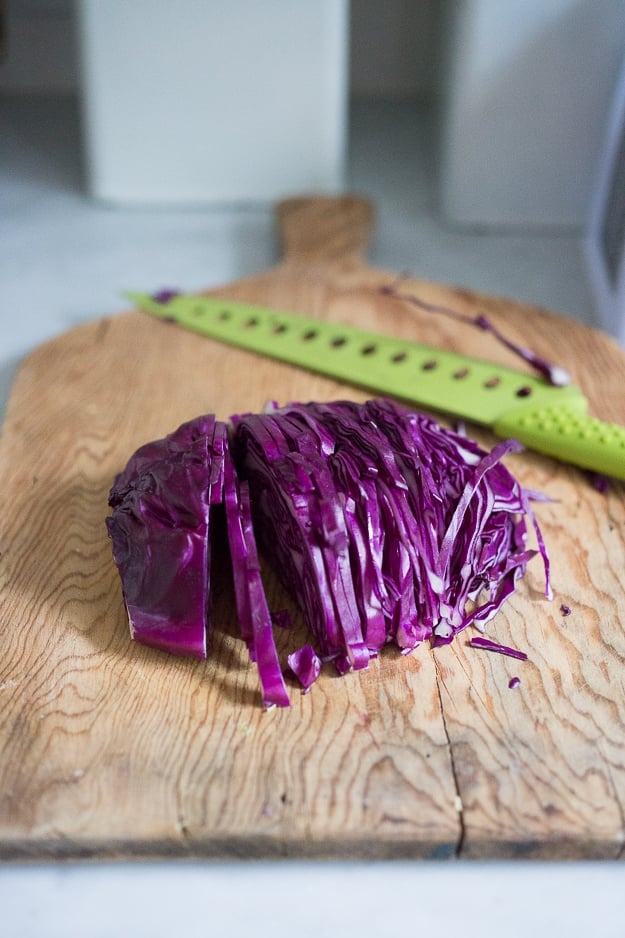 Step one: Finely slice and grate cabbage and raw beets.
I like to add a  ⅛ to ¼ cup of sliced onion, and sometimes minced garlic. This is optional. It will make the smell slightly off-putting as it ferments, but once it's refrigerated, it adds a really delicious flavor.
Step two: Weight the cabbage-beet mixture in grams.  Multiply this by .02. This is the amount in grams of salt you will need. ( see recipe notes)
Measure out the salt.
Step three: Massage the cabbage-beet mixture with the salt.  Let it sit in the bowl on the counter, occasionally mixing for a 1-2 hours. Add caraway seeds if you like, or a little grated ginger.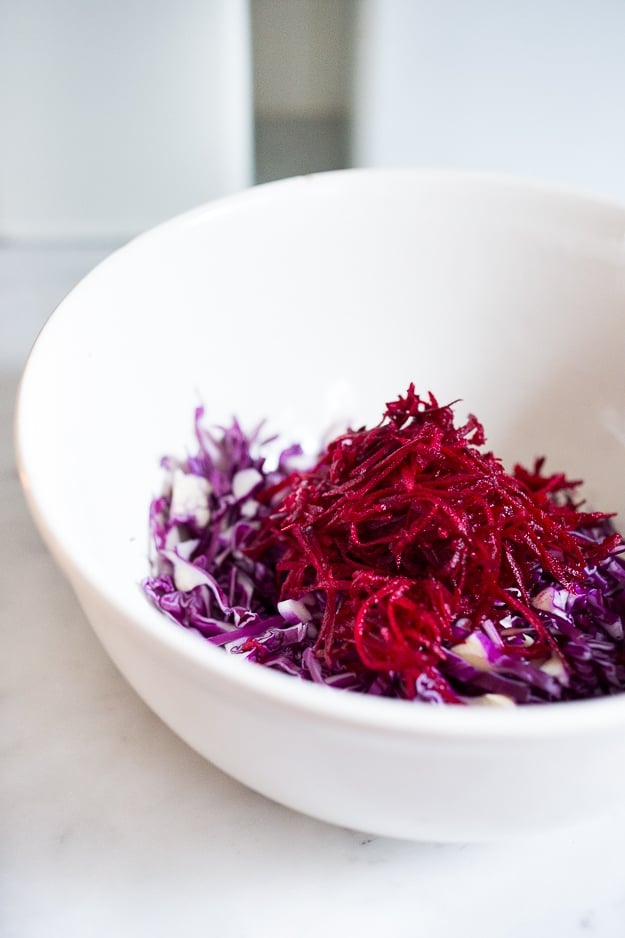 As it sits, the
salt
will help draw the water out.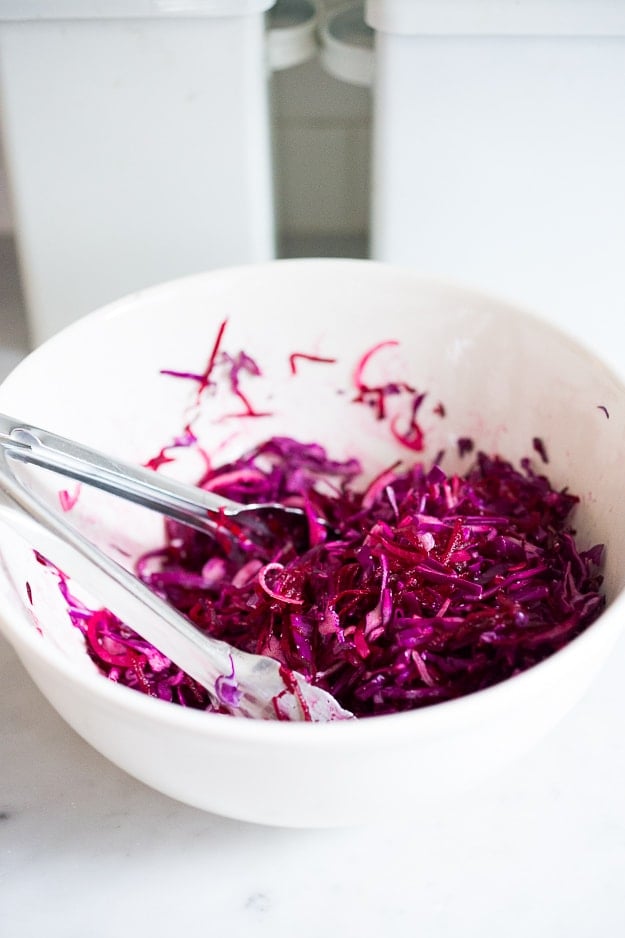 Step 4: Place the cabbage mixture along with all the juices in clean mason jars, and pack it down with a muddler or the end of a wooden spoon. Cover it with a cabbage leaf. Pack it down once more so cabbage is under the brine.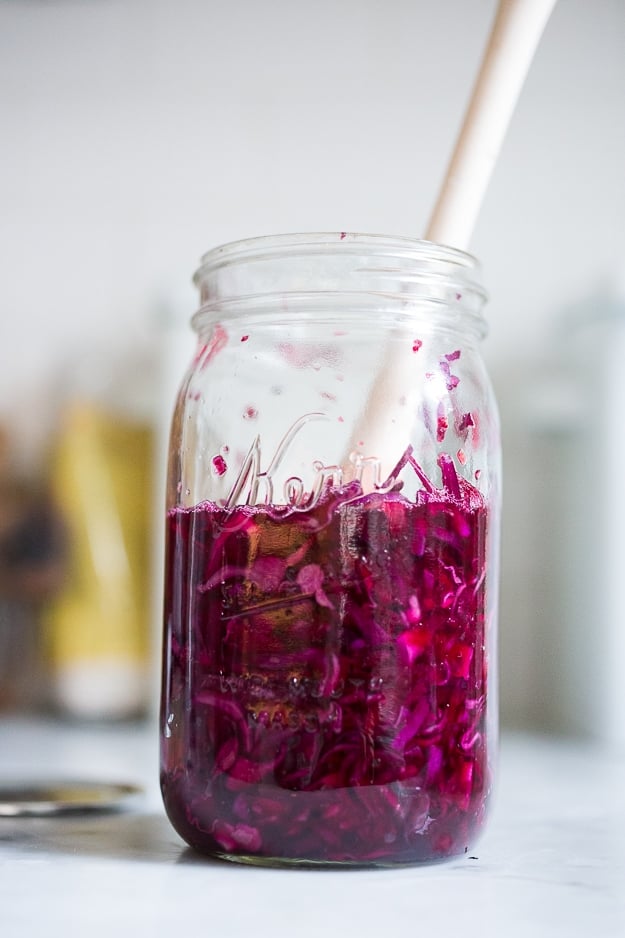 Step 5: Then leave it on the counter, with the cabbage weighed down ( see notes) and covered loosely with a lid,  over a plate or pan to catch any juices,  with a dishcloth placed over it (or place somewhere dark and cool, ideally 65- 72 degrees F) for 3-5 days, or longer if you prefer more fermentation, occasionally pressing down on the cabbage.
My personal preference is 4-5 days at 65F for a refreshing and crunchy version. After a few days, you should start to see some activity, bubbles, with you tap the jar.
Step 6: Refrigerate. After 3-7 days, close it with a lid and put it in the fridge…and don't worry, it will smell better once it is chilled. Once it chilled, it's ready to eat. As it rests in the fridge, it will continue to ferment but at a much slower rate. It will taste better and better.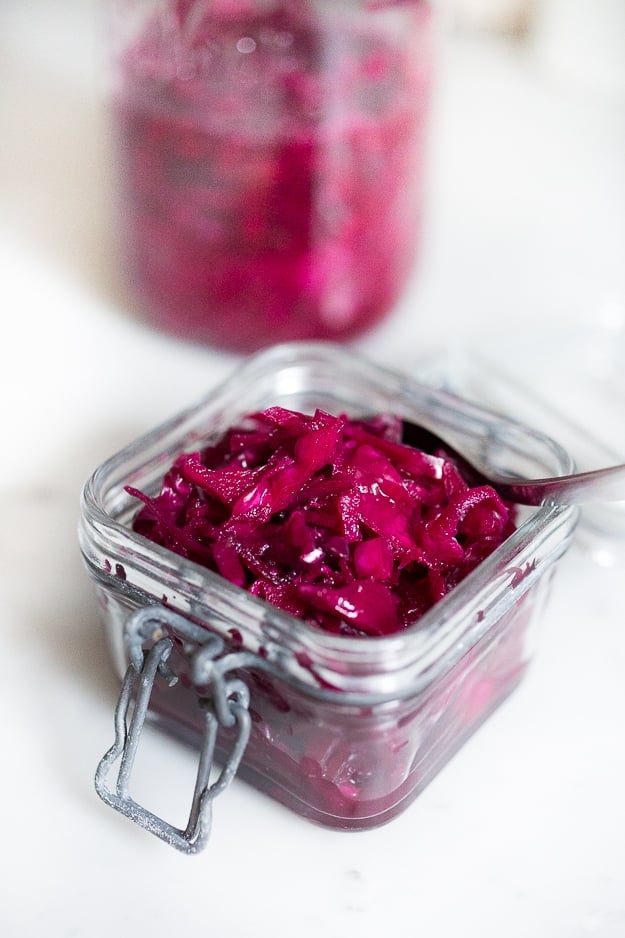 It will keep for months on end, but it probably won't last that long…because it's so tasty!!
I seriously put this on everything.
Hope you like it!!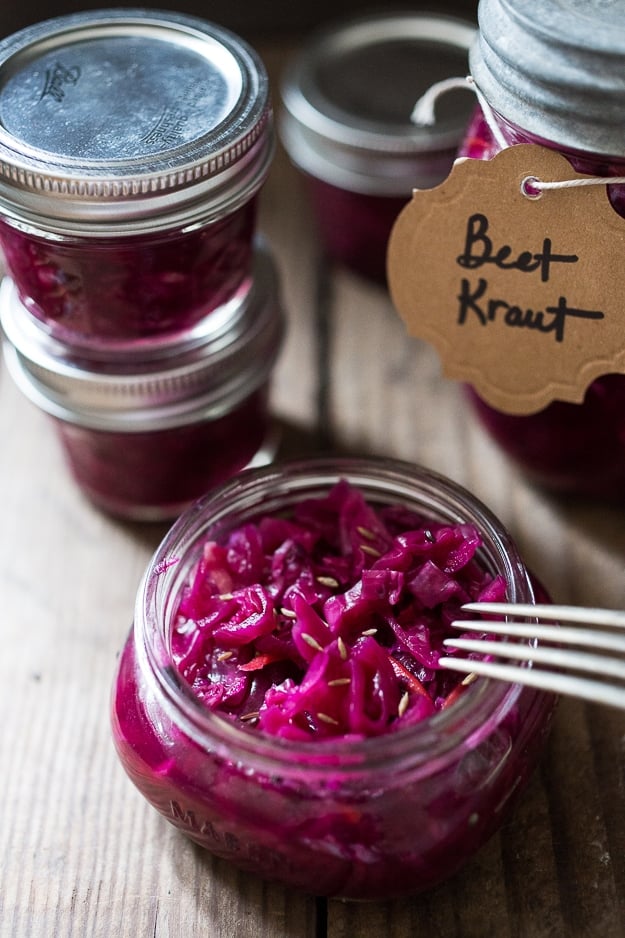 More recipes you may like:
Print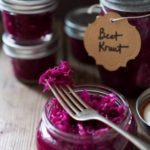 Beet and Cabbage Sauerkraut
Prep Time:

20 mins

Total Time:

20 mins

Yield:

4 cups

1

x

Category:

sauerkraut

Method:

fermented

Cuisine:

Preserving

Diet:

Vegan
---
Description
A simple easy, small-batch recipe for Beet and Cabbage Sauerkraut that anyone can make using a mason jars. Full of good healthy bacteria! Allow 5 days fermenting time!
---
1

small red cabbage- finely sliced (save a couple whole leaves , for the top)

1

cup

grated raw beet- do not peel.

1/8

–

1/4

cup

sliced red onion – optional
Other optional ingredients:
1 teaspoon

caraway seeds

1

garlic clove, sliced

1

–

2

teaspoons grated ginger
---
Instructions
Finely slice and grate cabbage and beets and place in a bowl.
Add garlic, onion and or ginger if using.
Weigh this in grams- careful not to include the bowl weight. Multiply this by .02. This is the amount of salt in grams you will need ( see notes).
Massage with the salt, Let sit on the counter, mixing occasionally for 1 hour, until cabbage has wilted and released a little water.
Place cabbage beet mixture and all the juices in a CLEAN mason jars and pack it down with a muddler, or the end of a 2wooden spoon, leaving 2-3 inches at the top. 
If there is not enough liquid to cover, mix one teaspoon sea salt with 1 cup of filtered water, and add just enough of this brine so cabbage -beet mixture is submerged- leaving at least 2-inches space at the top of jar.  Top with a whole cabbage leaf ( or fermentation weight) and press it down once more. Cover with loosely with a lid and place on a pan ( to catch any liquid).
Place in a cool dark place ( ideally 65 -72 degrees F )  for 3-5 days. It may take longer to ferment if it is colder. I often place mine in the cooler part of my kitchen, covered with a big dishcloth. You can check it daily to make sure cabbage is under the brine.
After 3-4 days, check for activity. When you tap the jar, tiny bubbles should rise to the top, indicating it's fermenting.  Once fermented to the desired amount, add the caraway seeds and place it in the fridge.  The longer it ferments the sourer it will taste.
Once it's chilled the smell will surprisingly mellow out and it will actually seem edible! So let it chill overnight, discard the cabbage leaf, then give it a taste!
---
Notes
Salt Ratio: The recommended salinity for Sauerkraut is 1.5% – to 2.5% salt to the weight of the cabbage. Here we use 2% salt to the weight of the cabbage. Example:  1ooo grams cabbage multiplied x .02= 2o grams of salt. Feel free to use more or less as long as it stays between 1.5%  and 2.5%. I use Himalayan Sea Salt and Real Salt.  Both are natural and unrefined with high mineral content.
Cabbage: Use organic cabbage if possible. Do not use pre-shredded cabbage. You need the natural bacteria from a whole cabbage. Farmers' market cabbage works especially well.
You can use fermentation weight to keep the kraut submerged or use a small ziplock bag, filled with a little water, to as a weight, placed over the cabbage in the jar.
Any cabbage that is exposed to air, will likely get moldy. Feel free to remove the mold if it is just on one area, you likely can salvage the rest.
Nutrition
Serving Size:

1/4 cup

Calories:

45

Sugar:

3.4 g

Sodium:

670.6 mg

Fat:

0.2 g

Saturated Fat:

0 g

Carbohydrates:

10.2 g

Fiber:

2.1 g

Protein:

2 g

Cholesterol:

0 mg
Keywords: how to make sauerkraut, beet sauerkraut, sauerkraut recipe, easy sauerkraut, easy sauerkraut recipe, cabbage sauerkraut
SaveSave
SaveSave