Learn the secret to making the BEST Baba Ganoush! Made with only five simple ingredients, this Lebanese Eggplant Dip can be roasted or grilled. A delicious vegan appetizer. Video!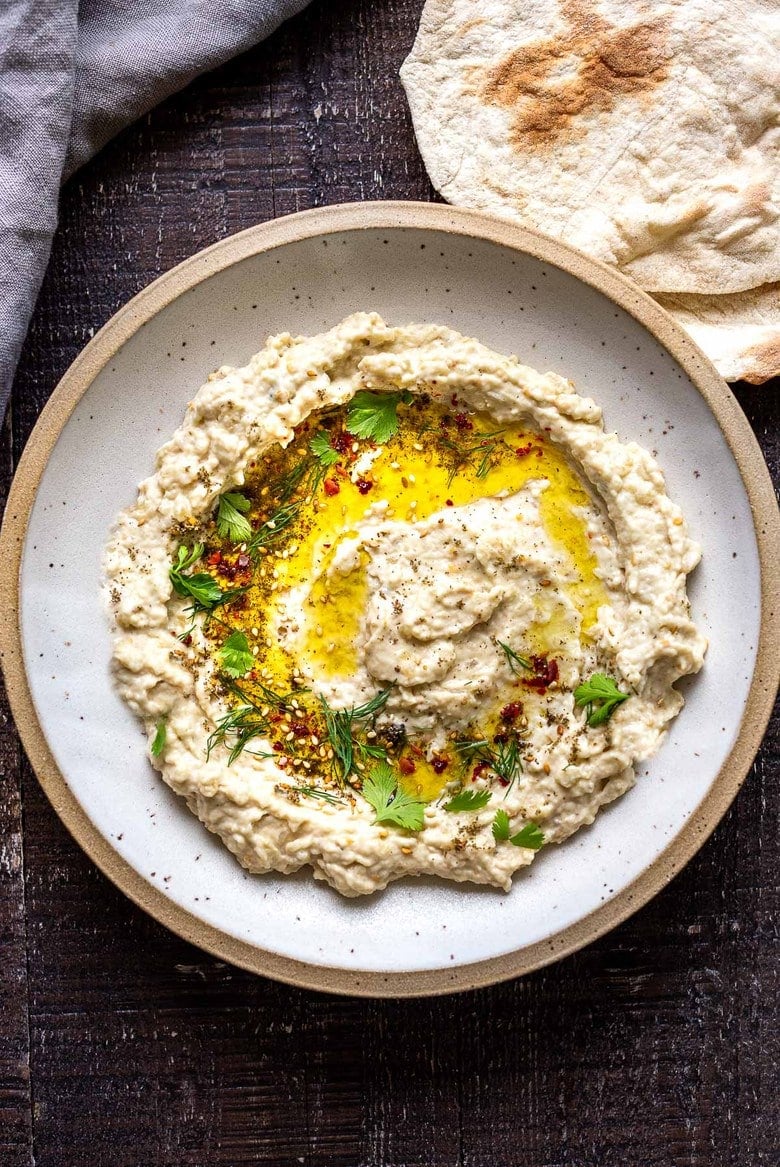 An awake heart is like a sky that pours light.

Hafiz
What is Baba Ganoush?
Baba Ganoush is a smoky eggplant dip from the Middle East typically served as an appetizer with pita or veggies. A silky, luscious combination of eggplant, tahini paste, garlic, lemon juice, and salt.
Baba Ganoush | 60-Sec Video
Traditionally, eggplant is charred in ash, grilled over a wood fire, or baked in a wood-burning oven- which is why it tastes so good! That subtle smoky flavor gets infused with the eggplant, creating nothing short of divine. But this way of cooking isn't accessible to many of us.
Ingredients In Baba
Baba Ganoush is made with five simple ingredients. It is the balance of these ingredients that makes this recipe shine!
eggplant– easiest option is to use extra large globe eggplant.
tahini paste– make sure it is fresh, not bitter tasting!
garlic- fresh is best!
lemon juice– fresh lemon juice always!
Garnish Baba Ganoush with a drizzle of Olive oil and zaatar and fresh herbs.
Why I love this recipe!
Because it tastes smoky! Traditional Baba Ganoush is made with eggplant cooked over a wood-burning fire, infusing the eggplant with that lovely smoky quality.
This recipe shows TWO simple ways to add that lovely subtle smoky flavor to the eggplant – through roasting the eggplant or grilling the eggplant. During the summer months, I prefer to use the grill; the flavor is exceptional!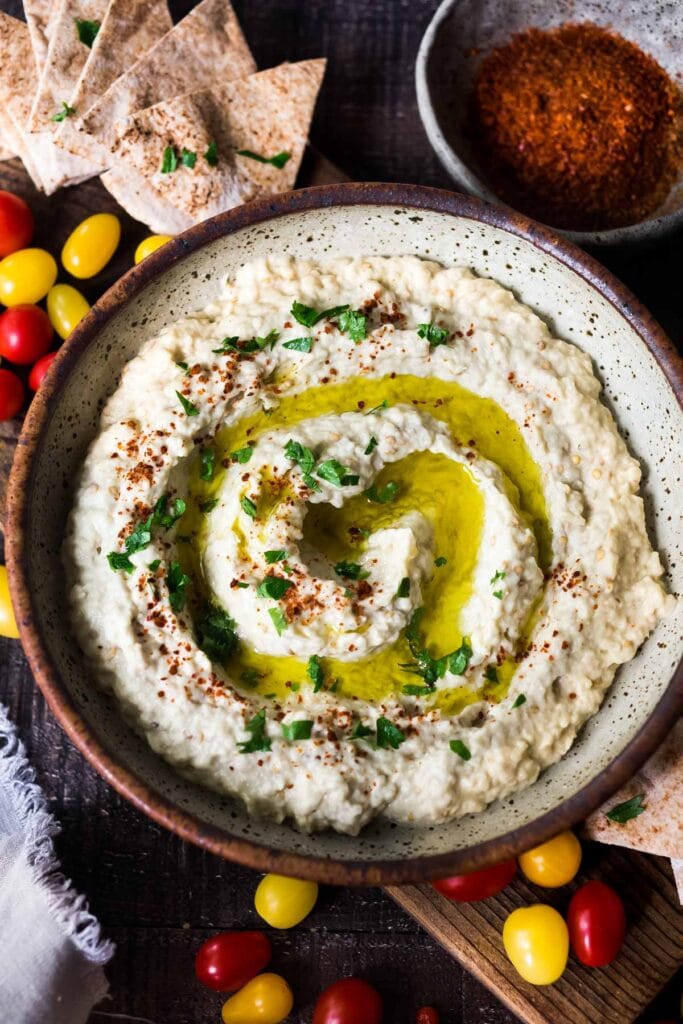 How to Make Baba Ganoush
Option 1: Roast the Eggplant
The first way to make this easy baba ganoush recipe is by roasting the eggplants in the oven on a baking sheet.
Slice eggplants in half, lengthwise

and roast at 425F on a baking sheet until very tender, about 60 minutes. Test by piercing the skin with a fork, and continue roasting until the eggplant is cooked, and the flesh is very tender and collapsing.
Scoop out the cooked eggplant, discard the skins and drain in a strainer for 10 minutes.
Mash with a fork and add the tahini paste, garlic, salt and lemon juice. Now you could also pulse in a food processor or blender, but I find mashing works just as easily here.
Add a few drops of store-bought liquid smoke to the baba ganoush, to elevate it!
***Now before you gasp at the idea of using liquid smoke, please look at the ingredients. Liquid smoke really is made from just smoke: Wood chips like hickory or mesquite are burned, and particles of the smoke are collected in condensers. The resulting liquid is concentrated down for a stronger flavor.
---
Option 2: Grill the Eggplant
1.) Grill the eggplant whole, cutting slits into the sides of the eggplant.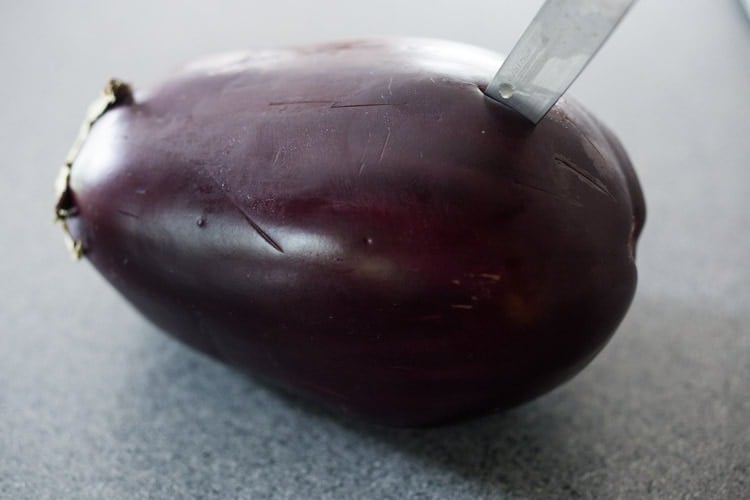 Cutting slits into the eggplant ensures even cooking and also allows some of the smoke to penetrate, giving the baba ganoush a delicious flavor!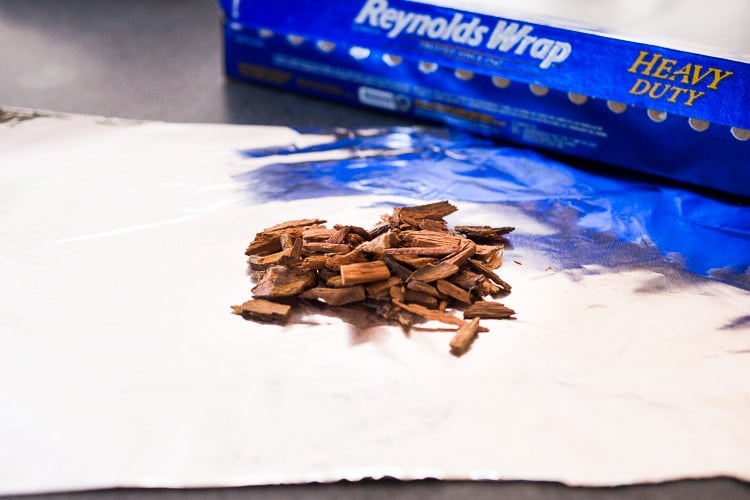 2.) Wrap ½ cup wood chips like alder, apple or mesquite into foil and create a foil packet. Keep the wood chips dry.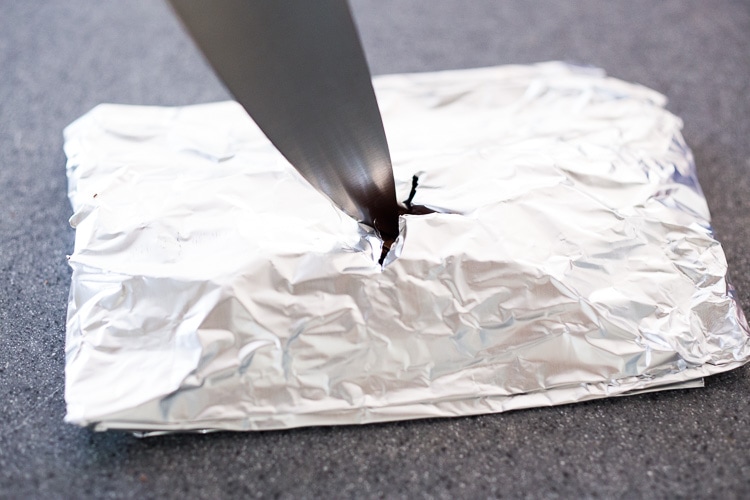 3.) Poke a hole with a knife and create a small opening for the smoke to come out.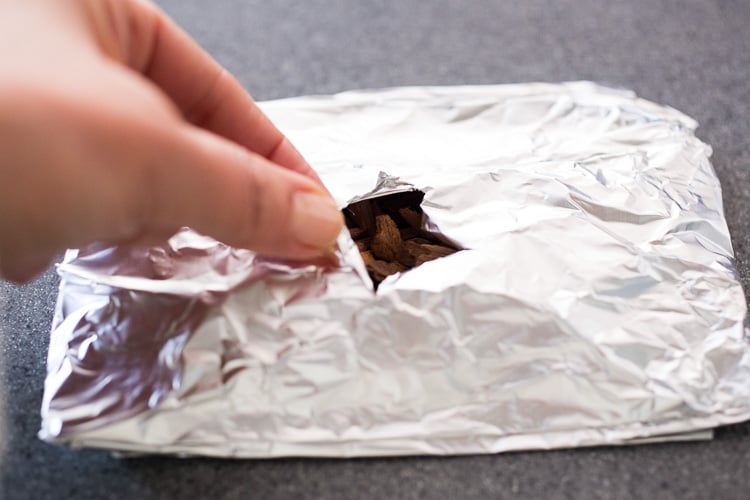 4.) Place the foil packet on the grill next to the eggplant (put it on the grill a little early to get it smoking.) Grill the eggplant, close the lid so the smoke stays in. This will elevate your baba ganoush- I promise!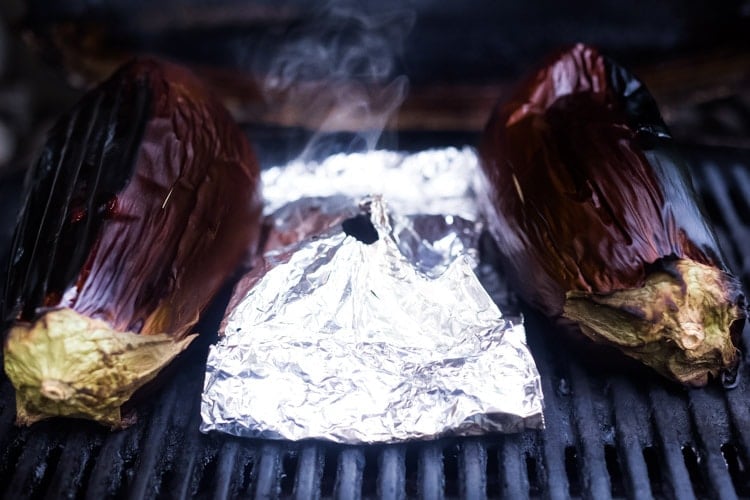 5.) Once the eggplant collapses and is nicely charred on all sides, place it in a bowl, along with the wood chip foil packet and cover the whole thing tightly with foil until it is cool enough to handle about 20 minutes.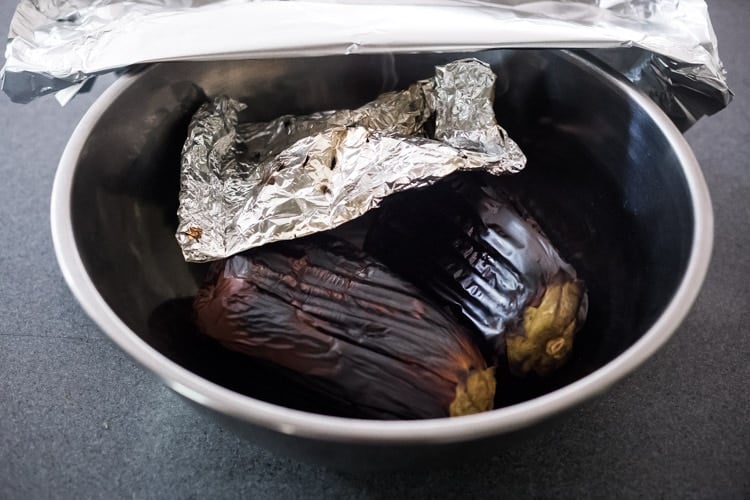 .) Essentially, you are creating your own "liquid smoke" from heat and liquid that comes out of the eggplant as it cools. So cover it up tightly!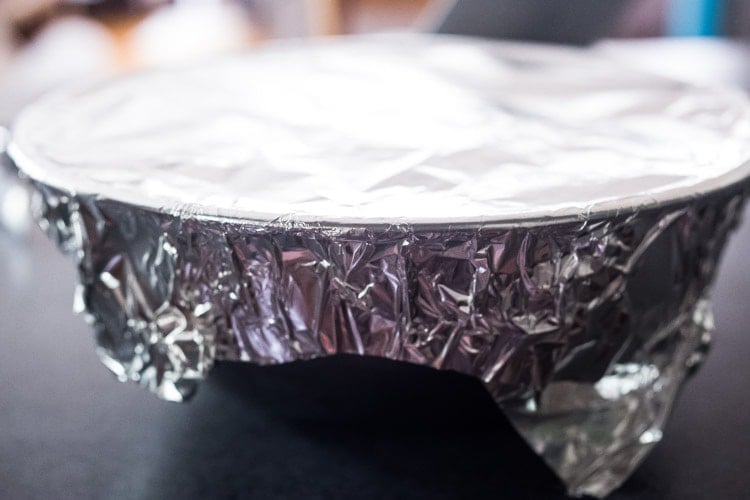 7.) SAVE what is left in the bottom of the bowl – the smoky liquid, homemade "liquid smoke". You'll use this to season the baba ganoush!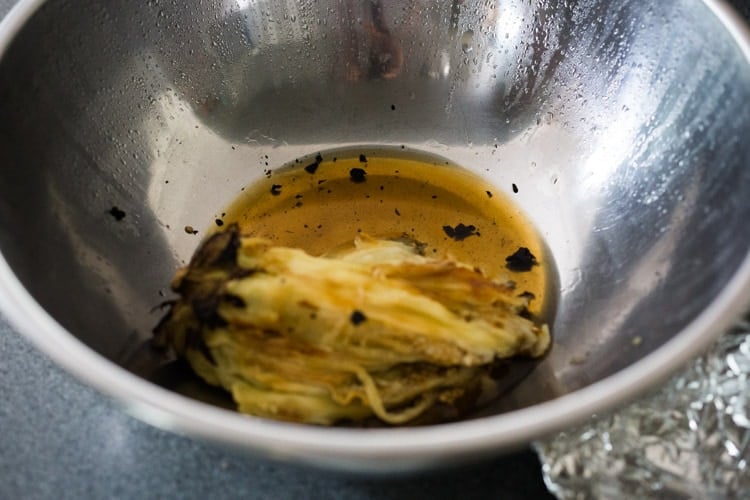 8.) Peel the charred eggplant and chop. I like the chopping method because little nuggets of eggplant in the final dip are really nice. What you will end up with is about 2 – 2 ½ cups of eggplant flesh- very little compared to the 2 huge eggplants you started off with!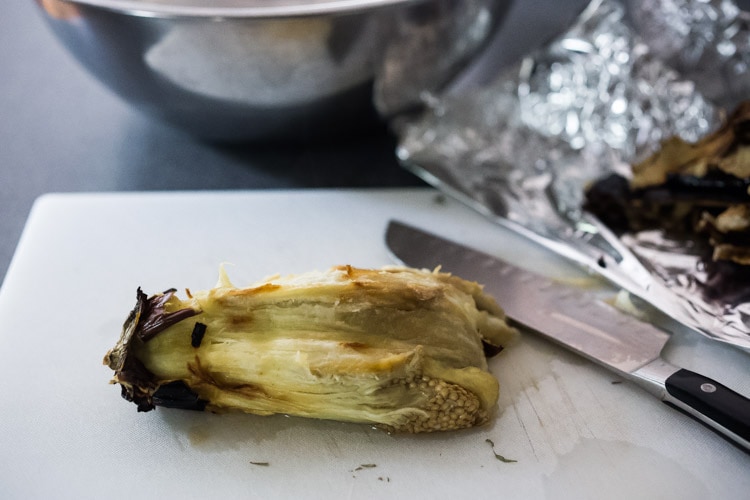 9.) Strain the chopped eggplant, and let it drain for about ten minutes. You don't need to save this liquid, only the smoky liquid from the earlier bowl.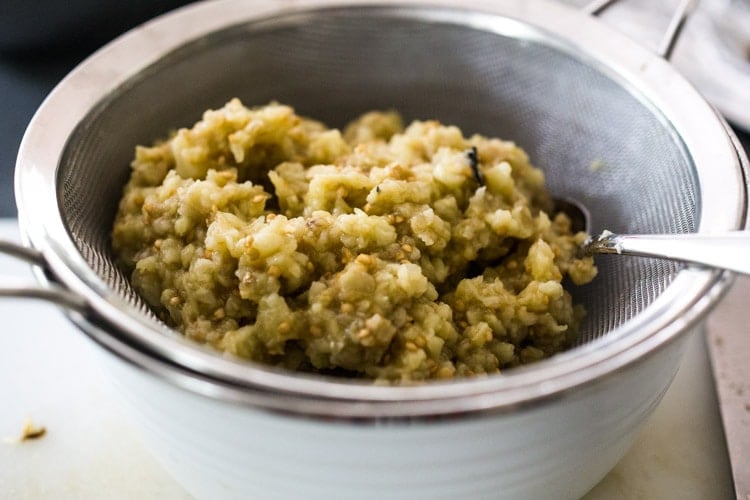 10.) Stir in the remaining ingredients, along with 1-2 tablespoons of the smoky liquid you saved from the bottom of the bowl. Such a great recipe- using the smoke from the woodchips!
---
Expert Tips
As I said, I prefer using the grilling/smoke chip method, but if you are set on roasting instead of grilling, add a couple of drops of liquid smoke to elevate it.
Drain the eggplant well, then add it back in, measuring the liquid. This will ensure the correct consistency.
Chop the eggplant rather than puree for the most authentic texture.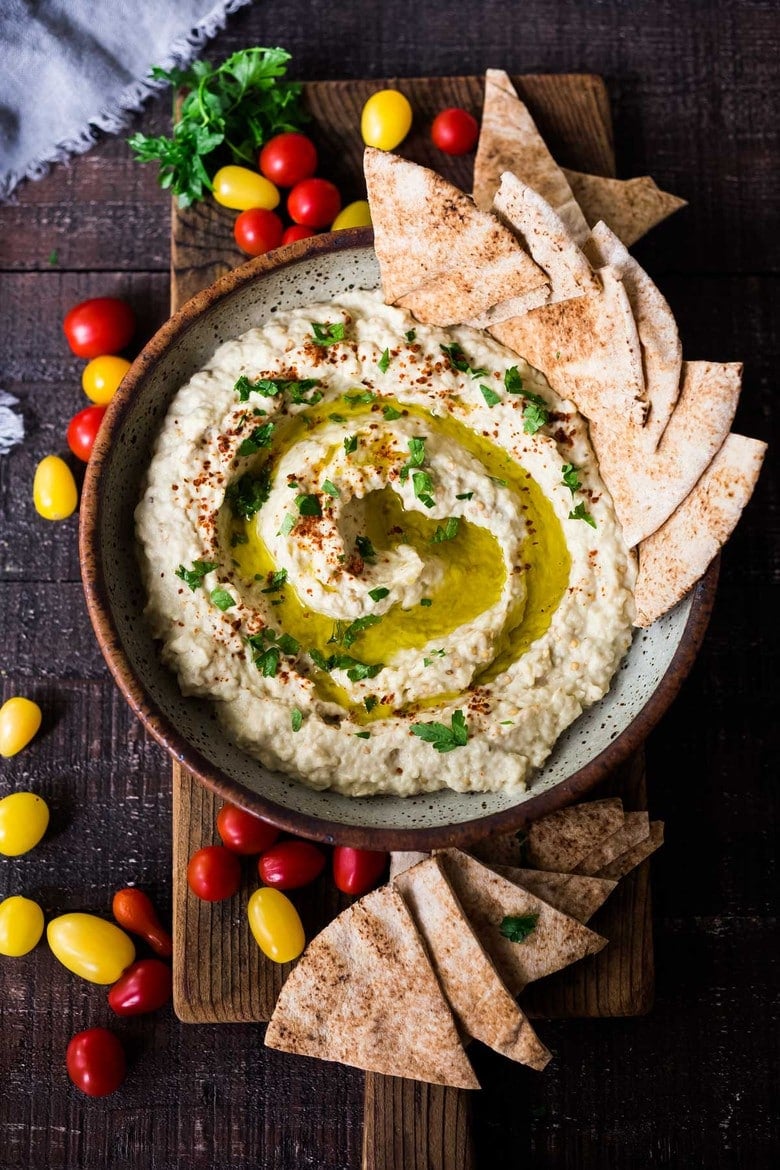 Recipe FAQS
Is Baba Ganoush Healthy?
Yes, Absolutely! it's vegan, gluten-free and plant-based and also keto-friendly and low in carbs. Very healthy!
What does Baba Ganoush taste like?
Baba ganoush tastes earthy, subtly smoky, slightly tangy, and nutty from the tahini -the flavors all work together to accentuate (not overpower) the eggplant. And if you get the balance just right, it is pure magic!

What is Baba Ganoush Texture
Baba Ganoush is silky and creamy! Eggplant, when cooked to perfection, becomes creamy and silky and luxurious. It melts in your mouth. If you like your baba ganoush a little extra creamy, add a couple of tablespoons of plain yogurt or drizzle with olive oil.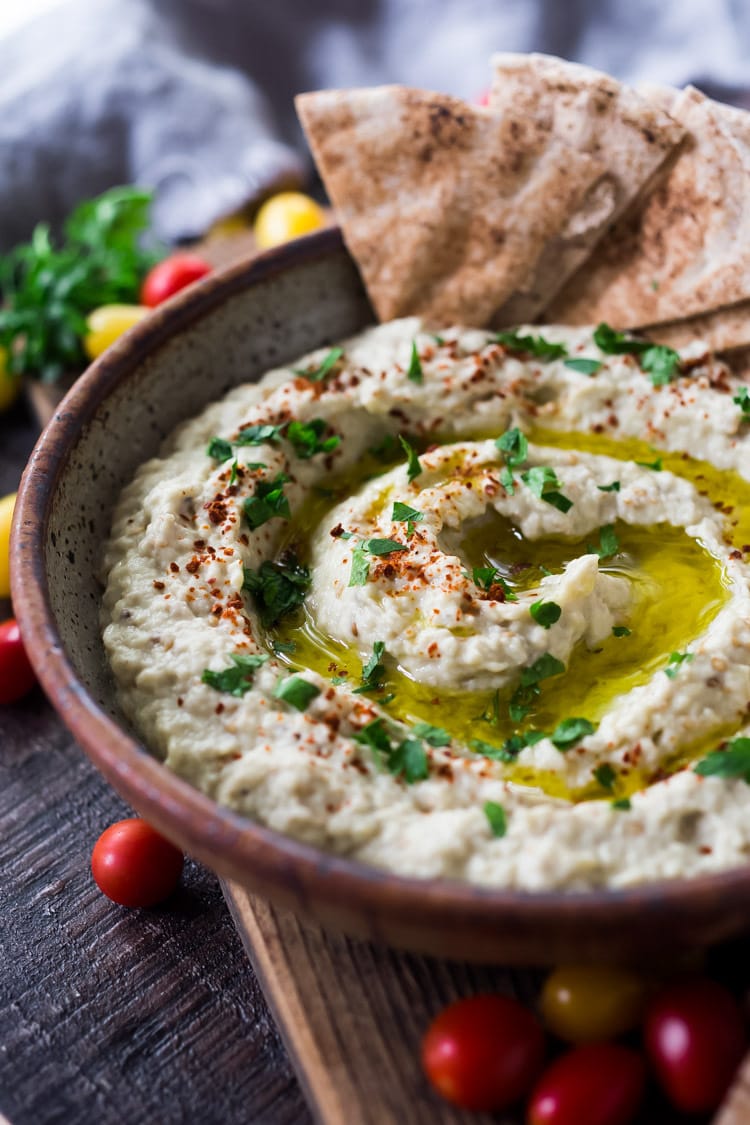 How to serve it!
What to serve with Baba Ganoush?
I hope you love this Authentic Baba Ganoush recipe as much as we do! Please let us know what you think in the comments and ratings below!
xoxo
More Middle Eastern Recipes
Print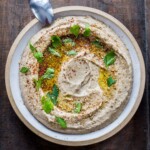 Baba Ganoush
Author:

Sylvia Fountaine

Prep Time:

20

Cook Time:

50

Total Time:

1 hour 10 minutes

Yield:

2 cups

1

x

Category:

Appetizer

Method:

Roasted, Grilled

Cuisine:

Lebanese

Diet:

Vegan
---
Description
Truly the BEST recipe for Baba Ganoush- made with eggplant, tahini paste, garlic, salt and lemon. A delicious Middle Eastern Eggplant Dip that is full of complexity and depth. Use the oven or grill for this recipe. Gluten-free, low-carb, vegan.
---
2

large eggplants (

1.5

to

1.75

lbs each)

2

garlic cloves, finely minced (use a garlic press)

4 tablespoons

tahini paste

1 tablespoon

lemon juice

1 teaspoon

salt
optional: 2 tablespoons plain full-fat yogurt
Optional Garnishes: olive oil, homemade zaatar spice, dukkah, fresh herbs like parsley, olives, toasted pita bread, or fresh veggies ( cucumber, tomato, carrot sticks, bell pepper, etc).
---
Instructions
Roasted:
Preheat oven to 450F ( 425F if electric oven)

Slice eggplants in half, lengthwise

and roast with flesh side down, on a parchment-lined sheet pan on the middle rack, until very tender, about 45-60 minutes. Test by piercing the skin with a fork, and continue roasting until flesh is very tender and collapsing. Let cool.
Scoop out flesh, drain in a strainer for 10 minutes. You should have about 2 cups, if less, see notes.
Mash with a fork and add the remaining ingredients. To achieve the smoky flavor, add a 1/4- ½ teaspoon of liquid smoke.
Adjust salt and lemon to taste. Stir in optional yogurt.
To serve:
Place in a shallow serving bowl, make a circular "well" with the back of a spoon and drizzle with olive oil, and your choice of aleppo chili flakes, zaatar spice, dukkah or sumac.
Sprinkle with fresh herbs.
Serve with warm pita bread and/or veggies.
Grilled:
Preheat grill to medium-high or oven to 425 F
Make a foil packet with wood chips for smoking. Wrap ½ cup of wood chips (mesquite, alder, apple) in heavy-duty foil and pierce the top, creating an opening in the foil so smoke can escape. Place this on the grill. See photos.
With a sharp pairing knife cut 1-2 inch deep slits into the eggplant, all over especially around the bigger bottom area. This will allow them to cook more evenly, and help the smoke penetrate the eggplant.
When the foil packet is smoking, place the eggplant directly on the grill, and close the grill. Turn eggplant every 10 minutes or so and let the skin char. Grill until eggplant until it has

collapsed

and feels soft tender on the inside. This will take about 20 minutes.
Place the eggplant along with the smoking foil packet in a large bowl or large pan and cover tightly with foil. Let sit until cool enough to handle about 20 minutes.

Save ALL the smoky liquid that is under the eggplant in the bowl.

Peel the charred skin off the eggplant and using a knife, chop up the tender flesh. Place the eggplant in a strainer and strain the eggplant flesh for 10 minutes. Discard this liquid. (I know this may seem counter-intuitive – but you will be adding some of the "smoky" liquid from the first bowl back in.)
Place the drained eggplant in a mixing bowl. You should have 2 cups (or 2 1/4 cups) of eggplant flesh. If you have less, see notes. If very seedy, feel free to remove some seeds, I usually just leave them in.
Add the tahini paste, garlic, lemon, salt and 1-2 tablespoons (or more to taste) of the smoky liquid reserved from the bowl.
Mix, taste, adjust salt, lemon.For a delicious richness, add 2-3 tablespoons plain yogurt (optional). Stir with a fork until relatively smooth. Refrigerate until serving.
---
Notes
If you end up with less than 2 cups of eggplant flesh after it is drained, please modify the additional ingredients accordingly. For example, you may not need as much tahini, salt, lemon, etc. then proceed to number 9 in the instructions above.
Nutrition
Serving Size:

¼ cup

Calories:

120

Sugar:

5.5 g

Sodium:

402.3 mg

Fat:

8 g

Saturated Fat:

1.1 g

Carbohydrates:

11.6 g

Fiber:

5.5 g

Protein:

3.3 g

Cholesterol:

0 mg
Keywords: Baba ganoush, Baba ganoush recipe, best Baba ganoush, authentic Baba ganoush, baba recipe, how to make baba ganoush, baba ghanooj, baba – ganoush recipe, babaganoush, recipes with baba ganoush, eggplant dip, eggplant dip recipe