How to make an Apple Cider Vinegar Drink (called a Switchel) plus the Top 10 Benefits of drinking Apple Cider Vinegar on a daily basis. A healthy, energizing, probiotic drink made with apple cider vinegar (with the "mother" in it) that lowers blood sugar, boosts healthy bacteria in the gut, lowers cholesterol, lowers insulin, helps shed weight, boosts immunity, aids with digestion and regularity, and increases energy and vitality!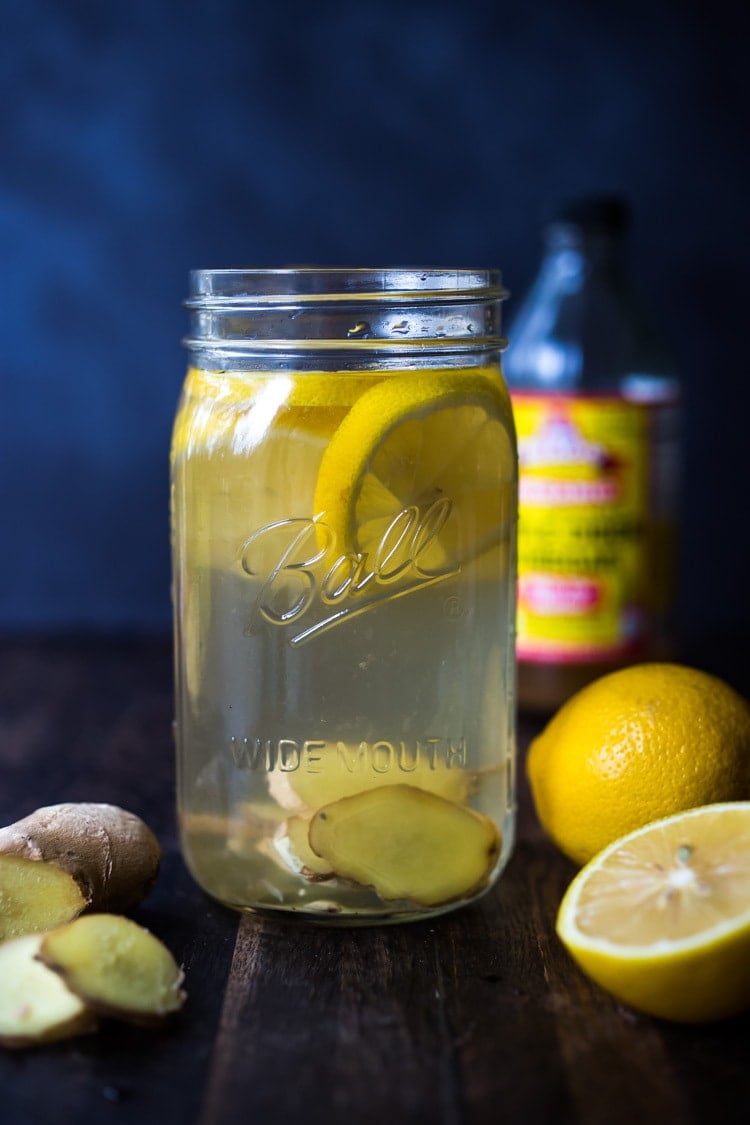 If you've been here a while, you'll already know I'm a huge fan of this Apple Cider Vinegar Drink. When I first started the blog, way back in 2011, I was drinking it regularly every morning and did not get sick for five years. Five years! Not a sniffle.
It turns out, there is a name for it… it is called Switchel!
What is a Switchel?
A friend informed me, that my Apple Cider Vinegar Drink goes way way back, originating in New England where it became a popular drink in the late 17th century – where it was used to revive tired and thirsty farmers at harvest time, also called "Haymaker's Punch" or a Switchel. It was basically sweetened apple cider vinegar water.
TOP 10 Benefits of Apple Cider Vinegar:
It turns out there is much research on all the health benefits of Apple Cider vinegar. Here are the top ten.
Lowers cholesterol
May improve heart health
Improves digestion
Increases energy
Antibacterial Properties
Here are a couple more articles that talk about the benefits of apple cider vinegar that I found interesting: Longevity Live and Medical News Today.
I know that on days when I drink this Switchel, I feel so energized! Not only does it help keep me "regular" (drinking it first thing in the morning), when I drink it before a meal, I feel less hungry.
I've read it helps keep our gut microbiome in balance, helping regulate the balance between bacteria and yeasts. I've also heard it lower blood sugar after eating a high carb meal, and helps regulate insulin and lower cholesterol – but please do your own research and see. As I told you earlier, I know first hand it boosts immunity, making me more resistant to colds and flu.
But please don't take my word for it…try it for yourself… drink it for a few weeks, and see how it feels.
Isn't that the true test? Experiencing something for yourself personally?
What or who is the "mother"?
If you are wondering what "the Mother" actually is in the Apple Cider Vinegar – it is is the colony of healthy bacteria, similar to a Kombucha SCOBY, that help make the vinegar through a secondary fermentation process.
Apple Cider Vinegar "with the mother in it" is vinegar that is not filtered or heated (pasteurized), so the healthy living bacteria are preserved and kept alive to do their healing!
But here's why I'm personally such a huge fan of the Switchel!
I travel a lot and eat a lot of street food. During my last day in India last year, I was sitting in a beautiful cafe in Mumbai on a hot day with a friend and totally spaced it and gulped down a huge glass of tap water. ( Which is known for causing "Delhi Belly"). For most of the trip I had been eating every form of street food imaginable… and never got sick. I flew out the next day and miraculously was OK for my entire 36 hours of travel.
When I got home, however, I found something had been brewing in my belly.
It was pretty bad friends. But I wanted to see if I could heal myself, instead of taking the strong antibiotics that my doctor prescribed for this. And guess what? It totally worked!
It took a while because I was inconsistent in the beginning, but once I figured out that on the days I drank this, my stomach was better, and on the days I didn't, it got bad again, I made a point of drinking it straight for one week, 3 times a day.
Eventually, the good bacteria from the apple cider vinegar defeated the bad bacteria in my gut that was making me sick- at least that's how I pictured it in my mind. 😉 Now I'm not a doctor, and I have no idea what was actually happening in there- all I know is, I got well without taking the antibiotics that kill all the bacteria in your tummy -even the good ones.
And again, recently, just a few weeks ago on a return trip to India, I got a bad stomach bug while there, but this time had bought some Apple Cider Vinegar with me. I drank it with filtered water and the bug was gone in 8 hours, compared to the normal 3-4 days.
It felt pretty miraculous. So now I won't travel without it. 🙂
Helps me stop snacking:
One thing that I've been trying to do lately is not snack between meals. This switchel has been a godsend. I snack out of boredom, not hunger… and you've probably heard me say, my mouth gets bored! So I've been reaching for this drink lately instead of the snacky stuff. It makes me feel less hungry.
Helps my immunity:
Like I mentioned earlier, when I drink this regularly I don't ever seem to get colds or flu. Perhaps it is the placebo effect. Who knows, but it works.
What to mix with Apple Cider Vinegar:
Water or sparkling water
Sweetener: Maple syrup, honey or stevia
Slice of lemon, orange or lime
Ginger- optional but delicious!
Pinch of Himalayan sea salt (optional)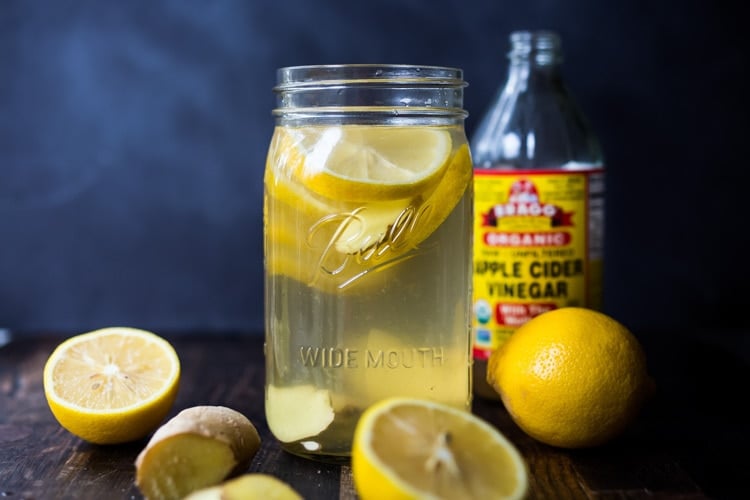 I'm curious to hear what you think about this Apple Cider Vinegar Drink…. please let me know in the comments below! It's actually the most helpful if you actually try it first and experience the effects personally, before judging. 🙂
Have a fun and happy weekend!!!
Have a Switchel!
xoxo
PS: If you like this… you may like this Celery Juice Post and this Ayurvedic Detox Tea!
Print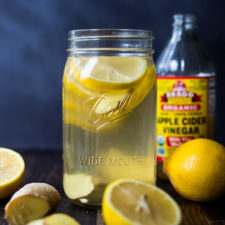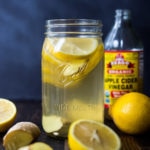 Apple Cider Vinegar Drink (Switchel Recipe)
Prep Time:

10

Cook Time:

5

Total Time:

15 minutes

Yield:

4 cups

Category:

drink

Method:

stove top

Cuisine:

american

Diet:

Vegan
---
Description
How to make an Apple Cider Vinegar Drink (called a Switchel) plus the Top 10 Benefits of drinking Apple Cider Vinegar on a daily basis.
---
4

slices ginger ( optional- see notes)

3 ¾

 cups water, divided

2 tablespoons

apple cider vinegar ( like Braggs – "with the mother in it") more to taste
juice of

½

–

1

lemon (or sub limes or other citrus! Blood oranges are pretty too!)

1 tablespoon

honey ( preferably raw) or maple syrup  or stevia to taste -optional, see notes
---
Instructions
Place ginger in one cup of water in a small pot and bring to a boil. Let cool.
Pour the ginger water, remaining water, apple cider vinegar, juice from half a lemon, and your choice of sweetener into to a quart mason jar. Stir and adjust lemon and sweetness to your taste.
Store in a pitcher or mason jar, either in the fridge or at room temp (if drinking throughout the day).
Enjoy first thing in the morning to aid the liver in cleansing, or in the afternoon for an energizing pick-me-up.
---
Notes
This will keep for  1 week in the fridge.
It's important you let the warm water cool- you do not want to kill the healthy bacteria in the vinegar or the health benefits of the raw honey.
If in a hurry, simply leave out the ginger, and make the drink in a glass, with lemon, vinegar and optional sweetener to taste. You can also use sparkling water and serve over ice.
Sweetener is optional: Over time as you become accustomed to the vinegar taste, you may naturally want to lower the sweetener or omit completely.  ***Most mornings I drink filtered water with just a splash of the apple cider vinegar. No sweetener, no lemon, no ginger.  Simple and easy. But I know this may not be pleasant for most. This recipe was intended to get you accustomed to the taste. Feel free to adjust from here.
And Lately, I've been adding a pinch of pink Himalayan Salt to add electrolytes. 
Keywords: apple cider vinegar drink, benefits of apple cider vinegar, switchel,switchel recipe, benefits of apple cider vinegar, switchel drink recipe, how to make a switchel, what is a switchel, probiotic drink, apple cider vinegar drink, apple cider vinegar drink recipe , switzel recipe, haymakers punch, switchel history and origin,