Baked Squash Blossoms with ground lamb, basmati rice and fragrant Middle Eastern spices – a simple delicious appetizer, or main course inspired by the season! Serve with Creamy Tzatziki Sauce!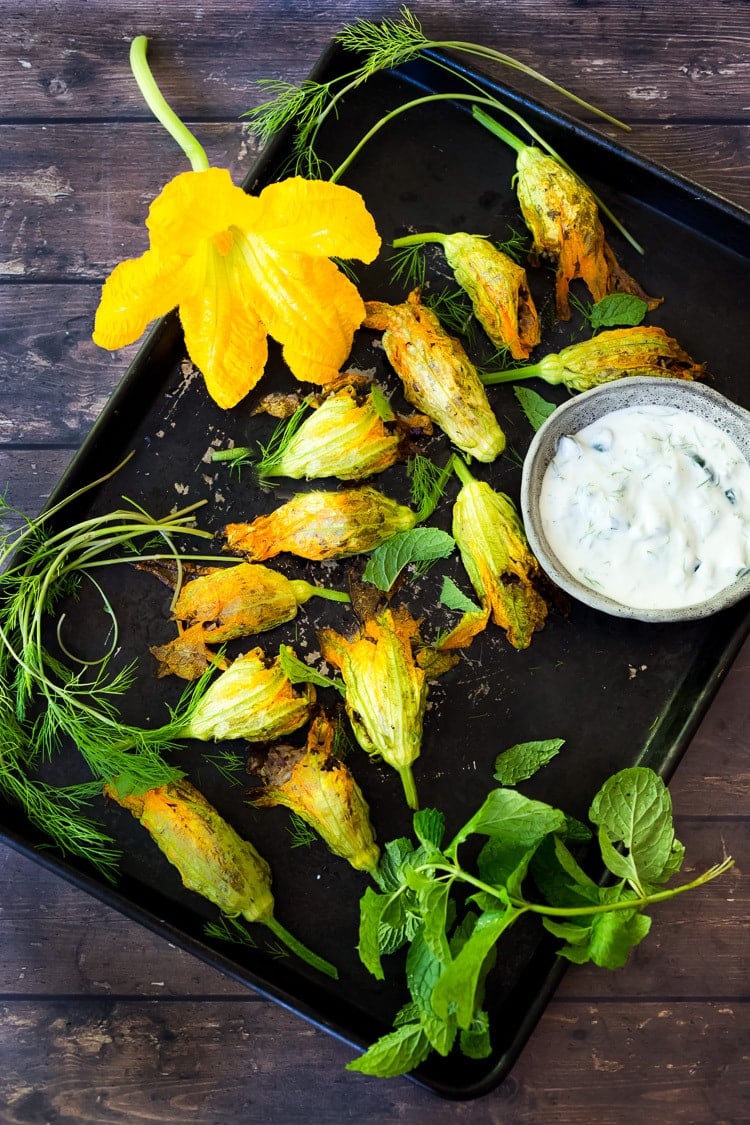 These easy, baked squash blossoms are a nod to my Middle Eastern roots. Similar to Dolmas (stuffed grape leaves) the large blossoms are filled with a savory mixture of ground lamb, basmati rice, allspice and cinnamon before going into the oven to bake.
The aroma that comes out of the oven is truly heavenly – transporting me back to my growing up kitchen.
If you can't get your hands on fresh squash blossoms, feel free to use this delicious lamb filling recipe to stuff  zucchini or summer squash. Or use it in Dolmas with fresh or store-bought grape leaves.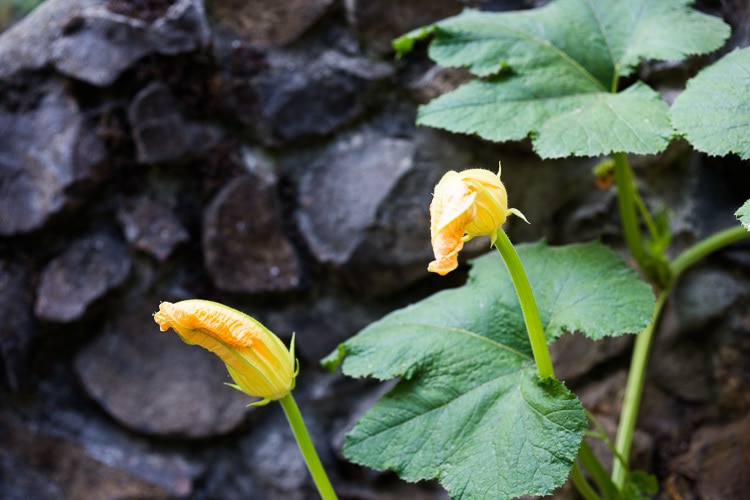 My husband and joke about our garden a lot.  It's not prolific in any way, and what does grow, gets gobbled up by a family of deer that live behind our house.  We've discovered deer do not really like squash blossoms, so this is what is left of our garden and how this recipe came to be along with a funny childhood memory.
Growing up, my Finnish mom used to make stuffed grape leaves for my Egyptian dad on special occasions or when we had company. We all loved them. So much so, that we planted a grapevine to grow over our arbor, solely for the leaves.
One morning, when the grapevine was still young, my mom went outside to collect the leaves. She came back in the house, upset and crying. All the leaves were gone! But they were just there, she was sure, the day before. She thought, for sure, my dad or I was behind this, playing a joke on her, and took them when she wasn't looking. She just would not believe us, no matter how we hard we tried to convince her.
The very next morning while in the kitchen, we saw a family of deer walk right past the kitchen window. We lived in LA, but had recently moved into a house on a hillside, with a big wild area that stretched high up behind us. The deer walked right up to the grapevine and started nibbling. Until then, we hadn't realized how wild the area was! My dad and I were so relieved – the mystery finally solved! Of course, later we laughed and teased her about it endlessly.
So long story short, every time I think of dolmas, or stuffed grape leaves, I think of my mom, and the story of the missing grape leaves.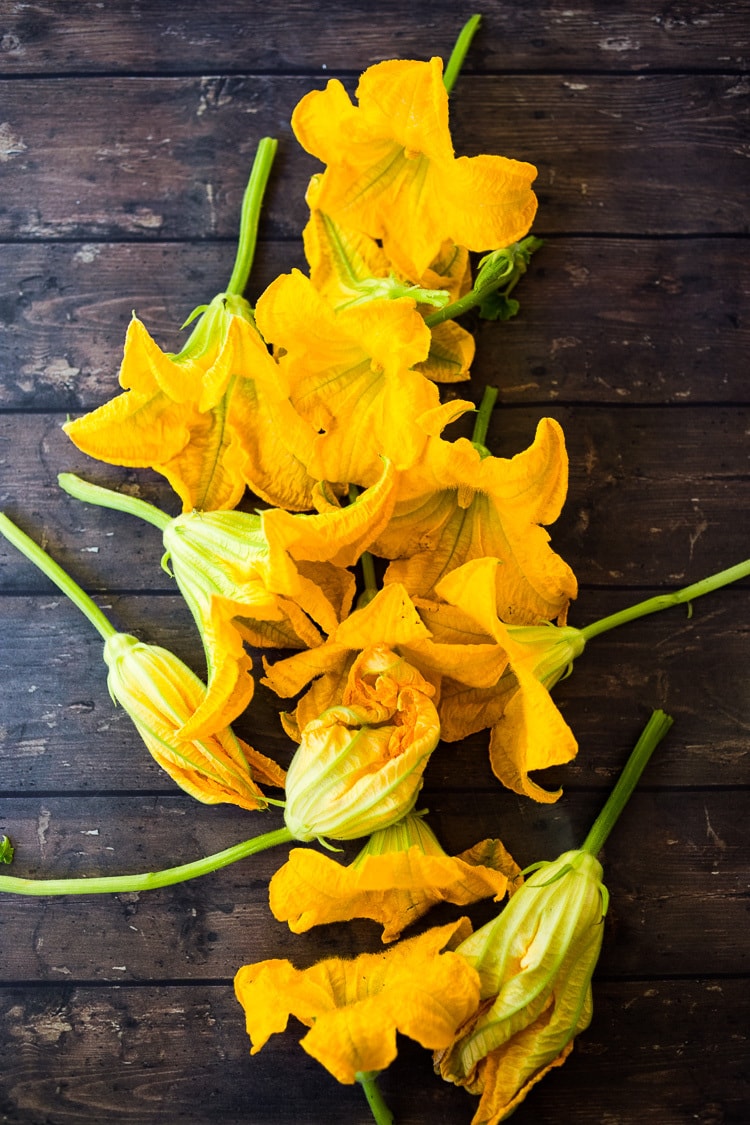 Wash the squash blossoms well, soaking in a big bowl of water while you make the fragrant filling. Honey bees and other critters like sometimes get trapped in the closed zucchini blossoms- so check each one carefully. Today I found two!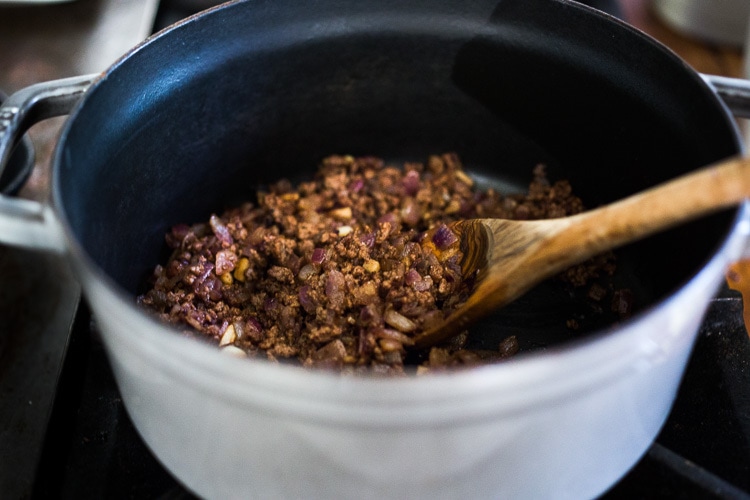 Make the simple filling with the ground lamb, basmati rice and the fragrant spices.  Using local American lamb,  means it is fresher, having traveled far fewer miles to get here – plus if feels good to support local producers and know whom it is coming from.  Lamb is produced in every state in the country – so fresh, local lamb is available year-round!
Spoon a two to three tablespoons of the flavorful lamb filling into the blossoms, then spray or brush with olive oil and bake for 20 minutes.
Like I mentioned above, if you don't have access to zucchini blossoms, stuff this into zucchini. Simply cut zucchini  in half lengthwise, scoop out the seeds and spoon the filling into the zucchini. Bake until the zucchini is tender, about 40 minutes at 375 F until zucchini is tender.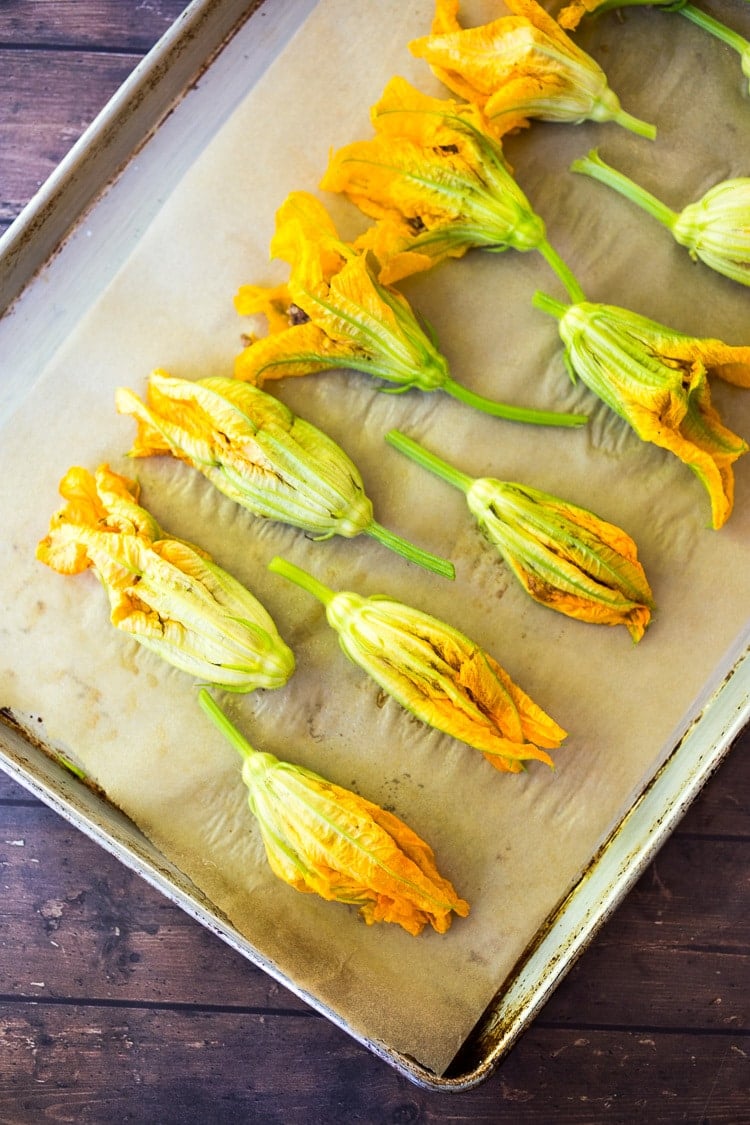 While they are baking make the Tzatziki Sauce.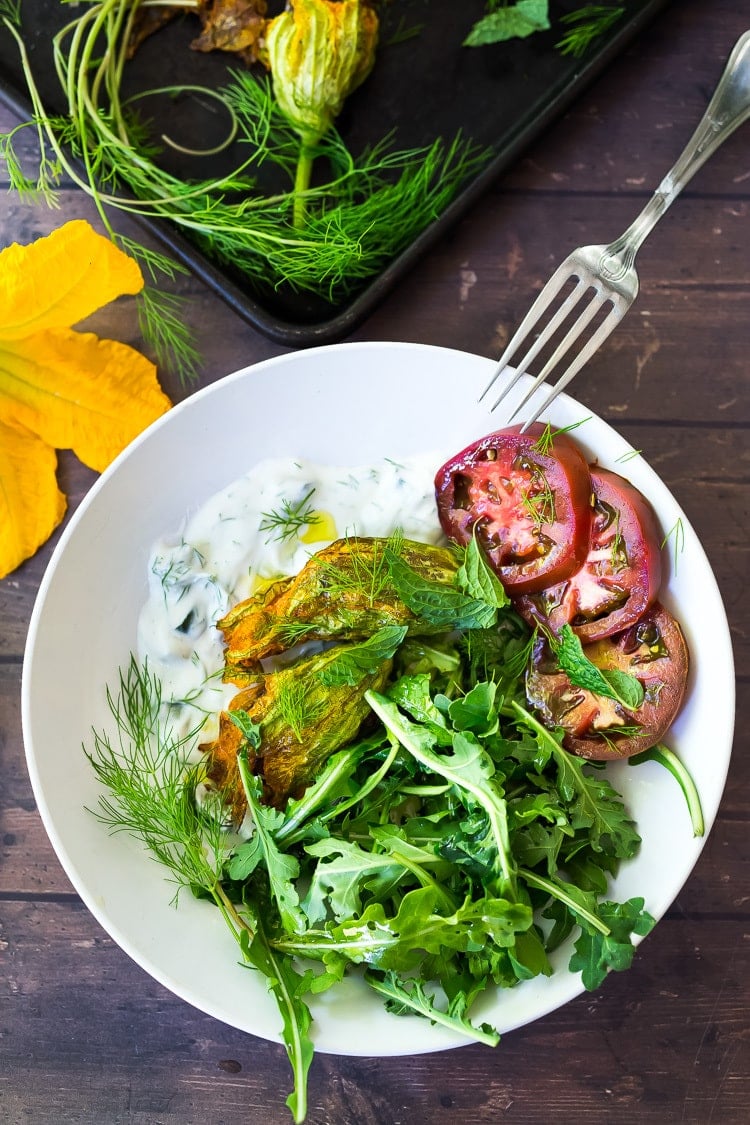 For this recipe, I've partnered with the American Lamb and opted for local, sustainably-raised, lamb.  I especially love lamb in Mediterranean and Middle Eastern recipes, because it seems to pair so beautifully with the spices and herbs surrounding these regions. And lamb's rich flavor makes it ideal for this recipe.
For those of you who are intimated or unfamiliar with cooking lamb,  starting off with ground lamb is an easy, approachable way to get your feet wet.
Serve these Baked Squash Blossoms up with Tzatziki Sauce as a tasty appetizer, or as a main course alongside a healthy side salad.
Print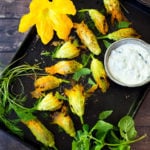 Baked Squash Blossoms
Author:

Sylvia Fountaine

Prep Time:

20

Cook Time:

35

Total Time:

55 minutes

Yield:

4

1

x

Category:

main, appetizer, lamb

Method:

baked

Cuisine:

middle eastern
---
Description
Baked Squash Blossoms (Dolmas Style!) with ground lamb, basmati rice and fragrant Middle Eastern spices- a simple delicious main course or appetizer, inspired by the season! Serve with Tzatziki Sauce!
---
2 teaspoons

olive oil

1

onion, diced

4

garlic cloves, rough chopped

1/2

lb

ground lamb

1 teaspoon

allspice

1/2 teaspoon

cinnamon

3/4 teaspoon

salt

2

cups

cooked brown basmati rice (or other cooked grain- bulgar, freekeh, quinoa)

1/4

cup

chopped herbs (dill, mint, parsley- a combo is nice) or sub 1 teaspoon each dried dill and mint.

1/4

cup

toasted pinenuts ( optional)

12

zucchini squash blossoms, soaked in cold water, patted dry and checked for bees/bugs.
Serve with creamy Tzatziki Sauce, greens, sweet summer tomatoes and fresh herbs.
---
Instructions
Preheat oven to 400F
Set rice or grain to cook on the stove.
Heat oil in skillet or dutch oven, over medium heat. Add onion and garlic and sauce until fragrant about 3-4 minutes. Add lamb, breaking it apart with a spatula. Season with salt and spices and continue salting and mixing until cooked through. Add the rice and fresh herbs and optional pine nuts and let cool for 10-15 minutes.
Place a sheet of payment on a baking sheet. Spray the parchment with olive oil or cooking spray. Spoon 2-3 tablespoons of the lamb filling into the blossoms and place on the parchment. Pinch the end of the blossoms together ( it is ok, if they don't completly close) as best you can.  Spray them with a light dusting of olive oil and bake for 15-20 minutes, or until golden.
Make the tzatziki sauce.
Serve as an appetizer on platter (they are also good at room temp) or as an entree alongside a healthy salad.
---
Notes
If using dry herbs, add at the time of the spices.
You can also stuff this flavorful lamb filling  into zucchini. Simply cut 4 medium zucchinis in half lengthwise, scoop out the seeds and spoon the filling into the zucchini. Bake until the zucchini is tender, about 40 minutes at 375 F until zucchini is tender.
Nutrition
Serving Size:

-3 Stuffed Blossoms with 1/3 cup Tzatzki Sauce ( served as an entree)

Calories:

478

Sugar:

19 g

Sodium:

508.9 mg

Fat:

20.9 g

Saturated Fat:

6.5 g

Carbohydrates:

55.3 g

Fiber:

2.9 g

Protein:

22.8 g

Cholesterol:

50.1 mg
Keywords: squash blossoms, squash blossoms recipe, zucchini blossoms, stuffed squash blossoms, baked squash blossoms, squash blossom baked, lamb stuffed squash blossoms, squash blossom recipes, zucchini blossoms