An authentic recipe for Pad Thai made with spring veggies and authentic Thai ingredients, adapted from the Pok Pok Cookbook.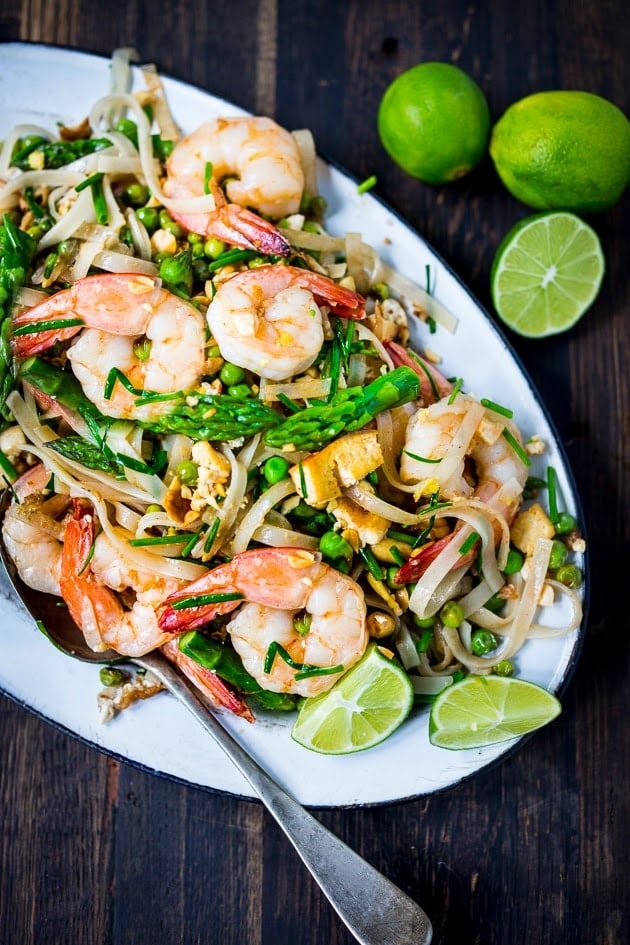 One of our favorite Thai dishes – Pad Thai – gets a vibrant Spring makeover, enlivened with fresh Spring veggies- like fresh peas and asparagus.
For many, making Pad Thai at home has been challenging and disappointing, only to discover that after all the work, "something was missing".
It is my hope that this recipe will help change that. With authentic ingredients and a little practice, the recipe will teach volumes about the extraordinary balance of flavors – sweet, sour, pungent and salty- that makes Thai food so delicious.  I think of this as a teaching recipe, because once it's mastered, it really expands our reach in the kitchen.
So before you begin, make sure to have all the ingredients out and ready. Then the recipe is fast and easy.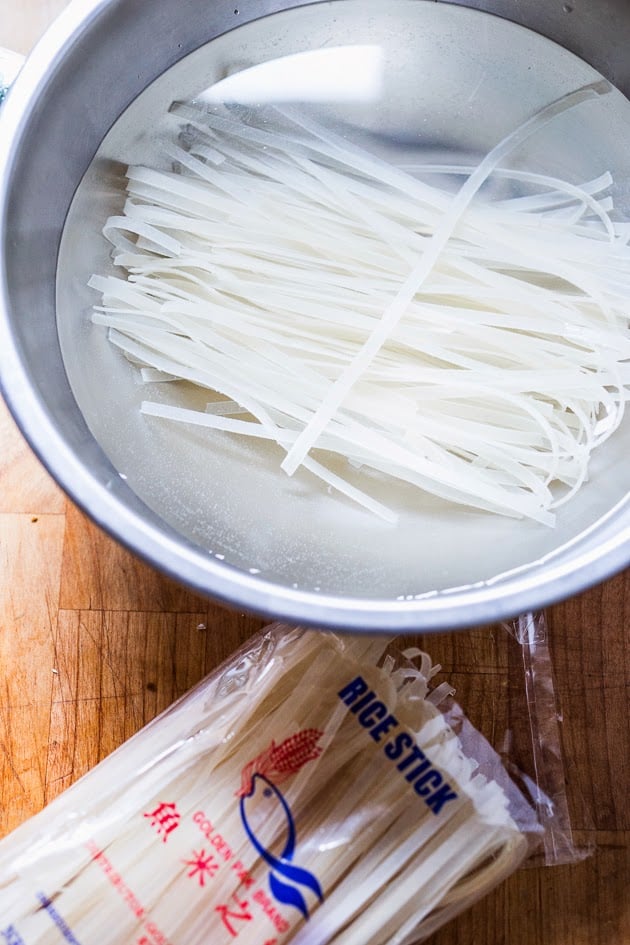 Read the recipe all the way through to get a general idea. It seems like a lot of steps, but it's really not hard or complicated. The prep takes 20 minutes, the cooking takes 10 minutes. It's a fast meal really–but the key is to have everything ready before you start the wok.  If you 
don't
 have a wok, use a large skillet- turning the heat down a bit.
The first step is to soak the rice noodles. Fill a large bowl with lukewarm water, break the noodles in half and 
soak
 the noodles for 20 minutes.  
 They will be bendy but not soft. 
Don't
 worry that they are not soft, they will get soft in the wok. While the noodles are soaking get your other ingredients ready.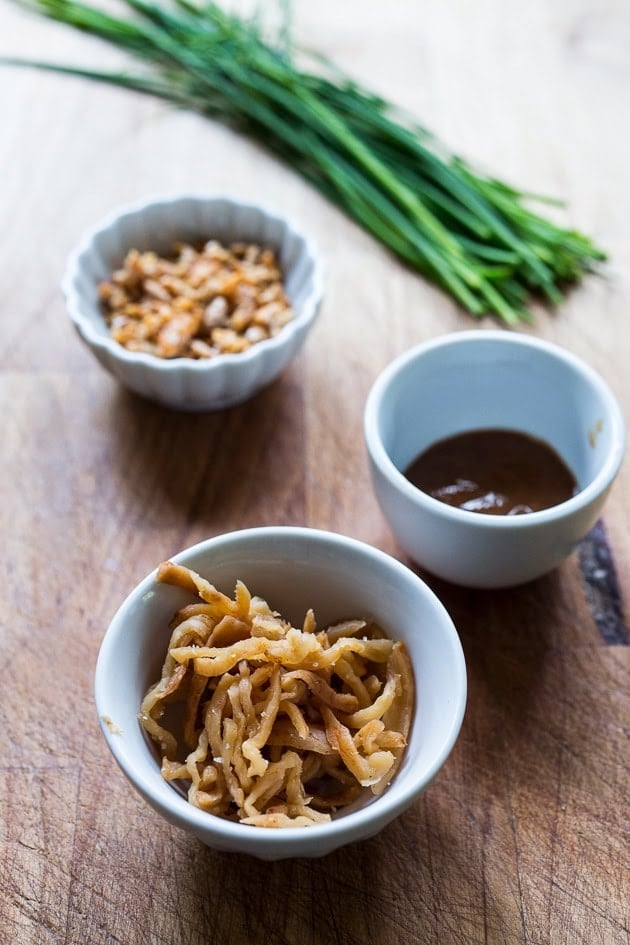 The top bowl contains the dried shrimp. Chop it up a bit and toast it in a skillet, on medium heat until crispy, about 5 minutes. Set aside. The bottom bowl contains the salted radish ( fermented radish), which will need to be soaked in lukewarm water for 10 minutes, in order to remove a bit of the saltiness. If you can find garlic chives at the
Asian market
, grab them and use instead of scallions.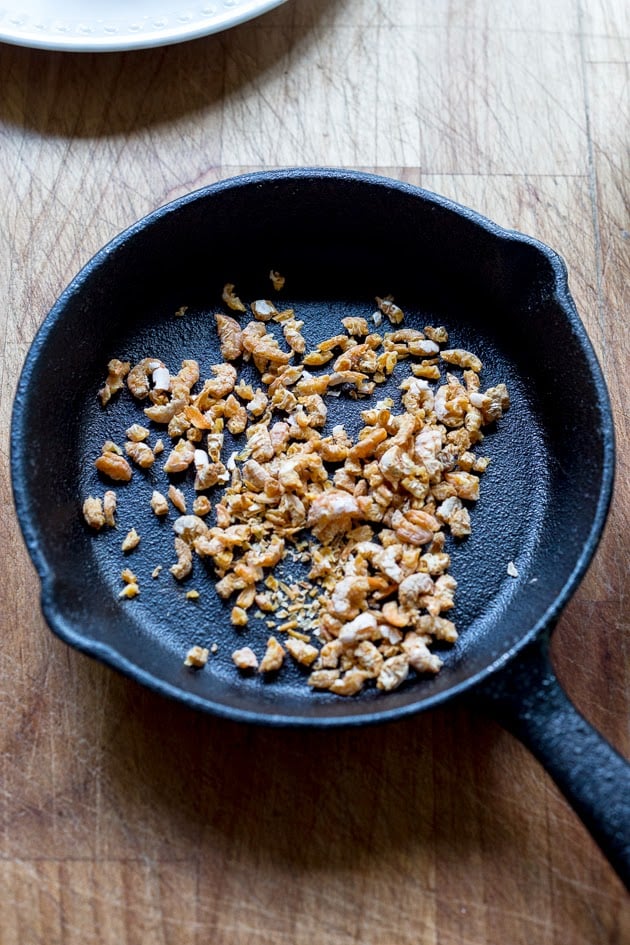 Toast the dried shrimp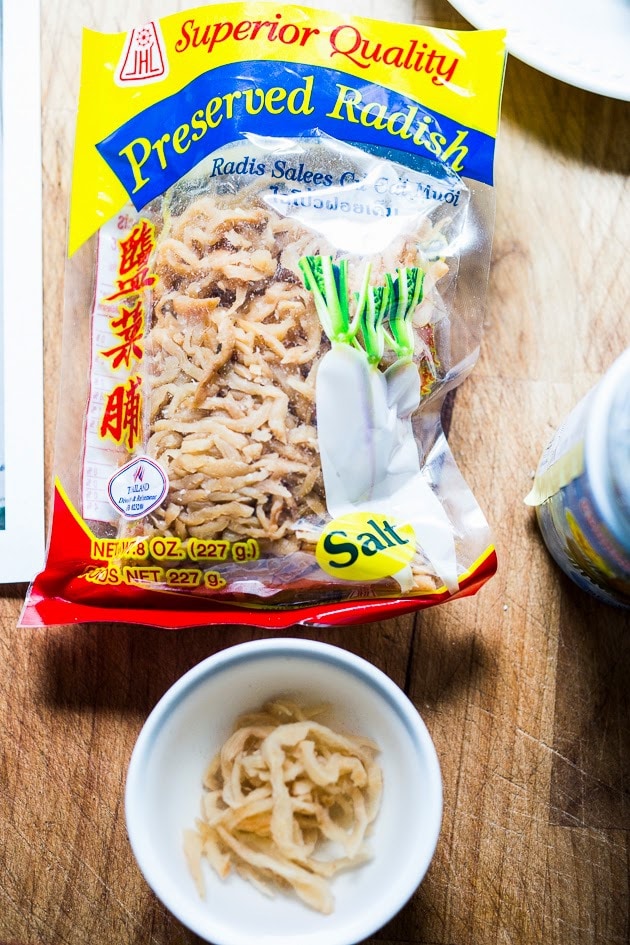 Soak the salted, preserved radish in water.
Tamarind is an essential ingredient in Pad Thai. It's what gives it its unique tang. I use a tamarind "concentrate" -because strait
tamarind paste
, is quite hard and dry and difficult to break up. While at the
Asian market
, a Thai woman, who saw me reaching for the
tamarind paste
, suggested I try the
tamarind concentrate
instead, to make Pad Thai, because it's easier to work with. I took her word for it, and tried both. The concentrate is definitely easier and faster.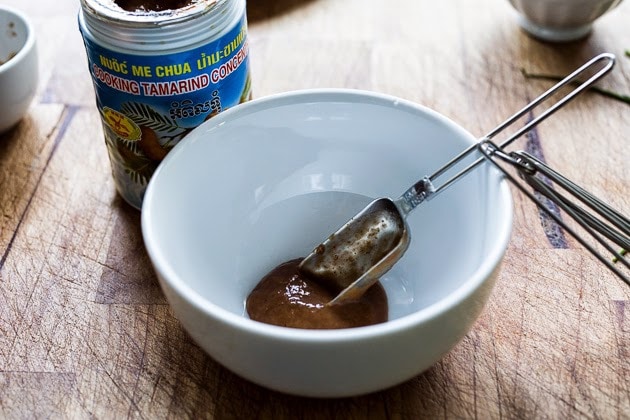 In a medium bowl, mix the tamarind, fish sauce, warm water and brown sugar (or palm sugar) .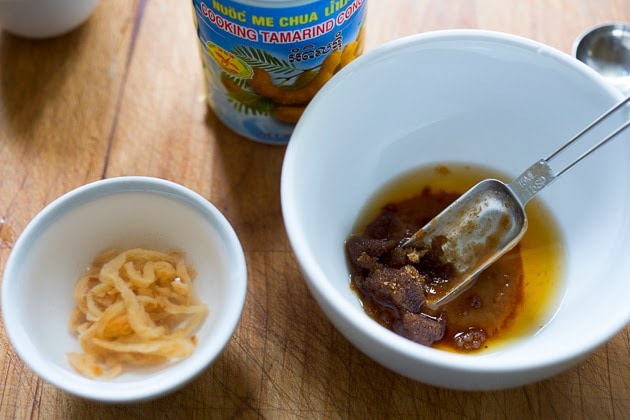 To give this a seasonal quality, I added fresh shucked peas and asparagus. If your asparagus is big like this, you may want give it a quick blanch ahead. If it's pencil thin, it will cook in the wok.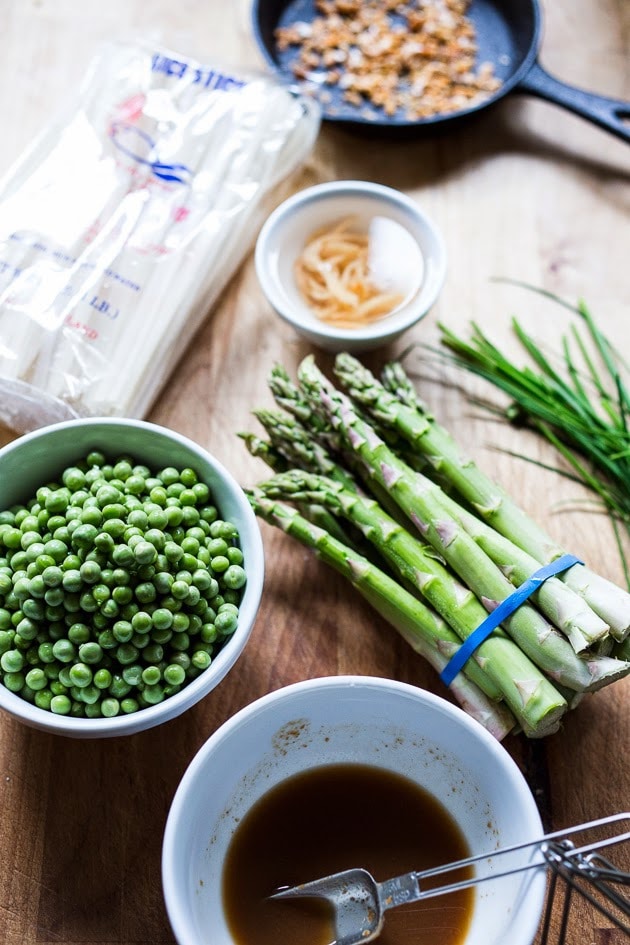 In this version, I added tofu and shrimp. But feel free to use one or the other. Cut extra firm tofu, and pat down hard with paper towels to release some of the moisture, into strips or cubes.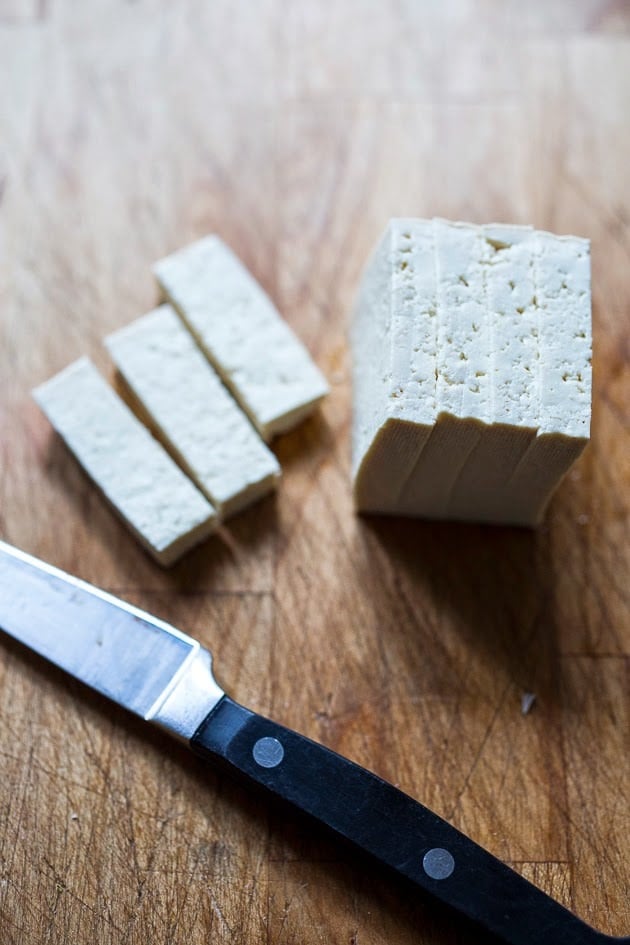 Have your prawns peeled and ready, and all your other ingredients prepped. You can use pre cooked prawns too. Group the egg, tofu, radish and dried shrimp together, next to the stove. Then fire up the wok. Once you start, it will only take a few minutes to cook everything on high heat, with constant stirring, so it's really important to be completely ready, and have things close by. A
metal spatula
is very helpful.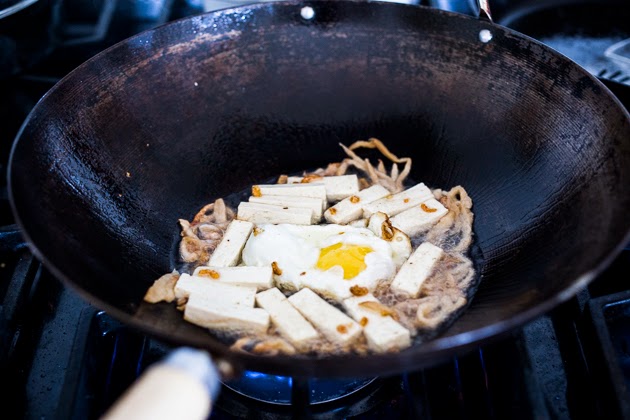 Heat peanut oil (or vegetable oil), on high heat. Swirl it around the edges of the wok, coating it. Add the chopped shallot and garlic and stir until just golden. Crack the egg in the center. It will bubble and spatter. Add the tofu, radish and dried shrimp, around the edges of egg, stirring them constantly with a metal spatula, careful to keep the egg intact, for a minute, until they get golden. When the edges of the egg are golden brown, flip, and break it apart into a few pieces with the metal spatula, and then stir it all together, letting it brown up a bit, for another minute.
Add the noodles and bean sprouts –constantly stirring and flipping for a minute or more- until the noodles begin to soften. Add the prawns, peas, asparagus and tamarind-fish sauce. Stir until the prawns are cooked through, the noodles are soft, and the liquid has evaporated about 5 minutes. Add the scallions ( or garlic chives) and ½ of the peanuts.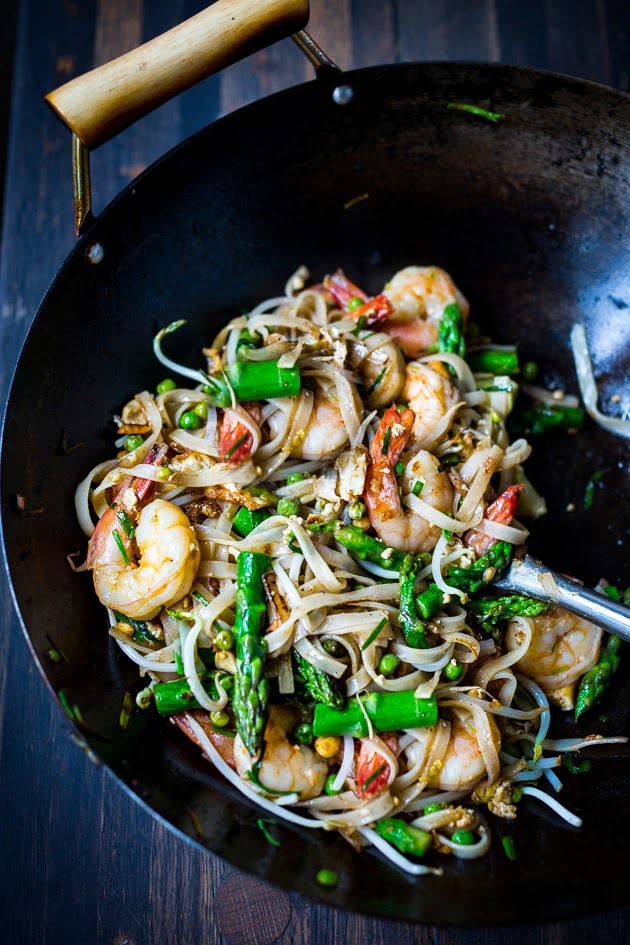 And serve immediately, garnishing with lime, more peanuts, scallions ( or chives) , fresh bean sprouts and chili flakes.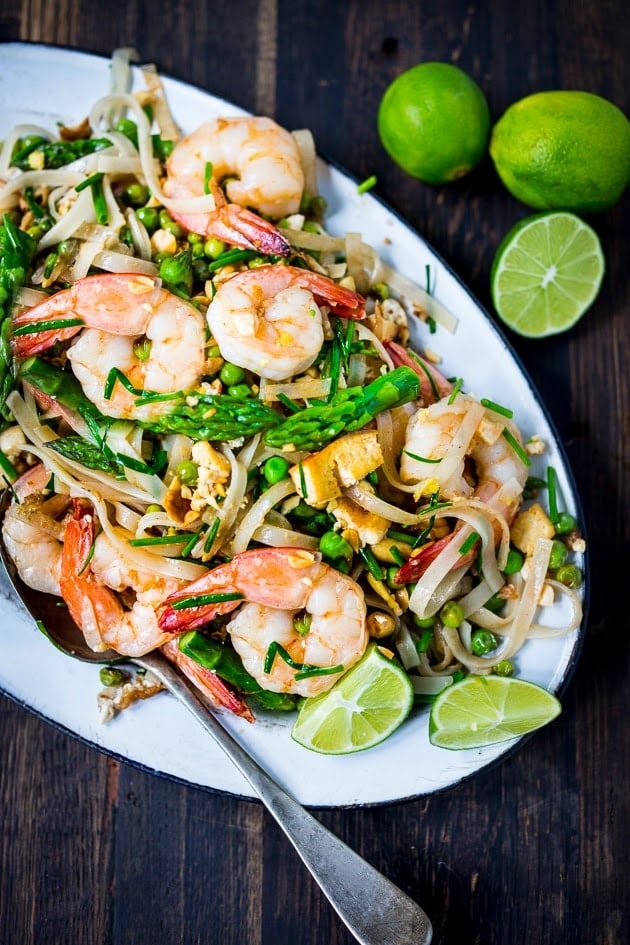 Enjoy!!
God speaks to each of us as he makes us,
then walks with us silently out of the night.
These are the words we dimly hear:
You, sent out beyond your recall,
go to the limits of your longing.
and make big shadows I can move in.
Let everything happen to you: beauty and terror.
Just keep going. No feeling is final.
Don't let yourself lose me.
Nearby is the country they call life.
You will know it by its seriousness.
Rilke, translated by Joanna Macy -Book of Hours
Print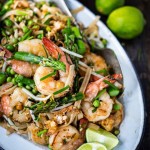 Spring Vegetable Pad Thai Recipe
Prep Time:

20 mins

Cook Time:

10 mins

Total Time:

30 mins

Yield:

2

-3

1

x

Category:

Main, Noodles

Method:

stove top, wok

Cuisine:

Thai,
---
Description
An authentic Pad Thai recipe made with Thai ingredients and Spring Vegetables- (adapted from Pok Pok Cookbook).
---
4

oz

. thin flat rice noodles– soaked in lukewarm water

1

T shredded salted radish ( optional)

1 tablespoon

dried, toasted shrimp, chopped very small ( optional)

1 tablespoon

tamarind paste mixed with 2 tablespoons warm water ( or sub

3

T rice vinegar)

3 tablespoon

palm sugar or brown sugar or white sugar

3 tablespoon

fish sauce

1

large shallot finely chopped

4

–

5

cloves garlic, rough chopped

1

egg

1/2

cup

extra firm tofu (optional)

1/2

cup

scallions or garlic chives

6

–

8

medium shrimp- peeled and de-veined ( raw or cooked- or sub tofu)

1/2

cup

fresh peas ( or snap peas, or snow peas,)

1/2

cup

asparagus ( or green beans, or mushrooms)

1

–

2

cups

fresh bean sprouts
Garnish with

1/4

cup

roasted chopped peanuts,lime wedges, chili flakes
---
Instructions
Soak the rice noodles in a large bowl of lukewarm water for 20 minutes
Soak the salted radish in a small bowl of lukewarm water for 10 minutes, drain.
Toast the dried shrimp in a skillet until crispy, over medium heat, 4 minutes, then chop small.
Mix tamarind water, fish sauce, and sugar in a small bowl, set aside.
Pat dry tofu with paper towels, pressing down to release water, and cut into 1inch long strips, ⅓ inch thick. ( see photo).
Chop scallions and peanuts, cut limes into wedges, set all aside for garnish.
Place tofu, salted shrimp and drained radish, next to stove, and have metal spatula handy.
Drain the noodles, keep in the same bowl, placing the sprouts in the bowl with them. ( After 20 minutes, the noodles will still be somewhat firm but flexible– they will soften up in the wok)
In a wok, heat oil on medium high heat. Swirl it around to coat sides. Add shallot and garlic and stir until just golden, about 1-2 minutes. Add egg, and sprinkle with salt, and let it bubble and sizzle, only flipping after the edges turn crispy, then breaking it up into small bits, let it crisp a bit. Move to the side.
Add the tofu, radish and dried shrimp, around or next to the egg, stirring until the tofu starts to brown- about 2 minutes.
Add the drained noodles and ½ the bean sprouts, and stir constantly, flipping the noodles continuously for 1 minute.They will not be completely soft yet.
Add the shrimp, peas, asparagus and the tamarind mixture into the wok and keep stir frying, until the shrimp are cooked thru, the noodles are softened, and the liquid evaporates some, about 4-5 minutes.( This will smell quite fishy at first as it cooks… but it will mellow out) If the noodles are not quite soft, you can a bit more water a little at a time, until they soften up.
Toss in the scallions and ½ the peanuts.
Serve immediately, garnishing with peanuts,lime wedges, fresh bean sprouts and chili flakes.
---
---
Keywords: authentic pad thai, pad thai recipe, pad thai pok pok, pok pok recipes,