Moroccan Roasted Beets with Pomegranate Seeds, toasted pistachios and a balsamic glaze. A simple, healthy vegan side dish!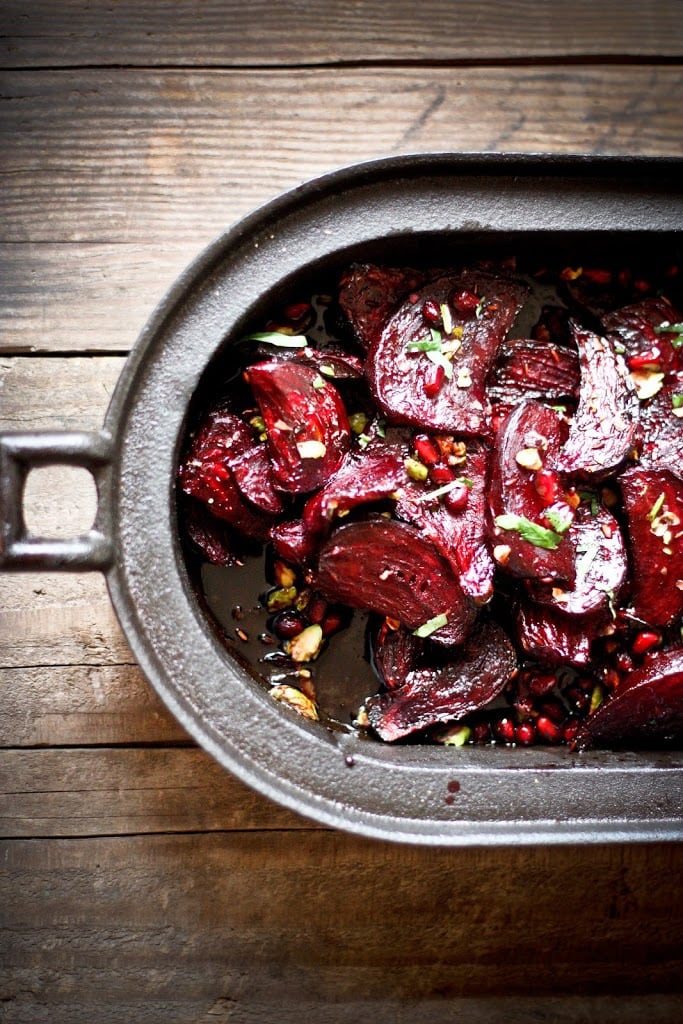 You are a unique being. You have a unique talent and a unique way of expressing it. There is something that you can do better than anyone else in the whole world–and for every unique talent and unique expression of that talent, there are also unique needs. When these needs are matched with the creative expression of your talent, that is the spark that creates abundance. Expressing your talents to fulfillneeds, creates unlimited abundance. ~ Deepak Chopra
Beets get a festive Moroccan twist in this easy, healthy vegan recipe. Moroccan Roasted Beets with pomegranate, toasted pistachios with a balsamic glaze, served warm, makes for a hearty side dish, and save the leftovers and toss with greens for a lovely winter salad during the week.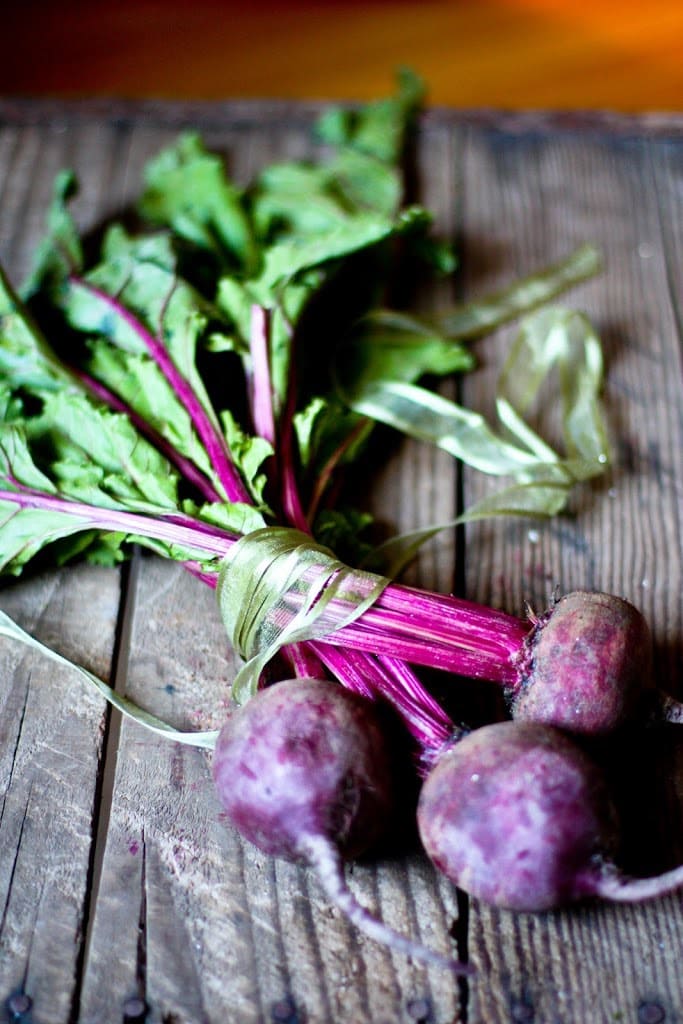 What is so startling about beets are their color.  Perhaps it is because it is so unexpected. Like gemstones, their rough exteriors do a good job of disguising what lies within. I  am reminded of something I once read.  Our purpose in this life, is simply to let what is inside of us, come out.
It can feel so vulnerable though. Scary. Exposing who we really are deep down requires a good amount of courage. Our fear of the criticism and judgement of others too often wins this internal battle. And our fears that we are not "good enough" often stop us in dead our tracks.
But when we hide who we are, we all lose.
There is something about each one of us, something amazing and beautiful, that this world needs.
Be brave.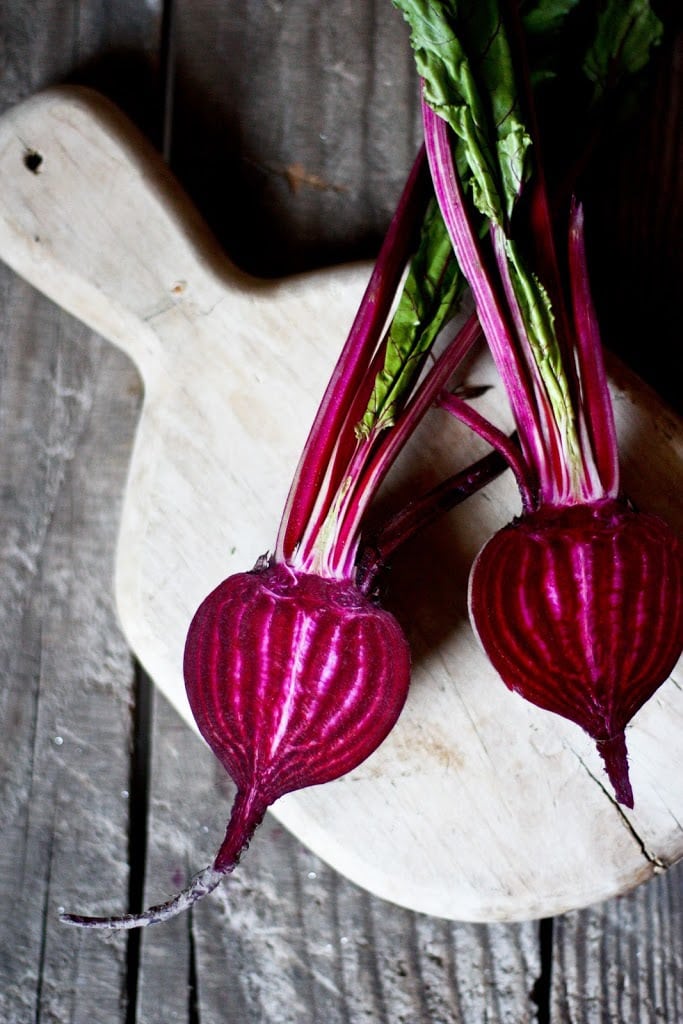 Beets are beautiful, aren't they? Each one is different. Like a finger print, their lines and patterns are so unique. Their colors, ranging from golden yellows, to reds, to deep purples are rich and intense. I am often baffled and filled with such gratefulness when nature provides us not only with nourishment, but with color and symmetry and beauty.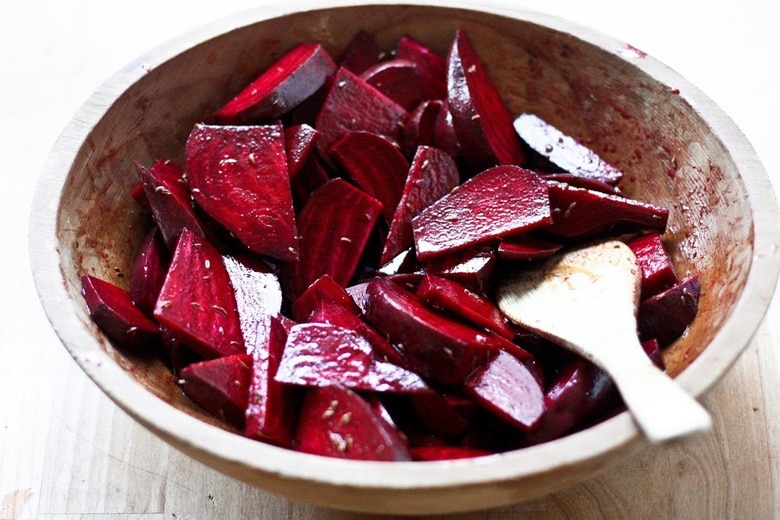 To peel or not to peel? When roasting beets there is much debate over whether or not to peel them, and when. Some people roast beets whole, letting them cool and slipping off their skins. To me this seems to defeat the purpose. All the yummy flavor of the olive oil, balsamic, salt and pepper, gets tossed with the peel.
Out of laziness I suppose, and the hopeful idea that the skins are really nutritious, I leave the skins on. Just make sure to give them a good scrubbing. If skins are not your thing, Ina Garten suggests peeling them first with a vegetable peeler, and then roasting them. This, to me seems to be the best way. But then again, like I said, sometimes I feel a bit lazy.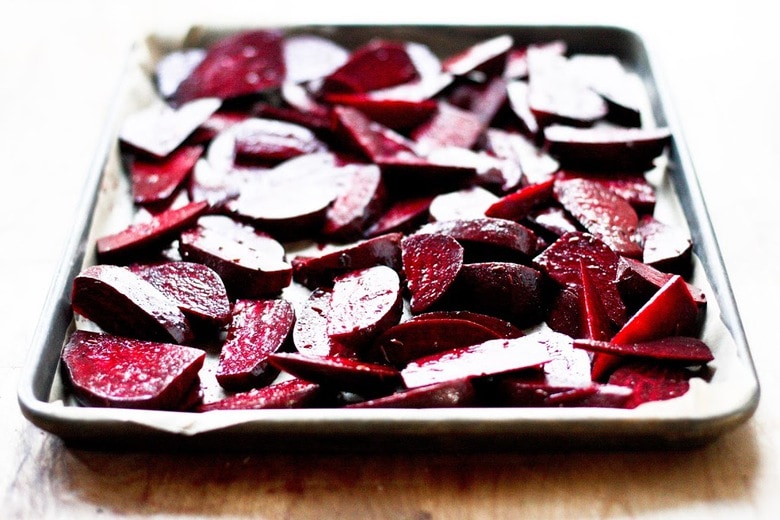 Roasting beets, just like roasting most anything, does something extraordinary. It intensifies flavor. The dry heat of a hot oven concentrates the flavor of what you are roasting, and creates a nice caramelization. Beets naturally have a high sugar content and when roasted, their sweetness becomes even more concentrated.
Then there are the pomegranates. Talk about color and symmetry and beauty. Could anything be more lovely?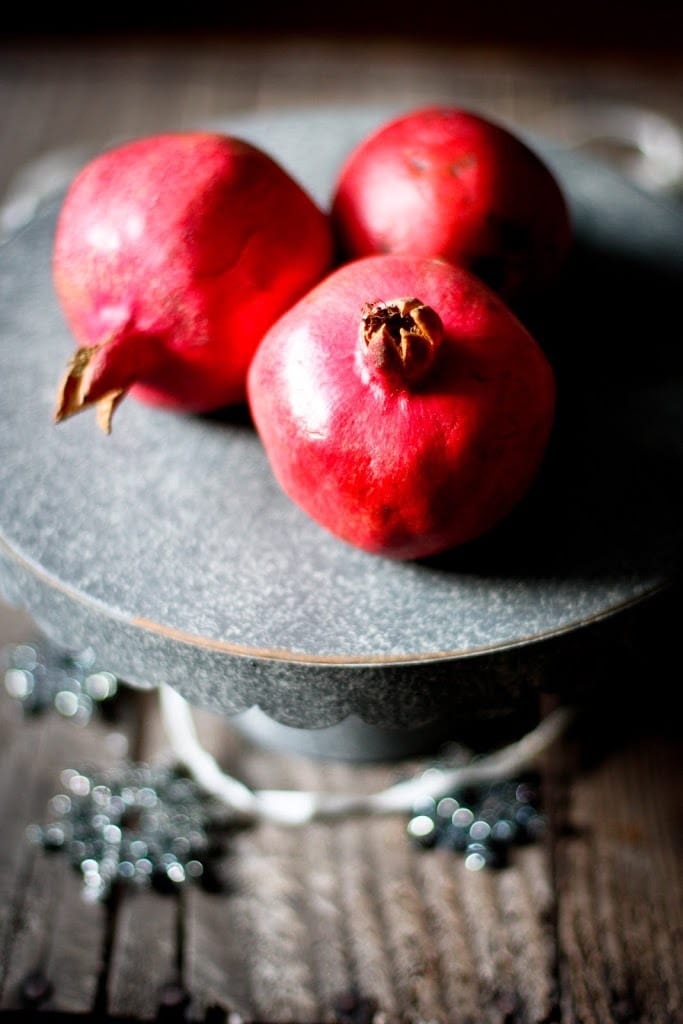 Tip: If you peel a pomegranate in a bowl, under water, you won't splatter yourself with bright red juices. The pith and skin will float up to the top . . . and the seeds will sink to the bottom.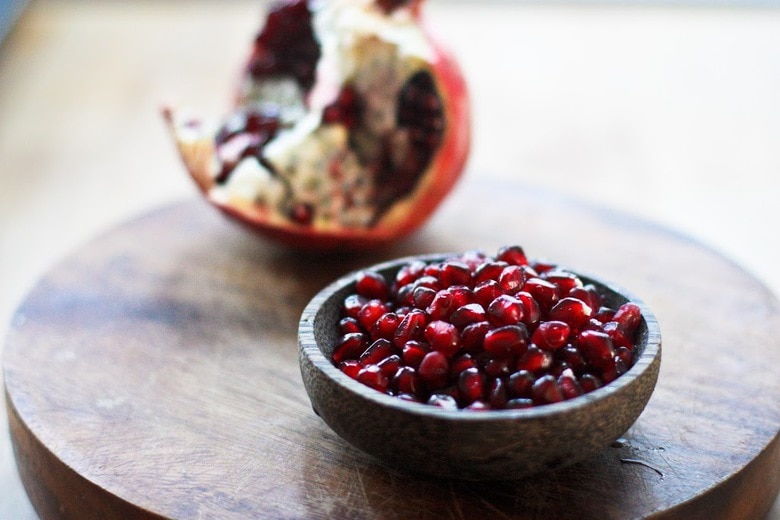 Pomegranates add a surprising brightness to the dish, and really play up the beets' color.
Make a quick balsamic glaze.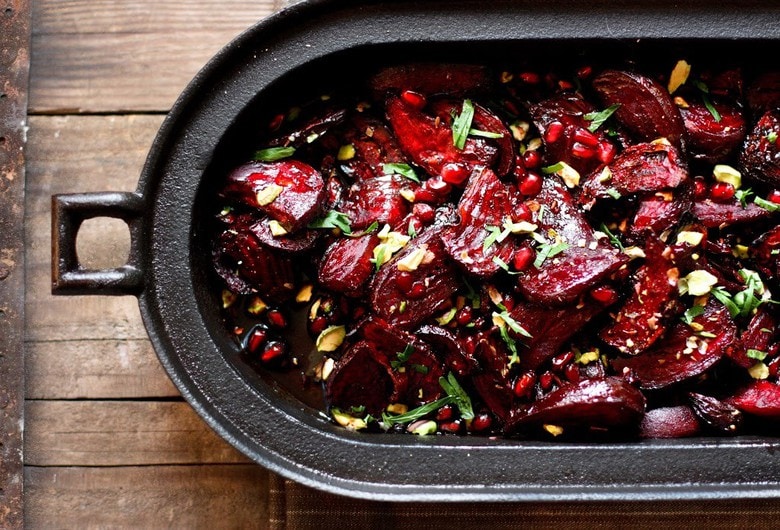 When the beets are tender, toss them with the glaze, pomegranate seeds, pistachio, and a little orange zest. Serve immediately and save the leftovers for salad the next day.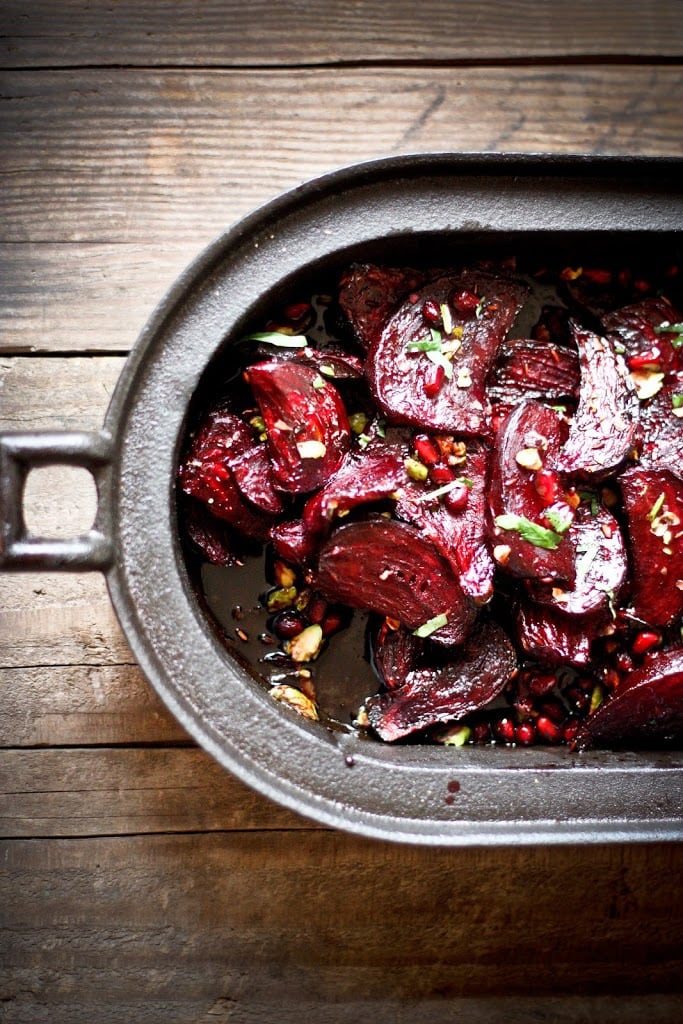 Print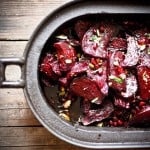 Moroccan Roasted Beets with Pomegranate and Pistachio
Prep Time:

10 mins

Cook Time:

45 mins

Total Time:

55 mins

Yield:

4

-

6

1

x

Category:

Side, vegan side dish

Method:

oven roasted

Cuisine:

Moroccan
---
Description
Moroccan Roasted Beets with Pomegranate Seeds, toasted pistachios and a balsamic glaze. A simple, healthy vegan side dish.
---
Scale
Ingredients
3

pounds beets – scrubbed and cut into wedges not more than 3/4 inch thick. If you prefer not to eat the peels, peel with a vegetable peeler before cutting.

2 tablespoons

olive oil

1 tablespoon

balsamic vinegar

½ teaspoon

cumin seeds

½ teaspoon

fennel seeds

¾ teaspoon

salt

½ teaspoon

cracked pepper
Reduced Balsamic
Garnish:
½ cup

pomegranate seeds

1/4 cup

crushed roasted pistachios

1 tablespoon

orange zest, optional
---
Instructions
Pre-heat oven to 425F
Roast Beets: Toss beets with olive oil, balsamic vinegar, cumin, fennel, salt, pepper in a bowl and coat well.Place on parchment lined baking sheet and roast until fork tender, stirring every 15 minutes, about 45 minutes.
Make Balsamic Glaze: Place balsamic and maple syrup in small pot on medium low heat, and reduce 20 minutes or until you have about 3 tablespoons.
When beets are done, place in a serving dish and toss with balsamic glaze, pomegranate seeds and pistachios. Garnish with orange zest.
---
---
Keywords: roasted beets, moroccan roasted beets, roasted beets with balsamic glaze, how to roast beets, roasted beets with pistachios