Super flavorful Kung Pao Noodles with your choice of chicken, crispy tofu or roasted cauliflower in the most delicious, mouthwatering Kung Pao Sauce served over noodles. Vegan and GF Adaptable! With a video!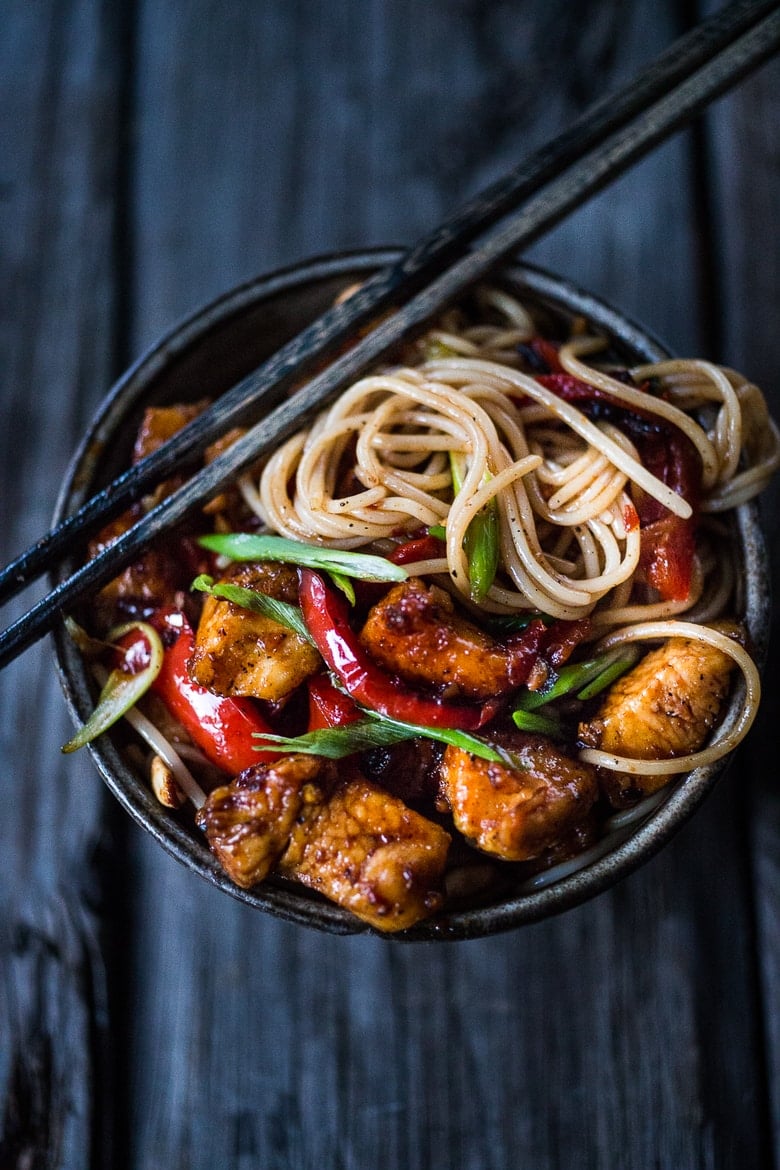 It is a bewildering thing in human life that the thing that causes the greatest fear
is the source of the greatest wisdom.
~C.G. Jung~
This recipe for Kung Pao Noodles is full of so much flavor form the kung pao stirfry sauce! Make is with chicken, shrimp, tofu or my very favorite, roasted cauliflower. Packed full of umami and flavor, your taste buds will be jumping for joy!
A few years back, while visiting China, Brian and I took several wok cooking classes and got a feel for authentic Kung Pao which is the perfect balance between spicy, tangy, sweet and umami flavors. This is my own simplified version that I like to serve with noodles instead of traditional rice. Keep it vegetarian or add meat — it's totally up to you. Make sure to read recipe notes for all the options. Vegan and GF Adaptable!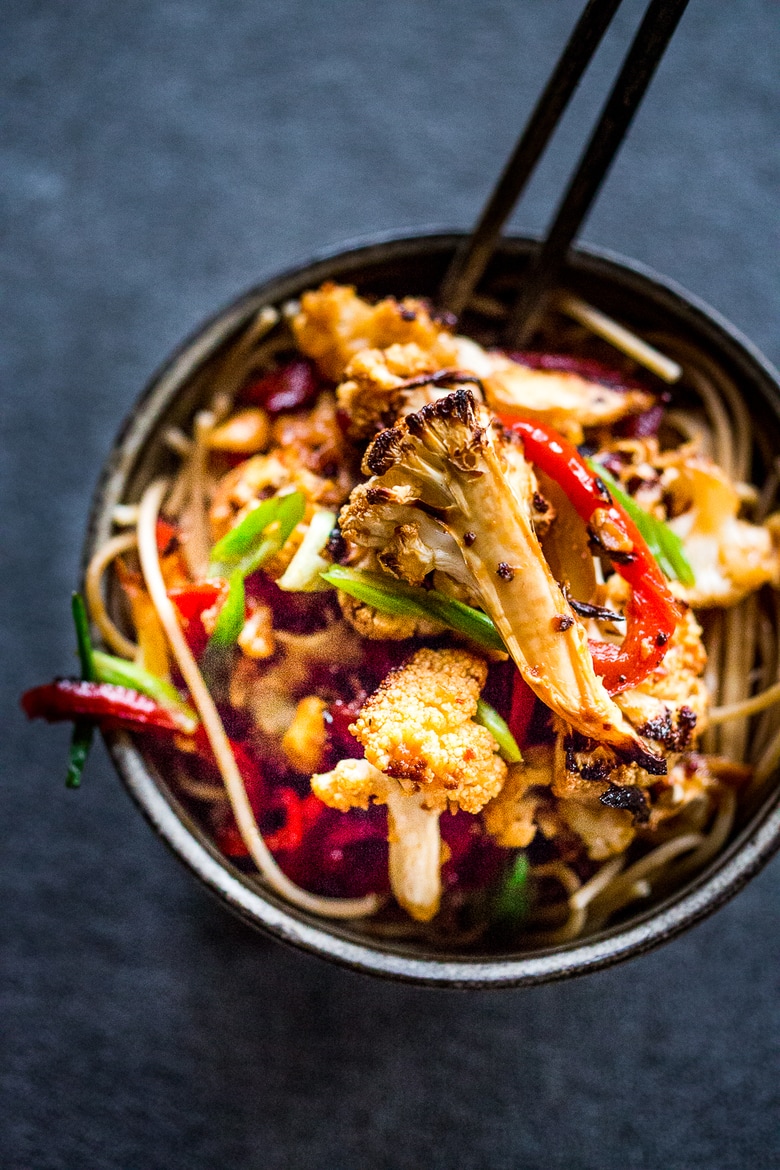 In traditional Kung Pao, the meat or tofu is typically seasoned with salt, sugar, pepper and cornstarch and then fried. A way to cut back on the fat and frying in this recipe to use roasted chicken (like rotisserie chicken) or my favorite, roasted cauliflower.
Then simply make the flavorful sauce in the wok, adding in and tossing the ingredients to it.
Some veggies cook very quickly in a wok, like thin asparagus, thinly sliced bell pepper, mushrooms, snap peas and green beans, and I gravitate towards using these because they only need a few minutes of heat, and you can get away with using only a little oil.
But veggies like cauliflower or broccoli which take longer to cook, I either quickly steam or roast first.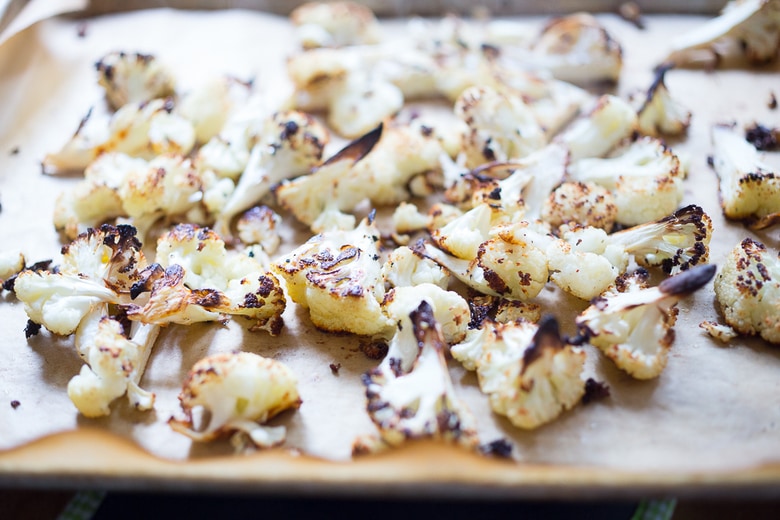 Kung Pao Sauce Ingredients: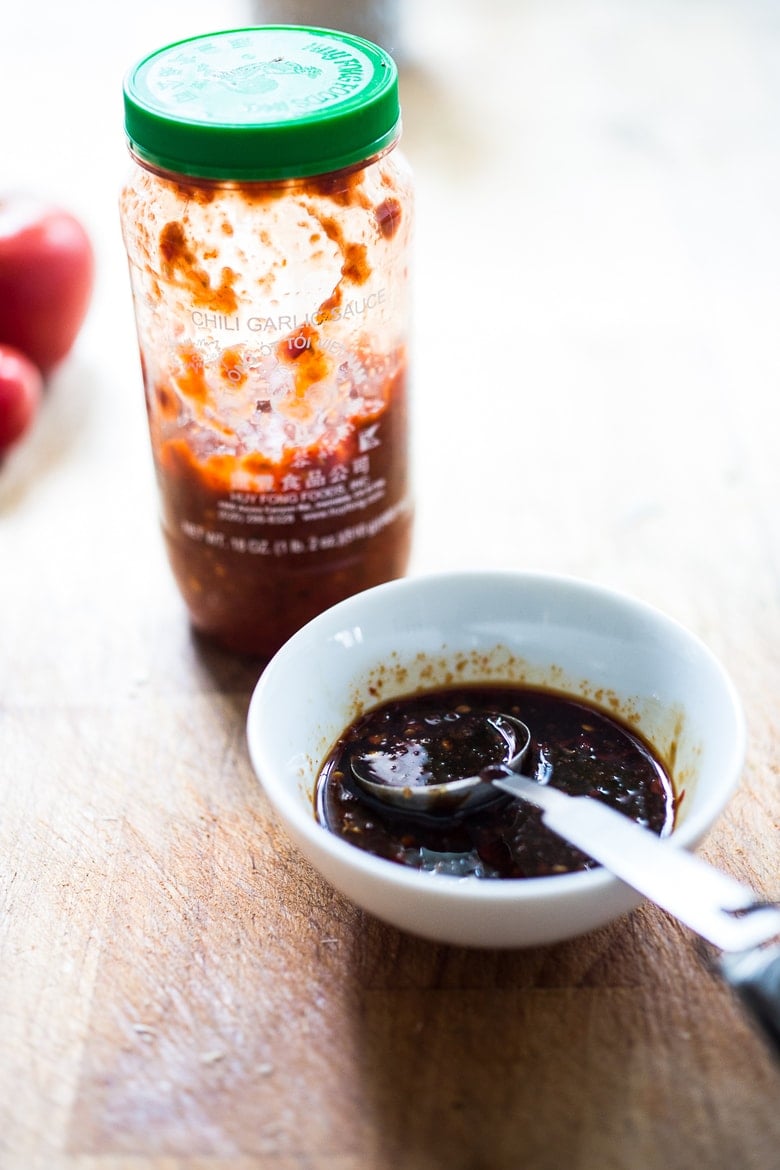 How to make Kung Pao Noodles:
Once the ingredients are prepped, the cooking part goes very quickly.
Cook the noodles (or rice)
Make the kung pao sauce.
Prep veggies and protein ahead.
Stir fry!
Once you get the hang of it, it's a fast meal that is full of great flavor.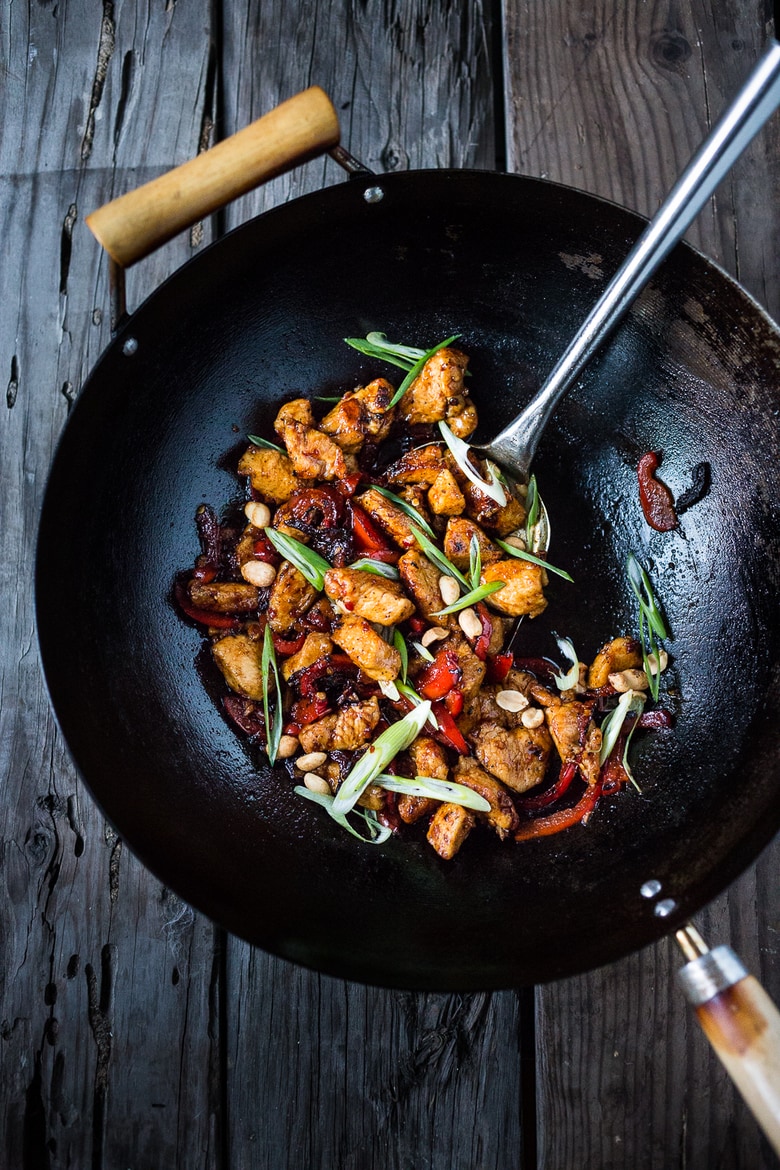 Wok cooking is one of the fastest meals you can make. Give it a whirl!
Kung Pao Tips!
PREP AHEAD: Always prep the ingredients and sauces first. Wok cooking is a very fast process using high heat. You don't want to be prepping at the same time you are stir-frying, or you may burn your food.
MIS EN PLACE: gather everything you prepped, near to your stove!
USE HIGH-HEAT OIL: Peanut oil adds another layer of flavor, so I prefer using it in the wok. There is also Wok oil and coconut oil.
HEAT THAT WOK!  Turn on your hood fan and let your wok get nice and hot, to the point where your wok is smoking. This adds a delicious smokey flavor to the dish, which is found in Chinese-style wok dishes.
STIR STIR STIR! With the wok this hot, you will be stirring constantly and vigorously.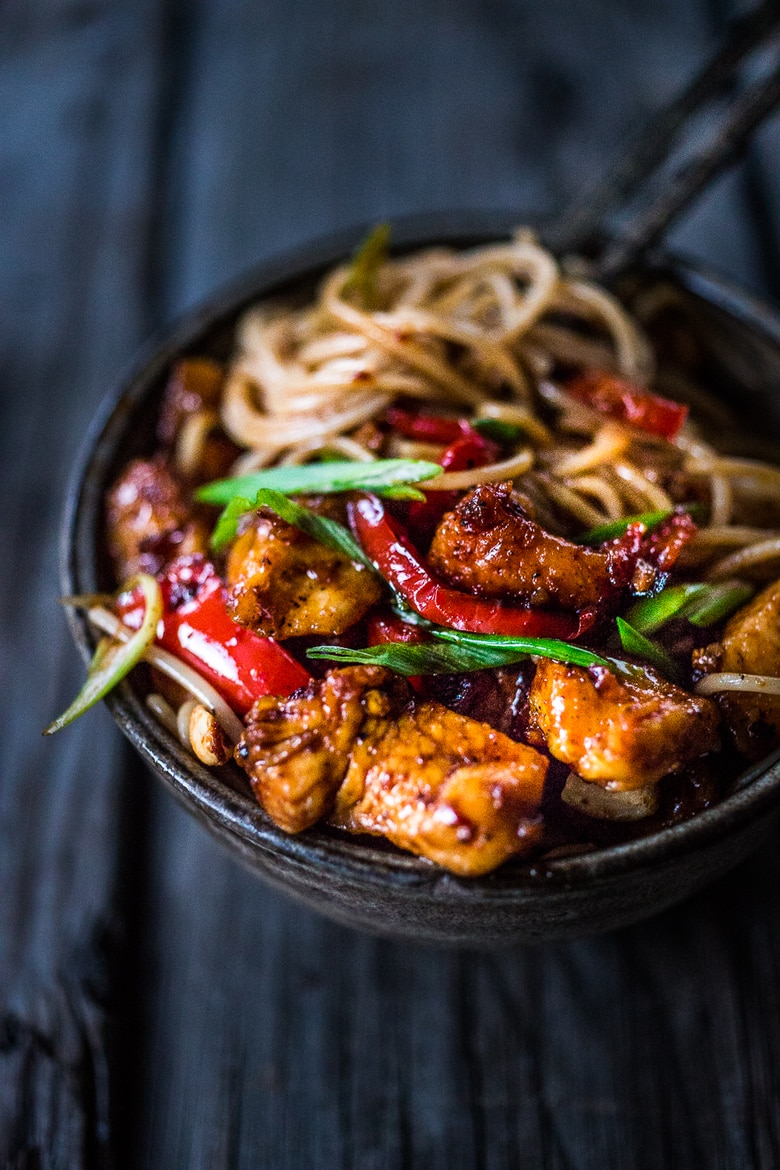 Garnish the dish with green onions, sliced on the diagonal and roasted peanuts for added texture.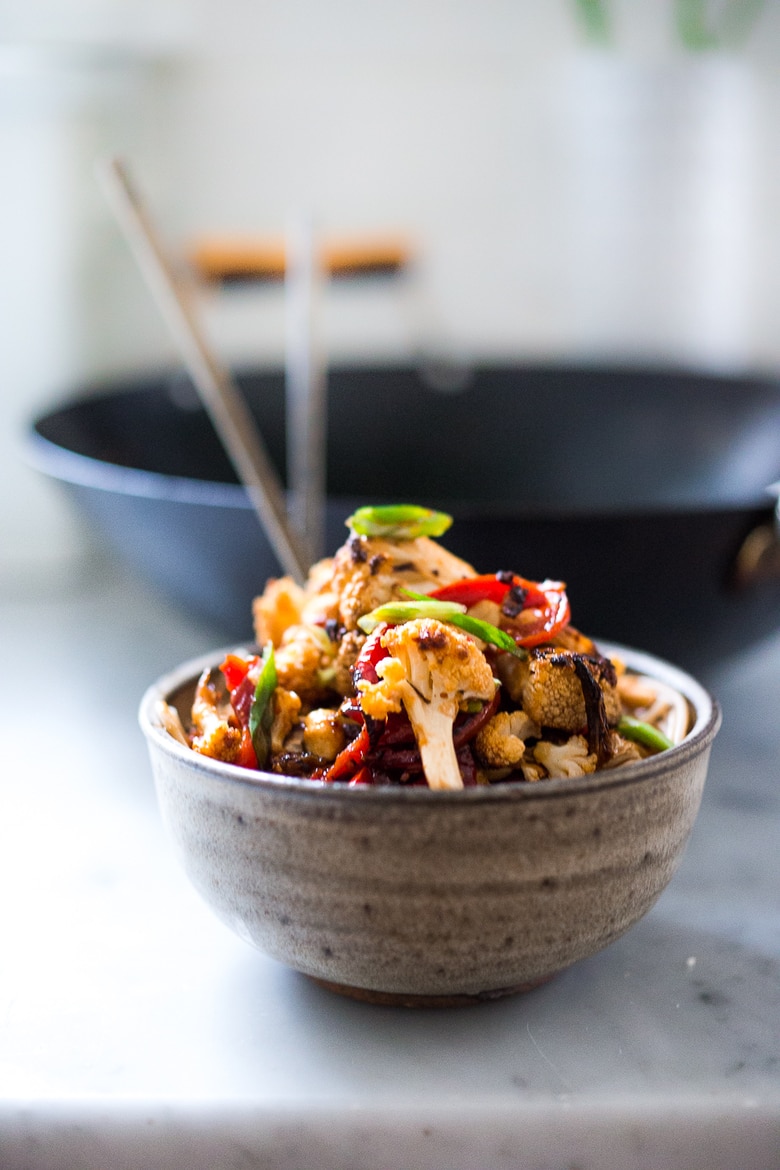 Here are the healthy kung pao noodles with roasted cauliflower (above).
And here it is with chicken…..either way, it will make your mouth very happy! 😉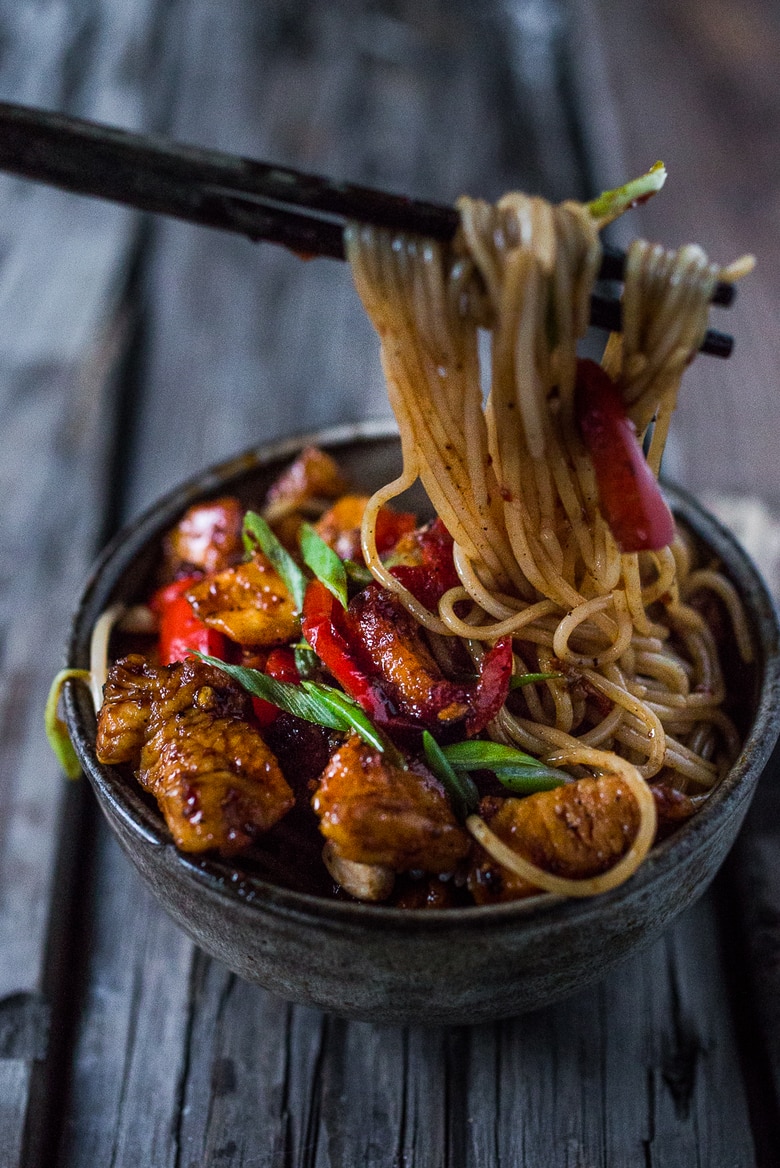 You might also like: 
Let me know how you liked this, please rate and comment below!
xoxoxo
How to make Kung Pao Noodles! | 60-second video
Print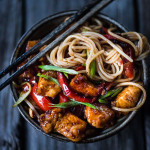 Kung Pao Noodles Recipe
Prep Time:

18 mins

Cook Time:

12 mins

Total Time:

30 minutes

Yield:

4

1

x

Category:

Main, dinner recipe,

Method:

stirfry

Cuisine:

Chinese

Diet:

Vegetarian
---
Description
Flavorful Kung Pao Noodles with your choice of chicken or roasted cauliflower served over noodles in a flavorful Kung pao noodle sauce.
---
1

lb

chicken (or sub crispy tofu or roasted cauliflower, see notes below)

1/2 teaspoon

salt

1/2 teaspoon

sugar

1 1/2 tablespoon

corn starch

1

–

3

tablespoons peanut oil, coconut or vegetable oil for frying – optional, see notes.

one

red bell pepper

6

–

8

dry red chilies (see notes)

1

large shallot, diced

1 1/2 tablespoons

chopped ginger

1 1/2 tablespoon

chopped garlic
Kung Pao Sauce:
Serve over cooked rice noodles, soba noodles, egg noodles, ramen noodles, linguini….. or rice!
Optional Garnishes: roasted peanuts, crispy shallots, green onions (sliced at a diagonal), chili flakes or Sriacha
---
Instructions
If making noodles or rice, start it cooking on the stove.
Prep Chicken (or see notes for Cauliflower). Cut chicken into ½ inch cubes and place in a bowl. Add the salt, pepper, sugar and cornstarch to the chicken and toss. (Alternately — if using cauliflower, roast cauliflower florets in a 425 F oven for 25-30 minutes, with olive oil, salt and pepper – or see notes for more options)
Chop shallot, ginger, garlic and thinly slice red bell pepper into thin strips.
Make the Kung Pao Sauce: Measure all the condiments and place in a small bowl (water, soy, fish sauce, oyster, vinegar, honey and garlic chili paste) and give a quick stir until combined.
Cook Chicken: Heat oil in a wok over medium-high heat, and when it's hot, brown the chicken, turning, tossing and cooking through about 5 minutes. (I use a metal mesh splatter guard to prevent oil from going everywhere.)Turn heat off and place crispy chicken on a plate lined with paper towels, blot.
Stir fry! Gather all your ingredeints around  (including caulifower if using) Wipe out wok, add 1-2 tablespoons oil and heat over medium heat. Add the red bell pepper and sear over medium heat until tender and just slightly charred in places, about 3-4 minutes. Lower heat to medium make a well in the center of the bell peppers, add the the shallot, ginger and garlic, stirring constantly, (keeping them in the center), 3-4 minutes until they are fragrant and golden. You may need to add a few more drops of oil. Add the dried chilies, cook one minute (turn your fan on!).
Add the Kung Pao sauce to the wok and bring to a simmer, then add the cooked chicken (or roasted cauliflower) back into the wok and tossing well, heating it back up. Serve over rice, noodles, or add the cooked noodles directly into the wok and sear them for a minute or two. Serve immediately.
Garnish with roasted peanuts and sliced scallions.
---
Notes
Notes: If subbing with crispy shrimp or  tofu, prepare it in the same way as the chicken, blot,  coat with salt, pepper, sugar and cornstarch , and fry in the wok until crispy. Then set aside.
CAULIFLOWER: For a lighter version, use roasted cauliflower (one small head) instead of the chicken: toss cauliflower florets with olive oil, salt and pepper and roast on a sheet pan in a 400 F oven until tender and egdes are crispy- about 30 mintues. Add it to the wok right after you add the sauce  (at the very end).
Another vegan but ridiculously decadent option is use tempura cauliflower. Steam the cauliflower florets until al dente. Coat in a tempura batter and deep fry until golden and crispy. Toss the cauliflower into the wok at the last very minute into the simmering sauce.- YES- very over the top in terms of calories, but my husband loooooooooves this, so I make this for him, once every couple years. 😉 It makes for a great appetizer too.
*If you use the whole head of cauliflower, you may want to increase the Kung Pao sauce by half so make 1 ½ times the recipe).
*Traditional Kung Pao also includes a handful of red, dried Chinese chilies (Thai red chilies are too spicy) . I usually toss these in at the end with the garlic and ginger, but in this recipe you don't really need to because of the chili garlic paste. If you do choose to use the dried chilies, add them in right after the ginger and garlic, and decrease the garlic chili sauce in the recipe.
Nutrition
Serving Size:

-Made with Chicken breast

Calories:

352

Sugar:

4.3 g

Sodium:

909 mg

Fat:

6.7 g

Saturated Fat:

1.3 g

Carbohydrates:

41.1 g

Fiber:

1 g

Protein:

29 g

Cholesterol:

82.7 mg
Keywords: kung pao noodles, kung pao noodles recipe, kung pao chicken, kung pao tofu, kung pao cauliflower
SaveSave
SaveSave
SaveSave