With the holidays right around the corner, we thought we'd share a fun gift idea that you can make at home in your own kitchens. Bitters! They take about 1-2 weeks to infuse and get more delicious with time. Use them as a digestive or in cocktails!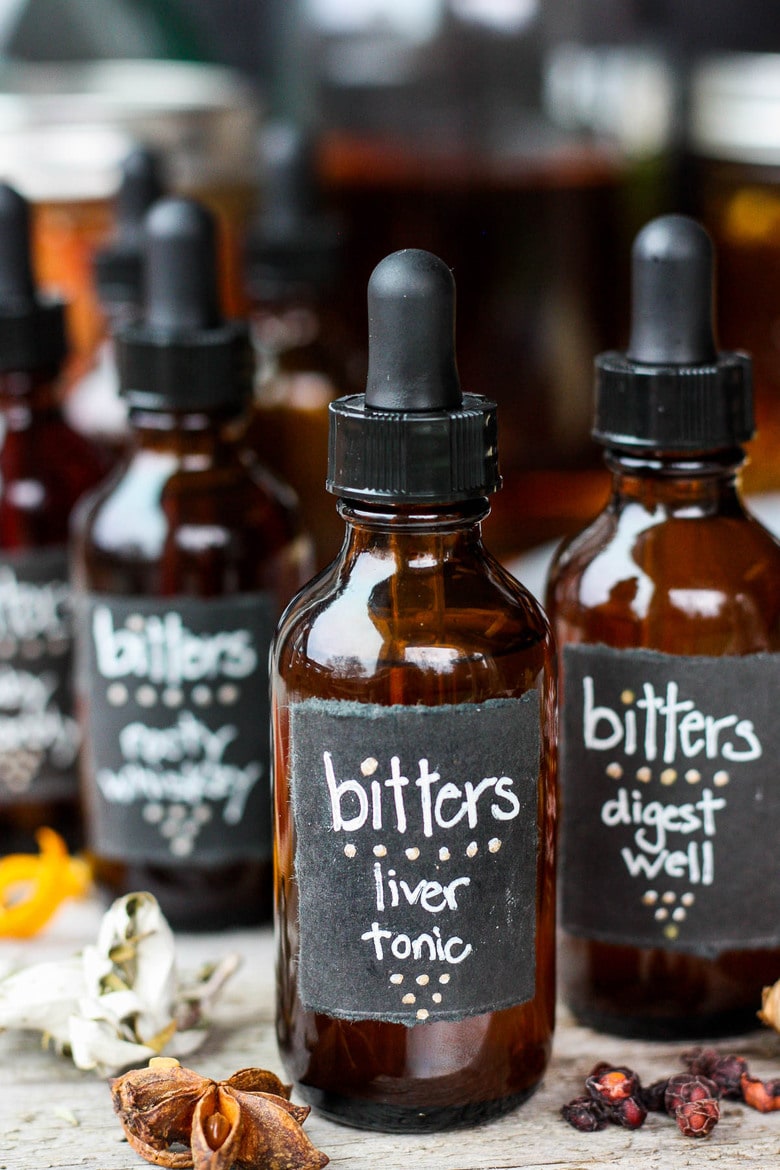 Learn how easy it is to make your own homemade bitters!  An important health tonic that can boost digestion, balance liver health and so much more.  Bitters add beautiful interest and depth to drinks and cocktails. A fun and easy project that takes very little hands-on time! Perfect for holiday gifts and stocking stuffers.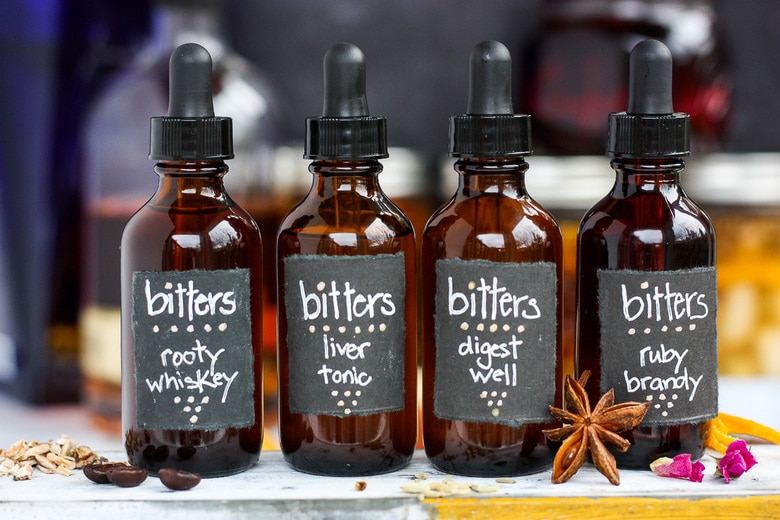 What are bitters?
Bitters have been around a very, very long time.  It is said that ancient Egyptians infused wine with medicinal herbs.  Many cultures consider bitters an essential part of health.
Made of aromatic botanicals such as herbs, spices, flowers, roots, barks, fruits, nuts, and beans (like cacao and coffee), and infused in spirits such as vodka, brandy, rum, and whiskey.
The modern diet mostly excludes bitters.  But with growing awareness, we are realizing it is an essential part of the 5 tastes: salty, sweet, sour, umami, and bitter.  Bitter is important medicine!
Around the holidays we tend to indulge a bit more than usual, making it a perfect time to incorporate bitters into our daily regime.  They are also handy for traveling when we may eat foods our system is not accustomed to.

Health benefits of regular use of bitters:
stimulates the production of digestive enzymes in your gut, leading to better absorption of nutrients.
alleviates stress!  Happy Gut=Happier Brain=Less Stress.
encourages the natural detoxification of the liver.
strengthens digestive health.
curbs sugar cravings.
calms upset belly and nausea.
helps the body absorb more nutrients from food.
antioxidant and anti-inflammatory.
AND more interesting and creative cocktails!
In order for bitters to really work, you have to taste them.  You need to experience the zingy tang on your tongue.  It may be a bit shocking at first as the bitter flavor can take some getting used to until your taste buds adjust.  Soon you may find you crave that bitter tingle on your tongue.  Truly, it really does happen!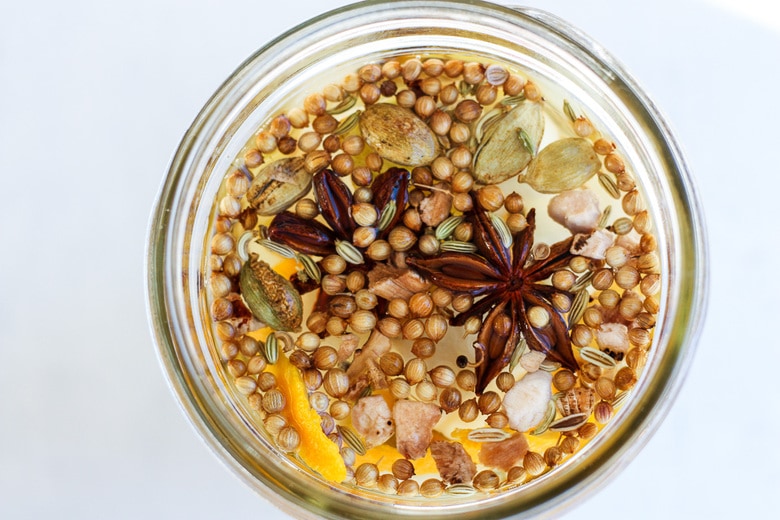 "Your body continues to recognize the taste of bitter long after it hits your tongue.  That's because there are bitter taste receptors throughout your body, including in your digestive tract and even in your lungs.  The act of tasting even a small something that's bitter activates your entire digestive system.  The taste causes you to salivate, which is one of the first steps in the digestive process.  It also releases important gastric enzymes that help digest your proteins (among other things) and stimulates bile production, which helps you digest fats" says Rosalee De La Foret author of Alchemy Of Herbs.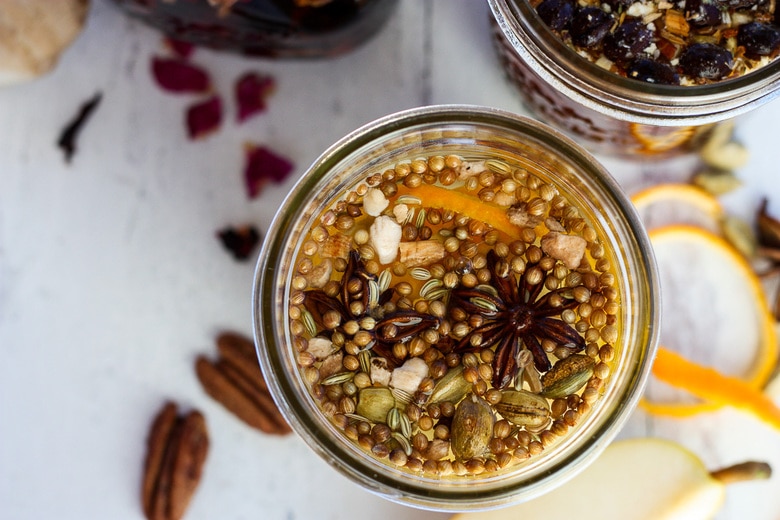 How to make bitters (in a nutshell):
Gather ingredients and a jar with a tight-fitting lid.
Fill the jars- your ratio should be about 1/3 dried material, add fresh fruit, if using, pour your spirit up to an inch of the top.
Seal and shake!  Give it a shake daily or more.
Let infuse for 1-2 weeks.
Strain and bottle.
Two Essential ingredients in Bitters
Bittering Agent
Alcohol or Vinegar
For the most basic bitter medicine, that is all you need!  It also can then be your base to then create more flavor interest, balance, and depth.  As well as increasing nutrients and potency from adding more plants.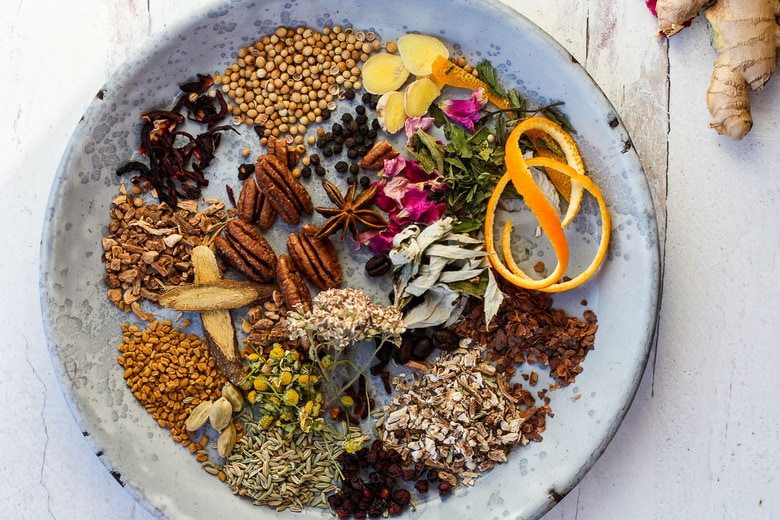 Common bittering agents (bitter plants for infusing):
artichoke leaves– liver protectant, liver cell regenerator
dandelion root– antioxidant, tonifies liver, anti-inflammatory
dandelion leaf– digestive aid
Burdock root– detoxifies the blood
gentian root– tonifies liver, digestive aid, promotes gut health, cancer fighting compounds
citrus peel- rich in flavonoids, anti-fungal, anti-inflammatory
yarrow– anti-spasmodic, anti-inflammatory, reduces flatulence
chamomile– anti- inflammatory, digestive aid, calms body and mind
mugwort– anti-bacterial, anti-fungal, digestive aid
sarsaparilla– anti-inflammatory, helps overall liver function
wild cherry bark– boosts immunity
licorice root– anti-inflammatory, soothes digestive tissues, immune tonic
cinchona bark-digestive aid
Spices, flowers and fruits can round out the bitter formulas, giving them balance and interesting undertones especially if using in cocktails.
It is fun to experiment and find flavor combinations you like.  I like to taste the bitters daily as they infuse.  At first, they strongly taste of alcohol, but slowly they begin to blossom into deeper and brighter flavors.  When the taste is to my liking,  I strain and bottle in 2-ounce dropper bottles.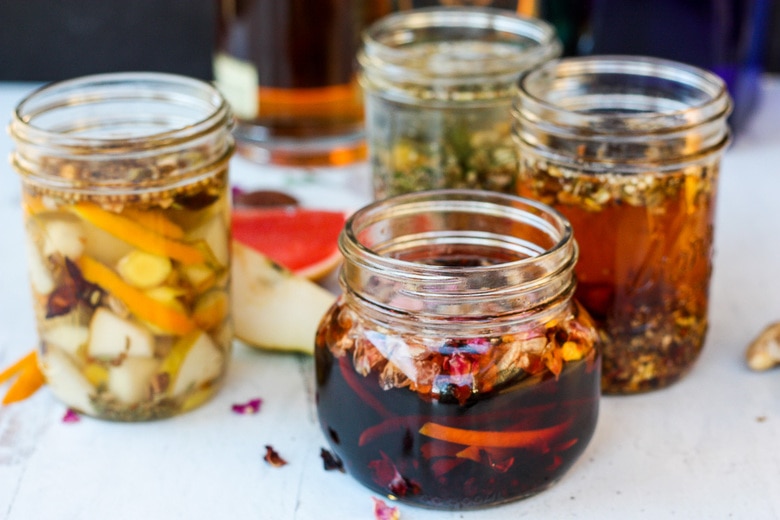 How to use bitters:
for the best health benefit, take a few drops (up to a dropper full) on your tongue prior to eating for increased digestion.
taken after a meal they can help with gas and bloating.
add to sparkling or plain water.
use in cocktails and mocktails.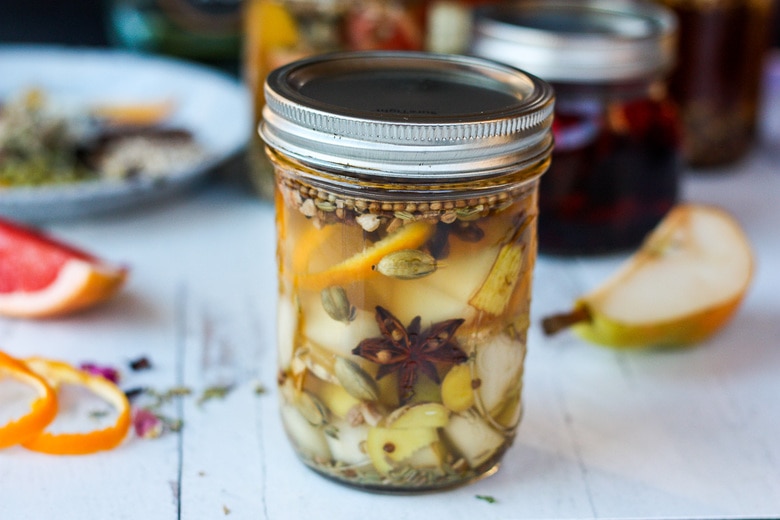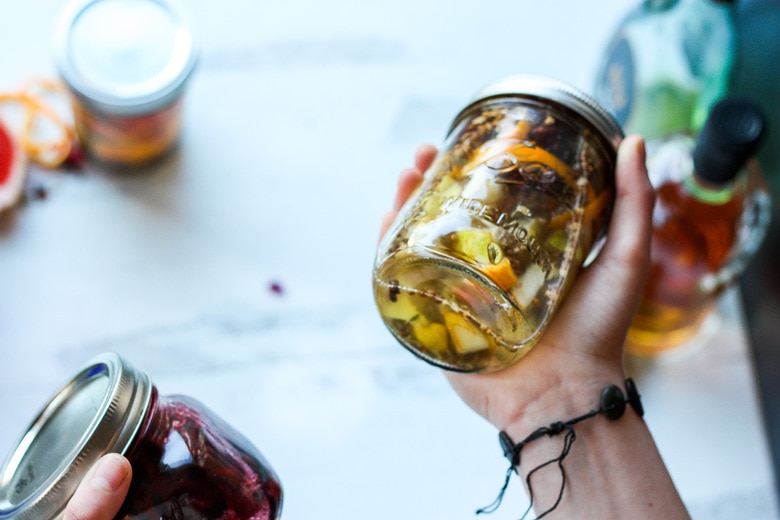 Shake daily to infuse botanicals.  A good time also to pause and know you are creating something for your good health!
Strain and bottle.
Here are the 2-ounce dropper bottles we used.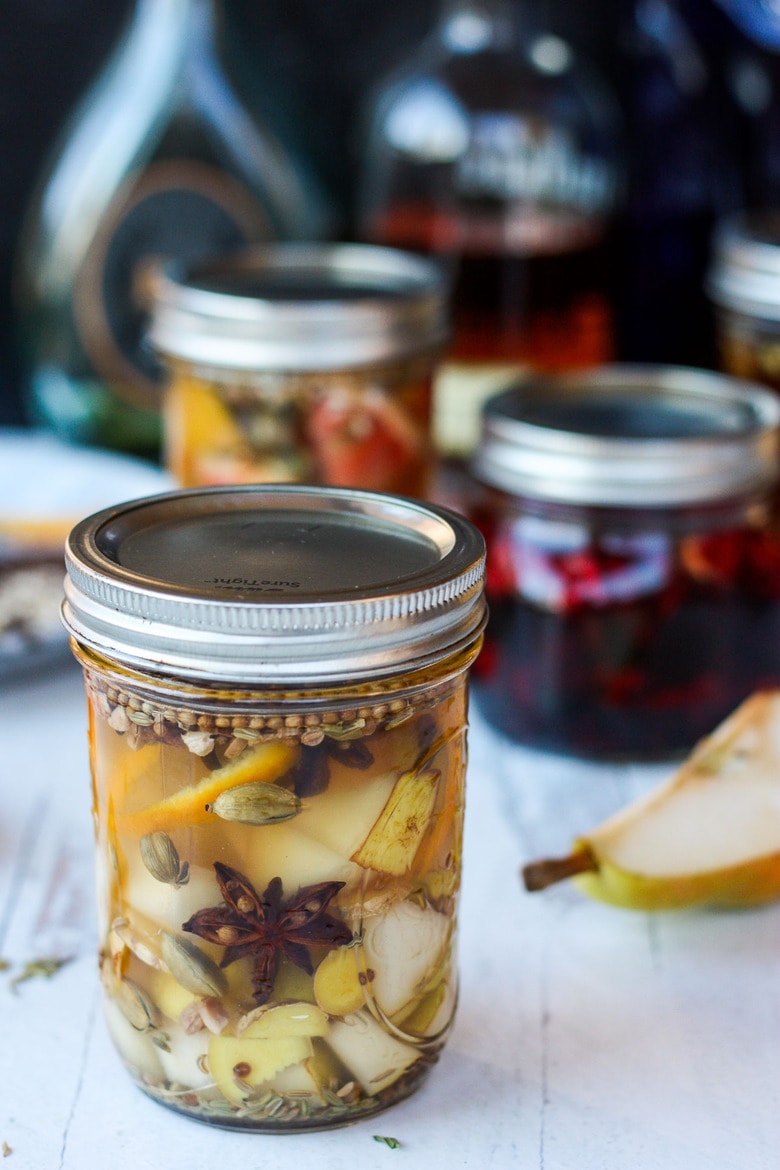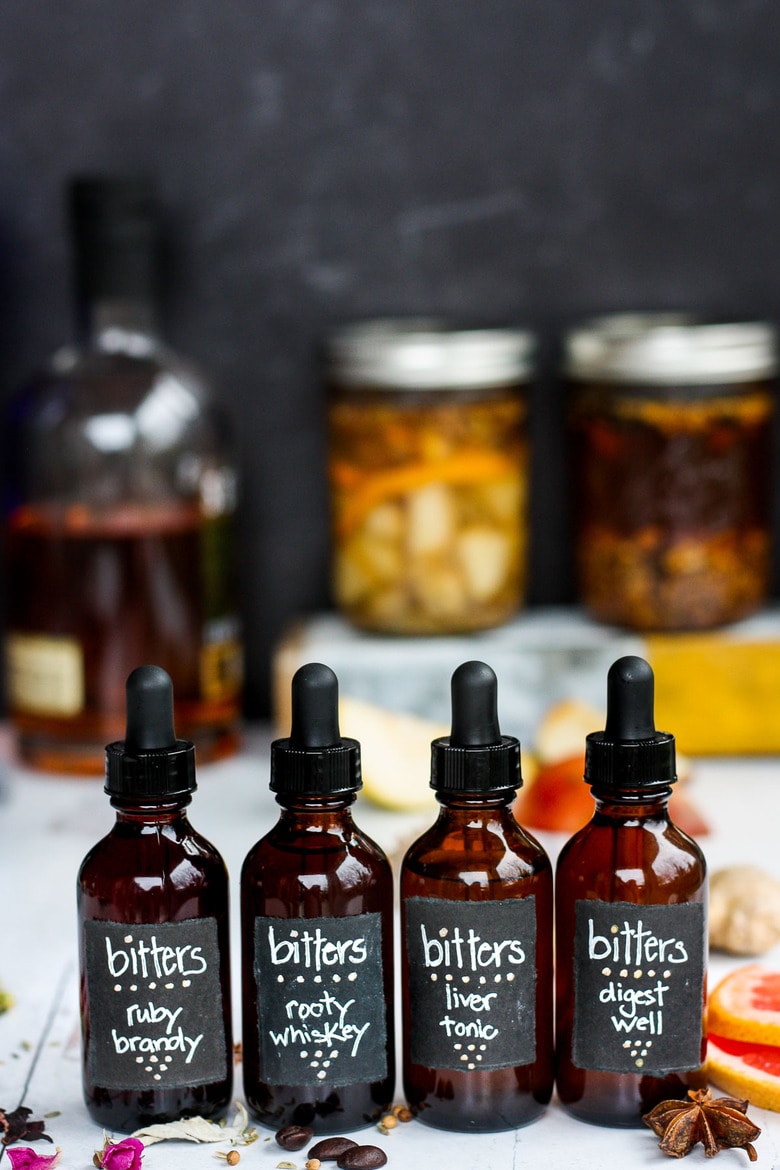 Bitters make amazing gifts!
Add labels and tags to the dropper bottles to create your own personal designs!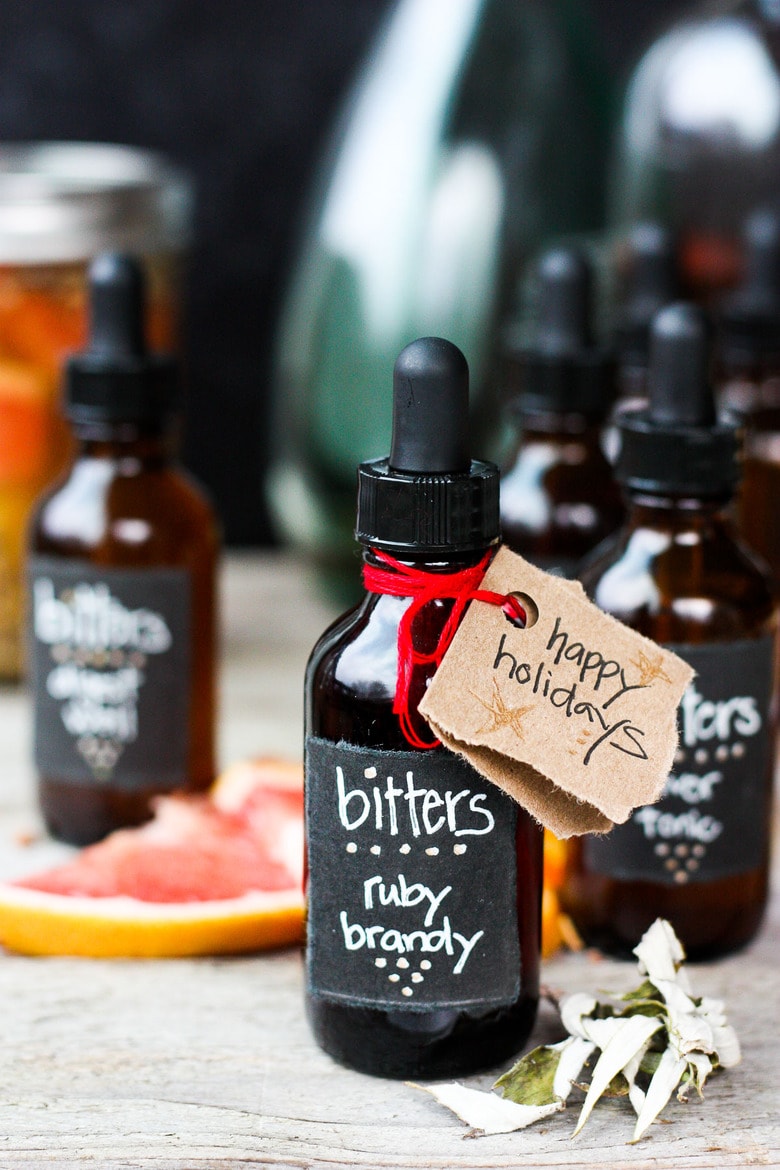 I am so excited for you to try these recipes for bitters!  There is so much variation and adaptability with ingredients, soon you'll be coming up with your own amazing concoctions.  Let us know what you create!
Wishing for you and yours so much health and vitality,
More DIY recipes you may like:
Print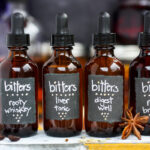 How to make Bitters!
Prep Time:

30

Cook Time:

1 week

Total Time:

168 hours 30 minutes

Yield:

1

-

1 1/2

cups

1

x

Category:

how to, dyi, gifts,

Method:

infused

Cuisine:

american
---
Description
Bitters add beautiful interest and depth to drinks and cocktails as well as being an important health tonic that can boost digestion and balance liver health.  Making your own bitters is a fun and easy project that takes very little hands-on time!
---
Liver Tonic Bitters
Digest Well Bitters
Rooty Whiskey Bitters
Ruby Brandy Bitters
---
Instructions
Place all ingredients in jar.
Seal with lid.
Shake at least once a day, agitation will help flavors and nutrients release more readily.
Let infuse 1-2 weeks, tasting every few days.
Filter and bottle. (Here are the dropper bottles we used.)
---
Notes
Vinegar can be used instead of alcohol.  (I have not tried it but it would be interesting to experiment with.)
It is advised to use at least 80 proof grain alcohol.  No need to splurge on fancy here.  I often will use 100 proof as stronger extracts more flavor and medicinal components of the botanicals.
I often omit the sweetener until the bitters have fully infused.  This allows for adjusting to taste.
Nutrition
Serving Size:

1/2 tablespoon

Calories:

18

Sugar:

0 g

Sodium:

0.4 mg

Fat:

0.1 g

Saturated Fat:

0 g

Carbohydrates:

0.4 g

Fiber:

0.2 g

Protein:

0.1 g

Cholesterol:

0 mg
Keywords: bitters, bitters recipes, how to make bitters, digestive bitters, liver tonic recipe, how to make cocktail bitters, cocktail bitters recipe, bitters recipe