How to make your own all-natural Vinegar Cleaning Solution using distilled vinegar, herbs and fresh citrus. An easy step-by-step process you will fall in love with. Use on counters or even your yoga mat!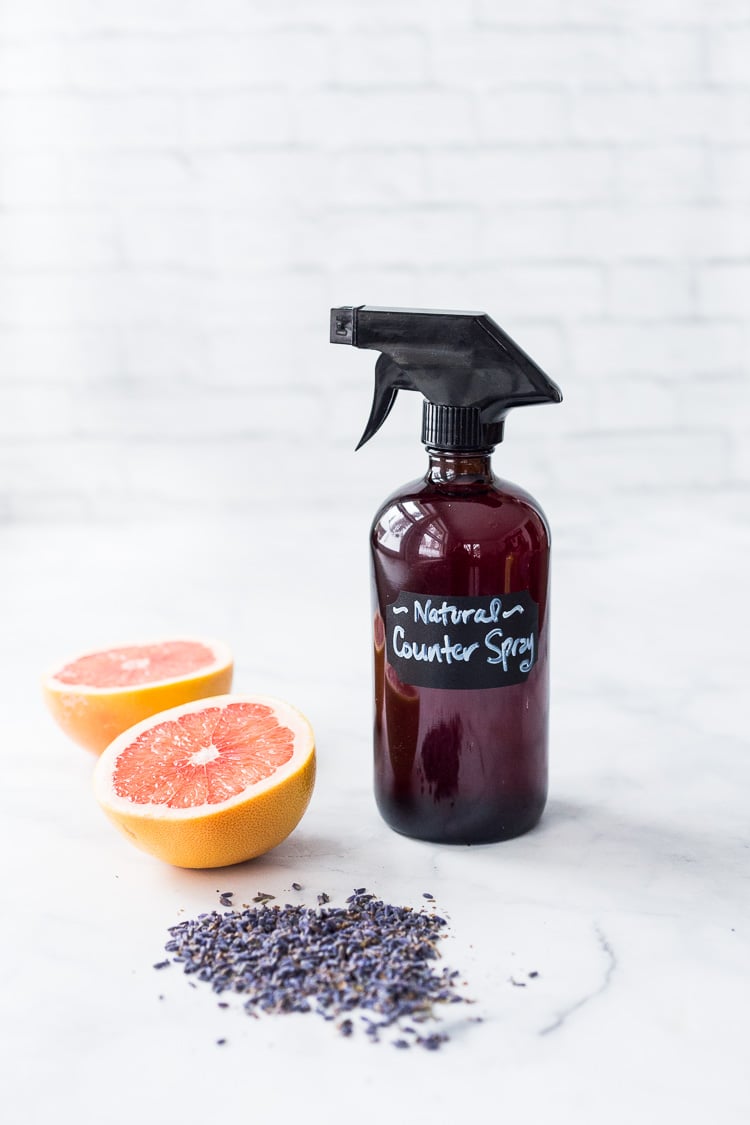 "Plants contain magical wisdom.  There is much science out on the intelligence of plants.  But proof enough for me is how I feel when I am just merely around them with presence and awareness.  I like to invite them into my daily routine with intention, acknowledging their amazing capacity to keep us alive and full of vitality." ~ Tonia Schemmel 
This spray is simple, non-toxic, and aromatic and makes you happy while cleaning. The herbs used in this recipe are known for their natural disinfecting, anti-bacterial & anti-microbial properties, this is a fun and simple way to bring more of nature into our homes.
I'm not sure about you, but I've really been thinking about the cleaning products I've been using in my home lately.  Who knows what's in them.  I love the idea of incorporating more natural ingredients into my daily cleaning routine and when my friend Tonia, mentioned this homemade, all-natural kitchen cleaner she makes, I was all ears, and thought you might enjoy it too!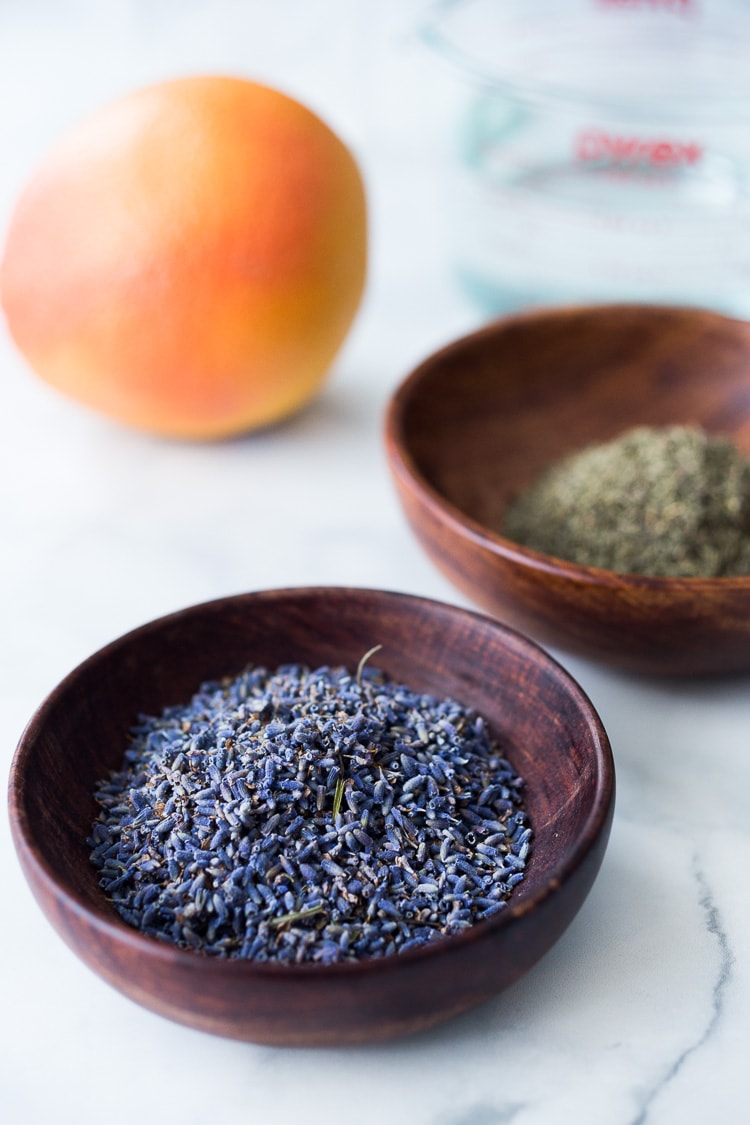 What you'll need
You'll need white vinegar and lavender, thyme and grapefruit. In summer feel free to use fresh lavender and thyme from your garden.
How to make Vinegar Cleaning Solution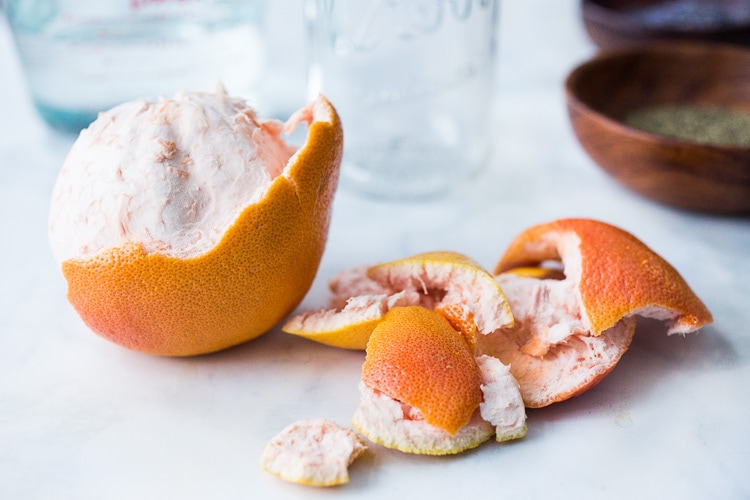 Peel the grapefruit and place it along with the herbs in a 4 cup mason jar.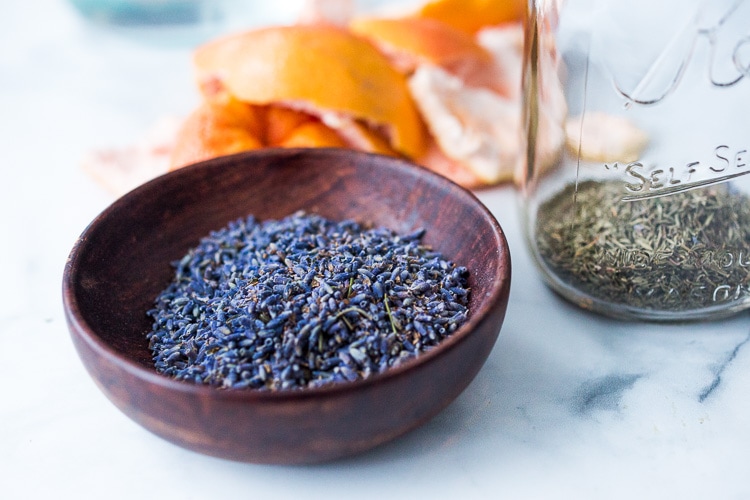 Fill the jar with distilled white vinegar.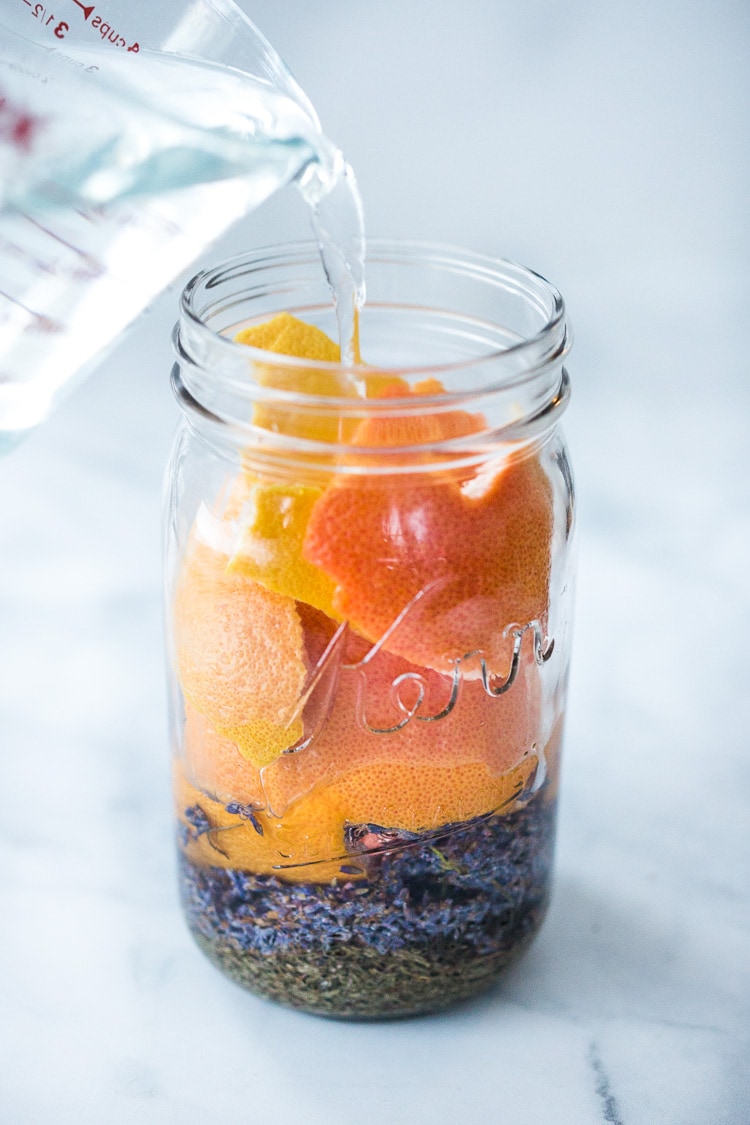 Cover with a plastic lid, shake and let this infuse for 24 hours or longer, it doesn't go bad, just gets more and more aromatic!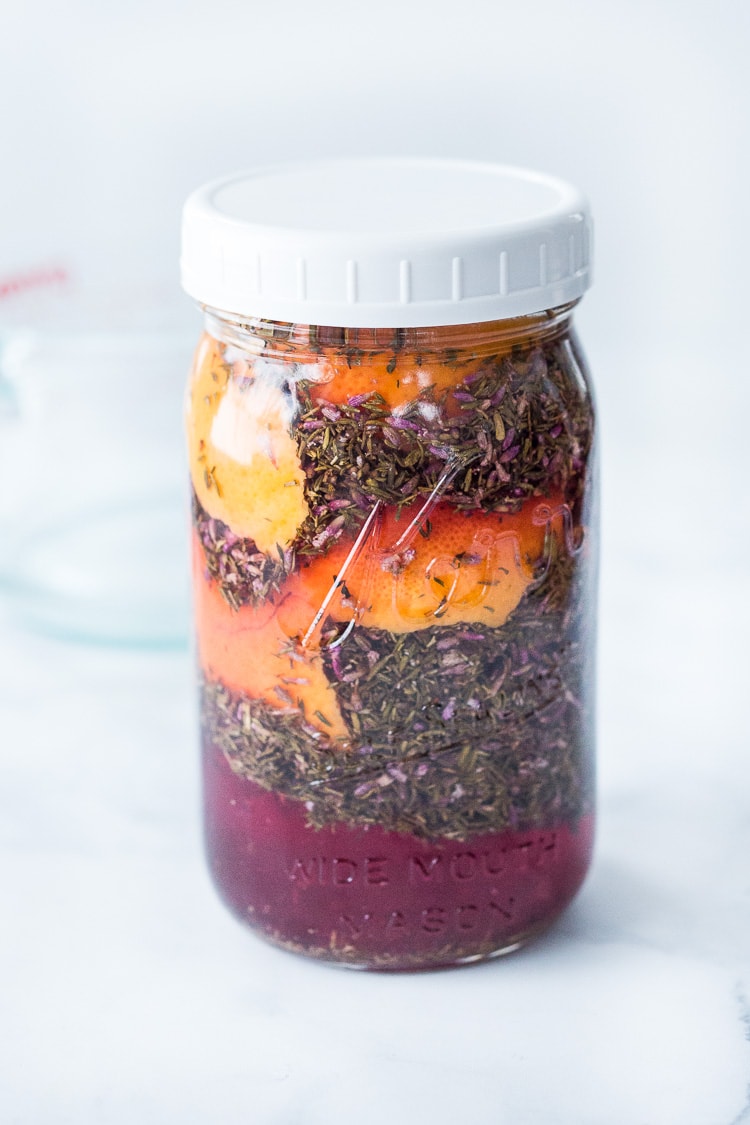 Make sure to use parchment paper to line the jar if using a metal lid, because the acid in the vinegar will "eat" the metal.
After the vinegar infuses, strain once using a strainer, then a second time, lining the strainer with a paper towel or coffee filter. You want to make sure all the little herbs are strained out because these will clog your spray bottle.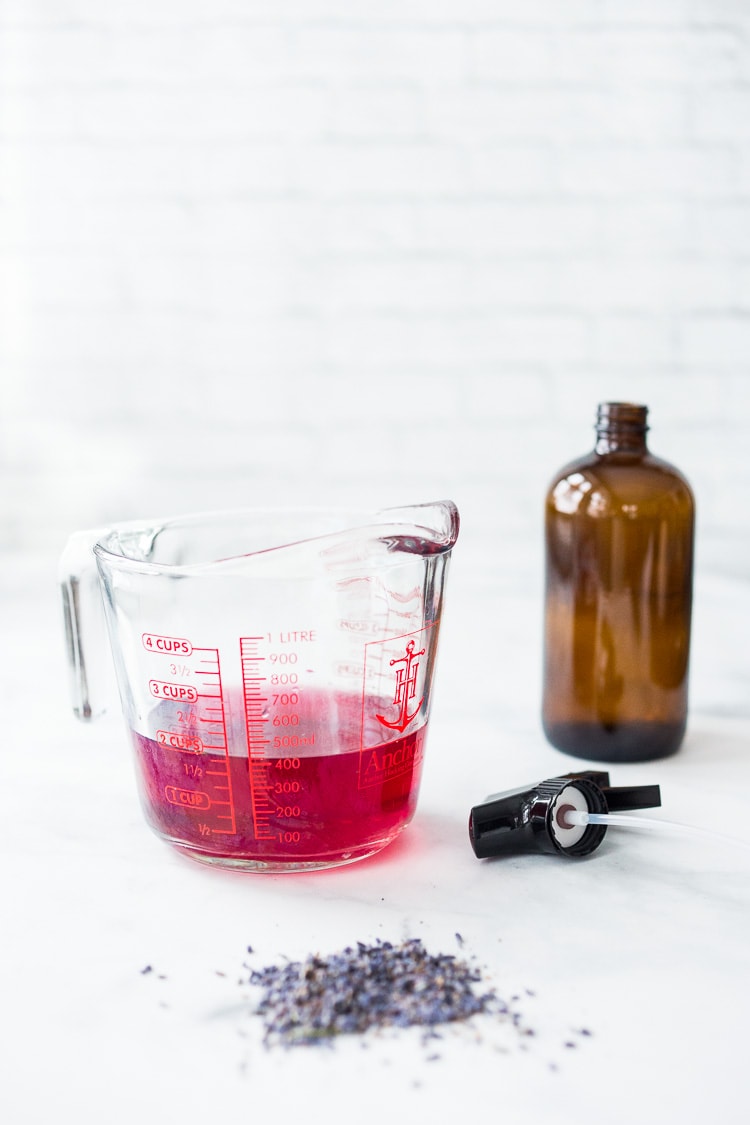 Then dilute the infused vinegar with water – especially if using on counters like marble or porous stone counters.
Pour into a spray bottle.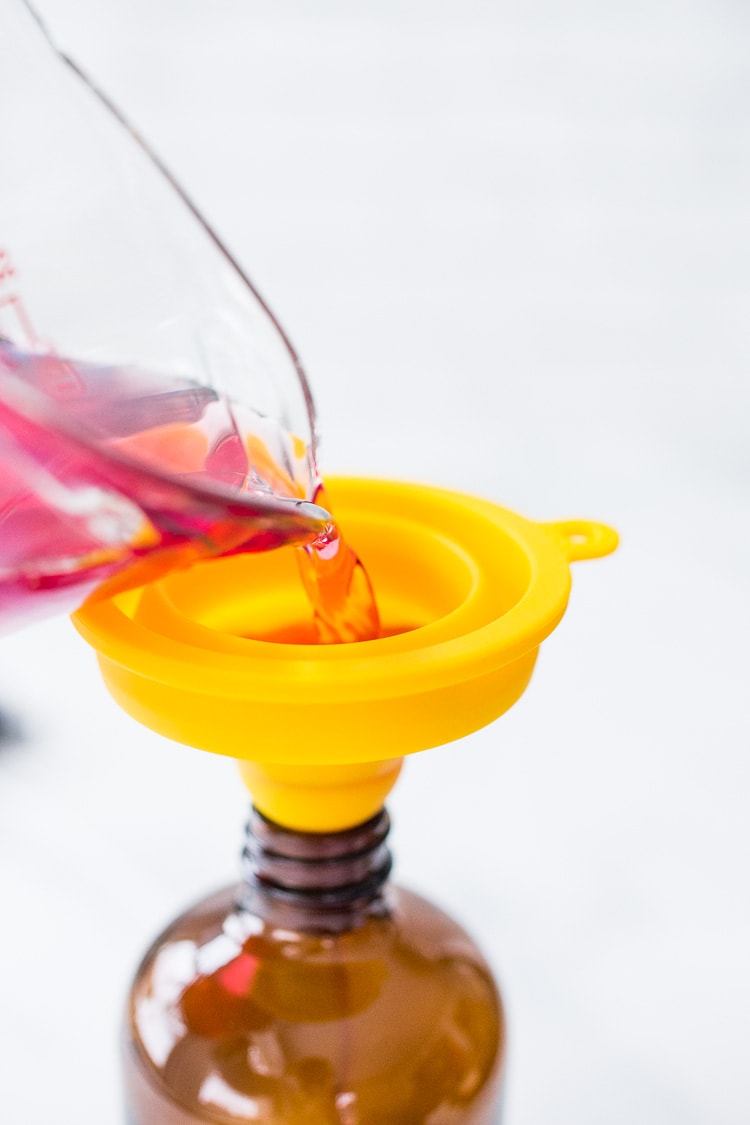 Pour into a spray bottle and use like you would a disinfectant spray, and feel good about what you are using to clean your house!
These 16 ounce  glass spray bottles  ( with labels) are available on Amazon.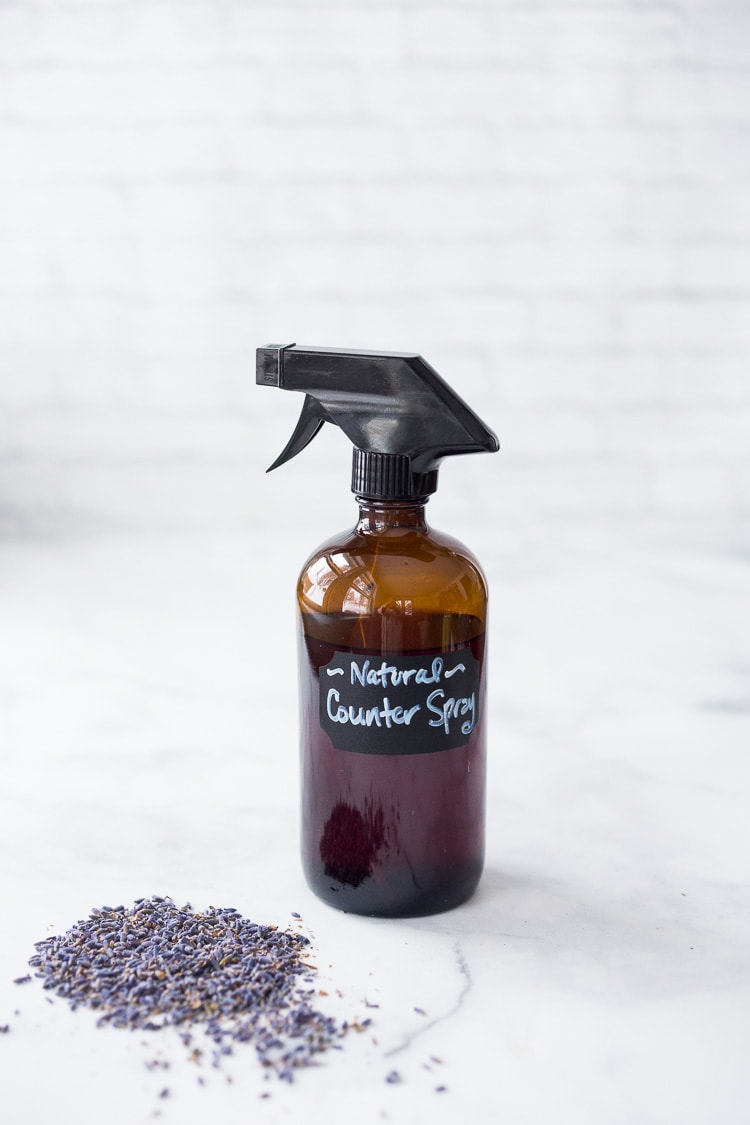 How to use Vinegar Cleaning Spray
Feel free to use this strait in bathrooms, on glass, in sinks, to clean your yoga mat,  or anywhere you want things disinfected well.
This can also be made with essential oils in addition to, or instead of the herbs. See all the variations below!
Have fun with your non-toxic, food-safe, sweet-smelling cleaner.
May it bring a little joy to your day!
More recipes you may like
Print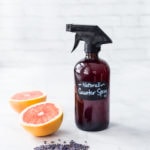 Natural Vinegar Cleaning Solution
Author:

Tonia Schemmel

Prep Time:

15

Total Time:

15 minutes

Yield:

2 cups

1

x

Category:

homemade, how to,

Method:

infused

Cuisine:

American
---
Description
Homemade, all-natural Kitchen Cleaner Spray made with lavender, thyme and grapefruit-infused vinegar. Easy and Simple!
---
2

–

3

cups

white distilled vinegar (a natural disinfectant)
grapefruit peel from 1 grapefruit

1/2

cup

dried Thyme ( or use fresh)

1/2

cup

dried Lavender ( or use fresh)
Or substitute essential oils: 10 drops lavender, 5 drops thyme, 5 drops grapefruit in 3 cups vinegar. Use immediately.
1 Quart-size mason jar
1  16-24 ounce Spray Bottle
---
Instructions
Fill the mason jar with thyme, lavender and grapefruit peel.
Fill the jar with vinegar.
Screw on the lid (if using a metal lid, place a piece of parchment, wax paper or plastic on jar first then screw on lid- vinegar eats metal!)
Give a thorough shake and bless with intentions.
Let sit for 24 hours (or longer- it doesn't go bad!)
Strain through a strainer. Strain again through a paper towel or cheesecloth-lined strainer, then pour into a spray bottle. Keep this full strength or dilute with water (use half strength). See notes.
---
Notes
Vinegar may etch porous surfaces like marble, some granites and soapstone countertops, so make sure to dilute with water and test first. A 50/50 blend is good.
This is a super flexible recipe and can be made with dried or fresh herbs, or essential oils.  Play around to find your favorite scent.
Other Antimicrobial combos:
peel from 1 or 2 lemons,  a handful of sprigs of rosemary and mint ( fresh or dry).
peel from 1 or two limes, a few 4 inch "branchlets" from an evergreen tree (spruce, fir, pine etc.) and a few slices of ginger
peel from 1 orange, 3 to 5 bay leaves and 3 cloves
Adding essential oils is also an option to boost disinfectant properties.
Choose one or two:
10 drops of lavender, rosemary, eucalyptus, tea tree, or cedar
3-5 drops of thyme, lemon, or grapefruit
Another option would be to use essential oils in place of fresh or dried plants.
Nutrition
Serving Size:
Calories:

3

Sugar:

0.1 g

Sodium:

0.7 mg

Fat:

0 g

Saturated Fat:

0 g

Carbohydrates:

0.4 g

Fiber:

0.2 g

Protein:

0 g

Cholesterol:

0 mg
Keywords: how to make counter spray, homemade kitchen cleaner, kitchen cleaner, kitchen counter cleaner, dyi kitchen cleaner, kitchen counter spray, natural counter spray,