This healing Lentil Beet Soup is vegan, low-calorie,  and packed full of powerful antioxidants that gently aid the liver in healing the body. Also…Lentils + Beets = LOVE! A delicious marriage!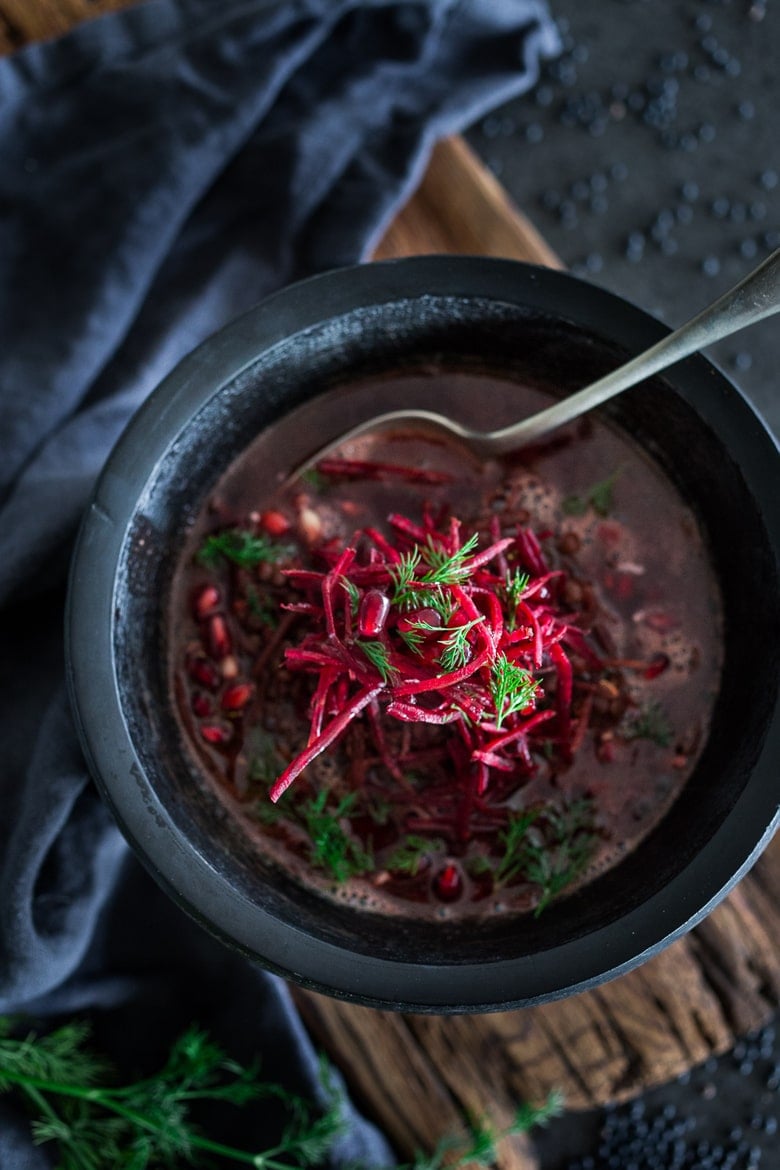 Walking. I am listening to a deeper way. Suddenly all my ancestors are behind me. Be still, they say. Watch and listen. You are the result of the love of thousands.
~ Linda Hogan ~
Happy New Year! Here's a simple healing pot of soup to help start off the New Year in a vibrant and healthy way – Healing Lentil Beet Soup.  This recipe is loaded up with liver-healing beets- packed full of antioxidants that aid the liver in purifying our bodies.
They contain a powerful anti-inflammatory agent called betaine, a nutrient that protects cells and helps fights inflammation, soothing and healing our bodies. When you drink the beet broth, it feels as if you are giving your liver such an amazing gift.
FYI, for the whole month of January,  I'm focusing on fast, simple, Plant-Based recipes to start the year off on a healthier path. I'm cutting out refined sugars, flours and meat and dairy and keeping recipes plant-based. It's a nice grounding ritual I've been doing every January, to offset all the holiday eating.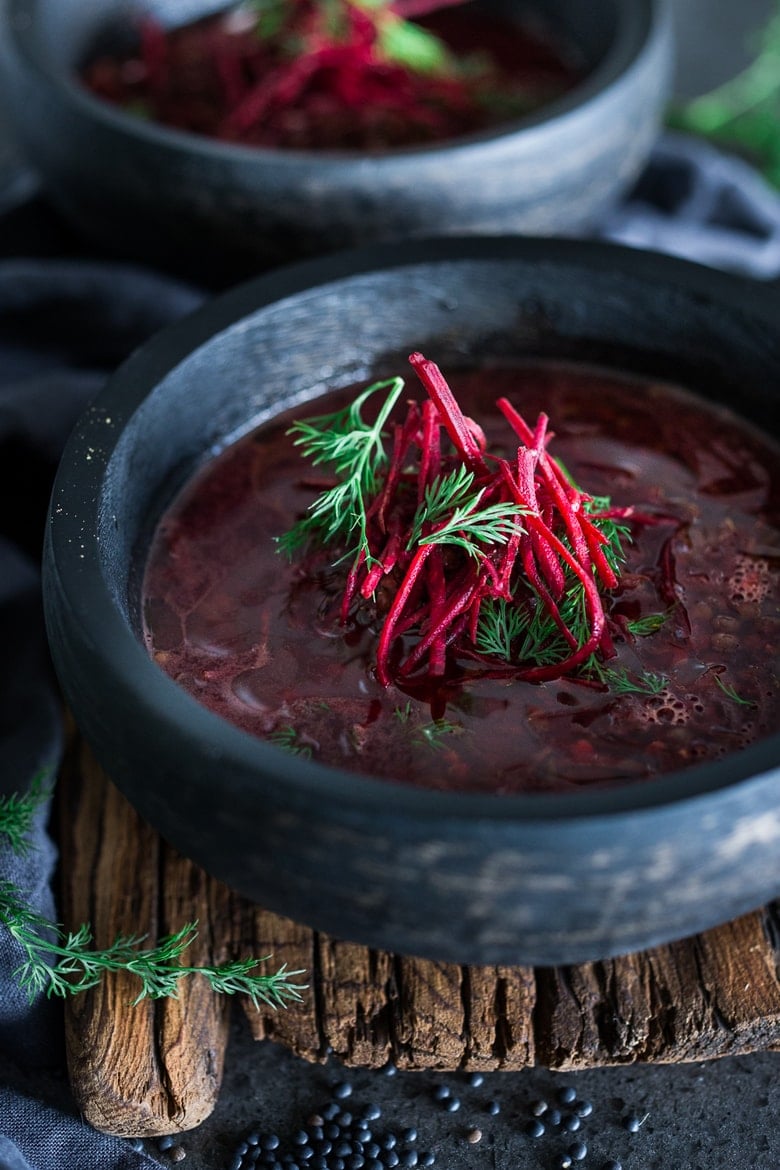 In this recipe, tiny Black Caviar lentils keep the cooking time under 30 minutes and as they cook along with the grated beets, they take on the beets' earthy-sweet flavor. Simple, clean ingredients come together into a flavorful, hearty, nurturing way.
Vegan and gluten-free, this soup is not only clean and healthy,  full of protein and fiber, but it's also really filling, low in calories and satisfying.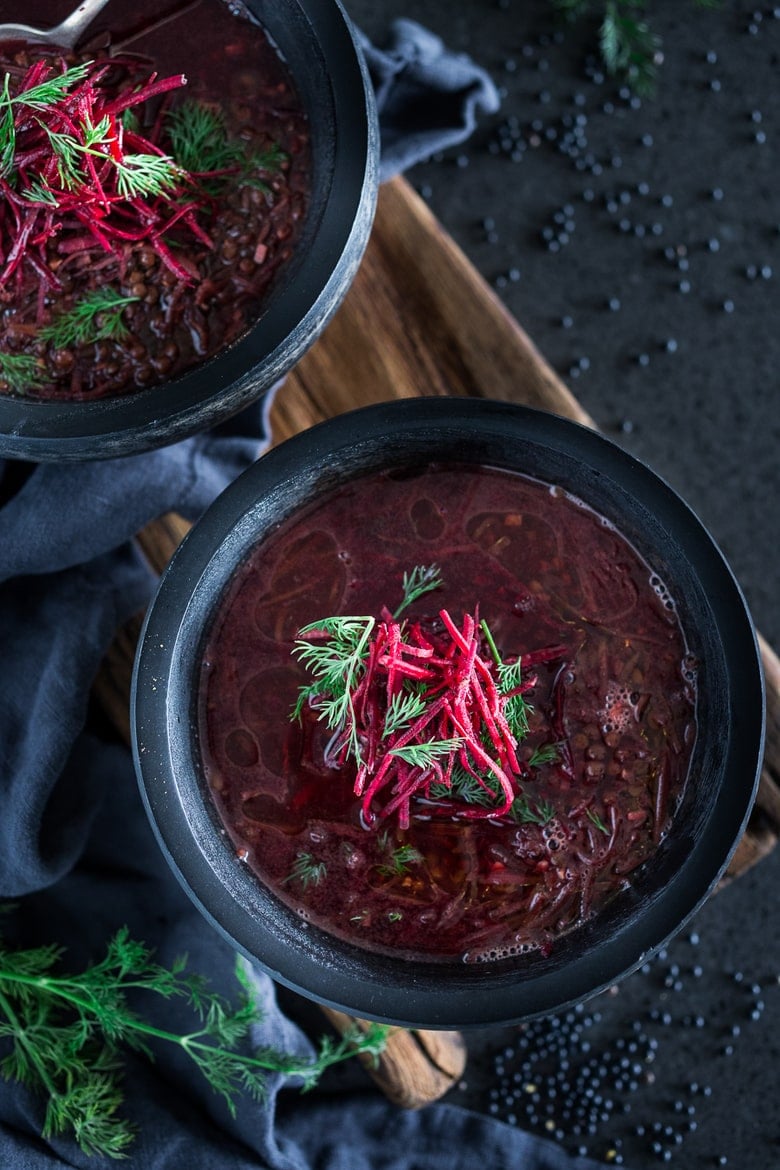 If your beets come with tops, be sure to add some into the soup for an extra boost of nutrients. If short on time,  you can often find pre-shredded raw beets in the "salad bar" section of your grocery store or use packaged beet "noodles".
If you can find pre-shredded beets, this will significantly cut down on prep time. Another short cut would be to use a food processor with the grater attachment if you don't feel like grating by hand.
Once the beets are grated, the soup takes about 30 minutes of simmering time, or until the lentils are done. Divide among two bowls and top with fresh grated beets, fresh herbs and a drizzle of olive oil. Pomegranate seeds add a bright pop of flavor as well as an extra boost of anti-oxidants.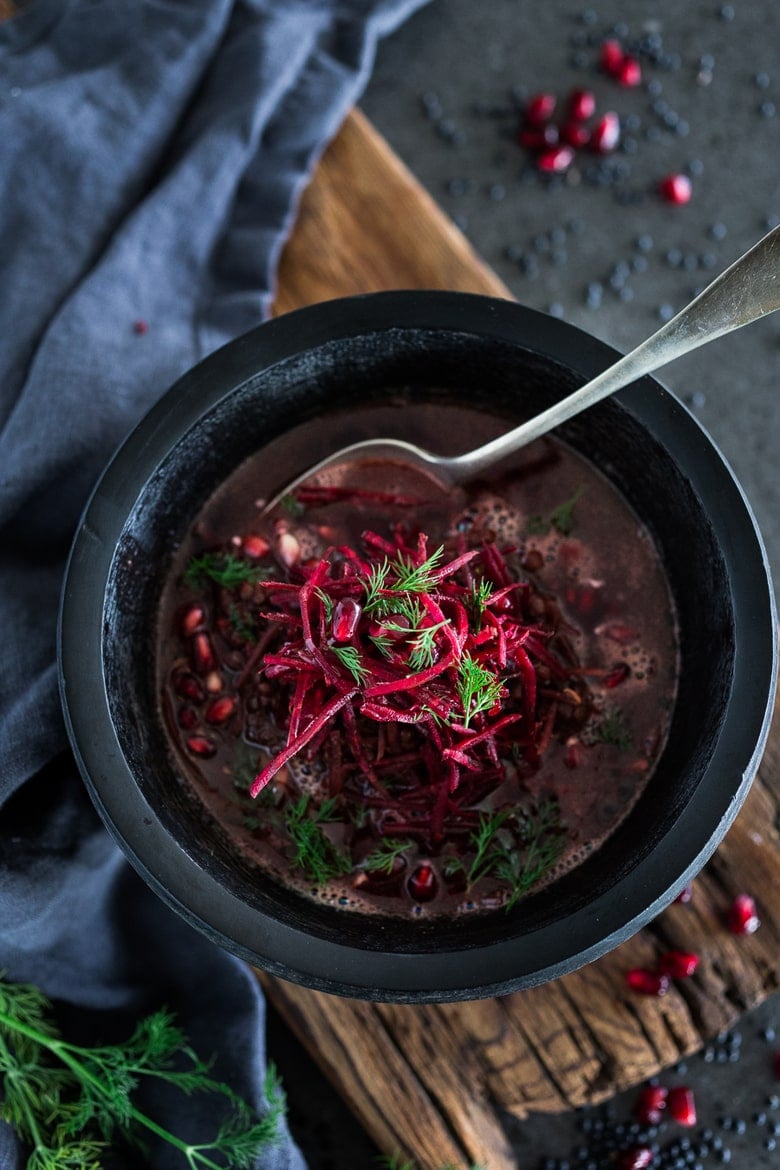 Happy New Year friends!
The New Year rolls in quietly this year. Last year we threw a party, this year we fall asleep to Return of the Jedi. Maybe things do change after you get married. Brian snores cutely on the couch and I am fighting to keep my eyes open. The last scene I remember before sleep finally takes me is when Darth Vador (Luke Skywalker 's father) asks Luke, to take off his mask. Darth Vador, even though he knows it will kill him, wants to see his son one last time, through his own eyes. And they have a moment, father and son, where they see each other clearly for the first time.  I wake up this morning remembering this scene, thinking about my own mask.
This morning… a brand New Year begins. I look outside to a snowy white winter. Icicles hang on the eves, crystallized branches of sycamores rise up to the sky, arms reaching. It is so quiet here. So still. Nothing stirs. Not even a whisper of wind.  And yet I feel it. How alive this world is.
My cat Bell, warms my feet with her purring body. The radiator pipes rattle alive. A mug of coffee warms my hands. And gratitude wells up in me, for the little things in life that bring so much joy.  A seed catalog rests beside me on the coffee table, and as I glance at it, I think about the year to come. What do I want to grow this year? And after some consideration, I plant a few seeds in my heart, trusting the universe, with its infinite wisdom, to take care of the growing part.
I want to wish you a very Happy New Year!
Sending you love,
Print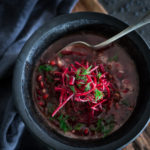 Healing Lentil Beet Soup
Prep Time:

10 mins

Cook Time:

30 mins

Total Time:

40 mins

Yield:

4

1

x

Category:

soup, vegan, detox

Method:

stove-top

Cuisine:

Northwest

Diet:

Vegan
---
Description
Healing Lentil Beet Soup – this vegan, low-calorie soup, is healing and cleansing – packed full of antioxidants that aid the liver.
---
2 teaspoons

olive oil

1

shallot, finely chopped

3

–

4

garlic cloves, rough chopped

1/2

cup

dry whole lentils (the smallest lentils cook the fastest- I like Black Caviar, and do not use split lentils)

4

cups

veggie stock

1 teaspoon

salt, more to taste

1 teaspoons

cumin

1 teaspoon

coriander

2

–

3

cups

grated raw beets (2 tennis ball-sized beets, peeled, grated). FYI You can sometimes find grated beets in the "salad bar" section of upscale grocery stores.

1

lemon
Garnish- fresh herbs (dill, flat-leaf parsley or cilantro) drizzle of olive oil, pomegranate seeds (optional).
---
Instructions
Heat oil in medium pot over medium heat. Sauté shallot for 2-3 minutes, then add garlic. Saute 2 more minutes until golden and fragrant. Add stock, lentils, beets (save a little for fresh garnish) salt and cumin and coriander. Bring to a simmer, then cover and cook on low simmer, for 30 minutes or until lentils are cooked through and tender. If using larger lentils you will need to cook longer, so keep simmering, covered until tender.
When lentils are tender, squeeze in the juice from one lemon.
Taste and adjust salt and spices to your liking.
Divide among 2 bowls. Top with a handful of fresh grated beets and fresh dill (or cilantro, parsley) and drizzle with a little olive oil. Add a few fresh pomegranate seeds if you like.
---
Notes
 If serving someone who prefers extra richness, feel free to top with a little plain yogurt or sour cream, but know that the olive oil really adds a nice richness to this.
---
Nutrition
Serving Size:

2 cups

Calories:

329

Sugar:

13.3 grams

Sodium:

1008.5mg

Fat:

8.1 grams

Saturated Fat:

1.1

Carbohydrates:

53 grams

Fiber:

11 grams

Protein:

15.7 grams

Cholesterol:

0
Keywords: detox soup, detox lentil soup, beet soup recipes, vegan lentil soup recipes, best lentil soup, best beet soup, lentil soup recipes, cleansing recipes,
SaveSave
SaveSave