How to make your own homemade Corned Beef  with beef brisket, pickling spices, and celery juice- just in time for St.Patricks Day! Allow 5 days for curing time.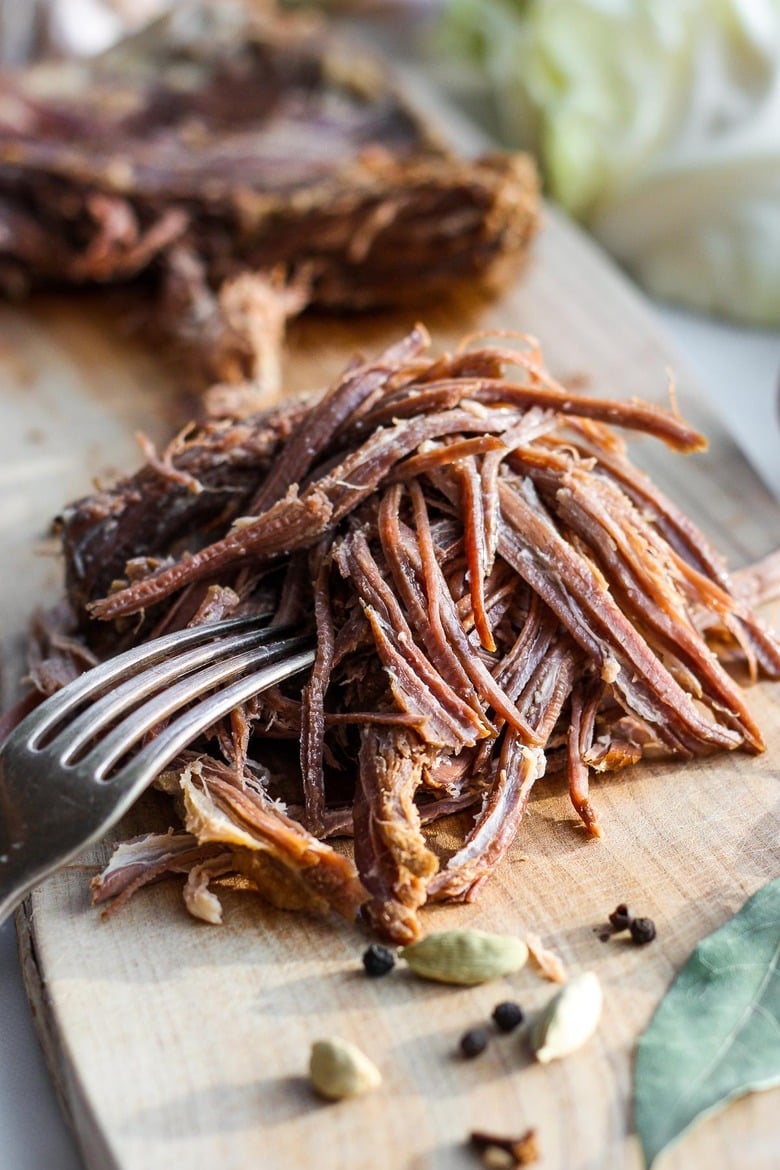 Death is not the greatest loss in life. The greatest loss is what dies inside us while we live. ~ Norman Cousins
This recipe for  homemade Corned Beef comes just in time for St. Patrick's Day.  I think we need to take advantage of any ritual and celebration these days and create our own when inspiration strikes.  Fin, my 11-year-old, said recently, "Mom ritual gives me certainty."  It really struck me.
He named something for me that I definitely experience and want to foster, especially when things feel unknown and security is elusive.  I am often floored by the wisdom that flows from my kids.
I am inspired to create more rituals in our family rhythms.  These acknowledged occasions give us a place and time to come together and memories to share.  So, we will have a St. Patricks Day celebration with a nod to my husband's Irish heritage!  We will be creating a meal that will include Naturally-Cured Corned Beef!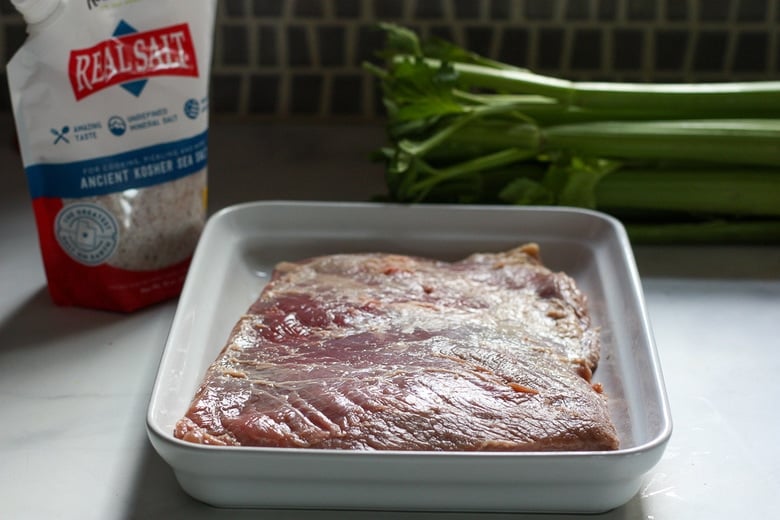 What is Corned Beef?
Corned Beef is made from beef brisket, which is cured in a salt and spice brine ( much like a pickle brine) for a week before being slow-cooked in a slow cooker, until tender and falling apart.
Why make Corned Beef from Scratch?
Commercially processed corned beef most often contains nitrates. The main purpose of nitrates is to inhibit harmful bacterial growth, enhance flavor, and keep the meat from turning an unappetizing brownish-gray color.  However, there is a lot of controversy on the impact of nitrates on our health.  Some say it is really bad, some say it's no big deal.
Delicious as they are, it seems clear that consuming a lot of processed meat is not great for our health and may increase the risk of cancer as well as a bunch of other scary-sounding risks.  The good news is that it is really easy and delicious to cure your own corned beef, keeping potential harmful additives at bay.
 Ingredient Notes
Beef Brisket: Try to the best quality beef you can. Opt for pasture-raised, grass-feed beef brisket. A great source is at your local farmers market.
Natural Nitrates: A natural way to cure your own corned beef is to use celery juice, (which contains natural nitrates in addition to a whole other host of benefits), sauerkraut brine (full of active probiotics and natural preservatives), and mineral salt. (You can read more about celery's nutrition and a detailed explanation of how to juice it here.) You can juice your own celery at home, or if you don't have a juicer, use a blender and strain, or find celery juice at gourmet grocery stores or at a juice bar.
Pickling Spices: Peppercorns, mustard seeds, cinnamon, clove, coriander seeds, cardamom & bay leaves.
Optional: A slice of beet or beet juice ( for vibrant color)
How to make Corned Beef
Corned Beef is basically salt– cured meat, usually beef brisket.  This process preserves and seasons the meat while enhancing tenderness and adding flavor with spices.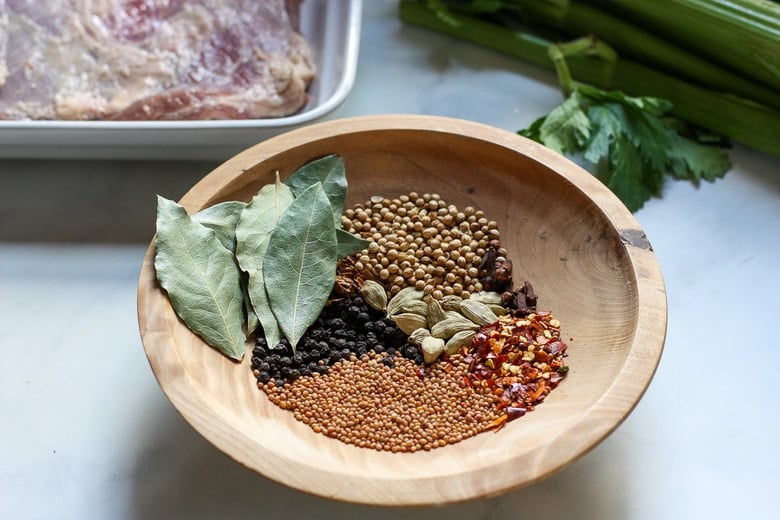 Pickling spices are essential in creating the traditional flavor of corned beef. Today we're using grass-fed, pasture-raised beef.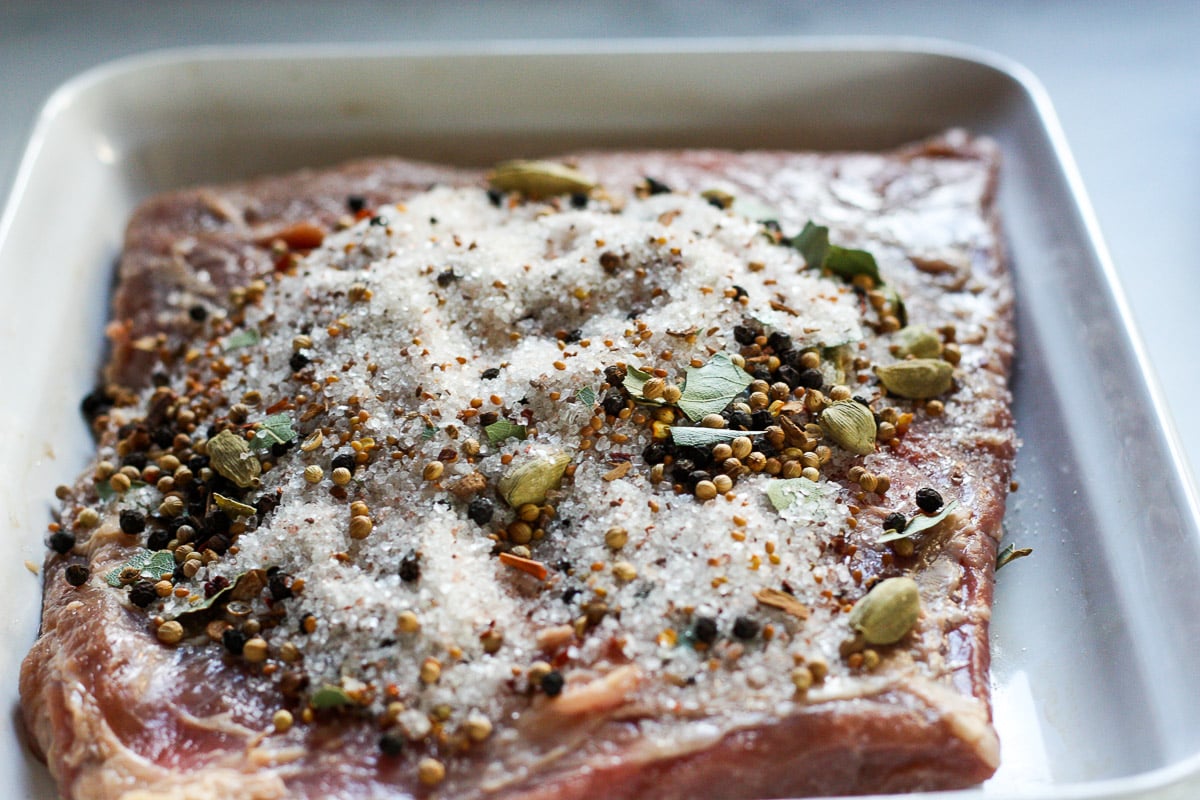 Massage both sides of the meat with salt and spices.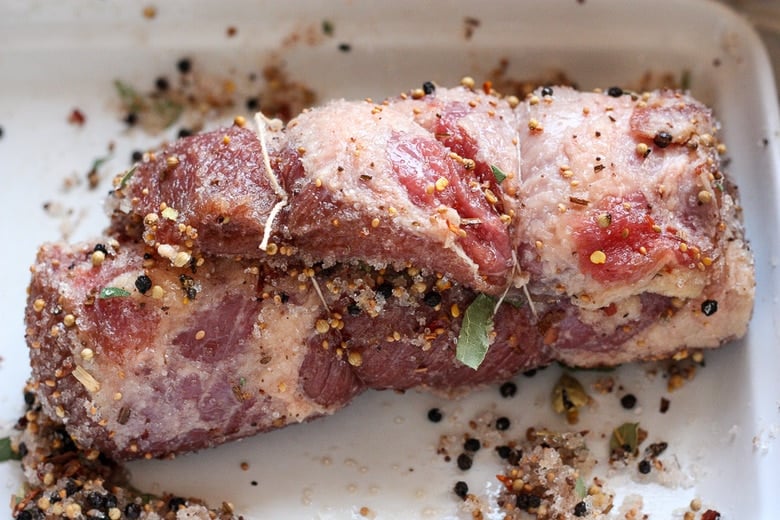 Roll up with spices inside and tie to make a nice little bundle keeping the spices right close to the meat for ensured flavor.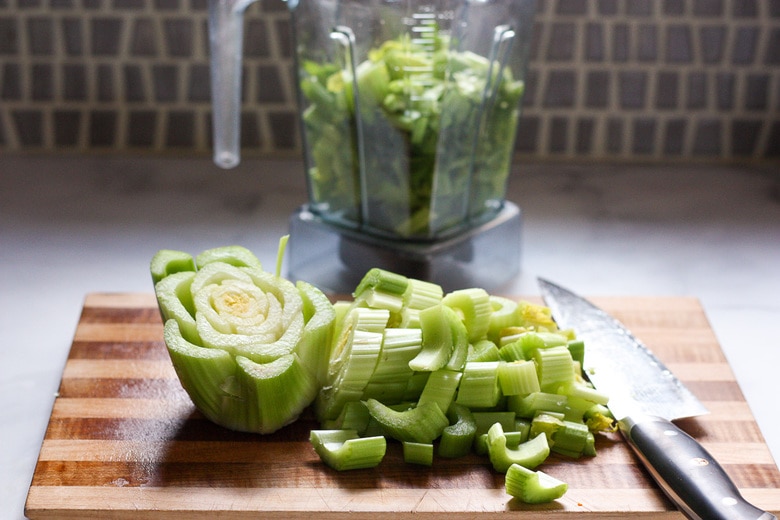 Celery juice contains natural nitrates.  One bunch of celery makes about 2 cups.  I used a vita-mix and blended it up smooth and then strained through a cheesecloth.
I did the same for the beet juice ( which adds beautiful color!)  Beet powder is also an option if it is available to you.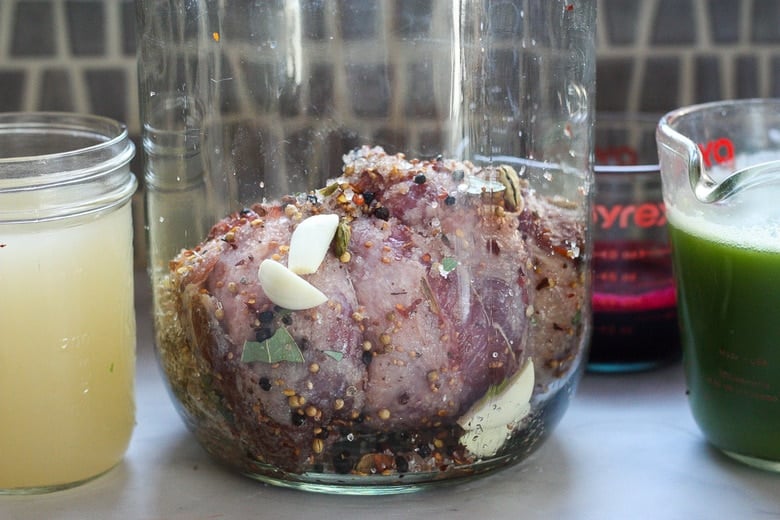 Place the rolled meat and any remaining salt, spices, and garlic in a glass or ceramic vessel that has a lid, lodging it in the bottom where it will stay fully submerged under the brine. (You can also place a weight, a small plate or a small bowl directly on top of the meat if needed).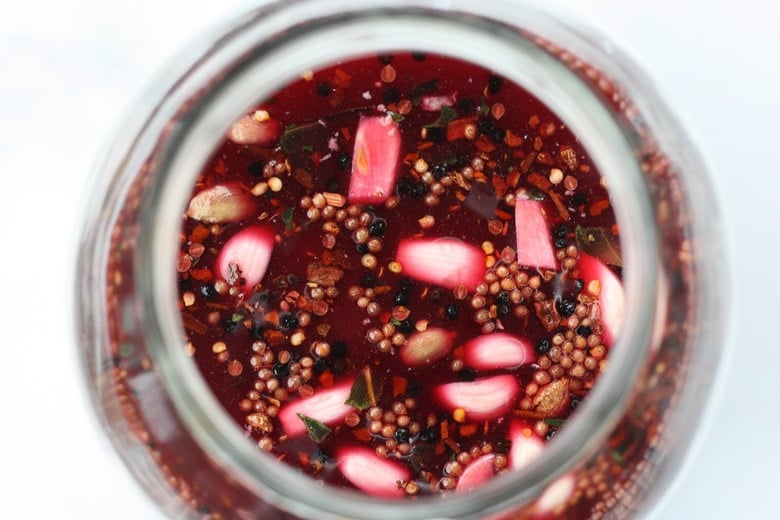 Pour in the celery juice, sauerkraut brine, and beet juice (for color).  Now it is ready to cure.
Cover and place in the fridge for 5-10 days.
Both sauerkraut brine and whey are starter cultures, already active giving your curing a boost.  Either work in this recipe.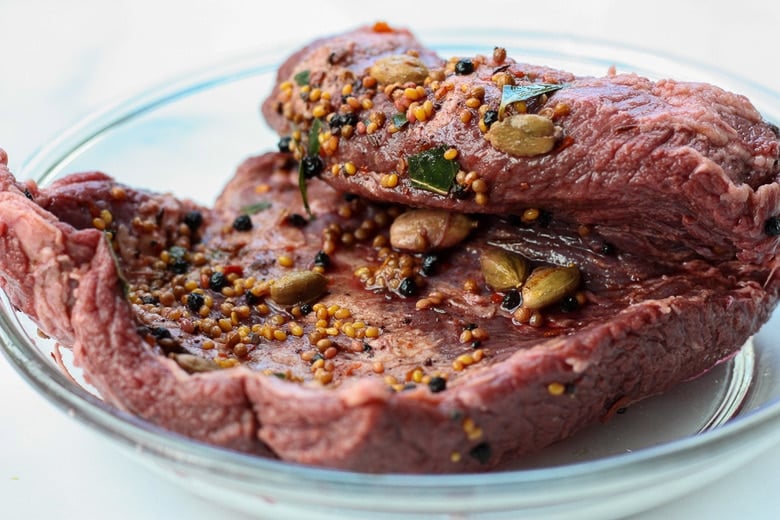 Rinse thoroughly after removing from brine.  Your beef is now corned!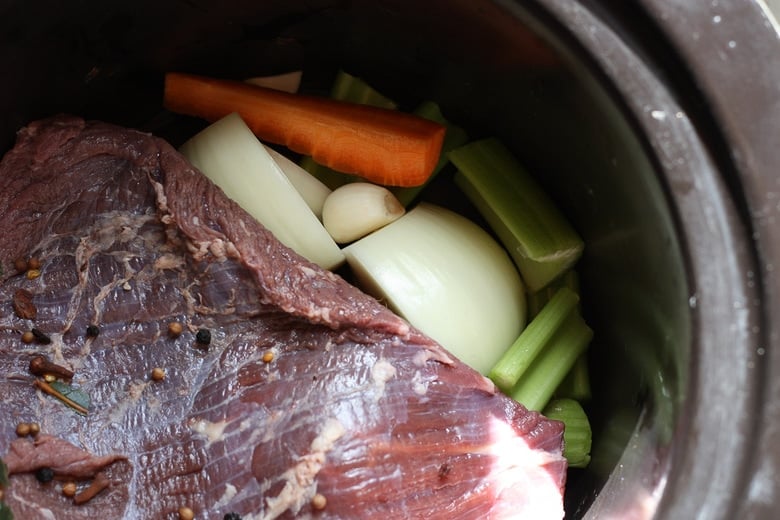 Time to Cook!
Place the Corned Beef in a slow cooker for a few hours, cooking until tender.
From here your corned beef is ready to use in sandwiches, soups, stews, and other inspired creations!
It is easily shreddable, or feel free to slice!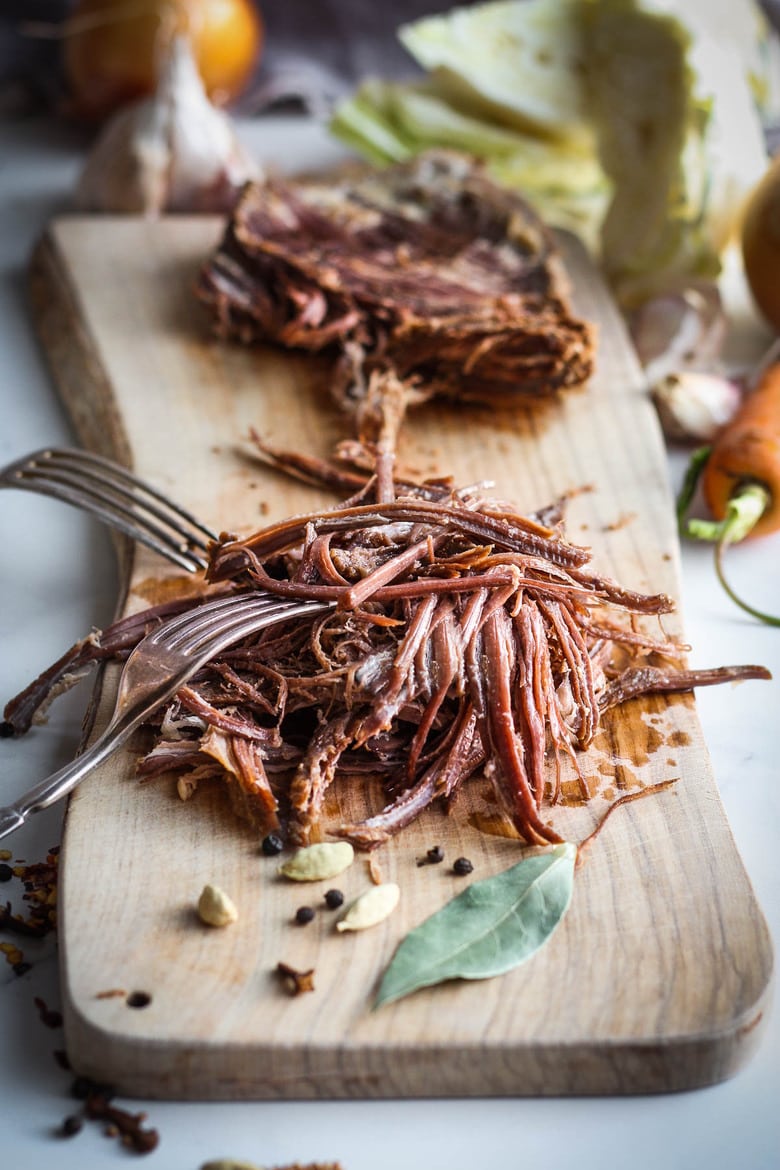 I really love thinking about how back in the day this was just what one did to preserve food – not so much focus on " good for you" or "bad for you".  It was all about survival.  Food was pure and the methods simple.
Our ancestors were clever in creating both sustenance and flavor.  There is something very gratifying about learning these ancient ways that are wholesome, full of natural nutrients and delicious in their simplicity.
More Recipes you may like:
Hope you enjoy this naturally-cured Corn Beef Recipe!
Print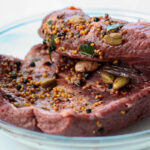 Homemade Corned Beef
Prep Time:

60

Total Time:

1 hour

Yield:

8

1

x

Category:

preserved, beef recipe,

Method:

cured

Cuisine:

Irish

Diet:

Gluten Free
---
Description
How to make your own homemade Corned Beef with natural nitrates from celery juice.   It is easier and healthier than you may think!  Allow one-week curing time.
---
Curing the Beef (Allow 5 – 10 days) 
2

–

3

pound

thawed beef brisket (grass-fed preferred)

3

bay leaves

2 tablespoons

mustard seeds

2 tablespoons

whole coriander seeds

4

cloves

1/2

–

1

teaspoon red pepper flakes

1 tablespoon

whole black peppercorn

1 tablespoon

whole cardamom pods

2/3

cup

sea or mineral salt

1/4

cup

cane sugar

2

cups

celery juice (1 bunch celery, see notes)

2

cups

sauerkraut brine or whey (see notes)

1/4

cup

beet juice or 1 tablespoon beetroot powder, optional (for color)

5

cloves of garlic
Cook the Corned Beef
3

cups

water

1

onion,

2

cloves of garlic

2

celery

1

carrot
---
Instructions
Brining the meat
Rinse brisket and pat dry.
Break up cinnamon stick and bay leaves, lightly smash cardamom.  Mix together with mustard seeds, coriander, cloves, red pepper flakes, salt, and sugar.
Rinse and dry brisket.  Throughly massage spice/salt mixture into meat.  Roll up tying with string to secure. Place rolled up brisket in jar or glass container.
Pour sauerkraut brine (or whey-see notes), celery juice, and beet juice (if using) over the meat.  Make sure meat is fully submerged.  Though in the garlic cloves.  Seal with lid.
Place jar in the refrigerator for 5-10 days.
Unwrap, rinse and cook.
Cooking the Corned Beef
Prepare onion, celery, carrot and garlic cutting in large chunks.  Put in the bottom of a crockpot (or dutch oven)
Place meat on top of the vegetables along with the water.
Cook on high for 4-5 hours, until the meat, is tender and easily forks apart.
---
Notes
You can use sauerkraut brine that you make from your own batch of cultured cabbage or strain store-bought sauerkraut.  1-quart yields about 1 1/2 cups.  This amount will vary depending on the brands.
Celery juice can be made with a juicer, or blended in a blender with 2 cups water (then strained) or feel free to use store-bought celery juice.
If you choose to use whey- you can strain full-fat yogurt in a strainer lined with cheesecloth over a bowl left out at room temperature for about an hour.  1 quart usually yields a bit more then 1 cup of whey.
Adding vegetables to the crockpot when cooking the meat is totally optional, it just adds more savory flavor.  Alternatively cooking in just water will work just fine.
Nutrition
Serving Size:

4 ounces

Calories:

235

Sugar:

6.3 g

Sodium:

966.5 mg

Fat:

9.3 g

Saturated Fat:

3 g

Carbohydrates:

12.9 g

Fiber:

2 g

Protein:

25.2 g

Cholesterol:

70.3 mg
Keywords: corned beef recipe, How to cure corned beef, natural corn beef, corn beef without nitrates, homemade corned beef, naturally cured corn beef recipe