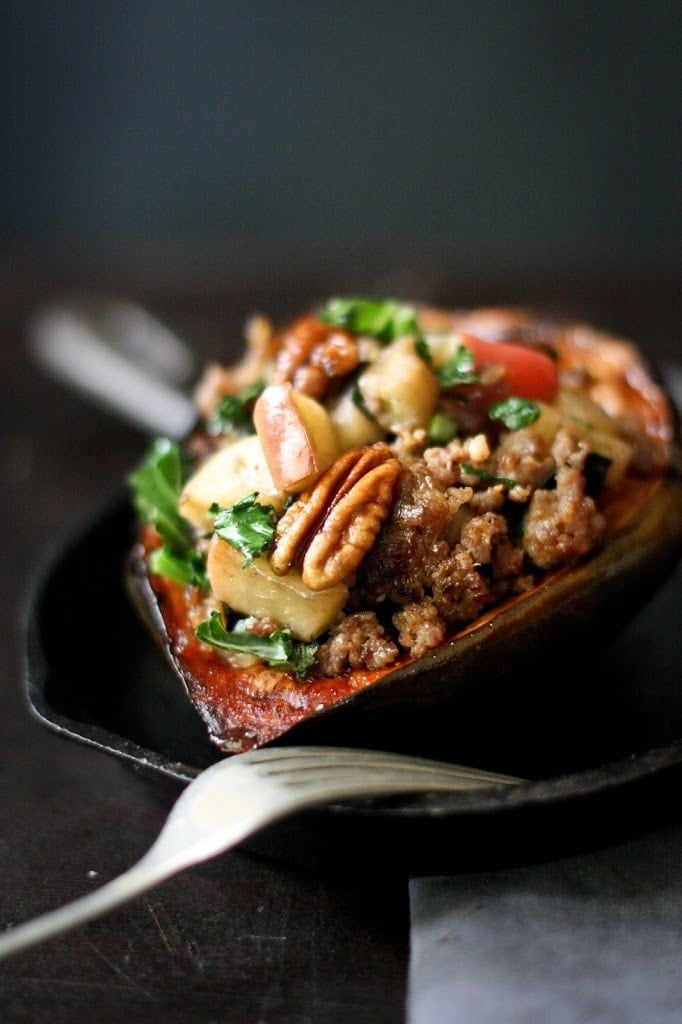 This hearty fall recipe for Maple Glazed Stuffed Acorn Squash is deeply satisfying. Acorn squash is roasted with a bit of maple syrup until it's soft and caramelized. A savory filling is made with fall apples, parsnips, sage, pecans and your choice of either Italian sausage or Soy Sausage. It's easily customized – if you are having guests over, some of whom are vegan, you can make some vegan and also make some with meat.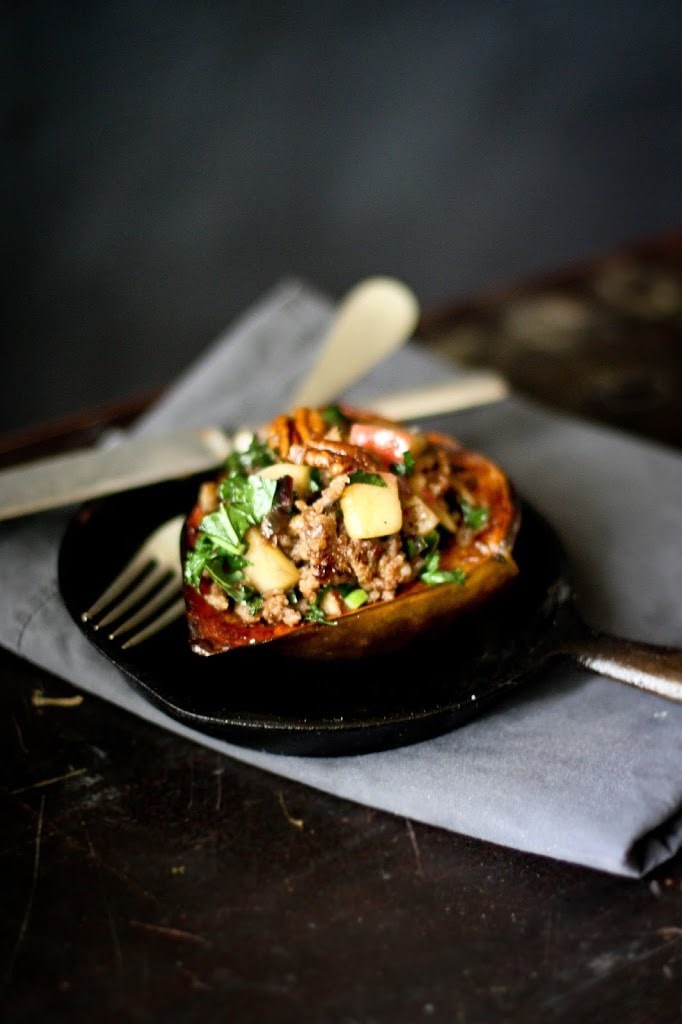 I am often amazed at the intelligence and timing of nature. How, just in time, the earth brings us hardy produce like winter squash and root vegetables and apples and nuts, thick skinned and tough enough to last thru winter.
Over the last few weeks, fall has arrived in the Northwest. And with the blustery winds and the swirling leaves, come the pumpkins and winter squash.
Fall produce is not only hardy, it is
hearty
. It is meatier and denser than summer produce, and often contains more sugars. Just look at the difference between a summer squash and a winter squash.
As ingredients change with the coming of fall, the cooking techniques we use, change too. The barbecue is put away, and the season of roasting and braising and stewing begins. We cook more slowly, because much of fall produce requires longer cooking times. And as the weather cools, our food cravings change and we seek the comfort and warmth of more robust and filling meals.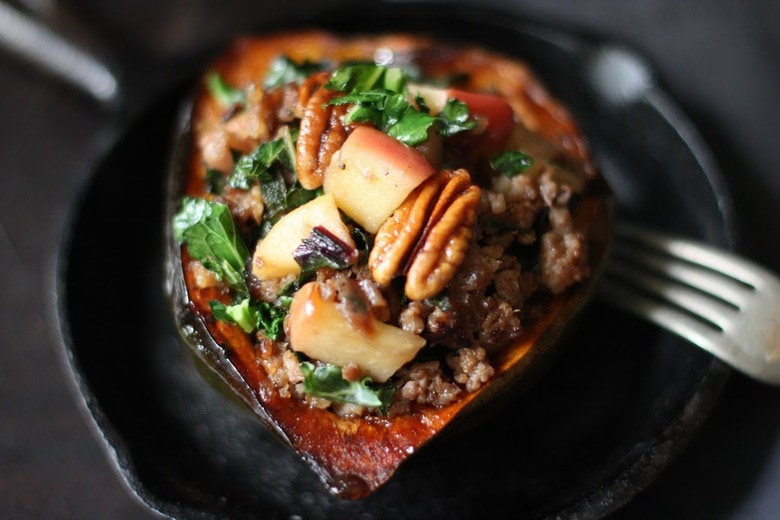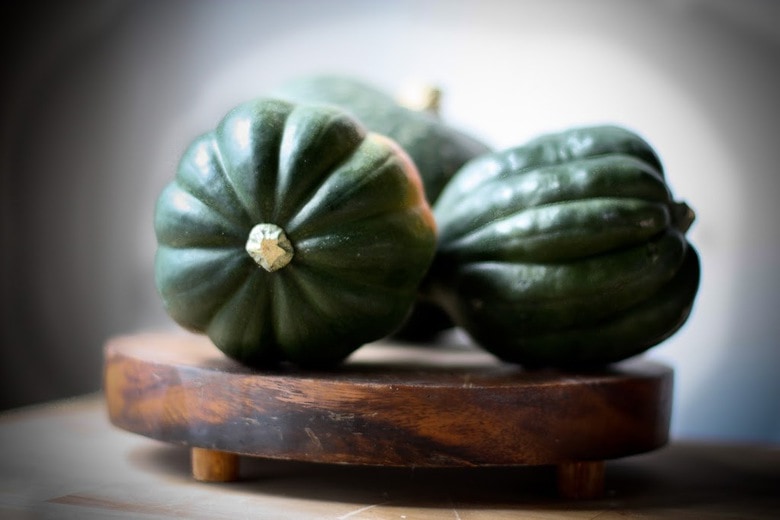 When choosing winter squash, pick any kind you like, but just make sure they are smaller and similar in size so roasting times don't vary too much. I used small acorn squashes, but little butternuts, pumpkins, delicata, kobacha or spaghetti squash would work well too.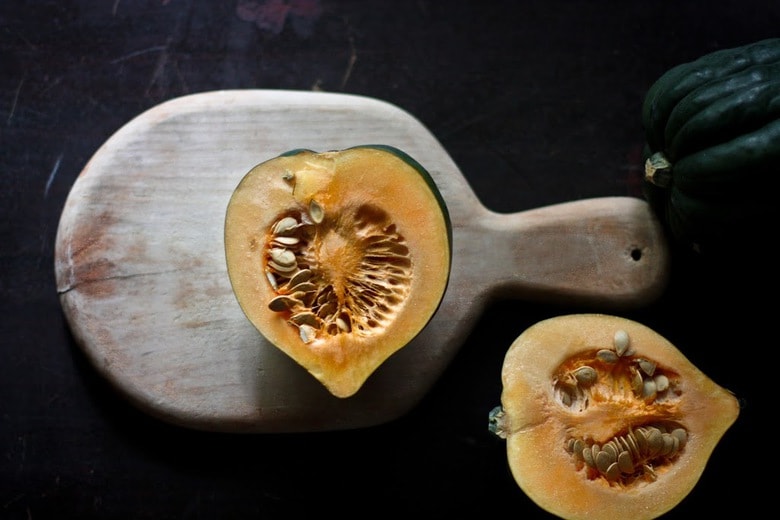 With a sharp knife cut squash in half and scoop out seeds with a spoon. You could also do these standing upright, reserving the tops for garnish, by cutting a little off the bottom so they have an even platform to stand on.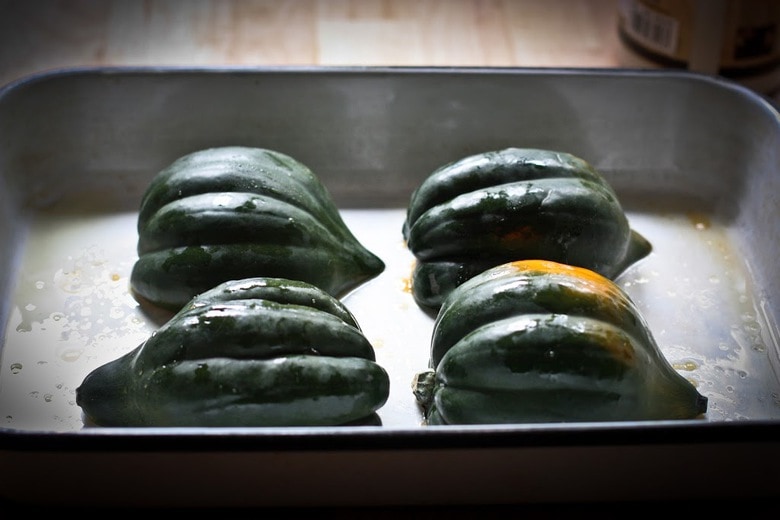 Brush insides with an equal mix of olive oil and maple syrup and sprinkle with salt and pepper. Lay on a greased baking sheet and roast in a 400F oven until fork tender.
Make maple pecans (see below).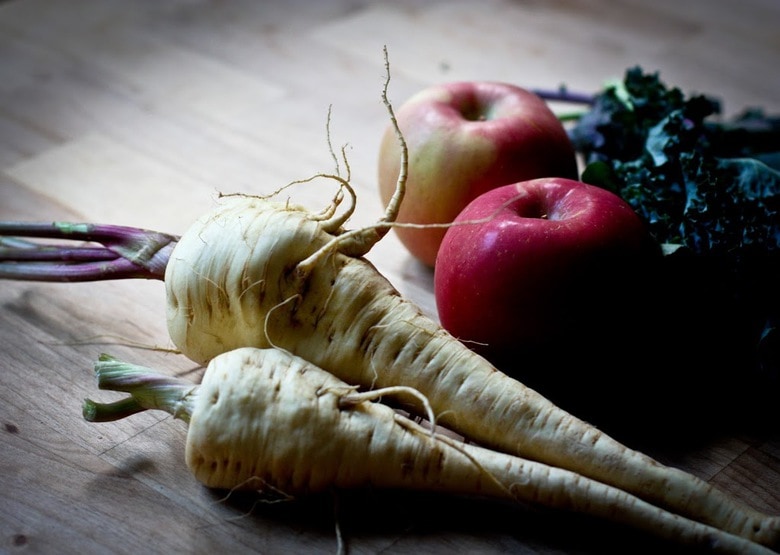 While the squash is roasting, make the filling. Brown the sausage, dice the parsnips, apples and onions. Chop Sage and Kale. Saute.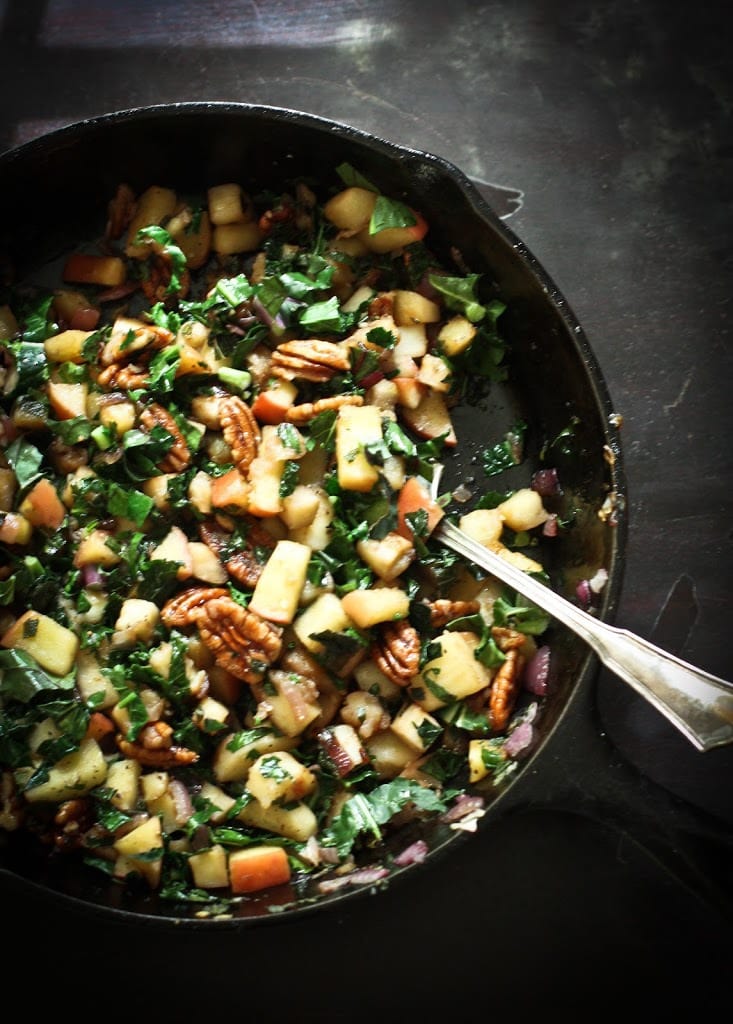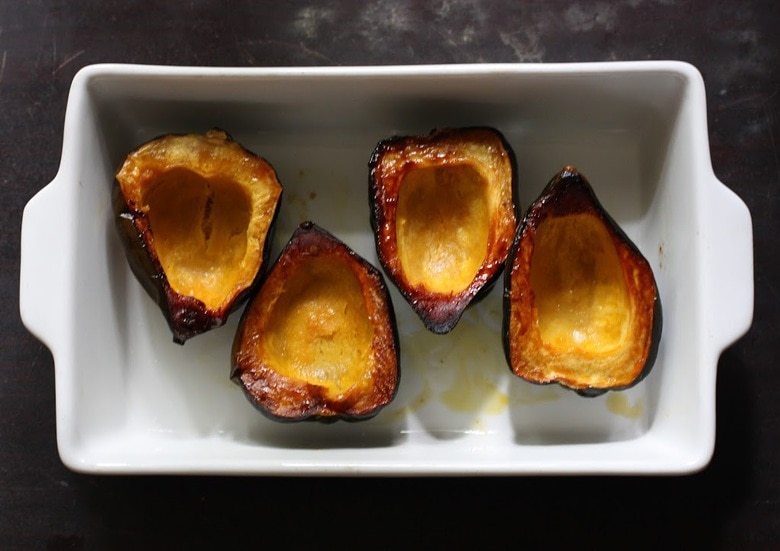 When squashes are tender, turn them over and let cool. Place in a baking dish and fill with Apple Parsnip Sage mixture. Grate some fresh nutmeg over the top and place in a 350F oven.
You can also refrigerate them at this point, and bake them the next day. They will take longer to heat thru if coming out of the fridge.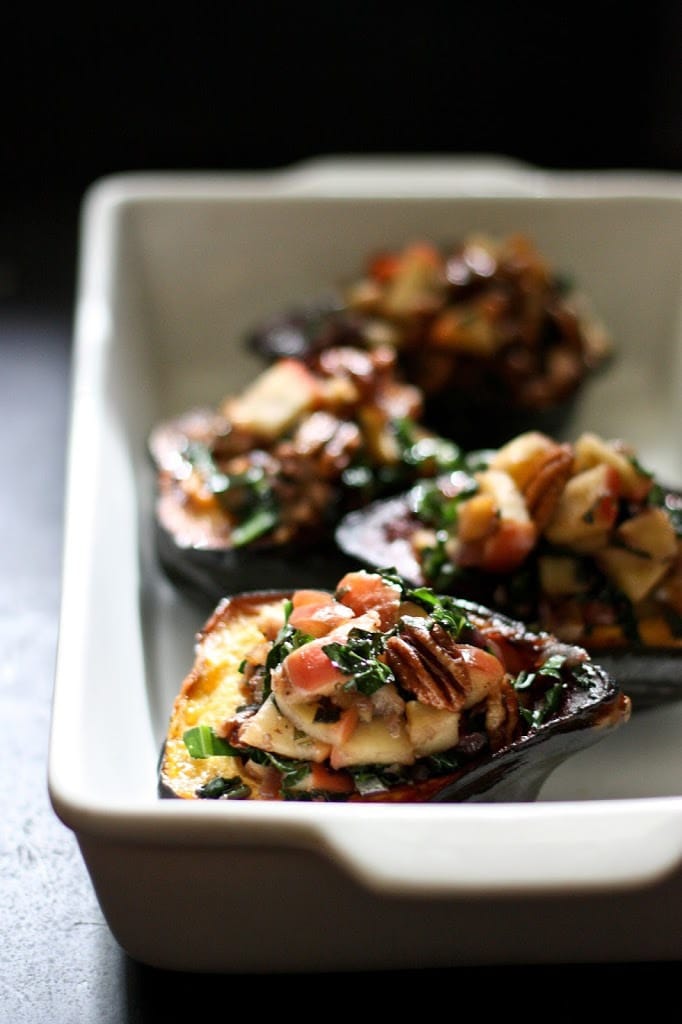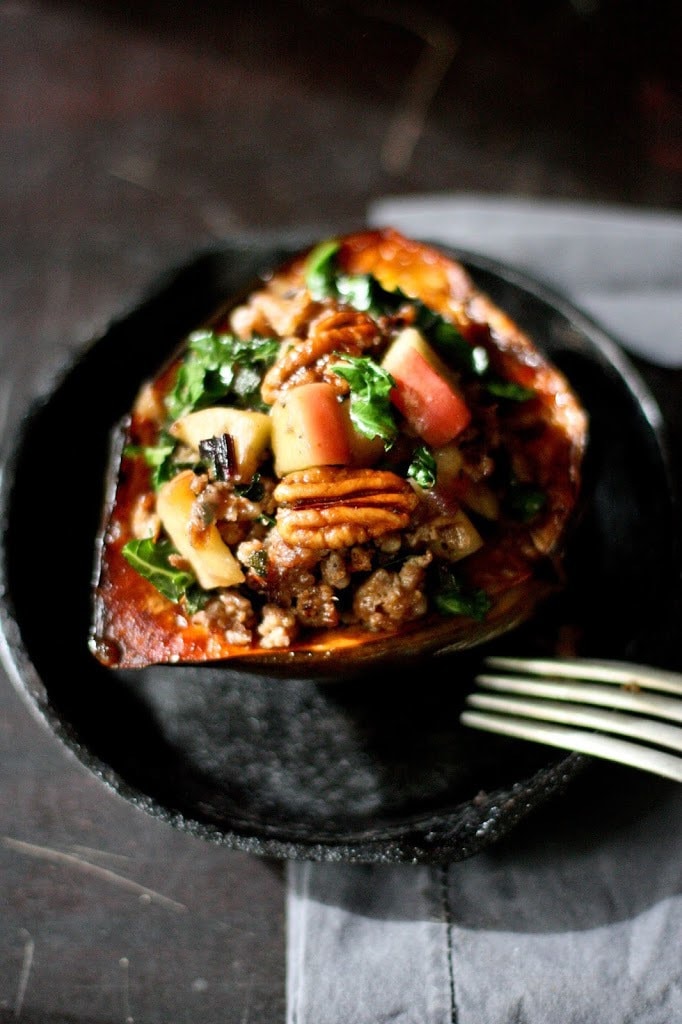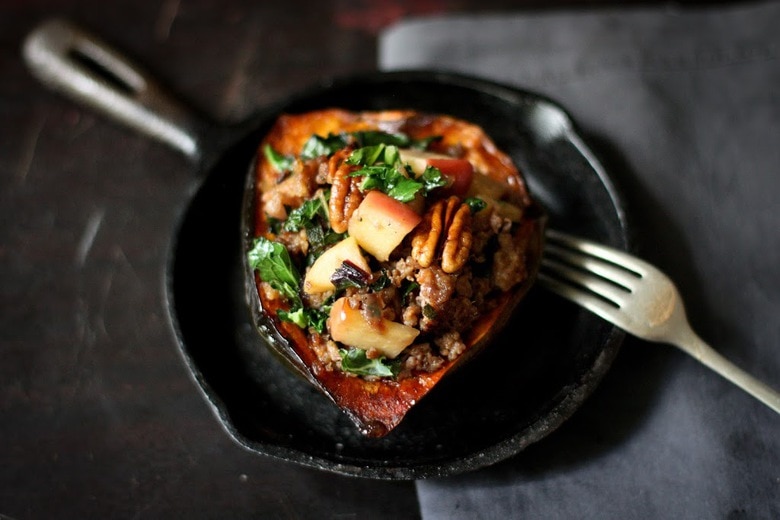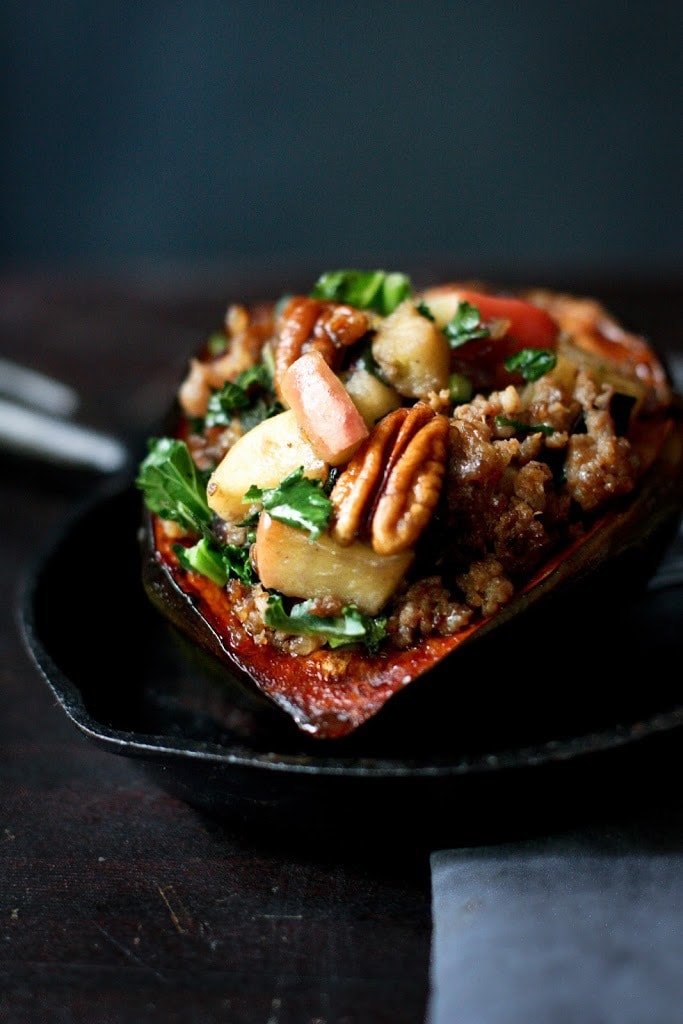 Thanks for reading and sharing! For more Feasting at Home …
Print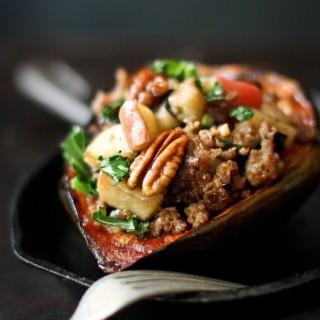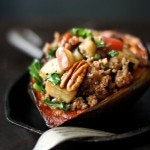 Maple Glazed Acorn Squash with Apple, Parsnip and Sage
Prep Time:

25 mins

Cook Time:

45 mins

Total Time:

1 hour 10 mins

Yield:

6

Category:

Main

Cuisine:

northwest
---
Description
Maple Glazed Acorn Squash with Apple, Parsnip and Sage
---
Ingredients
3

small acorn squash

2 cups

peeled and diced parsnip (

two

medium sized)

1 cup

Italian or soy sausage, browned

1 cup

diced apple (fuji or gala)

1/2

onion, diced

1 cup

(packed) chopped kale

2

T packed, chopped sage

2

T maple syrup

1/2 cup

maple pecans (recipe below) or toasted pecans

3

T olive oil
Splash white wine, or hard cider
pepper
fresh nutmeg
---
Instructions
Preheat oven to 400F
Cut Acorn Squash lengthwise and scoop out seeds with a spoon. Brush insides with a mix of 1 T olive oil and 1 T maple syrup. Sprinkle generously with salt and pepper and lay skin side up on a greased, or parchment lined baking sheet, and roast in a hot oven for 30-40 minutes, until you can pierce through skin and flesh with a fork. Remove from the oven and using a metal spatula, turn over, trying to keep caramelized edges intact, and let cool. Place in a baking dish.
While squash is roasting in the oven, brown Italian sausage (or soy sausage), set aside and wipe out pan. In the same pan, saute parsnips and onions in 2 T olive oil, on medium heat, until tender, about 10 minutes.
Add apples and sage, and saute 5 more minutes, until apples are tender. You may need to add a little more olive oil. Generously Salt and Pepper to taste.
Splash with a little white wine and add kale and pecans. When wine has evaporated, add 1 T maple syrup.Add sausage back in and taste for salt, adding if necessary. Add a little fresh grated nutmeg or a pinch or two ground. Fill the squash with the apple parsnip sausage mixture and place in a 350 F until heated through (about 15 minutes)
To Make Maple Pecans
Pre heat oven to 400F
In a small bowl, coat pecans with real maple syrup (only real maple will work here) Add a pinch of salt and some cracked pepper. Spread out on a greased baking sheet and using a timer, bake 8 minutes to start, in a 400 F oven, give them a mix, then bake another 7 – 13 minutes. These need to toast up nicely for the right "crunch," but time will vary depending on your oven – so keep a close eye on these to make sure they don't burn.
Remove, let cool 3-4 minutes, then use a metal spatula to unstick them from the sheet pan. If they are completely stuck, place them back in the oven for a minute or two, to loosen, and try again. Then let cool completely, store in a zip lock bag. I make these in big batches and use in salads or cheese platters.
---
SaveSave
SaveSave