Calling all you Eggplant lovers out there! Here's a flavor bomb you won't want to miss – Spicy Chinese Eggplant with Szechuan Sauce -a tasty, easy vegan dinner recipe you can serve over jasmine rice, cauliflower rice, rice noodles, black rice or even quinoa! See 45-second video!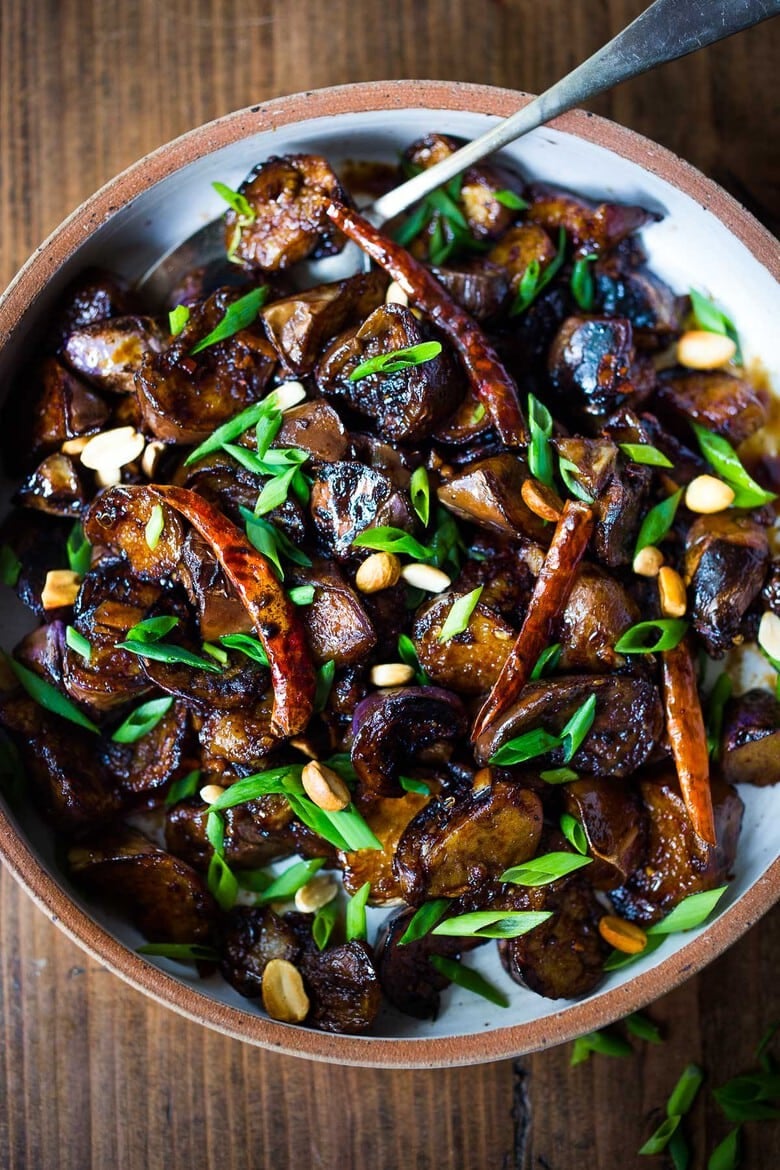 The other day, I bought some beautiful Chinese eggplant at the farmers market and was going through the list of asian eggplant recipes in my mind, when I remembered a stunning dish we had in Shanghai a few years back, and dug up my old recipe notes.
There it was in BOLD – Spicy Chinese Eggplant with Szechuan Sauce with a huge star and circle around it – a reminder to share it with you! So here it is, and boy is this tasty! I can't wait for you to give it a go. The eggplant is succulent and flavorful, a fun way to cook it! For more delicious ways to cook with eggplant, please take a peek at our 20+ Best Eggplant Recipes.
How to make Chinese Eggplant | 30-Second Video!
Why You'll Love This Chinese EggplanT!
Perfect Texture – The eggplant is deliciously caramelized with crispy charred edges. It is crispy, not soggy and uses a minimum amount of oil.
Amazing Flavor– spicy, garlicky, subtly sweet. Better then a restaurant!
It is vegan– It makes a light main dish or a great side dish. For extra protein serve it with our crispy tofu!
It's adaptable! Feel free to use this same technique with other vegetables- or add zucchini or bell peppers.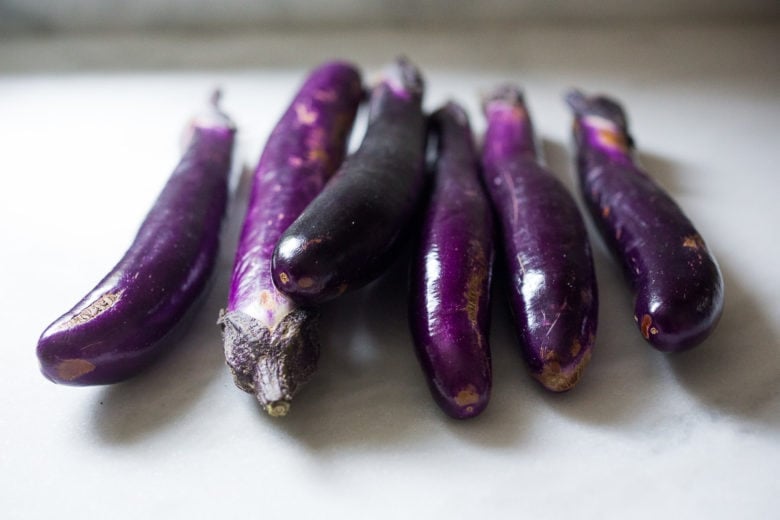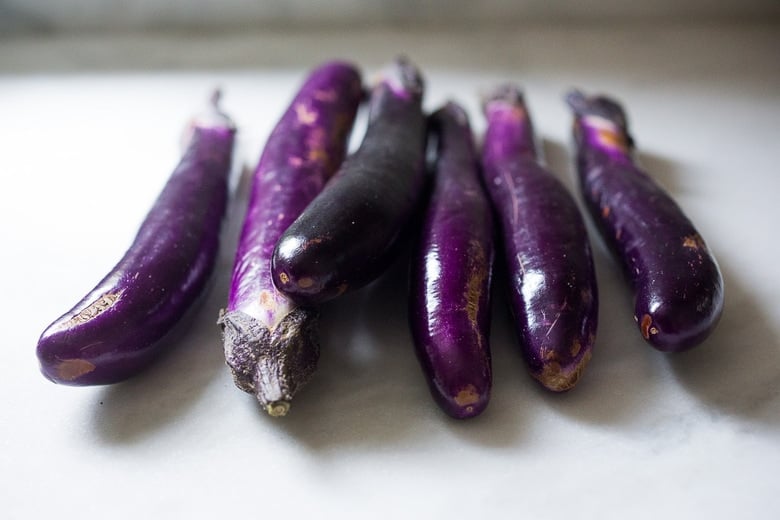 Chinese Eggplant Ingredient Notes
Chinese or Japanese eggplant- both are long and slender, with few seeds, and hold up well in stir fries.
Dried Red Chilies- Keep in mind, you never eat these chilies– they just give the oil a little spicy heat, permeating the whole dish. They are quite spicy!
Szechuan Sauce– A magical combination of Szechuan peppercorns, ginger, garlic, vinegar, garlic chili paste, soy sauce, sesame oil, 5-spice and sweetener. Feel free to use gluten-free liquid aminos. The Szechuan Peppercorns are zingy and numbing, an acquired taste, for sure! Feel free to use black peppercorns instead if you prefer.
See the recipe card below for a full list of ingredients and measurements.
How to make Chinese Eggplant:
STEP ONE– It starts with cutting the eggplant into bite-sized pieces. Cut at a diagonal so each piece is like a triangle, about an inch thick at its thickest end. Try to get get them roughly the same size for even cooking. Cut a wedge then turn the eggplant, cut again and turn.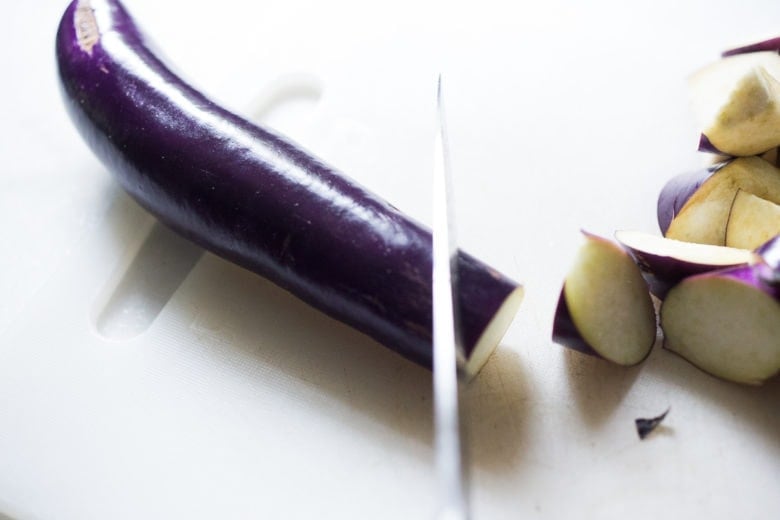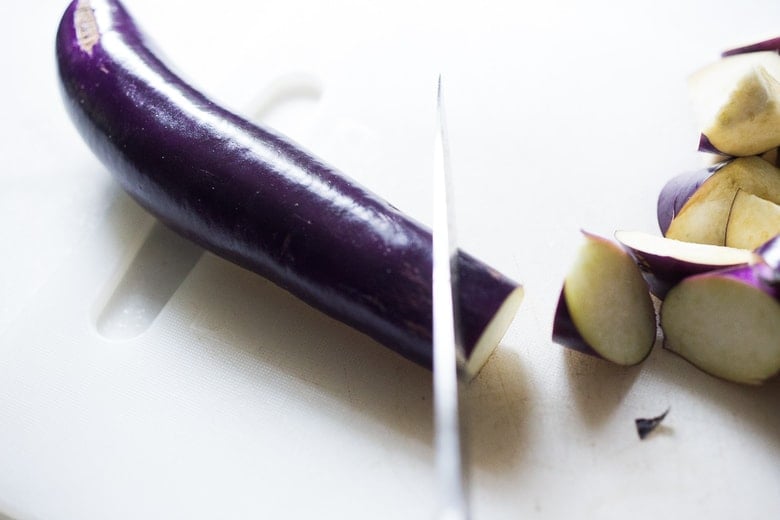 Tip: This works best with Japanese eggplant ( long and skinny) versus globe eggplant.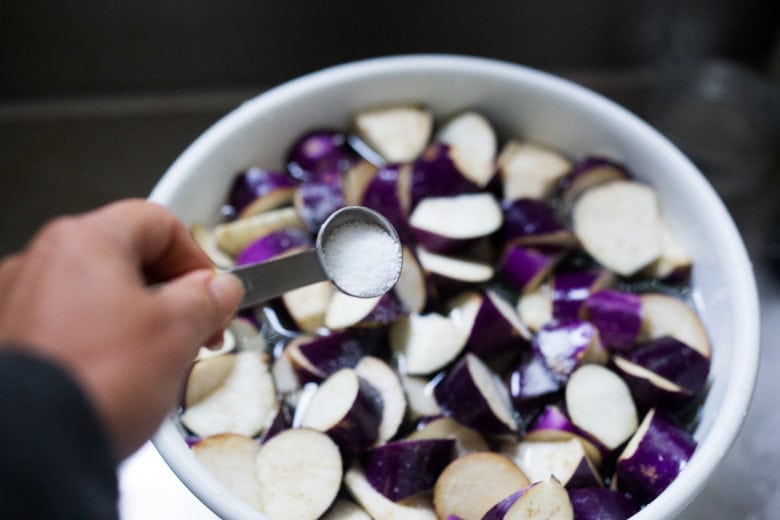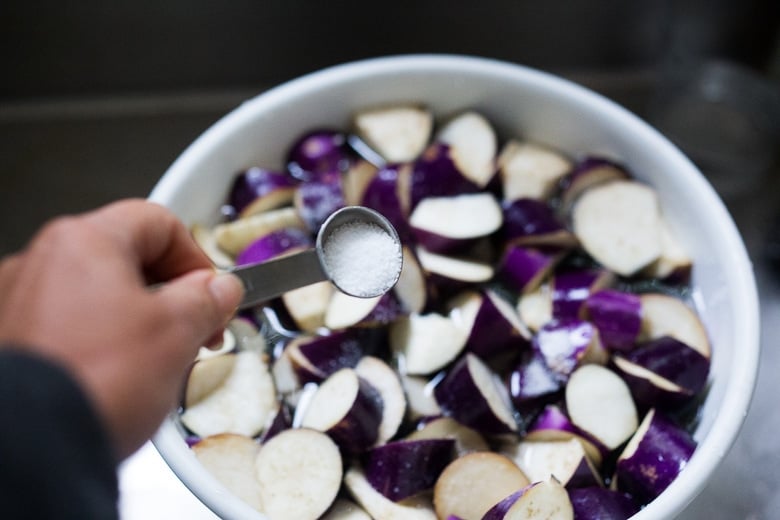 STEP TWO– Once all the eggplant are cut ( 4 x 10-inch eggplants), place in a bowl of salted water for 20 minutes. Cover with a plate so the eggplant is submerged. Let sit 20-30 mins.
TIP: Salting the eggplant helps the eggplant soak up less oil when stir-frying.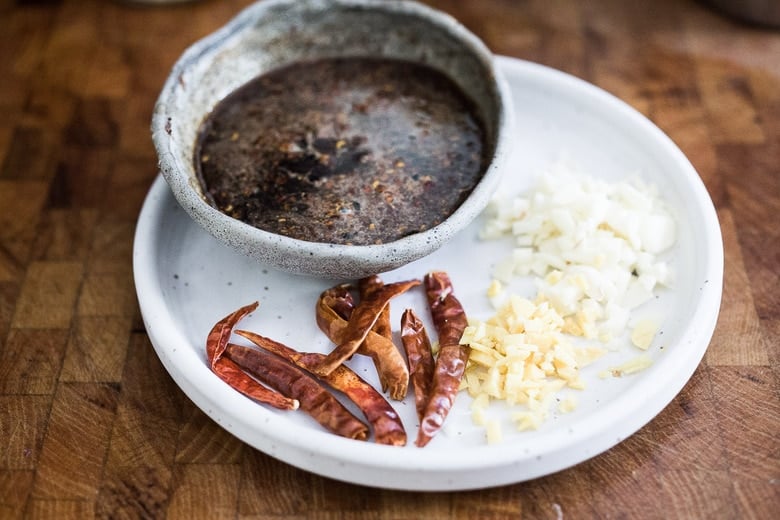 STEP THREE- Mise en place ( get things prepped and ready). While the eggplant soaks, prep the garlic, ginger and Szechuan sauce and place them by the stove.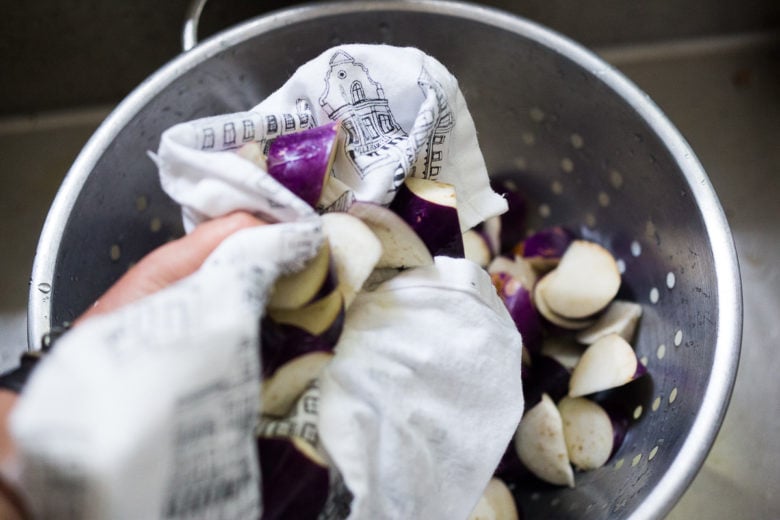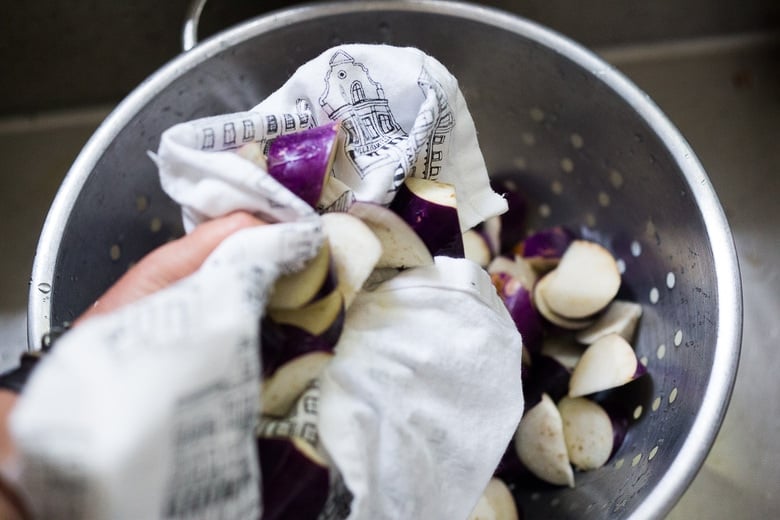 STEP FOUR– Drain the eggplant, rinse, then pat dry with a kitchen towel. Then coat in cornstarch. This helps the eggplant get crispy.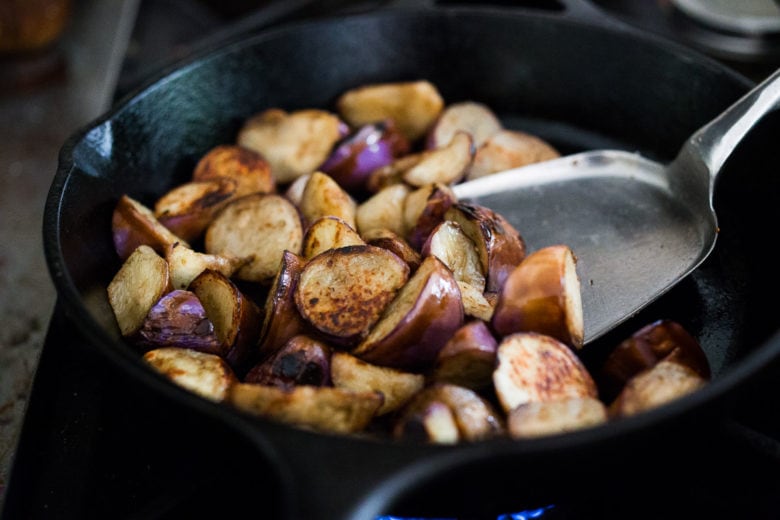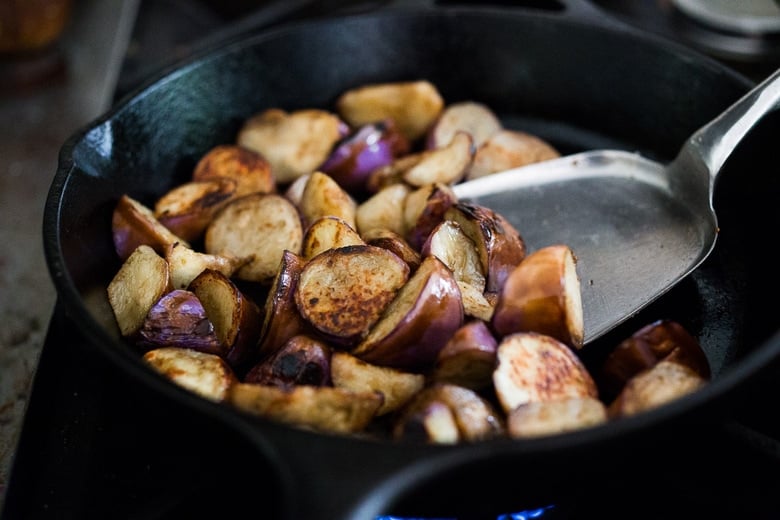 STEP FIVE– Sear the eggplant over medium high heat in an extra-large flat skillet, versus a round wok. The eggplant need a little time to cook through and get each side brown. It is much easier to do this in a flat skillet.
Sear each side of the eggplant pieces. Fry in two batches, and this is where you will need a little patience. Each batch will take about 10 minutes, and require to turn the eggplant over one by one to get each side golden. When the eggplant pieces are deeply golden, even slightly charred, set them aside.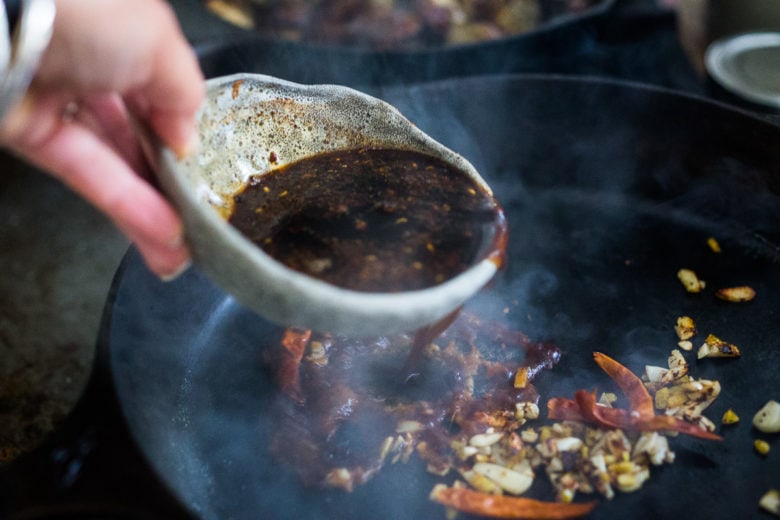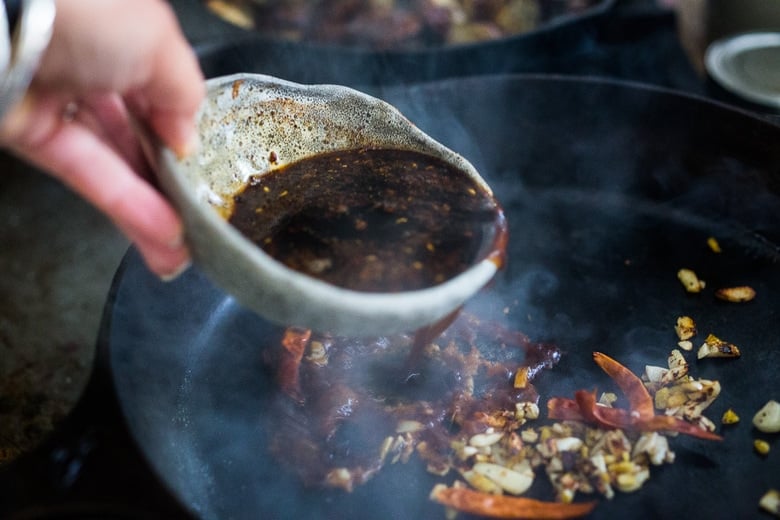 STEP SIX– Stir fry the ginger and garlic for a quick minute then add the chilies. Make sure to have your fan on! (Keep in mind, you never eat these chilies– they just give the oil a little spicy heat, permeating the whole dish.)
Pour in the prepped Szechuan sauce. Cook it for 20 seconds then add the Eggplant back into the skillet, gently coating. This will smell and taste amazing!
What To Serve With Chinese Eggplant
TO SERVE- Place the fragrant eggplant in a serving dish, or divide among bowls over Jasmine rice, brown rice, black rice or quinoa and top with green onions or chives and roasted peanuts.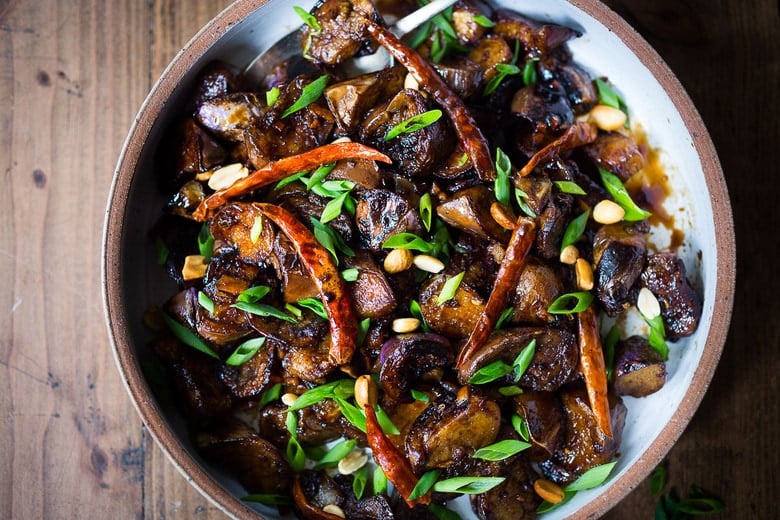 Chinese Eggplant FAQS
Can you eat the skin of eggplant?
Yes the skin is completely edible and has a lot of nutrients.
What is the difference between Chinese eggplant and regular eggplant?
Chinese eggplant is thin and long with fewer seeds which makes it less bitter and some say it is slightly sweet. The plants tend to be prolific producers.
The most common eggplant is globe eggplant it is bigger and fleshier.
What is Szechuan in Chinese cooking?
Coming from the Sichuan Provence in Southwestern China, Szechuan cuisine is usually spicy and contains ingredients such as: dried red chilies, Szechuan peppercorns, ginger, scallions, garlic, soy sauce, 5-spice, sesame oil, Shaoxing wine, to name a few.
What is Chinese Eggplant Called?
Chinese Eggplant is called Oriental Charm or Pingtung Long. Long and skinny with with fewer seeds they are less bitter and will hold its shape when cooked in stir fries.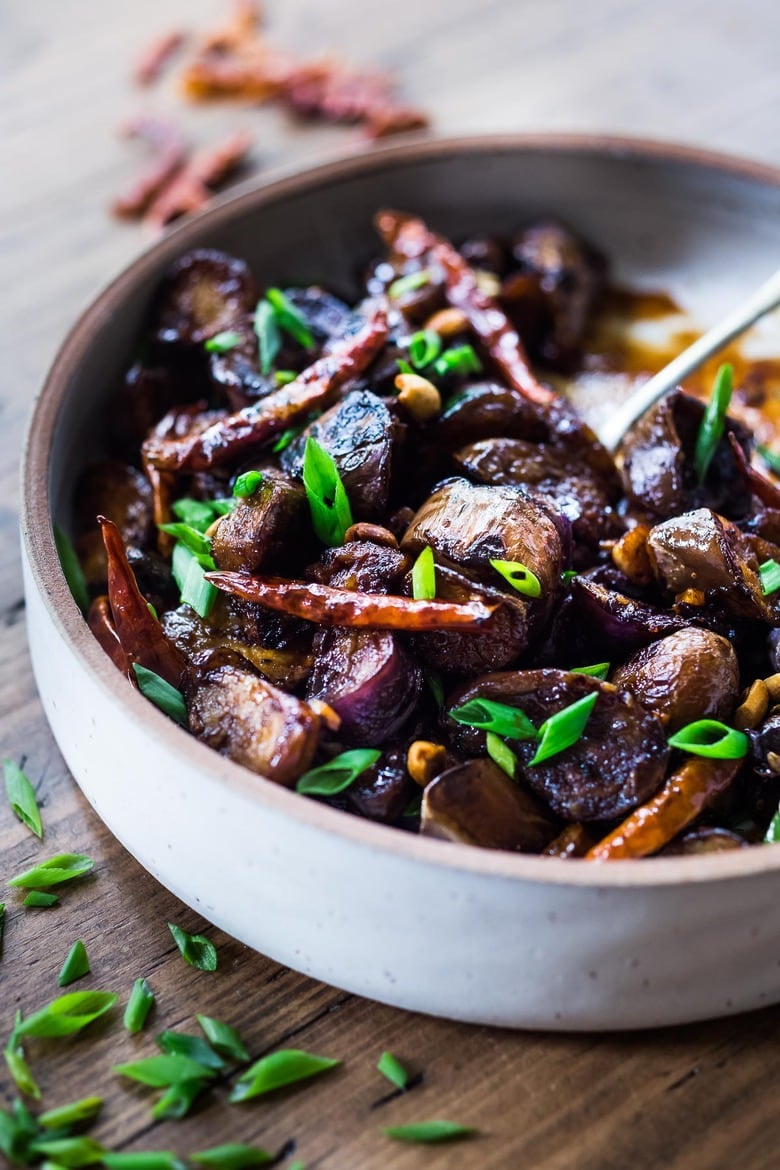 Make this Chinese Eggplant soon, while eggplants are still available at your farmer's market! Enjoy!
xoxo Sylvia
More Recipes You May Enjoy
Love this recipe? Please let us know in the comments and leave a 5-star ⭐️⭐️⭐️⭐️⭐️ rating below the recipe card.
Print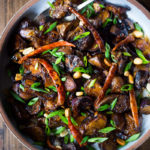 Szechuan Eggplant
Author:

Sylvia Fountaine

Prep Time:

20

Cook Time:

25

Total Time:

45 minutes

Yield:

4

1

x

Category:

Main, vegan

Method:

stovetop, stir-fry

Cuisine:

Chinese
---
---
1 1/2

lbs

Japanese Eggplant (about 4 x 10 inch eggplants)

2 teaspoons

salt
bowl of water
—-

2 tablespoons

cornstarch

2

–

4

tablespoons peanut oil ( or wok oil)
—

4

cloves garlic, rough chopped

2 teaspoons

ginger, finely minced

5

–

10

dried red chilies
Garnish with scallions and roasted peanuts or Peanut Chili crunch
---
Instructions
Cut eggplant into 1/2 inch thick half-moons or into bite-sized pieces ( see photos). Place in a big bowl covered with water and stir in 2 teaspoons salt. Cover with a plate and let stand 20-30 minutes.
In the meantime, chop the garlic and ginger and make the Szechuan Sauce.
To make the Szechuan Sauce: Toast the Szechuan peppercorns in a dry skillet over medium heat for 1-2 minutes. Crush. Place these along with the remaining ingredients ( soy, chili paste, sesame oil, rice vinegar, Chinese cooking wine, sugar, and five spice) in a small bowl and whisk. Set by the stove.
Drain and rinse the eggplant and pat dry with a towel. Toss with the corn starch.
Working in 2 batches, heat 1 -2 tablespoons oil in an extra-large skillet over medium heat. Add half the eggplant spreading them out. You want to get both sides nice and golden, and the insides cooked through -so take your time here and dont rush this step. Let one side brown then turn them over using tongs. This will take about 10 minutes for each batch. ( If in a hurry sometimes I'll use 2 pans.) Set the eggplant aside.
Add 1 more tablespoon oil to the skillet, and over medium heat, add the garlic and ginger, stirring for 2 minutes. Turn the fan on, add the dried chilis and stir one minute. Pour the Szechuan sauce into the pan and bring to a simmer for 20 seconds. Add the eggplant back into the skillet, tossing gently for about 1 minute. If it seems dry add a tablespoon of water to loosen.
Place in a serving dish and top with scallions and optional peanuts.
Serve with rice, cauliflower rice, black rice or rice noodles.
---
Notes
Be patient browning each side of the eggplant. This will take a little time but reward you greatly.
I've found that the flat surface of a skillet, verses using a wok is much easier to use to get those sides golden.
Feel free to sub cashews for the peanuts, of leave off completely.
Nutrition
Serving Size:
Calories:

323

Sugar:

17.8 g

Sodium:

1110.4 mg

Fat:

21.8 g

Saturated Fat:

3.5 g

Carbohydrates:

29.6 g

Fiber:

7.4 g

Protein:

5.9 g

Cholesterol:

0 mg
Keywords: Szechuan eggplant, stir fry eggplant, Chinese eggplant, stir fried eggplant, Chinese eggplant with garlic sauce