Chewy Triple Ginger Cookies – using ginger in three different forms! Ground, freshly grated and candied ginger all work together to give this ginger cookie an extra boost of ginger!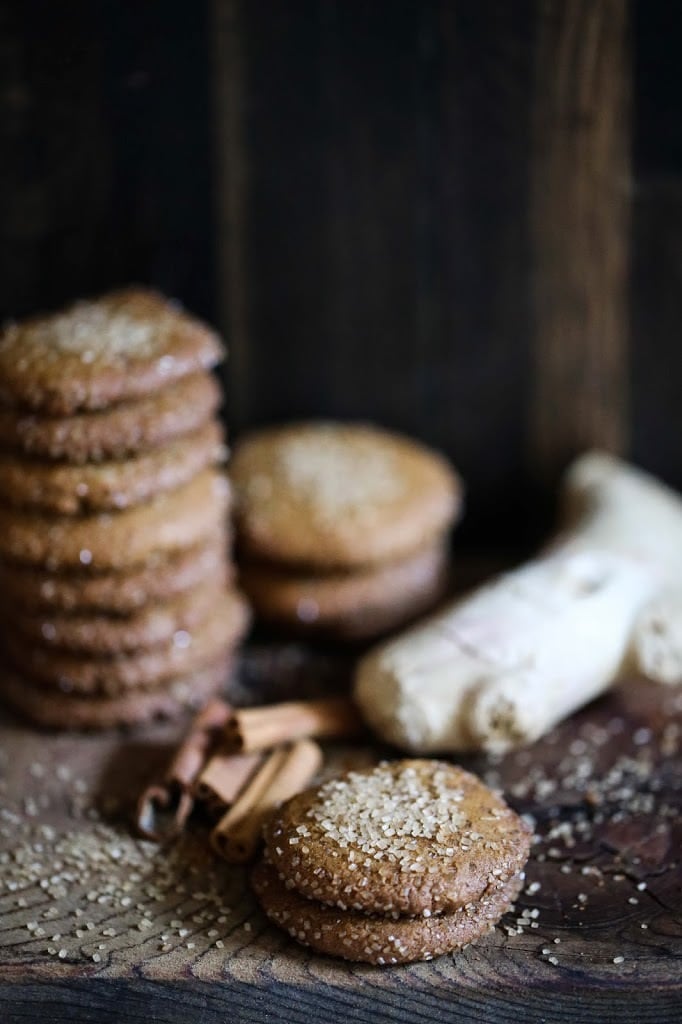 Gratitude unlocks the fullness of life. It turns what we have into enough, and more.
It turns denial into acceptance, chaos to order, confusion to clarity. 
It can turn a meal into a feast, a house into a home, a stranger into a friend. 
Melody Beattie
These chewy Ginger Cookies contain ginger in three different forms. Fresh grated ginger, ground ginger, and most importantly, candied ginger- which gives the cookies their flavorful and chewy punch. These cookies are perhaps more for the "adult" palate…containing white pepper and cardamom.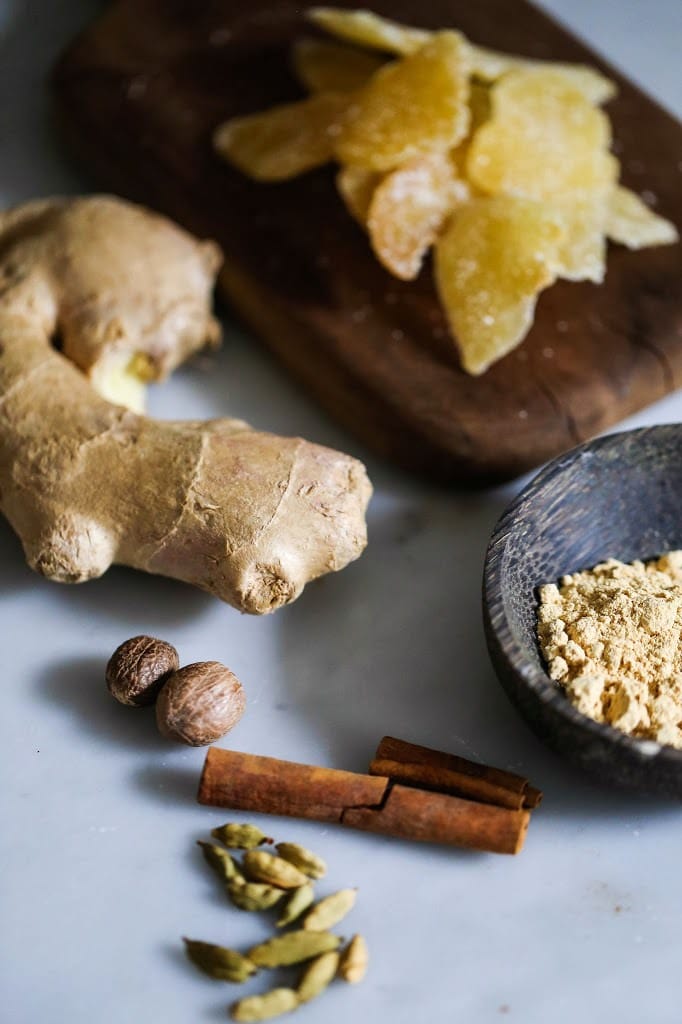 Where ever this finds you- I wish you a very happy Thanksgiving.  Thanksgiving is not only a day of cooking and feasting and being with friends and family, for me, it's a time to reflect and gently nudge myself back to the place of gratitude. Acknowledging the goodness that is always there, behind the scenes, if I choose to tap into it.
At the deepest level, thankfulness changes us.  It has the uncanny ability to untie knots in our heart. It gets us "un-stuck". Through it, healing comes. It shifts our perception and expands us. I am often surprised at how powerful it is, and how it affects those around us without us even saying a word. People, especially those closest to us, feel our energy.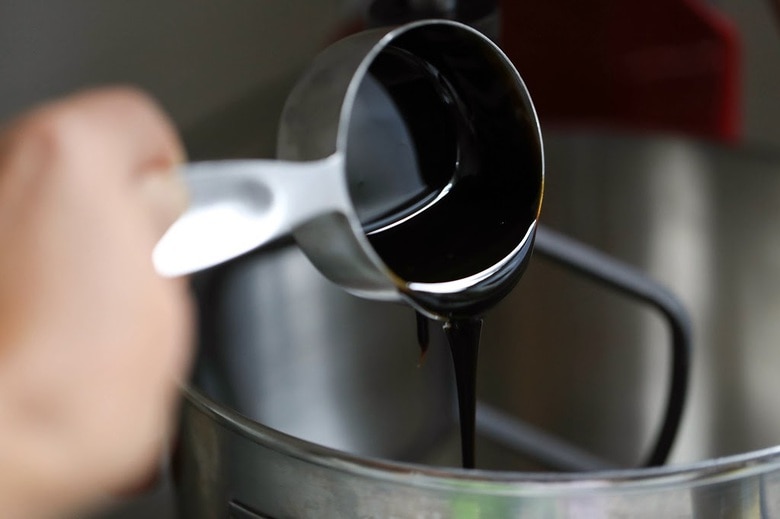 Molasses gives these Triple Ginger Cookies their deep color and sweetness, balancing out all the ginger.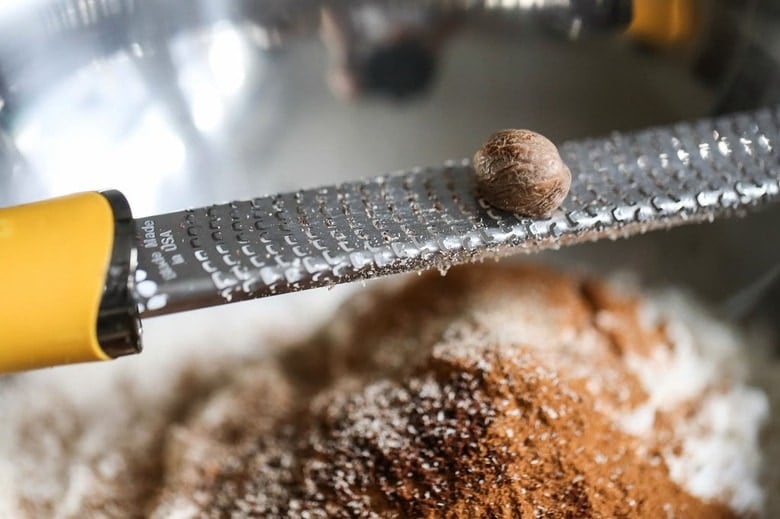 Freshly grated
nutmeg
, adds to the pleasure of baking.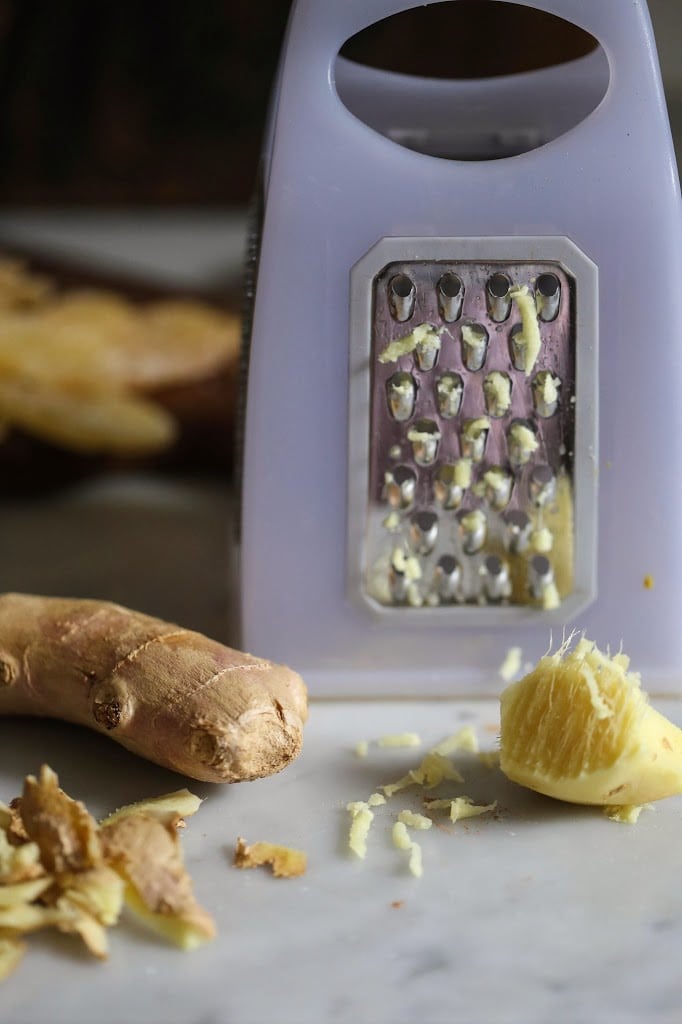 Freshly grated ginger, gives the cookies a little more "bite".
And lastly, candied ginger gives even more heat while adding a chewiness. Chop or pulse in a food processor.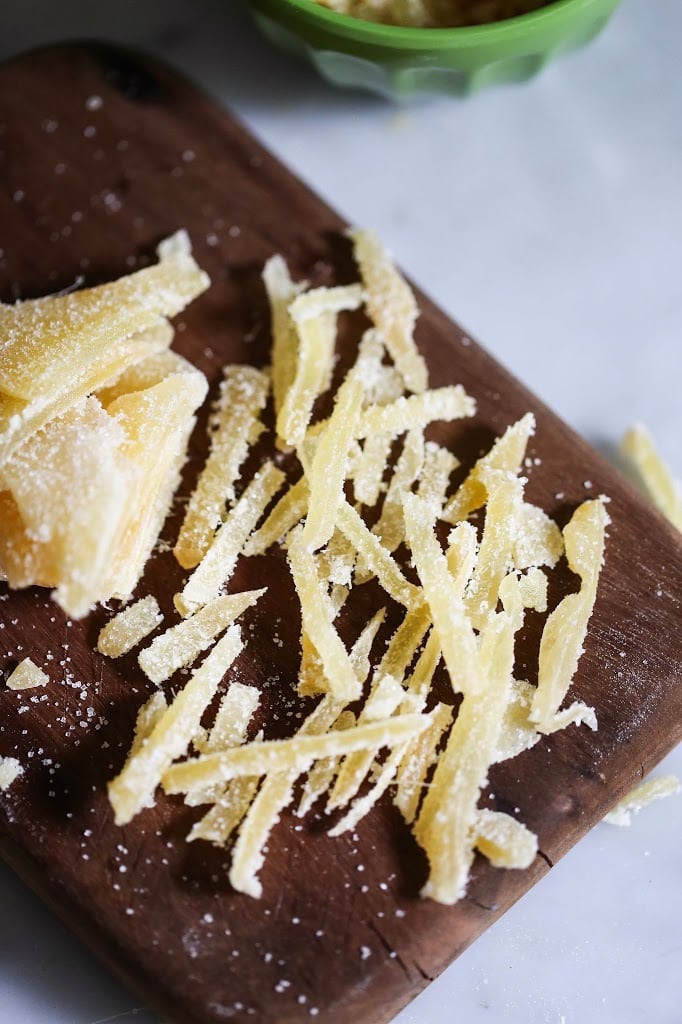 Sometimes when I'm feeling lazing- instead of "sifting" my dry ingredients, I will whisk them together.
When scooping out and measuring flour, always mix it up and fluff it up a bit, then spoon and level into the measuring cup.
Otherwise, you will end up with too much flour, and dough that is too dry.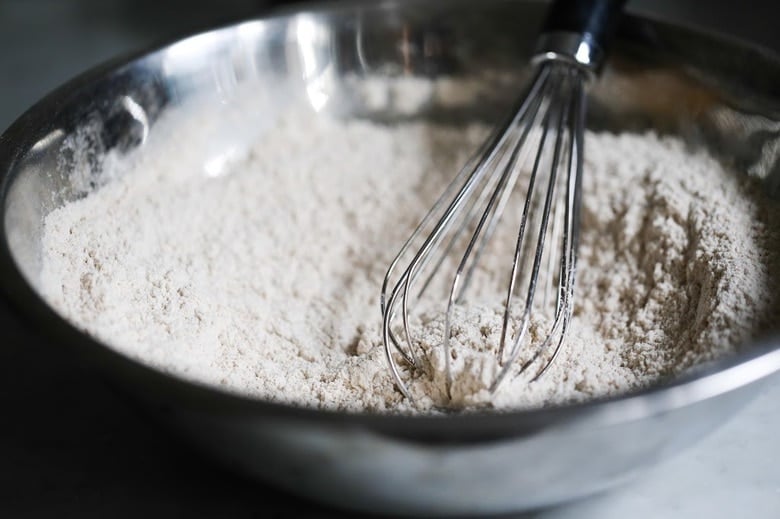 Mixing dry ingredients into wet, yields a firm dough.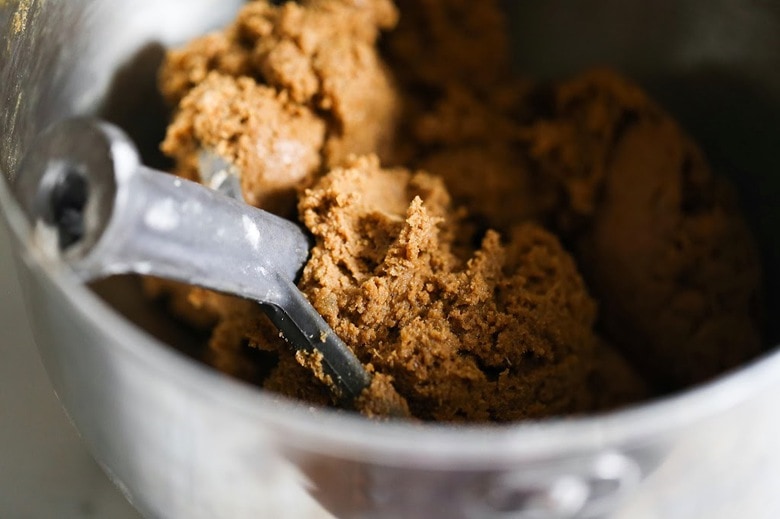 Dough can either be rolled into little balls and flattened, and dipped in turbinado sugar.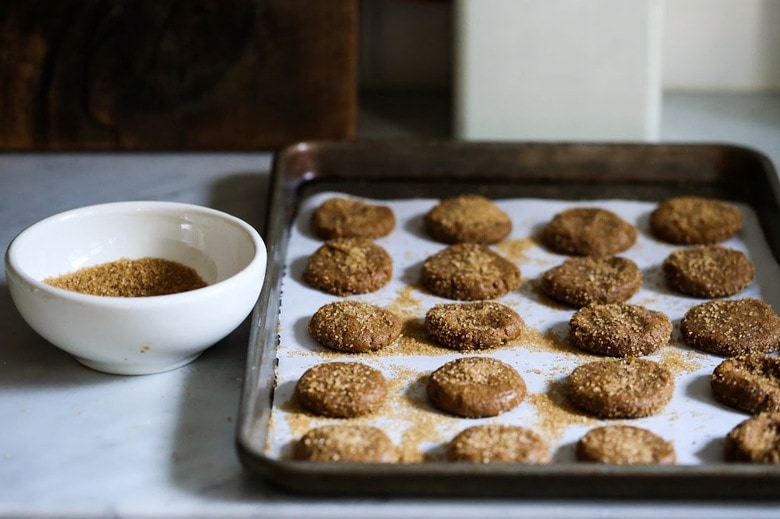 Turbinado Sugar– or sugar in the raw- is golden-hued and gives the cookies a nice sparkle.
Or make a log, wrap and refrigerate, and slice off perfect little discs. Roll and sprinkle with turbinado sugar.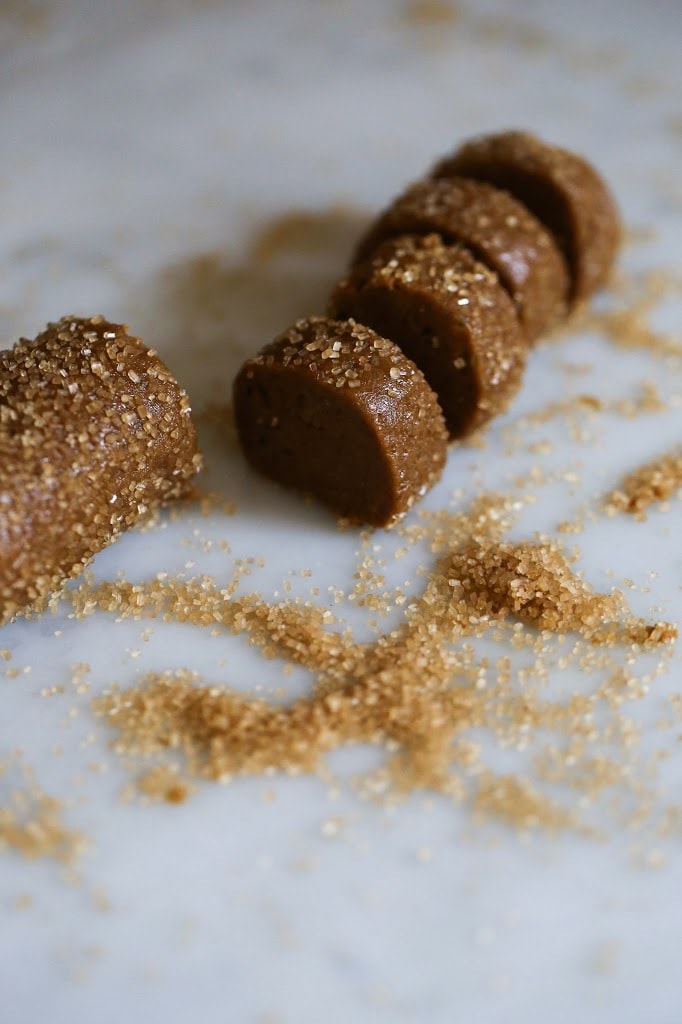 Bake for 11-13 minutes depending on the size of the cookie. They will expand, crackle and become golden brown.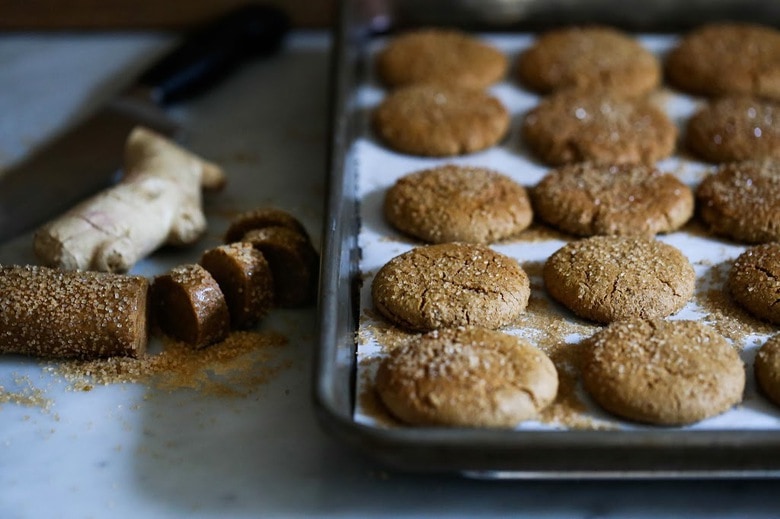 Cool on a wire rack.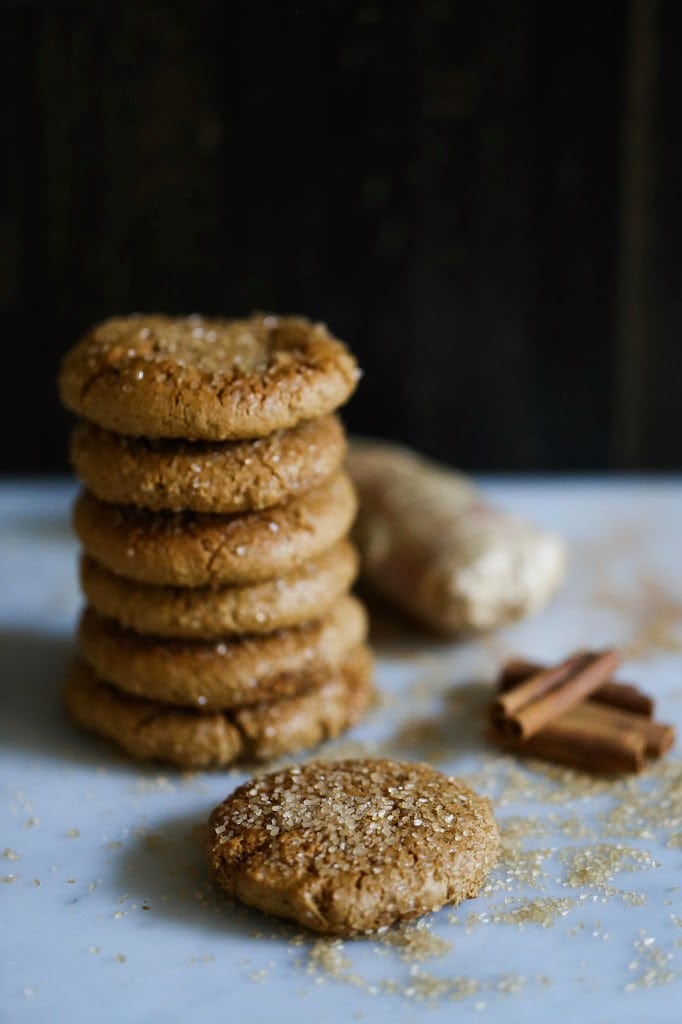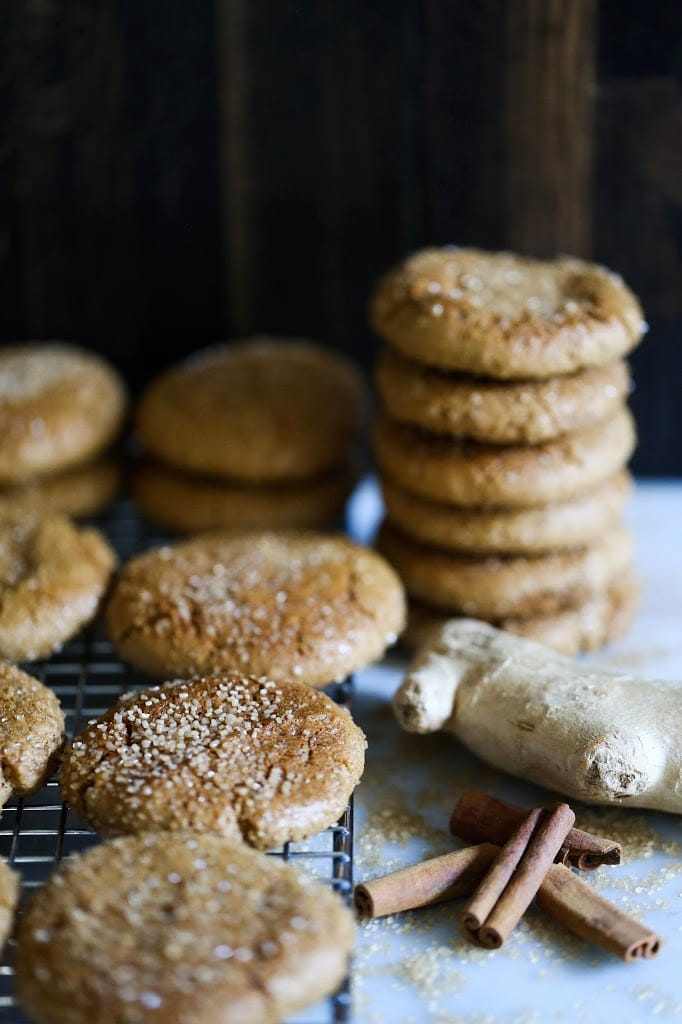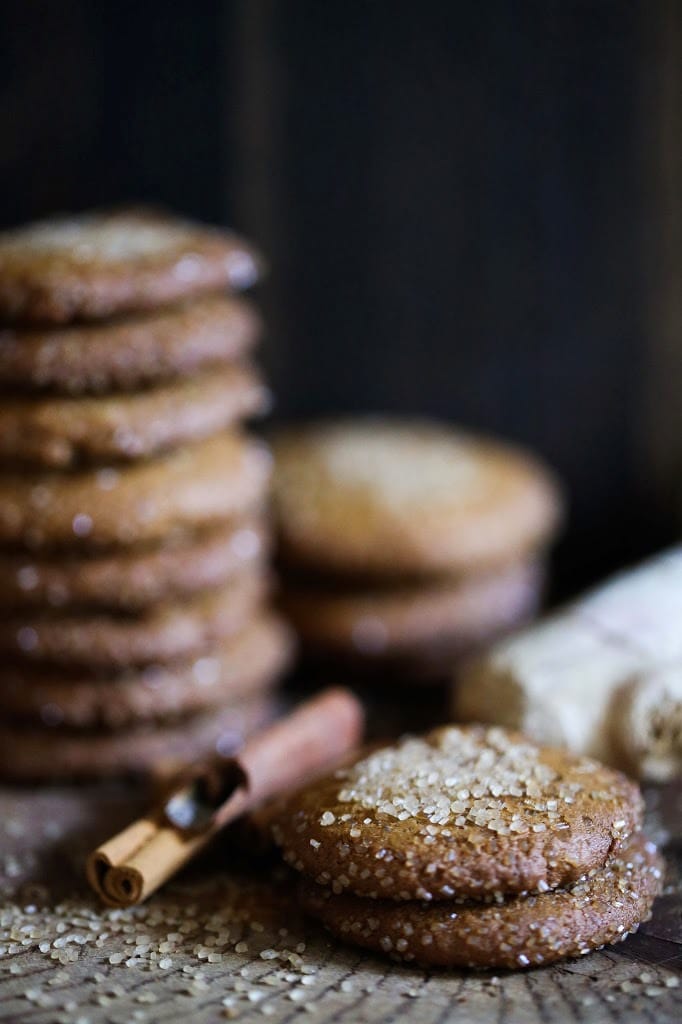 Enjoy!
More cookies recipes to enjoy:
Vegan Pumpkin Chocolate Chip Cookies with Hazelnuts
Thumbprint Cookies with Walnuts and Apricot Jam
Print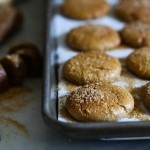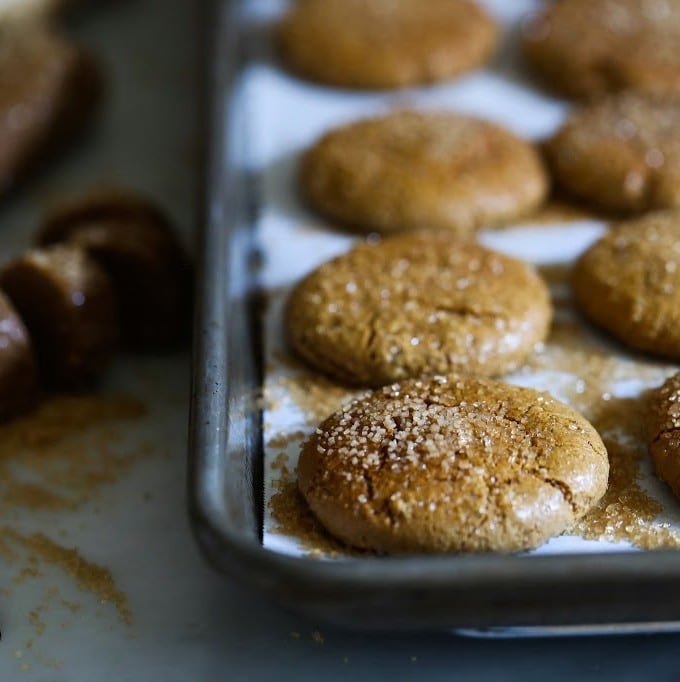 Chewy Triple Ginger Cookies
Prep Time:

15 mins

Cook Time:

15 mins

Total Time:

30 mins

Yield:

2

4

1

x

Category:

Dessert, Baked, cookie

Method:

baked

Cuisine:

northwest
---
Description
Chewy Triple Ginger Cookies, with three kinds of ginger- ground ginger, fresh raw ginger and candied ginger!
---
1 teaspoon

baking soda

2 teaspoons

ground cinnamon

1/2 teaspoons

ground cloves

1/2 teaspoon

ground nutmeg

½ teaspoon

 cardamom

⅛ teaspoon

 white pepper ( optional)

1 teaspoon

ground ginger

¼ teaspoon

kosher salt

1 cup

dark brown sugar, lightly packed

⅓ cup

melted coconut oil, butter or use olive oil

⅓ cup

molasses

1

extra-large egg, at room temperature

1 tablespoon

fresh ginger, grated finely

1 1/4 cups

crystallized or candied ginger (

6 ounces

) – chopped small (or use food processor and pulse)

2 1/4 cups

all-purpose flour
Turbinado sugar ( sugar in the raw) for rolling the cookies
---
Instructions
Preheat the oven to 350 degrees F.
In a large bowl, whisk together the flour, baking soda, spices ( cinnamon, cloves, nutmeg, cardamom, white pepper) and salt.
In the bowl of an electric mixer fitted with the paddle attachment, beat the brown sugar, melted butter ( or oil), and molasses on medium speed for 2-3 minutes.
Scrape down the sides. Beat another 2-3 minutes. Turn the mixer to low speed, add the egg, and beat for 1 minute.
Add freshly grated ginger and candied ginger, scrape the sides of the bowl to make sure all is incorporated. Beat for another couple of minutes.
With the mixer still on low, gradually add the flour to the bowl and mix on medium speed for 2-3 minutes. The mixture will be quite firm but should incorporate all the flour.
Either roll dough into 1 1/2-inch ball and then flatten them lightly with your fingers coating them with turbinado sugar, and place on

parchment-lined

 sheet pans. (Or alternately, roll into an l ½ diameter log, wrap in parchment and refrigerate, unit firm, about 1-2 hours.
Slice off equal-sized disks. Roll in raw sugar.)
Bake for 11-12 minutes. The cookies will be crackled on the top and soft inside. Let the cookies cool on the sheets for 1 to 2 minutes, then transfer to wire racks to cool completely.
---
---
Keywords: ginger cookie, triple ginger cooky, spicy ginger cookie, chewy ginger cookie, ginger molasses cookie