A simple delicious recipe for Aperol Spritz – the icy Prosecco Cocktail that has taken Europe by storm. Light, refreshing and incredibly thirst-quenching this cocktail is just what the doctor ordered on a hot summer's day!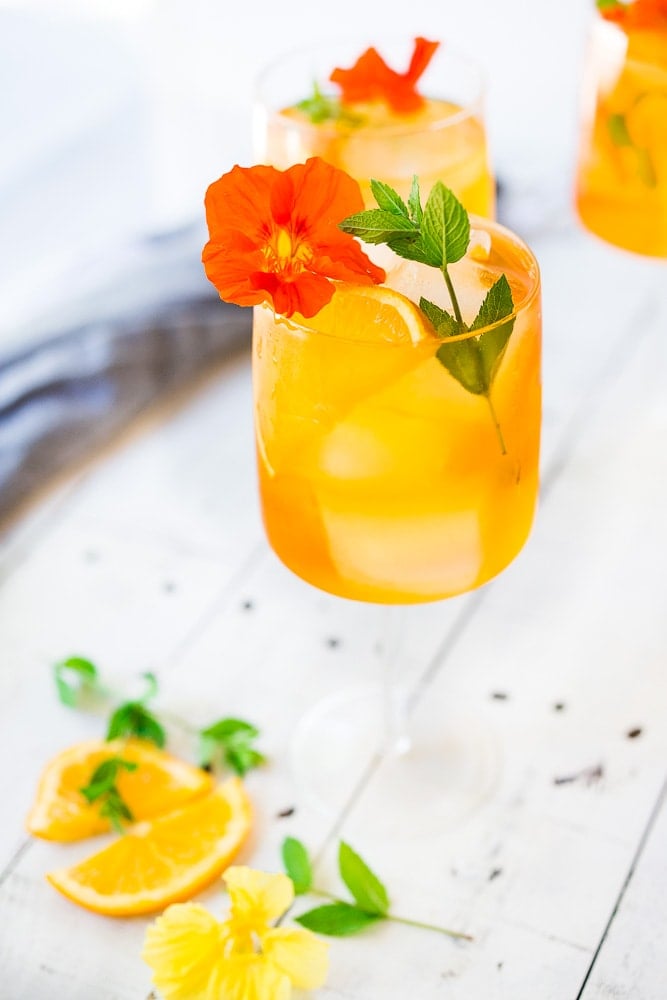 Say hello to the most refreshing and wildly popular cocktail in Europe right now… the Aperol Spritz! I'll be honest it took me a while to get on board with this… but it won me over in the end.
Especially when I discovered that you don't necessarily need to use Aperaol, but can switch it up for a more "grown-up" Amaro with better flavor and complexity. Read on!
What I love most about this drink is…it is bubbly, refreshing and light! And served over ice- perfect for hot summer nights!
How to Make an Aperol Spritz:
Fill a large wine glass with ice.
Add 1/3 cup champagne or prosecco (3 ounces)
Add 1/8 cup Aperol ( 1 1/2 ounces) or another Amaro
Add a splash, or up to a 1/4 cup of club soda (2 ounces)
Garnish with orange slices and mint, or fancy it up a bit with frozen berries and mint.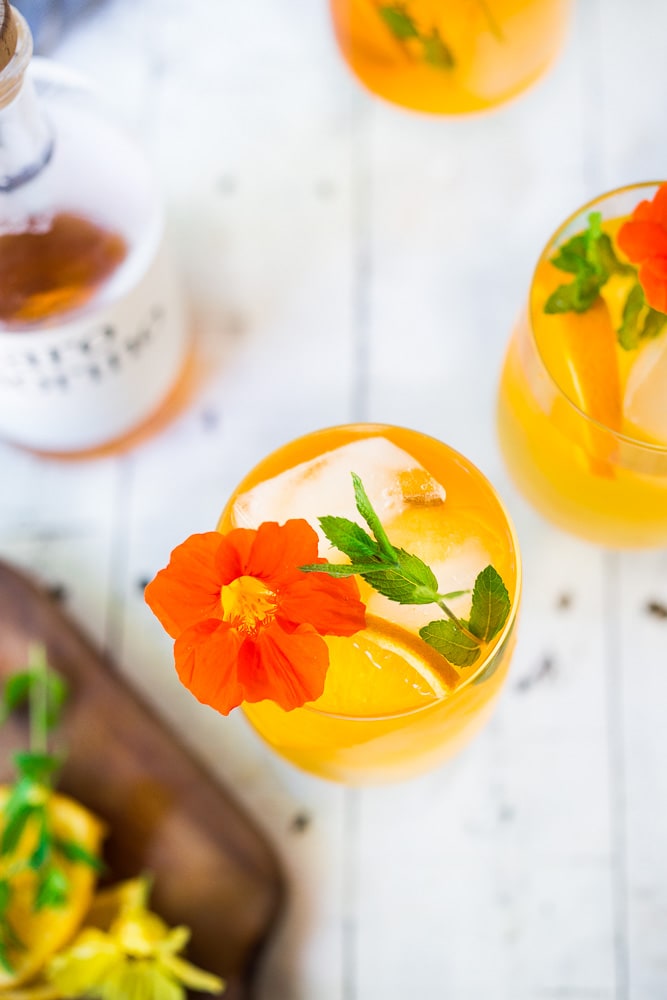 I'll be honest, I didn't think it could happen. Starting in Amsterdam, I began noticing all the brightly colored orange drinks called Aperol Spritz's at outdoor cafes and thought, wow, that looks incredibly unappetizing! They are just way too … orange! I stuck with my rosé and prosecco.
Then came Berlin and Prague and the heatwave. More orange cocktails. Everywhere! Mind you it was sweltering hot and these orange drinks were served over ice. A little more tempting, but still I refrained.
Then Vienna, where temperatures were almost unbearable, and yes, more icy orange drinks! What is happening I thought?! I dug my heels in and stuck with my usual.
Until Budapest. Where I totally caved. We had just arrived, hot and sweaty and wilting under the hot sun and the waiter suggested that I have an Aperol Spritz and in my weakened state, I just nodded my head yes, too tired to object.
It went down like punch. So cool and refreshing with just a hint of bitter, disappearing in minutes.
Not overly sweet, just right.
We've been here in Budapest 3 days now and well, as much as I hate to admit it, I've drunk the cool-aid, so to speak. I'm a believer now, spritzin' it up all over town. Haha!
So anyway, just I thought I'd share. 🙂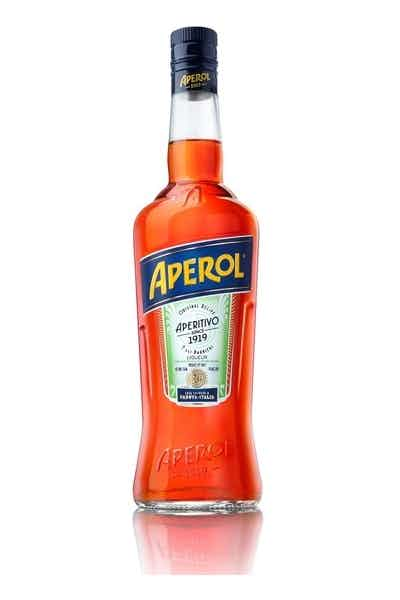 Ingredients in an Aperol Spritz?
Prosecco,
Aperol ( or another "higher-end "Amaro- see notes)
club soda
a few slices of orange
ice
But I want to point out something important, especially if you have a more "refined" palate. Aperol is a type of Amaro, and honestly, kind of a basic one. There are other more interesting, complex Amaros out there that make this spritz even better.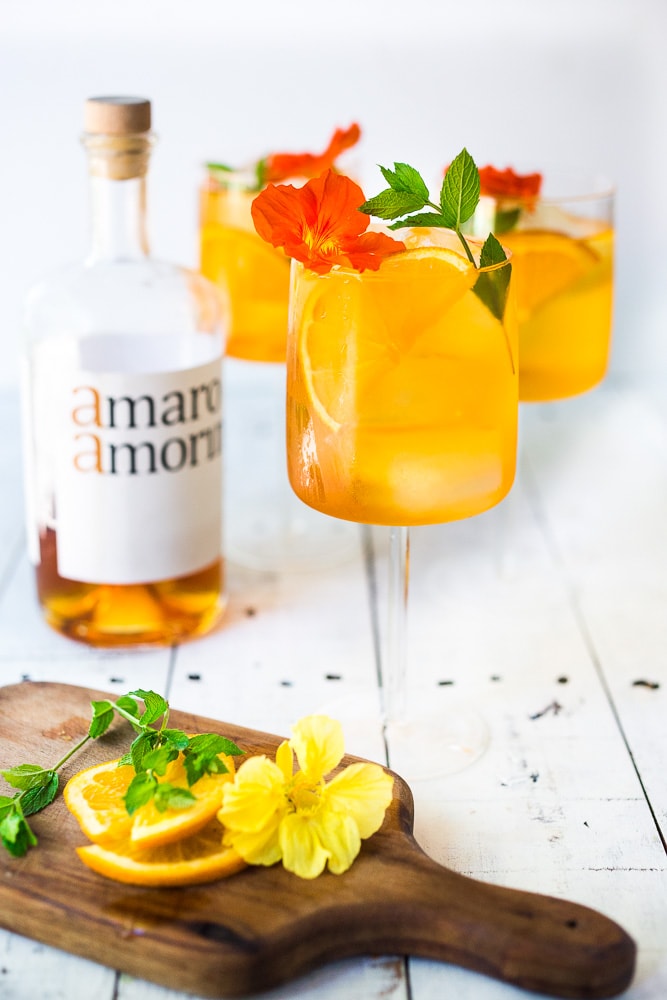 You can upgrade the Aperol for a smaller, more interesting brand like you see here.
If unfamiliar, Aperol is a low-alcohol, digestivo- a bitter liqueur made from herbs and flowers, originating from Italy in the early 1900's. It is also known as an Amaro, in Italian.
Similar to Campari, Cynar and Fernet-Branca, Aperol is a very common brand. There are many smaller labels of Amaros popping up with so much more complexity, even some state-side.
So keep in mind, those of you who are cocktail connoisseurs, don't have to actually use Aperol, feel free to find one with a little more character. Aperol is a tad sweet for me, but perhaps okay for the younger palate.
The drink is just most commonly known as an "Aperol Spritz", but I have no particular loyalties to Aperol itself.
Give the ol' Aperol Spritz a try…. and please share how you make this basic recipe even better! I love how creative you are!
Cheers friends,
Print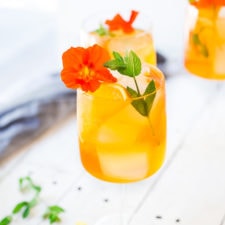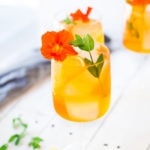 Aperol Spritz Recipe
Author:

Sylvia Fountaine

Prep Time:

5 mins

Total Time:

5 minutes

Yield:

1 drink

Category:

cocktail

Method:

poured

Cuisine:

Italian
---
Description
How to make an Aperol Spritz! A refreshing summer cocktail served over ice perfect for hot summer nights!
---
3

–

4

ounces prosecco ( use a good quality brand)

1

–

2

ounces Aperol ( or sub a smaller, better brand of Amaro)
Splash of club soda ( 1-2 ounces)
Orange slices and mint
other additions: frozen summer berries, mint or another fresh herb, a splash of bitters ( I like grapefruit)
---
Instructions
Fill a large wine glass with ice.
Add 1/2 cup champagne or prosecco ( 4 ounces)
Add 1/4 cup Aperol or equivalent  (2 ounces)
Add a splash or up to a 1/4 cup of club soda ( 2 ounces)
Garnish with orange slices, frozen berries, mint. For extra bitter, add a dash of bitters.
---
Notes
The better the prosecco, the better the drink. Try other Amaros- you don't have to stick with Aperol if you like more complexity!
To make this into a punch for a gathering, mix:
1 bottle prosecco
10-12 ounces of Aperol or Amaro
1 cup of soda
Taste and adjust flavor, adding more Aperol or soda if you like.
add oranges slices and mint springs.
Add ice right before serving or on the side!
---
Keywords: Aperol Spritz, Aperol spritz recipe, recipe for aperol spritz, aperol spritz 321, what is an aperol spritz?, how to make an aperol spritz,