A cozy, comforting, classic recipe for French Onion Soup with caramelized onions in rich deep broth topped with toasty croutons and melted gruyere.  Vegan, Vegetarian Adaptable! Video.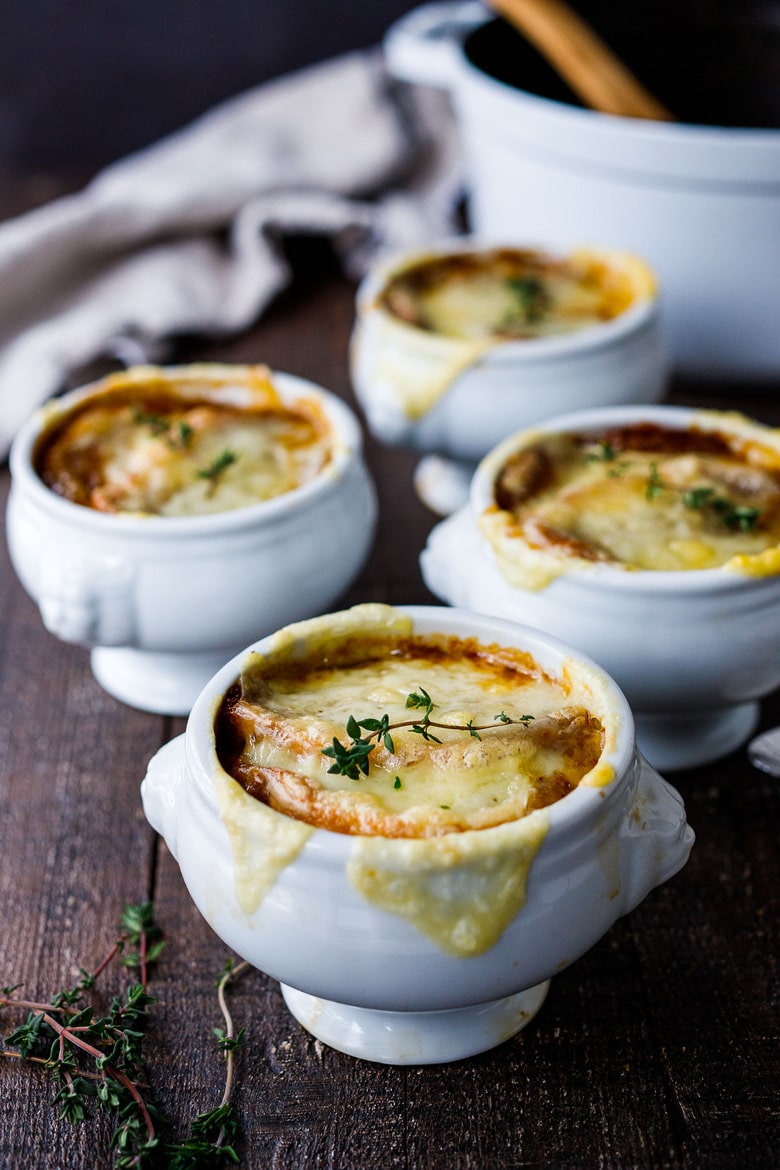 Hope inspires the good to reveal itself. ~Emily Dickenson
Oh my goodness- this soup! French Onion soup is made with sweet and tender caramelized onions in a rich flavorful broth with toasty croutons and gruyere cheese. Traditionally the soup is ladled into oven-proof ramekins and topped with a couple of slices of toasted baguette and gruyere cheese and goes into a hot oven to bake until bubbling, golden and melty.
This is where the magic happens friends and I highly recommend serving it up this way, for the sheer satisfaction of it. Think of how very accomplished you will feel when you pull them out of the oven.
French Onion Soup Video
Ingredients in French Onion Soup
yellow onions – feel free to add a couple of leeks 
olive or butter (or both)
thyme 
beef or veggie stock
bay leaves
Pepper
Baguette or French Bread
Gruyere, Compte or Ementhial Cheese ( or try vegan cheese)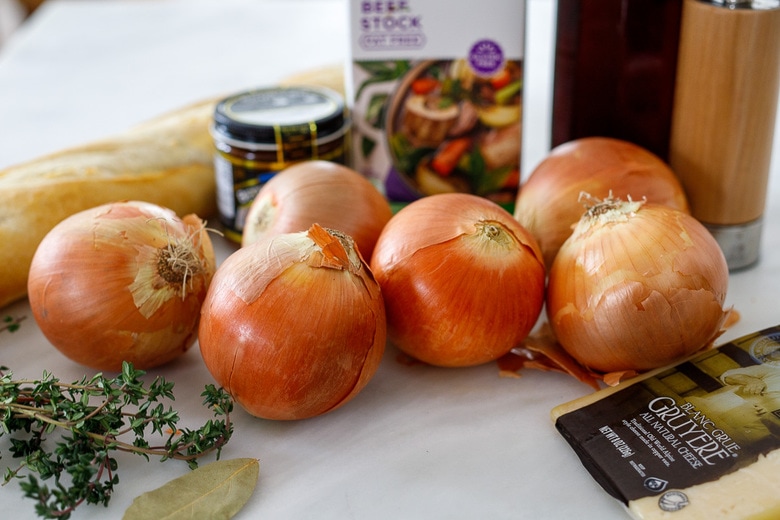 Can French Onion Soup be made Vegan or Vegetarian?
Why, yes, of course! 😉  Substitute Veggie Broth for beef stock or try this Onion Broth below. To add depth, a splash of soy sauce or miso works wonders here. Leave the cheese off entirely and top with olive-oil rubbed croutons or try vegan cheese.
Can French Onion soup be made without alcohol?
Yes! This version was inspired by chef, Thomas Keller's version who uses a few drops of Sherry Vinegar in place of Sherry wine. It's delicious!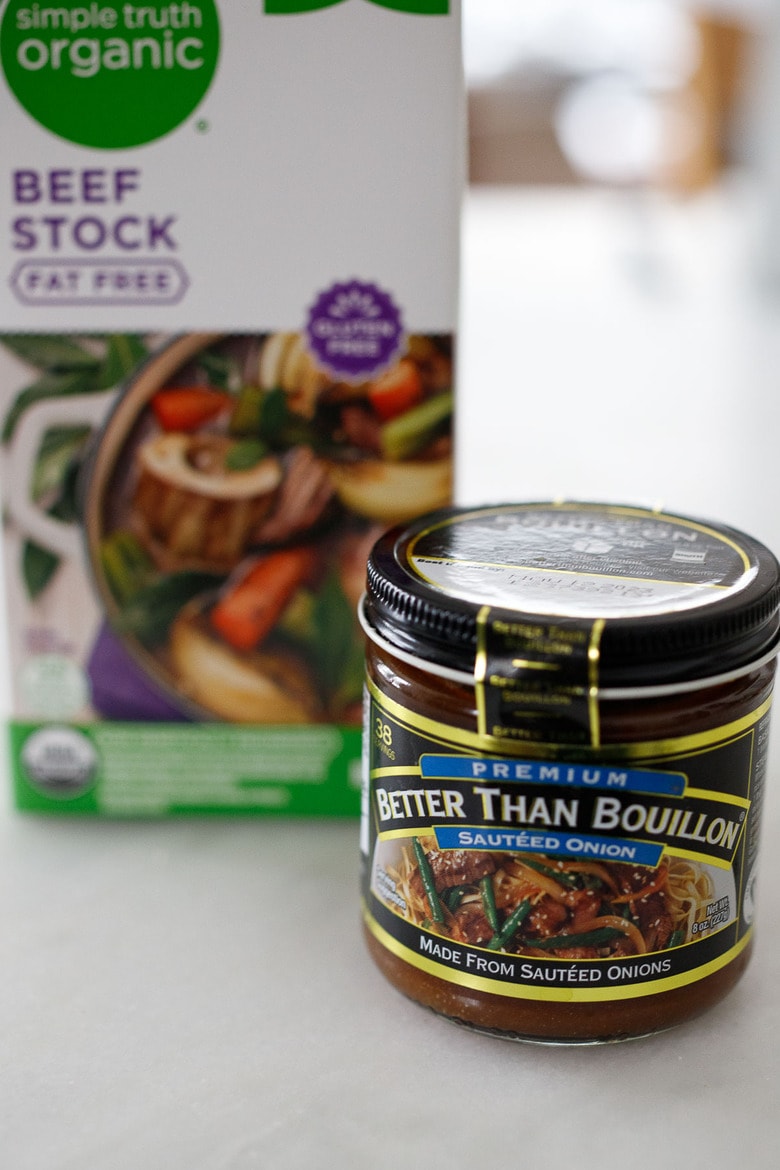 How to make French Onion Soup
Allow 1 1/2 hours to make this soup. Put on some music, have a glass of wine, and just enjoy the process. Glasses help to prevent onion tears.  😉 The onions take 15 minutes to prep and then 45-55 minutes to caramelize before making the actual soup.
TIP: You can caramelize the onions ahead and refrigerate until ready to make the soup.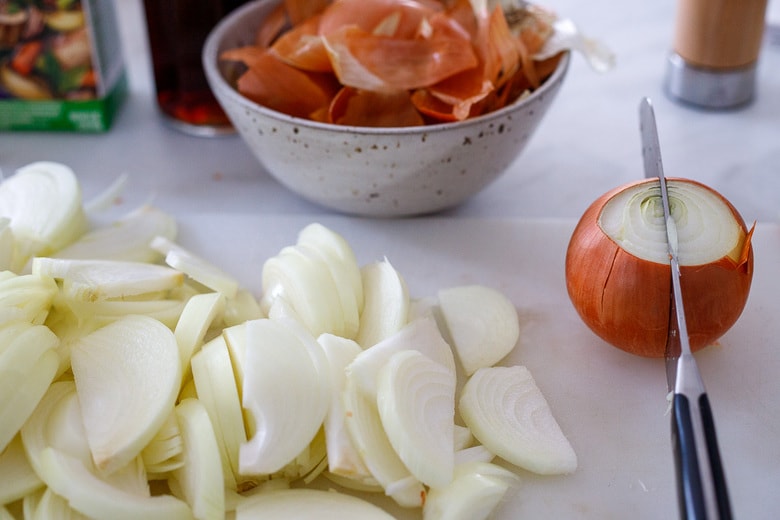 Step One: Prep the onions
Cut the ends off the onions.  Cut in half, stem through the root. Peel. Slice into 1/4 inch half moons WITH the lines ( not across the grain). Thomas Keller says this helps the onions to get more tender, and I've just taken his word for it and have always done it this way.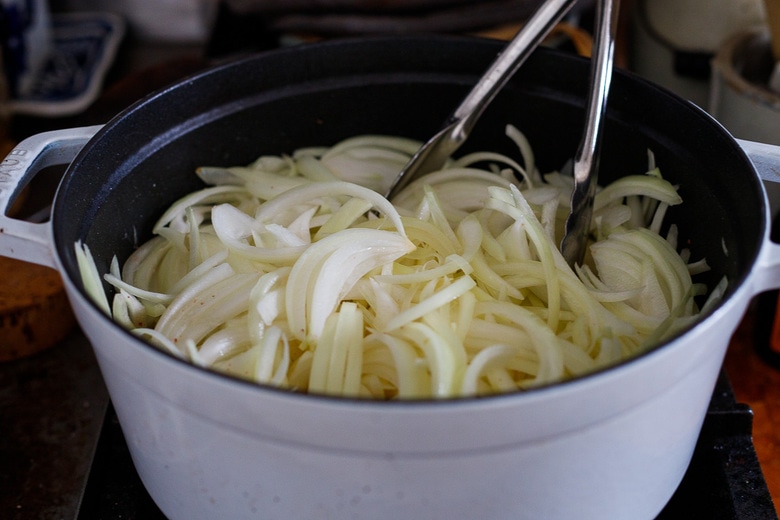 Step Two
Add olive oil and butter ( if using) to a large heavy bottom pot or dutch oven and set heat to medium, add the onions and the salt, tossing well to coat. Cover for 5 minutes.  Uncover and give a good stir.
Step Three
For the next 40 minutes, continue cooking the onions, stirring well every 10 minutes. This is about 10 minutes in. Set a timer, go do other things, and come back in 10 minutes.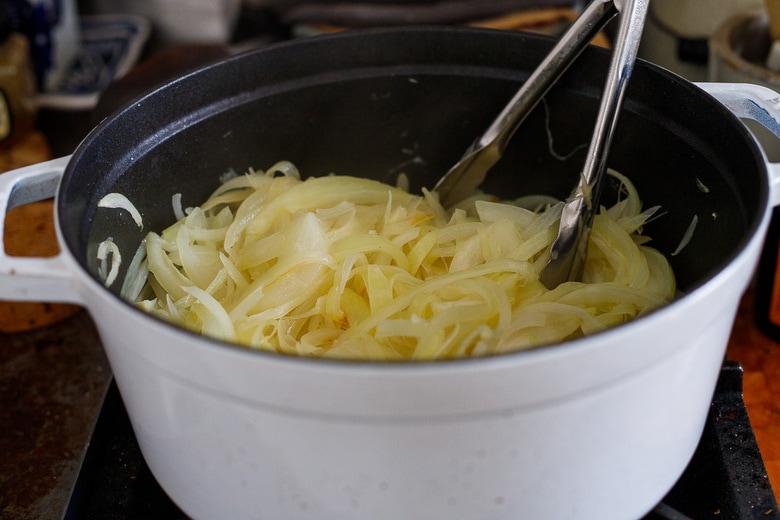 This next picture is at about 20 minutes. Make sure to get all the corners and edges when you stir. Feel free to lower your heat if need be.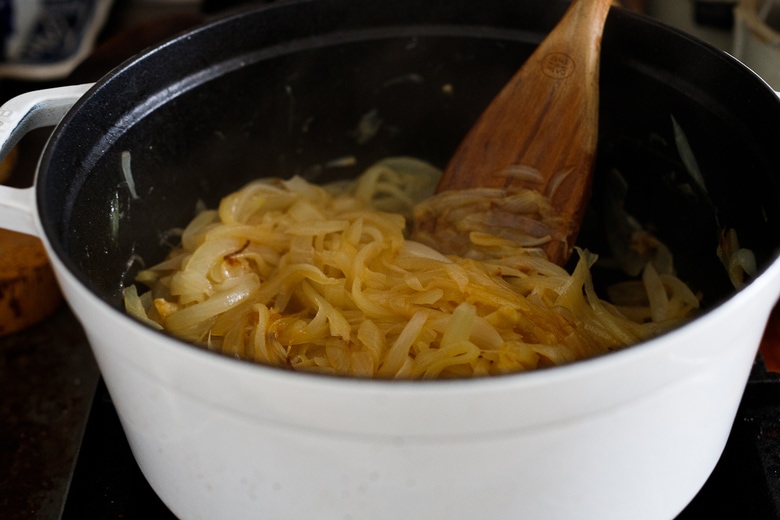 This is about 35 minutes, the onions are starting to get caramelly.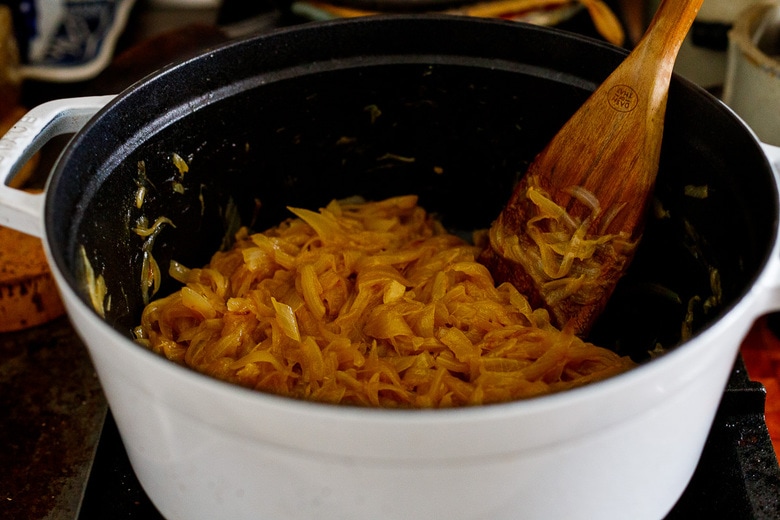 When the onions are just about done, add the fresh thyme, and cook for 5 more minutes. At this point, you can increase the heat and stir more frequently.
Get the onions the color of deep caramel or brown sugar. At this point, they are melty and sweet, and could be refrigerated for later.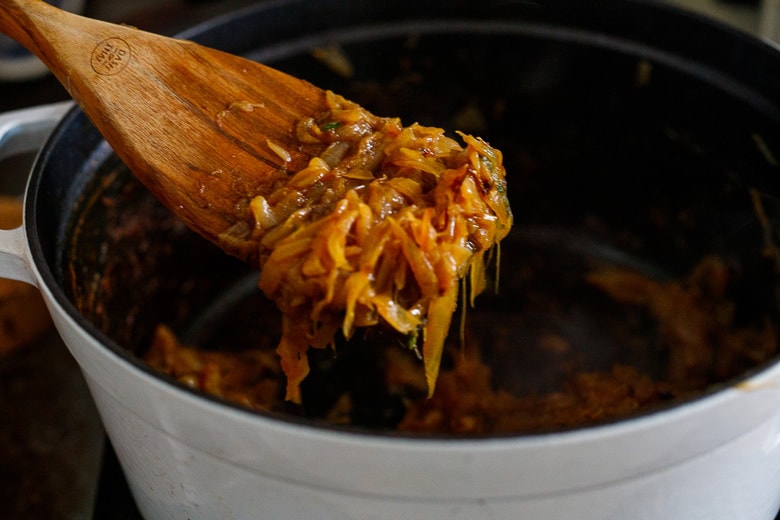 Step Three: Stir in flour and broth
Add a couple of teaspoons of flour to the onions- toasting the flour for 1-2 minutes. Then add the broth or stock of your choice. Add bay leaves and cracked pepper.
If you would like to deglaze the onions with white wine or sherry see the recipe notes and do this before the flour. Believe it or not, the soup is really good without, but totally up to you. 😉
Simmer gently uncovered for 10-15 minutes.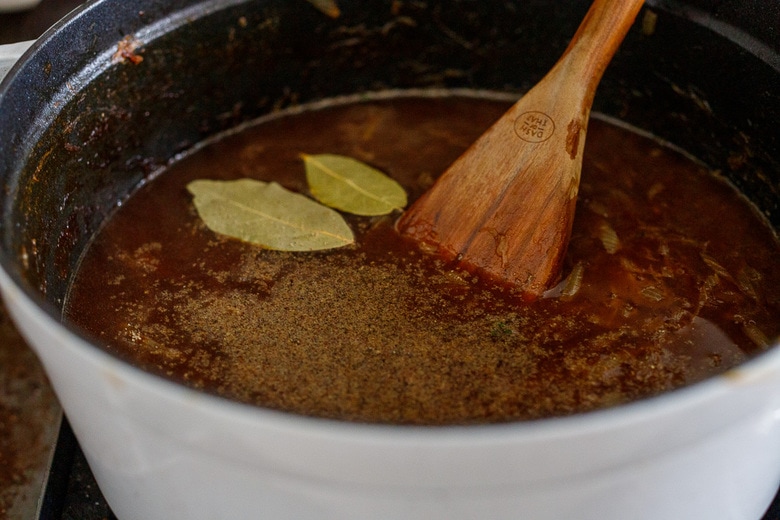 Step four: prep the baguettes
Slice baguettes into 1/4-1/3 inch slices, brush or spray with olive oil, sprinkle with salt and toast in a 350F oven 20 minutes, flipping halfway through. Bake until golden and toasted all the way through.  Use two pieces per serving.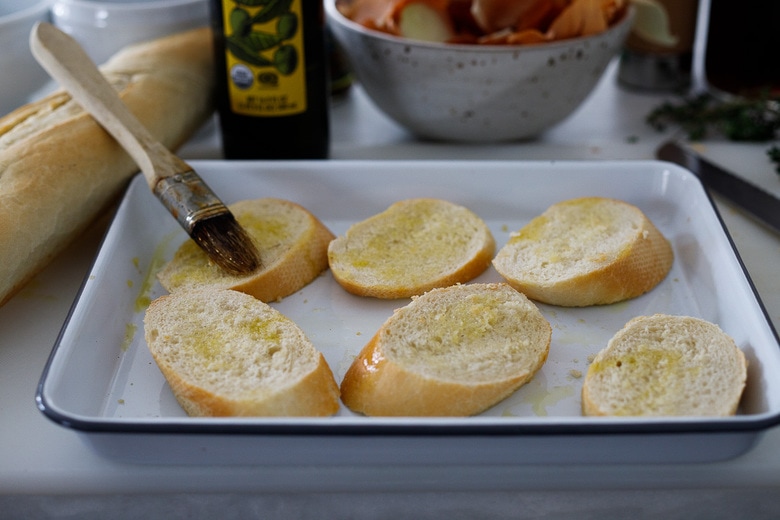 Step Five: Slice the cheese
Slicing the cheese has a pretty look especially when melting over the edge of the ramekin. I love picking off the toasty melty cheese that finds  it way over the edge, don't you?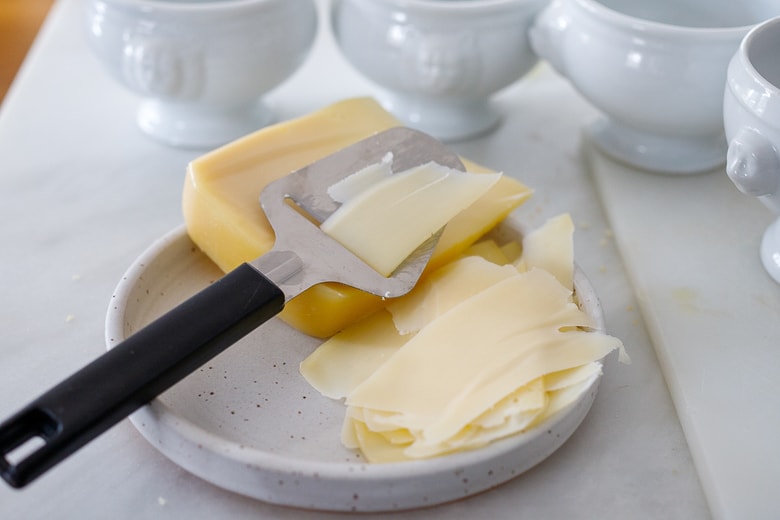 Step Six: Assemble
After you put your finishing touches on the soup- adjusting salt, pepper and a few drops of sherry vinegar, it is time to assemble.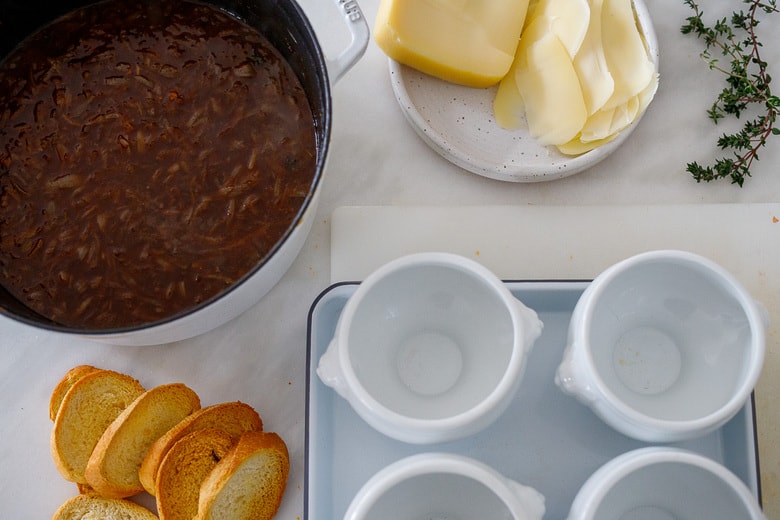 Ladle the French Onion Soup into the oven-proof ramekins or soup bowls- leaving 1/2 inch at the top.

Layer two slices of baguette on TOP of the soup (do not sink them in) and cover with a few slices of cheese, letting cheese drape over the edge at bit.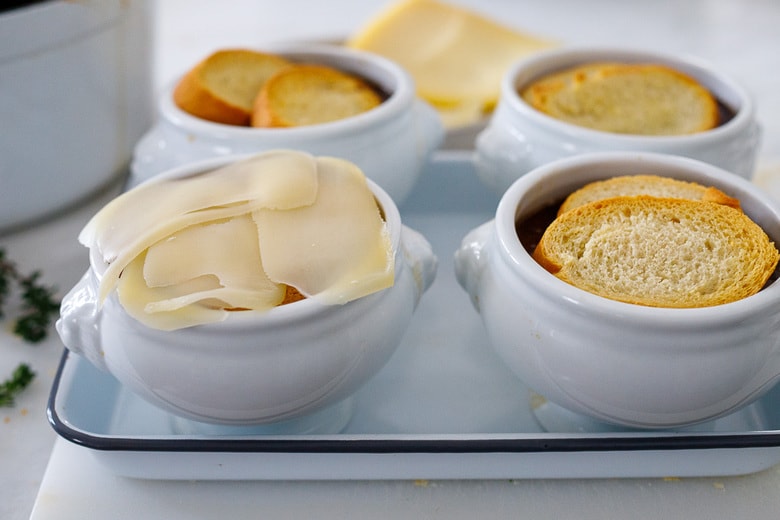 Place the ramekins on a sheet pan, they will bubble over -and to me, this is part of their allure.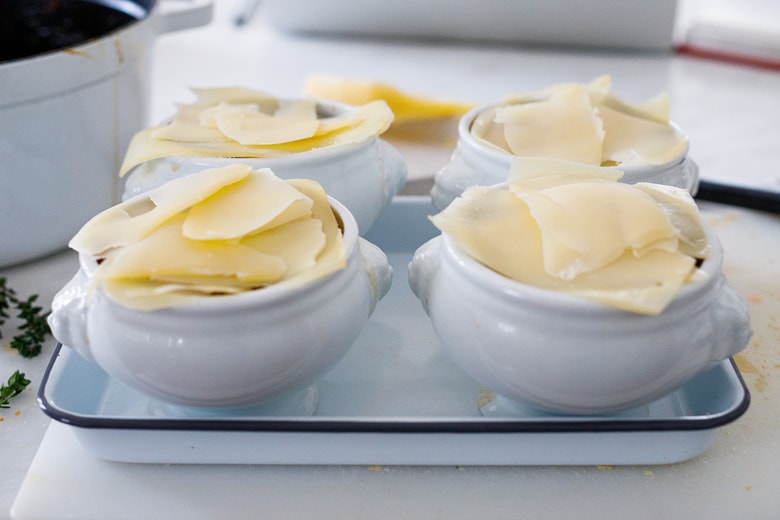 Step Seven: Bake!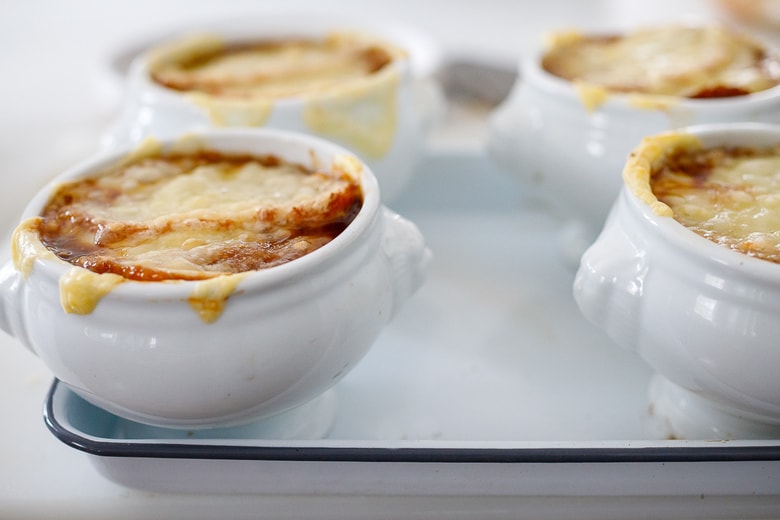 Tip: If you don't have oven-proof ramekins, melt the cheese over the croutons under a broiler, serve the soup in bowls and top with the melty golden croutons.
When they come out – the kitchen will smell amazing and you will FEEL amazing.
Served this way, French Onion soup is a meal.
Hearty, delicious and oh so satisfying! Top with a sprig of thyme and behold your creation. 🥂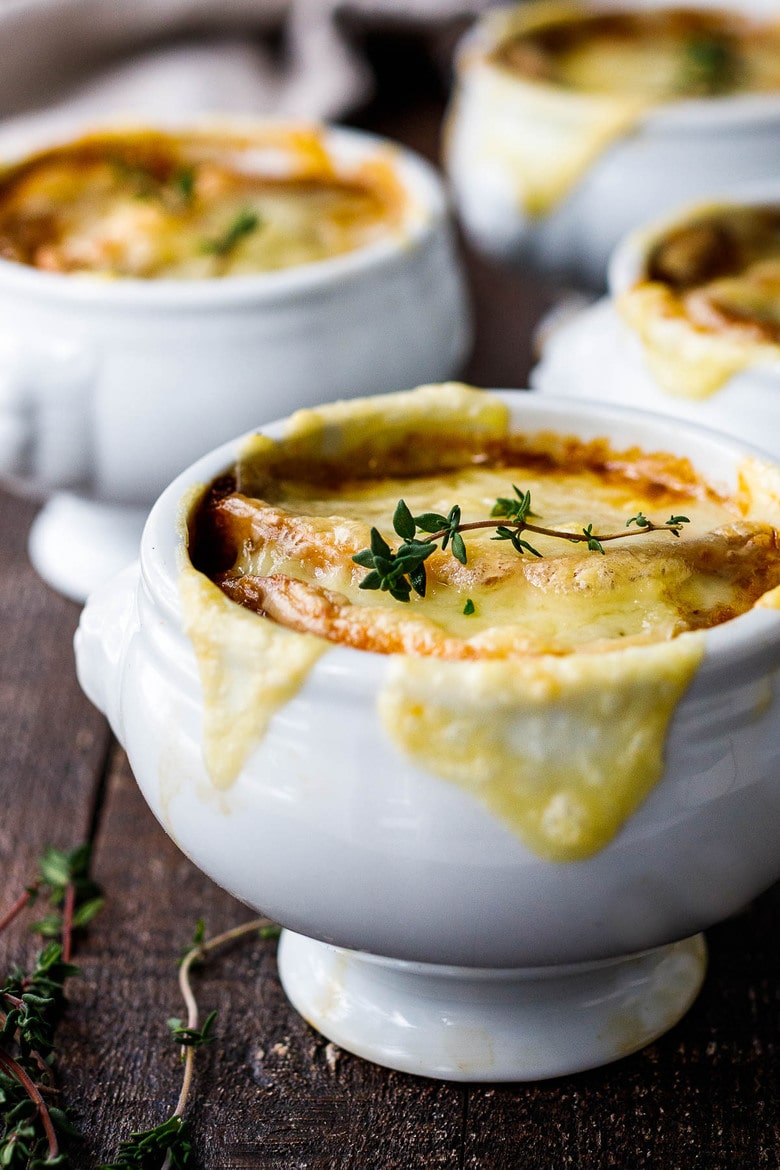 The luscious soup itself is packed full of caramelized onions, brothy yet not overly. The little bit of flour gives it just the right consistency.
Enjoy this bowl of goodness on a day you have time to enjoy the process. A very rewarding meal.
xoxo
Other Recipes you may like:
Print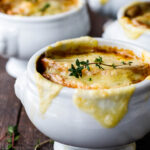 French Onion Soup
Prep Time:

15

Cook Time:

75

Total Time:

1 hour 30 minutes

Yield:

4

-6

1

x

Category:

soup

Method:

stovetop

Cuisine:

French

Diet:

Vegetarian
---
Description
A cozy, comforting, classic recipe for French Onion Soup with caramelized onions in rich deep broth topped with toasty croutons and melted gruyere.  Vegan and Vegetarian Adaptable!
---
6

large yellow onions

2 tablespoons

olive oil

2 tablespoons

butter ( or sub olive oil)

1 1/2 teaspoons

salt

1 tablespoon

fresh thyme (or

1 teaspoon

dried)

2 teaspoons

flour (or leave it out)

6

cups

beef stock or veggie broth (see notes)

1/2 teaspoon

pepper, more to taste

2

bay leaves

1/4 teaspoon

sherry vinegar, or red wine vinegar (or see notes)
——–
One baguette

6

ounces

Gruyere, Comtéor Emmental cheese (or sub melty vegan cheese), sliced
a few sprigs fresh thyme for garnish
---
Instructions
Preheat the oven to 350F
Slice the ends off the onions, cut in half lengthwise, through the stem, and peel.  Slice in the direction of the stem to root (with the lines, rather than cross-grain) into 1/4 inch thick slices. Slicing with the lines with the grain helps the onions soften (thanks, Thomas Keller). You should have about 12-13 cups (just over 3 quarts) of sliced onions.
Heat the butter and olive oil in a heavy bottom pot or dutch oven over medium heat, coating the bottom. Add the onions and toss with the salt. Cover for 3-4 minutes. Uncover, stir and let cook for 45 minutes, stirring every ten minutes, taking care to get all the corners, reducing the heat to medium-low halfway through.
While the onions are cooking toast the bread. Slice the baguette (2 slices per person) into 3/8 inch slices, brush or spray with olive oil and sprinkle with salt. Place in the oven either on a sheet pan or directly on the rack and toast for 10 minutes, then turn over, toast another 10 minutes until crisp. Set aside.
Once onions begin to look caramel in color add the thyme. Increase heat to med or medium-high, and stir fairly constantly for  5-10 more minutes, until deeply golden. (You could do this ahead to this point and refrigerate.)
Sprinkle the flour over the warm caramelized onions, stirring and toasting it for 1 minute. Add the broth, bay leaves and pepper. Stir, scraping up any browned bits and bring to a boil, then lower heat and simmer uncovered for 10-15 more minutes.
Add the 1/4 teaspoon vinegar. Taste. Adjust salt and pepper- and if too salty for your taste, add a splash of water to dilute. Remove the bay leaves.
If serving traditionally, in a ramekin, set oven to broil (or heat to 475F). Ladle the soup, 1/2 inch from the rim. Top the warm soup with 2 toasted baguette slices slightly layered (do not sink them in, try to keep them afloat!) cover with sliced cheese, place on a sheet pan, repeat with the others and place sheet pan in the hot oven, baking until golden and bubbling. If broiling, keep a careful eye on them.
Garnish with a sprig of thyme and serve immediately!
Enjoy.
---
Notes
DEGLAZE: Yes of course; instead of vinegar,  you can deglaze the caramelized onions with a splash of sherry or white wine, cook this off a bit before adding the flour. You can also add a tablespoon or two of sherry wine ( not vinegar) or port to the simmering soup.
Soup can be made ahead and reheated. Croutons can be made ahead.
Some French folk, like to add a couple of cloves of garlic.
Vegan Version: Use all olive oil, sub veggie broth or Onion Boullion. At the end, add a small splash of soy sauce or miso paste to add depth- add this to taste. Leave the cheese off, just add the olive-oil toasted croutons or add vegan cheese.
This recipe makes 4 hearty dinner-sized portions or 6 smaller portions – yields 7- 7-1/2 cups total.
Tip: If you don't have oven-proof ramekins, melt the cheese over the croutons under a broiler, serve the soup in bowls and top with the melty golden croutons.
Nutrition
Serving Size:

1 ¼ cup

Calories:

378

Sugar:

8.8 g

Sodium:

1470.5 mg

Fat:

18.7 g

Saturated Fat:

8.7 g

Carbohydrates:

35.6 g

Fiber:

3.6 g

Protein:

18.7 g

Cholesterol:

41.4 mg
Keywords: French onion soup, classic French onion soup, French onion soup vegan, French onion soup vegetarian, French onion soup recipe