Vegan Asparagus, Mushroom and Tofu Stir- fry!  Loaded up with vibrant spring veggies, this healthy delicious stir fry can be made in 15 minutes flat! ( And feel free to sub chicken for tofu!)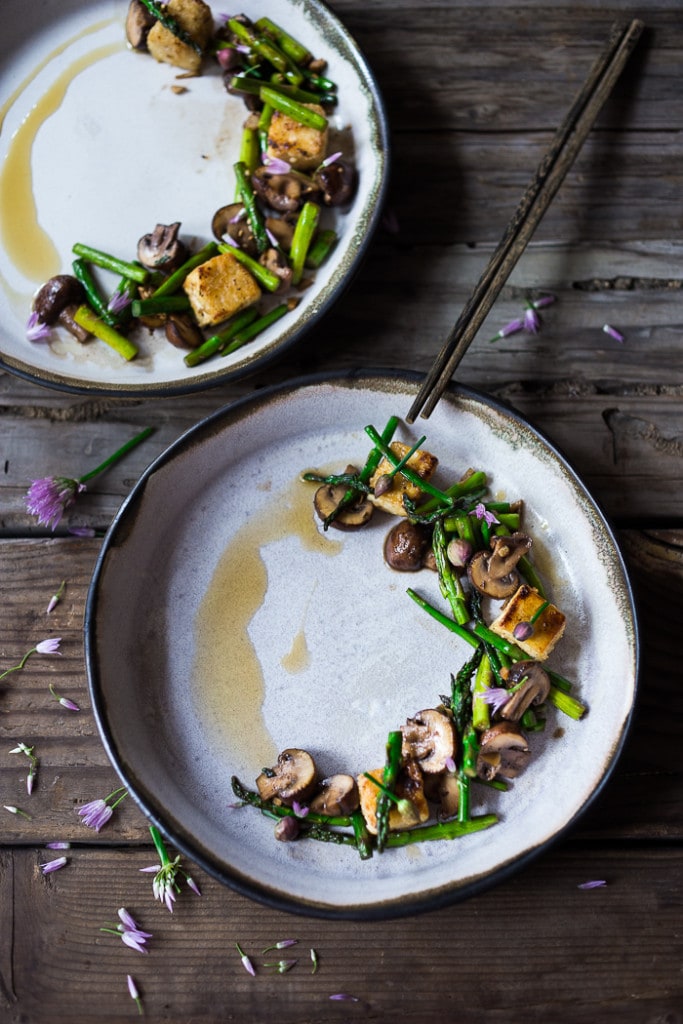 Fresh spring asparagus loves to be cooked in a wok. Quickly seared, on high heat for a short amount of time leaves it snappy, flavorful and vibrantly green. Paired with tofu, mushrooms, garlic and ginger, this is one of my all time favorite asparagus recipes. Brian loves the crispy tofu, it's sooooo good. But if tofu is a "no-go" in your house, you can always sub chicken!
Best of all, if you are organized, this can be made fast— 15 minutes flat!
On the home front–this last glorious week was spent digging in the dirt, planting starts and seeds and readying the beds for this season's harvest.  I am constantly reminded how my mental state of mind is directly correlated with time spend outside in the natural world. As a child, pulling weeds was my parents form of torture and punishment.  Now it has become a reward. Being outside, my mind seems to settle down and rest, and I begin again to feel the connection to the earth and to all of life.  As I worked in the garden, one thought kept coming up repeatedly.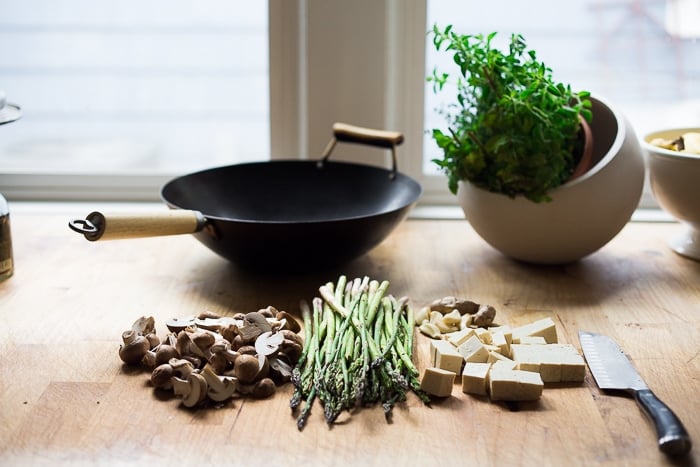 It's that…everything wants to grow!  In my garden, there are weeds, there are volunteers and there are the seeds I plant every year. The dilemma then becomes one of space and time. There is simply not enough of both to grow everything. And so I begin to ask myself the question -what do I really want to grow in my garden? And of course now, I'm really talking about the garden of  life. Because everything will grow if we let it, and we only have so much time here.  So. What do I truly want to grow in this life? And how do I do so in way that honors it with the space and care that is needed?  Garden epiphanies….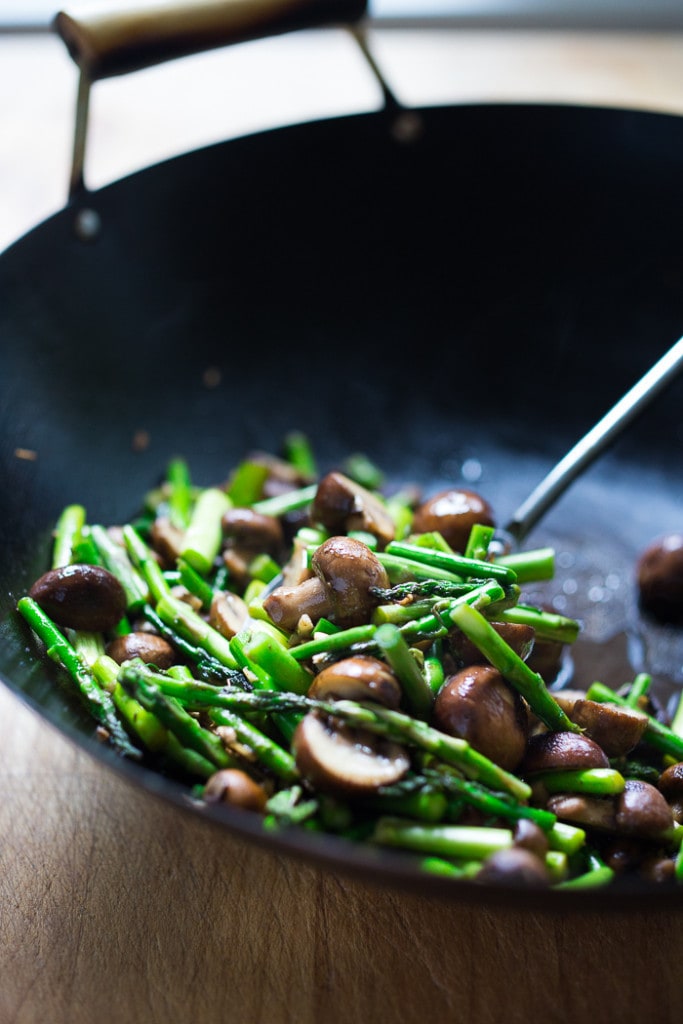 Look how vibrant the asparagus turns when you cook it hot and fast. I love how it keeps it color.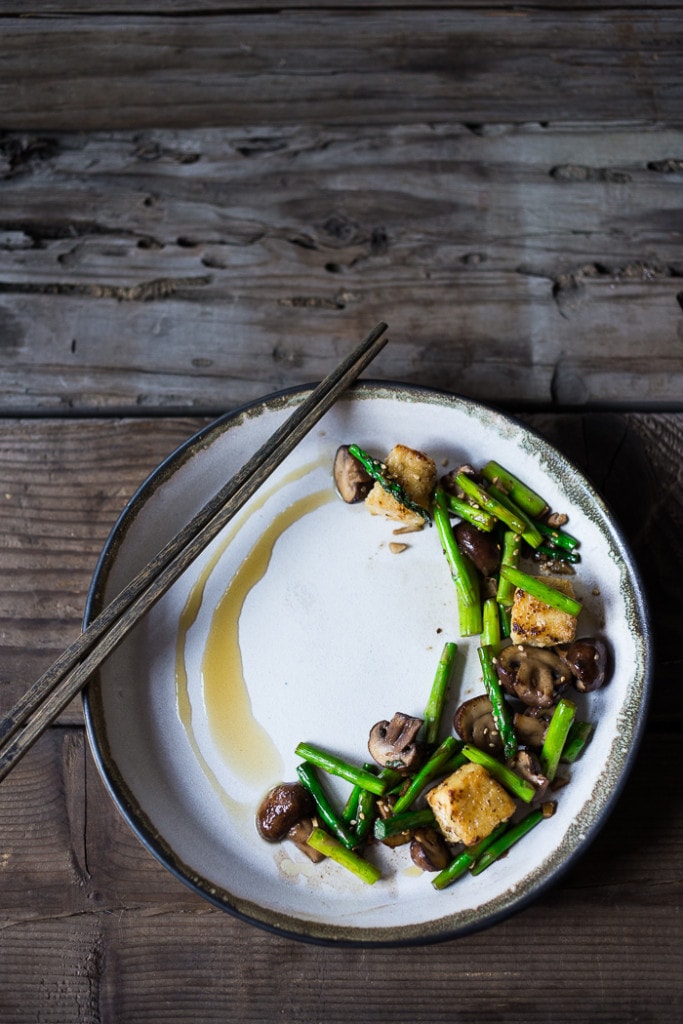 For a more upscale presentation, arrange asparagus, tofu, and mushrooms in a semi-circle. Drizzle sesame oil over top and complete the circle.
Play with this and have fun!  Scatter with chive blossoms for added color and flavor.
Give this vegan, Asparagus, Mushroom and Tofu Stir-Fry a try- I know you will looooooove it!
Print
Vegan Asparagus, Mushroom and Tofu Stir-fry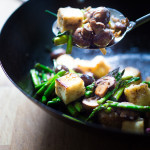 Vegan Asparagus, Mushroom and Tofu Stir-fry – a spring inspired, vegan stir fry that can be made in 15 minutes flat! Feel free to sub chicken for the tofu, see notes!
Prep Time:

10 mins

Cook Time:

8 mins

Total Time:

18 mins

Yield:

2

-

3

1

x
Category:

Vegan main

Method:

Stir Fry

Cuisine:

Chinese
Scale
Ingredients
8 ounces

mushrooms- sliced (cremini, white button, or shiitakes)

1

 pound asparagus, trimmed.

3

T ginger, chopped

3

T garlic, chopped

1

pound extra firm tofu ( or chicken, see notes)

½ cup

corn starch ( optional see notes)

¾ tsp

kosher salt

3/4 tsp

sugar (optional, but good)

4 Tablespoons

peanut oil (or coconut oil) -Divided.
Stir fry Sauce:
Garnish with a sprinkle of toasted sesame seeds, chili flakes or sriracha
Instructions
Slice mushrooms. Bend off the tough ends of the asparagus- they will naturally break off where they are tender. Cut into 2 inch pieces. Chop garlic. Peel and chop ginger. Set all aside.
Pat dry tofu with paper towels, pressing down to release water. Cut into 1 inch cubes.
Place cornstarch, salt and sugar in a medium bowl and mix well. Toss tofu in the corn starch mixture. ( see notes)
Heat 2-3 tablespoons peanut oil in a wok over high heat. Once hot, turn heat to medium high. Shake excess cornstarch off tofu and carefully place tofu in the wok, working in batches ( don't over crowd). Turn tofu carefully every minute or so, adding little more oil if you need, until a least two sides are golden brown and crispy. Set tofu aside on paper towel lined plate. When all the tofu is done, wipe out the wok and gather the all the prepped veggies and the stir fry sauce and place near the stove, so there is no need to walk away
Heat 2-3 Tablespoons peanut or high heat oil in a wok over high heat. Just as it begins to smoke, turn heat to medium high and add mushrooms. Stir constantly for 2 minutes, don't stop. Add ginger and continue stirring 1-2 minutes. Add asparagus and garlic, stir for 1 ½-2 minutes, until asparagus is just tender, but still crisp and vivid green.
Add "Stir Fry Sauce" and stir to incorporate.  Gently fold in crispy tofu at the very end right before serving.
Divide and garnish as you please.
Notes
You can make this tofu without the cornstarch. This will lighten up the calories. The tofu will be less crispy (no crust) but it will still taste good.
Simply heat the oil, and season the oil itself with salt and pepper. Then fry the tofu in the seasoned oil, until golden on most sides. Resume recipe from there, removing tofu.
The same preparation can be applied to pieces of chicken! Cut into small pieces, dredge in the cornstarch mixture, cook in oil until golden and crispy and cooked through. Set aside on paper towels, then toss in at the end with the stir fry sauce to keep their crispy texture!