How to make Star Bread! A delicious and fragrant cardamom-infused sweet bread, perfect for Winter Solstice, Christmas morning or the holidays! An easy step-by-step guide.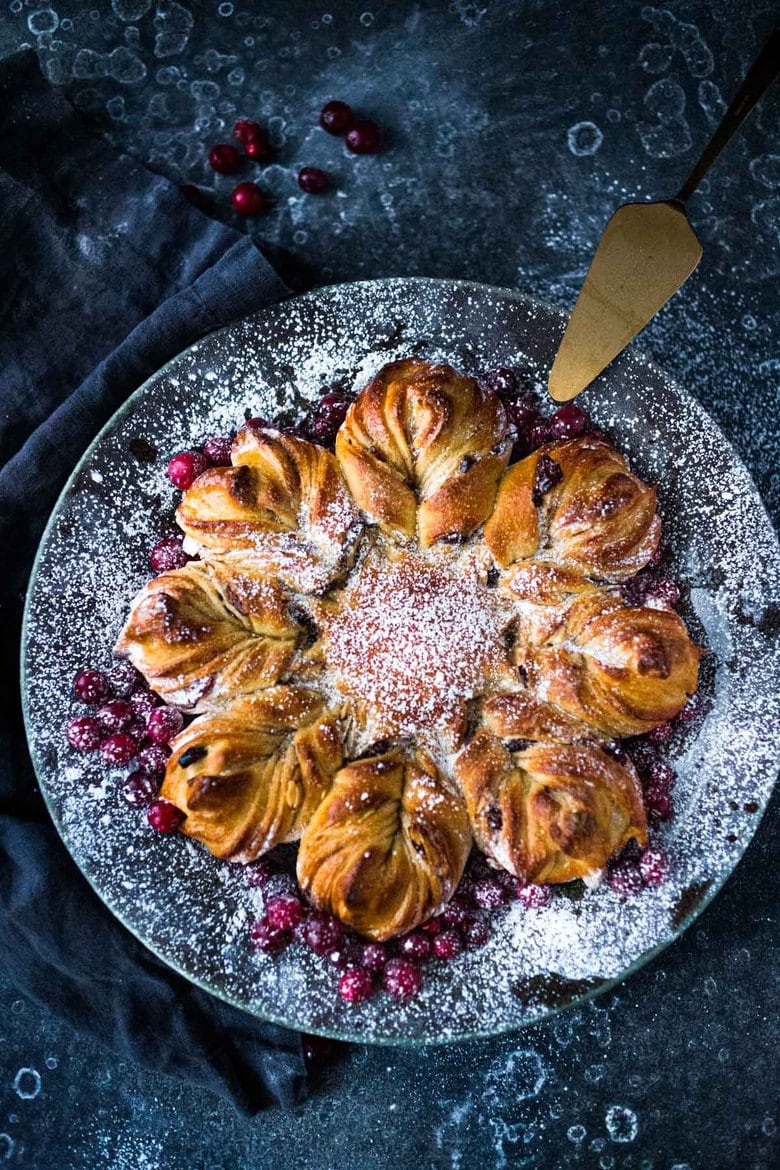 So the darkness shall be the light, and the stillness the dancing. ~T. S. Eliot~
Here's a cozy and delicious holiday recipe for Star Bread!  What I love about this recipe is not only how beautiful and festive it looks, but how do-able this is. Fun even!
How lovely would this be on at your Winter Solstice gathering or on Christmas morning? The basic yeasted dough recipe is simple and what you add to it, is totally up to you!
Here I've added dried cranberries, almonds and cardamom, but feel free to add what you like!  Crushed walnuts or hazelnuts with currants or tart cherries. Or pecans and raisins –  use what you have.
It's surprisingly easy! Allow 2 hours for rising, 40 minutes for hands-on time and 15 minutes for baking.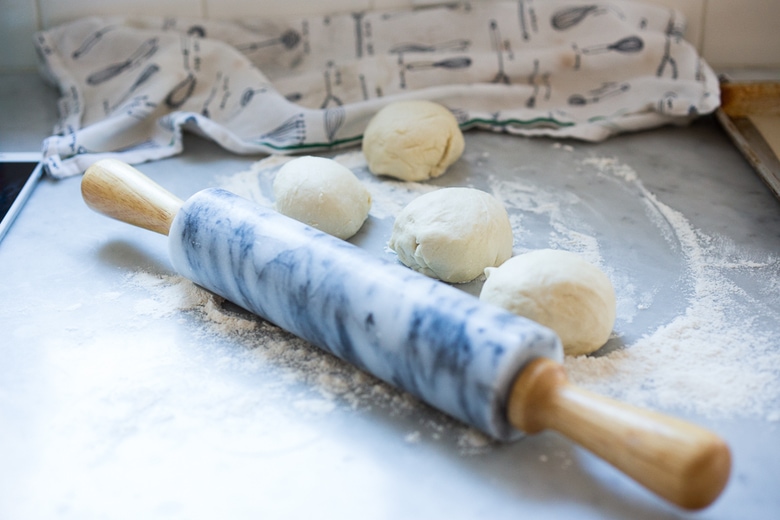 How to make Star Bread
Step One: Make the dough in a stand mixer, let it rise, then divide into four balls.
Step 2: Roll each ball into a 10-inch wide circle – so you'll have 4 circles.
Step 3: Place the first layer on a parchment lined sheet pan. Brush it with egg wash, sprinkle with spiced sugar, optinal cranberries and sliced almonds.
Almond paste or a little jam would be a good filling here too.
Step 4: Once all four disks are seasoned and stacked, place a 2 ½-  3 inch round cookie cutter or bowl or cup in the center to use as a guide. Don't press down!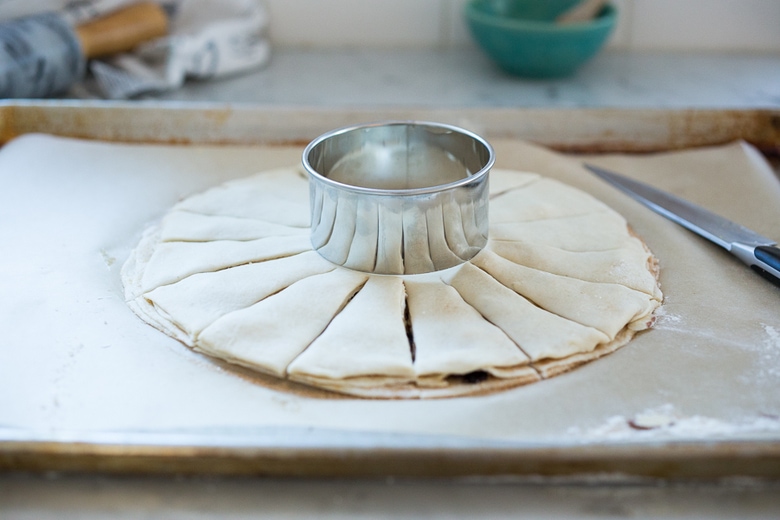 Step 5: Cut 16 strips, leaving the center intact. Cut in quarters first, then eights, then sixteenths. Like a sunburst!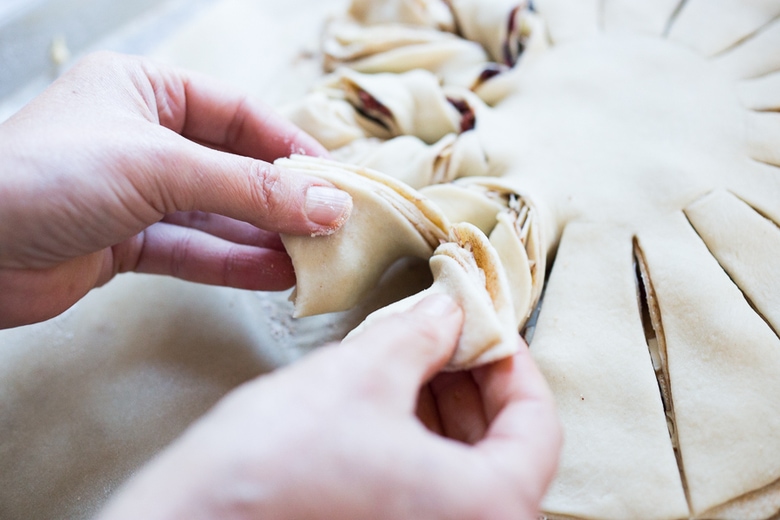 Step 6: Take two strips (next to each other), one in each hand, and twist them 2 times away from each other, then pinch together the edges, to form one point of an 8-point star.
Continue twisting and pinching together the strips to form 8 points in this star.
It need not be perfect.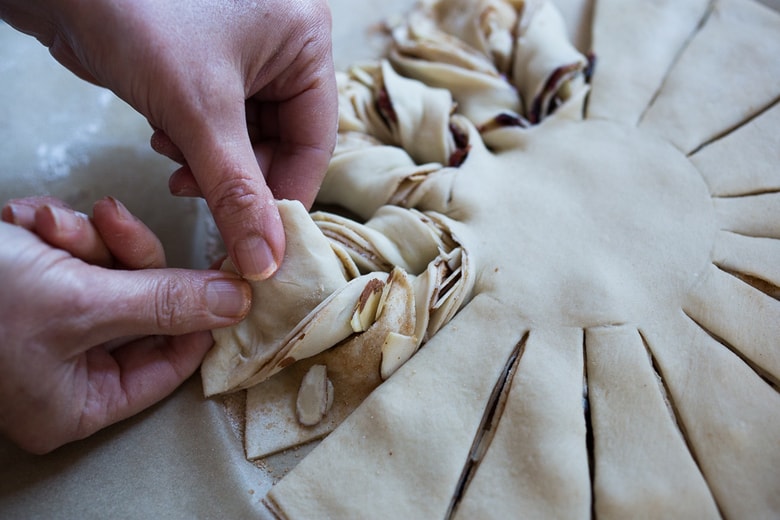 Step 7: Cover and let this rise again while the oven preheats.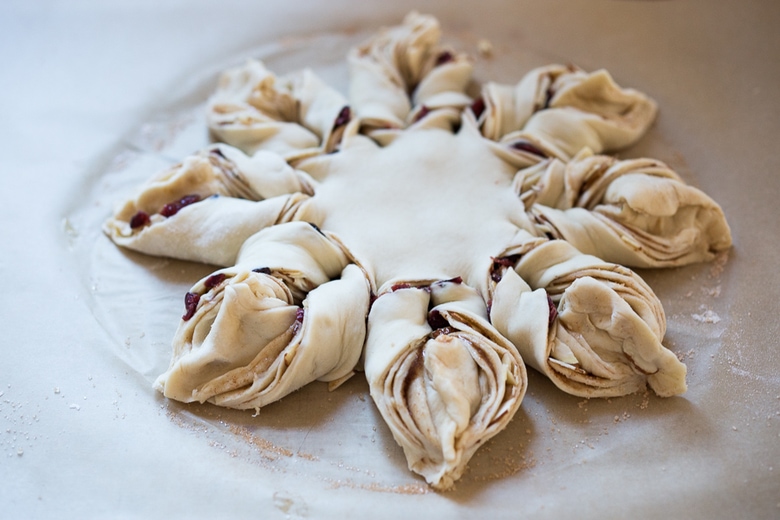 Step 8: Bake for 15 minutes or until golden brown! Brush with butter if you like and sprinkle with powdered sugar!
When it comes out, it will dazzle.
Sprinkle with powdered sugar or brush with butter., or both!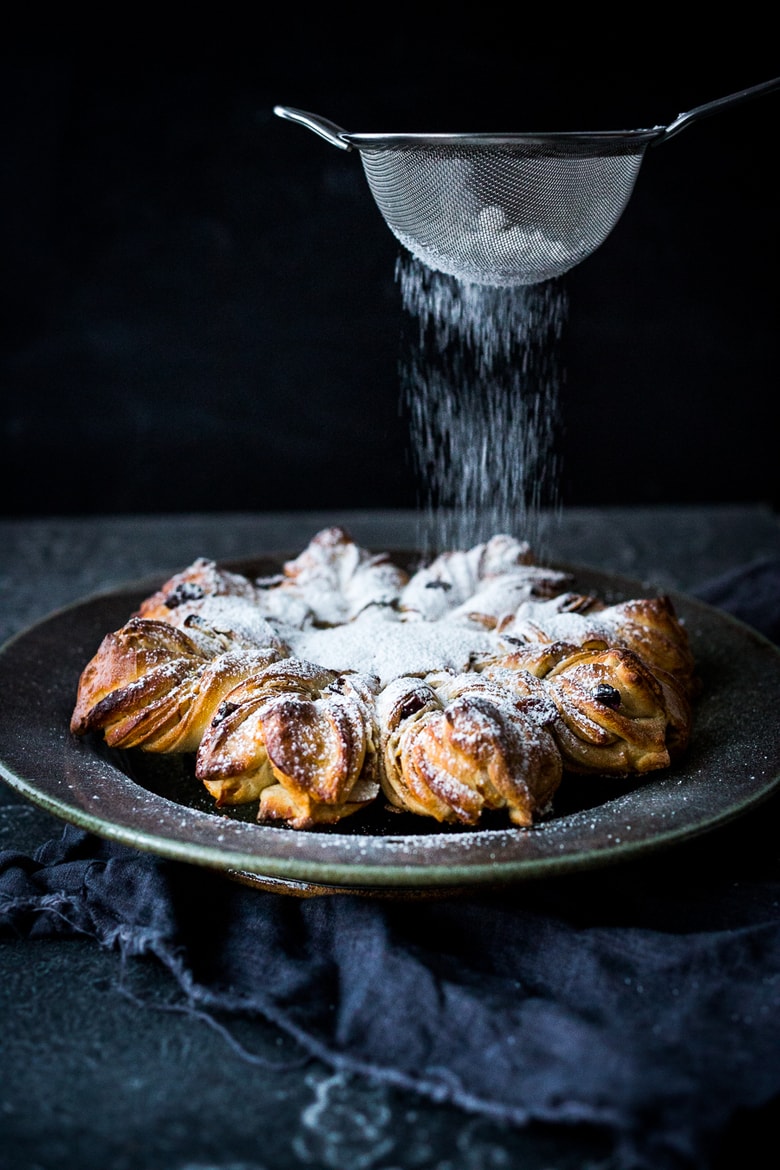 Serve as a morning bread or with afternoon tea, decorating with fresh cranberries if you like.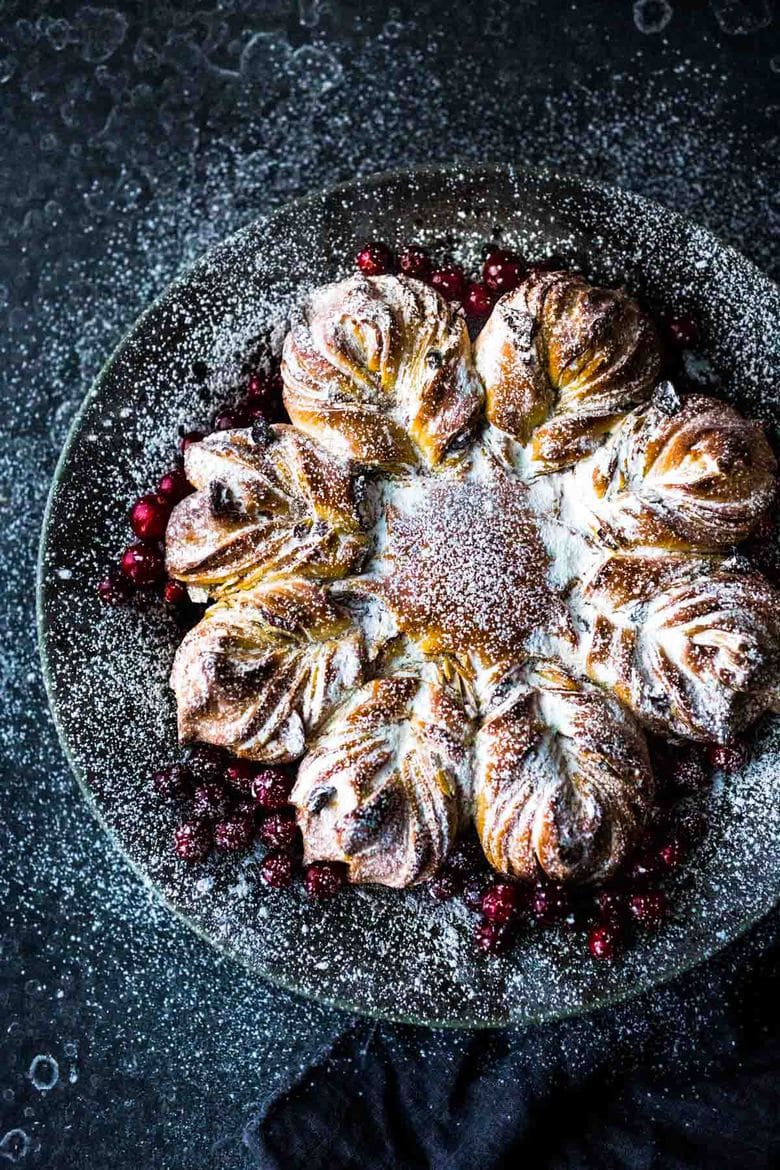 I hope you love making this as much as I do!
More recipes you may like:
On the homefront: It's the Winter Solstice, the darkest day of the year. It wasn't until I moved to the Pacific Northwest that this began to have meaning. Here, and as I get older, it becomes more significant, not only in the physical world but in my inner world. For most of my life, I've resisted darkness, desperately seeking light, in all its forms. Physical and non-physical.
This year in particular has been a lesson in sitting with the darkness that inevitably comes to all of us in time.  Like night and day, winter and summer, it is half of the whole, the half I've tended not to accept.  But it keeps surfacing, perhaps waiting for me to have enough courage to face it. For many years, I've simply not allowed it. Distracting and busying myself. Being productive. Denying it.
But there is a different way I'm told from the wise ones who have gone before us – acceptance. Witnessing and accepting all parts of myself, the good, the bad and the ugly -my fears, guilt, and shame- the most hidden of all.
My prayer to the universe today . . .  give me the courage to sit with the darkness and simply allow it.
No judgment.
Sending you love and courage to embrace all.
s.
Print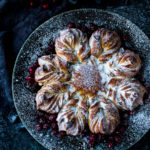 Star Bread Recipe
Prep Time:

160 mins

Cook Time:

15 mins

Total Time:

2 hours 55 mins

Yield:

8

-

1

0

1

x

Category:

dessert, bread, morning bread

Method:

baked

Cuisine:

nordic
---
Description
How to make Star Bread – a simple, easy step by step guide to making the most delicious cozy winter treat, perfect for the holidays! (Recipe Updated 12/16/2018). Adapted from King Arthur Flour.
---
Dough:
3/4

cup

warm milk (100-110 degrees F)

2

cups

All-Purpose Flour

1

egg

1/4

cup

soft unsalted butter, at room temperature

2 teaspoons

rapid rise or instant yeast ( if using active dry yeast, see notes)

2 tablespoons

sugar

1 teaspoon

salt
FILLING :
---
Instructions
To make the dough with the

instant yeast

: Place

all

of the dough ingredients together in a stand mixer and using paddle attachment, beat on low for 3 minutes. You can also mix by hand, in a bowl to make a soft, smooth dough.
Place the dough in a lightly greased bowl, cover, and let it rise in a warm spot, for 60 minutes, until it has doubled in size.  If using active dry yeast, rising time will take twice as long.
In the meantime, beat the egg and set aside. Mix the sugar, cinnamon and cardamon and place in a small bowl.
Divide the dough into four equal pieces. Shape each piece into a ball, cover the balls, and allow them to rest for 15 minutes. On a floured surface, roll one piece of dough into a 10″ circle. Place the circle on a parchment -lined sheet pan, brush a thin coat of beaten egg on the surface, then evenly sprinkle with a third of the spiced-sugar, ¼ cup dried cranberries, ¼  cup almonds, leaving 1/4 inch of bare dough around the edges.
Roll out a second circle the same size as the first, and place it on top of the filling-covered circle. Repeat the layering process:  egg, spiced sugar, cranberries, almonds, then  roll out the 3rd dough circle, add the remaining filling. Roll out the final ( 4th )dough circle, placing it on top, leaving the top totally bare.
Place a 2  1/2″ to 3″ round cutter ( or cup) in the center of the dough circle to use as a guide. With a  sharp knife, cut the circle into 16 equal strips, from the edge of the cutter or cup- to the edge, through all the layers. Look at the photos. 🙂
Using two hands, pick up two adjacent strips and twist them away from each other twice so that the top side is facing up again. Repeat with the remaining strips of dough so that you end up with eight pairs of strips. ( see photos)
Pinch the pairs of strips together to create a star-like shape with eight points. Remove the cup/cutter.
Cover the star with a thin towel and let it rise until it puffs, about 45 minutes.
While the star is rising, preheat the oven to 400°F.
Brush the star with a thin coat of the beaten egg. Bake it for 14 to 16 minutes, until it's beautifully golden. Test doneness with a thermometer – it should reach 200°F in the center.
Allow it to cool 10-15 minutes before serving. Dust with powdered sugar or brush with melted butter.
---
Notes
If making dough with active dry yeast – place the warm ( 110F) milk, sugar and yeast into a stand mixer ( or bowl) and mix until combined. Cover with a kitchen towel, let stand until yeast is active and frothy, about 5-10 minutes. Add remaining dough ingredients and beat on low speed until combined and it forms a soft dough. Continue with recipe above.
---
Keywords: star bread, how to make star bread, star bread recipe, morning bread, holiday bread, cranberry bread, almond bread, cardamon bread, christmas bread