Finnish
Cardamom
Rolls, also called "Pulla" – a delicious sweet roll perfect for the holidays! Serve for breakfast, brunch, or afternoon tea. Perfect for holiday gatherings and potlucks.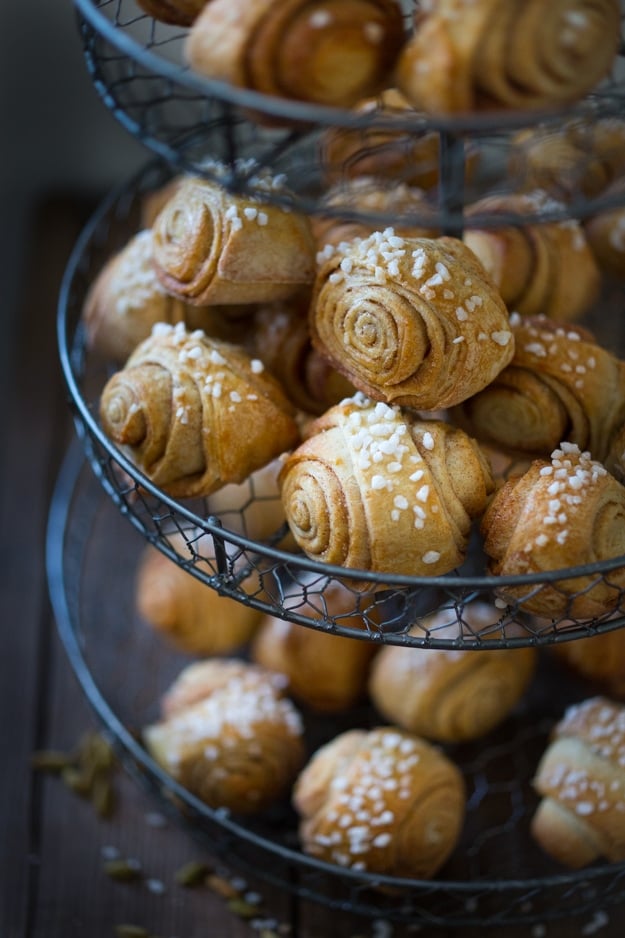 The highest spiritual path is life itself. ~
Michael Singer -The Untethered Soul
In winter when temperatures drop to bone chilling degrees, warmth can often be found in the kitchen. During the cold months, I find myself gravitating towards the warming the spices of cinnamon, nutmeg, curry, white pepper and cardamom, which generally get pushed to back of the cupboard during the summer months.
But it is cardamom that holds my heart, keeping it warm on the coldest of days, not only for its flavor, but through the memories it brings. It is one of the first spices I remember tasting as a child. Growing up with a Finnish mother and an Egyptian father, the holidays were filled with recipes from their homelands.
Each Christmas, my mother would make a Finnish bread, called Pulla, a subtly sweet braided loaf, speckled with fresh ground cardamom seeds, soft and buttery and topped with course sugar. Sometimes she would add raisins and sliced almonds.
When it came out of the oven, the whole house smelled happy -its aroma whispering of exotic faraway places. On Christmas morning, my Egyptian father would crush a few cardamon pods and add it to their brewing coffee, a wistful nod to his past. Cardamom, like the broken English they both spoke, became their common ground in the kitchen.
This recipe for Finnish
Cardamom
Rolls is similar to my mother's Finnish Pulla recipe, but instead of making a big braided loaf, the dough is rolled and cut into smaller rolls, perfect for company and easily stored away in the freezer. For the traditional braided loaf recipe, and more on my mother and her homeland, Finland, visit this post,
Pulla for Lea
.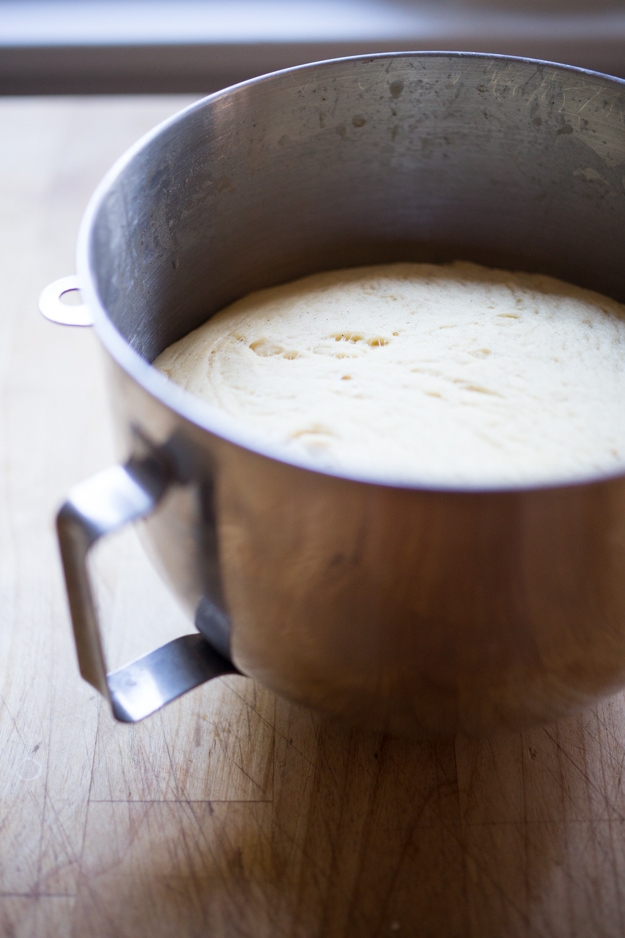 Make the dough and let it rise until it doubles in size. About 1 ½- 2 hours.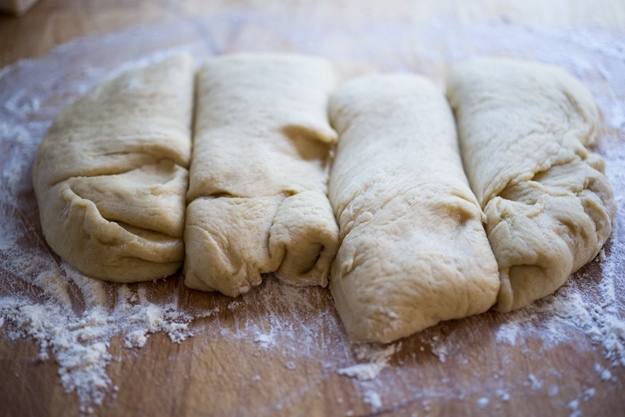 Punch it down and divide into four.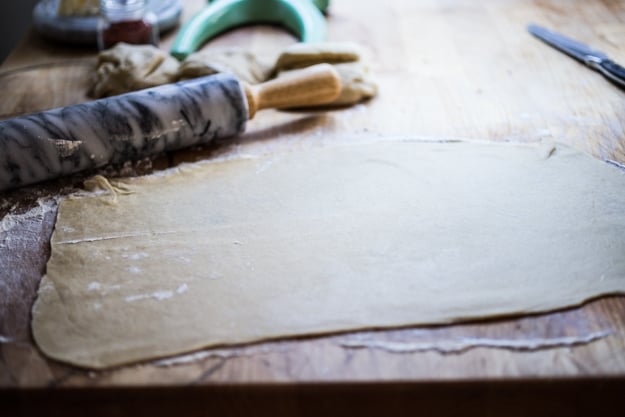 On a floured surface, roll it out into a rectangle about ¼ inch thick. Dough will measure roughly 12 inches by 18 inches.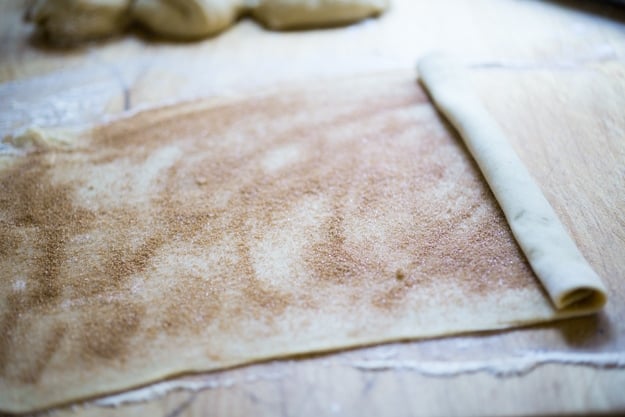 Lather with very soft butter, sugar and cardamom, and roll it up.
You may be tempted to leave out the butter in this step because the dough will seem buttery enough, but don't, you will be disappointed. I have tried this myself, and the rolls were dry.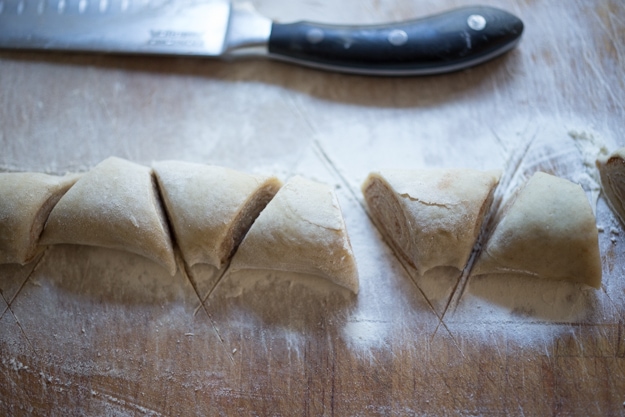 With the seam side down, begin cutting triangles. The point of the triangle being about ¾ of an inch and the widest part being 2-3 inches.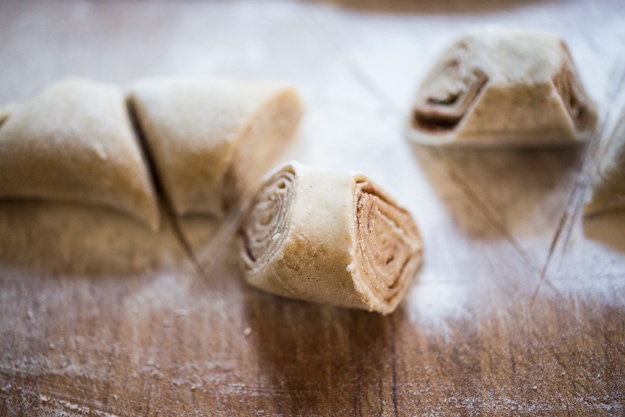 Turn the triangles so that the narrowest point now faces up. Place on a parchment lined baking sheet.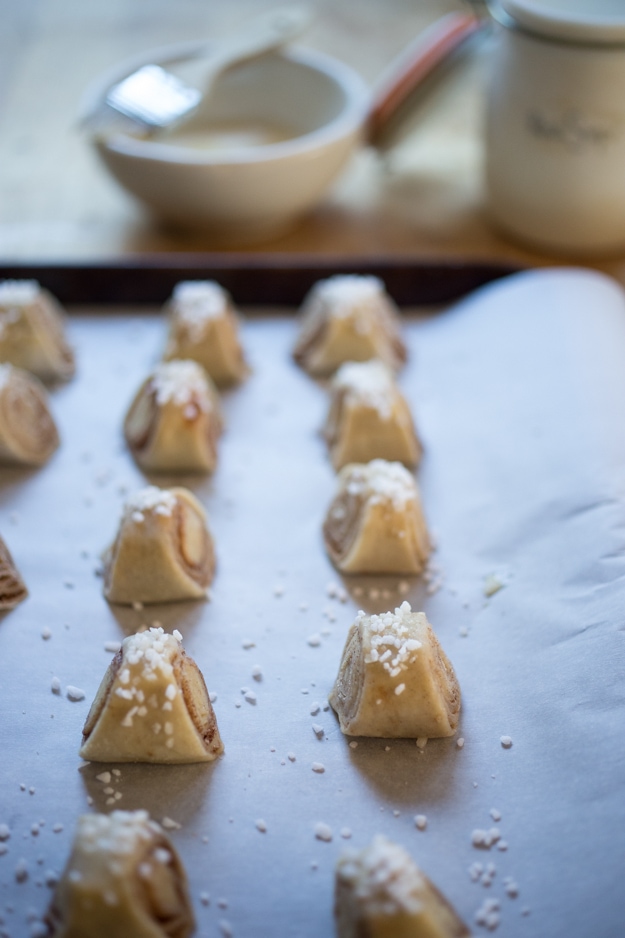 Preheat oven to 350F
Let rise once more for 30-40 minutes ( Don't skip this 2nd rise)
Bake for 18 minutes, check for doneness, continue baking for a couple more minutes if necessary, but don't over bake.
Depending on the size, you may need to bake a little longer.
I found that 20-22 minutes is perfect.
Remember all ovens are different.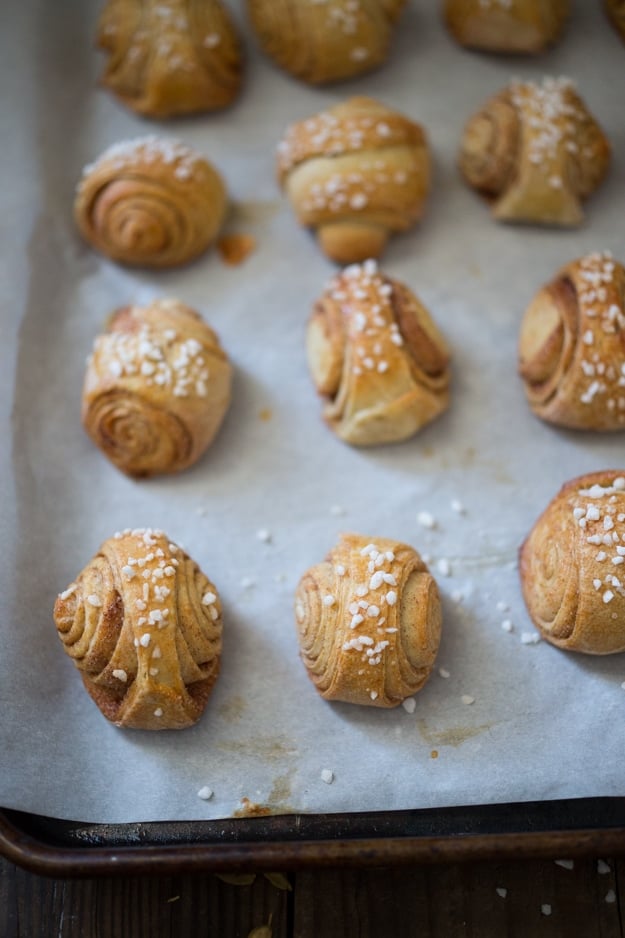 They will be golden, crispy on the outside, tender on the inside, and very aromatic.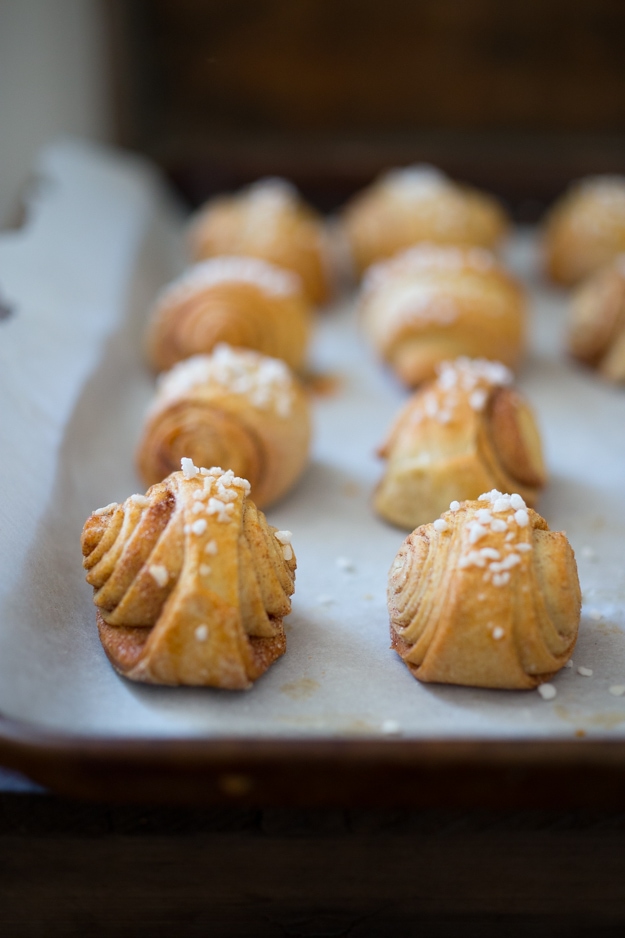 Let them cool. Store in zip lock bags until ready to serve.  I like to warm them before serving.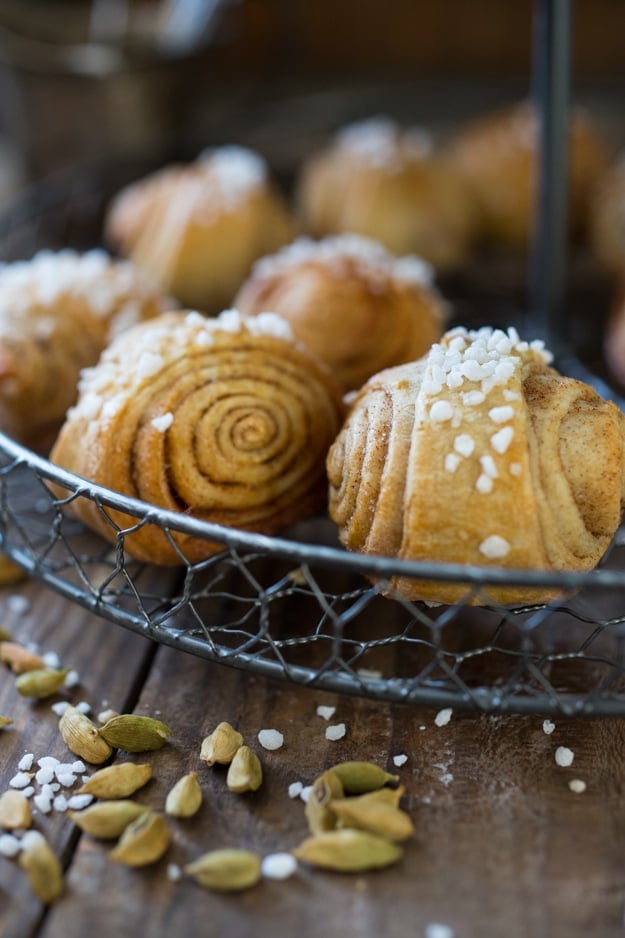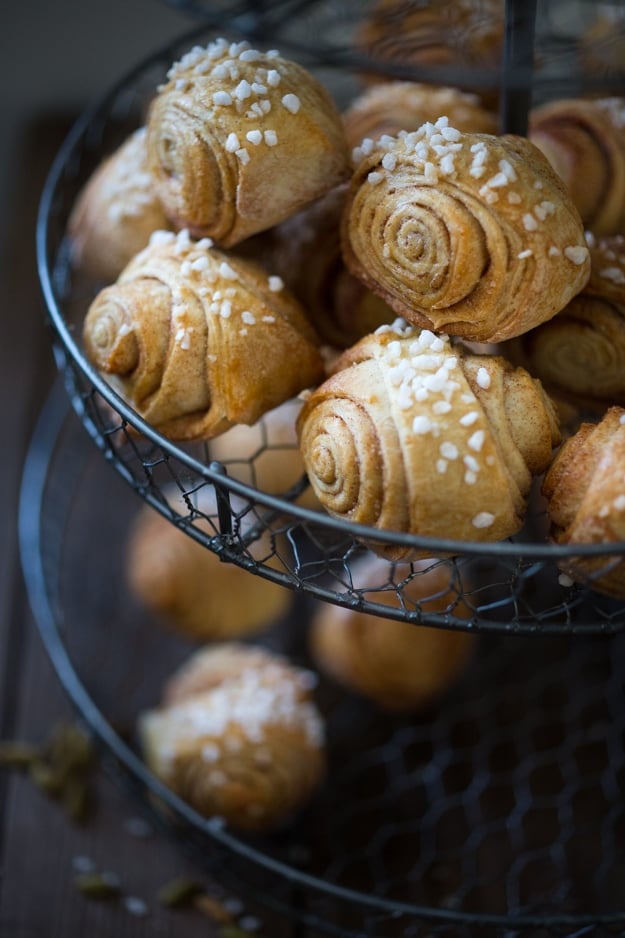 Hope you enjoy these Finnish Style Cardamon Rolls!
Print
Finnish Cardamon Rolls ( Pulla)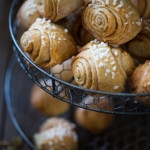 Finnish Cardamom Rolls, this Finnish version is also called "Pulla" – a delicious sweet roll perfect for the holidays!
Prep Time:

160 mins

Cook Time:

40 mins

Total Time:

3 hours 20 minutes

Yield:

24

1

x
Category:

bread, desserts, sweet bread, morning bread

Method:

baked

Cuisine:

Finnish
Scale
Ingredients
1 cup

milk or

half an

d half, lukewarm

½ cup

sugar

4 teaspoons

active dry yeast

1 tablespoon

cardamom seeds crushed or

1 1/4 tablespoons

ground cardamom

½ teaspoon

salt

1/2 Cup

butter, very very soft

2

eggs

4 cups

all-purpose flour
Filling

1/4 cup

sugar

1 teaspoon

  cardamom

¼ cup

butter, softened

1

egg, for egg wash, whisked.
Turbinado or rock sugar, for sprinkling over the rolls, or regular sugar
Instructions
Combine the milk sugar and yeast in a bowl, give a stir and let stand 10 minutes until yeast starts to bubble.
Add the eggs, the soft butter, cardamom and salt to your stand mixer. Using the whisk attachment, mix everything together, then pour in the yeast mixture, mixing until well combined. Switching to the dough hook, add a cup of flour at a time and mix until all the flour is added. If the dough is very tacky add a bit more flour, but continue mixing until the dough separates from the bowl and forms a ball.
Cover the bowl with plastic wrap, and  let it rise for 1 1/2 – 2  hours until it has doubled in size.
Mix the sugar and cardamom together in a small bowl for the filling.
Cover the work surface with  flour.  Punch the dough gently and place it on your work surface. Cut the dough in 4 equal pieces. Working with one piece at a time, cover the other rolls so that they don't dry out. Roll each piece about as thin as you can, should be about 12 inches by 18 inches. Brush some soft butter onto it. Make sure it's nicely buttered. Sprinkle some of the cardamom sugar over the entire surface, as much as you want. Roll it into a tight log starting from one of the narrow ends. With the seam side down, line up the dough log in front of you and cut it on the diagonal, alternating up and down, so that the slices are fat 'v' shapes, with the point of the 'v' about 3/4 wide and the base about 2 inches wide.
Place each on parchment lined baking sheet and turn so the narrow tip of the 'v' is facing up to the ceiling.
Preheat oven to 350 F degrees.
Let the rolls rise again for about 30-40 minutes.  Don't skip this step. Brush the rolls with egg wash and then sprinkle with course sugar. Bake for about 18- 20  minutes and check  to see if its cooked through, continue baking for a few more minutes if necessary. let cool and store in air tight bags to keep them soft. To serve, heat them in the oven for just a few minutes, serve with butter.
To make a traditional Finnish braided loaf, visit "Pulla for Lea".
Keywords: pulla, pulla recipe, cardamon rolls, cardamom rolls, Finnish cardamom bread, Swedish cardamom bread, cardamom rolls, cardamon buns