Spring Nettle Pasta with a flavorful nettle pesto sauce, toasted pine nuts and lemon zest. Full of nutrients and oh so delicious!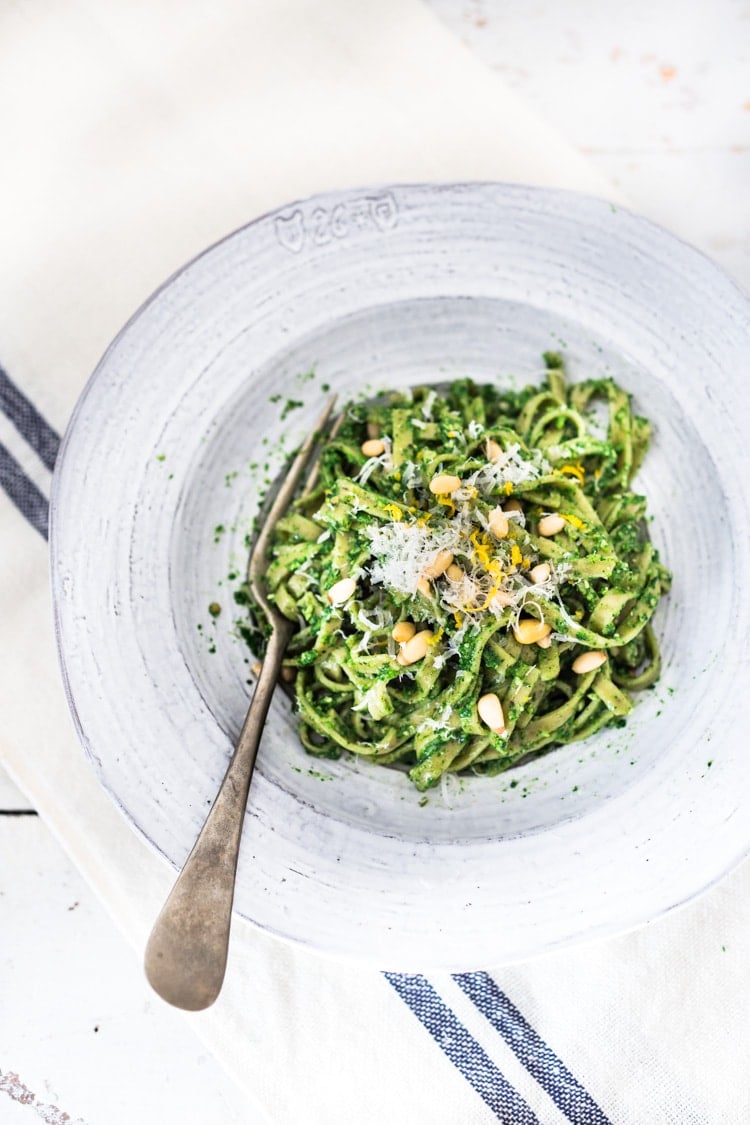 How can you follow the course of your life, if you do not let it flow?
Lao-tzu
Here's a simple recipe for Spring Nettle Pasta. I found these prickly little guys one day while meandering through the Ballard Farmers Market, in Seattle…or rather, they found me. While I was admiring and photographing some other more showy vegetables-  red, yellow and orange carrots- the nettles practically reached and grabbed me, scratching me gently on the wrist, as if to say, I'm here and you really should get to know me. How could I refuse? Since then, I've fallen madly in love with them.

Don't let these scary guys fool you with their bad reputation for stinging.  Nettles have long been considered one of the most healing plants available to us on the planet. The list of health benefits is truly astonishing -with some of the standouts being nettle's incredibly high iron content,  liver supporting properties, anti inflammatory properties, and cleansing and detoxing qualities. In much of what I've seen and read, nettles are especially beneficial to women- reducing PMS symptoms and even menopausal symptoms. And seriously, this is just the tip of the iceberg. I encourage you to do your own research and see for yourself.

Health benefits aside, there is another reason to incorporate nettles into our diets this Spring. They actually taste really amazing! They have an earthy and mysteriously herbaceous flavor — unexpectedly delicious in pesto. This simple spring pasta is fast and easy to make, and really highlights the nettle flavor.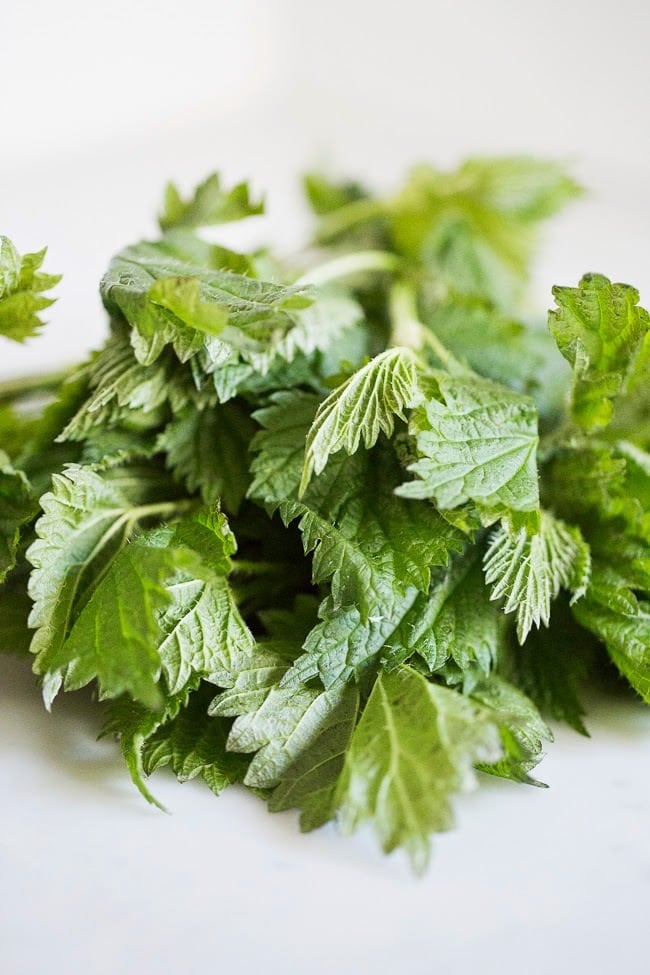 Nettles grow in the wild like dandelions. Their vibrant green, saw-toothed leaves are covered in fine "stingers" giving stinging nettles their intimidating name. Once cooked, the little stingers melt away. So remember, just cook them first. One of the easiest ways, is just to blanch them for a minute or two in boiling water. They can also be sautéed, or even roasted. Once cooked they can be used as you would spinach. Try them in Spanakopita, fritatta or even stuffed in ravioli. Once cooked they are harmless and are an amazing source of flavor and nutrition.
Fresh nettles are in season now, and can be found at many farmers markets. Locally, Josh Yate, from Gourmet Foragables  currently has them available to order and will begin selling them at the Thursday Market  on South Perry Street this month.
A simple fast way to extract the nutrients from nettles is to make a fresh nettle tea. Pick a handful of nettle tops wearing gloves. Place the tops in a teapot or french press and pour over  boiling water. Steep for ten minutes, strain and drink. The tea is a beautiful green color, and rich in nutrients.
My dear friend Tonia Schemmel, my Mizuna partner, swears by them. I remember her telling me some years ago that she was had anemia. A healer, she cured herself, by making nettle tinctures and teas. Her iron levels increased exponentially. I am in awe of incredible healing power of plants.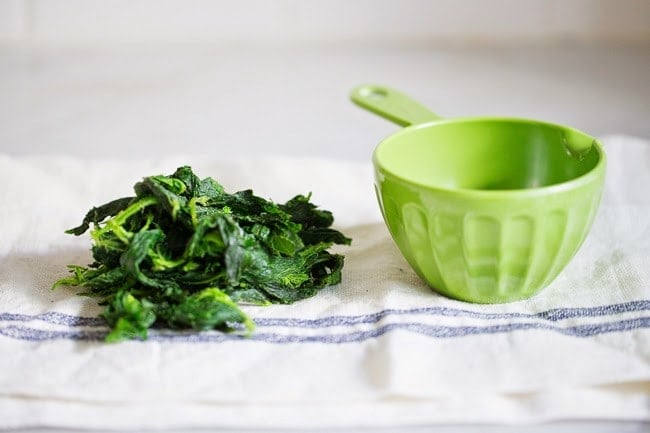 When making nettle pesto, remember that blanching greatly reduces the amount of nettles. What once started off as 3-4 cups of nettles, ended up being only about a cup after blanching.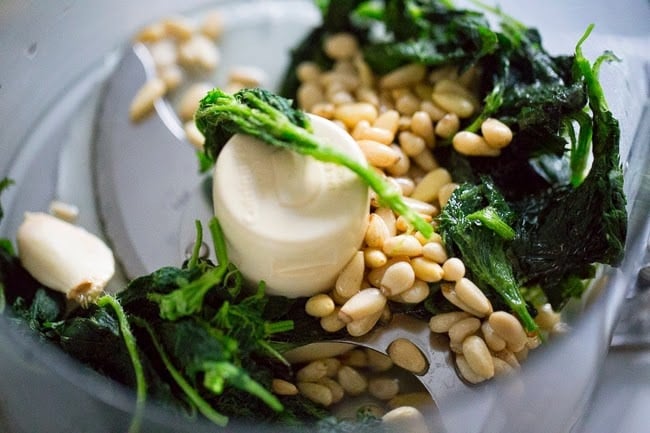 Blend with traditional pesto ingredients…olive oil, garlic, pine nuts and Parmesan, and you end up with a  delicious twist on the traditional basil pesto.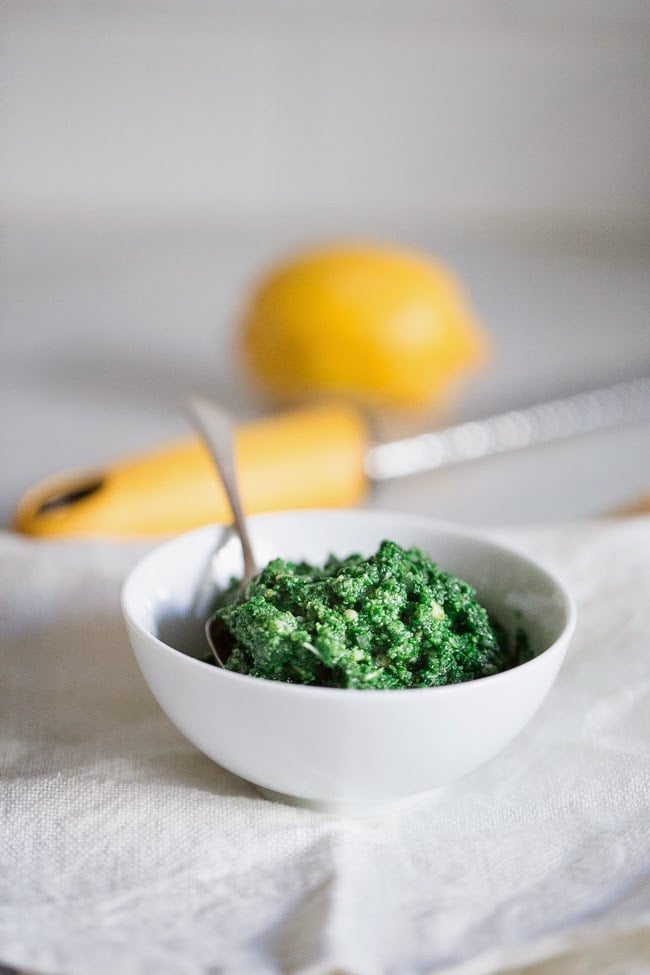 Toss with your favorite pasta and garnish with lemon zest, and grated Parmesan.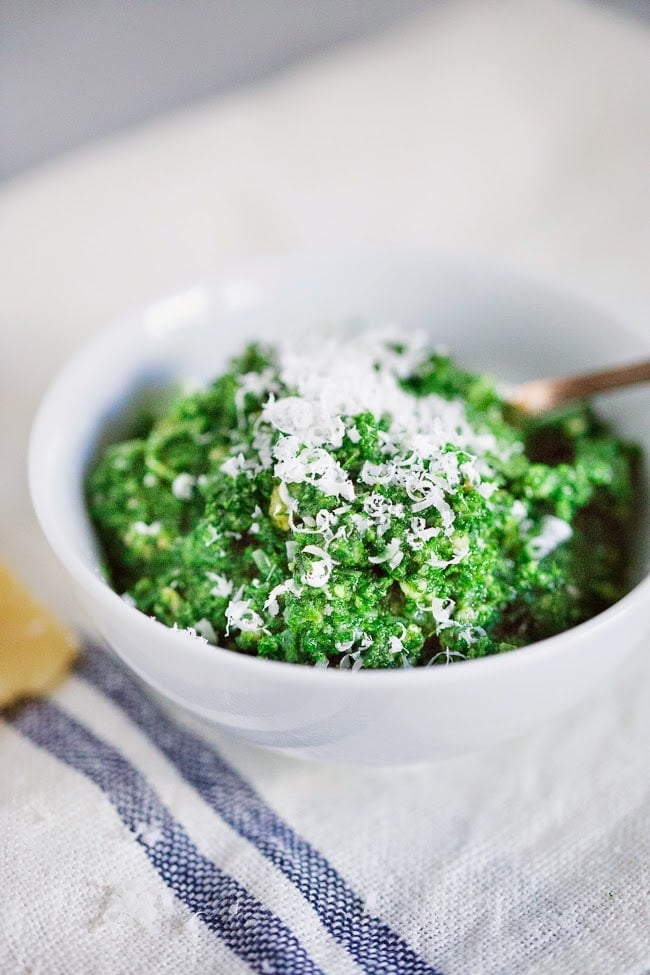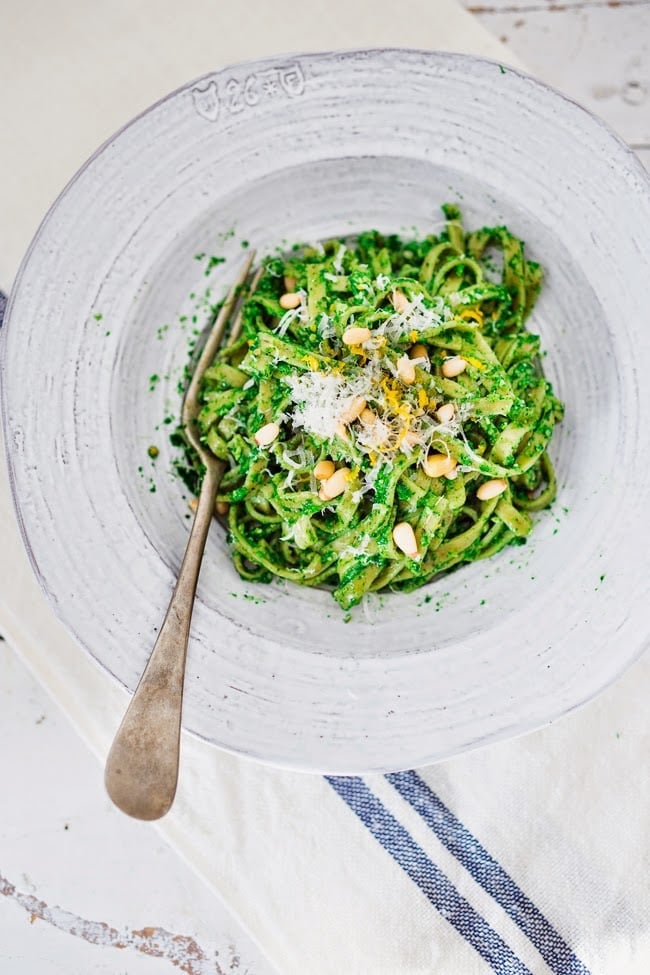 Thanks for reading! For more Feasting at Home … 
 and subscribe to receive new posts via email.
Print
Spring Pasta with Nettle Pesto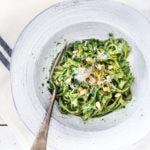 Spring Pasta with nettle Pesto, toasted pine nuts and lemon zest. Full of nutrients and so delicious!
Prep Time:

15 mins

Cook Time:

15 mins

Total Time:

30 mins

Yield:

3

-

4

1

x
Category:

Pasta, vegetarian, spring

Method:

Stove top

Cuisine:

Northwest
Scale
Ingredients
8 oz

linguine- (or any pasta,  I used spinach flavored)

3

–

4

cups raw stinging nettles

2

–

3

medium garlic cloves

1/4 cup

pine nuts, lightly toasted- reserving 1 T for garnish

1/4 cup

good quality extra-virgin olive oil

2 tsp

lemon juice

½ tsp

Kosher salt

¼ tsp

freshly ground pepper ( white or black)

¼

C Parmesan cheese, finely grated -reserving 1 T for garnish

1

T lemon zest -for garnish
Instructions
Bring generously salted water to boil in a pot big enough to hold nettles and stems. Once boiling, using tongs, place the nettles in the pot (stems ok). Blanch in rapidly boiling water for 1 ½ minutes. Using tongs, remove from water and place in ice water bath, to chill rapidly. Separate leaves from bigger stems, placing all leaves and some of the smaller stems on a clean kitchen towel. Wring dry. You should have just about 1 cup of nettles.
Place them in a food processor with the pine nuts, garlic, lemon juice, cheese, salt, pepper  and oil. Pulse until until uniform, but not too smooth. Scrape down sides to make sure all is combined.
Boil pasta in generously salted water. Often I'll just re-use the nettle water over again (whatever you prefer). Once pasta is cooked to al dente, remove with tongs and immediately toss with the pesto. Taste and adjust salt and lemon. Add chili flakes if you like!
Garnish with lemon zest (important), pine nuts, and grated Parmesan, serve immediately.
Keywords: nettle pesto, nettle recipes, nettle pasta recipe, nettle pesto recipe, how to cook with nettles, nettle recipes, spring recipes