Instant Pot Arroz con Pollo – made in a fraction of the time! An easy, one-pot, chicken, rice and vegetable dish infused with delicious Spanish flavors of saffron and smoked paprika, similar to Paella but without the seafood.  Fast and easy! See recipe notes for the stove-top version!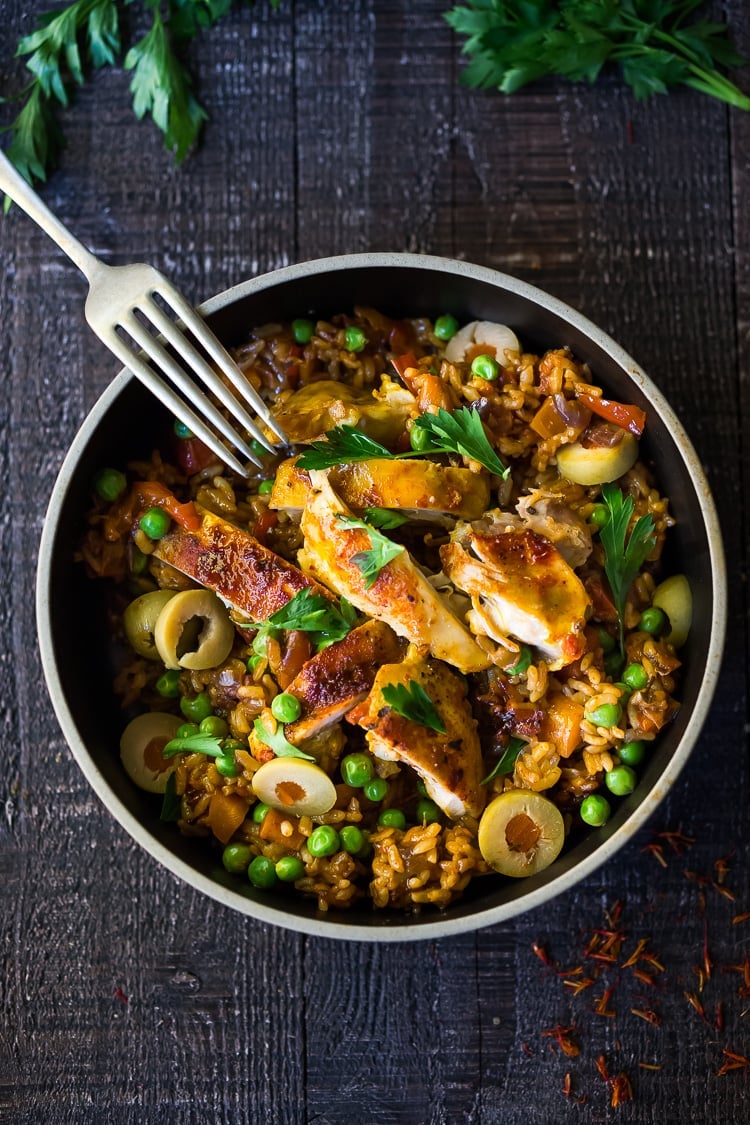 Drop by drop a river is made.~ Rumi
Here's a quick and easy weeknight dinner that can be made in an Instant Pot – Arroz con Pollo which translates to "rice with chicken", a traditional dish of both Spain and Latin countries. This version is influenced by Spanish flavors with the use of saffron and smoked paprika, similar to paella but without the seafood. The saffron gives it its beautiful golden hue, where in Latin countries the use of annatto is more common. You can also make this on the stovetop!
I was recently introduced to Rumi Saffron,  which I've fallen in love with!  Not only with its incredible quality and flavor ( it is truly amazing) but with the company itself. Created by a group of US military veterans, Rumi sources saffron directly with Afghan farmers and employs more than 1900 women in Herat, Afghanistan to hand-harvest the delicate crimson stigmas of the flowers. Empowering Afghan women, Rumi reinvests back into local communities and helps support their local economy. It's hard not to think of the beautiful hands that pick each delicate red strand, when cooking with it.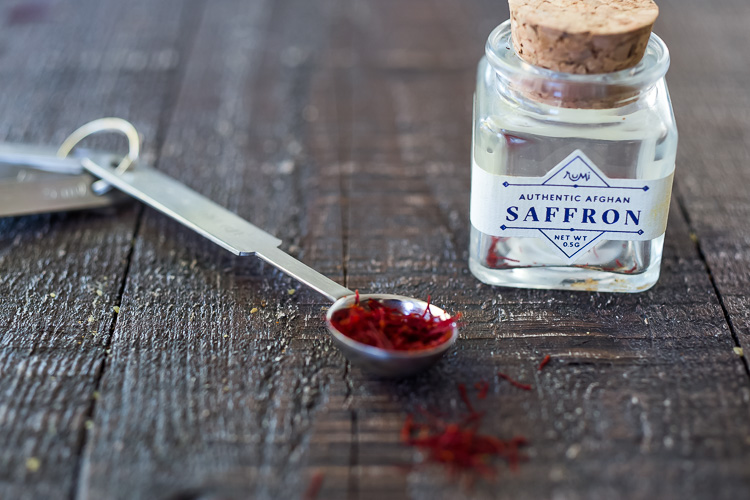 You'll notice how deeply red the color is. The flavor is twice as intense as most saffron I've tried, so you'll need a little less than the recipe calls for.
The saffron really gives this recipe for Arroz con Pollo,  it's authentic Spanish flavor, so don't skip it. Soak the threads in warm water, then add both the water and the threads to the dish.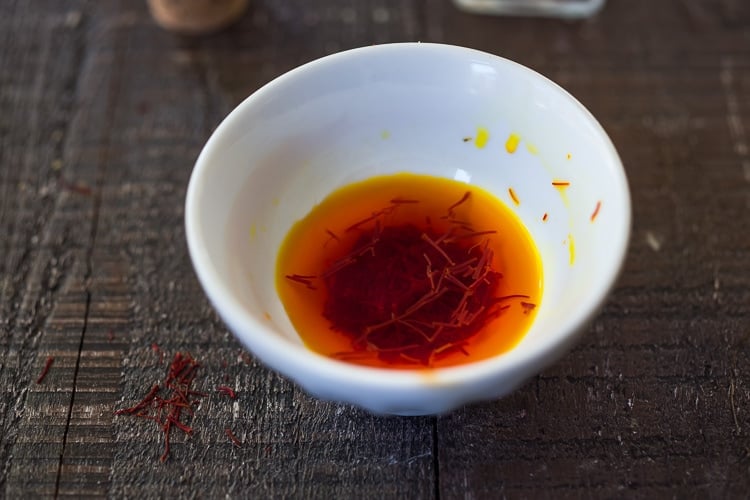 Season chicken thighs with smoked paprika and salt and pepper.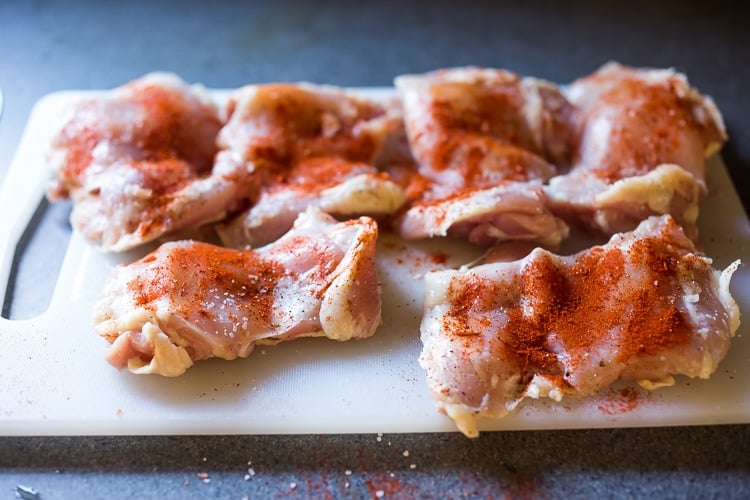 Saute the onions and garlic, add the veggies, rinsed rice, stock, wine, and spices and nestle the chicken over top.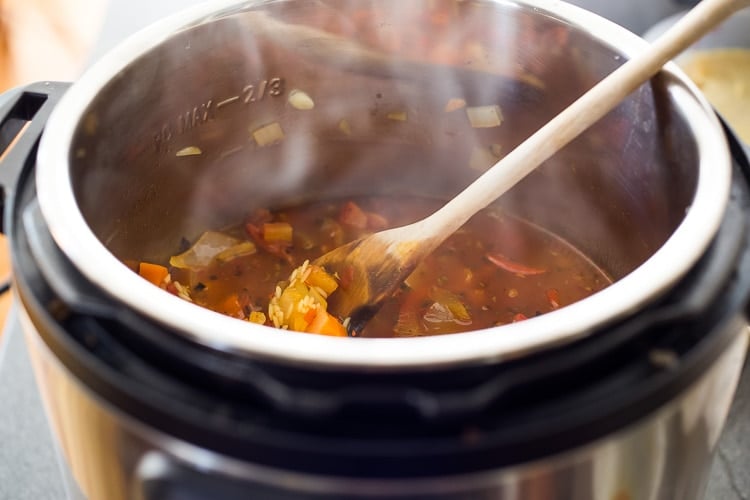 Pressure cook for 10 minutes, on high. Naturally release for 10 minutes. Stir in the peas and olives. Squeeze with lime.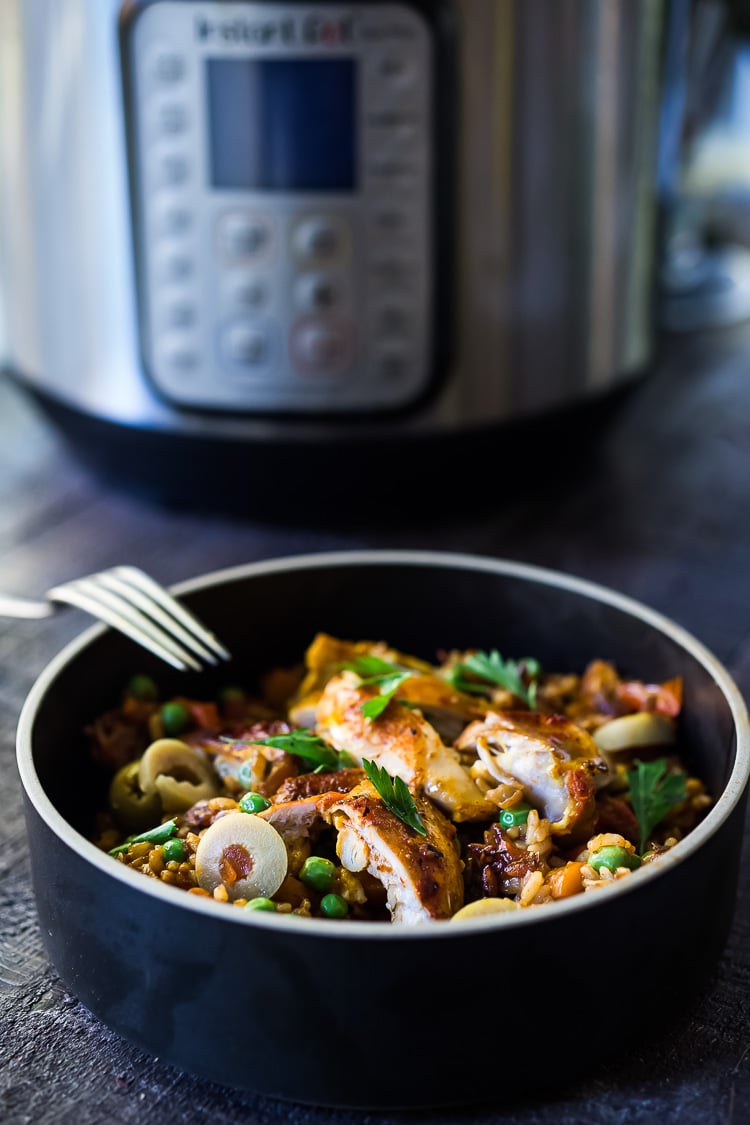 Here I've kept the Arroz con Pollo simple but you could serve it with warm tortillas, queso fresco cheese ( or sour cream), avocado slices and a lime wedge.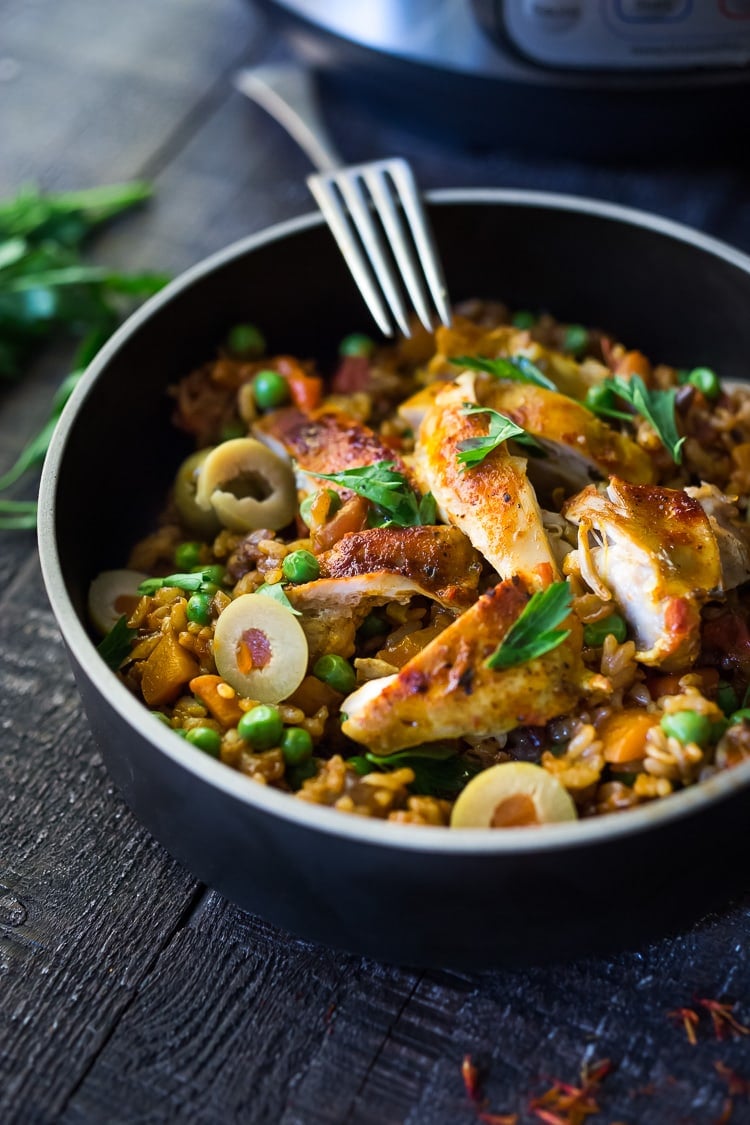 Here you go, Arroz con Pollo, made in an Instant Pot! So quick and easy!
Enjoy and check out the Rumi saffron! ( FYI This is not a sponsored post- I just really think the company is great and the saffron is truly of the highest quality. )
Print
Instant Pot Arroz Con Pollo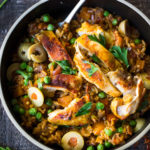 Instant Pot Arroz con Pollo – made in a fraction of the time! This Spanish version is infused with saffron and smoked paprika and full of amazing flavor! See notes for stove top version. Please read recipe notes about the "Burn Error" before starting.
Author: Sylvia Fountaine
Prep Time:

15

Cook Time:

30

Total Time:

45 minutes

Yield:

6

1

x
Category:

main, chicken,

Method:

instant pot

Cuisine:

Spanish
Scale
Ingredients
1 ½

lbs chicken thighs (whole, boneless, skinless)

1 teaspoon

salt

1/2 teaspoon

pepper

1 teaspoon

 smoked paprika
——

¼

–

½

teaspoon saffron

2 tablespoon

s warm water
—–

2 tablespoon

s olive oil

1

onion, diced or sliced

1

red bell pepper, diced

1

carrot, diced

4

cloves garlic, rough chopped

1 cup

chicken stock or broth

¼ cup

white wine (or sub more broth)

2 teaspoon

s dried oregano

2 teaspoon

s smoked paprika if you like.

2 teaspoon

cumin

1 tablespoon

chili powder

2 teaspoon

s salt

½

–

1

teaspoon chili flakes

1

 14.5 ounce can diced tomatoes (fire roasted are nice)

with the juices 

1 cup

white rice, rinsed (use short grain

white

rice or

white

basmati rice–

see notes for brown

)
---
¼ cup

sliced green olives

1

–

2

cups peas ( frozen are fine, or sub shelled edamame)
squeeze of fresh lime
Optional Garnishes: lime wedges, warm tortillas, queso fresco cheese or sour cream, avocado,  fresh Italian parsley.
Instructions
Please read instructions all the way through first, including the NOTES, and be precise with measuring!
Season the whole chicken thighs, generously on all sides with salt, pepper and smoked paprika. Set aside.
In a small bowl, pour 2 tablespoons warm water over  the saffron threads, if using and let this steep. (If using Rumi Saffron, ¼ teaspoon is enough.)
Heat oil in a 6 quart Instant Pot, using the "saute" function. Add the onion and cook 2-3 minutes, stirring. Add the garlic, and cook for 2 more minutes, then add bell pepper and carrots and cook 2-3 minutes.
Add the saffron and its water, the chicken broth and wine to the instant pot, mix and using a wood spoon or spatula,  scrap up any browned bits –getting into all the corners too (this is absolutely imperative to preventing the burn error!!!).
Stir in the remaining spices and salt.
Stir in the tomatoes and their juices.
Rinse the rice (important)

and sprinkle it evenly over top – do not stir!

Place the seasoned chicken over top of the rice, nestling it in a bit.
Pressure cook on High for 10 minutes.
Naturally release, for 10 minutes.
Break the chicken apart with two forks, and stir in the olives and peas, covering on warm for just a few minutes until peas heat through.
Squeeze with lime and serve with the optional garnishes.
Notes
BURN ERRORS: I used a 6-quart instant pot, have tested this 4 times, with no burn errors. With that being said, a few of you are still getting burn errors- and I can't figure out why. You are frustrated, yes, sorry, it is very frustrating. If you have any ideas as to why, please leave in the comments below- let's get this mystery solved!!!
Other sized Instant Pots may cause the burn error? What size is yours?  If your are getting the burn error- make sure the outer bottom of your insert is clean and wiped off. Make sure to Scrape up any brown bits using a wood spoon to get into ALL those inner corners! If still getting it, add 1/4 cup more broth and try again. The error is most likely not for a lack of moisture, but from browned areas on the bottom of the pot itself.  You must scrape them up. A squared-off, wood spatula is ideal. Then Retry. Adding any more liquid may result in mushy rice, but feel free to add, if you feel you absolutely must. As a last resort, pour entire contents into dutch oven on the stove, bring to a simmer, cover and cook 25-30 minutes covered on low heat.
I have not tried this with brown basmati rice, but am guessing the brown rice would take 5 minutes longer to cook.
STOVE TOP VERSION: If making on the stove top, follow same directions, but perhaps brown the thighs first before nestling into the rice. Bring to a simmer, cover, cook on low until rice is cooked through. (25-35 minutes).
Make sure to rinse the rice– which will add a bit more water.
Keywords: Arroz Con Pollo, Instant pot Arroz con Pollo, Arroz con pollo instant pot, how to make arroz con pollo in an instant pot, spanish arroz con pollo, arroz con pollo saffron,