Herb- Stuffed Leg of Lamb with flavorful Mint 
Gremolata
, a step by step guide to an amazingly delicious main course, baked over
roasted vegetables
.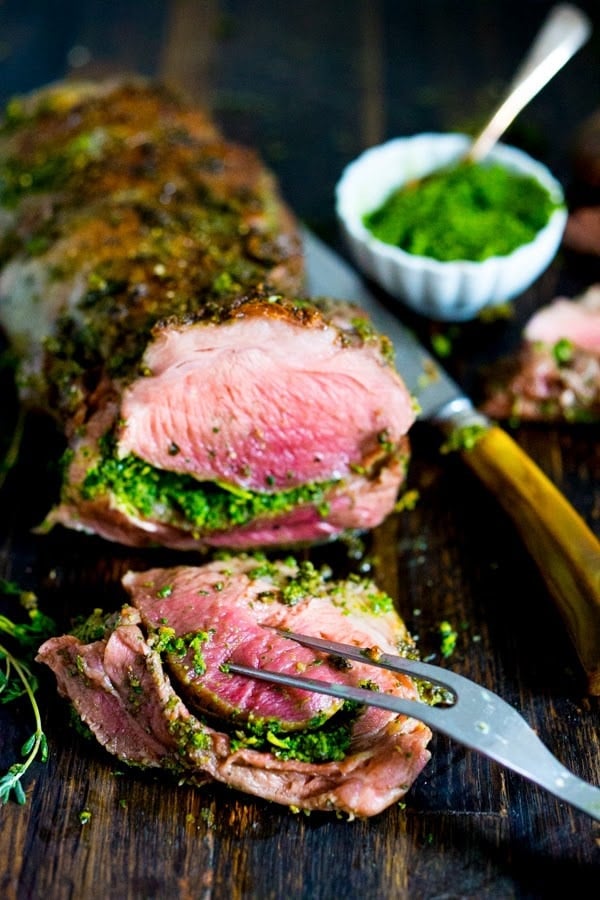 Close your eyes. Fall in love. Stay there.
This Leg of Lamb is stuffed with a flavorful herb paste called
gremolata
, and encased in a flavorful herb crust.  It can be made ahead, and placed in the oven right before Easter dinner.
It starts with a boneless leg of lamb that has been butterflied. A savory paste of herbs – rosemary, sage, or thyme, blended with garlic cloves,
salt
and
olive oil
, is rubbed all over the inside of the leg, and then it's rolled up and tied together with cooking twine.
The savory herb mixture is then rubbed all over the outside, to create that delicious crust. Into the oven it goes, over a bed of roasting vegetables, for about 1- 1 ½ hours.  Serve it with the flavorful Mint and Caper
Gremolata
Sauce….so delicious!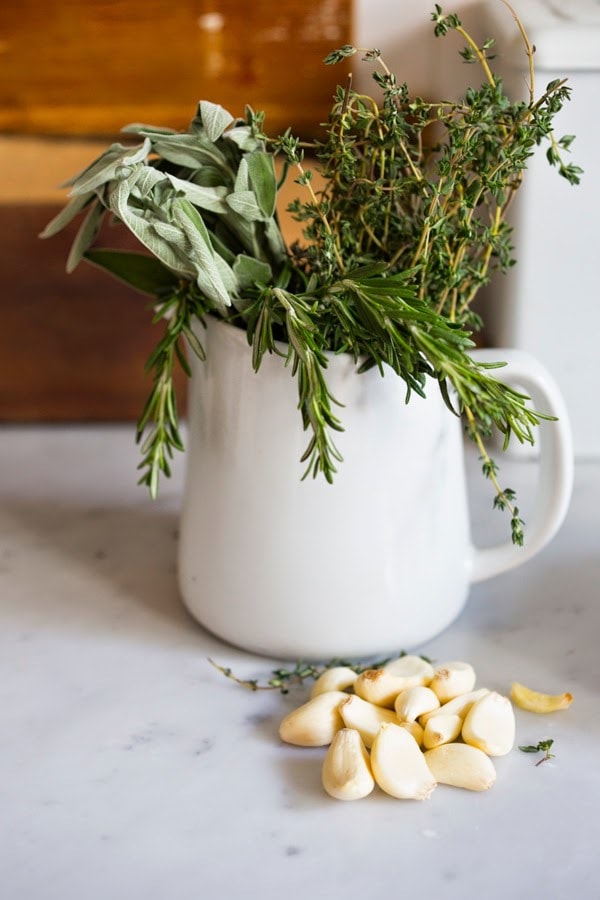 Growing up, it was not the traditional Easter ham my parents would have roasting in the oven, but instead, to some of my friend's horror, leg of lamb.  Yep, those sweet little babies. By the time I fully understood what I was eating, it was too late,  I acquired the taste for it early on. To this day, the smell of lamb wafting through the house, brings me back to those happy times together as a family.
I have such fond memories of being a kid, watching my father dye Easter eggs, the way his mother taught him when he was young in their little Egyptian village – with simmering pots filled with the natural dye of beets, onion peels, turmeric, cabbage and bay leaves.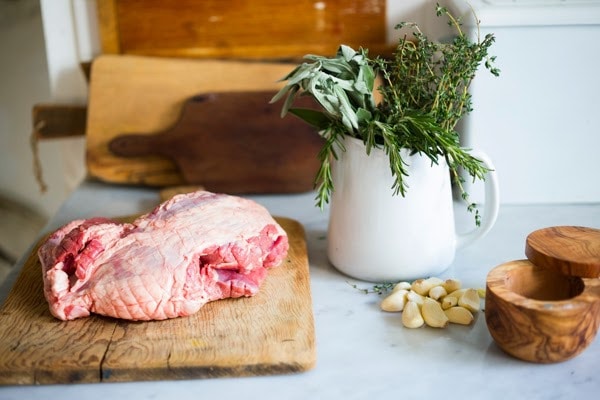 The first step is making the herb paste. Two to three savory herbs like sage, rosemary  or thyme, blended in a food processor with flat leaf parsley, garlic and  olive oil. It doesn't need to be smooth.
I use this flavorful herb paste on whole roasted beef tenderloin as well. Just rub it very liberally all over, and let it sit overnight in the fridge before roasting.
Try to purchase a pasture-raised, grass-fed, locally sourced lamb if possible. Ask your butcher to remove the boone and butterfly it. One you unwrap your lamb, make sure to pat it dry. It makes the whole process easier.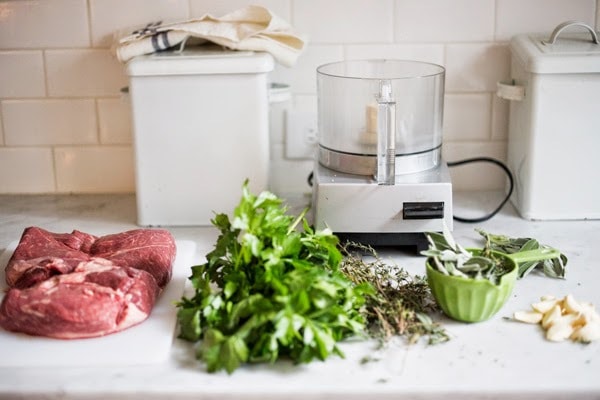 Sometimes even an already butterflied leg of lamb will need some trimming and help to get it so its flat and roll-able.  Just remember, it really does not need to be perfect. The idea is to get the roll somewhat even so its roughly the same diameter on both ends, for even cooking- but even this is not essential.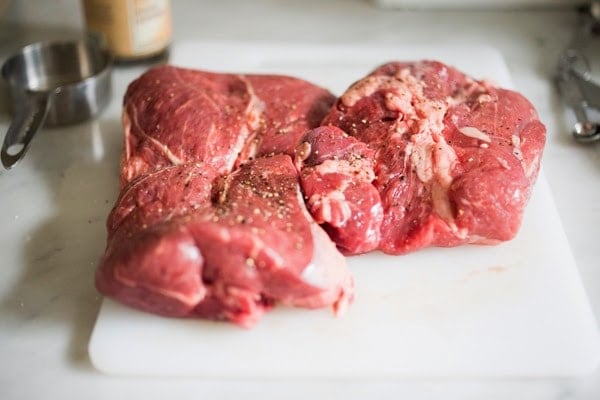 For example this piece had a huge sort of lump one side, and as you can see below, so I butterflied it to create a somewhat even base.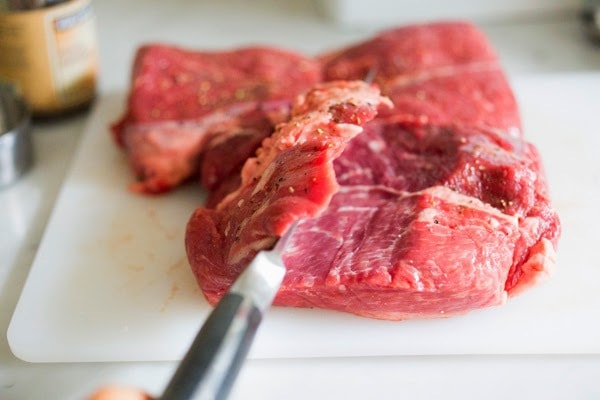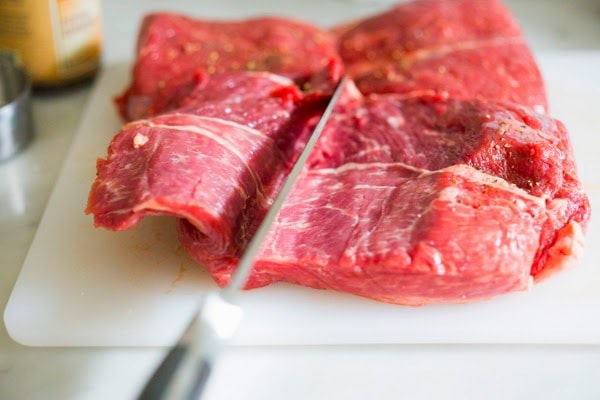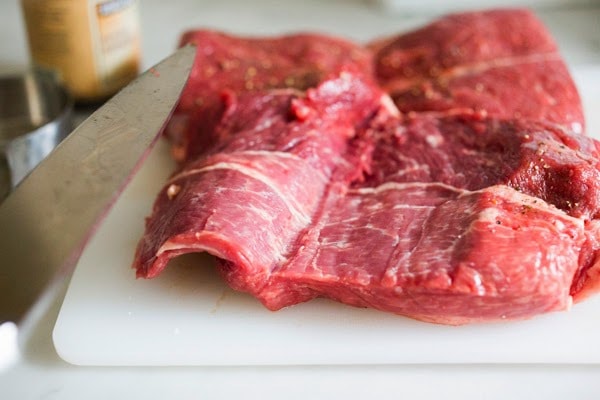 Each one will be a little different. Just try to open it up so you can roll it. Generously sprinkle all sides with salt and pepper.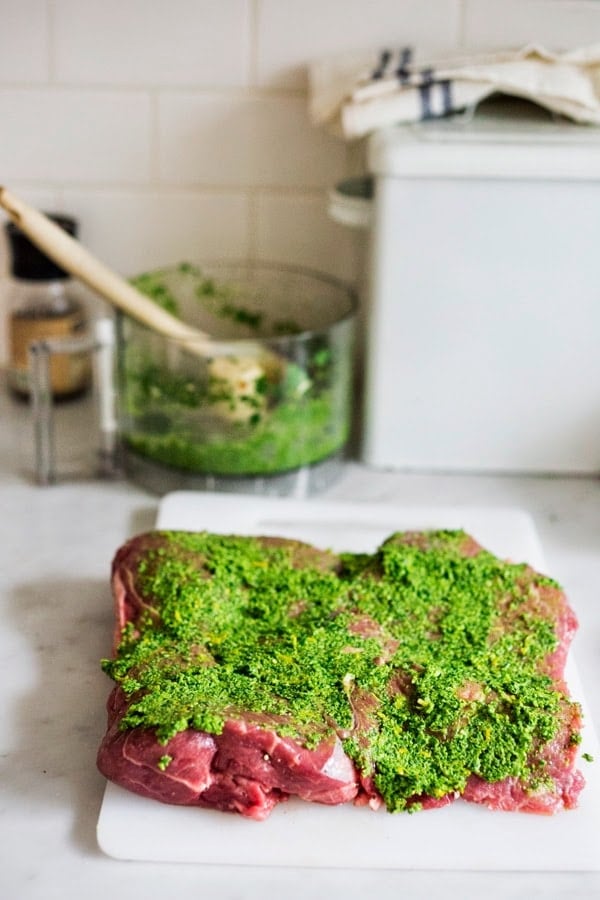 Spread the herb mixture on the inside, saving some for the outside too.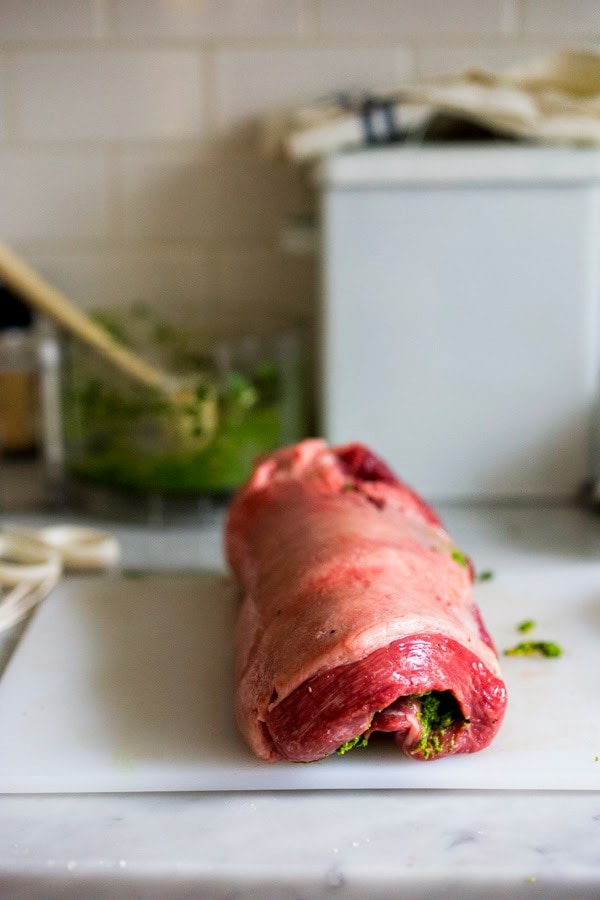 I usually remove some of this outer fat. This is a personal preference. Some people leave the fat on like I did here this time, as an experiment, and it is also good– but I prefer it with most of the fat trimmed off. The herb rub will keep it moist.
TIP: If you leave the fat on, score it with a sharp knife, so the rub gets into the cuts.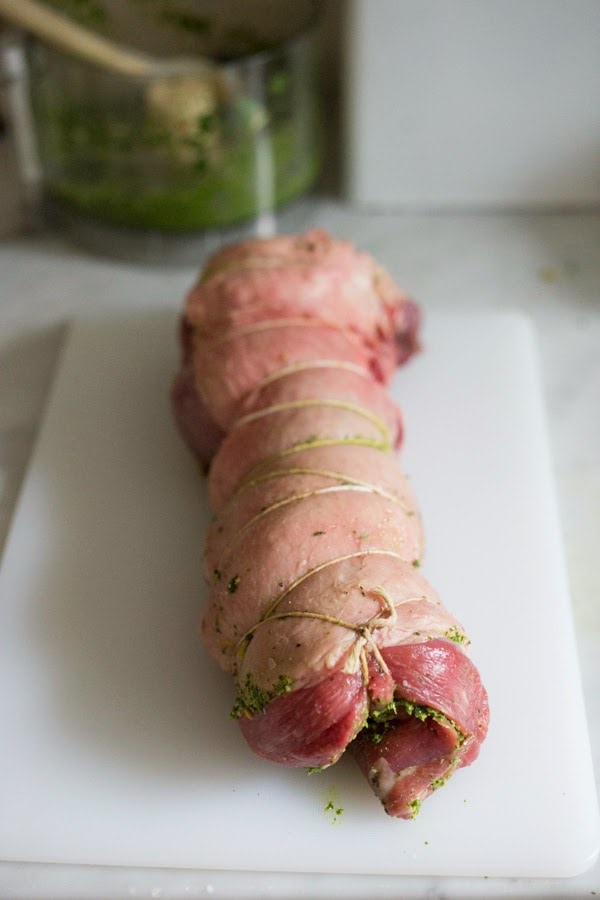 Wrap it up with kitchen twine, at one inch intervals.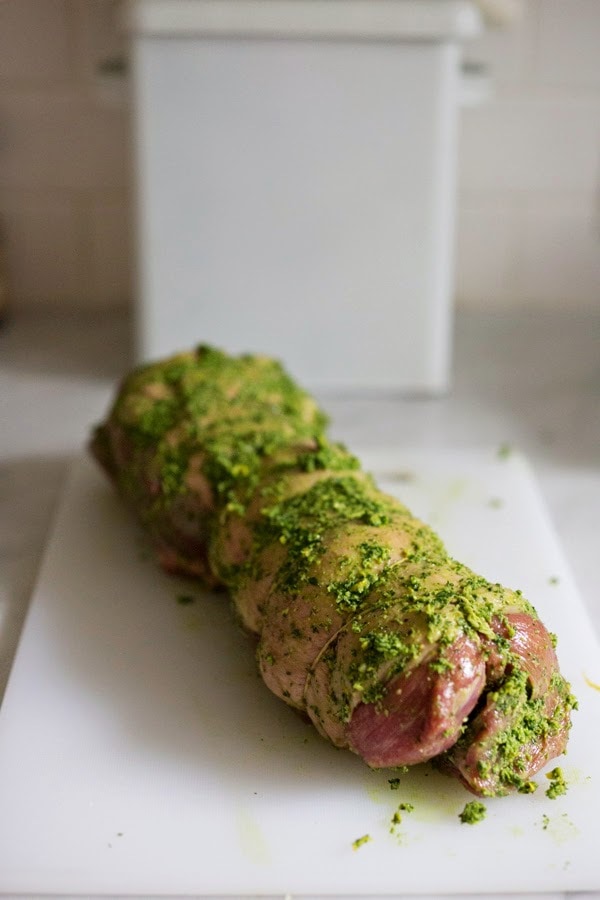 Rub the outside with the remaining herb mix.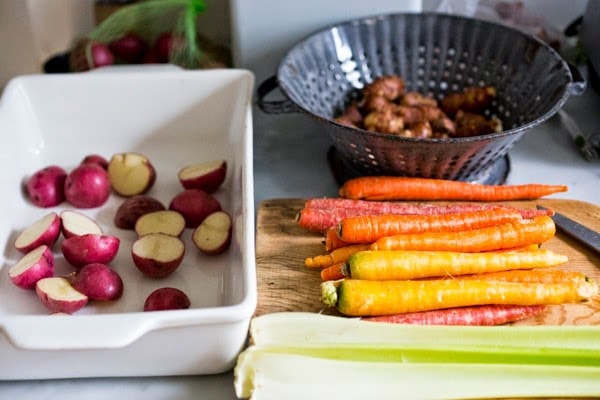 A few options for roasting : 1. you can roast the lamb on a bed of veggies (this will take longer to cook). 2. you could roast on a rack, set over a pan, to create an nice crust on the bottom as well. ( this cooks faster) 3. Some people also place the roast directly on their oven rack with a sheet pan below on a lower rack, to increase air flow on all sides of the roast. This does produce a really nice outcome, crispy crust on all sides, faster cooking times- but then you have to wash your oven rack. Which, if its like mine, can be a pain. So I just roast it over the bed of veggies. The lamb juices drip into the veggies and add great flavor.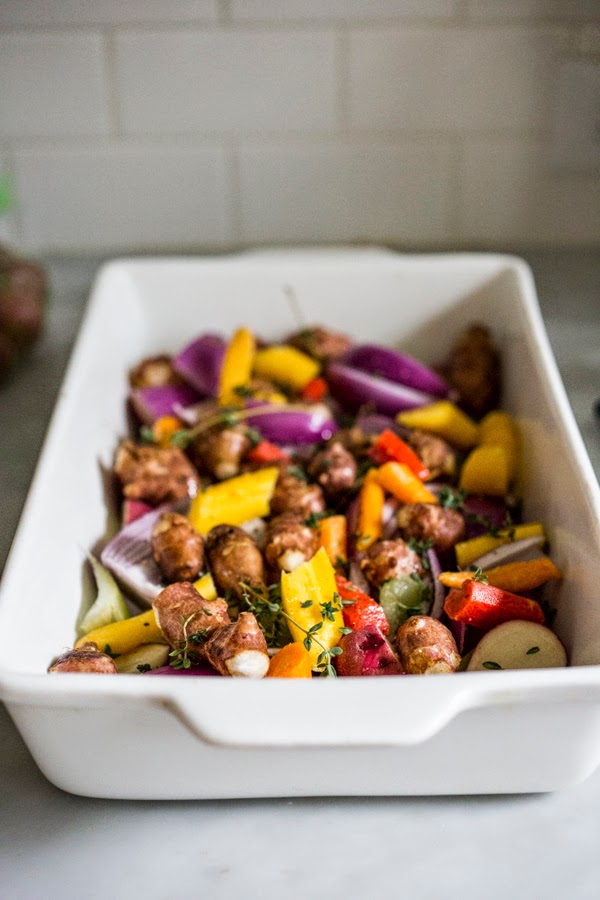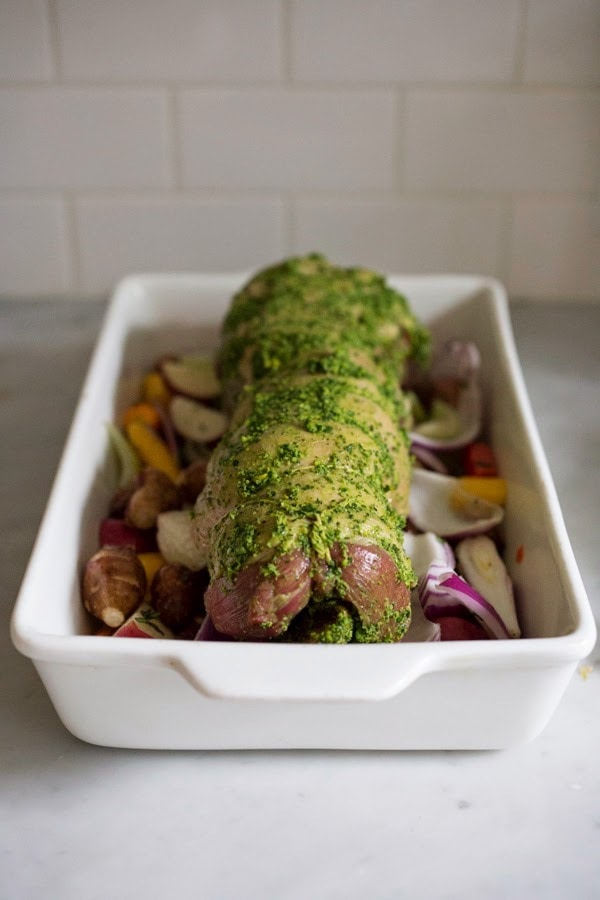 Place the lamb over top, and in a hot oven for the first 15 minutes, then turn the heat down. Cook the lamb to medium rare- when it registers between 125-135 F.
Remove the lamb, let it rest 20 minutes on a cutting board, cover lightly with foil, and let the veggies continue cooking if they need it, turning the oven up a bit.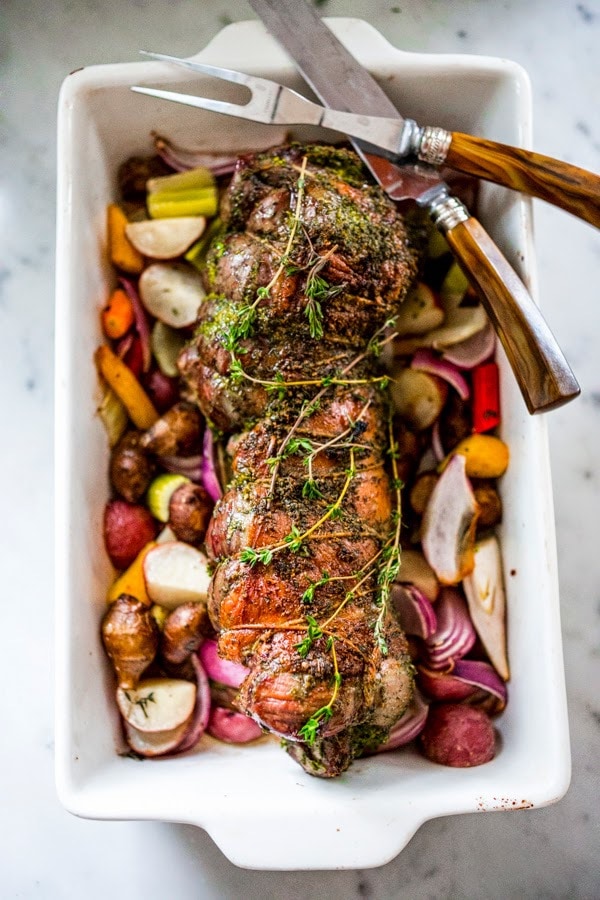 Slice the lamb leg in thin slices, against the grain.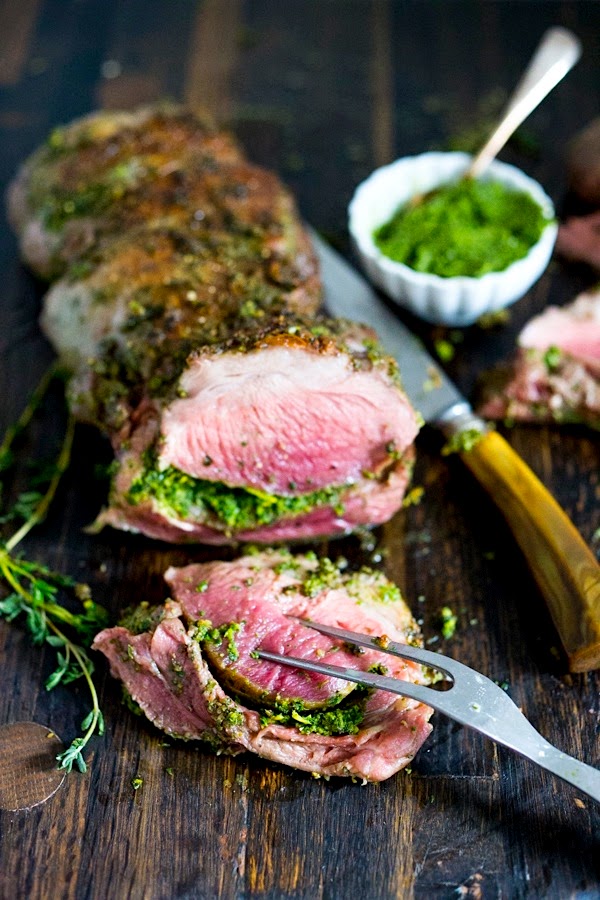 Serve with the mint caper sauce.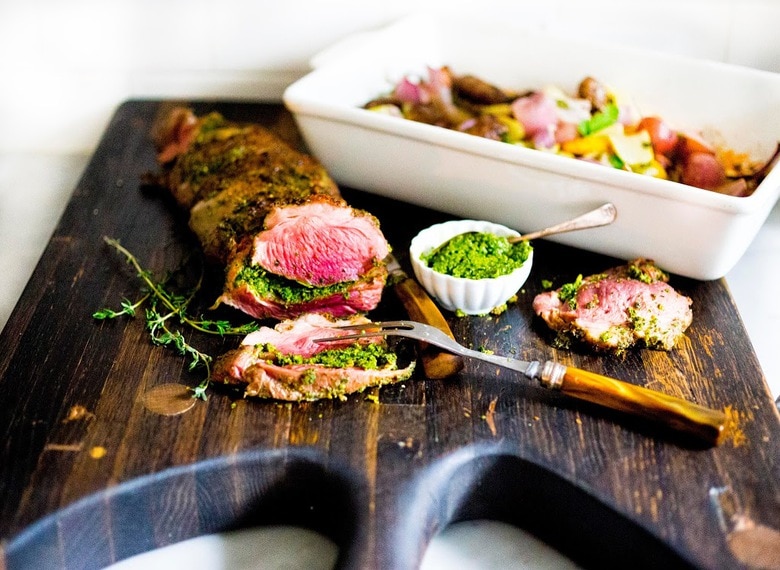 Print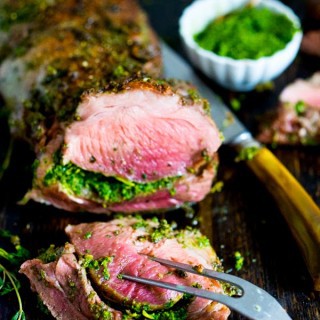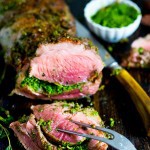 Herb Stuffed Leg of Lamb with Mint Gremolata
Prep Time:

25 mins

Cook Time:

85 mins

Total Time:

1 hour 40 mins

Yield:

8

Category:

Main

Method:

Roasted

Cuisine:

mediterranean
---
Description
Herb-Crusted, Stuffed Leg of Lamb with flavorful Mint Gremolata, a step by step guide to an amazingly delicious holiday main course, baked over roasted vegetables.
---
Ingredients
3.5

–

5

lb leg of lamb -boneless, butterflied

½

–

¾

teaspoon kosher salt
cracked pepper
Herb Filling and Crust
1 Cup

fresh herbs (a mix of

2

or

3

of the following) thyme, sage, rosemary

1 Cup

Italian parsley ( about a

½

a bunch) tender stems ok

10

cloves garlic

1 tablespoon

lemon zest

½ tsp

salt

5 tablespoons

olive oil
Mint Caper Gremolata ( served on the side) 
¼ Cup

olive oil

⅓ Cup

finely chopped mint leaves

⅓ Cup

 finely chopped italian parsley

1 Tablespoon

lemon juice

1 Tablespoon

 lemon zest

1 Tablespoon

chopped capers

1

finely minced garlic clove

2 Tablespoons

finely chopped onion or shallot
salt if necessary
Roasting veggies
---
Instructions
425 F Oven
Remove lamb from packaging and pat dry well. Trim away any unwanted fat. A little marbled fat is good, big chunks are not. It's ok to also remove some or all of the outer layer of fat if that doesn't appeal to you. Sprinkle all sides with ½-¾ teaspoon salt and pepper. Place outer side ( side with fat) down.
Make the herb filling: Place all the herbs, garlic, salt and pepper and lemon zest in a food processor and pulse until it becomes like very coarse sand. Add oil, scraping down the sides if necessary, pulse until just combined -not too smooth or oily- this should feel like a dry course paste. Spread 2/3 of the paste on the inside of the lamb, saving the rest for the outer crust.
Roll up the lamb, with the filling  on the inside and tie at one inch intervals. You can either do individual strings and knots or wrap up with one very long string. It really doesn't need to be perfect, just do the best you can. Rub the remaining filling paste all over the outside of the lamb. If leaving the outer layer of fat on, score the fat a little with a knife and rub the paste into the slits. (At this point you can refrigerate for 1-2 days if making ahead, wrapping tightly in plastic wrap. Make sure to bring to room temp at least one  hour before roasting.) You have three roasting options. You can either 1. roast alone on a wire rack, over a pan ( fastest) 2. roast directly on your oven rack (messiest) with a sheet pan on the rack below to catch the drippings, or 3. prepare a bed of veggies for the lamb to rest on and roast over ( longest, but tasty).
For the veggies, cut any combination of roasting vegetables into bite size pieces. Drizzle with 1 T olive oil, salt, pepper, a few springs of herbs, stir and lay the lamb roast over top.
Place lamb in a hot 425 F oven for 15 minutes. Reduce heat to 325F. ( If roasting directly on the oven rack, lower temp to 300 F. ) Continue roasting for another 50 mins to 1.5 hours… or until lamb registers at least 125 F ( rare) to 135F, remembering that the size of the lamb will determine how long it takes to cook. Once cooked to desired doneness, remove the lamb from the baking dish, set aside on a cutting board, loosely covered with foil, and let the veggies continue to cook, if needed, while the lamb rests 20 minutes.
While the lamb is roasting make gremolata. Combine all the ingredients in a small bowl.
Slice the lamb and serve with roasted veggies & mint gremolita.
---
Keywords: leg of lamb, lamb leg recipes, how to stuff and leg of lamb, stuffed leg of lamb, leg of lamb recipes, lamb recipe, easter lamb,