How to make Blood Orange Sorbet! A simple easy recipe for one of Italy's most loved desserts! Light and Delicious, a refreshing treat to delight the palate.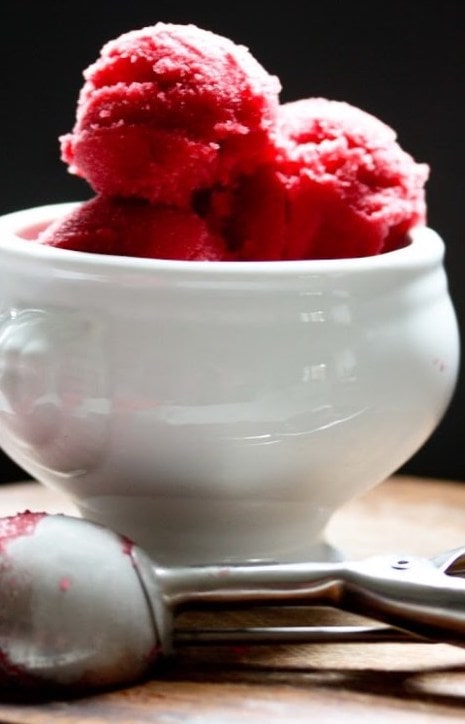 Dreaming of sunshine? February and March can be downright depressing in the Northwest. We can go weeks without seeing a lick of sun. When it does make its brief appearance, all seems right in the world. We are emotionally recalibrated, set back on track.
To me, citrus has this very same effect. Its bright flavor and aroma perk us up on dismal days. Citrus fruits are in peak season during the winter months, and I believe this is for a reason. We need them like we need the sun.
Brian and I  keep a large bowl of oranges, Meyer lemons, grapefruit, tangerines right on the counter in plain view. This reminds us to partake often, using them for fresh juices, snacks, cooking, delicious cocktails and my favorite…fresh blood orange sorbet.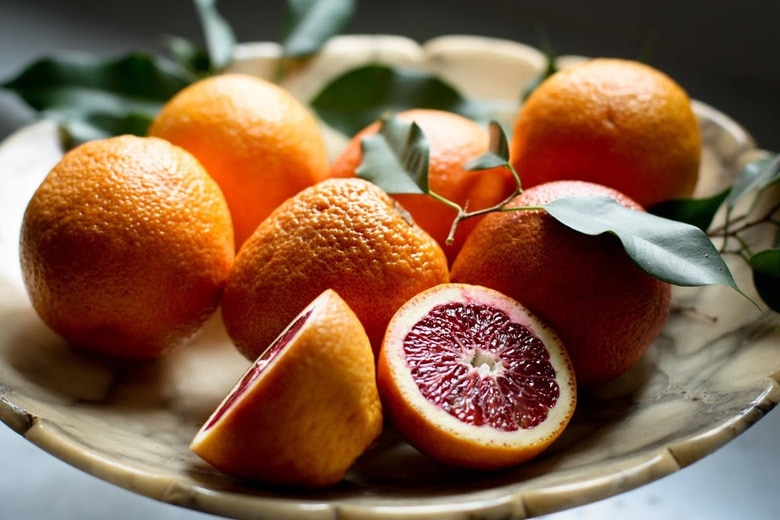 I once asked my friend, Teresa, about her favorite food memory. I will always remember how she described eating a bowl of blood orange sorbet, vividly remembering every detail, like she was still there.  Somehow the simple joy of it sank so deeply into her, it made a lasting impression.
Every time I see a blood orange, I think of Teresa, eating her sorbet, and I feel a little bit of her joy. And I am reminded by her story, to let myself soak up the happiness in the moment, even if it's just a little thing, even if it's fleeting, or even if the rest of my life is chaotic or in disorder.
Sometimes, we deny ourselves this luxury, telling ourselves, I will only be happy when…. things settle down or certain conditions are met.
And of course, the conditions will never be met, because we are constantly coming up with new ones, aren't we? We are so clever. 😉
How to make Blood Orange Sorbet
To make blood sorbet, you pretty much only need two ingredients: Fresh blood orange juice and sugar (or honey, agave or brown rice syrup).
Think of the sugar, not only as the sweetener but as what gives the sorbet a better texture. It keeps the sorbet from freezing too hard. Without it, sorbet would be rock hard, like an ice block, virtually un-scoop-able.
We've halved the sugar in the recipe to keep it a little less sweet, while maintaining the creamy texture.
If you really want to do a sugar-free version, plan on eating it immediately out of the ice cream maker. This will work fine, but if you store it in the freezer, you'll end up with a giant ice cube. Adding a splash of alcohol, like white wine or champagne, also improves consistency, because alcohol does not freeze.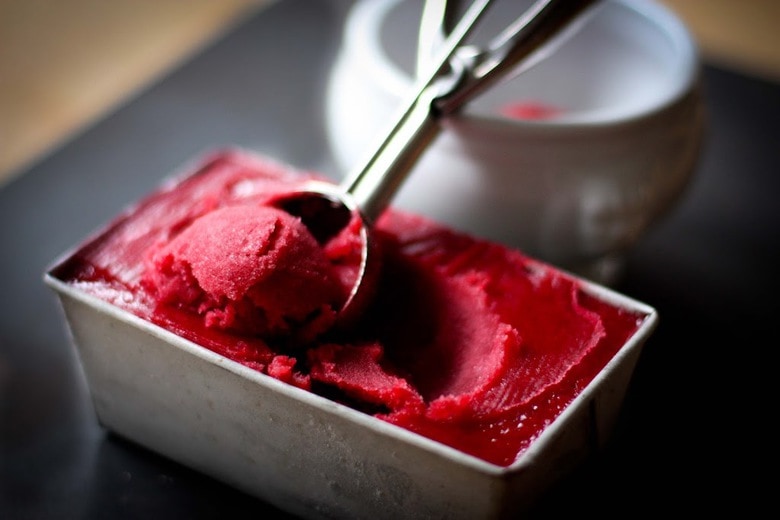 Here is a basic recipe for sorbet -it makes perfect sorbet, one that is scoop-able and not overly sweet.
Heat water, blood orange zest and sugar on the stove just until the sugar dissolves. Combine this with fresh blood orange juice and add a splash of wine, champagne, or orange liqueur.
Chill, then place in an ice cream maker and churn until frozen and creamy.  It is best eaten right away.
Using this basic recipe, you can make your own variations- Meyer lemon, grapefruit, lime coconut, tangerine….. or whatever sounds good to you.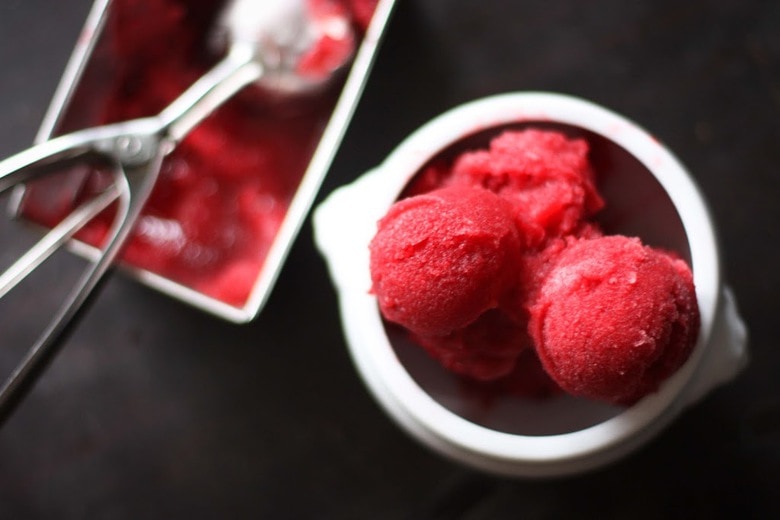 Sorbet is best consumed a few hours after it is made, but if you do freeze it, make sure to let it sit outside the freezer for 10 minutes before using an ice cream scoop on it.
Can you make Sorbet without an ice cream maker?
Yes, you absolutely can make sorbet without using an ice cream maker. Just place it straight in the freezer in a shallow pan (like a loaf pan) and stir every few hours, until frozen.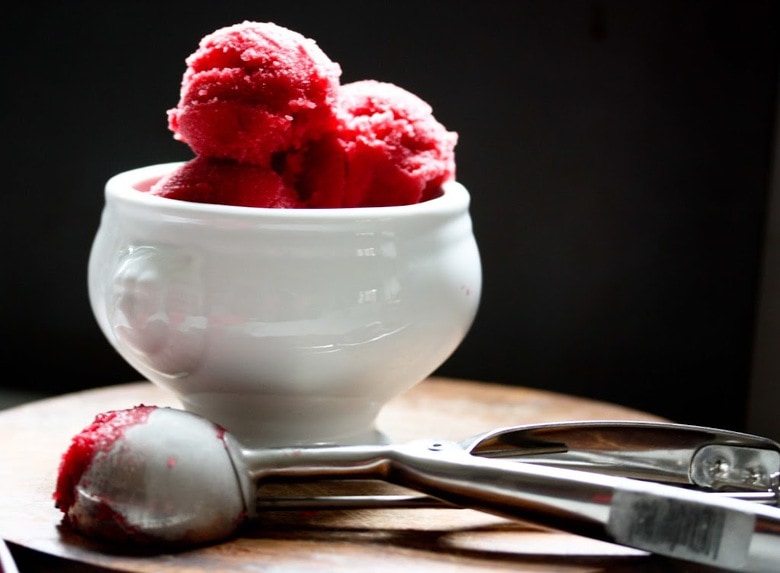 Once frozen through, about 8 hours, let it sit out 10 minutes before trying to scoop it. The consistency will not be quite as good as when it is churned, but it will still taste amazing. So don't let the lack of an ice cream maker stop you!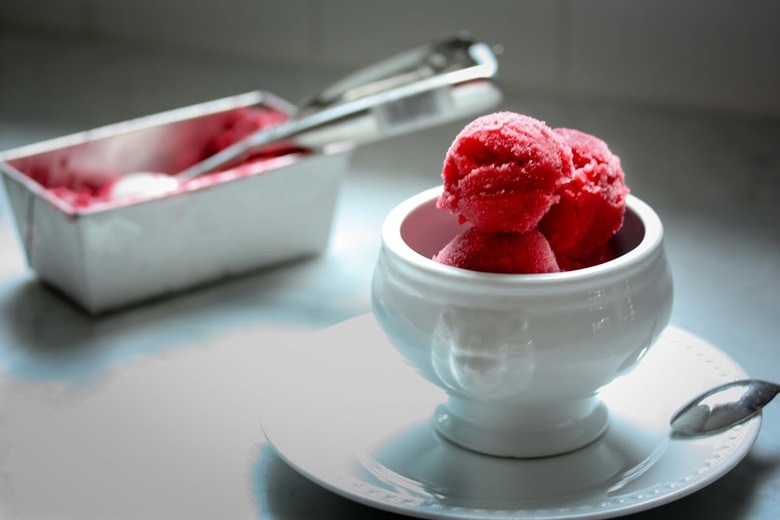 Hope this brings you a little bit of sunshine today!
More recipes you may like
xoxo

Print

Blood Orange Sorbet

Author:

Sylvia Fountaine

Prep Time:

1 hour

Cook Time:

5 mins

Total Time:

1 hour 5 minutes

Yield:

3 cups

1

x

Category:

Dessert

Method:

churned

Cuisine:

Italian

Diet:

Vegan

---

Description

A simple delicious recipe for blood orange sorbet that can be made with sugar or honey, either using an ice cream maker or not.

---

---

Instructions

Zest one orange and place the zest aside. Juice all the blood oranges (or any other citrus), enough to make 2 cups.

Place the water,  zest, lemon juice, and 1/2 cup sugar in a small saucepan, warming over medium heat, stirring frequently, until the sugar has dissolved. You don't want this hot, just warm enough to dissolve sugar.

Add this to the blood orange juice with scant splash of white wine, champagne or orange liqueur ( which will improve the texture.) This is optional.

Chill thoroughly, then place in your ice cream maker or sorbet maker, churning until desired consistency.

Best eaten immediately!

---

Notes

Sugar: I've already cut back the sugar by more than half, any less will result in overly hard sorbet.

No ice cream maker? If you don't have an ice cream maker, just place it straight in the freezer in a shallow pan, stirring every few hours. Once frozen through, about 8 hours, let it sit out 10-15 minutes before trying to scoop it. The texture will not as creamy as using an ice cream maker, but it will still taste amazing.

Nutrition

Serving Size:

½ cup

Calories:

121

Sugar:

25.7 g

Sodium:

1.3 mg

Fat:

0.2 g

Saturated Fat:

0 g

Carbohydrates:

27.5 g

Fiber:

0.2 g

Protein:

0.6 g

Cholesterol:

0 mg

Keywords: blood orange sorbet, blood orange sorbet recipe, Italian blood orange sorbet

Save

Save