This Vegan Lasagna is made with a robust Mushroom Bolognese Sauce, fresh basil, vegan ricotta and no-boil lasagna noodles, topped off with a creamy marinara sauce, drizzled with Arugula Pesto. Vegan comfort food at its tastiest! Includes a video!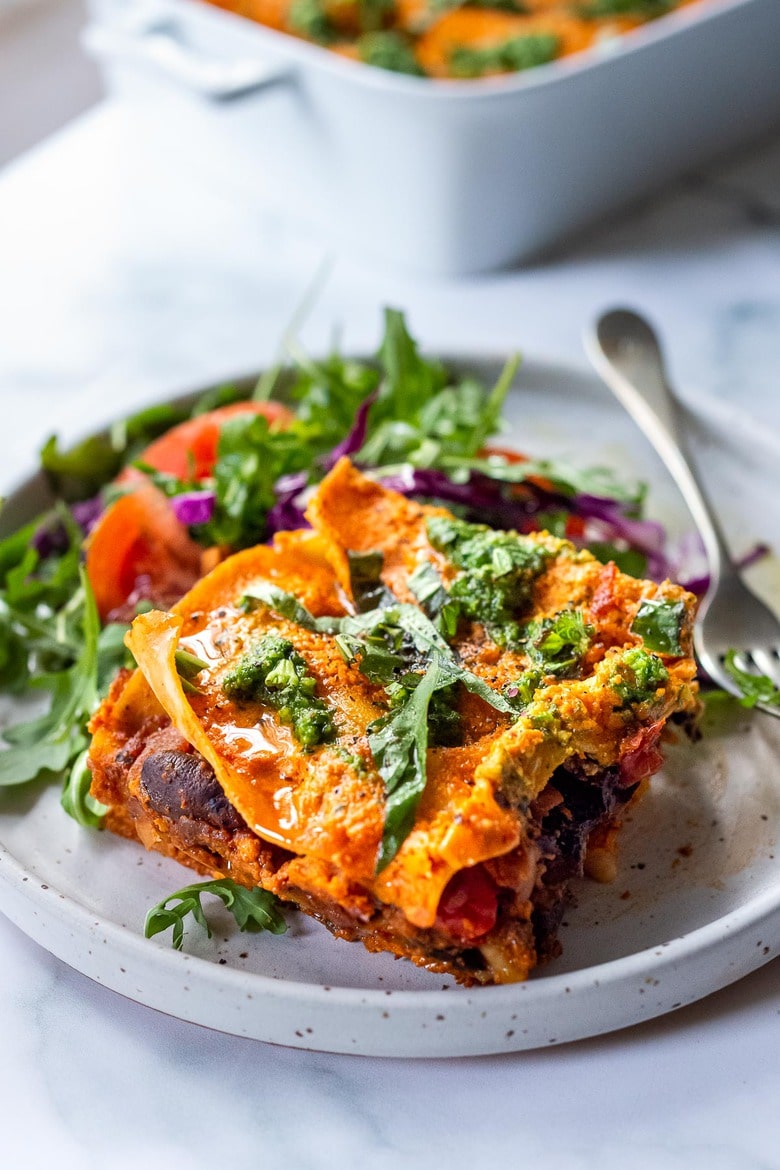 What is more comforting in winter, than a hearty Lasagna Bolognese?  Today I'd thought I'd share a vegan version of Lasagna Bolognese to add to your plant-based repertoire, one that got two thumbs up from my non-vegan husband.
The Mushroom Bolognese filling is rich and robust, worthy enough for a big bold glass of red wine. The vegan ricotta adds delicious richness and creaminess and has a very similar texture to real ricotta. Instead of topping the lasagna off with cheese or vegan cheese, we blend some cashews into the final layer of marinara sauce to add a little more creaminess. Finally, we drizzle a little Arugula Pesto over top to add a bit of brightness, and beautiful vibrant color.
The recipe is not hard, but there are several steps that can be tackled in stages if you prefer, or pick a day like Sunday when you are not pressed for time. Using the no-boil lasagna noodles and a jarred Marinara Sauce, does help by saving a few steps.
Watch how to make Vegan Lasagna!| 60-sec Video
How to Make Vegan Lasagna (in a nutshell):
See the recipe card for detailed instructions.
Make the mushroom bolognese – 20 minutes
Make the vegan ricotta–  10 mintues
Make the creamy tomato sauce (with marinara and cashews) 5 minutes
Assemble and Bake 50-60 minutes
Make the arugula pesto while it is baking.
To make this in stages- you could make the mushroom bolognese, ricotta, creamy marinara and pesto ahead. Then assemble and bake. Or assemble it ahead, and bake on the day of. If freezing, I would bake, then freeze.
---
To start, we will make the Mushroom Bolognese.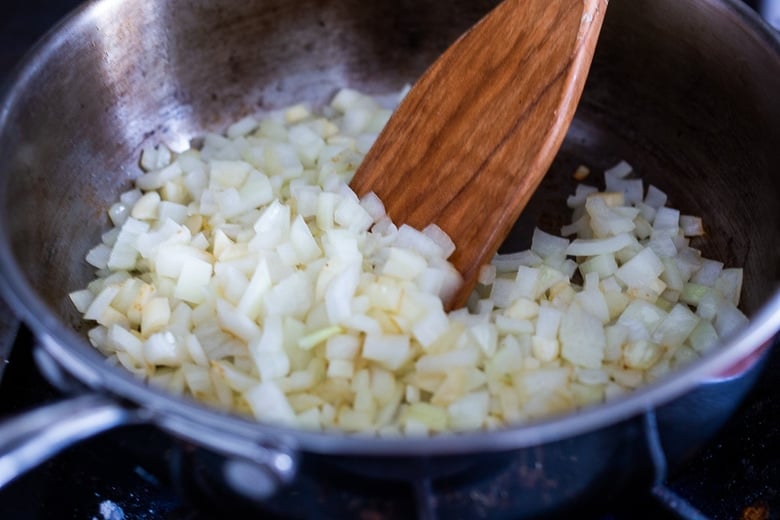 Saute the onions and garlic, getting them golden and caramelized. This is key to adding depth and flavor here.  Add the mushrooms and red bell pepper, browning the mushrooms. Season.
At this point, you could deglaze with a little red wine if you like, cooking it off, or skip it. For extra heartiness you could add cooked lentils or ground walnuts to the mushrooms- both are optional.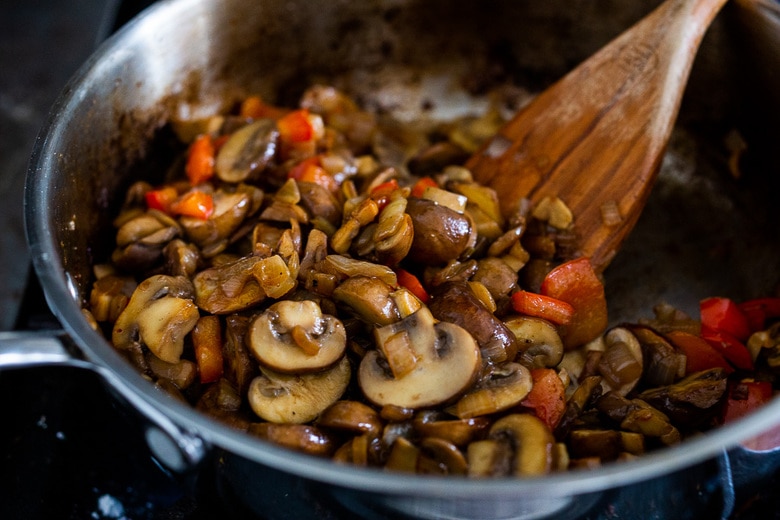 Add a few generous handfuls of baby spinach.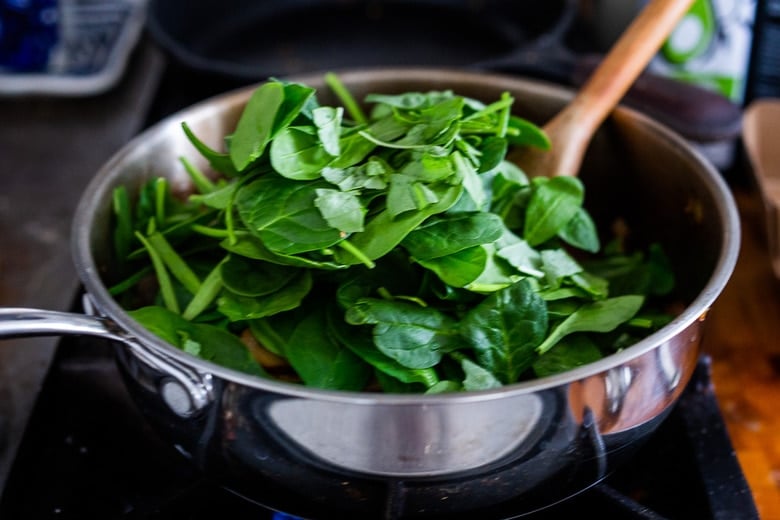 Stir the spinach and let it wilt.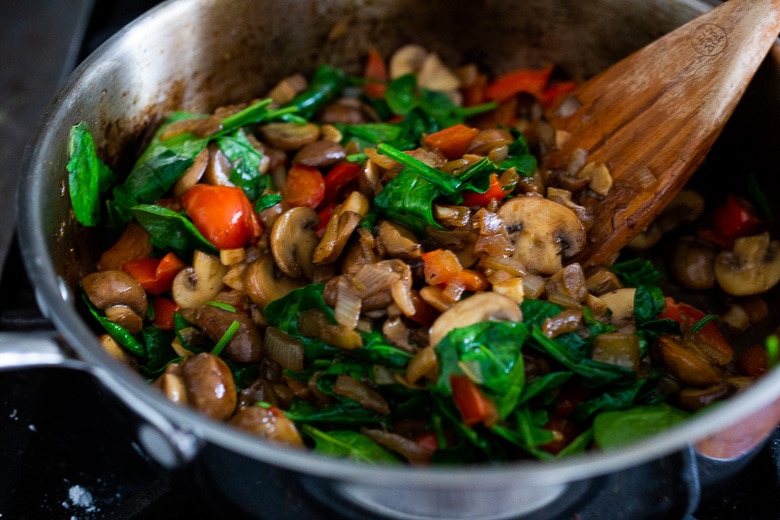 Using your favorite marinara sauce- pour it into the pan, reserving 1 cup of the sauce and set aside.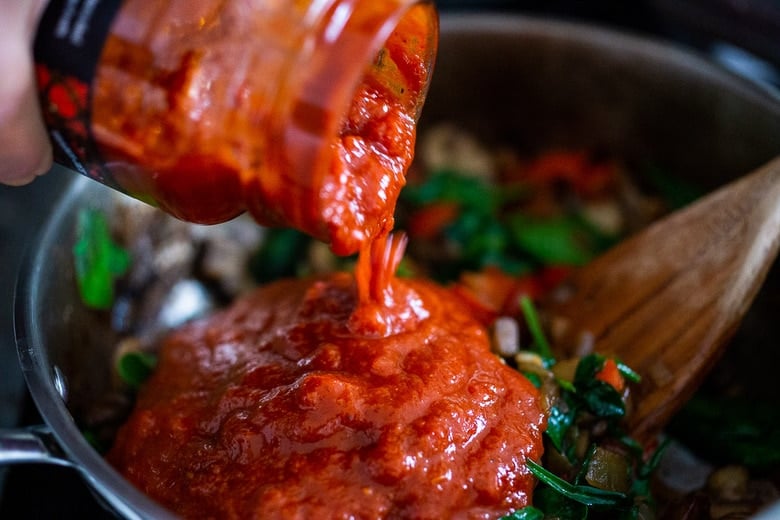 Rinse out the jar with 1/2 cup water, stir it into the bolognese to incorporate, taste, season and turn the heat off. The extra water here helps to moisten the dry lasagna noodles.
You want this to be flavorful and saucy- not dry!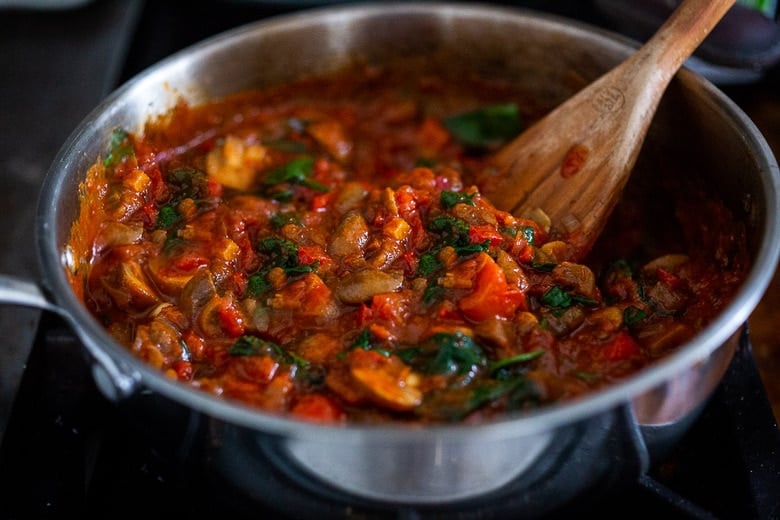 Make the Creamy Marinara:
At the same time, as the bolognese is going, set cashews to simmer until soft.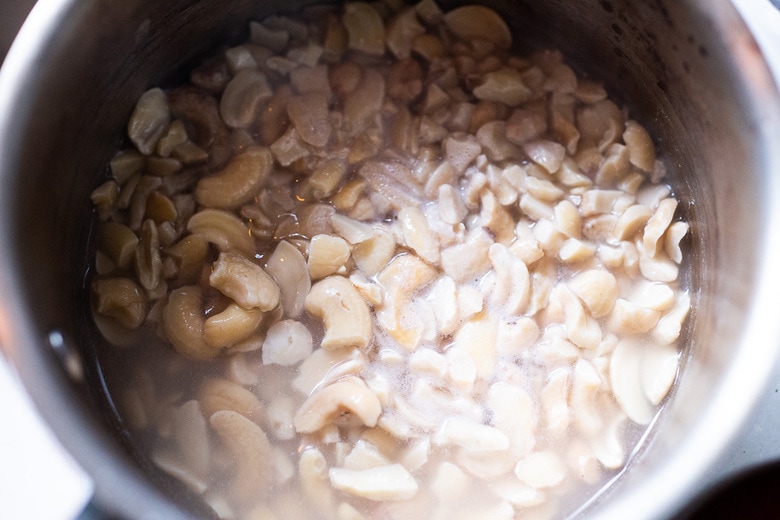 Drain and place them in the blender with the 1 cup of remaining marinara, add water, olive oil and salt.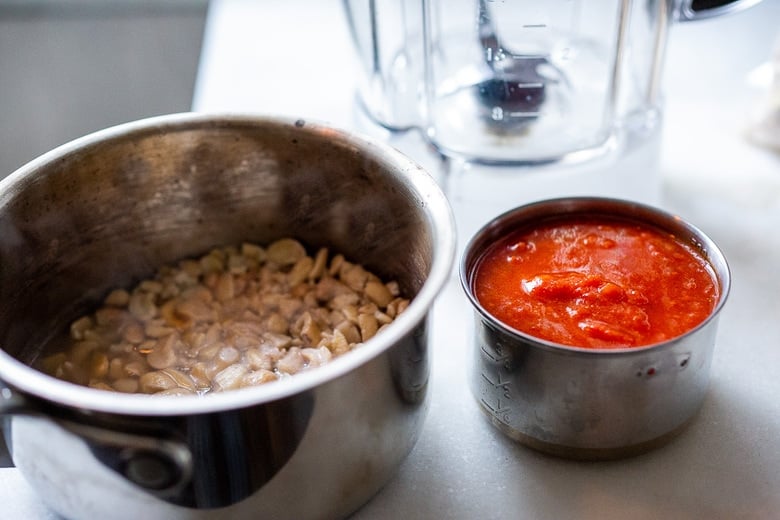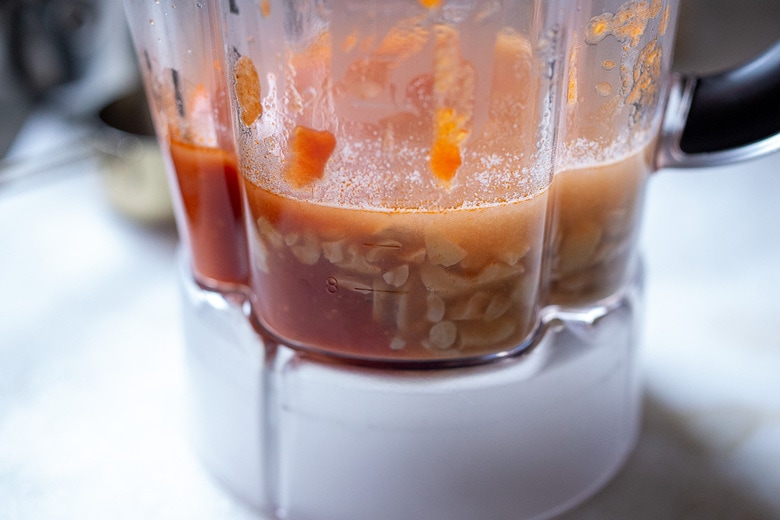 Blend until creamy and smooth, adjusting salt and pepper to taste. This will be the bottom and top layer of the lasagna.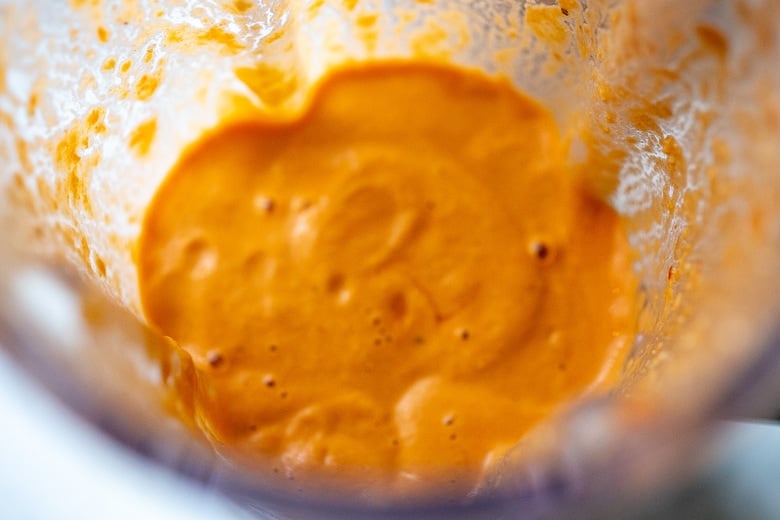 Make the Vegan Ricotta Cheese:
Then you will make the Tofu Ricotta which is as simple as pulsing the ingredients in a food processor until creamy and ricotta-like.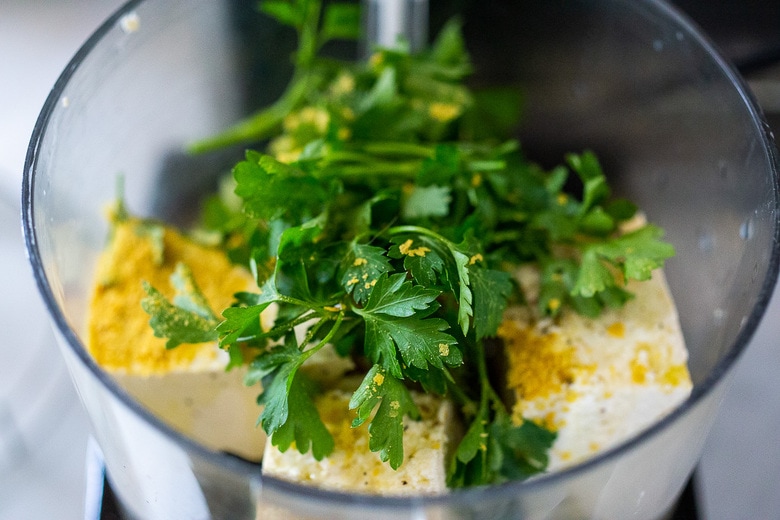 Pulse until creamy- but not overly smooth. Set aside. Medium or firm tofu works best here. Extra-firm tofu, may end up too dry.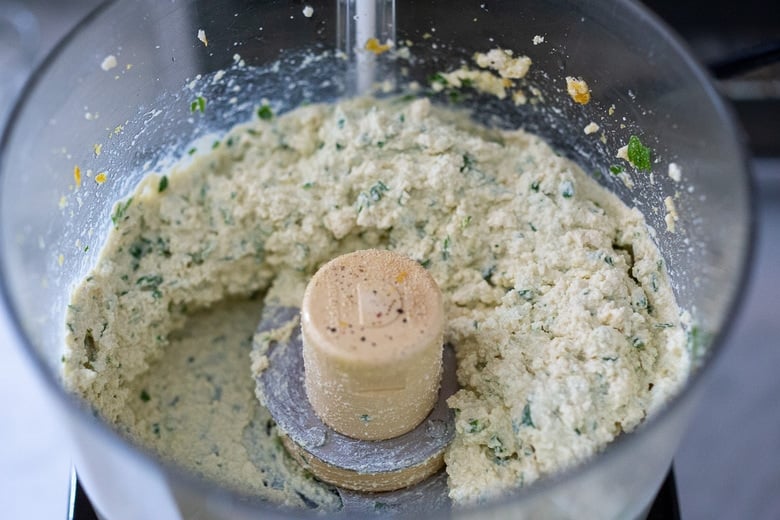 Assemble the Vegan Lasagna!
Grease a 9×13 inch baking dish.
Spread half of the Creamy Marinara on the bottom.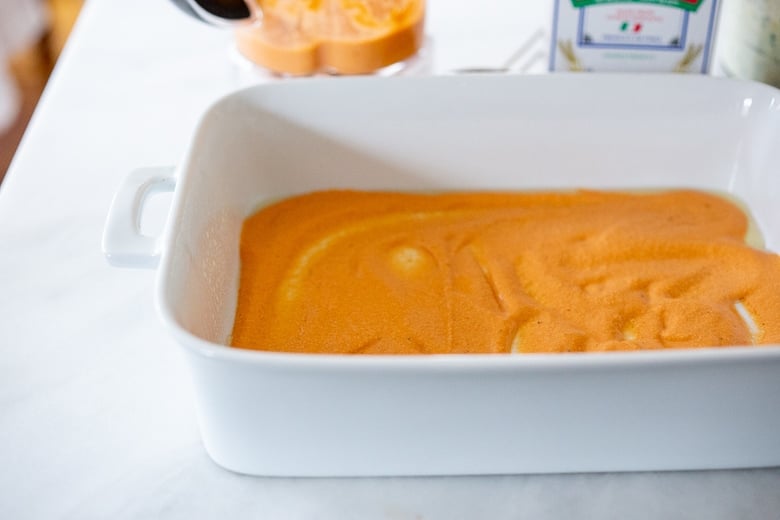 Add a layer of no-boil lasagna noodles, overlapping slightly.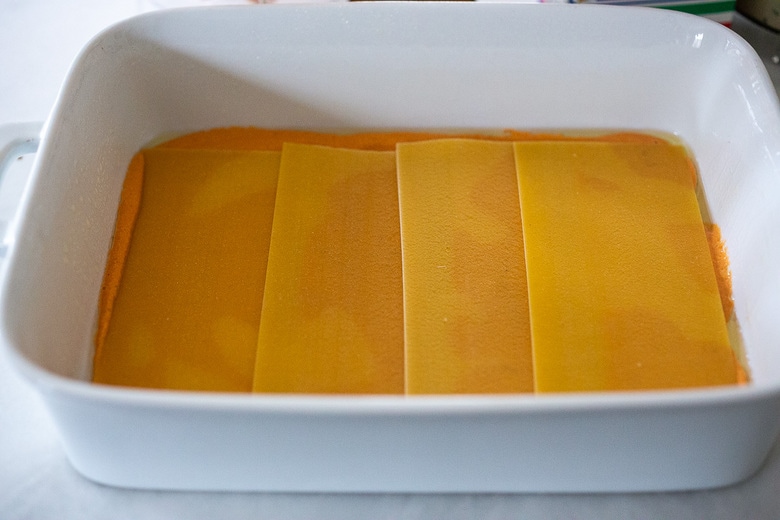 Pour in half of the flavorful, saucy, mushroom bolognese.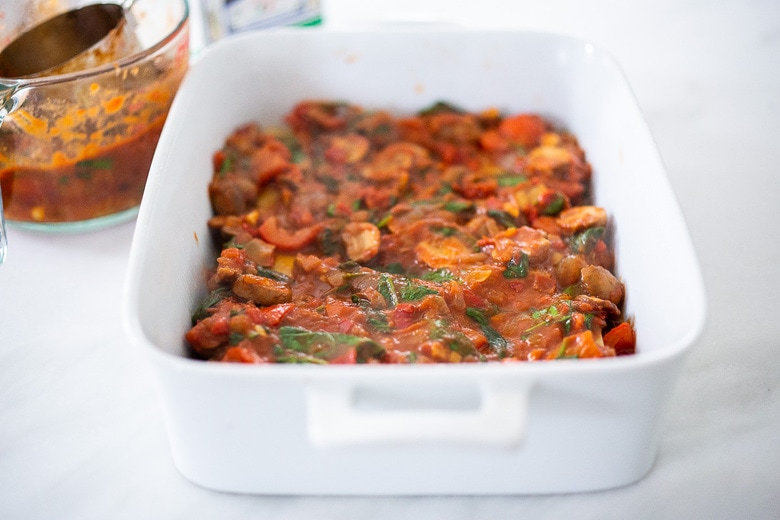 Add half of the vegan ricotta, and sprinkle with 1/3 of the basil ribbons. You could add vegan cheese here if you like.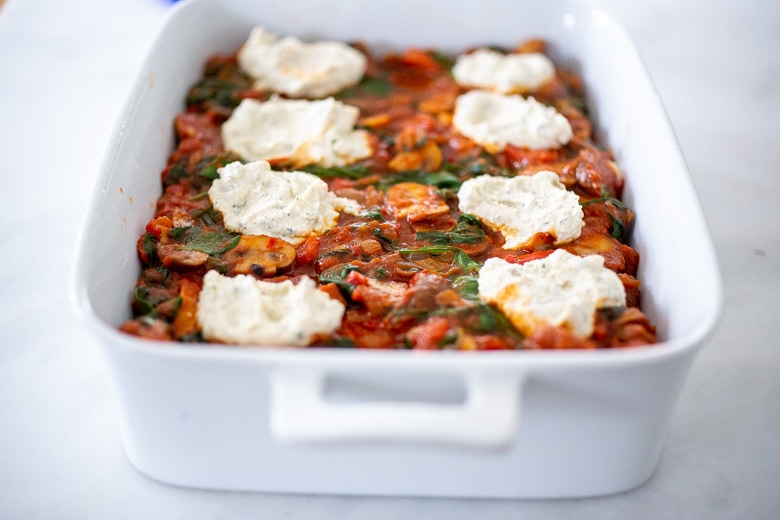 Repeat the layers. Add lasagna noodles.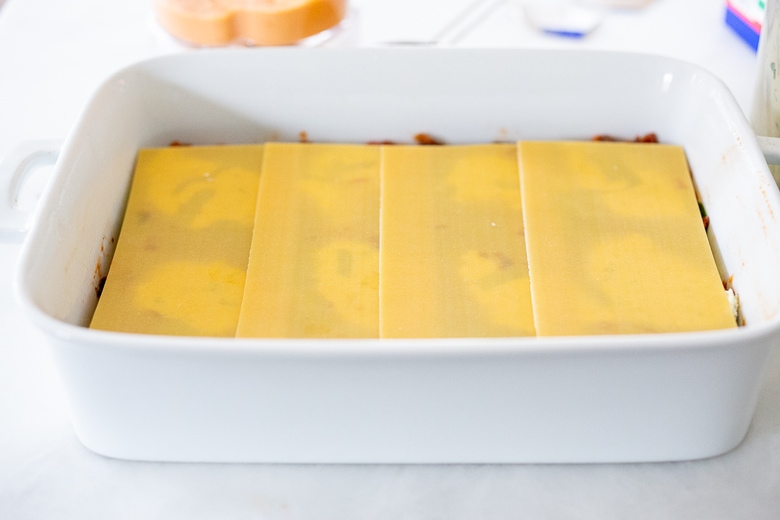 Add the remaining mushroom bolognese and the remaining vegan ricotta. Sprinkle with basil.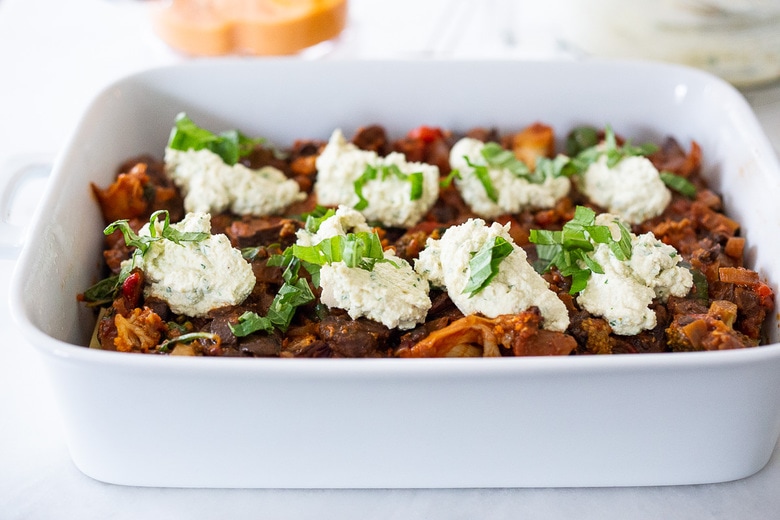 Add the final layer of no boil-lasagna noodles, press down a bit to level, and pour the remaining creamy marinara sauce over top.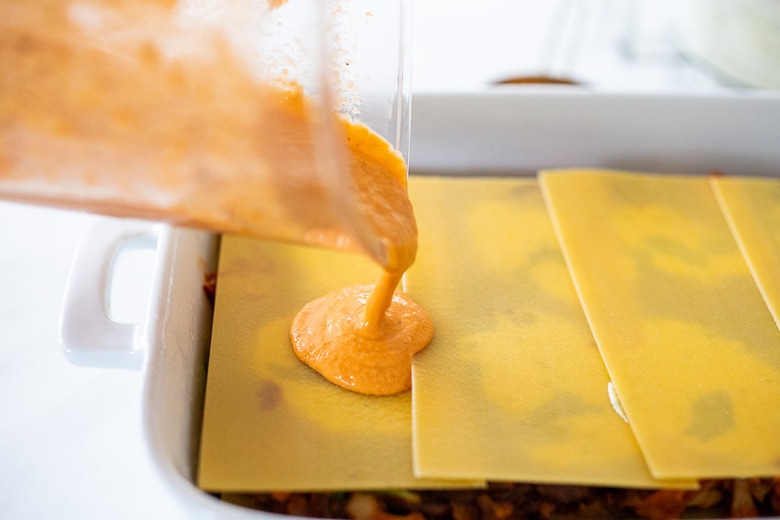 Cover tightly with foil and bake. (If the top of the lasagna is touching the foil, please separate with a layer of parchment, as anything "wet" that comes in contact with foil will break down the foil and it will end up in your food-not good-yuck!)
***At this point you could refrigerate it, and bake 1-4 days later, bringing it to room temperature first.
Bake at 375F for 50-60 minutes.
Of course, you can always add vegan meltable cheese to this- on the top, or in the layers.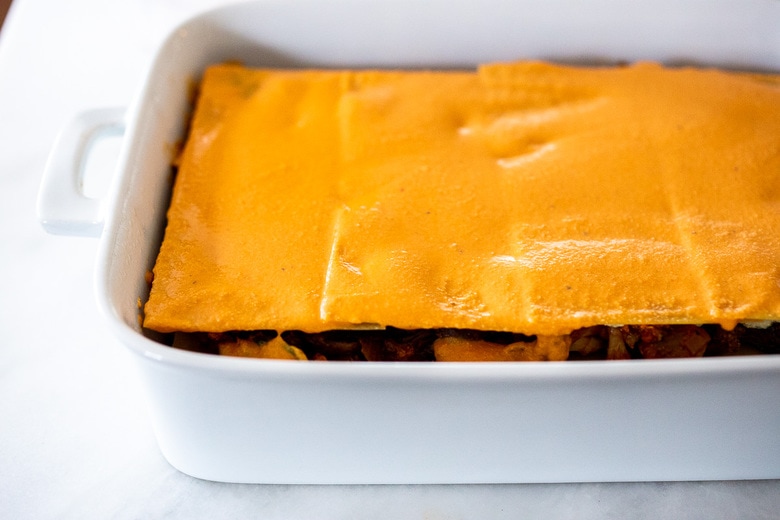 While it bakes make the flavorful Arugula Pesto (or use your own favorite pesto, or even store-bought, though typically not vegan).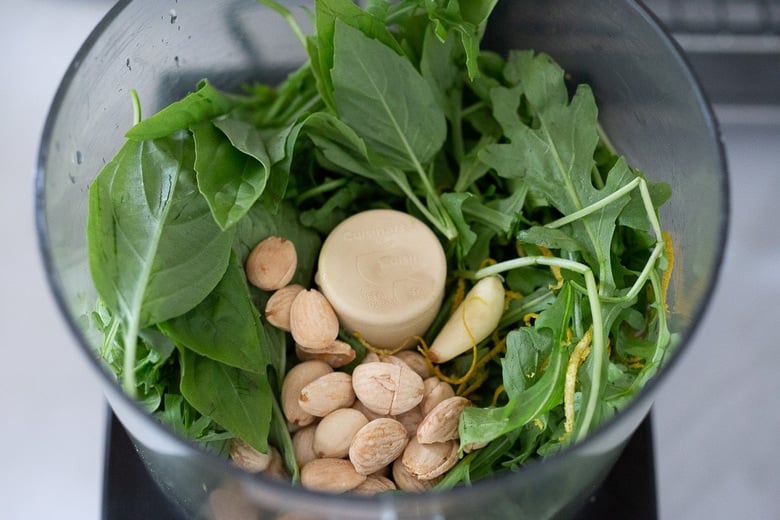 Drizzle the pesto over the lasagna.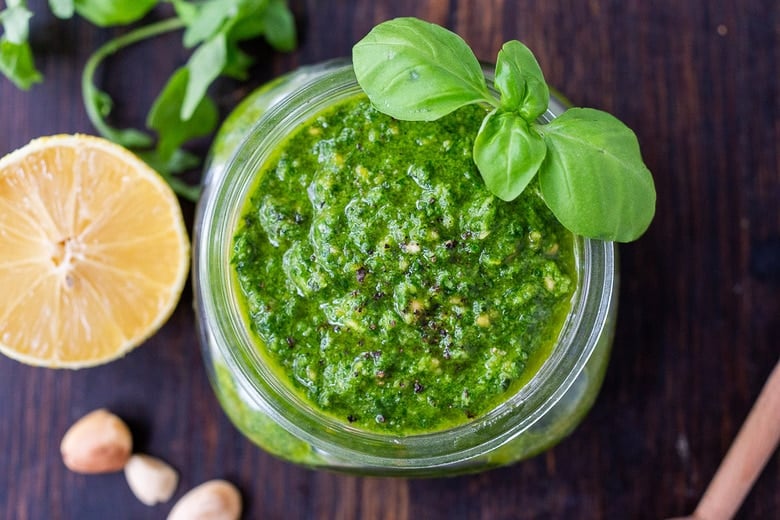 Not only with the pesto add bright flavor here, but it will also elevate the vegan lasagna's appearance. Add the last of the basil ribbons.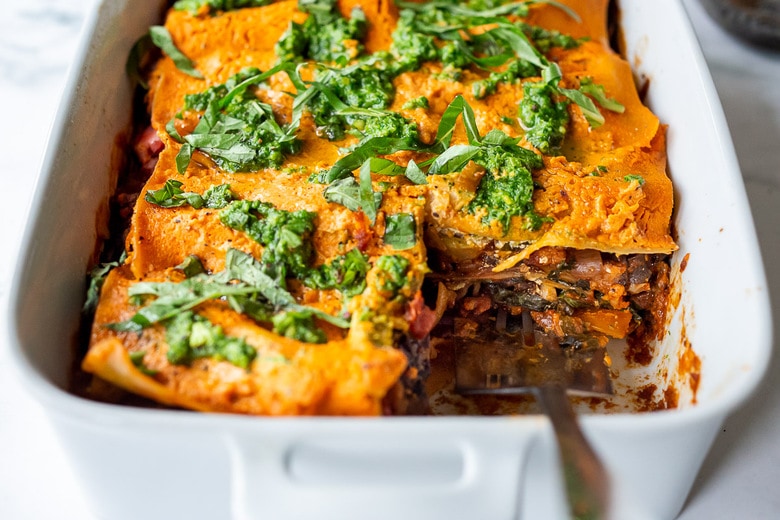 The leftovers are really tasty reheated and will keep up to 4 days in the fridge.
Or feel free to freeze.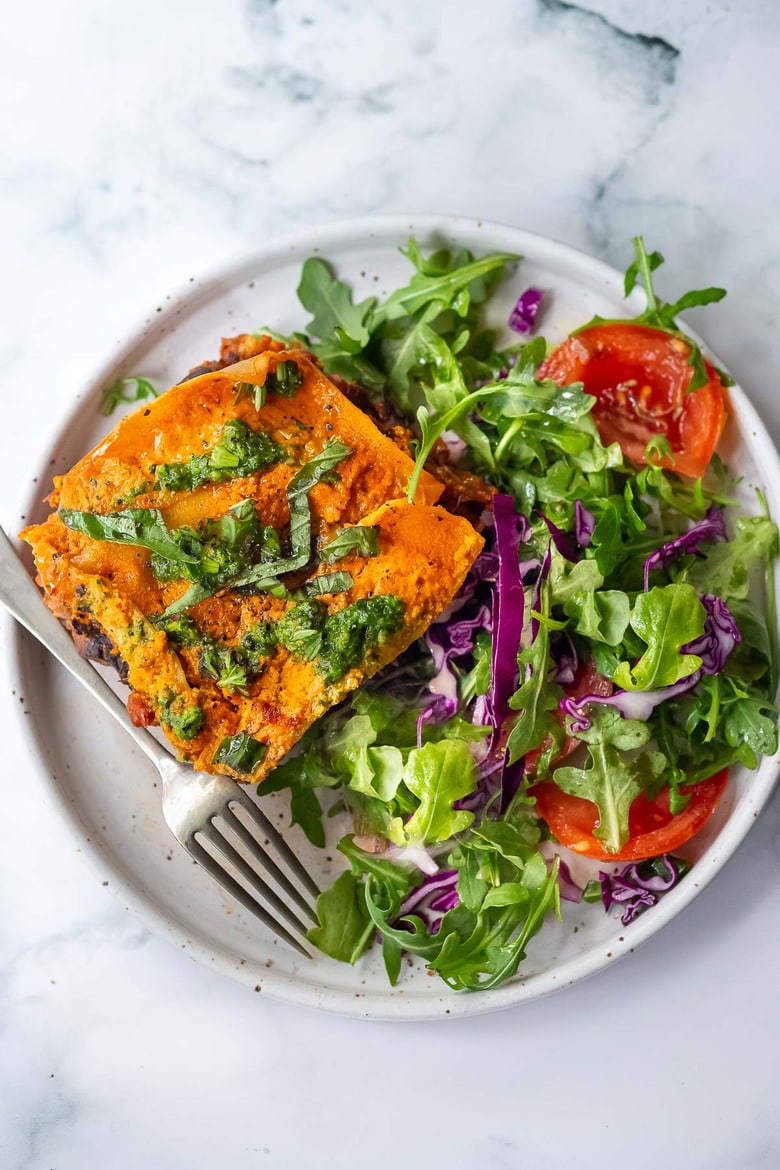 Serve with a hearty green salad and dinner is ready!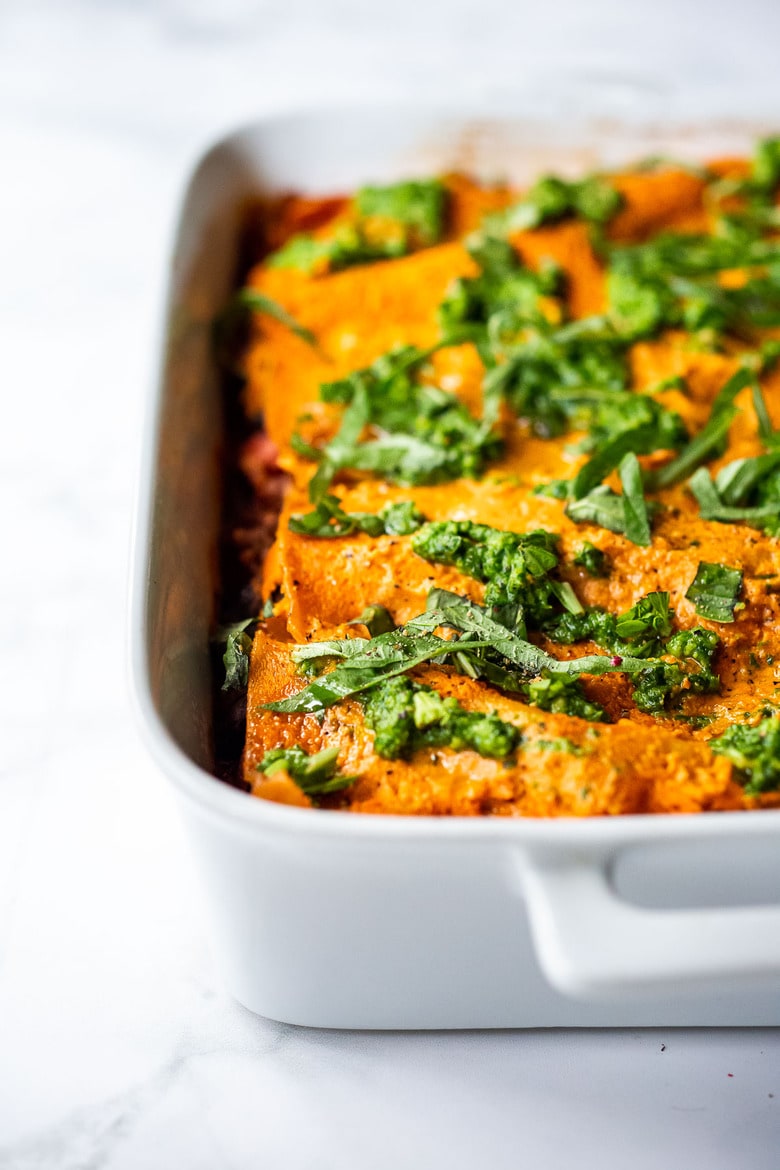 Sometimes I'll make extra vegan ricotta and dot the lasagna with dollops on the top before baking. Also good.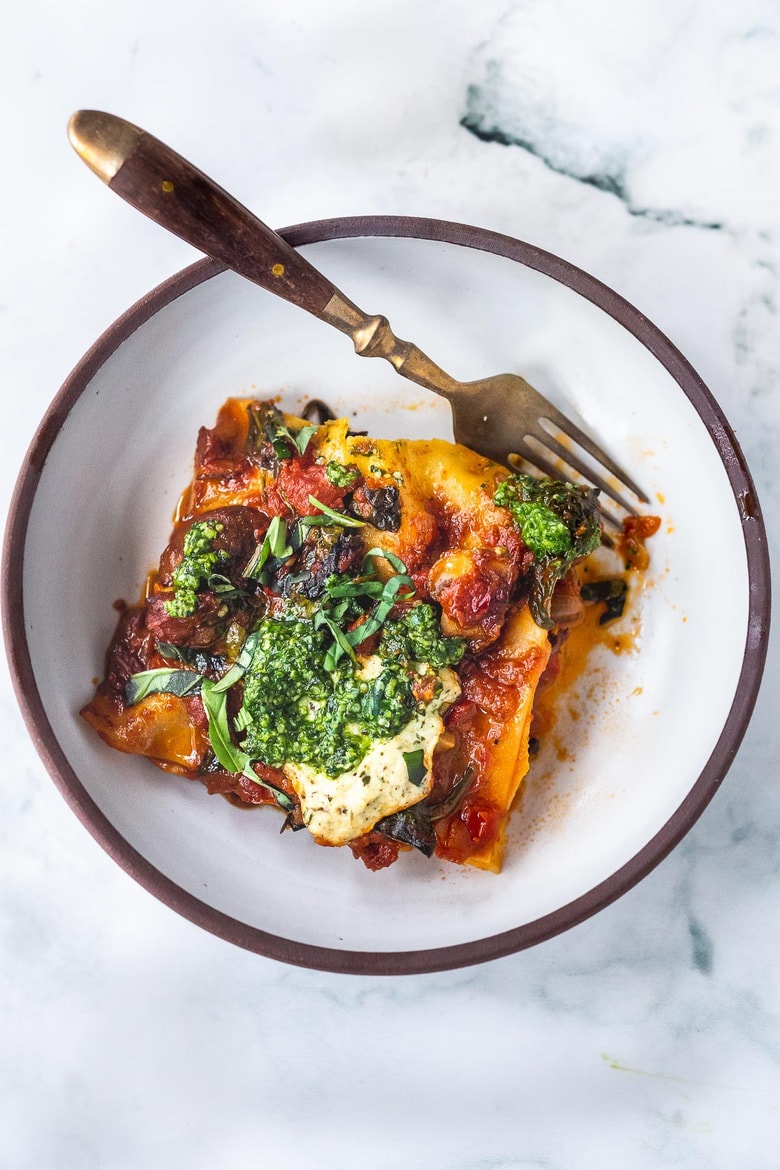 On the homefront: I love sun. The older I get I just can't seem to get enough of it. It fuels me and energizes me and as much as everyone says it's not good for you- I don't care, I choose to believe it is good for me. Yes, I am wrinkled and freckled, and I suppose that is the trade-off.
The other day, in Encinitas, Brian and I went on a very sunny walk. It was glorious. We were several miles from home and out of nowhere, a storm overtook us. A downpour like you'd see in the tropics.  At first, it was really irritating, there was nowhere to take cover and we were not prepared- in our shorts and tee shirts. Within minutes, we were drenched. There was no point in walking around the puddles because my tennis shoes had puddles in them. 😉
And then I swear, a voice like Eckhart Tolle whispered in my ear "when you resist, you suffer."   So I stopped resisting, and gradually my anger turned to laughter once I resigned myself to the fact that I was just going to be soaking wet for a while. And it reminded me…
There have been many times in my life, where "not accepting" what was happening, made things so much harder for me- and I'm not just talking about thunderstorms here. Life often brings heartache and tragedy. We can't escape this. I've found the first step to healing is simply, accepting. Having a good cry. Maybe even every day. For a long time. And stop fighting (mentally) what is happening. In this place of vulnerability, we are closest to the truth of who we really are. It is scary, uncomfortable, yet a profoundly beautiful place to be.
Yes, a strange tangent for a recipe blog, but I guess it wanted to come out… 😉
---
Hope you enjoy this Vegan Lasagna Bolognese! Let us know in the comments below.
Happy cooking,
Print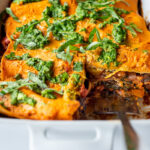 Vegan Lasagna
Prep Time:

50 mins

Cook Time:

60 mins

Total Time:

1 hour 50 minutes

Yield:

8

1

x

Category:

vegan, main

Method:

baked

Cuisine:

italian

Diet:

Vegan
---
Description
This Vegan Lasagna is made with a robust mushroom-spinach bolognese sauce, fresh basil, vegan ricotta and no-boil lasagna noodles topped off with a creamy marinara sauce, drizzled with Arugula Basil Pesto. Vegan comfort food at its best! READ NOTES.
---
1/3

cup

cashews
water to cover
Mushroom Bolognese Filling: 
2 tablespoons

oil

one

large onion, diced

4

–

8

garlic cloves, rough chopped

1

lb

mushrooms, sliced (see notes for other options)

1

red bell pepper, chopped

1/2 teaspoon

fennel seeds (optional)

1/2 teaspoon

salt

1/2 teaspoon

pepper
25-ounce jar marina sauce- divided

2

–

3

big handfuls of baby spinach
optional additions: cooked lentils, vegan ground meat or ground walnuts– see notes.
———

1/2

cup

basil ribbons, divided
12 No-Boil lasagna noodles
Optional: 1 1/2 cups shredded meltable Vegan Cheese
A batch of Arugula Pesto or use store-bought pesto
---
Instructions
Preheat oven to 375 F
Simmer Cashews: (or soak in cold water 4-8 hours) Place cashews in a small pot, cover with 1 cup water, bring to simmer, cover, simmer 10 minutes, turn heat off, leave covered so they soften. At the same time, start the Mushroom Bolognese.
Make the Mushroom Bolognese: Heat oil in an extra-large skillet. Saute the onion 4-5 minutes until fragrant. Add the garlic, lower heat to medium, and saute 2-3 minutes. Add mushrooms, red bell pepper,  salt pepper and fennel seeds, and saute until mushrooms release their liquid, and begin to caramelize about 10-15 minutes. Deglaze with red wine if you like, cooking it all off. Stir in the spinach, wilting.
Reserve 1 cup of marinara sauce, and put this in a blender.  Add the remaining 2 1/2 cups of marinara sauce to the mushroom mixture, stirring it in. Rinse the jar with 1/2 cup water and pour this into the bolognese. Bring to a simmer, for 2-3 minutes, season to your liking, adding salt and pepper if you like. If using a sugar-free marinara, a couple teaspoons of maple syrup is nice here. If it lacks depth, you could stir in a little a miso paste. Every jar of marinara is different, so make sure it is flavorful and "saucy" enough to cook the lasagna noodles. If it seems dry, add a little more water.
Creamy Marinara: Add the 1 cup marinara to the blender, along with drained cashews and 1/3 cup water. Add 1 tablespoon olive oil. All together in the blender, you should have about 2 cups- so add more water if need be. Add 1/4 teaspoon salt.  Blend until very creamy and smooth, a full minute. This will be used on the top and bottom of the lasagna.
Make the Tofu Ricotta: Place everything in a food processor and pulse, scraping down sides, Pulse until combined and creamy but not overly smooth.
Assemble: Grease a deep 9 x 13-inch baking dish with spray oil or olive oil.   Pour 1 cup of the blended Creamy Marinara Sauce in the bottom, enough to lightly coat. Layer 4 lasagna noodles. Spread out half of the mushroom bolognese. Dot with half of the tofu ricotta. (Feel free to add meltable vegan cheese here if you like). Sprinkle with a third of the basil ribbons. Repeat: add 4 lasagna noodles, the remaining mushroom bolognese,  the remaining tofu ricotta, (optional vegan cheese) and 1/3 of the basil ribbons. Top with the final layer of lasagna noodles, pressing down a bit to create a level base. Cover with the remaining blender sauce. Cover tightly with foil. If the lasagna touches the foil, place a piece of parchment between the lasagna and foil. At this point, you could refrigerate and bake 1-4 days later (letting it come to room temp first).
BAKE: Place in the middle of the oven and bake 50-60 minutes. While it is baking, make the Arugula Pesto.
Remove the foil, test with a knife to see if pasta is tender, all the way through. Let stand 10 minutes. Spoon a little of the Arugula Pesto over top and sprinkle with remaining basil ribbons.
Enjoy!
---
Notes
Bolognese: After publishing this recipe, I've been adding cooked lentils and/or ground walnuts to the bolognese for added protein and heartiness. For example, you could swap out 8 ounces of the mushrooms and add 2 cups of cooked lentils. Or add 1/4 cup or 1//2 cup ground walnuts to the existing recipe. You can also add other veggies or swap out plant-based ground meat for half of the mushrooms.  Just keep in mind you'll need at least 4 cups of bolognese sauce– making sure it is quite saucy.
Creamy Marinara Sauce: You can use hemp seeds instead of cashews- no need to simmer, just blend with the 1/3 cup water and 1 cup marinara, salt and olive oil.
Vegan Cheese: Feel free to use store-bought vegan ricotta, or add meltable vegan cheese to the layers, and/ or on the top.
Nutrition
Serving Size:

⅛ th serving without the Arugula Pesto.

Calories:

394

Sugar:

9.9 g

Sodium:

816.6 mg

Fat:

14.3 g

Saturated Fat:

2.1 g

Carbohydrates:

51.4 g

Fiber:

8.6 g

Protein:

15.1 g

Cholesterol:

2 mg
Keywords: Vegan Lasaga Bolognese, vegan lasagna, mushroom lasagna, vegan lasagna recipe, mushroom bolognese, vegan mushroom lasagna, best vegan lasagna