Cooling, refreshing Tomato Watermelon Salad with pickled shallots, radishes, pumpkin seeds, avocado, and basil, tossed in a flavorful Tomato Vinaigrette. Vegan and Gluten-free.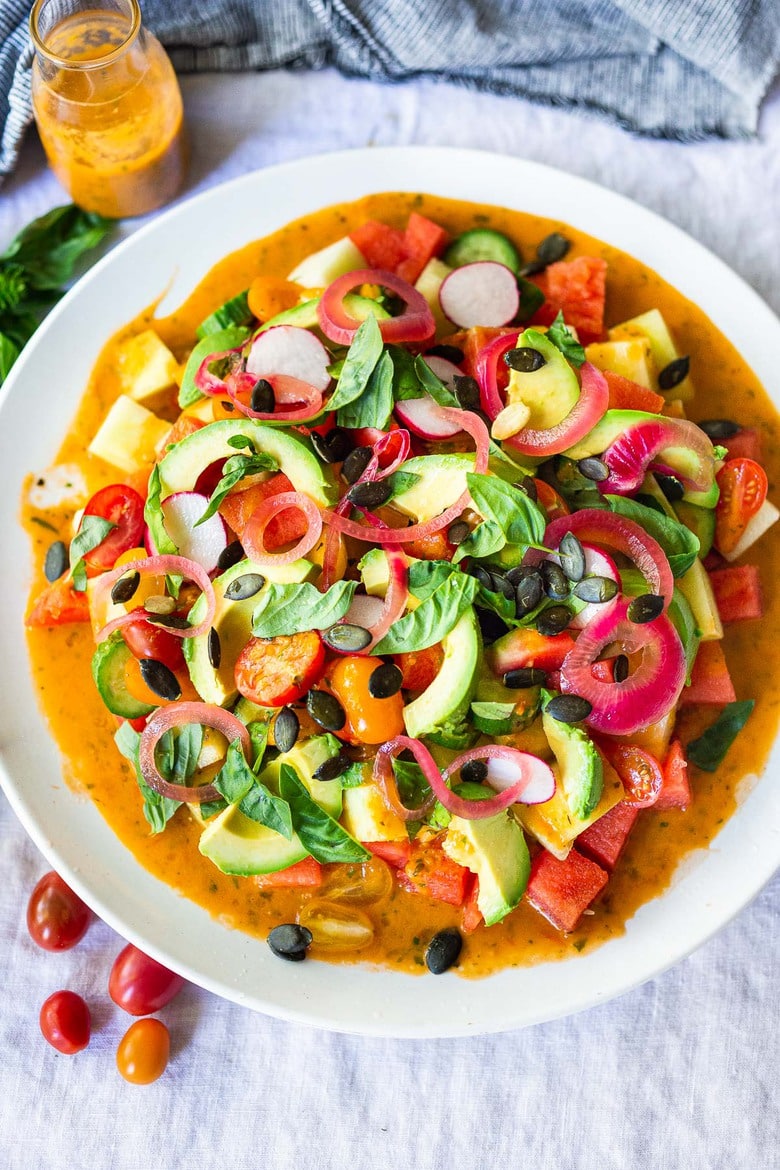 We are the fire, and simultaneously the wood that is burning. We are the flame, and simultaneously the moth flying into it, scorching its wings, giving itself to the light.~ Dorothy Hunt
Here's a new summer salad we've been enjoying the last few days. It turns out, tomatoes and melons pair deliciously well together and the flavorful Tomato Vinaigrette (a recipe you'll want to put in your back pocket) unifies and compliments. So much flavor happening here!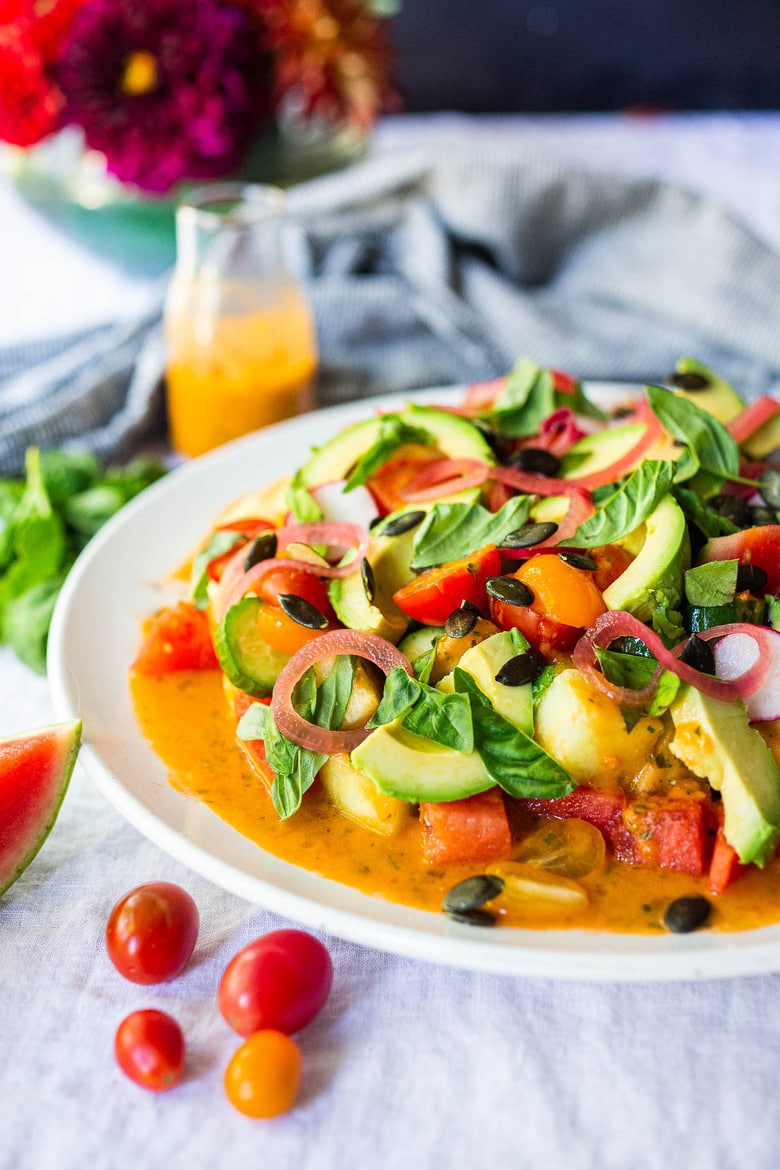 Ingredients in Tomato Watermelon Salad:
Tomatoes (cherry or grape tomatoes)
Melon (watermelon, cantaloupe or honeydew, or a mix is nice)
cucumber- optional
Shallots
Radishes- optional
Avocado
basil
garlic
salt and pepper
Wait to make this salad until summer, when tomatoes and melons are at their peak of flavor. Then it's just a matter of cutting everything into bite-sized pieces and making the tomato vinaigrette.
The pickled shallots are a nice touch but are optional.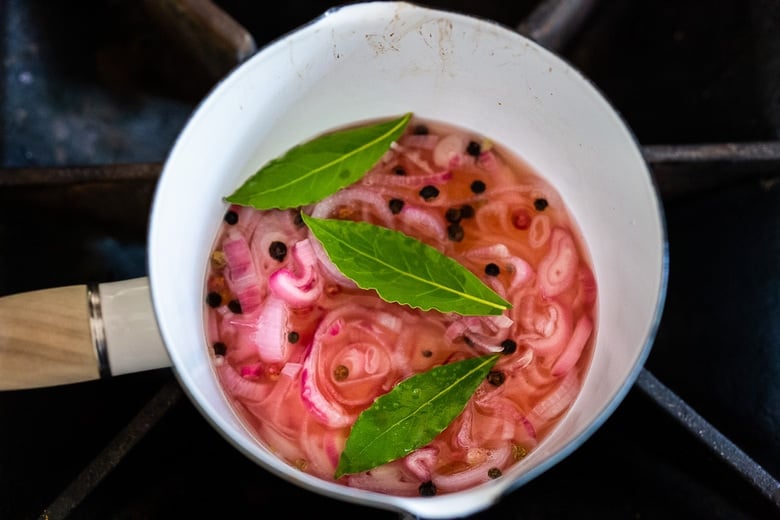 To make the Tomato Vinaigrette, either quickly char the tomatoes in a dry skillet or slow roast them in the oven. During the hot months, I prefer to leave my oven off, so the quick stovetop char is handy. But slow roasting is a good option when things cool down in the fall and you are left with a plethora of garden tomatoes.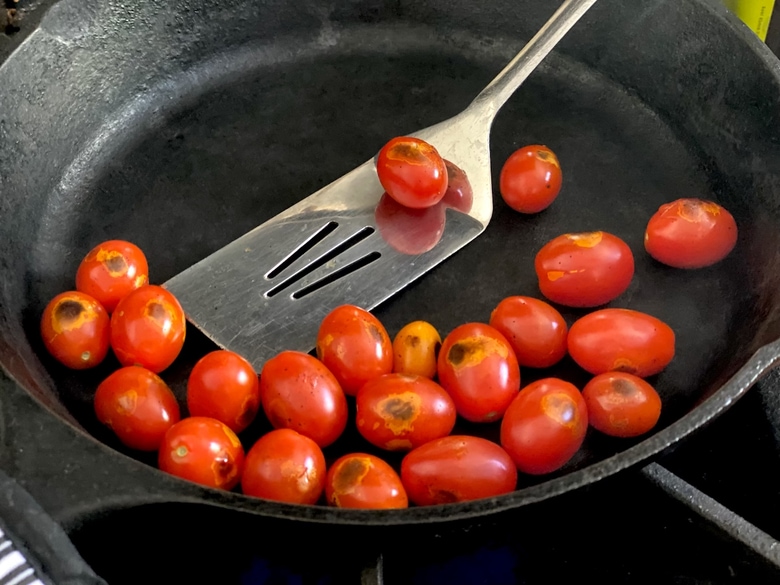 Blend the charred tomatoes up with shallots, garlic, olive oil, red wine vinegar, basil, salt and pepper.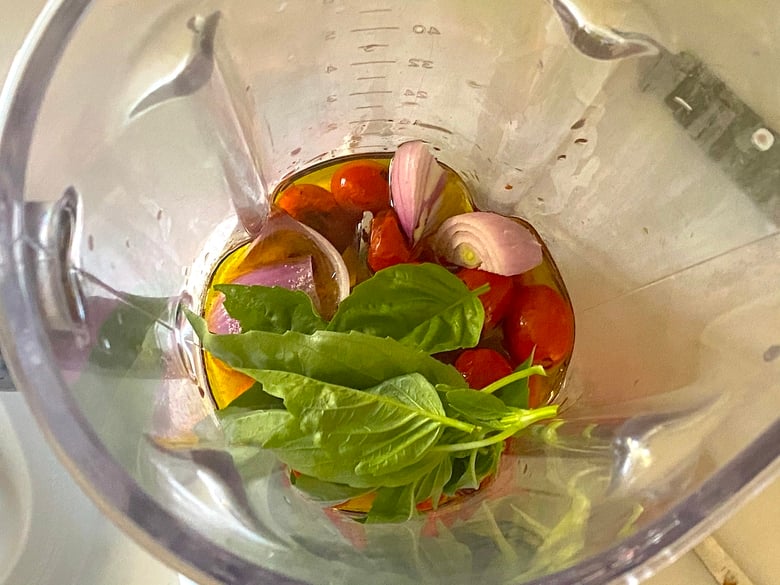 As I mentioned before, I know you'll find many uses for this Tomato Vinaigrette! Super tasty!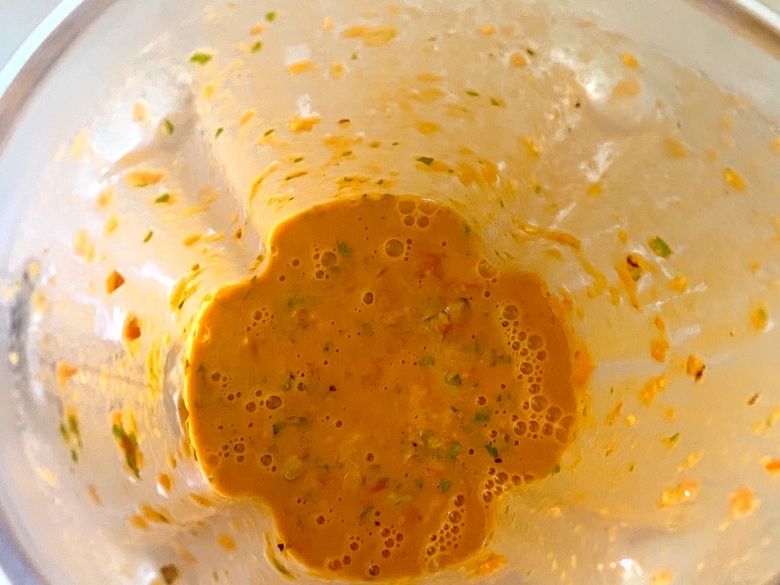 Place the tomato vinaigrette in a jar and refrigerate.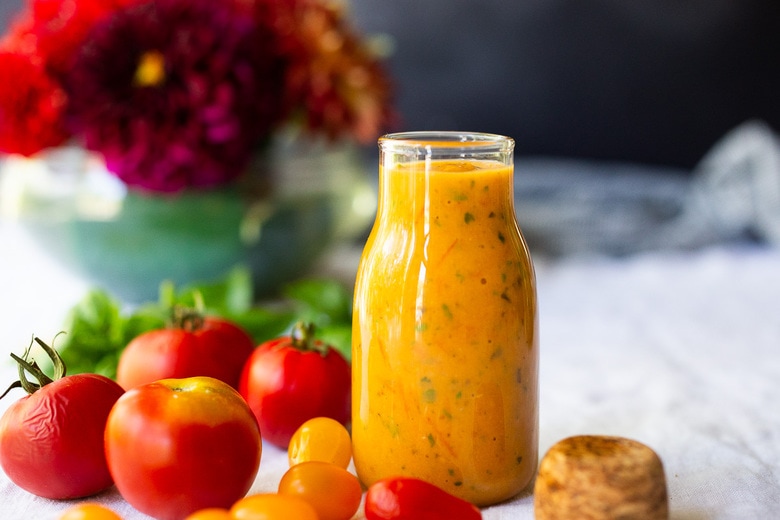 Once the Tomato Vinaigrette is done, then it's just a matter of assembling the salad.
Tips:
Keep the prepped salad ingredients COLD until ready to serve.
Do not dress the salad until ready to serve. (Refrigerate the dressing too.)
If making the salad ahead, leave out the avocado, basil and pumpkin seeds, (until right before serving) and store in the fridge.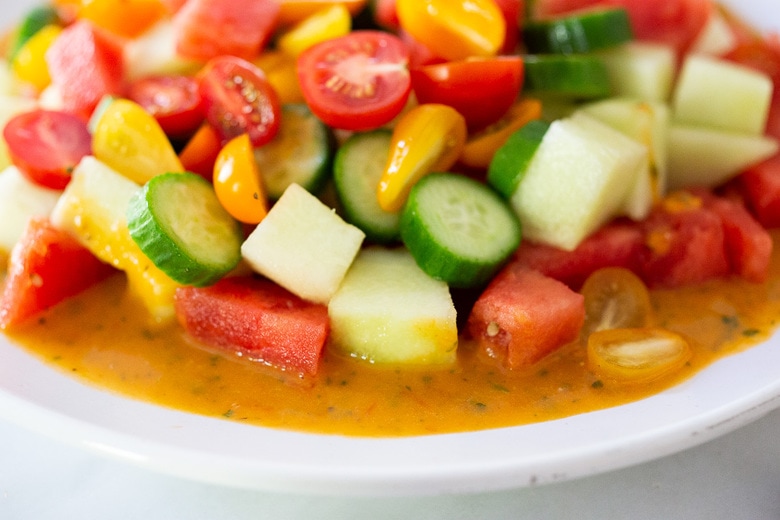 For example, I'll prep this salad with the tomato, melon, radish, cucumber and store it in a big zip lock or big bowl in the fridge. If we are eating it throughout the week, I'll just toss what we need with the dressing, adding the avocado, pickled shallots, basil and pumpkin seeds at that point, so everything stays nice and fresh.
Or if bringing to a party, store the tomato-melon-radish-cucumber mix separately, keep it cold, and when ready to serve, quickly toss with the dressing, add the avocado, pumpkin seeds, pickled shallots and fresh basil, right before serving.
It is best to serve this salad on a large platter ( with some sort of edge to catch the dressing) or a very shallow large bowl.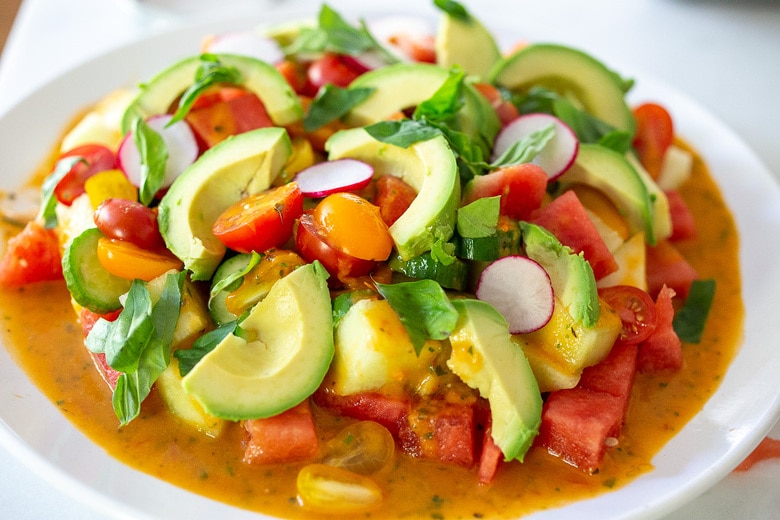 Pour any leftover dressing around the salad on the bottom for a vibrant fresh look.
Garnish with the avocado, pumpkin seeds, pickled shallots and pumpkin seeds.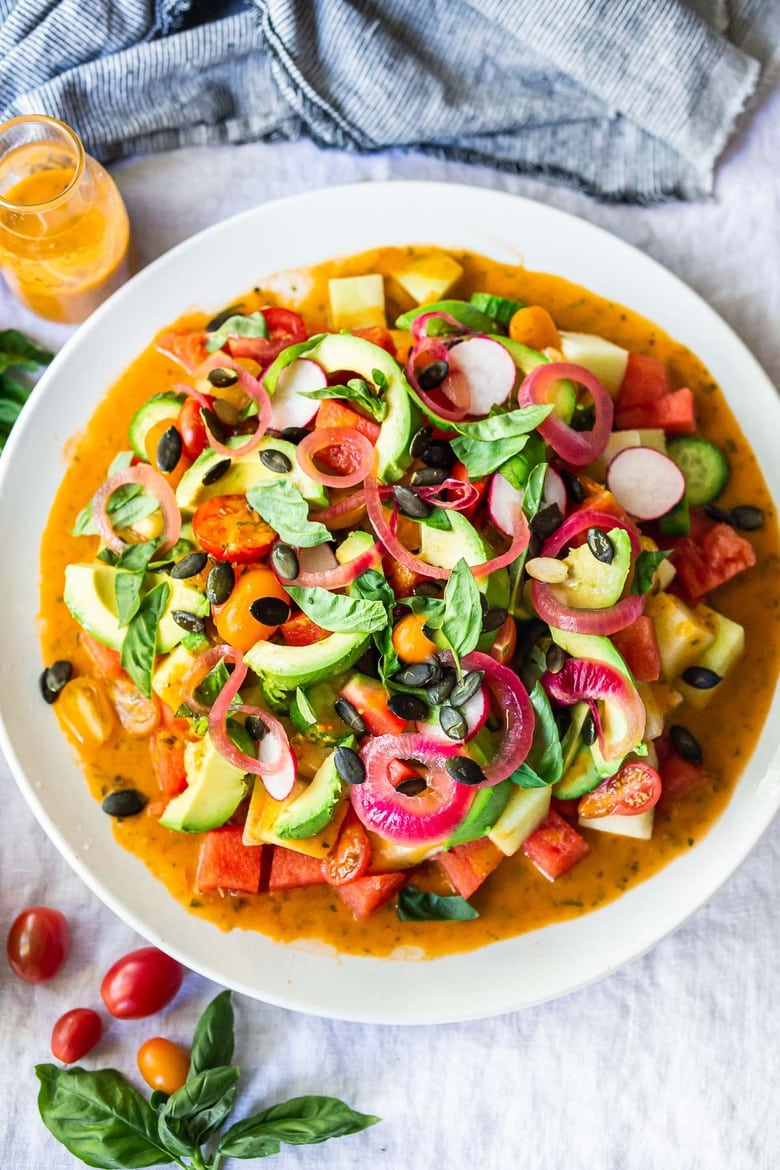 This salad is so much fun to put together- the colors are so pretty, it almost feels like you are creating a piece of art. Indulge yourself, it's summer!
On the homefront: life is moving at a slow easy pace. Taking lots of walks, bike rides, naps. Oh and rollerskating, another story for another day. I've been thoroughly enjoying watering my garden. A simple thing that brings so much pleasure. Perhaps it feels similar to feeding people, giving plants nourishment. Watching them perk up after a long hot day, is such instant gratification. Hope your summer is going splendidly and you are doing the things that make your heart sing.
xoxo
More recipes you may like:
Print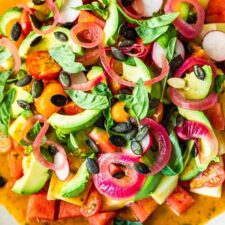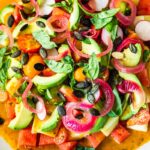 Tomato Watermelon Salad
Prep Time:

30

Cook Time:

10

Total Time:

40 minutes

Yield:

8 cups

Category:

salads, vegan, summer

Method:

tossed

Cuisine:

American

Diet:

Vegan
---
Description
A vegan Tomato Watermelon Salad with cucumber, radishes, avocado, basil, pumpkin seeds and pickled shallots tossed in the most flavorful Tomato Vinaigrette. Vegan and Gluten-free.
---
Tomato Vinaigrette
Salad
4 cups

COLD melon- watermelon, cantaloupe or honeydew, or a mix

2 cups

cherry or grape tomatoes, halved

1/2 cup

radishes, sliced (optional)

1 cup

Turkish (or Persian) cucumbers, sliced

3

scallions, sliced
pickled shallots or pickled onions  (optional, sub 1/4 cup thinly sliced red oion) 

1

large avocado, sliced

1/4 cup

pumpkin seeds

15

fresh basil leaves, torn. (See notes for other options)
---
Instructions
Make the Tomato Vinaigrette: Place the tomatoes in a dry skillet and lightly char or blister over medium-high heat, just until softened, about 7-8 minutes. If they start popping turn the heat off. (See notes for alternatives.) Place tomatoes, oil, vinegar, maple, shallots, garlic, and basil in a blender and blend until combined (but not overly smooth). Refrigerate.
Make the optional Pickled Shallots and refrigerate.
Make the salad: Combine melon, tomatoes, cucumber, radishes, cucumber, scallions in a large bowl. If making this salad ahead, store this, undressed in the fridge (assembling this right before serving). If serving right away, gentle fold enough of the dressing to lightly coat the salad (you may not need all) along with half of the fresh basil. Taste for salt and acid, adjusting salt and vinegar to taste. Place the salad on a large platter or large shallow bowl. Scatter with the pickled shallots, avocado slices, torn basil and pumpkin seeds. Pour any remaining dressing around the edges of the salad (see photos). Serve immediately- you really want this salad served cold.
---
Notes
Tomato Vinaigrette: Alternatively, you could roast the tomatoes in the 1/4 cup oil with the whole garlic and shallots in a 400 F oven until the tomatoes are collapsing. Then blend with other ingredients in a blender.
Variation: Instead of basil in the dressing and salad, you could sub cilantro in both, for more of a Mexican-flavored salad. Super tasty!
Make-Ahead: You can prep this ahead for the busy week, storing the dressing separately, and adding the avocado, basil, pumpkin seeds, and pickled shallots at serving time. It's also great over a bowl of dressed greens.
Keywords: tomato melon salad, tomato watermelon salad, watermelon salad with tomato, vegan tomato melon salad, vegan watermelon salad