Stuffed shells with Italian sausage (or substitute mushrooms) and a creamy flavorful Pumpkin Parmesan sauce.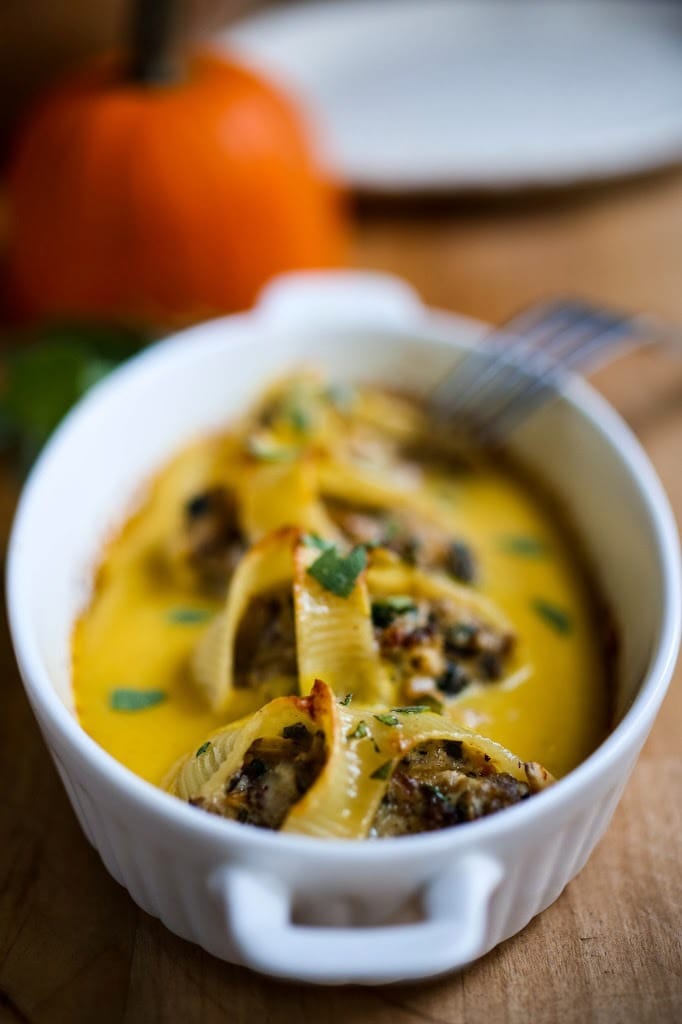 Like fireworks in the night sky, they exploded over our heads, raining down seeds and guts and orange flesh. This is what happens when you play pumpkin baseball. I never knew smashing pumpkins could be so much fun. Perhaps a bit irreverent, but soon they would become mulch anyhow- so we started the process a few days early. A golden light-filled afternoon spent outside with friends – pressing fresh apples into cider, pumpkin picking, and pumpkin carving -turned into a unforgettable evening.
After dinner, a scavenger hunt entertained the kids, then a jack-o-lantern contest with pumpkin faces all aglow in the dark. Before the night ended, we took to the lawn. Organized lines of pitchers and batters sprayed pumpkin bits across the starry night towards the pumpkin patch. It was messy, beautiful, exhilarating. For a few fleeting minutes I felt like a kid again. Giddy. Oh the incredible lightness of being…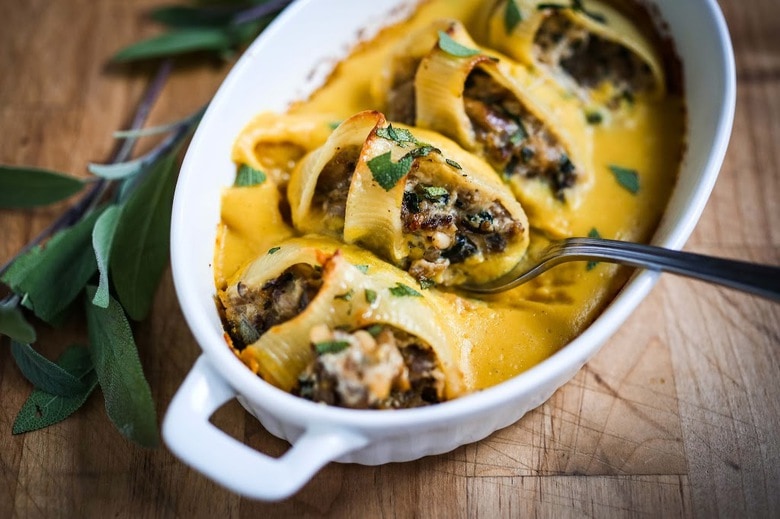 Winter squash, including pumpkins, butternut, acorn, spaghetti, hubbard, and delicata, just to name a few- are grown in summer, harvested in fall, but are called "winter" squash, for their ability to be stored in winter for weeks- without refrigeration. Their thick-skinned exteriors house a sweet creamy interior- quite unexpected, if judging only by appearances.
And it's this creamy rich quality that makes them perfect for sauces. In this recipe for Stuffed shells with Pumpkin Sauce, the luscious Pumpkin Parmesan Sauce is a substitution for a creamy bechemal sauce, or an Alfredo sauce and with less calories You can simplify this recipe by only making the sauce, serving it over pasta, gnocchi or ravioli ….or swirling into risotto. It can be further "trimmed-down" or vegan-ified, by substituting vegetable broth and soy milk. Make it your own.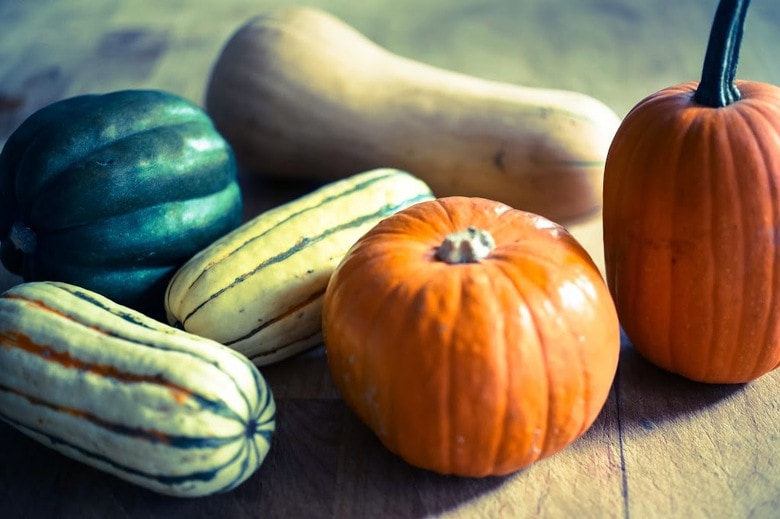 Though winter squash can vary greatly on the outside, with different shapes, sizes and colors ranging from orange to yellow to whites to subtle blues and deep greens, interestingly, they are all similar on the inside- with orange yellow flesh and a center full of seeds. In these photos, I used pumpkin to make the sauce, but keep in mind, butternut or acorn work just as well.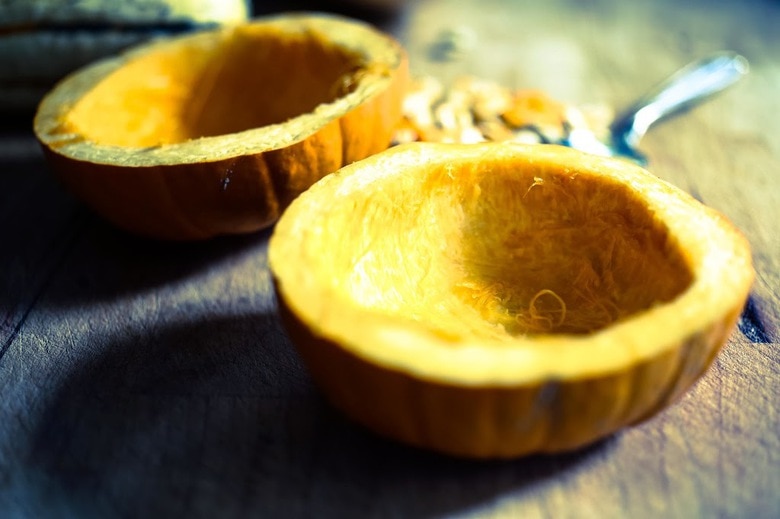 To roast a winter squash, cut it in half, scrape out the seeds, place it on a greased or parchment lined sheet pan and roast in 425F oven for 30 minutes or until tender when pierced with the tip of a fork.
For the stuffed shells, I used Italian sausage and mushrooms and folded in ricotta and mozzarella cheese.. Again, this could easily be made vegetarian by using all mushrooms and perhaps adding a roasted nut like
pecans
,
hazelnuts
, or
pine nuts
.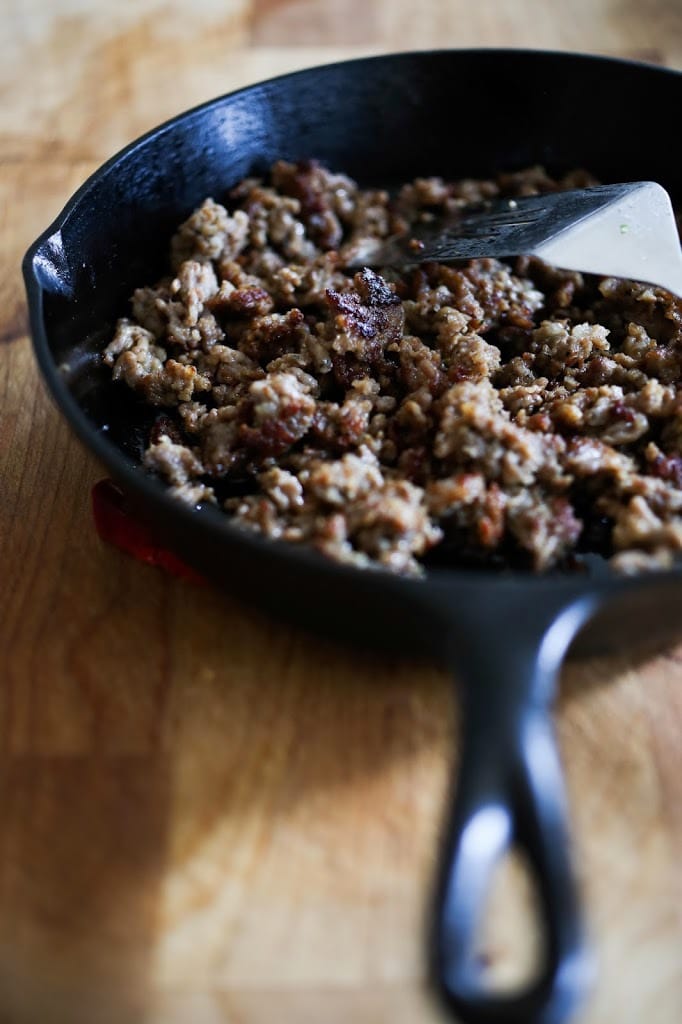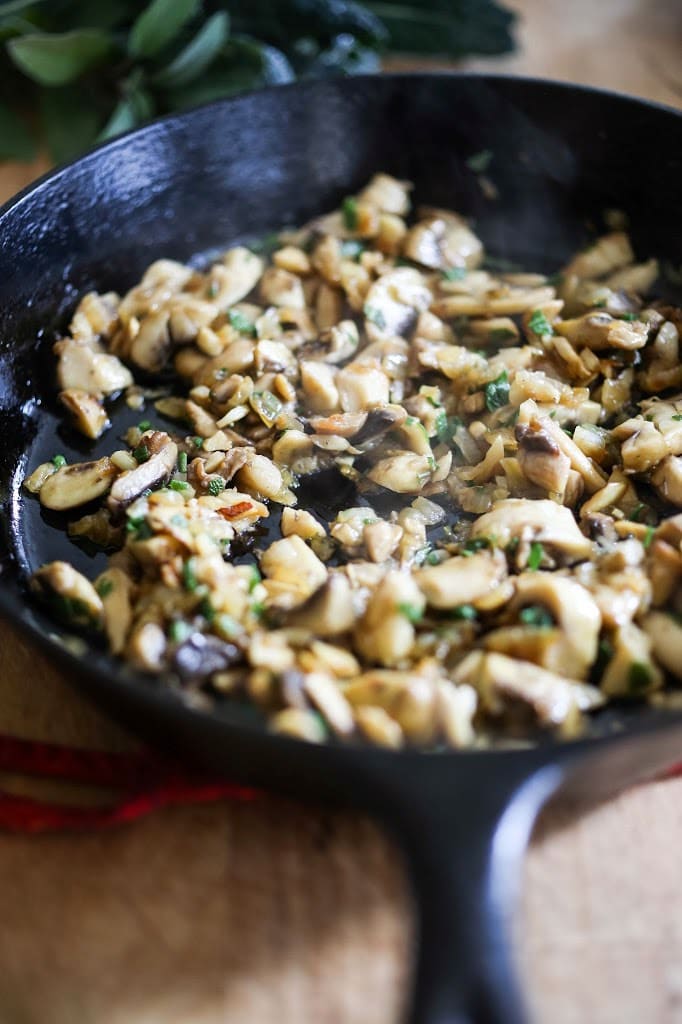 While the pumpkin is roasting, boil the shells and make the filling.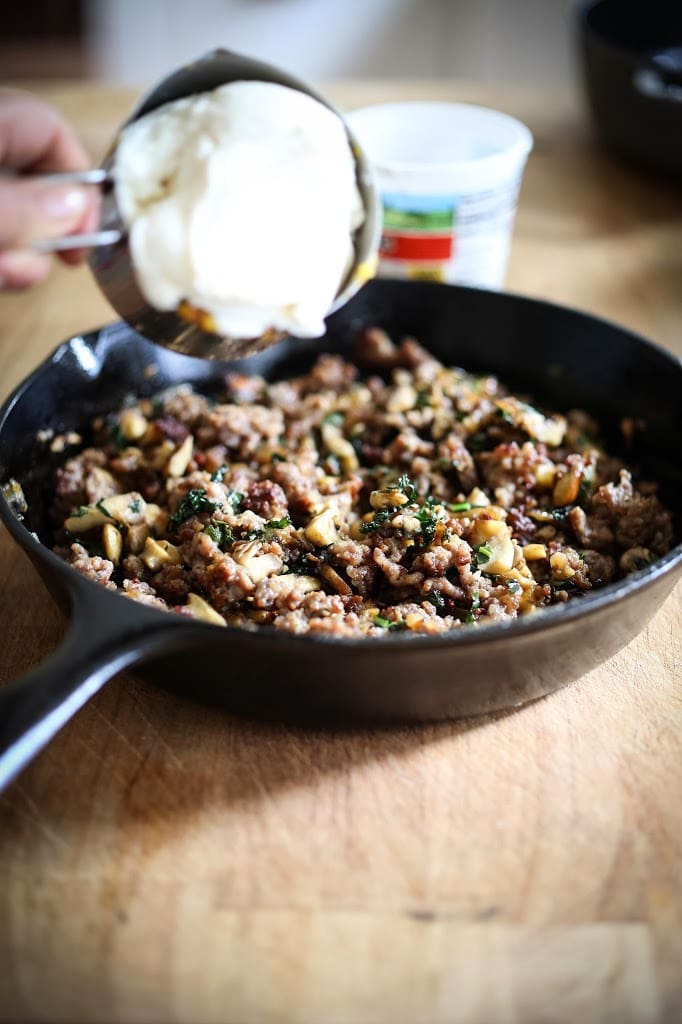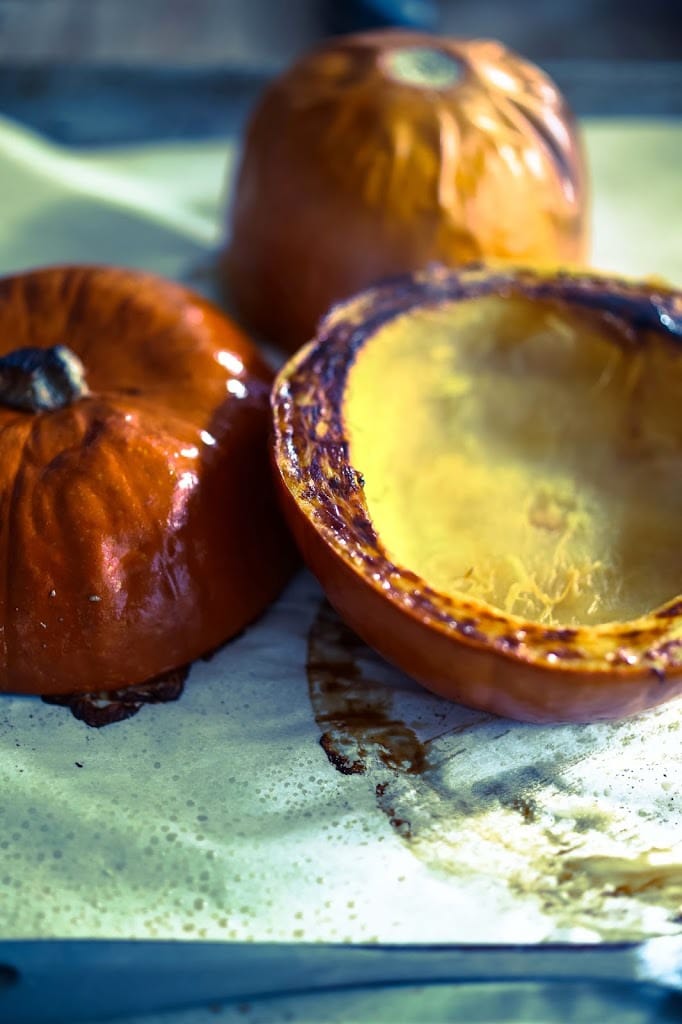 When the winter squash is tender scoop out the flesh onto a blender with the rest of the ingredients and blend until smooth. It's a snap.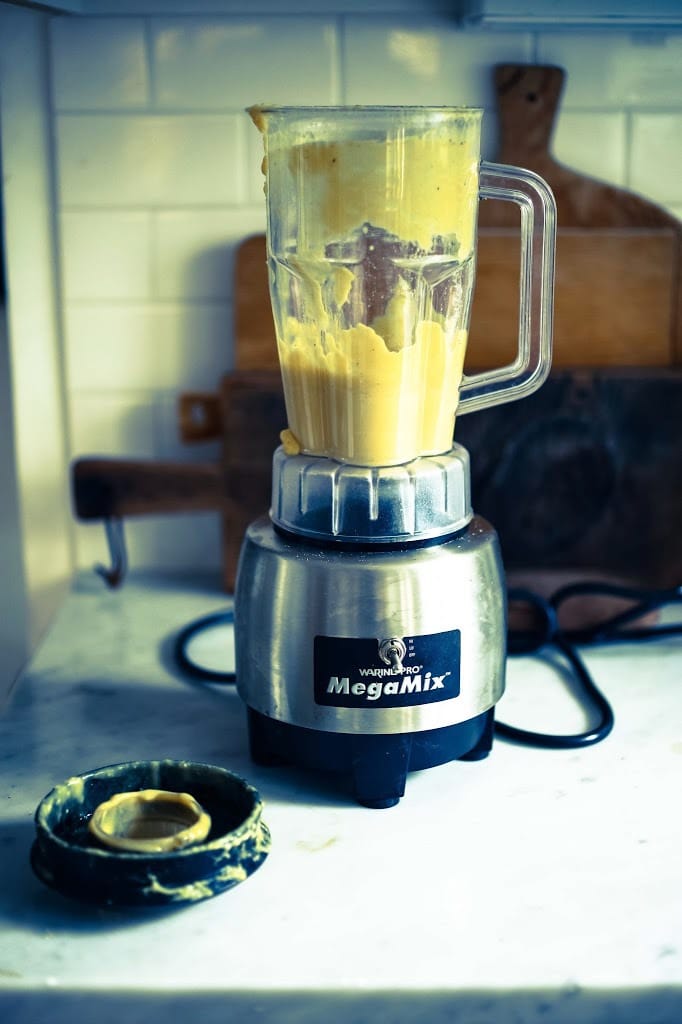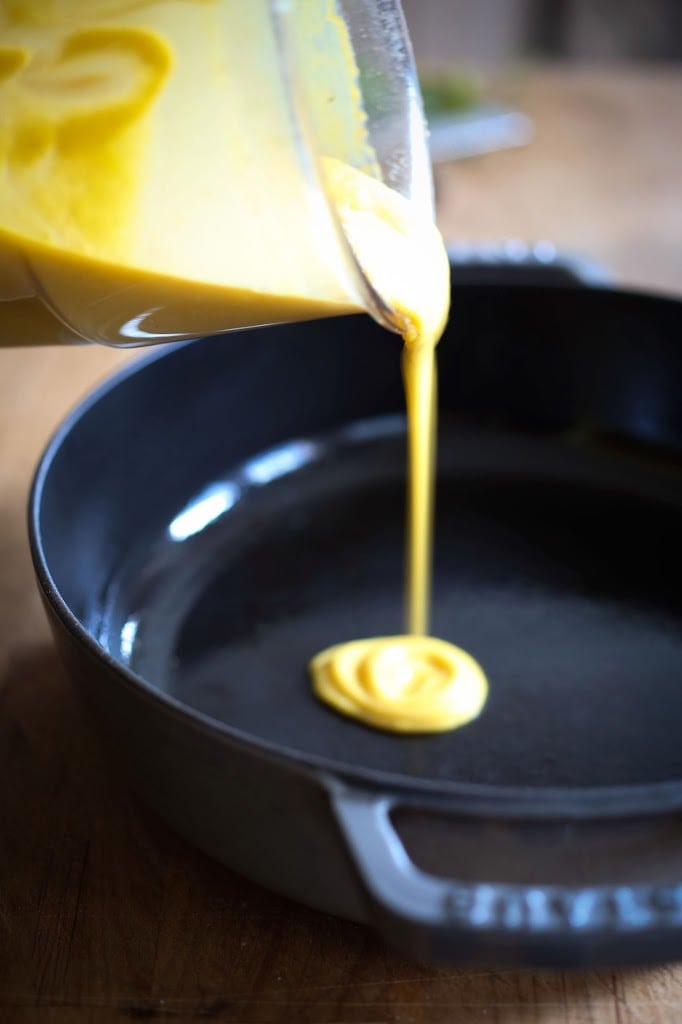 Pour a little sauce on the bottom of a greased baking dish.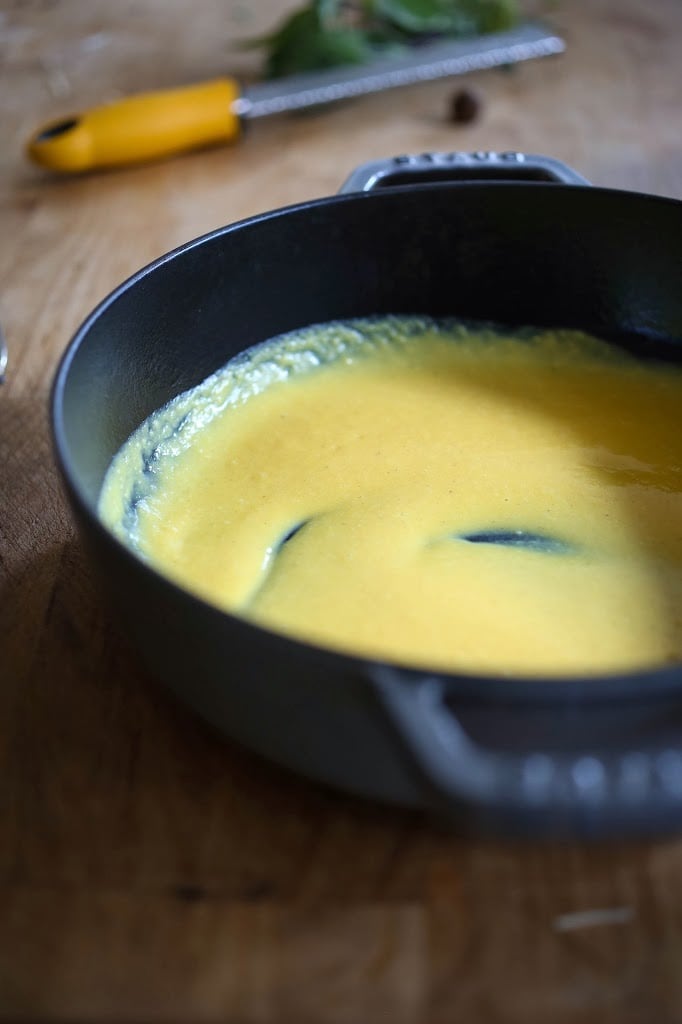 Place the stuffed shells over top of the sauce.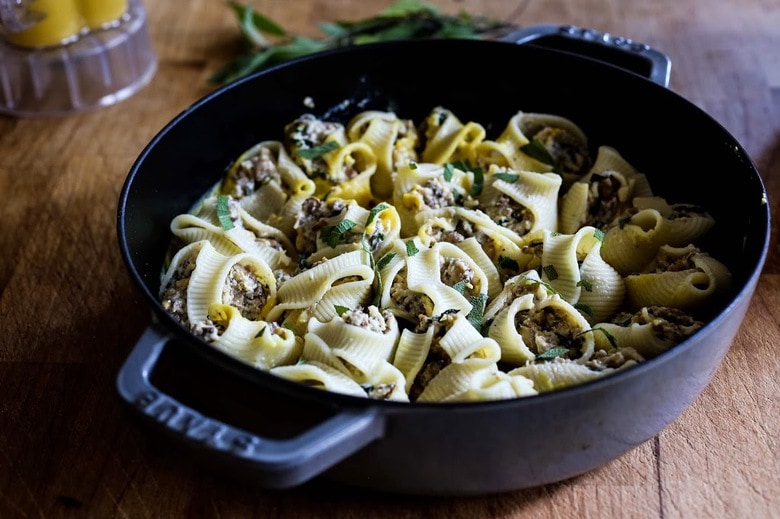 You can use one large baking dish or several small individual baking dishes.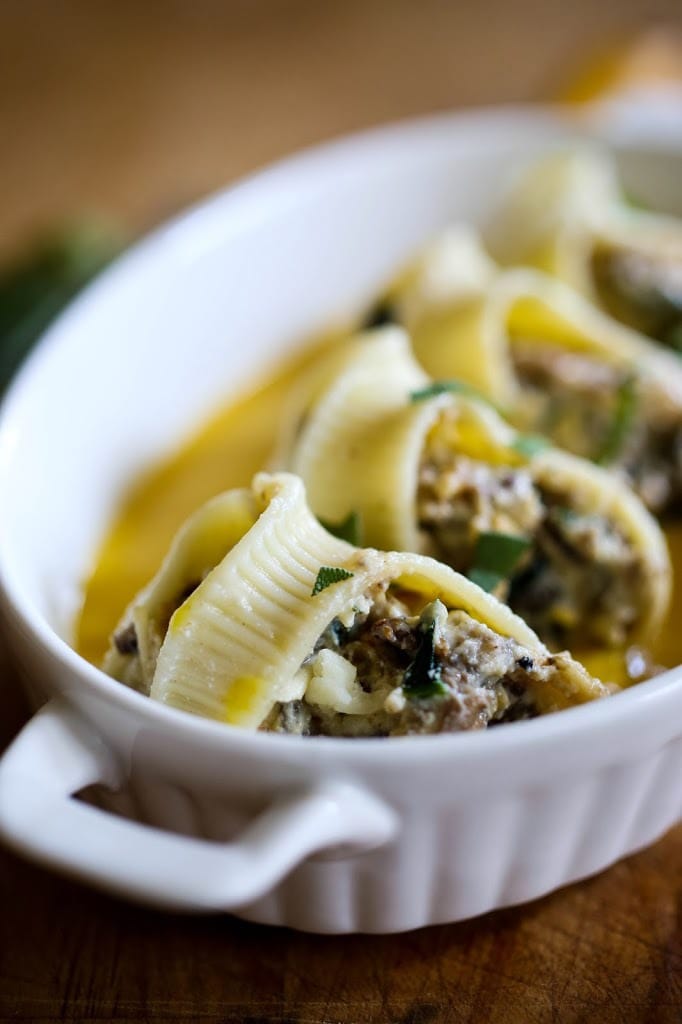 Pour a little more sauce over the shells if you like saucy dishes.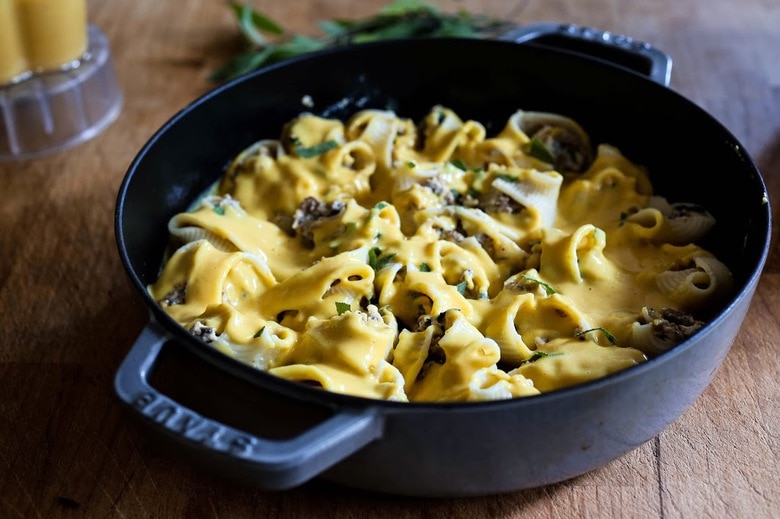 Cover and bake.
Remove the foil and bake or broil for just a few more minutes to brown them up a little.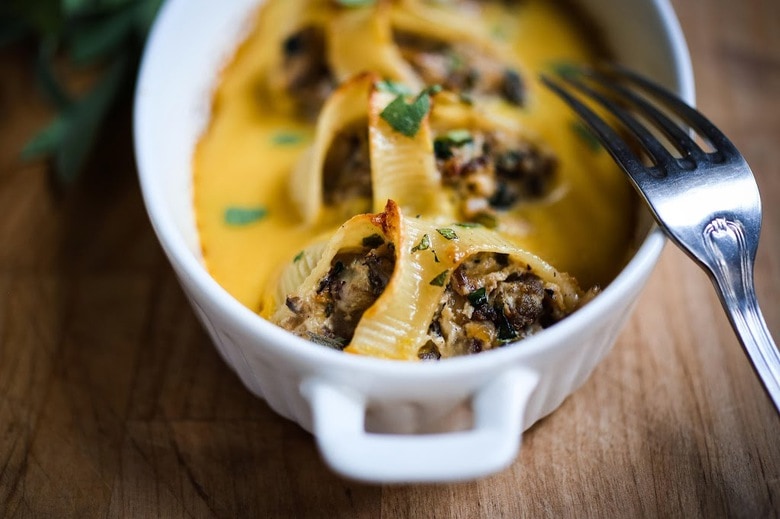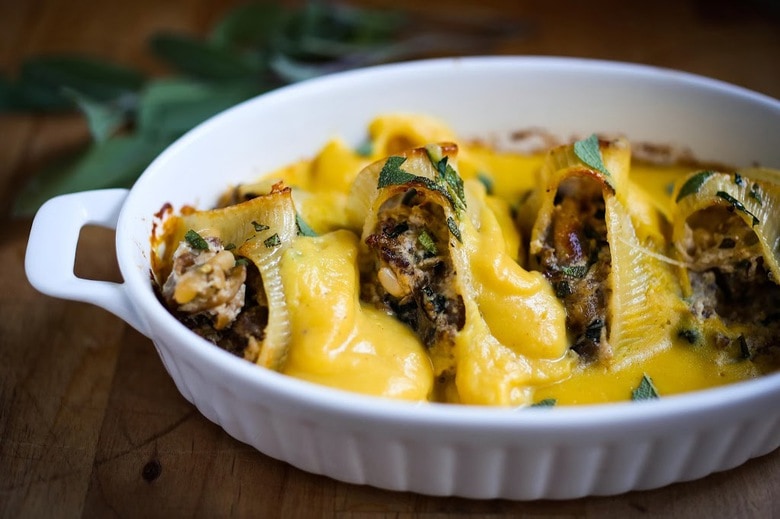 Print
Stuffed Shells with Pumpkin Sauce
Stuffed shells with Italian sausage (or substitute mushrooms) and a creamy flavorful Pumpkin Parmesan sauce.
Prep Time:

30 mins

Cook Time:

60 mins

Total Time:

1 hour 30 mins

Yield:

4-6

Category:

Main

Method:

Baked

Cuisine:

Pacific Northwest
2 Cups

Roasted Sugar Pumpkin (or any winter squash like acorn, kuri, delicata, butternut…. or use canned pumpkin puree)

24

large pasta "shells" about

10 oz

16 oz

Spicy Italian sausage ( or substitute mushrooms)

1

–

2

T olive oil

1

C diced onion

4

cloves garlic- minced

8 oz

mushrooms

2

T fresh sage

2

T Pine nuts ( optional)

15 oz

ricotta cheese

1 Cup

grated mozzarella cheese

1/4

–

1/2

tsp kosher salt

1/4 tsp

pepper

1

C chicken stock

1

C milk

1/2

C Parmesan or romano cheese

1/2 tsp

kosher salt

1 tsp

sugar
fresh grated nutmeg or 1/2 tsp ground
NOTE: If using real pumpkin, make sure its a "sugar pumpkin".
Instructions
400 F Oven
To roast winter squash, cut in half, scrap out seeds and roast open side down on a parchment lined baking sheet for 40-55 minutes, until easily pierced with the tip of a knife. Scrape out flesh and you'll only need two cups. Save the rent for another use.
In the mean time, boil water for shells, and cook shells according to directions.
Drain, coat with olive oil and set aside.
While the water is boiling, brown sausage in a heavy bottomed skillet over medium heat. Set aside on a paper lined plate.
Wipe out skillet, heat 1-2 T olive oil and saute onions over med heat until golden and tender. Add garlic and mushrooms. Saute on med low heat until mushrooms are tender. Add sage, saute for one minute and turn heat off. Place sausage back in to the pan and stir in pine nuts ( optional) ricotta and mozzarella. Taste for salt ( some sausage is saltier than others) and add 1/4- 1/2 tsp kosher salt -if needed, and cracked pepper.
Stir and set aside.
When squash is done remove from oven, turn heat down to 350,
Spoon out 2 Cups of roasted squash into a blender with cold chicken stock, milk, Parmesan, ½ tsp salt, 1 tsp sugar, nutmeg and pepper. Blend until very smooth and silky.
In a large greased baking dish ( or individual ramekins) pour enough sauce to generously coat the bottom. Stuff the shells and place them in the baking dish over the sauce.
Pour more sauce over top. Cover with foil and bake at 350 until heated through, about 20 minutes. Remove foil and continue baking another 10 minutes.
You could add more cheese or any remaining sauce to the top at this point.
Enjoy!
Keywords: Baked shells, pumpkin sauce, baked shells with sausage, italian sausage baked shells, creamy pumpkin sauce