Homemade, Heart-shaped ice-cream sandwiches made with crispy, dark chocolate wafers and vanilla ice-cream. Perfect for valentines day!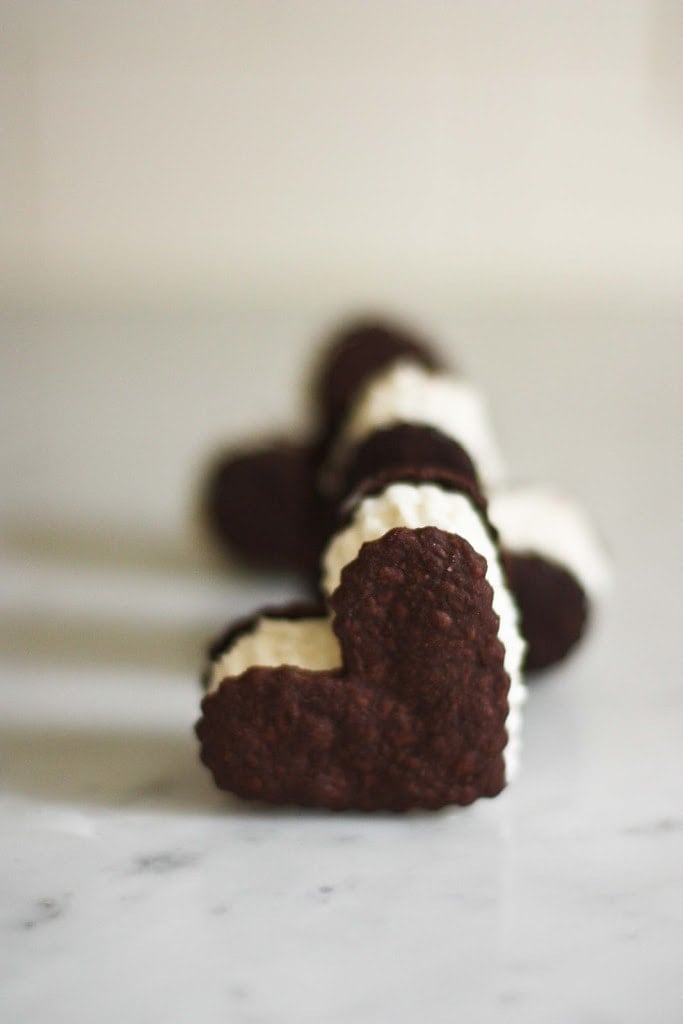 When it's over, I want to say all my life I was a bride married to amazement. 
Heart shaped ice cream sandwiches with a bittersweet double chocolate cookie…make an easy valentine treat. You can make your own ice cream or use store bought if pressed for time. Decorate with cupcake sprinkles or
coarse sugar
.  Happy Valentines day!
Oh love…
I hesitate bringing this up. How much to say,  how little.  We each have our love stories, and within each story, a million more stories, like breaths, here for moment and gone.  Love can wreck us, teach us, inspire us, surprise us…and if we allow it, crack us open like an egg and reveal us.
To live this life fully, we must dive in and love, over and over, letting it overcome us, letting it have its way with us.  It may not last. We may get all busted up. It will get messy. Often it turns our world upside down, but on some level…. perhaps we all know we need this.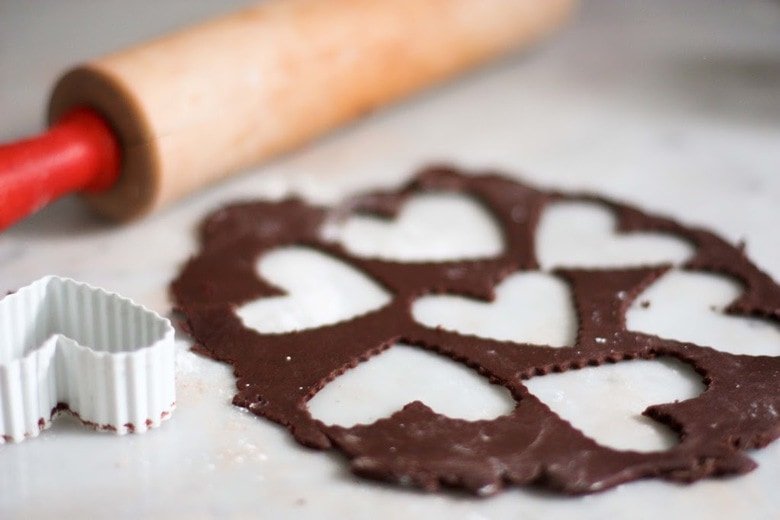 Brian and I got married last fall. I am 45. This is my second marriage. I never planned to get married twice, because when I got married the first time, of course I thought it would be the one and only time.
What can I say?  Life does not always go as planned. Those of you who have gone through a breakup, or divorce, understand how it rips you apart in every way.  It takes away the life you thought you would have.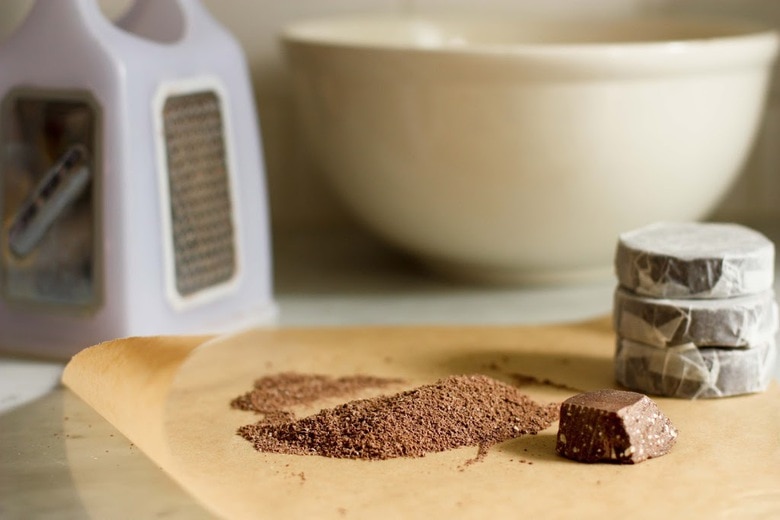 But an unexpected and amazing thing can happen.  It almost always forces you to grow. To examine yourself. To acknowledge the humanness in all of us …and to forgive.
And somehow through the process, our hearts expand, even more than we thought possible. More than we ever planned. We become more compassionate, more human, more real, having gone though it.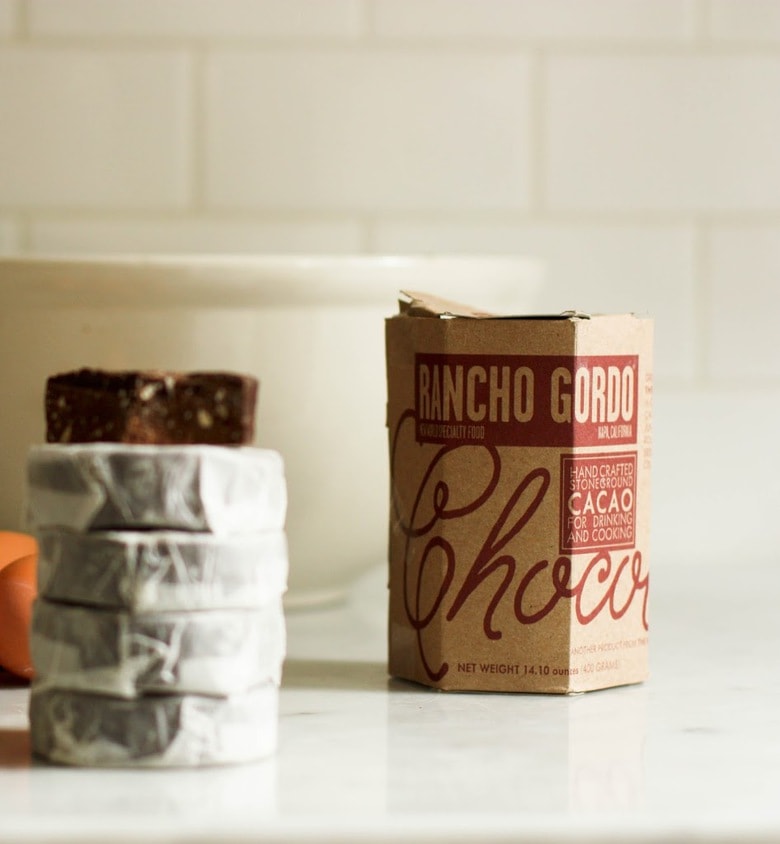 My marriage to Brian has been an eye opener. I see how I create my world. Brian will often say something, uncannily, very similar to what my first husband used to say to me. Different person, but strangely, the same scenario.
He reacts to me in the same way.  I am finally beginning to understand my part in this. Those we spend time with mirror us, and we tend repeat the same behaviors and patterns over and over, without even being aware.
Relationships show us the parts of ourselves that glaringly and desperately need work, and this can be hard, frustrating and terribly humbling.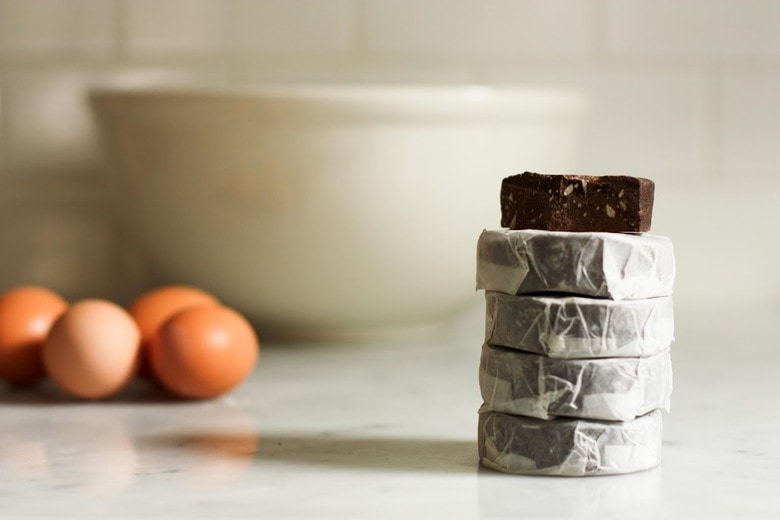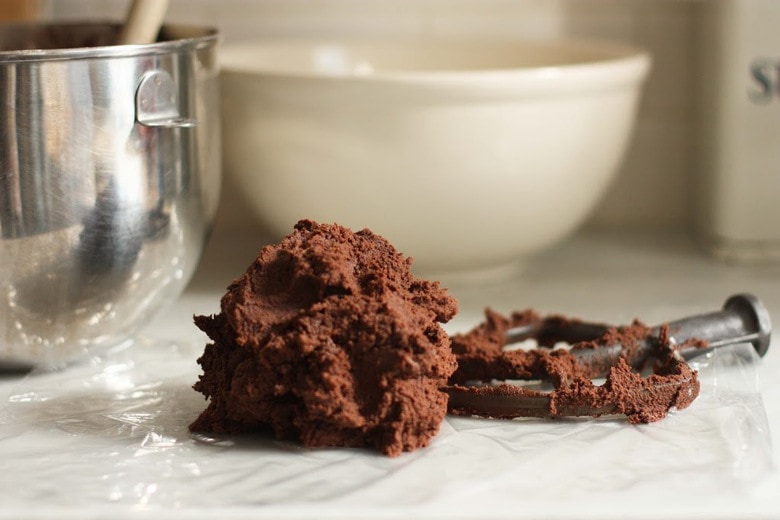 But then, unexpectedly, there come moments of profound and deep connectedness.
Of joy, of lightness and laughter. Moments where you are in complete harmony with each other,  filled will gratitude for the other person.
Somehow in those moments, it is all worth it.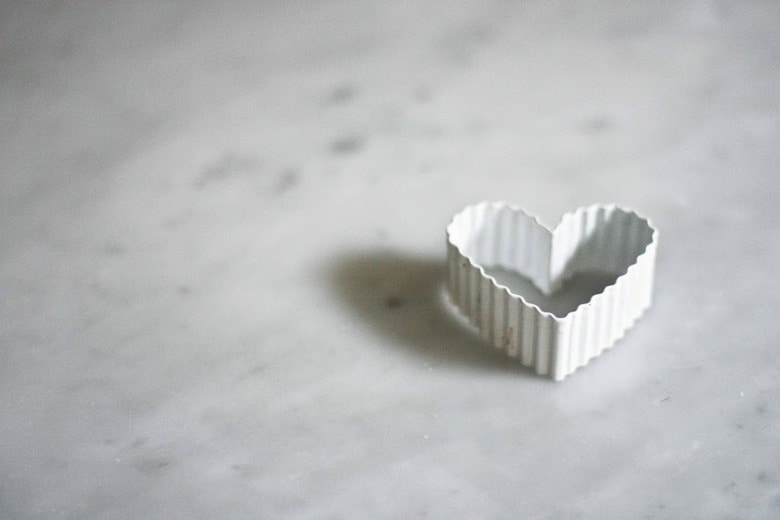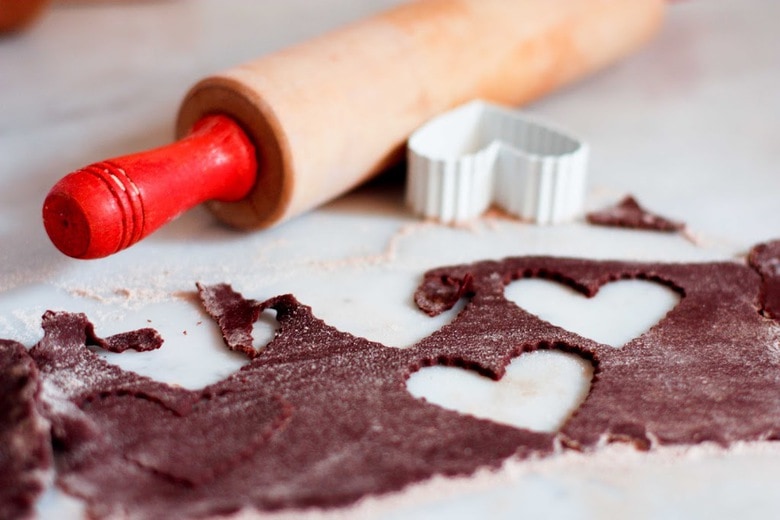 I have been waiting for an excuse to try out this stone ground chocolate ordered from Ranch Gordo . The chocolate is made in Mexico, by women who grow their own cacao, harvest it, toast it and then stone grind it with a little hint of cinnamon. It's lovely, rich and delicious.
The heart shaped cookies come pout perfectly crisp.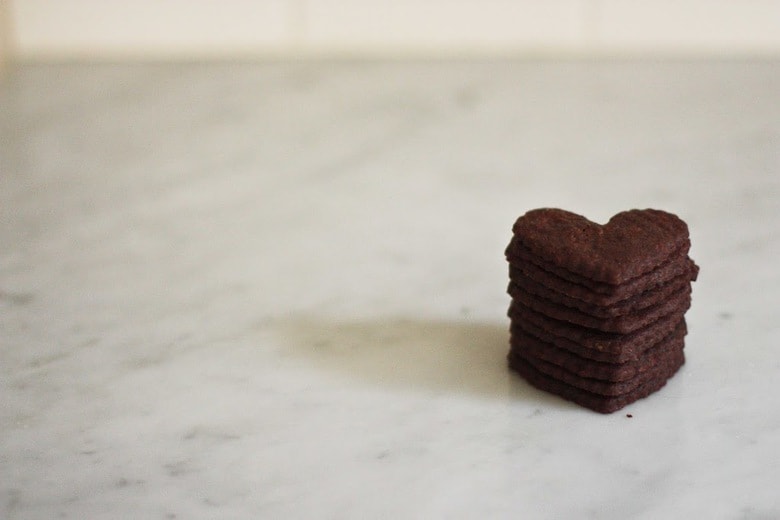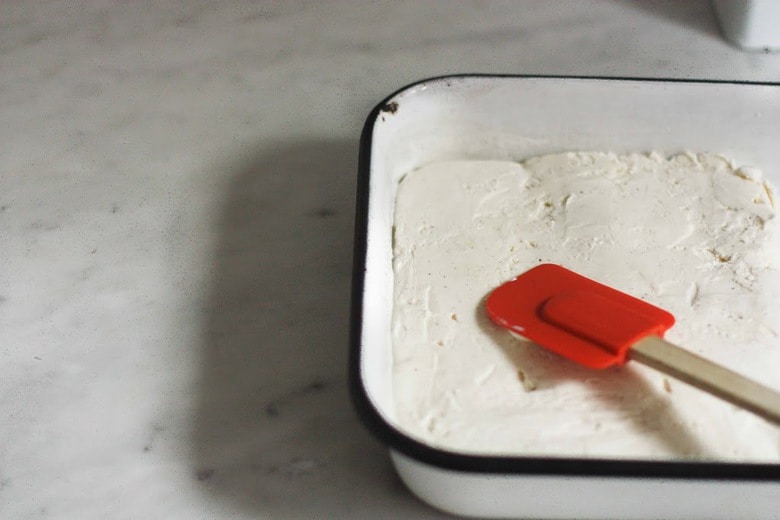 Cut out heart-shaped iced cream using the same cookie cutter. Spread out the ice cream into a sheet pan, 1-2 inches thick.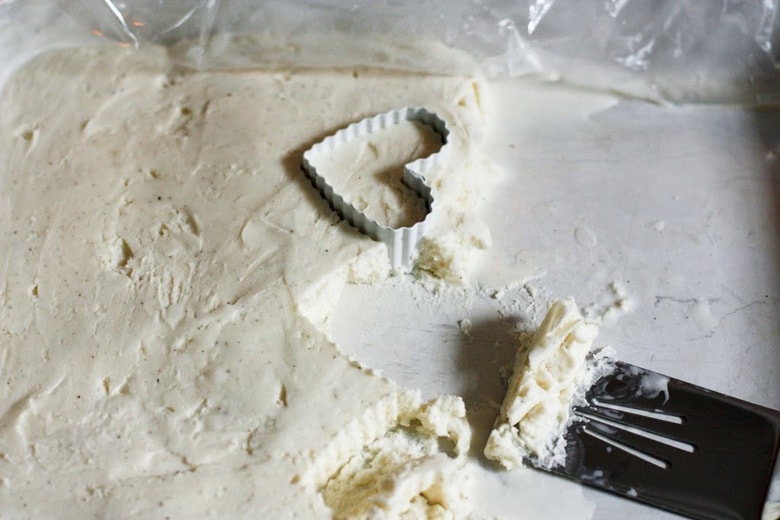 Then just stack the cookies and ice-cream.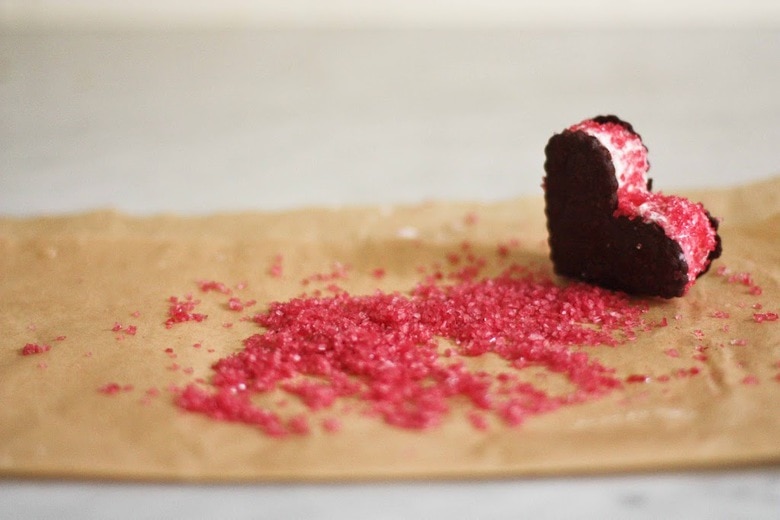 Roll in sprinkles!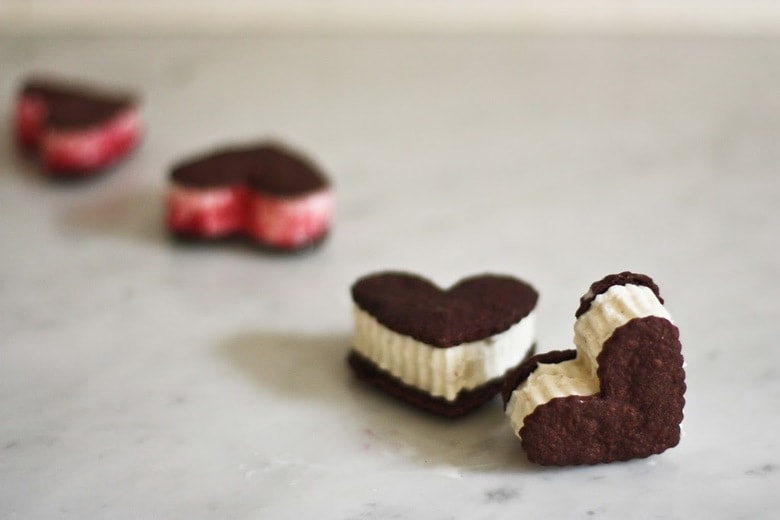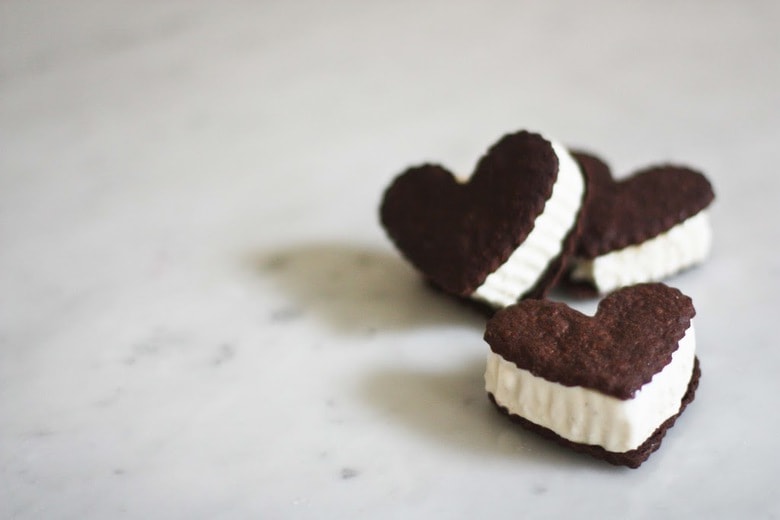 "Life will break you. Nobody can protect you from that, and living alone won't either, for solitude will also break you with its yearning. You have to love. You have to feel. It is the reason you are here on earth. You are here to risk your heart. You are here to be swallowed up. And when it happens that you are broken, or betrayed, or left, or hurt, or death brushes near, let yourself sit by an apple tree and listen to the apples falling all around you in heaps, wasting their sweetness. Tell yourself you tasted as many as you could."
Louise Erdrich, The Painted Drum 
Print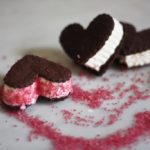 Heart-Shaped Ice-Cream Sandwiches
Prep Time:

30 mins

Cook Time:

20 mins

Total Time:

50 mins

Yield:

14

-

1

6

1

x

Category:

Dessert

Method:

baked

Cuisine:

pacific northwest
---
Description
Heart shaped ice cream sandwiches with a bittersweet double chocolate cookie…make an easy valentine treat.
---
1 1/2

sticks (12 tablespoons) butter, at room temperature

1/2

–

3/4

cup granulated sugar

1/2 cup

extra dark Dutch processed cocoa, sifted

1/2 Cup

ground bittersweet chocolate or mixed with some unsweetened chocolate (

2 oz

)

1

large egg

1 1/2 teaspoons

pure vanilla extract

1 1/8 cup

all purpose flour

1/4 tsp

salt
Vanilla Ice-cream for filling
Decoratoring Sugar
---
Instructions
In your stand mixer cream the butter and sugar on medium-high speed for several minutes until light and fluffy.
On low speed, add cocoa powder, scraping down the sides of the bowl occasionally. Then add the ground chocolate, vanilla and egg and mix on medium speed until thoroughly combined.
Add the flour on low speed, mixing until uniform and comes together like a dough.
Remove the cookie dough from the mixer, wrap in plastic and chill until firm about 1 hour or up to 3 days.
When ready to bake, pre-heat your oven to 350°F.
Remove dough from the refrigerator. If it is hard as a rock allow to stand at room temperature for a little while.
In a small bowl, mix together enough flour and cocoa to dust your cutting board and your dough to keep it from sticking (a mix of 50/50 flour/cocoa). Using cocoa powder to dust will keep the surface of your cookies dark looking.
Roll out your chilled dough to about 1/4″ thickness and cut out your shapes.  Arrange the cutouts on parchment paper or silpats. They don't tend to spread.
Bake for 10 minutes, until the surface is no longer glossy. Allow to cool completely on wire racks. They will be soft fresh out of the oven but will crisp up as they cool.
Once cool, place the cookies in a ziplock baggie or other container and freeze until ready to use.
Ice cream –
You can make your own home made version, or use store bought. In either case, spread out evenly on a sheet pan, about 1 inch thick and refreeze until hard.
Use the same cookie cutter as you used for the cookies. Place the cookie cutter in bowl of very hot water so it is warm. Quickly press down into the ice-cream. Using a metal spatula lift ice cream and cutter up, and carefully push the ice cream out.  Put the cookie cutter back in the hot water in-between each cut. Working quickly, assemble your sandwiches and put them back into the freezer. Dip in course sugar, wrap or decorate however you like.
---
---
Keywords: ice-cream sandwiches, homemade ice-cream sandwich recipes, valentines desserts, valentines day desserts