The next time you're craving pizza, skip delivery and instead craft your own pizza right in your backyard with one of the best outdoor pizza ovens!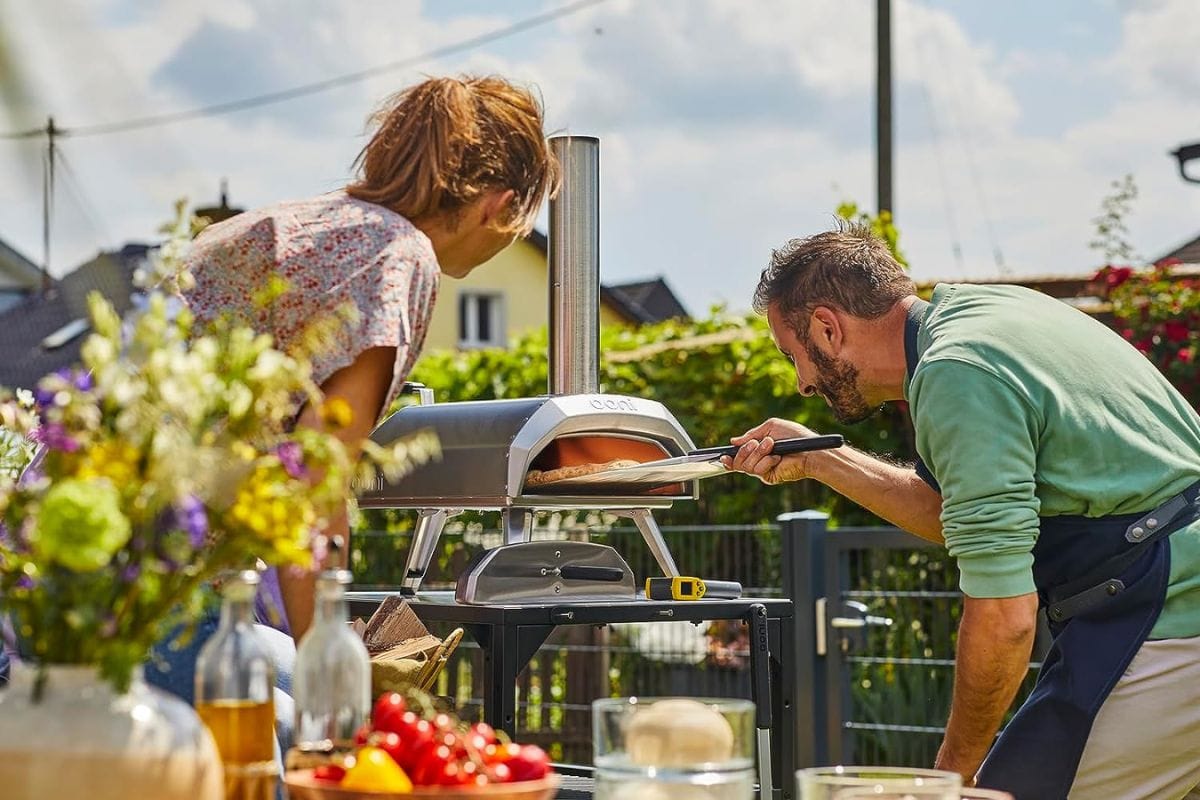 Whether it's a meal for one or a pizza party the whole family can take part in, homemade pizza is a great way to try new flavor combinations, use up ingredients in your refrigerator, and even have some fun! Compact and portable, pizza ovens are all the rage right now because they make it easy to craft gourmet pizza from scratch using delicious, seasonal ingredients.
In this guide to the best outdoor pizza ovens, I've researched the best options to suit every home chef's preference and cooking method — including wood-fired, gas-powered, and electric pizza ovens. Plus, I share everything you need to know about investing in a pizza oven for home, three of my favorite pizza recipes, and even the best way to reheat pizza (you'll never use the microwave again)!
My Top Picks:
Reviews of the Best Outdoor Pizza Ovens
1. Best Electric Pizza Oven: Ooni Volt 12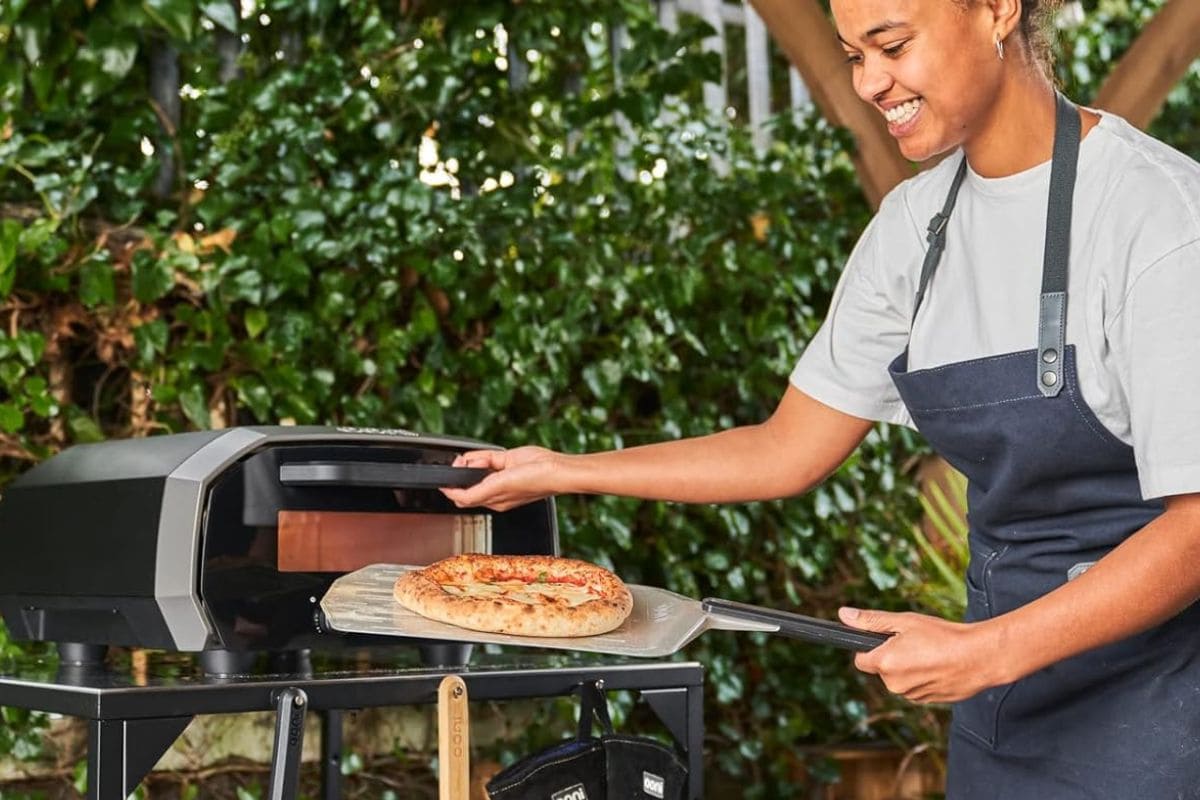 I love the versatility of the Ooni Volt 12, which in my book, puts it a notch above similar electric pizza ovens. The only pizza oven on our list that's rated for both indoor and outdoor use, the Volt is a compact oven that reaches 850°F in just 20 minutes. Cook fresh, stone-baked pizza in just 90 seconds, and use "boost mode" to balance temperature and recharge your baking stone between pizzas.
The steel shell is insulated for maximum heat retention and powder-coated for weather resistance in case weather rolls in while you're cooking outside. Set this electric pizza oven up on any flat surface, but don't forget to place a trivet or heat-resistant pad beneath it to protect tables and countertops.
The Specs:
Fuel type: Electric
Pizza size: 12 inches
Top temperature: 850° Fahrenheit
Time to heat: 20 minutes
Weight: 39.2 pounds
Includes: Pizza stone
The Pros:
Indoor/outdoor use
Built-in handles for easy transport
Built-in timer, temperature control, and boost mode
Easy to clean
The shell and door stay cool to the touch
Weather-resistant outer shell
The Cons:
Heavy
Small door opening
No built-in thermometer
Buy the Ooni Volt 12:
2. Best Wood-Fired Pizza Oven: Solo Stove Pi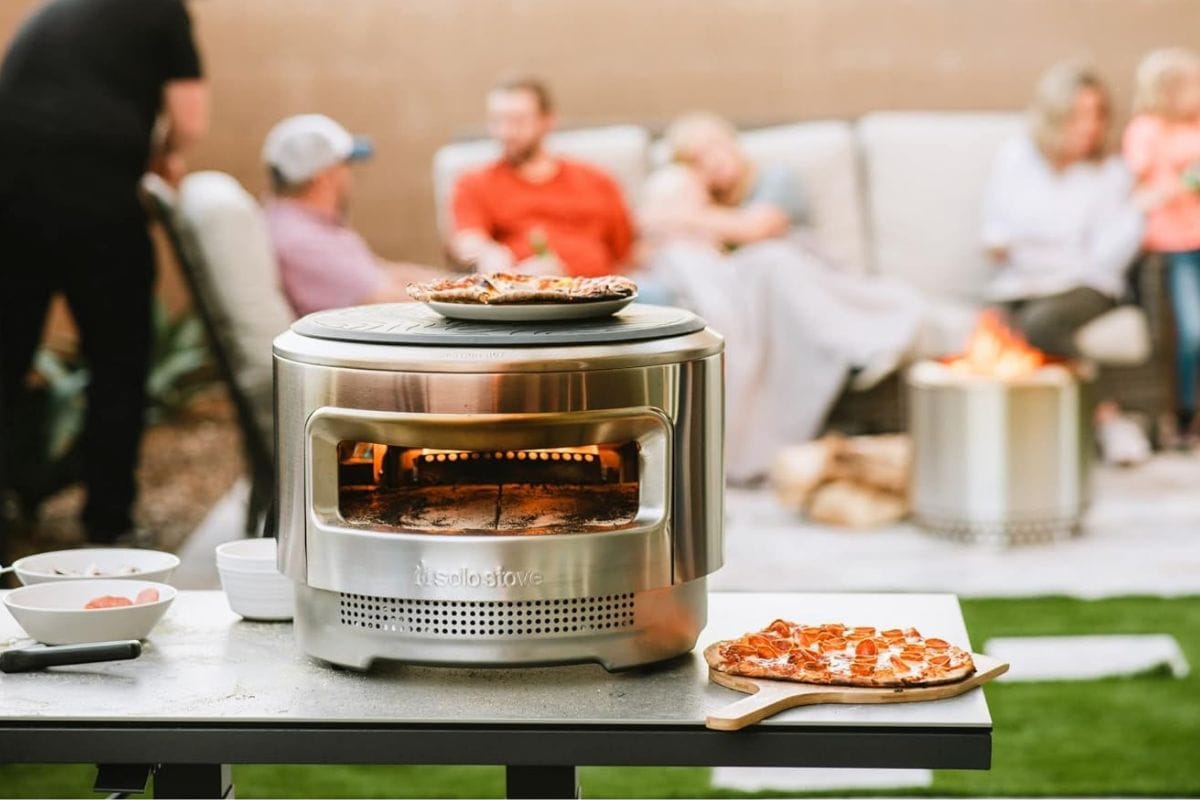 The Solo Stove Pi is, essentially, a pizza oven version of the popular Solo Stove portable camp stoves. Made from stainless steel, the Pi has the same sleek, dome-shaped design and portability that Solo's backyard fire pits are known for, but it produces wood-fired pizzas.
I love it because even apartment dwellers can enjoy delicious pizzas with an oven that takes up minimal space on patios or small balconies. Additionally, the optional gas burner means you can still bake up a pizza pie if you're out of wood but have propane handy.
The Specs:
Fuel type: Dual-fuel capable; wood (standard) or propane (optional add-on)
Pizza size: 12 inches
Top temperature: 850° Fahrenheit
Time to heat: 15 minutes
Weight: 30.5 pounds
Includes: Pizza stone
The Pros:
Kiln-dried wood is easy to source
Easy to set up
Easy to clean
The Cons:
No carrying handles
Must sit on a heat-resistant surface
Buy the Solo Stove Pi:
Ooni pizza ovens are popular because they're well-made and consistently produce perfect pies, and the Ooni Koda 16 gas-powered outdoor pizza oven is no exception. Simply flip open the collapsible legs, connect the oven to a propane tank, and in just 15 minutes the Ooni Koda 16 will be ready to cook. Plus it can reach temperatures up to 950°, so you can easily achieve a perfectly blistered and crispy crust. The 16-inch size is large enough for calzones, extra-large pizzas, and flatbread, and more.
Although this model can make larger-sized pizzas, it's still fairly lightweight for easy transport (just 20 pounds), but you'll need to tote a propane tank along with it (or a natural gas conversion kit can be purchased separately). When it's time to put the Koda away, the legs fold in to take up less space.
The Specs:
Fuel type: Propane gas
Pizza size: 16 inches
Top temperature: 950° Fahrenheit
Time to heat: 15 minutes
Weight: 40.1 pounds
Includes: Pizza stone board
The Pros:
Burns clean (no fuel residue)
Lightweight
Easy to store
The Cons:
No built-in thermometer
Gas only: No dual fuel option
Buy the Ooni Koda 16: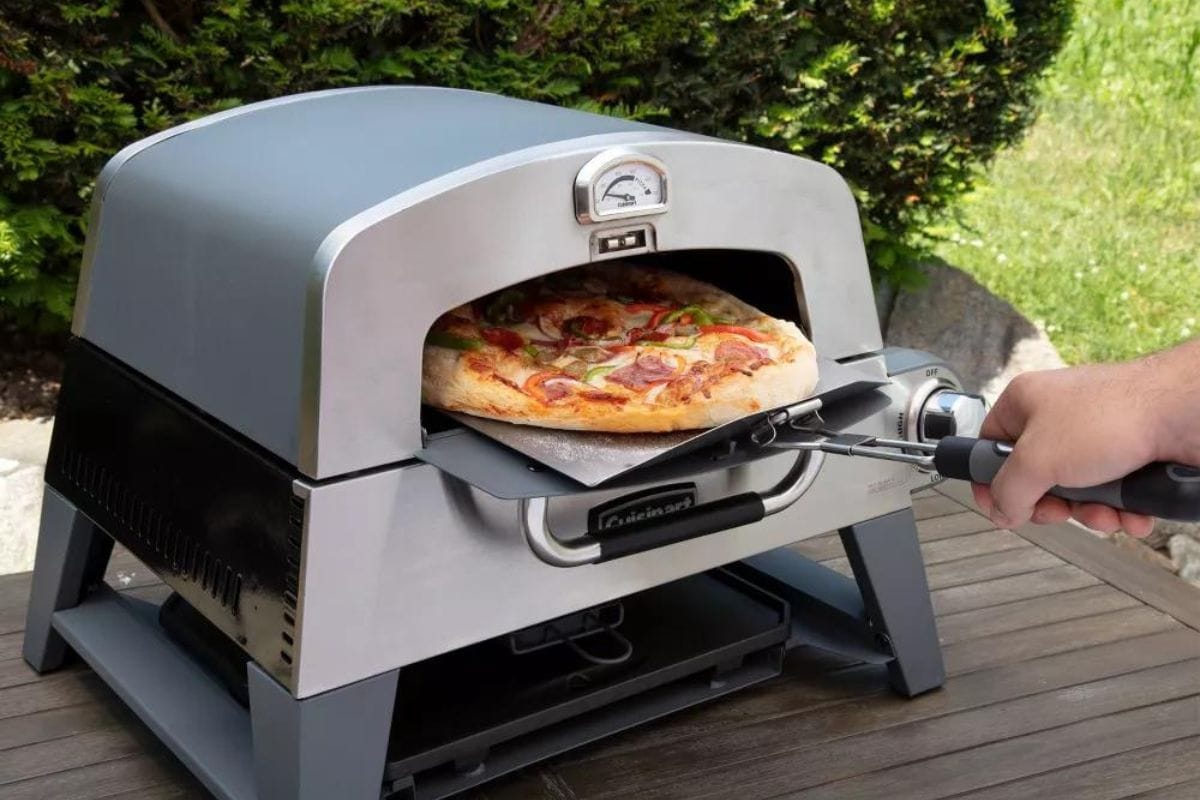 This 3-in-1 unit combines an outdoor pizza oven, griddle, and grill in a single appliance. Specifically, this means that not only do you get a cordierite pizza stone, but you also get a cast-iron griddle and grill plate for cooking things other than pizza. This unit also has a built-in thermometer that makes it easy to know when the pizza oven is ready to cook.
Plus, the dual-hinged lid opens up like a grill, and another, smaller door flips down for the pizza oven, ensuring minimal heat loss while cooking. The Cuisinart 3-in-1 features a built-in storage shelf for stashing the various cooking surfaces. In addition, it also comes with a hose that connects to a 20-pound propane tank so you can go longer between refills.
The only downside to the Cuisinart 3-in-1 is that its max temperature is only 700°, which means it takes longer for pizzas to cook, and you won't get the blistered crust that some cooks prefer.
The Specs:
Fuel type: Propane gas
Pizza size: 12 inches
Top temperature: 700° Fahrenheit
Time to heat: 15 minutes
Weight: 45 pounds
Includes: Griddle and Grill plate, built-in thermometer
The Pros:
Dual-hinged lid
Packs down for compact storage
Includes drip cup for grilling
The Cons:
Takes longer to heat up than other ovens
Pizza stone can be difficult to clean
Heavy
The top temperature is lower than other options
Buy the Cuisinart 3-in-1 Pizza Oven Plus:
5. Best Portable Pizza Oven: Ooni Karu 12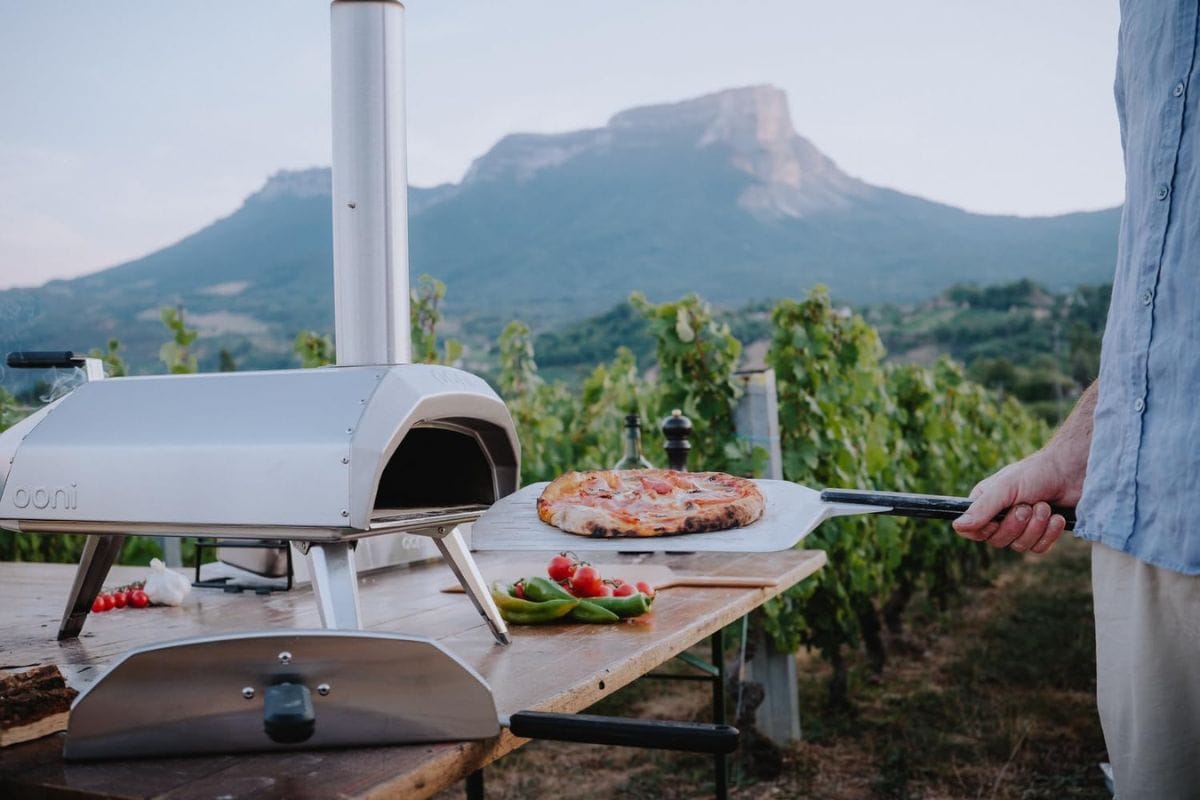 The Ooni Karu 12 is a small pizza oven that weighs only 26 pounds with a removable chimney and foldable legs for easy transport and storage. Additionally, Ooni also offers an optional carry case to make it even more portable. This model is dual-fuel capable with wood or charcoal as the standard option, so you don't have to cart a heavy propane tank with you.
Keep in mind, however, that the Karu 12 is highly portable because it's small, which means you can't make pizzas larger than 12 inches in this outdoor pizza oven. If you need a larger size, the Karu 16 is similar and can cook up to 16-inch pizzas.
The Specs:
Fuel type: Dual fuel; wood or charcoal (standard), detachable propane gas burner (optional add-on)
Pizza size: 12 inches
Top temperature: 950° Fahrenheit
Time to heat: 15 minutes
Weight: 26.4 pounds
Includes: Pizza stone
The Pros:
Flexibility to switch between fuels
Cooks pizza in 90 seconds
Lightweight
The Cons:
Not compatible with wood pellets
Needs a spot with room for the chimney to vent properly
Optional gas burner sold separately
Buy the Ooni Karu 12: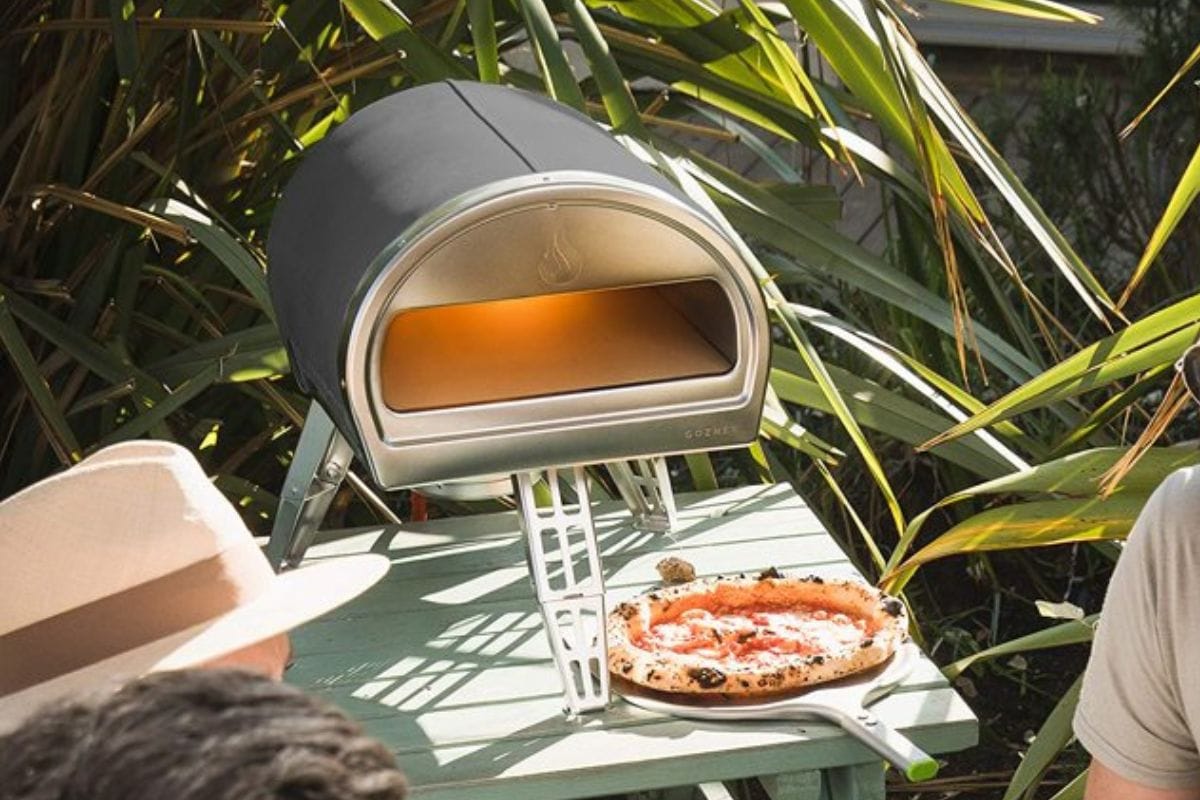 Several of my readers recommended Gozney RoccBox! It's a restaurant-grade, dual-fuel outdoor pizza oven that has cultivated a fan following–and for good reason. It packs high-quality features into a portable pizza oven that gets to temperature and cooks perfect pies in no time. Another huge advantage of the Gozney (that the Oonie pizza ovens don't have), is that it includes a built-in temperature gauge
Compared to its pricier counterpart, the Gozney Dome, and other dual-fuel pizza ovens I researched, the RoccBox's affordable price point and included accessories make it one of the best backyard pizza ovens for home chefs to get started with making craft pizzas.
The Specs:
Fuel type: Dual-fuel capable; propane/butane gas burner (standard), detachable wood/charcoal burner (optional add-on)
Pizza size: 11 inches
Top temperature: 950° Fahrenheit
Time to heat: 20 to 30 minutes
Weight: 44 pounds
Includes: Built-in thermometer, professional pizza peel
The Pros:
Compact
Safe-touch exterior prevents burns
Retractable legs for easy transport
The Cons:
Heavier than other portable pizza ovens
Temperature control has a learning curve
Can be difficult to clean
Takes longer to heat up
Buy the Gozney RoccBox:
Other Outdoor Pizza Ovens We Researched
Ninja Woodfire 8-in-1 Outdoor Oven
Ninja is well known for excellent products, and their Woodfire 8-in-1 outdoor oven is no exception. This appliance can handle pizza, max roast, specialty roast, broil, bake, smoke, dehydrate, and keep food warm. It's an electric oven, but you can add ½ cup of wood pellets to infuse wood-fired flavor. The Ninja Woodfire 8-in-1 Outdoor Oven is available on Amazon for $342.
The top-of-the-line Fontana Forni Mangiafuoco is a wood-burning outdoor pizza oven that can cook pizza, meat, vegetables, bread, and desserts. It comes with a removable oven door, wood holder, and cooking stones, and can be installed on the countertop of an outdoor kitchen or mounted on the included cart. It's as close to a commercial pizza oven as you can get while still being a home chef. This one tops out at 246 pounds, so it's not as portable as they claim it to be, but the cart has wheels, so you can easily roll this pizza oven on any flat surface. The Fontana Forni Mangiafuoco is available on Fontana for $3,299.
This little electric pizza oven cooks 12-inch pizzas with seven pre-set functions, including wood-fired, New York, pan, thin and crispy, and even handles frozen pizzas like a champ. The Pizzaiolo has a short power cord and is technically rated for indoor use, but users have reported using it outside with success. The Breville Smart Oven Pizzaiolo is available on Amazon for $999.95.
Camp Chef Italia Artisan Pizza Oven
This portable outdoor pizza oven features a built-in heat gauge making it easy to monitor temps and adjust as needed. It uses propane gas to replicate the performance of a wood-fired brick oven and preheats in 15 minutes. But at 48 pounds, there are other gas or dual-fuel pizza ovens that are lighter. The Camp Chef Italia Artisan Pizza Oven is available at Target for $227.99.
Bertello Grande 16" Outdoor Pizza Oven
Seen on Shark Tank, the Bertello Grande has great reviews from pizza lovers. It heats up to 900° with gas and cooks pies up to 16 inches. Chefs have the option to add wood for authentic, wood-fired flavor. But the Grande lives up to its name in terms of size, weighing in at 66 pounds. It's portable, but not easily so. The Bertello Grande 16" Outdoor Pizza Oven is available on Amazon for $549.99.
If you prefer wood pellets to actual hardwood, the Ooni Fyra 12 is a great option for an outdoor pizza oven. It heats up in 15 minutes, reaches temps of 950° and cooks a pizza in just 60 seconds. It's lightweight, too, at just 22 pounds. The Fyra uses a gravity-fed pellet hopper, and hardwood pellets are lighter and less bulky than wood, which may be a plus if you're low on storage space.. You can buy pellets from Ooni, so it requires some planning to ensure you're stocked up. When it comes down to it, wood and gas are easier fuels to source on the fly. The Ooni Fyra 12 is available on Amazon for $307.88.
If you already have a traditional Solo Stove fire pit, you can convert it to an outdoor pizza oven by purchasing the Pi Fire as an optional attachment. The Pi Fire is designed to sit atop your classic Solo fire pit, and turns out beautiful wood-fired pizza. It comes with a carrying case and heat-safe gloves so you can take your Pi Fire on the road (along with your Solo stove). The Pi Fire is available at Amazon for $259.99.
What to Know About Outdoor Pizza Ovens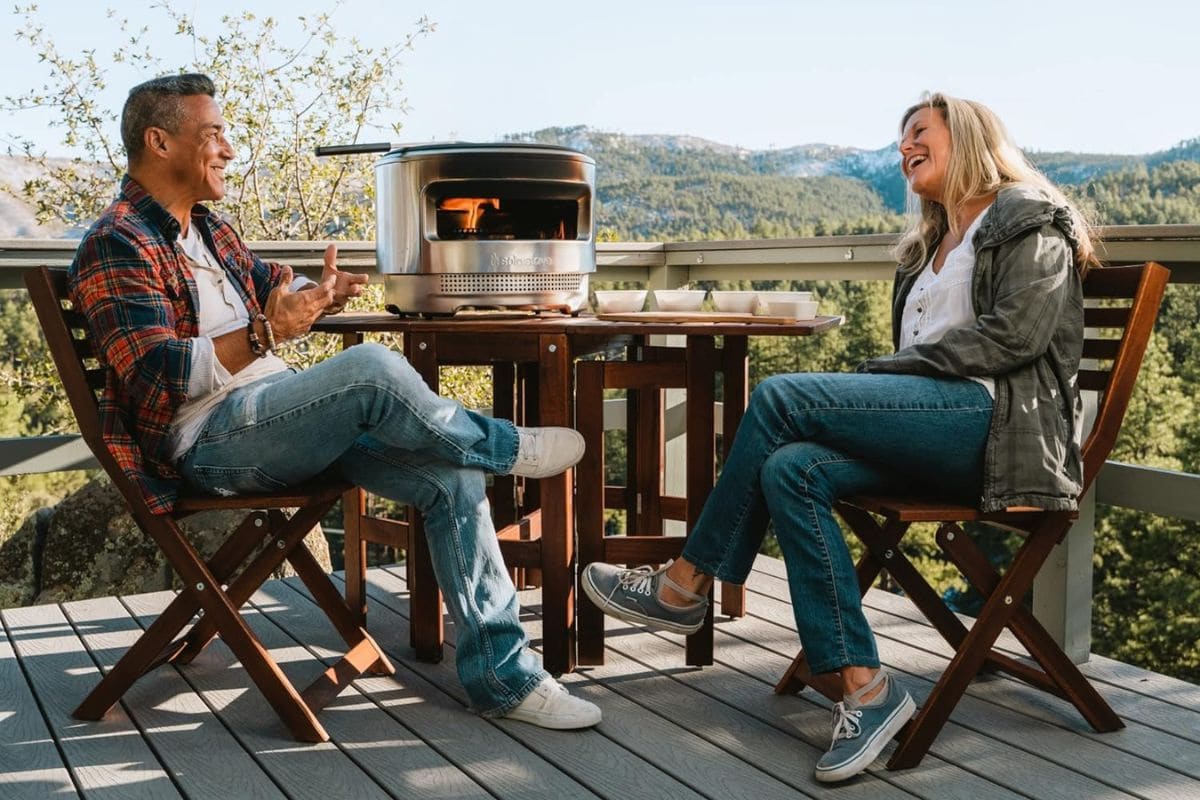 WHAT TO CONSIDER WHEN BUYING AN OUTDOOR PIZZA OVEN
Type: It's important to pay attention to the fuel type of the oven you're considering, because not all are interchangeable, and some that are dual-fuel capable require additional investment in an optional gas burner.
Wood, charcoal, and gas are the easiest to find in stores. Untreated, kiln-dried wood is best for wood-burning pizza ovens. Gas-burning ovens will specify whether butane or propane is best. It's worth noting that butane has a tendency to produce a sootier flame, which can affect the flavor of your pizza. Hardwood pellets are also a fuel type you'll see for outdoor pizza ovens. Hardwood is preferable to softwood because it burns slower and is better suited to maintaining heat for longer, which is important for cooking pizza.
Size: The size of your outdoor pizza oven will depend on the space where you're planning to use it. All pizza ovens require a sturdy surface. Some pizza ovens are bulkier and heavier than others, so bear this in mind as you're moving it from storage to the spot where you'd like to cook. After all, it's best not to leave your pizza oven exposed to weather when not in use. Also, some ovens require access to electrical outlets or may need more headroom for a chimney, so ensuring your oven has space to operate safely is key.
Features: Some outdoor pizza ovens include a handful of accessories, such as a pizza peel, pizza cutter, or built-in thermometer, (otherwise you may want to purchase an infrared temperature gun). The extras can add up to the overall cost, so keep an eye out for whether or not the pizza oven you're considering includes these or not. If it doesn't include a pizza peel, you'll definitely want to buy one separately. These large, spatula-like tools can be made from wood or metal and are needed to insert, turn, and remove pizzas from the oven.
Do You Need to Use Pizza Stones with Outdoor Pizza Ovens?
Pizza stones allow for a higher heat transfer that mimics that of a traditional brick oven, allowing the pizza to cook evenly and the crust to be crispy. Although there are some workarounds in a pinch, like a cast-iron pan or an aluminum sheet (if you can find one that fits the oven), it won't offer the same results.
All of the top pizza ovens I've researched come with a pizza stone that is designed to fit into the oven and withstand its maximum temperature. If you need to replace the stone at any point, it's best to reach out to the manufacturer of your pizza oven.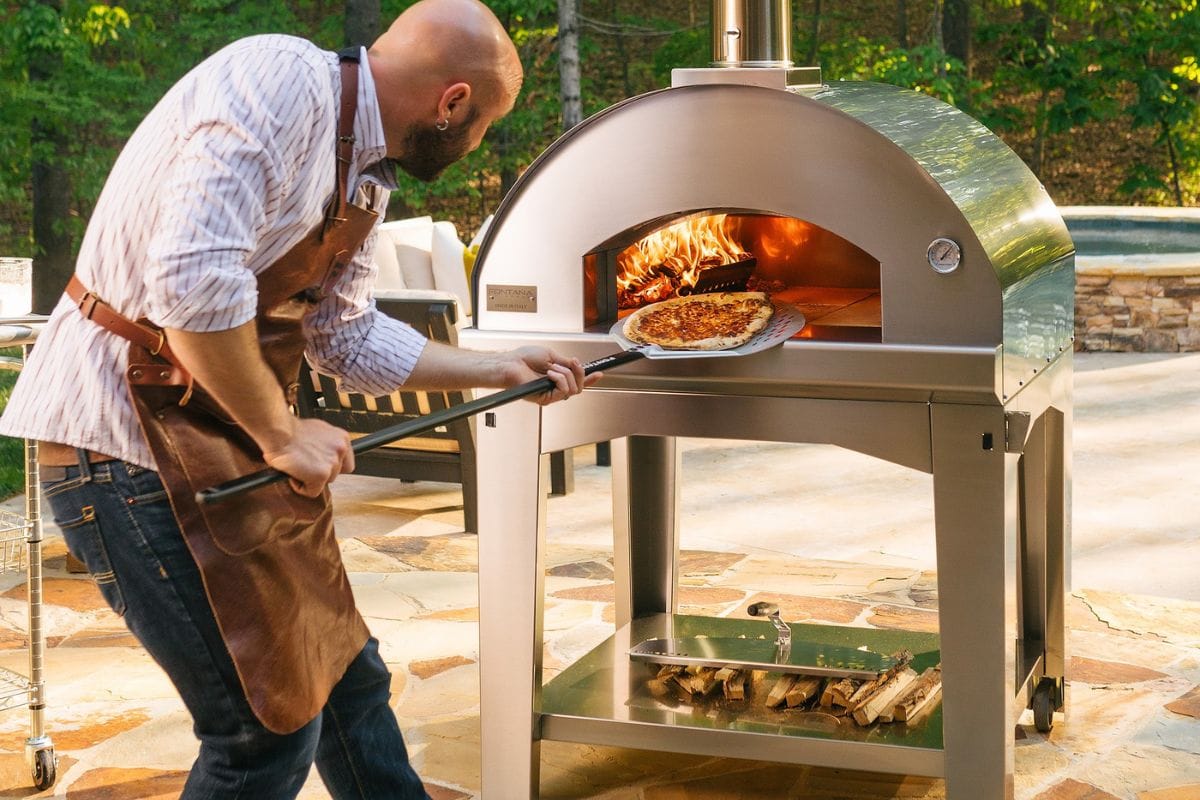 How Much Does an Outdoor Pizza Oven Cost?
Plenty of things can affect the price of an outdoor pizza oven, including size, materials used to build the oven, added features, oven type, and even the brand name. An entry-level pizza oven can start in the high $100-$250 range. There are many very nice outdoor pizza ovens in the $300-$500 range. And, there are ovens that are in the $1,000 and up range.
Are Pizza Ovens Worth It?
For people who love pizza and eat it regularly, getting an outdoor pizza oven for home is worth it. Plus, pizza ovens can cook more than just pizza. Indoor pizza ovens rely solely on electricity, and while the heat is consistent, it might not lend that wood-fired flavor that pizza enthusiasts enjoy. Outdoor pizza ovens can work with electricity, gas or wood, and lend a more authentic flavor.
If you don't need your pizza oven to be portable, it is possible to build a pizza oven yourself. There are kits like this one from Home Depot for $1,599.
Which Ooni Pizza Oven Is Best?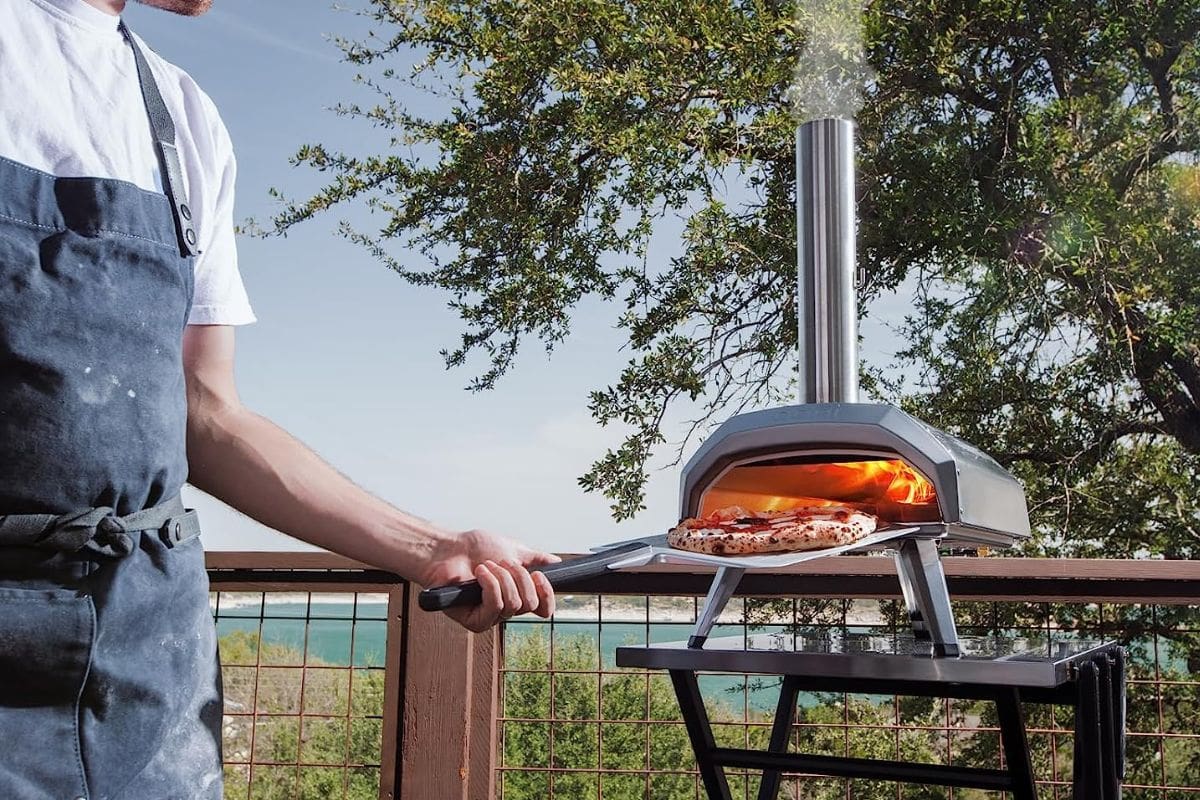 Ooni definitely has a firm grip on the pizza oven market. And for good reason: their pizza ovens are consistently great in terms of high-quality materials and the quality of the pizzas they cook. They also offer a variety of add-on accessories like grill pans and cast-iron cookware, so you're not limited to pizzas. It's impossible to say which Ooni pizza oven is best simply because each home chef's needs are subjective.
When considering an Ooni pizza oven for yourself, you'll want to take into account the size and fuel type. Do you want something that can sit on a table and plug into an outlet on your deck, or something that burns wood for an authentic, wood-fired flavor? Would you prefer to cook with gas because it's consistent and easy to buy nearly anywhere? What about taking your Ooni pizza oven to a picnic in the park or on a camping trip? Deciding on the answers to these questions will help you pick the best Ooni pizza oven for your needs.
How to Reheat Pizza
Because pizza ovens can get really hot for quick cooking, you might not want to use it for reheating pizza because it can dry out the slices. However, reheating in a standard oven can also result in dry pizza, and the microwave can make the crust soggy. There's a better way, and you already have the tools you need in your kitchen.
My favorite way to reheat pizza is in a skillet. Simply heat the skillet over medium heat for a few minutes, then place the cold slice of pizza and cook uncovered for four minutes. Then add a teaspoon of water to one side of the skillet, lower the heat, and cover the skillet, allowing the pizza to cook for a few more minutes. This will result in a perfectly crispy bottom, soft crust, and warm cheese and toppings that taste just as good as when it was fresh out of the pizza oven.
The Best Pizza Recipes
This Sourdough Pizza Crust is chewy, crispy, and super flavorful. Even if you usually focus on the toppings, I guarantee you'll finish every last bite of this sourdough crust. Eat it plain or dip it in extra virgin olive oil seasoned with salt, red pepper flakes, and grated parmesan.
I love this Caprese Pizza recipe in summer. Juicy in-season tomatoes, fresh mozzarella, basil leaves, and a drizzle of balsamic glaze elevate it from an appetizer to a light meal on a pizza crust. Add prosciutto for even more flavor.
Grilled Pizza with Figs is a vegetarian creation that is so tasty, even meat lovers will reach for another slice. A wood-fired pizza oven adds to the rich combination of flavors that are perfect in cooler, autumn months.
Prices were accurate at the time of publication.