Light and airy Artichoke Souffle with Goat Cheese and thyme! Made with fresh (or frozen) artichoke hearts- these make for an elegant and delicious appetizer.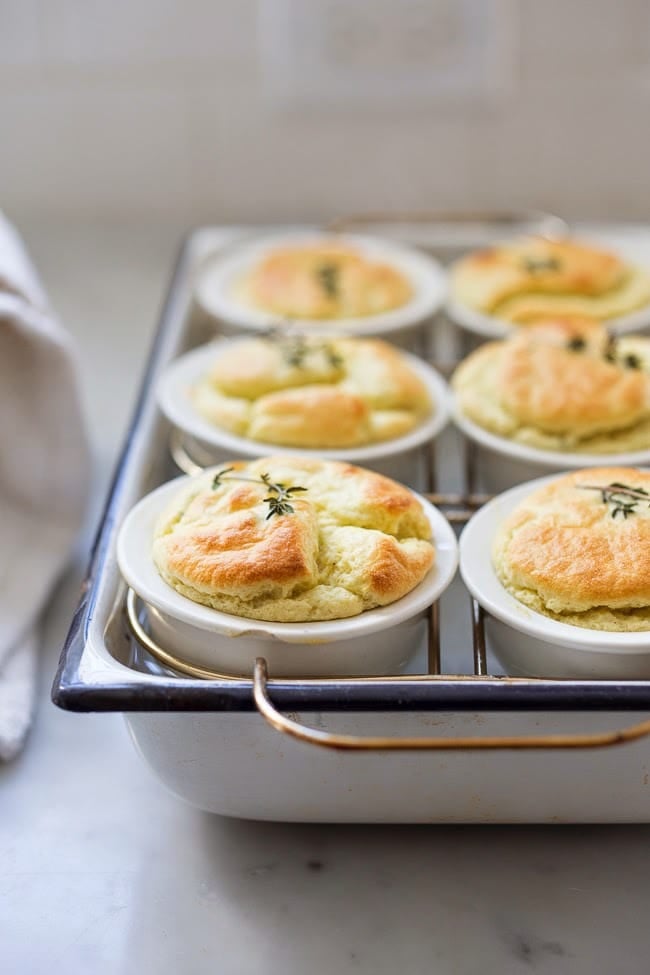 Golden topped soufflés with fresh artichoke hearts, goat cheese and thyme are savory, delicious and decadent. They make wonderful spring appetizers, or pair them with a crunchy and refreshing fennel salad for a light lunch or dinner. As daunting as  soufflés sound, if you understand the concept, and follow the directions, they are pretty fail-safe. They are delicious little guys and really also really fun to make.  You can use fresh artichoke hearts- or to save time use canned artichokes hearts (packed in water) or frozen artichoke hearts.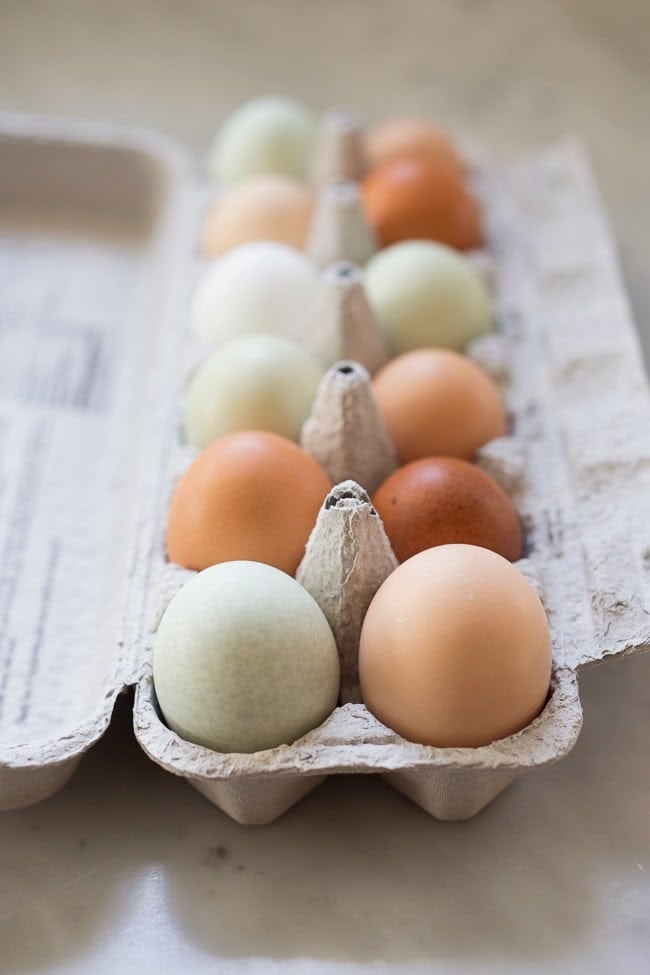 No single ingredient has taught me more about cooking- than eggs.  Understanding the culinary potential of eggs, gives us so many added tools in the kitchen.  For example, egg whites, when whipped, become "air holders" bringing lightness and structure to other ingredients- like in this Artichoke Souffle recipe.
When heated, the air molecules trapped in the egg whites expand even further, causing things like cakes and soufflés to puff up and rise. Witnessing this first hand is a magical experience and I believe, one of the true joys of baking.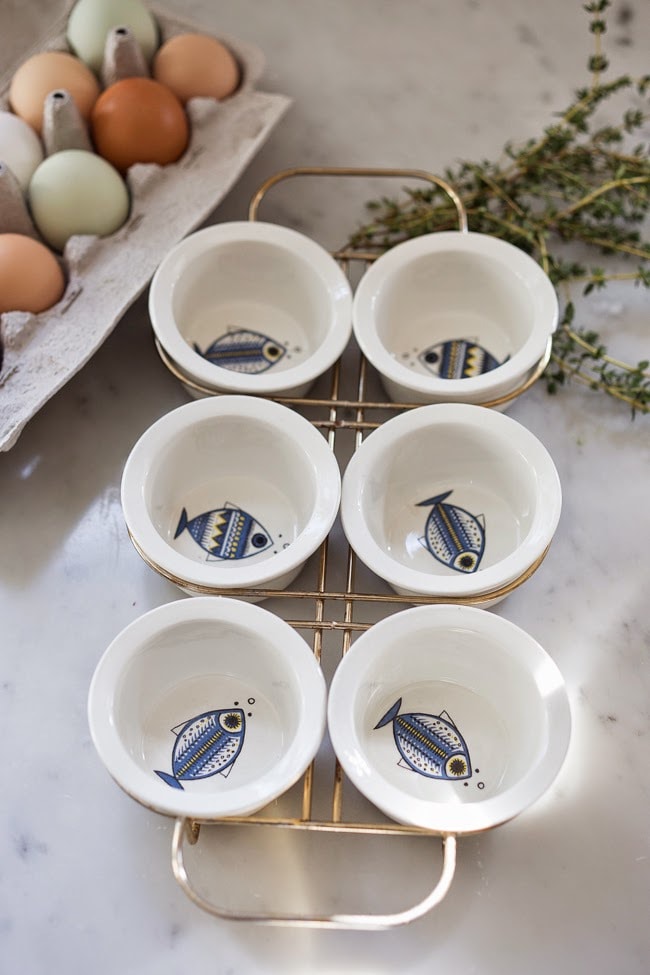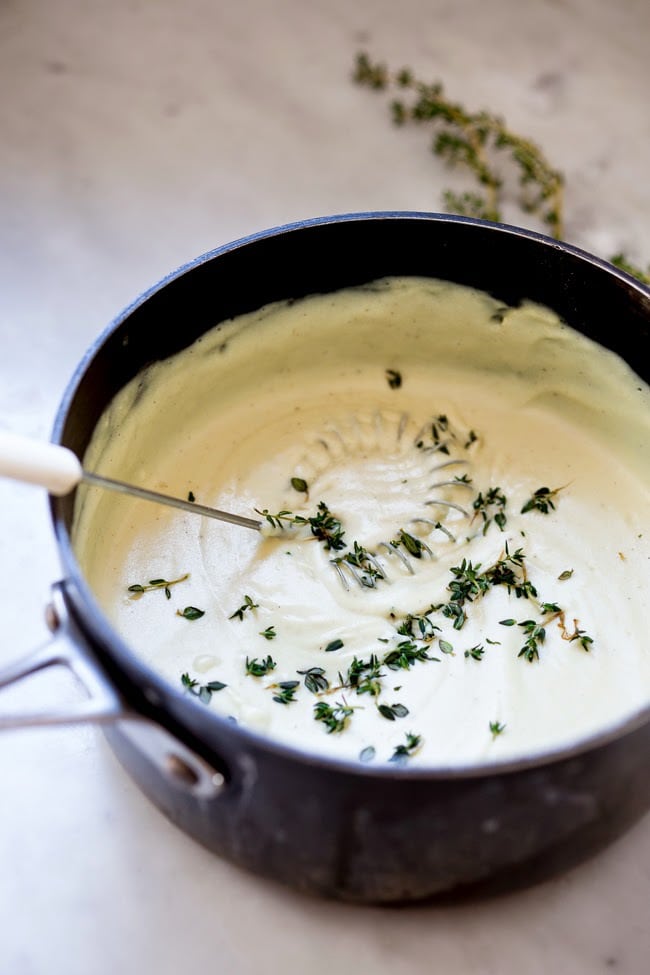 A savory souffle is basically, taking the classical béchamel sauce ( flour, butter, milk, cheese ) and folding in whipped egg whites and yolks.
The whipped whites make the soufflé rise, while the yolks add richness. You can flavor a soufflé  any way you choose.  For this, I blended up artichoke hearts into a very smooth puree and added it to the bechemal along with thyme and goat cheese. But I could have just as easily added chopped blanched asparagus,  sauteed spinach,  roasted mushrooms,  or even bacon crumbles and cheddar cheese.  As long as the base of the béchamel is flavorful, the soufflé will be too. It's a lovely vehicle for highlighting seasonal ingredients.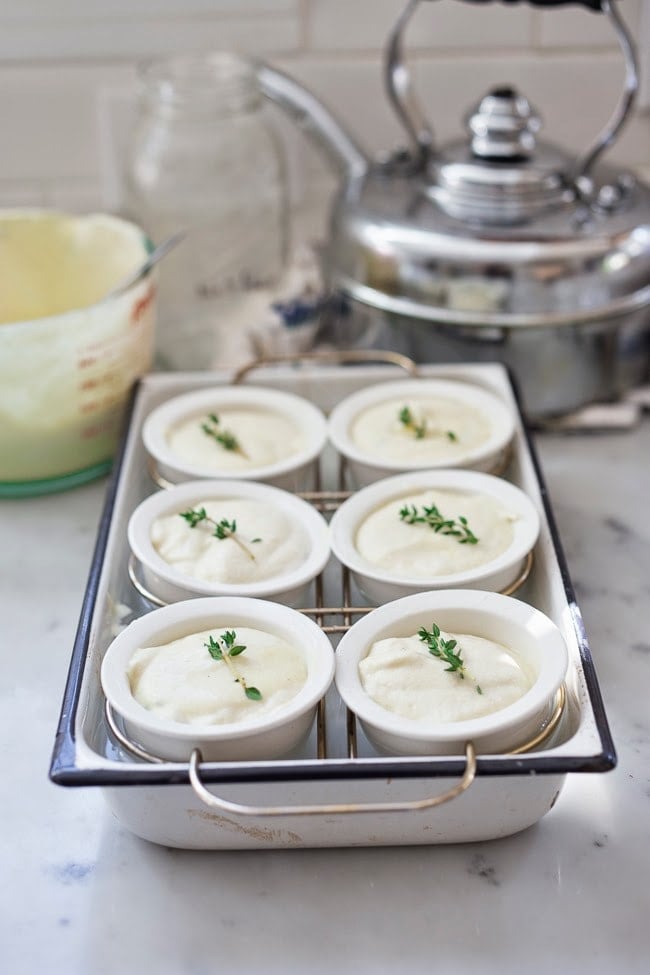 Remember to place the artichoke soufflé in a hot water bath, before placing in the oven, to ensure even cooking.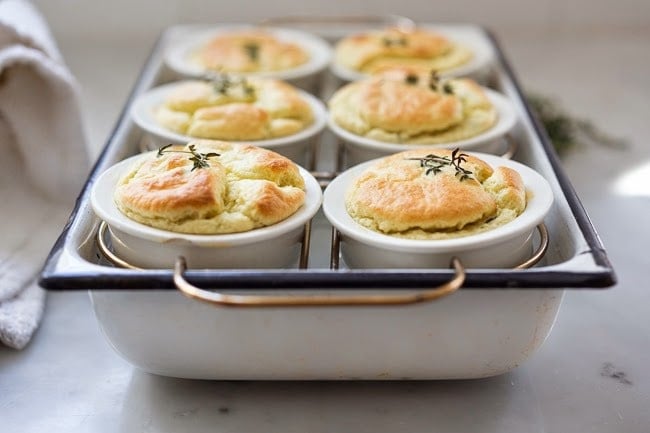 Enjoy!
Print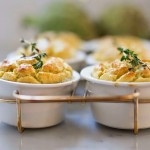 Artichoke Souffle w/ Goat Cheese and Thyme
Author:

Sylvia Fountaine

Prep Time:

30

Cook Time:

25

Total Time:

55 minutes

Yield:

8

1

x

Category:

Appetizers

Method:

Baked

Cuisine:

French
---
Description
Artichoke Souffles with goat cheese and thyme, a delicious appetizer featuring artichokes!
---
4 fresh large artichokes (or 1 1/2-2 Cups Canned artichoke hearts- packed in water, drained- or use frozen)
4

extra large eggs, separated
1

C half and half , or whole milk
3

T butter + extra for ramekins
3

T flour + extra for dusting ramekins
1/4

cup

goat cheese or any other melting cheese
1/2 tsp
Salt
1/4 tsp
white pepper
pinch nutmeg
1

T fresh thyme leaves
---
Instructions
If using fresh artichokes, trim artichokes and cook in boiling salted water until tender about 1 hour depending on size. Drain, remove outer leaves and remove fuzzy choke and reserve the heart (fleshy center part) and 1 inch of the tender stem.
Preheat oven to 400F.
In a blender, blend artichoke hearts with half and half, until very smooth.
In a small pot, over a medium heat, melt butter and add flour. Whisk until smooth and cook one minute, careful not to brown. Gradually add cream/artichoke mixture, whisking constantly until it thickens.Once thickened, turn heat to low, add salt, pepper, nutmeg. Simmer 5 minutes. Stir in goat cheese and thyme. Turn heat off. Separate the egg whites from the yolks. Place the whites in a mixer. Place the yolks in a small bowl, and temper them (warm them up)  by adding tablespoon or two of the warm artichoke mixture to the yolks, to warm them up gently, mixing with a fork. Add the tempered (warmed) yolks to the artichoke mixture, gradually, whisking to combine. Set pot aside, let cool. You can make these ahead up to this point, leave at room temp for two hours or refrigerate over night. Boil 1-2 quarts of water- I like to use a teapot – for the hot water bath.
Beat the egg whites in a mixer or large bowl until foamy. Add a pinch of salt then continue whisking until medium stiff peaks form. Do not over beat, you want them stiff, but not too dry. Gently fold egg whites into the room temp artichoke mixture.
Grease eight 2 inch ramekins with butter and dust with flour on all sides including base. Fill the ramekins to 1/2-inch from the top with artichoke mixture. Top with sprig of thyme. Place ramekins inside another baking dish and fill with the hot water so the water comes half way up the outside of the ramekins, creating  a hot water bath. Bake in 400F oven for 10 minutes, turn heat down toe 350, and continue baking for 15 minutes. minutes.
Serve immediately. They will begin to deflate, once they are removed from the oven, so plan accordingly. Even though they will deflate, they will still taste good the next day–and can be reheated right in the ramekin.
---
Nutrition
Serving Size:
Calories:

178

Sugar:

2.5 g

Sodium:

336 mg

Fat:

11 g

Saturated Fat:

6.2 g

Carbohydrates:

12.2 g

Fiber:

4.7 g

Protein:

9.8 g

Cholesterol:

114 mg
Keywords: artichoke soufflé, artichoke quiche, artichoke souffle recipe, artichoke appetizer, artichoke appetizers