Crispy Teff Cakes with Wilted Chard & Fresh Tomato Relish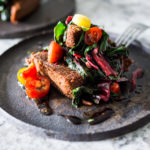 A healthy, vegan dinner recipe that is full of protein and nutrients!  A delicious, easy and savory way to prepare teff, the world's smallest ancient grain and incorporate it into our everyday meals. * THIS RECIPE REQUIRES 4 HOURS "cooling time" to set up properly.
Scale
Ingredients
1 tablespoon

olive oil

1

shallot, finely chopped

2 1/2 cup

s water or broth

1 1/2 cup

s teff ( whole grain,

not flour

)

1 teaspoon

salt

1 teaspoon

Herbs de Provence or Italian seasoning

1 teaspoon

granulated garlic
——

1 tablespoon

olive oil

4

cloves garlic, rough chopped

1

bunch chard chopped.

3 tablespoon

s white wine
salt and pepper to taste
———

1 cup

cherry tomatoes, halved or sliced

1/4 cup

Italian parsley ( or cilantro or basil) chopped

1 tablespoon

olive oil

1 tablespoon

balsamic
pinch salt and pepper
Instructions
In a medium pot, heat oil over medium heat. Add shallot and saute until fragrant and deeply golden. Add water, teff, salt, spices and whisk until smooth. Bring to a boil. Reduce heat to medium-low, cover and cook 15 minutes, or until teff is tender (yet still intact) and when stirred has a consistency of a thick porridge.
Grease an 8×8 inch baking dish with olive oil. Give teff a good stir and pour into the baking dish. Using an oiled spatula, smooth the top. Let this cool and place into the fridge until it sets up and is firm, about 4 hours (or overnight). If making ahead see notes.
Once teff is cooled and firm, cut into four squares. Remove cakes, then cut each into two triangles. ( See notes, for appetizer version.)
Pan fry the teff cakes in a skillet, with a little oil, over medium heat, until crispy and heated through, about 5-6 minutes on each side. Place in a warm oven if you like. (Alternately you can bake these on a greased, parchment-lined sheet pan– 20 mins @400F .  Brush the tops with olive oil. )
Wipe out the skillet, heat 1 tablespoon oil over medium heat and add garlic, stirring until golden, about 2-3 mintues. Add Kale and gently wilt. Add a splash of white wine and season with salt and pepper. Set aside.
Make the tomato relish. Place tomatoes, tparley, olive oil, balsamic in a small bowl and mix. Season with salt and pepper.
Assemble: Place the warm, crispy teff cakes ( 2 triangles per person) on a plate, layering with the chard. Divide the tomato relish over top, spooning any remaining dressing on or around the cakes. Serve immediately!
Notes
These Teff Cakes may also be served as an appetizer, cutting the triangles in half again. Top each triangle with a little chard and tomato relish. Serve on a platter or
cheese board
with a mini fork sticking out of it.
If making the teff cakes ahead, once they have cooled for a couple hours in the fridge, cover tightly with
plastic wrap
to prevent cracking or drying out.
Keywords: teff recipes, teff recipes savory, Teff Cakes, teff recipes vegan, savory teff recipes, teff recipes dinner,