Lemony Brussel Sprout Salad with Pistachios and Tahini Sauce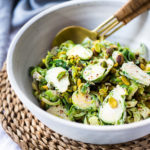 Lemony Brussel Sprout Salad with Tahini Dressing and Pistachios – a tasty, vegan salad that can be made ahead. Perfect for midweek lunches or potlucks or gatherings.
Scale
Ingredients
Garnish with avocado, sunflower sprouts,  aleppo chili flakes (or regular) , zaatar spice or dukkah (all optional)
Shred or very thinly slice brussel sprouts using a food processor (grater attachment) or mandolin. ( Feel Free to purchase pre-shredded brussels sprouts, or broccoli slaw or a slaw mix.
Place in a large bowl drizzle with oil, sprinkle with the garlic, salt and lemon zest. Massage with your fingers until tender, about 3 minutes.
Add the onion, tahini dressing, starting conservatively, tossing well and adding more to desired creaminess.  (I admitt I like this quite heavy with dressing) Taste, and add more salt and lemon juice to taste. Toss in pistachios and fresh parsley and sprinkle with sumac.
Garnish with a sprinkling of sunflower sprouts, aleppo chili flakes, zaatar spice or even Dukkah Seasoning and some sliced avocado – all optional!
Notes
If making ahead, perhaps leave the nuts out, and add right before serving, to keep them nice and crunchy.
This will keep 3 days in the fridge.
Feel free to use this like a "slaw" – great in wraps and tacos. 🙂
Keywords: brussel sprout salad, brussel sprout salad recipe, brussel sprout slaw, brussel sprout salad with Tahini, Brussel sprout salad with Pistachio, brussel sprout salads recipes