Preserved lemon Gremolata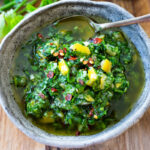 A delicious use for Preserved Lemons, this herby, zesty Preserved Lemon Gremolata w/ parsley, olive oil  & garlic is tasty over grilled fish, or meat or grilled veggies, or tossed with beans or pasta!  Fresh and flavorful!  
Notes
This will last 4 days in a sealed container in the fridge.
No preserved lemons? Make this version of Gremolata, with regular lemons.
Keywords: Preserved Lemon uses, preserved lemon dressing, preserved Lemon Gremolata, gremolata recipe, herb sauce, herby green sauce,